---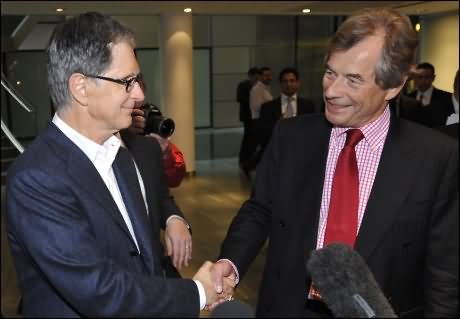 Deal done!!! John W. Henry and Martin Broughton. (Photo: AP)
OCTOBER 24
Scudamore: Reds 'never at risk'

BBC Sport Online

Liverpool's future was never at risk during its takeover in October, says Premier League chief Richard Scudamore.

American company New England Sporting Ventures (NESV) took over from Tom Hicks and George Gillett in a lengthy saga which reached the High Court.

"I'm satisfied the takeover went as smoothly as it could have done," Scudamore told BBC 5 live's Sportsweek.

But Scudamore also admitted the Premier League is powerless to prevent "another Hicks and Gillett happening".

"They passed our tests then and they would pass our current tests in terms of them as individuals," added the Premier League's chief executive.

Hicks and Gillett, who bought Liverpool in February 2007, angered many Reds fans with the way they ran the club after they saddled it with debt following a leveraged buy-out by the Americans.

But the downturn in the global economy forced Hicks and Gillett to put the club up for sale in April, although the buy-out by NESV only came after the former co-owners removed a temporary restraining order blocking the £300m sale.

NESV's purchase reduced the club's debt servicing obligations from £25m-£30m a year to an annual £2m-£3m, as well as ensuring Liverpool's holding company would not be put into administration, which might have resulted in a nine-point penalty in the Premier League.

"It was inevitable the change of ownership was going to happen and fairly inevitable it would be tense at the end but the club was never at risk. There were a number of bidders and the outcome is what always likely to happen," said Scudamore.

Last season the Premier League introduced measures to tighten the ownership and financial management of clubs with its owners and directors test.

Teams must now submit far more detailed financial information to prove they are able to pay their debts to football creditors, while new owners must meet the League's board before a takeover is approved.

And Scudamore predicted that "leveraged" buy-outs would become less common.

"The world has moved on and that sort of borrowing versus that sort of asset is not available anymore and could not be obtained now to put a deal together," said Scudamore.

"If we deem the level of leverage is too high and therefore the business to be unsustainable, we have much more power now to either prevent that happening or apply stringent controls on the club.

"It would be very difficult to stop leveraged buy-outs. I would prefer not to see it but we have to live in the real world.

"Leveraged debt per se is not wrong but things around it like the terms and the short nature of it need to be tightened."

Scudamore is confident that the NESV, the company fronted by John W Henry, who also owns the Boston Red Sox baseball team, can help the Reds regain their former glories.

"Liverpool is a fantastic club, and despite their recent struggles they have been able to attract new owners," said the Premier League's chief executive. "We all must hope that these owners will go on and do a good job there.

"I've spent considerable time with the new owners and I have huge regard for them. They understand this is about about the fans feeling part of the club again and they understand about sport.

"They are the first to say they don't know everything about English football but as we have seen by their work with the Boston Red Sox, they know how to turn a fantastic club into a sporting success."
---
OCTOBER 23
Two NESV members
join Anfield board

TEAMtalk

Two senior officials of New England Sports Ventures have been appointed as members of the Liverpool board and will be at the Blackburn game.

David Ginsberg, one of NESV's two vice-chairmen, and investor Michael Gordon have been appointed as club directors and will be at the match alongside new co-owner Tom Werner.

John W Henry, the principal owner of NESV, is unable to travel to the UK this weekend due to illness.

Henry said however: "Sunday promises to be a special day at Anfield in more ways than one. I'll be watching the game from home and although I have only been here for a few days, I already miss Anfield.

"We are hard at work setting a course for the future including the search for a chief executive officer.

"I wish the club and the fans all the best for the match against Blackburn."

Boston Red Sox chief operating officer Sam Kennedy will also be part of the NESV delegation at Anfield tomorrow.
---
OCTOBER 20
Ian Ayre's resignation rejected
by NESV as club return to High Court

By Paul Kelso, Chief Sports Reporter - Telegraph.co.uk

Following the resignation of Liverpool managing director Christian Purslow, the Daily Telegraph can disclose that club commercial director Ian Ayre has been dissuaded from leaving the club by their new American owners New England Sports Ventures (NESV).

Ayre is understood to have been uncertain of his position at the club following the takeover and tendered a letter of resignation to the club's owners on Tuesday.

His offer was rejected by owner John W Henry and his advisers however, and Ayre was reassured that he has a future at the club.

The commercial director is considered one of the unqualified successes of the Hicks and Gillett regime, improving the club's revenues and his contacts in Asia, where he worked for several years, are valued.

Ayre's position at the club could also have been undermined by his links to Peter Lim, the Singapore investor whose bid for Liverpool was rejected. Ayre brought Lim to the table but it has not affected his position with NESV.

Meanwhile lawyers for Royal Bank of Scotland and the club's former owners Hicks and Gillett will return to the High Court on Thursday for a further hearing in front of Mr Justice Floyd.

It was described last night as a purely procedural hearing to tidy up the loose ends of the injunctions served in favour of RBS last week, but Hicks and Gillett may seek to use the opportunity to institute proceedings for damages. They have said they will seek more than £1bn in compensation.

Ayre is on holiday and unavailable for comment. A club spokesman said that he had not resigned but that they had no knowledge of his resignation letter.
---
OCTOBER 20
Christian Purslow stands down
as Liverpool FC managing director

By Dominic King - Liverpool Echo

Liverpool FC Managing Director Chistian Purslow has stepped down from the Anfield board.

The former city private equity banker will however stay on in a non-executive role as special advisor to the club.

The announcement comes less than a week after he helped Chairman Martin Broughton and Commerical Director Ian Ayre remove former American co-owners Tom Hicks and George Gillett from the club.

New owners New England Sports Ventures took over after a series of dramatic court battles.

Liverpool FC issued a statement this afternoon saying: "Liverpool FC confirms that following the successful sale of the Club, Christian Purslow has decided to stand down from his temporary position as Managing Director.

"Christian will remain as a Non Executive Director and will act as a Special Adviser to the new Owners."

New England Sports Ventures Chairman Tom Werner said: "We are delighted Christian has accepted our offer to help us and the Club, given his great experience and love for Liverpool FC.

"We will now begin a global search process for a Chief Executive Officer."

Purslow, who founded Mid-Ocean Partners, said today: "I came to LFC to lead the Club through a sale process to get the best overall deal including, vitally, the removal of the debt.

"I am immensely proud of what we have all achieved.

"I now look forward to assisting the Owners in any way I can at this exciting time as they drive the Club forward to a bright future."
---
OCTOBER 18
New Liverpool owner
to spend 'wisely'

BBC Sport Online

Liverpool's new owner John Henry has warned he will not throw money at the club in a bid to solve their problems.

Henry, whose NESV group sealed a £300m takeover on Friday, watched the Reds slip to 19th in the Premier League with Sunday's 3-0 defeat at Everton.

"I don't have 'Sheikh' in front of my name," said the American, referring to Manchester City owner Sheikh Mansour.

"When we spend a dollar, it has to be wisely. We can't afford contracts that do not make long-term sense."

He added: "We have to be smart, bold, aggressive."

Liverpool's new owner John W Henry could not resist taking a look at what £300m has bought him - and got a gruesome illustration of the scale of the task he has taken on

But on-field troubles persist and the derby loss at Goodison Park leaves Roy Hodgson's side second-bottom of the English top flight with only six points from their opening eight games and a goal difference of minus six.

Key players such as Steven Gerrard and Fernando Torres have struggled for form, while summer signings Joe Cole, Christian Poulsen, Raul Meireles and Paul Konchesky have yet to make an impact.

Off the pitch, meanwhile, funding issues have delayed the start of work on Liverpool's proposed 60,000-seater stadium in Stanley Park.

But despite the club's current plight, Henry has refused to give assurances over transfer budgets or plans for the new stadium.

"What am I thinking? How much work this is going to be. How steep the learning curve is going to be. This is not going to be easy," said the 61-year-old, whose company NESV also owns the Boston Red Sox baseball franchise.

"We realise the challenge that lies ahead if we are going to go toe-to-toe with the other big clubs. We are not asking for a long honeymoon. This is a contact sport we are in and the going can get rough sometimes. We realise that.

"We are not going to make any promises but we are going to listen and consider."

NESV, Liverpool and their major creditors Royal Bank of Scotland were accused of an "epic swindle" by Hicks, claiming the club had been severely undervalued.

Henry, whose history with the Red Sox suggests there will be significant investment to come over the coming months, denied that was the case.

And although he may not have access to the same level of funds as City's owners, the Abu Dhabi United Group , he plans to make money and not waste it on interest payments as the previous owners did.

"There were big financial issues but in the end we made a decision we really wanted to compete at this level," Henry told the Liverpool Echo.

"I know some people are saying this was a cheap price. There is no way we look at this as a cheap price for this club.

"When we arrived at the Red Sox, the New York Yankees were a juggernaut and it wasn't that much of a rivalry. I believe we turned it into a rivalry where we have gone toe-to-toe with the Yankees even though they have got a much higher revenue. They keep going up but we have gone up faster.

"When we looked at Liverpool, the first thing that struck us was there are opportunities here to really build a winner.

"The revenue potentials around the world - it is a global football club - and especially with the financial fair play rules, it is really going to be revenue that drives how good your club can be in the future.

"That is one thing that we think we are good at."

NESV is backed by 17 investors and Henry stated: "I don't think any thinking individual buys a sports franchise these days - or an English football club - to make money.

"Maybe a few, but they should have their head examined. It's about competing at the highest level in the world's largest sport for us, that's why we are here."

On Monday, Henry and fellow co-owner Tom Werner met with local MPs and supporters' groups to discuss their plans for the club.

"It was great to finally get to work," said Henry. "We met with supporters' group. No, we didn't give any assurances. We are here to listen and to learn from them and we learned a lot today.

"I think the biggest issue was a sense of disenfranchisement and their sense of not being part of their own and that is what we discussed. This was a big first step today."
---
OCTOBER 15
Hicks: We were swindled

The protracted takeover saga at Liverpool has taken another twist, with former co-owner Tom Hicks vowing to fight his corner.

In an exclusive interview with Sky Sports News, the American businessman has made it clear that he does not consider the matter to be over, with further legal proceedings set to take place.

Hicks, who took charge at Anfield in 2007 alongside George Gillett, was stripped of power on Merseyside on Friday as New England Sports Ventures (NESV) completed their purchase of the club.

That deal went against Hicks and Gillett's wishes, as the £300million on the table fell considerably short of their valuation of the club.

However, with a High Court ruling siding in favour of their creditors, the Royal Bank of Scotland, the American pair were forced to begrudgingly walk away.

Upon returning to their homeland, they lodged a $1.6billion damages claim - although that has since been dropped.

Hicks and Gillett are not prepared to let the issue lie, though, and are fully prepared to take the fight back to Liverpool and the High Court.

Devastated
Hicks feels the manner in which the Reds board have acted throughout the takeover wrangle has been unprofessional, claiming he has been 'swindled', while he has also revealed that he attempted to clear the club's debts on Friday but was prevented from doing so.

RBS had set a 15th October deadline for their £237million loan, which allowed Hicks and Gillett to buy Liverpool, to be repaid in full or face the consequences - with a nine-point penalty threatened should the club's holding company, Kop Holdings, enter administration.

A disappointed Hicks told Sky Sports News: "I'm shocked, devastated, frustrated. We are being very careful to make sure we follow the High Court rules but I'm very disappointed. It's hurt my family tremendously. This very valuable asset has been swindled away me in an epic swindle. I'm very angry about it.

"I have been working very hard to solve the issue. We know there are better owners around the world who should own Liverpool Football Club than the Boston Red Sox group (NESV). We knew who they were and were frustrated every time we had conversations with them.

"Our desire was to have Liverpool in the hands of the right and proper next owner who could build the stadium and make Liverpool the top club in the world that it deserves to be."

Hicks claims he was fully prepared to part with the club and believes a witch-hunt against himself and Gillett was responsible for creating a media and fan frenzy which made the situation virtually impossible to handle.

"I accepted the club was going to be sold back in April, the question was when," he added.

"The Royal Bank of Scotland wanted it done the day after and there was no reason for that. Liverpool were a very healthy financial performing club. There was a bit too much debt, no question, but we were going to fix that.

"We were frustrated by others. I think the right owner would have paid Gillett and Hicks a fair price and would have had the resources to spend on players and the stadium."

Funds
On the issue of repaying RBS, Hicks claims he was prevented from doing so by a 'conspiracy' which included high ranking officials at Anfield, including club chairman Martin Broughton.

He said: "We did have the funds available to pay off RBS in its entirety. But between RBS and the chairman and the employees that conspired against us, we could not pay off the debt.

"I know exactly why that was, they had the ability to. This was an organised conspiracy and it went on for months. It consisted of the Royal Bank of Scotland, Martin Broughton - who wanted a good PR event in his life because he's a Chelsea fan, he's not even a Liverpool fan - he wanted to be scene as the guy who got rid of the Americans."

Hicks feels he and Gillett have been cast in an unfair light and have been wronged throughout the takeover ordeal.

He is now keen for the real story to be told and is fully prepared to go back to court in order for his side to be heard.

"I just want the truth to come out in the courts," he said.
---
OCTOBER 15
Hicks and Gillett
drop Texas lawsuit

TEAMtalk

Tom Hicks and George Gillett have dropped their Texas lawsuit against RBS and Liverpool's directors but could still launch action in England.

Having spent the last week dragging his case through the courts to oppose a £300million sale to New England Sport Ventures - which went through this afternoon - the American former co-owners dropped the US $1.6billion (£1bn) claim initially lodged in a Dallas court.

However, they are considering their next move and a statement from their lawyers suggests they may bring the fight to England - where they lost a High Court battle to retain control of the club this week.

"Mr Hicks and Mr Gillett have withdrawn without prejudice their Texas lawsuit in order to fully comply with the order of the English court," said a statement from Fish & Richardson attorney Tom Melsheimer.

"We believe the order is overbroad and unfair, yet Mr Hicks and Mr Gillett respect the legal process.

"We believe that once the English court finally has a chance to hear all the facts, a very different picture will be painted."

Hicks' New York-based spokesman Mark Semer refused to elaborate on whether the battle would be fought in the English courts.

"We cannot comment on legal strategy," he said.
---
OCTOBER 15
Hicks and Gillett 'face uphill struggle'
in any Liverpool compensation claim

By Nick Harris - Sporting Intelligence

With the sale of Liverpool to NESV complete and John W Henry, one of the world's leading sports tycoons, promising ahead of this weekend's Merseyside derby to restore the club to its former glories, sportingintelligence can reveal Tom Hicks and George Gillett's legal battle for $1.6bn compensation is likely to be undermined by the fact they were given details in the last 48 hours about how to repay their debt to RBS bank – and made no move to repay the cash.

This website can reveal that Hicks and Gillett (or rather their representatives) made contact with RBS asking for specific details about how to transfer funds to repay debts of around £200m to RBS, upon the payment of which they could have laid claim to the club again, in theory. Those details were provided, opening a window for Hicks to make a payment, albeit with a proviso from RBS that Hicks should inform the Liverpool board of the source of the funds before making any payment.

No payment was forthcoming. They had a theoretical chance to pay the money, including details of where it should go, but no money was transferred.

The legal battles of the last 24 hours unfolded instead and NESV completed their takeover.

Andrew Nixon, a partner with leading lawyers Thomas Eggar and a contributing columnist to regular The Sports Lawyer feature on this website, has separately asserted today that Hicks and Gillett will struggle in any compensation battle, a view likely to soothe some concerns that Liverpool will be mired in legal battles with Hicks and Gillett for years to come.

"Whilst the threat of separate proceedings remains an issue that Liverpool Football Club may ultimately have to deal with head on, it seems clear that they will have a strong defence to any claim," Nixon says. "Hicks and Gillett will inevitably seek to argue that the board, namely Martin Broughton, Christian Purslow and Ian Ayre, sold the football club at an undervalue.

"This argument is unlikely to carry much weight, as it seems clear that the Liverpool board undertook all necessary due diligence in relation to the NESV deal, and followed the correct legal processes in agreeing the final figure. Indeed, Mr Justice Floyd himself endorsed the approach of the board in his judgement on Wednesday.

"Equally, it remains unclear how Hicks and Gillett might seek to quantify damages in the region of £1billion, particularly when it is taken into account that the apparent offer of Mr Lin was only £20m more than the NESV deal."

RBS have released a statement saying: "RBS is pleased the sale of LFC to NESV has been completed and are confident this will provide the foundation for the Club and its fans to enjoy renewed success on and off the pitch.

"RBS is aware of reports that Mr Hicks and Mr Gillett may intend to pursue further litigation in relation to the sale of Liverpool F.C. The English Courts have described claims made to date as 'not realistic and abusive'. Any further claims against RBS will be vigorously opposed."
---
OCTOBER 15
Hodgson relief
at Anfield takeover

TEAMtalk

Liverpool boss Roy Hodgson has welcomed the takeover by NESV, admitting it is a relief a "bad time" appears to have come to an end.

Following Hodgson's Friday press conference, the club later confirmed they have been bought by New England Sports Ventures, owners of the Boston Red Sox, after Tom Hicks and George Gillett were defeated in their legal battle to stop the takeover.

Hicks and Gillett have, however, claimed they will sue for £1billion in damages because, they believe, the sale to NESV is "illegal" and have threatened to launch another destabilising legal action.

But having seen his two-and-a-half-month reign dominated by takeover talk, Hodgson is pleased there is light at the end of the tunnel.

"It is a very positive situation, if that is the case, and a very good day for the club - a day everyone at the club will welcome and the new owners will welcome," said the Liverpool manager ahead of Sunday's derby at Everton.

"It is a relief. It has been a very difficult couple of weeks.

"For this long drawn-out court battle to take place and Liverpool's name to be on the television screens and in the newspapers every day for anything other than positive reasons has been a bad time.

"We've had to live through that bad time but hopefully now, if NESV are going to take over, that would be very good news for us going into the important match at the weekend."

Hodgson has spoken to John W Henry, the head of NESV, on the phone but said there was no discussion about his own position at the club or what transfer funds would be available should the takeover go through.

"There hasn't been any talk about my position at the club," he added.

"He called me and his message was that he was hoping the deal would go through, he was very much looking forward to becoming the new owner and he was looking forward to working with me and the people who were here but we didn't talk about investment."

Hodgson said after months of uncertainty he was optimistic NESV could bring a more stable environment at Anfield.

"All people and clubs need stability, all managers and players need stability and it is becoming a very hard thing to find," he added.

"We live in a world where you are either on top or at the bottom and the middle line is not appreciated by the mass media.

"I am hoping the new owners coming in will stabilise the situation and give us a chance to concentrate on the football and, most importantly of all, will wipe out debts.

"That will mean in future we can invest in players in a different way to what has happened in the last transfer window when money was in short supply and we weren't even certain there would be any money to spend or even if the club would be there.

"The mere fact the club will be taken over and the debts wiped off immediately puts us into a different financial position to the one we have been in."
---
OCTOBER 15
Liverpool takeover:
Hard work starts now for NESV

By Paul Kelso and Rory Smith - Telegraph.co.uk

After one of the most bitter and drawn out legal battles in the history of English football, the hard work now starts for Liverpool's new owners, who must contend club's slide towards relegation, a new stadium, and the fight for the hearts and minds of sceptical fans.

New board:
The NESV board is not yet finalised but John W Henry and TV producer Tom Werner will both take seats. The future of the directors who helped make the stand against Tom Hicks and George Gillett is still uncertain. Martin Broughton has already said he would step down as chairman and Henry will want to consider the senior executive team.

Managing director Christian Purslow was a temporary appointment, while director Ian Ayre overhauled the club's commercial arm, but helped bring in rival bidder Peter Lim. However, the conduct of Purslow and Ayre during the sale process has made them popular figures among the club's fans, which may increase the likelihood of their continued presence on the board.

Stadium project:
Replacing Anfield with a 60,000-seat arena capable of generating the revenue Liverpool need to consistently challenge Manchester United, Arsenal and Chelsea has been an article of faith for the club since David Moores sold to Hicks and Gillett in 2007. Broughton also made it a condition for any buyer, but NESV has not promised to build on the Stanley Park site, and Henry did not commit to this in his brief statement today..

Financing the deal:
The biggest unanswered question is how NESV would pay for the club. After Hicks and Gillett diverted income to service acquisition loans there is zero tolerance for any similar arrangement. Henry says he will clear £200 million of acquisition debt "in pounds" and guaranteed that his buy-out would not be leveraged. However, full disclosure of the financing structure and vehicles would be required before fans trust NESV.

Gaining trust:
Winning over supporters deeply sceptical about another American ownership group will not be easy. However, Henry has taken several sure steps already, not least with his dry humour. Money for players and faith in the manager, be it Roy Hodgson or a successor, will go a long way, but owners should use caution over leveraging the Liverpool brand. Ticket-price rises would cause disquiet and overt commercialisation could be resisted. The stadium is also key.

Hodgson's future:
All connected with Liverpool have been keen to stress that NESV has no intention of replacing Roy Hodgson, just four months into his tenure, but a decision on the former Fulham manager's future may be made for them. Liverpool are in 18th place in the Premier League with just six points from seven games.

Defeat at Everton on Sunday would send him to the brink in the eyes of an increasingly sceptical fan base. Failure to beat Blackburn or Bolton in the following two games could force the club's new owners to act.

Transfer budget:
There is no question that money must be spent in January to bolster Liverpool's playing resources. Cover for striker Fernando Torres is most urgent, with Fulham's Bobby Zamora a possible January target, but if Liverpool are to return to Europe next season, quality is required all over the pitch.

NESV's original offer made provision for a certain amount of money to be set aside for player recruitment in January, though it was not specified how much they intended to spend. The £40 million suggested by rival bidder Peter Lim should be seen as a minimum.

Player unrest:
Liverpool's players have been left disillusioned by the death throes of the Hicks and Gillett era. Their replacements would be expected to show they are an improvement, with actions not words.

The change of ownership would most likely grant the club breathing space as they try to hold on to the likes of Fernando Torres, Pepe Reina, Daniel Agger, Dirk Kuyt and Lucas. Jamie Carragher, the club's most experienced player, signed a new two-year contract this morning.
---
OCTOBER 15
NESV and Liverpool FC
statement in full

TEAMtalk

TEAMtalk brings you the joint statement from New England Sports Ventures (NESV) and Liverpool Football Club, confirming the sale of the club.

New England Sports Ventures (NESV) today announces that it has completed the purchase of Liverpool Football Club. NESV wishes to extend its sincere gratitude to the board of Liverpool FC for their diligence and their efforts on behalf of the club and its supporters.

The transaction values the club at £300m and eliminates all of the acquisition debt placed on LFC by its previous owners, reducing the Club's debt servicing obligations from £25m-£30m a year to £2m-£3m.

New England Sports Ventures is committed to winning and currently owns a portfolio of companies, including the Boston Red Sox, New England Sports Network, Fenway Sports Group and Roush Fenway Racing.

NESV principal owner John Henry said: "On behalf of the entire NESV partnership, I want to express how incredibly proud and humbled we are to be confirmed as the new owners of Liverpool FC. We regard our role as that of stewards for the club with a primary focus on returning the club to greatness on and off the field for the long-term. We are committed first and foremost to winning. We have a history of winning, and today we want LFC supporters to know that this approach is what we intend to bring to this great club."

Liverpool FC chairman Martin Broughton, said: "I am delighted that we have been able to successfully conclude the sale process which has been thorough and extensive. The board decided to accept NESV's offer on the basis that it best met the criteria we set out originally for a new owner. NESV is buying Liverpool in order to put it on an excellent financial footing and continue to develop it internationally. This is a good deal which comprehensively resolves the pressing issue of the club's debt and should give staff, players and fans great confidence regarding the future of Liverpool FC."

NESV chairman Thomas Werner said: "We recognise that Liverpool Football Club is an historic institution ultimately grounded in the community and the fans. Our first step as new owners will be to listen. We want to hear from the manager and the players and those who are part of the daily operation of the club. We will be visible at Anfield and will embrace and listen to those who have stood by this club and who are the rock on which its future success will be built. We want to hear from the fans, local leaders and the local community. We want to hear from those who know LFC best, who have made it the best and share our desire to return to a culture of winning."

NESV is committed to creating a long-term, financially strong foundation for the club and dedicated to ensuring the club has the financial resources to be successful again and attract the best players. To that end, the transaction has been structured in such a way as to eliminate all of the acquisition debt on the club.

In the coming days and months, NESV will work closely with the LFC executive team to listen and learn about every facet of the organisation. During this time, the new owners will begin to look at areas for greatest opportunity to increase the appeal of the club nationally and internationally. NESV wants to once again create a culture and environment to allow people to excel at the club on every front. During this period, NESV will also begin to examine opportunities to enhance the matchday experience in the short-term, while also carefully studying the various long-term options that may be possible.

Mr Henry and Mr Werner added: "We are eager to commence with our plan, spend time with the organisation, its leadership, its supporters, and the local communities. We will take these steps alongside the club's executives with a shared objective of stabilising the club and ultimately returning Liverpool FC to its rightful place in English and European football, successful and competing for trophies."
---
OCTOBER 15
NESV close in on final
deal for Liverpool FC

By Harry Harris and ESPNsoccernet staff

John W Henry emerged triumphant as Liverpool's new owner having finally secured the £300 million takeover of the club in time to take his place at the weekend's Merseyside derby, insiders have informed ESPNsoccernet.

Henry now plans to bring back the "passion, dedication and professionalism" to Liverpool and most importantly a "winning culture'' once the deal is signed and sealed.

Henry was told of the news on Friday that Tom Hicks and George Gillett had 'folded' in their bid to cling onto the club, and would be now pursuing only a legal action for £1 billion ($1.6 billion) damages - which will be rigorously defended in court.

ESPNsoccernet was informed that Henry was naturally happy to have fought off the late attempts by Hicks and Gillett to remain in power.

When the owners of the Boston Red Sox first signed a deal to buy Liverpool, they made it clear their intentions to transform the club, slowly, quietly but efficiently.

A spokesman for Henry and the New England group commented: "NESV wants to create a long-term financially solid foundation for Liverpool FC and is dedicated to ensuring that the club has the resources to build for the future, including the removal of all acquisition debt.

"Our objective is to stabilize the club and ultimately return Liverpool FC to its rightful place in English and European football, successfully competing for and winning trophies.

"Since 2001, New England Sports Ventures has made successful investments in sports and entertainment properties. Our portfolio of companies, including the Boston Red Sox and Fenway Park, New England Sports Network, Fenway Sports Group and Roush Fenway Racing are all committed to one common goal: winning.

"NESV wants to help bring back the culture of winning to Liverpool FC. We have a proven track record, shown clearly with the Boston Red Sox. The team has won two World Series Championships over the past six years. We will bring the same kind of openness, passion, dedication and professionalism to Liverpool FC."
---
OCTOBER 15
Mill Financial 'refused Premier League
owners test' amid Liverpool takeover

Metro.co.uk

The Premier League have effectively blocked any attempts by Mill Financial to secure a takeover of Liverpool Football Club after reportedly rejecting a request from the American investment group to take the fit and proper persons test.

The dispute surrounding the ownership of the Anfield club rages on today, with current co-owners Tom Hicks and George Gillett due to attend a court hearing in Texas over an injunction they filed earlier this week.

According to the latest reports, the legal document is due to be rescinded by the judge in Dallas - opening the way for John W Henry and his NESV group to take control of Liverpool.

Hicks orchestrated what Henry called a 'last desperate attempt' to hold onto power at Anfield by brokering a deal to sell his stake in the club to Mill Financial.

However, the American businessman's efforts to stave off Henry's interest appear to have been scuppered after the Premier League turned down Mill Financial's request to take the test required of any prospective new owner of an English top-flight club.

In doing so, the Premier League is reported to have said it would 'continue to take direction from the Liverpool board', after Henry took and passed the same test earlier this week.

Liverpool's lawyers Slaughter and May are due to attend another hearing in the UK High Court this afternoon, which is expected to finalise the arrangements for Henry's buyout of the increasingly unpopular Hicks and Gillett.

The pair are set to lose around £140million between them if the £300m sale of the club is completed today.

Although the purchase must be completed before the close of business on Friday, which is when the club's creditors RBS are expected to call in outstanding loans of more than £200million attributed to the current co-owners on behalf of Liverpool.
---
OCTOBER 15
Mill Financial approached
Premier League to seek approval

By Paul Kelso - Telegraph.co.uk

Mill Financial, the secretive US hedge fund attempting an 11th-hour takeover of Liverpool, approached the Premier League yesterday to seek approval under the owners and directors test.

The Premier League declined to consider whether Mill's representatives would be suitable directors because they did not have the authorisation of the Liverpool board.

Mill looked to seek pre-approval so that they were in a position to complete a deal for the club today.

A spokesman for the Premier League said: "We will continue to deal directly with the board of Liverpool Football Club and take direction from them with regard to any ownership issues."

This follows after uncertainty over Liverpool's future deepened this morning when Tom Hicks and George Gillett lifted the Texas injunction preventing the sale of the club.

The move opens the way for Hicks and US hedge fund Mill Financial, which is understood to have assumed control of Gillett's 50 per cent stake in the club, to attempt to derail the deal with New England Sports Ventures. The two sides are now appear to be engaged in a race against time to win control.

While the restraining order prevented NESV from doing a deal it also stopped RBS from doing a deal with anyone, so its removal was necessary to facilitate any kind of deal.

Hicks and Gillett are due to repay at least £200m of loans to RBS by close of business today. If they fail their leverage in the negotiations may be reduced, but RBS would have to exercise its security against the club, possibly by way of administration, to cut them out of the picture entirely.

Sources close to NESV and the club board said this morning that they believed the lifting of the order was intended to allow Hicks to launch a final effort to remain in control.

Hicks' and Gillett's London solicitors Peters and Peters emailed club directors and RBS this morning to inform them that their clients had complied with the order made by Mr Justice Floyd in the High Court yesterday. Their action appears to render this afternoon's Dallas court hearing into the case irrelevant.

Hicks and Mill are understood to have been in talks for some time over a deal, and their last-ditch efforts over night have unsettled NESV. In a tweet this morning John W Henry said he would fight for the club.

"We have a binding contract," he said. "Will fight Mill Hicks Gillett attempt to keep club today. Their last desperate attempt to entrench their regime."

NESV believe any such attempt by Hicks would have to be ratified by the Liverpool board and they would be prepared to return to the High Court to have their binding agreement, twice ratified by the board, upheld.

Hicks and Mill Financial's chances of success appear to rest on their finding a way of repaying RBS that the bank is obliged to accept and the club board cannot stop.

The terms of the club's financing with RBS, defined in a Corporate Governance Side Letter (CGSL), give Martin Broughton and his fellow non-English directors sovereignty over the articles of the companies and the sale process.

Mill Financial is understood to have already offered to repay the debts but was told by RBS that it had to first buy Hicks's shares.

Sources said today that Broughton and the board should be able to stop this transaction and yesterday sources close to Hicks said he had not sold them the shares.

That could leave Mill Financial having to repay the loans on a promise that Hicks would then sell them on his take in the club at a later date. If RBS were repaid in a way that bypassed the club board it is hard to see how the bank could impede the sale.

It is thought that any decision would still need to go before the club board, though with RBS repaid Broughton's sovereignty would be in doubt. NESV would also be certain to seek to invoke an agreement they believe is binding.

The club's fate now rests on the legal discussions taking place on London and Dallas. Ultimately it may depend on whether Hicks and Mill Financial are able to get £200m to RBS before NESV can.
---
OCTOBER 15
Hicks and Gillett
lift restraining order

By Harry Harris and ESPNsoccernet staff

Tom Hicks and George Gillett have lifted the Texas court restraining order preventing the Royal Bank of Scotland (RBS) from completing the sale of Liverpool and have completed a deal with Mill Financial in order to pay off the £280 million debt.

Hicks has already signed a deal with Mill Financial - an arm of US hedge fund Springfield Financial Company, based in Virginia, which already owns Gillett's 50% of the club after he defaulted on payments two months ago - to pay the £237 million debt owed to RBS, which has now risen with penalty fees.

If RBS agree to take the money, Mill Financial would effectively become the owners of Liverpool and the move would scupper the New England Sports Ventures (NESV) takeover, but board approval would be needed for Hicks to sell his shares - which of course would be rejected by a margin of three to two.

Therefore, Hicks has agreed a refinancing deal for Mill to pay the RBS debt, with an agreement put in place for repayment at a later date. Indications are, though, that RBS has been advised by their legal team against accepting Mill Financial's offer.

ESPNsoccernet also understands NESV has a banker's draft ready to dispatch to RBS before the 1700 BST deadline on Friday to erase any lingering concerns about Liverpool going into administration, but their hopes of owning the club are hinged on the bank refusing to sanction any payment from Mill and Hicks.

John W Henry arrived at the London offices of Liverpool's lawyers, Slaughter and May, at lunchtime on Friday as he looks to finalise the deal.
---
OCTOBER 15
The most remarkable twenty four hours
in Liverpool Football Club's history

By Gary Stewart - Liverpool Echo

Echo reporter Gary Stewart recalls one of the most nail-biting days in Liverpool FC's history.

The past 24 hours have seen Reds fans subjected to more stomach churning twists and turns than even that famous few hours in Istanbul.

After last week's night of the long knives – when Liverpool's American co-owners Tom Hicks and George Gillett tried to dump LFC's rebellious board before they could sell the club out from under them – the battle arrived at the High Court in London.

On Wednesday afternoon Mr Justice Floyd delivered the verdict that dozens of Liverpool fans waiting outside, and many thousands more worldwide, had hoped for.

In a damning verdict against the Americans he dismissed their complaint that they had been excluded from the club's sale to New England Sports Venture (NESV), telling the court: "I fail to see what complaint the owners have."

All seemed ready for Boston Red Sox owner John Henry and his backers to snap up Liverpool for £300m and many fans will have gone to bed with a head full of dreams, rather than nightmares, for the first time in three years.

However late on Wednesday news broke that Hicks and Gillett had taken their battle to a Texas Court and been granted a temporary restraining order against the sale.

They added to that bizarre twist an incredible broadside against their board as well as the Royal Bank of Scotland (RBS) who are owed £237m of the club's debt.

In a statement they claimed they were the victims of an "epic swindle" and that Liverpool was being sold at "hundreds of millions of dollars" below market value.

They said: "The director defendants (Martin Broughton, Christian Purslow and Ian Ayre) were acting as pawns of RBS wholly abdicating the fiduciary responsibilities they owed the sale."

They also accused RBS of being "complicit" in a deal to make sure Hicks and Gillett could make "no economic return to equity".

Although legal authorities in England doubted the jurisdiction of a Texas court in the matter, with both buyers, sellers, and creditors having sizeable stakes in the US no-one wanted to ignore what amounted to a temporary injunction preventing the sale.

By yesterday morning in the UK another player entered the already cluttered bidding war when reports surfaced that Virginia-based Mill Financial, who already have an interest in the club after Gillett defaulted on a £75m loan, was busy buying up Hicks' 50% shares in LFC.

Tom Hicks's camp denied this, and RBS, who as principle creditor should be informed of any changes, also claimed ignorance.

Commentators speculated that Chinese businessman Kenny Huang, who had been circling Liverpool weeks ago, might even be behind a move.

No sooner did one new possible buyer appear than another one left.

Singapore billionaire Peter Lim, who re-entered the race this week, took his £320m offer off the table.

In a statement, the front man for the Meriton consortium, said: " "It has become clear to me that the board is intent on selling the Club to NESV to the exclusion of all other parties, regardless of the merits of their bids.

"In these circumstances, I am not able to proceed with my intention to acquire the Club."

He did indicate he would still be interested in a purchase if "circumstances change".

Returning to the High Court yesterday Judge Floyd overturned Judge Jim Jordan's Dallas Court ruling of the previous day, which had been requested just 15 minutes after his own decision 5,000 miles away.

He said it amounted to an "attempt to overturn proceedings in an English court."

Although RBS and LFC's board were represented at the high court, unusually, Hicks and Gillett were not.

However they were being represented in Texas again when, in what seemed like a bad case of deja vue they once again tried to extend the saga before the same Texas judge.

The Dallas County Court has now adjourned and will meet again today – the fate of Liverpool Football Club ping-ponging across the Atlantic once more.

And the referee for this crucial match is very proud of the neutrality of his profession.

In 2008, battling for a place in the Texas Supreme Court, Judge Jordan said: "A judge wears a black robe — not a blue or red one."
---