---
OCTOBER 30
Benitez fears for Gerrard fitness

BBC Sport Online

Liverpool manager Rafael Benitez has revealed he does not know when captain Steven Gerrard will be able to return to first-team action.

Gerrard, 29, has missed two games with a groin injury, and Benitez has not ruled out the possibility of surgery.

"Gerrard is improving but the next week will be crucial in terms of what we will do with him," said Benitez.

"His progress is slow, we will have to decide what to do if he is doesn't progress as quickly as we would hope."

Gerrard picked up the injury while on England duty earlier this month and had to be taken off in the first half of Liverpool's Champions League game against Lyon on 20 October.

He is definitely out of Liverpool's Premier League match against Fulham on Saturday and is a major doubt for their return trip to Lyon next week.

With an operation looming if Gerrard's condition does not improve, the influential midfielder could be looking at a much longer absence.

"I do not know yet whether Steven will play in Lyon, we must work with him. But it is true there is a problem," added Benitez.

"We do have an issue if he is not fit for Lyon, it is a crucial time. In three days we will maybe have a better idea.

"He has had this problem for some time but when he has a lot of games for his club, as well as the national team, it is not easy to give him a rest.

"I do not believe he will have this problem for the rest of his career but we certainly need to find a solution now. We have a good medical staff, I have confidence we can manage this problem."

Benitez is frustrated that Gerrard picked up the injury while he was away on international duty and says he is desperate for the Reds' captain - who has been shortlisted for the Fifa Player of the Year award, along with team-mate Fernando Torres - to return.

"Steven picked up this injury while playing for England. He lasted only until half-time of the game (in Ukraine)," said the Spaniard. "He rested for two days and then had the same problem in his next training session for England.

"We rested him for one game and then he lasted just 25 minutes of the next match, against Lyon. Since then he has not been able to train or play.

"We now have to be careful. He is working with the physios and I have talked with the doctor. The decision is to continue with the same treatment for a few days. Then we will see.

"We do not want to put him under any further risk. He was unable to play against Manchester United and we won but we obviously need Steven to be fit and available.

"He has just been nominated for world player of the year, along with Fernando, and they both deserve it. And it also shows the quality we are missing when they cannot play."

Liverpool are fifth in the Premier League, six points away from Chelsea in top sport, and are third in Group E in the Champions League.
---
SEPTEMBER 26
Gerrard: Trial made me better man

TEAMtalk

Liverpool captain Steven Gerrard has revealed he is a changed man after his recent court case, which he found "frightening and intimidating".

The England midfielder found himself charged with affray following an altercation in a Southport bar after the Reds' 5-1 victory over Newcastle in December last year.

Gerrard, who insisted he was acting in self-defence during the incident, was found not guilty at Liverpool Crown Court and the judge told him he could walk away with his reputation intact.

But the events of that night and the following police investigation and court case have clearly left their mark on the talismanic midfielder.

"The trial changed me. I had to learn from it, learn from being in the wrong place at the wrong time. What hour I am out, where I go out, I will be more careful in future," he told the Daily Mail.

"From now on, if we win 5-1, if I score two goals and we go top of the league, I won't try to enjoy it in a bar with my mates anymore. I'll go for a meal and be in my house by half past ten. We get paid very well and there have to be sacrifices.

"Throughout the trial I kept telling myself that whatever happened I would never be back in one of these rooms again. It was not a pleasant place to be, the whole experience was very frightening and intimidating.

"I have never been through anything like it. I kept thinking of my team-mates away in Thailand playing football, and me being so far from where I should be.

"You have to be able to let your hair down like anyone else but I have always tried to treat people as they treat me. I think I have had respect because I give respect back.

"There have been very few instances when I have had problems, but I will think about my spare time, even my holiday time, more carefully now. I reckon I have another six years as a professional footballer. It is not so long to make those choices."

Gerrard's burning ambition on the field remains to end Liverpool's 20-year wait for the league title, despite having enjoyed continental and domestic cup success.

And while the Anfield favourite has no intention to leave the only club he has ever played for, he accepts that if he did ever move on and taste Premier League glory elsewhere, it would not be as sweet.

He admitted: "If I never won the league title, there would be regrets and an empty space, I admit it.

"Yet even if Liverpool were no longer challenging I would still find it difficult to leave. I could win 90 per cent of my medals here and one league championship elsewhere and that last medal would not mean as much.

"I've been part of this club since I was eight. I remember my first final, the Worthington Cup against Birmingham City in Cardiff. Swarms of people around the coach, me looking out at their faces.

"It was at that moment I felt I was part of something more than a football team. I would have been one of them, but I was just better at kicking a ball. That could have been me standing on the street. I felt responsible. I still do."
---
JULY 24
Gerrard cleared of bar attack

PA/The Independent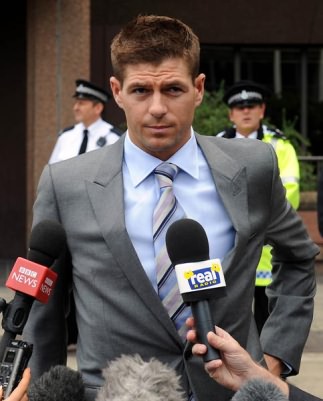 England footballer Steven Gerrard spoke of his relief today after he was cleared of unjustly attacking a man in a bar.

The Liverpool captain admitted hitting Marcus McGee, 34, in a Southport bar last December and a jury at Liverpool Crown Court accepted his explanation that it was in self-defence.

The 29-year-old was the only one of seven defendants to be cleared over the "explosion of violence" at the Lounge Inn during which Mr McGee lost a tooth and suffered facial cuts.

(Photo: Getty Images)
Gerrard left Liverpool Crown Court to applause from fans and shouts of "come on Rocky".

Speaking to reporters, he said: "Can I just say how pleased I am with today's verdict.

"I'd like to put this case behind me. I'm really looking forward to the season ahead and concentrating on football.

"I'd like to say a big thank you to my legal team, my friends and family and to everyone at Liverpool Football Club for supporting me."

His comments were met with a further round of applause from onlookers before he was ushered away.

The trial heard that Gerrard was at the Lounge Inn in Southport, Merseyside, on December 29 to celebrate Liverpool's 5-1 demolition of Newcastle United hours earlier.

The Reds' captain, who scored twice in the game, was enjoying a night out with a party of friends including Anfield legend Kenny Dalglish, 58.

CCTV footage from the bar showed Gerrard and his friends drinking beer, downing shots and dancing round while chanting football songs.

But trouble flared at around 2am when the father-of-two wanted to change the music on the CD player.

Prosecutor David Turner QC told the jury of seven women and five men that Gerrard lost his cool after Mr McGee refused his request to change the music.

He said the millionaire footballer stormed off in a huff and then confronted Mr McGee at the bar seven minutes later, talking to him for 23 seconds before swinging three upper-cut punches at him.

However, Gerrard's version of events differed. The footballer, who denied affray, told the jury yesterday that he was "shocked" by Mr McGee's attitude.

He said the businessman told him: "You are not putting no f****** music on in here" and swore at him.

Gerrard said they argued for a few seconds before he walked away.

The footballer said that minutes later he decided to smooth things over, against the advice of his friends, because he did not want the row to ruin his night.

He told the court: "I asked Marcus what was the problem with the music machine and why he treated me like that.

"Very quickly he came off the bar stool and was in my face right by me."

He told his defence counsel, John Kelsey-Fry, that he hit out at Mr McGee in self-defence.

He said: "I firmly believed Marcus came towards me to hit me."

Gerrard described raising his left arm to grab the back of Mr McGee's jumper.

He said: "I grabbed the back of his jumper as he moved forward to me. When I had hold of Marcus, I remember swinging my right hand two or three times."

He said the incident took about four or five seconds before he was "pushed and pulled" away from Mr McGee.

Gerrard apologised for what happened, telling the jury: "I am sorry about the whole incident."

CCTV footage showed that Gerrard's friend, John Doran, actually struck the first blow.

Five of Gerrard's friends who accompanied him that night admitted affray.

They are Ian Smith, 19, of Hilary Avenue, John Doran, 29, of Woodlands Road, and Paul McGrattan, 31, of Linden Drive, all Huyton, and Accrington Stanley footballers Robert Grant, 19, of Enstone Avenue, Litherland, and Ian Dunbavin, 28, of Guildford Road, Southport.

Another friend, John McGrattan, 34, of Rimmer Avenue, Huyton, admitted threatening behaviour.
---
JUNE 16
Gerrard claims
he may retire at 33

By Alan Dawson - Goal.com

Liverpool captain Steven Gerrard is one of the few remaining one-club-men, and is intent on retiring as one, as he has today claimed that he could seek retirement when his current deal expires in 2013.

Gerrard has just come off the back of one of his most productive seasons to date, as Rafael Benitez deployed the versatile midfielder in an elevated position, behind the striker, and the results were often devastating as the England international scored 24 times in 41 appearances; a goal return befitting any forward.

"I will be 33 at the end of my contract in 2013 and I don't know if I will go any further," Gerrard confirmed to France-Football.

"If I do retire, then I will know that from the start to the end of my career I only had one club. And I don't want to think about wearing any other shirt in the future.

"I was close to leaving in the past, maybe twice, most notably in 2005," he added. "That year we [Liverpool] were a long way off the Premier League title and Chelsea's interest turned my head.

"It was a difficult moment for me. However, now when I look back I am very happy that I chose to stay here. It has given me real pride."
---

MAY 30
Gerrard hungrier than ever after
scooping FWA Player of the Year award

The Daily Mail

Liverpool captain Steven Gerrard is as 'hungry and ambitious' as ever - vowing to make sure he will once again be in contention for Footballer of the Year at the end of next season.

The England midfielder, who turns 29 today, was honoured at a gala dinner in London last night by the Football Writers Association after he topped the poll of journalists ahead of Manchester United duo Ryan Giggs and Wayne Rooney to win the prestigious accolade.

'I am still learning every single day in training, working on parts of my game, am still very hungry and ambitious.

'There is still a lot to achieve for me personally, for Liverpool and England, so hopefully next year is going to be a lot bigger for me trophy wise.'

Gerrard added: 'The night has blew me away to be honest, I did not realise it
was such a big event with so many people here.

'I would love nothing better than to come back here and share this evening
with you again, so I will certainly try my best to be here next year.'

However, the Reds captain was quick to pay tribute to all the people who had helped him earn such an accolade.

'I would not be standing here without my family, my wife and a few close friends are here tonight, and I have to say a big thank you to them,' he said.

'Also my club manager, Rafael Benitez, who has a lot of belief in me.

'He has pushed me further forwards into a role I am absolutely loving at the moment - every time I go out, I feel so confident.

'It is great to be here to receive an individual award, but without my team-mates, I would not be able to be here.

'They have been fantastic this season and I am proud to be the captain of such a great team.

'Although this is an individual award, I would much rather be in a London hotel now preparing with my team-mates for the FA Cup final.

'Now, however, I believe we are moving forwards and are capable of challenging
for major honours.'

The toast to the FWA was made by England manager Fabio Capello.

The Italian coach paid tribute to Gerrard, who is set to play an integral role in the forthcoming World Cup qualifiers against Kazakhstan and Andorra.

Capello said: 'Steve, you have played a fantastic season, and scored a lot of
goals. Now, please, just two more to help us towards South Africa.'

Gerrard pledged to help lead the side towards the finals next summer.

He said: 'The new manager has come in and changed things. I can honestly say
it is a good time to be an England player.

'I have got a lot of belief in the England manager and his coaching staff.

'I think it is going to be an exciting year and hopefully we can get qualification sorted as quickly as possible.

'Then hopefully we can do better than we have done in previous years for England.'
---
MAY 17
Gerrard: I have matured

Sky Sports

Liverpool captain Steven Gerrard has revealed he is 'really pleased' that his off-field problems have not affected his form this season.

Gerrard has pleaded not guilty to a charge of affray following an alleged incident at a nightclub in late December following Liverpool's win at Newcastle United.

There were suggestions that the midfielder's performances on the pitch could suffer as a result of the charge, but Gerrard was a key figure in the Reds' ultimately unsuccessful bid for the Premier League title.

The 28-year-old admits his form may have been affected by such issues a few seasons ago, but believes his increased maturity has enabled him to maintain his performance level.

"I've had to deal with a situation this season that's been difficult and if that had happened to me four or five years ago, it would have affected my form, I've no doubts about that," the Footballer of the Year told The People.

"But with age, experience and maturity I have learned to park my problems or things on my mind until after a game. I have learned to deal with it in my own way and get on with life.

"I am really pleased I'm at the age now where if there is a problem or something's not going right I can park it to one side and deal with it.

"I have had to be professional and even more focused and I have to thank my manager Rafa and my team-mates for helping me get through this season because it hasn't been easy.

"And that's why I am really pleased with myself for the way I have dealt with it and how I haven't let it affect my football."

Gerrard also confirmed that he expects to sign the new four-year contract he agreed last month within the next few weeks.

He added: "I am on the verge of signing it now, there are just a couple of minor details, so I am hoping I can sign it before I go off on my holidays.

"This is a big contract for me and it's likely to be my final one. It takes me to 33, but I feel I'm in the prime of my footballing career at the moment. I feel confident and strong and I feel really good when I'm out on the pitch.

"The aim for me now is to stay fit for the next four years and try to play as many games as I can and win as many trophies as I can.

"I'm getting greedy when it comes to winning trophies because I know I have to win as many as I can before it's too late.''
---
MAY 13
Gerrard elated
by writers' award

BBC Sport Online

Liverpool captain Steven Gerrard has said it is a "great privilege" to be named the 2009 Football Writers' Association Footballer of the Year.

The 28-year-old England midfielder pipped Manchester United duo Ryan Giggs and Wayne Rooney in the poll voted for by journalists.

Gerrard has scored 23 goals this season as Liverpool have been battling to land their first league title since 1990.

"I'm delighted but I'm a little bit surprised," he told his club's website.

"When you look at the quality of the players there are in this league, it's a great privilege to win this kind of award.

"It's made even more special for me because I am following in the footsteps of Liverpool players like John Barnes, Steve Nicol and Kenny Dalglish who were heroes of mine.

"Then further back players like Ian Callaghan and Terry McDermott who were heroes to my dad and so many other Liverpool fans."
---
MAY 13
Gerrard named
Footballer of the Year

By Paul Eaton - LFC Official Website

Steven Gerrard is celebrating today after being named Footballer of the Year by the Football Writers' Association.

The Liverpool skipper beat off competition from Manchester United pair Ryan Giggs and Wayne Rooney to win the most prestigious individual award in English football.

Having already landed the PFA Fans Player of the Year award this season, the FWA honour caps another incredible campaign for the 28-year-old midfielder, who has led by example and driven his side to within touching distance of achieving their title dreams.

Whether those dreams are realised over the next week or not remains to be seen, but over the course of the past ten months Gerrard has once again cemented his standing as the finest midfielder in European football.

His two goals at West Ham United on Saturday - which temporarily fired Liverpool back to the top of the league - saw him climb above Ian St John in the club's all-time scoring charts as he took his tally for the season to an impressive 23, equalling his best ever return in a red shirt.

Fifteen of his goals this term have arrived in the Premier League and have included strikes in high-profile games against Manchester United and Everton, while in Europe he also rose to the occasion with five goals in the group stages - including his 100th goal for Liverpool against PSV Eindhoven - and then two more against Real Madrid in the last sixteen clash at Anfield.

"We are delighted to honour Steven's contribution this season with our prestigous award," said Steve Bates, National Chairman of the Football Writers' Association.

"Steven has had a fantastic season and has so often been the driving force behind Liverpool's forceful challenge for the Barclays Premier League title.

"His passion and desire to send the title race into the closing days of this campaign has underpinned Liverpool's pursuit of Manchester United and he has frequently caught the eye with outstanding performances which have showcased his considerable talent.

"Steven is viewed by the Football Writers who voted as the heartbeat of Liverpool's team and a player who gives everything for the cause.

"He beat off a strong challenge from Old Trafford stars Ryan Giggs, Wayne Rooney, Nemanja Vidic and Rio Ferdinand to emerge as a clear winner and he follows a long and illustrious list of British and European footballers to win the vote of the Football Writers."

Steven will be presented with his award at a gala dinner at the Royal Lancaster Hotel in London on Friday May 29.
---
MAY 2
Gerrard glad he
snubbed Chelsea

By Tom Adams - Setanta Sports

Steven Gerrard has confidently stated that Liverpool are 'very close to having a top team', fully justifying his decision to turn his back on a possible move to Chelsea in the summer of 2005.

Gerrard asked to leave Anfield just weeks after the club's Champions League victory in Istanbul but, after coming so close to severing all ties with his boyhood club, eventually decided to stay with Rafa Benitez's side and help end their lengthy wait for a league title.

While this season a first league trophy since 1990 may elude Liverpool given that Manchester United are three points ahead having played a game less, The Reds have enjoyed their finest Premier League campaign to date, topping the table on occasions and pushing United all the way.

Gerrard is adamant that he made the correct decision when rejecting a British record transfer to Stamford Bridge as he feels that Liverpool are on the brink of becoming a dominant force.

"The reason the whole Chelsea thing came up was down to frustration that we were so far away from the title race," Gerrard told The Daily Telegraph.

"That's why their interest maybe turned my head slightly. But I look back now and I'm really pleased I decided to stay because I am part of a top team here that can be successful.

"It would mean an awful lot more to be successful at Liverpool than it would at any other club.

"Don't get me wrong, I might have won more medals somewhere else but if I was to win the league here, along with a few more cups, that would mean a lot more than winning seven or eight trophies somewhere else.

"I can share it with my family, with the Liverpool supporters, because I've been one of them all my life.

"People talk about the spine of this team and when you look at it – at people like Pepe Reina, Carra, Xabi and me – we've played together for about four years now. We know each other's games inside out.

"The manager, meanwhile, is trying to strengthen other areas of the side. We're very close to having a top team. Very close."
---
APRIL 3
Stevie: I only want
to play for Liverpool

By Paul Eaton - LFC Official Website

Steven Gerrard today spoke of his delight after agreeing a two year extension to his Liverpool contract.

As revealed on Liverpoolfc.tv on Friday morning, the Reds skipper has agreed the terms of a new deal which will keep him at the club until at least 2013.

And now Gerrard has revealed his excitement at the prospect of seeing out the remainder of his playing days at Anfield.

"It's a fantastic feeling to have agreed the deal," he told Liverpoolfc.tv. "This is what I wanted. I want to see out the rest of my career with Liverpool.

"I have said all along that as long as the club wanted me then I would stay at Liverpool. I've been a fan all my life and it'll be fantastic at the end of my career to look back and say I have been with Liverpool all the way through.

"The main priority is to be successful and I want to achieve success at the club I love. If we can win more trophies together then I will be really happy.

"This news has given me a boost and hopefully it will help us in our remaining games. We've got big matches to play, all of them cup finals as we have to win them all to stay in the title race and go all the way to Rome."
---

MARCH 25
Gerrard eyes new
Liverpool FC deal

Liverpool Echo

Steven Gerrard has repeated his desire to sign a contract extension at Liverpool, revealing that is happier now than at any other stage of his career.

The Reds skipper is looking to cap an amazing fortnight by helping England overcome Slovakia in a friendly at Wembley on Saturday before the crucial World Cup qualifier against the Ukraine on April 1 as Fabio Capello's team look to maintain their 100% start to Group Six.

He could hardly be in a more confident mood.

Having helped dump Real Madrid out of the Champions League, beaten Manchester United at Old Trafford and score a hat-trick in the five-goal hammering of Aston Villa on Sunday, Gerrard suddenly finds himself leading a team with realistic ambitions of winning the Barclays Premier League.

It is a far cry from the dark days when it seemed Liverpool would never threaten at the top end of the table and joining Chelsea looked like a far more attractive option.

"I have never been happier throughout my whole career than I am at the moment," Gerrard said.

"I have two years left on my contract and if there was a chance to extend it, I am sure I would.

"I am playing in a top team, with world-class players and I believe in the manager.

"Going forward, I am sure we can be successful."

The relationship with Liverpool boss Rafael Benitez is the pivotal factor.

There was a time when Gerrard just did not understand the Spaniard.

Played out of position on the right side of midfield in a team that lacked direction and drive, it was not so much a meeting of minds but a pair of heads hammering against different sides of the same brick wall.

Gerrard accepts there was an element of immaturity on his part.

"Maybe when I was a bit selfish when I was younger," he reflected.

"I used to think of myself a bit too much when he was playing me out of position.

"I should have taken a deep breath and realised it was for the team.

"But, at the moment, he is playing me in my favourite position, I am captain and we are winning.

"Our relationship has got stronger as time has gone by.

"For years and years I have moaned about not being involved in a title race and being far away from the others.

"At the moment, I am playing in a team that's capable of beating anyone in the league."

Yet Gerrard's exceptional recent form has just brought more discussion with England about his best position. The subject of his apparent inability to play alongside Frank Lampard in the same central midfield engine room became tiresome for Gerrard a long time ago.

But it is an inescapable fact that the 28-year-old's current explosion of form has come as a second striker, operating behind Fernando Torres, rather than in the deeper role he is more usually associated with.

"I am loving it, which is why you are seeing the best of me," said Gerrard.

"I would love nothing better than to be given the chance to play there for England to try to find that form.

"I am desperate to win something with England.

"When we have been knocked out of tournaments, the hurt and pain is exactly the same as when you don't achieve something with your club."
---
MARCH 21
Gerrard: My future is with Reds

TEAMtalk

Steven Gerrard only wants to win the Premier League title if he can do it with Liverpool after underlining his commitment to the Merseysiders.

Gerrard has already turned down the opportunity to leave Anfield for Chelsea in his career, and insists he would make the same decision again in his quest for a title, as winning it anywhere else would not mean as much.

"When I see John Terry, Gary Neville and Rio Ferdinand lifting that trophy I want to do that, but I want to do that for Liverpool football club," Gerrard told Sky Sports News.

"I think the easy thing would be maybe to move on but it's not for me. What would be more important for me would be to win it and share it with the club and with my family who are all Liverpool fans.

"That would mean more to me than winning it maybe five or six times somewhere else."

Despite last week's 4-1 win over Manchester United at Old Trafford, Liverpool appear to have let their best chance at the title in several years slip by, surrendering an early lead to allow the Red Devils to go four points clear with a game in hand.

"We were out there and we were flying," Gerrard said. "But you always knew Manchester United were going to come back with their schedule and eventually they did and we've slipped up and lost points where we shouldn't.

"It's even more frustrating now because you're saying 'what if...what if', but the important thing now is to look forward and to try and win the remaining games and hopefully other teams can do us a few favours."

This week Liverpool boss Rafa Benitez signed a new five-year deal with the club after months of speculation, and Gerrard believes the Spaniard is the right man for the club.

"Liverpool is not really known for all this sort of thing in the media and in-house fighting so it's nice to have all of that put to bed and Rafa's dedicated five years to the club he loves and we can all move on.

"Hopefully the next five years can be successful because the main thing at this club is winning trophies."
---