---
NOVEMBER 21
Deal me in for life, says Gerrard

TEAMtalk

Liverpool captain Steven Gerrard wants to sign a new contract when his current deal ends and plans stay at Anfield for the rest of his career.

Gerrard made the announcement as he approaches the 10-year anniversary of his Liverpool debut next week.

He is currently injured with a groin muscle tear and out of Saturday's home league match with Fulham.

Gerrard is back in light training and battling to be fit for Wednesday's Champions League home clash with Marseille but his clear indication he never wants to leave Anfield will delight the club's fans.

"I do not know what is going to happen over the next 10 years but certainly for the next five or six I hope I am playing in Liverpool's first team," he said.

"I have two and a half years left on my contract and hopefully I will sign another one and stay for the remainder of my career.

"We will have to wait and see about management but I certainly want to get my qualifications to enable me to coach and manage. Then I will have to decide what I want to do."

He added: "Whether I will be interested in the Gary Ablett (reserve coach) type role, the Sammy Lee (assistant manager) role or the Rafa Benitez role, I do not know.

"I just want to get all my badges and then we will see. But I have a lot more football to play before we get to that stage and that is what I want to focus on at the moment.

"All I can say at this stage is the last 10 years have been the best of my life. I have lived the dream doing something I have always wanted to do and if my working life carries on being with Liverpool then I will be very happy."

On his 10 years in the first team, Gerrard, speaking in a liverpoolfc.tv interview, said: "It is hard to believe I have been in the first team for so long because the time has just flown by.

"I am very proud to be able to say I have played for the first team for 10 years. If someone had said all those years ago that I would go on to be captain and lift the European Cup, then I wouldn't have believed them.

"But I have had to work very hard to get to where I am and to win trophies both on a personal level and as part of the team.

"Looking back, I have had some unbelievable highs playing for this team but I have had some lows as well. It is the lows that have helped drive me on.

"It is disappointing to lose games or to be sent off, but those experiences have helped me achieve the highs."
---
NOVEMBER 11
Gerrard awarded freedom of the Borough

By Steve Hunter - LFC Official Website

Steven Gerrard was awarded the Freedom of the Borough of Knowsley at a prestigious council ceremony on Monday night.

It is only the fourth time Knowsley has bestowed this honour in its history and is the first time in 20 years. It is also a fitting time for Gerrard who celebrates 10 years as a Liverpool player this month.

The Reds captain was guided into the ceremony at the Huyton Suite by a guard of honour, made up of local school children and welcomed by a fanfare of trumpeters.

The Huyton born star was joined by 120 guests and before the ceremony they were entertained by some of the borough's best young talent including performances from the Knowsley Singers and Street Feet dance group.

A proud Gerrard said: "This is a special honour for me and even more so as it is awarded so rarely, so I'd like to thank Knowsley Council.

"I'm very proud of the area that I grew up in and proud of the community I came from. These are the family and friends who have been with me since I dreamt as a boy of being a professional footballer."

Leader of Knowsley Council, Councillor Ron Round, who presented Gerrard with the award said: "The Freedom of the Borough is a special honour and, in Knowsley's case, a rare one which we only award for truly exceptional individuals. We are delighted to have bestowed this award on Steven.

"He is an excellent ambassador for Knowsley and a great role model. His story is one of talent, commitment and passion which has seen him grow into a world-class player. It sends out a message to young people everywhere that with hard work and persistance, they too can realise their dreams.

"Steven is one of the greatest individual stories to come out of Knowsley in recent years. He is truly proud of his early years in the borough and is the first to acknowledge the influence of his roots."
---
NOVEMBER 3
Gerrard: "I could
never leave Anfield"

By Tony Barrett - Liverpool Echo

To mark his fifth anniversary as Liverpool skipper, Steven Gerrard has given his personal account of what it takes to wear the armband in the recently released "Captain's Book". Here, in an exclusive extract from the book, Gerrard tells of the moment he offered to give up the captain's role he cherishes and how he could never quit Anfield.

After winning the European Cup in Istanbul in May 2005, Steven Gerrard ended up spending most of the summer agonising over his future.

Chelsea had come calling for the second time in little more than a year and the Huyton-born midfielder came perilously close to joining Jose Mourinho's squad.

But having pulled back from the brink because, when it came down to it, he simply could not bear to leave the club he had supported all his life, Gerrard thought it only right that he should offer to give up the club captaincy.

"In my heart, this is my club and I want to bring success here for the supporters," he writes.

"For their sake as well as my own, I never want to go through the events of July 2005 ever again.

"That was when I told Liverpool I wanted to leave (to go to Chelsea). But I just didn't want to let go of what I've worked so hard for and as everyone knows by now, I could never leave this club.

"I've been here since I was eight years of age. I'd worked so hard to become captain and had so many great times and have got great relationships with people here.

"I knew the club deserved the next five to ten years of my career and I didn't – and don't – want to give those years to any other club. I want to give them to Liverpool.

"Winning the league is what I want more than anything and Liverpool is the only place I ever wanted to win it.

"I think that those few days in early July, 2005 where the most difficult days of my life.

"I'm not proud of them. I wanted it all to blow over and for it all to be forgotten about. I just wanted to get on with my football.

"At times, I thought I'd played my last game. I did a lot of thinking and I became really confused.

"It was difficult and I wouldn't wish what I went through on any other player or any other person.

"I know I hurt the fans at the time and they were entitled to their opinion.

"I had to explain why I was turning Chelsea down at a press conference in June 2004 and I had to put them through it all again a year or so later.

"After it all happened, I said to the manager I would like to speak to the players on my own because I knew some of them had been frustrated with what had gone on, just like the fans.

"I offered to give up the armband which would have broken my heart but it was right to make the offer."

Fortunately for Liverpool, the offer was turned down and Gerrard remains Reds skipper to this day.
---
OCTOBER 13
Magic moments in a century
of striking success for Liverpool

Comment by Ian Doyle - Liverpool Daily Post

Steven Gerrard has completed a century of goals in a Liverpool shirt – but which ones stand out from the rest?

Liverpool v West Ham United, FA Cup Final, May 2006: There aren't many players that have had an FA Cup final named after them, yet Gerrard was wholly deserving of the accolade for his efforts in Cardiff.

Hardly surprising, given the manner in which he'd followed a first equaliser with an injury-time second courtesy of a 30-yard screamer having seconds earlier been struggling to even find the energy to walk.

Best FA Cup final goal ever? Only Ricky Villa runs it close. Best Gerrard goal ever? Without doubt.

AC Milan v Liverpool, Champions League Final, May 2005: By no means the most technically accomplished of his century, but easily the most inspiring.

Gerrard doesn't score many headers, but when he leapt to meet John Arne Riise's left-wing cross, stretching every sinew in his neck to gain the necessary power to beat Milan keeper Dida, it gave Liverpool belief at 3-1 that maybe, just maybe, the European Cup wasn't out of reach just yet.

Liverpool v Olympiakos, Champions League group game, December 2004: Many Evertonians have never forgiven Andy Gray for his uncharacteristically enthusiastic response to this strike. But who could blame him?

With Liverpool six minutes from dropping into the UEFA Cup, Gerrard's controlled thunderbolt provided the springboard for a fifth European Cup triumph and Rafael Benitez's fledgling Anfield tenure.

Liverpool v Southampton, Premier League, January 2001: Long-range blockbusters have become Gerrard's trademark, but this was one of the very first and still one of the very best.

Gaining possession in midfield, he shifted the ball on to his right foot before unleashing a swerving screamer that, for added effect, crashed into the goal off the underside of the crossbar.

Marseille v Liverpool, Champions League group game, September 2008: You know a goal is good when ex-professionals are left wondering just how it was scored. An astonished Marseille coach Erik Gerets posed the question after Gerrard swept home an equaliser from 25 yards without breaking stride or indeed facing the net.

Opposing goalkeeper Steve Mandanda could only watch as the ball sailed into the top corner.

Phil Thompson
My favourite Gerrard goal came against Manchester United in a 2-0 win in 2001.

I had to choose a goal from when I was involved with the team because back then Stevie was still very young. But this goal proved what potential he had and was an early glimpse of how great he would become – it was an unbelievable and unstoppable strike.

The fact that it came against United showed he could do it in the big games. You could say it was an early indication of all that's great about Steven Gerrard.

The way he has come on since those early days shows what a fantastic lad he is, how mature and professional he has been throughout his career. When he was very young you could see he had it all, but then you think lots of youngsters have that.

But Stevie still has it all and that says everything about what a great player he is.

Andy Proudfoot
I've always found it difficult to compare great goals. How do you judge a 30-yard screamer against a 12-man move that slices a side open and ends with a two-yard tap in?

Or a brave diving header against a spectacular overhead kick?

Not such a problem when you think of Stevie's goals – about 95 out of the 100 have been from thunderous strikes which left the keeper grasping at air like Wile E. Coyote at a cliff face.

Curiously, of the other five one is a serious candidate for the best – the very first as Gerrard weaved his way through the Sheffield Wednesday defence in December 1999, dummying left and right before slamming it past Kevin Pressman from close range.

Yet for me the mark of a truly great goal is the circumstances in which it was scored, and putting Liverpool 3-1 up against a side that would ultimately be relegated doesn't quite cut the mustard in this respect.

So that really narrows it down to three: Milan in the 2005 Champions' League Final; Olympiakos in the Champions' League on the way to that final; and the strike against West Ham in the FA Cup Final 2006.

It's impossible to overestimate the importance of the first of those three, triggering as it did one of the greatest nights in the club's history.

But it was the first of the three, and therefore greeted with something more like resigned stoicism than outright hysteria. Speaking of which leads us to the other two.

Both were crucial strikes; both sped into the net with incredible velocity from distance; and both sent me dancing deliriously in the stands, hugging friends and strangers alike and feeling like my head was going to burst.

Forced to choose between the two, I'll go for the West Ham strike.

There's something about the relief in a last-gasp equalising goal that makes it transcend even winners; explain that if you can.

But this goal both equalised, and eventually won us, the game – I can't see how you can beat that.

Larry Moran
Picking one favourite goal from Gerrard's 100 is quite difficult. The guy does not score tap-ins.

It seems most of his goals are spectacular and important, everyone remembers the rocket he scored against Olympiakos to keep us in the Champions League on the way to Istanbul.

Then, Istanbul itself, the header to get us back to 3-1 and suddenly from being down and out there was hope again.

Recently there was the goal against Marseille. As soon as the ball left his foot it was in. He knew exactly what he was doing and where the ball was going, the keeper had no chance.

My favourite though is in the FA Cup Final in 2006. Cardiff. The West Ham fans are singing their tunes of glory. We are 3-2 down and in the 90th minute. Gerrard has already made our first goal and then scored our second. A goal that meant he had now scored in four major finals. The Champions League, UEFA Cup, League Cup and now the FA Cup.

Still, we are losing with only seconds to go. We are finished. The stadium announcer tells us there are four minutes of added time, then the ball comes to Gerrard from a headed West Ham clearance and …. bang … back of the net from 35 yards. 3-3. Extra time. The roar from our end is massive; it's a mix of relief, delight and victory. Whatever happened we knew Gerrard could win a game on his own. That shot kept us in it.

Reina may have ultimately made great saves in the penalty shoot-out to gain us the trophy but it was Gerrard that won that trophy. He above all of the others would not be beaten. He even scored again in the shoot-out itself. Here's to the next hundred goals Steven! Keep making us dream.
---
SEPTEMBER 7
Gerrard unhappy at versatile tag

TEAMtalk

Liverpool and England star Steven Gerrard has hit out after a career of being "shunted around" - and feels his game has suffered as a result.

The 28-year-old midfielder favours a central position but has frequently been used on the left and right with both club and country.

Gerrard told the Sunday Times: "I've paid the price for being able to do a decent job in other positions.

"Other players don't get shunted around because they can't do it. I can't go and play on the right or the left and become Kaka or Robinho, I just go out there, give 100% and do a steady job.

"I'll work hard, do my bit defensively and help the team. That's why managers do it to me, but it is affecting me.

"My game suffers when my position is changed. I'm a central midfielder and in the big games I want to play in the middle and show that I'm one of the very best in that position.

"I've played in my favourite position for England five times in 68 games. What can you do? I go into training with England and try to prove myself every day.

"Every England manager I've worked under knows where I want to play, but they pick the formations and I play where I'm told."
---
AUGUST 31
Gerrard's injury frustration

Sky Sports

Liverpool ace Steven Gerrard says he had no choice but to go under the knife to resolve his groin problem.

Gerrard underwent the groin operation earlier this week after the club decided the time was right to get the injury cleared up.

The injury will sideline Gerrard for up to two weeks and it means he will miss England's World Cup qualifiers with Andorra and Croatia next month.

Gerrard admits he has been struggling with the injury for some time and he has revealed his frustration at missing the opening World Cup qualifiers.

"I've been struggling for a few weeks now. It's really frustrating for me because I want to play in every game," Gerrard told the News of the World.

"It's a very tough time as a player when you're injured. I've got some very big games coming up for club and country, so it's a massive frustration for me.

"But the fact is I couldn't reach the level I need at the moment because my groin was too sore.

"It was clear I needed to get the problem sorted.

"The doctor told me I needed to see a specialist. And he felt an operation was needed."
---
MARCH 3
Gerrard: Future's bright at Anfield

By Tom Adams - Setanta Sports

Steven Gerrard remains convinced he can win The Premier League and fulfil his lofty ambitions at Liverpool, and has addressed misleading interpretations of his rallying call before the weekend's win over Bolton.

The Reds captain did not hold back in a scathing assessment of a season to date that has seen Rafa Benitez's side fall dismally off the title pace despite substantial investment in the playing squad in the summer.

What with the ongoing speculation off the pitch regarding a possible takeover from DIC and the astonishing admission from Tom Hicks that he sounded out Jurgen Klinsmann at the end of 2007, it has been a campaign to forget for the men on Merseyside.

Despite the club's struggles though, Gerrard is certain that under Benitez, Liverpool have the capability to finish fourth this season and then make a renewed assault for their first league title since 1990.

"I am hungry for trophies – even more than when I was younger," said Gerrard on the club's official website.

"Maybe it's because I'm running out of time a bit! I'm 27 and want to make the most of my career and be as successful as I can.

"I think I am at the right club to do that because we've got a good squad and we are improving all the time. And we've got a good manager, so I'm really confident I can lift many more trophies here – and not just the Champions League.

"The future's bright. We've got a good, young squad, but there's also a lot of experienced players like Carragher and Hyypia. The signings that have been made are making an impact, so I've got confidence that we can go forward.

"The important thing short-term is to get in that fourth position, then we can re-group in the summer and have another go at winning the league. The players here know we've underachieved in the league this year. You go back to before the Villa game and we believed we could still be in the title race. That's disappointing but now we've got to finish as high as possible this year and have another go next season."

The Reds will take fourth spot on goal difference from rivals Everton if they win their game in hand, and Gerrard is convinced that Liverpool can hold off the challenge of a number of sides to finish in the all-important final Champions League spot.

"It's going to be difficult because all the teams that are going for it have strengthened and they've all got good squads," Gerrard added. "They are hitting the right form as well, but we're confident that if we play to our capabilities between now and the end of the season we'll take that fourth spot.

"The fight for Champions League places is hotting up, with the teams around us hitting form: the likes of your Villas and, obviously, Everton. It's important that we focus on what we're doing and try to stay consistent until the end of the season."

The fall-out from Gerrard's strong criticism of Liverpool's form this season also had an undesired effect for the midfielder as he was faced with headlines claiming he was unconcerned about Champions League glory.

The England star has sought to address this though, adding: "As captain of the club it's very easy for your words to be twisted into something that doesn't really reflect the interview.

"The message I was trying to get across was that we are disappointed with where we are in the league, but that we're going to try to get into the top four and improve our league situation next season.

"Hopefully while we're going along we can get to another Champions League final. That would be a really good season. But the headlines got twisted into 'If we win the Champions League it won't be important' – which is nonsense. That is not what I meant at all.

"The message I was trying to get across was that, even if we do win the Champions League and finish fourth, we'll still look to improve in the league."
---
JULY 19
Gerrard: We're ready to rumble

TEAMtalk

Liverpool captain Steven Gerrard insists that Rafael Benitez's troops are now equipped to challenge for the Premier League title.

Ryan Babel, Fernando Torres, Andrei Voronin and Yossi Benayoun have all arrived at Anfield this summer and the England star is convinced that the Reds are now ready to match Manchester United and Chelsea.

"I've watched what the other teams are doing in the market and they're all strengthening, but all those teams will be looking at us and thinking we are going to be all over them this season," Gerrard told the LFC Magazine.

"I'm not going to start making any unnecessary predictions about what's going to happen this season and the last thing any of us need to do is build hopes up too much.

"But without doubt, if we all perform to our level each week, we have the players to push United and Chelsea all the way.

"We are looking in great shape, not only going into this season but for the next few years.

"I thought going away for the summer that we were three or four players away from where we need to be.

"Now I think we are in a great place to challenge United and Chelsea and I hope if we get things right from the beginning we can beat them to the big prizes this year.

"I've liked the way we've done business this summer. Previous years have shown how important it is to sort everything early in the pre-season, as it's not easy for players if they arrive just before the deadline.

"Hopefully with everyone having had the right amount of rest this summer we'll be able to hit the ground running when the Premiership begins. People say you can't win the league in August but I believe you can certainly lose it in the first month.

"It's fine saying it's a nine-month season and there is plenty of time to recover from a shaky start but it's hard playing catch-up week-in, week-out.

"The last thing you want to do is give teams like Manchester United and Chelsea a head start, making things even more difficult for you than they are already."

Gerrard feels he has benefited from a summer away from football this year.

"I missed a bit of the last pre-season because of the World Cup. I came back and felt I needed more holiday," he said.

"I was mentally and physically drained at the start of the season but this time I feel I've had a break and we will go into the season brimming with confidence."
---
MAY 6
Gerrard: I'm ready to sign new deal

By Tony Barrett - icLiverpool

Steven Gerrard was today edging closer to agreeing a deal which will tie his long term future to Liverpool as the Reds skipper admitted he has "never been happier with his football".

Talks have been ongoing between Gerrard's representatives and club officials for a number of weeks as Rafa Benitez looks to keep one of the jewels in Liverpool's crown at Anfield.

And with a second Champions League final in just three years on the horizon, Gerrard appears ready to commit himself to a lengthy new deal.

He confirmed: "I'm in talks to extend my contract at Liverpool and I've never been happier with my football.

"I'd love nothing better than to get this contract sorted and signed."

Benitez is equally keen to keep all his leading stars at the club and contract talks are also under way with Jamie Carragher, Xabi Alonso, Pepe Reina and Steve Finnan.

Gerrard is delighted that the club has started talks with himself and his team-mates and now he is looking forward to seeing their futures resolved swiftly.

He said: "We need to keep all of our big players here so it's very important we get the contracts sorted out so they can be here for a long time."

The captain will be particularly keen to ensure there will be no repeat of the aftermath of the 2005 Champions League final when talks were allowed to break down, pushing him towards the Anfield exit door before being pulled back from the brink with a last minute change of heart over a proposed move to Chelsea.

In the meantime, Gerrard is concentrating on being in the best possible shape to take on AC Milan in the Champions League final and he believes Benitez's keen eye for detail will give them the best possible chance of winning the trophy for a sixth time.

He said: "Rafa's CV speaks for itself and I don't have to tell you how good he is. There's no getting away from it, he's one of the best managers out there. We're just lucky and grateful that he's here and that he's our manager.

"We're aware of Milan's strengths and weaknesses and we'll watch a lot of tapes before the game to make sure our preparations are spot on.

"We'll go there and try to be really strong defensively like we have been in Europe.

"They've got top players but then so have we so there's every chance we can go there and win.

"Obviously I'm really looking forward to it and I'm confident we can bring the Cup back home.

"They're a fantastic team and we know it's going to be really difficult so we need to be right at the top of our game.

"I'm sure they want to make amends because Istanbul hurt them. They have a chance for revenge but me and the boys are going to be ready for that."
---
MARCH 21
Reds' hero gets his MBE

Liverpool Echo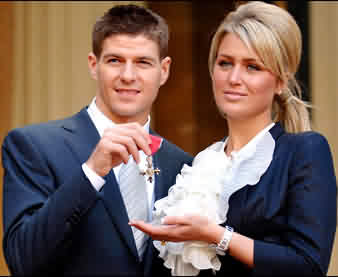 Reds' hero Steven Gerrard was today made an MBE.

The Liverpool FC captain and England midfielder Gerrard was accompanied to Buckingham Palace by fiancee Alex Curran, who was conservatively dressed in a dark blue suit with frilled collar, for his investiture by the Queen.


Steven Gerrard, accompanied by fiancee Alex Curran,
gets his MBE from The Queen today. (Photo: AP)
Many football watchers have expressed surprise it has taken so long for Gerrard to receive an honour.

The 26-year-old's crowning glory was the day he led his team back from the dead in Istanbul in 2005.

The Reds were 3-0 behind AC Milan in the final when Liverpool's 'Captain Fantastic' drove home the first Liverpool goal and lifted what appeared to be a beaten side to an amazing victory.

He made his debut with Liverpool in November 1998 as a substitute against Blackburn and scored his first goal for the club in a 4-1 victory over Sheffield Wednesday in December 1999.

The born and bred Scouser was made captain in 2003 and stuck with Liverpool despite speculation he would join Chelsea.

He has two young daughters, Lilly-Ella and Lexie, with his partner Alex Curran.
---