---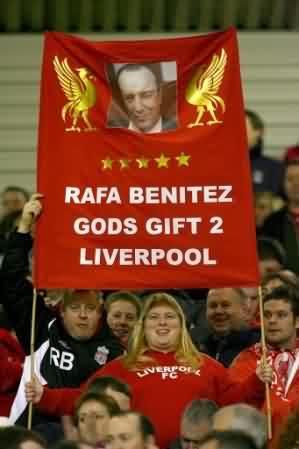 DECEMBER 1
Aldridge: Let's see more of
Crouch and Torres combo

By John Aldridge - Liverpool Echo

On Wednesday night, Liverpool faced a very strong European side at Anfield in the form of Porto.

It was tight and it was nip and tuck at 1-1 and there was a time when the game could have gone either way.

But then Rafa Benitez made a couple of substitutions, with Peter Crouch and Harry Kewell coming on and, all of a sudden, everything changed and Liverpool ended up running out comfortable winners.

You have to give Rafa all the credit in the world for the substitutions he made because they really did change the game.

But, for me, I think the way Liverpool went on to score three more goals against a side which doesn't normally concede goals shows just how important Crouch is.

I've been banging on all season about how I think Crouch and Torres is Liverpool's best partnership up front and I'd love to see them being given a run of games together.

I know Rafa likes to play Voronin or Kuyt in behind Torres but, to me, we just look a much greater threat and much more likely to score when he goes with Crouch.

Crouch's goals per minute ratio must be incredible because he's not playing every game and when he is involved it tends to be as a substitute but he's still scoring plenty.

The goal he got on Wednesday night was a perfect example of what he can do. Some defences just don't know how to cope with him because of his height and they become so confused that he ends up scoring a free header from the edge of the six yard box.

So whenever I look at Liverpool's striking options I keep on coming to the same conclusions – Crouch and Torres are definitely the best bet.
---
NOVEMBER 29
Just forget the absurd
idea of sacking Rafa Benitez

Comment by David Prentice - Liverpool Echo

The Kop spoke loudly and eloquently. Rafa Benitez was more understated, but just as sincere in his
post-match response.

Now it's time we had one last statement from Liverpool's owners, to put a line under this very un-Liverpool like week.

Sports journalists are often accused of watching a totally different game to the one in front of them.

So I must be guilty as charged.

Because while I've had my eyes wide open over the past eight days, I'm afraid I still appear to have missed something.

Rafael Benitez on the brink of the sack? The whole notion is absurd, especially at a football club as solid, as traditional, as eminently sensible as Liverpool.

And the 40,000 supporters who have signed an online petition supporting their manager, the fans who delivered an emotional and clear message of support at Anfield last night, and those who staged a protest march from the Sandon Hotel before the match, also seem to find the situation equally odd.

It's not difficult to see why.

Liverpool have a manager who has guided them to two Champions League finals in three seasons, winning one of them; he has also claimed an FA Cup, seen his team run out in a Carling Cup final, lifted a Super Cup and is still unbeaten in this season's Premier League.

He has also given his side a fighting chance of qualifying for the knockout stages of this season's Champions League with last night's defeat of Porto, a win which had as much to do with the changes elicited from the dug-out as it did Fernando Torres' brilliance.

Rafa Benitez won't win the Premier League this season, but he could close the gap to a margin not seen since Gerard Houllier got within seven points of the Gunners in 2002.

And that's just on the pitch. Off it Benitez has developed a remarkable bond with supporters.

That bond is based on results.

Benitez is an engaging, affable individual – but a lack of fluency in English makes it difficult for him to convey that charm.

He is not a demonstrative touchline boss either.

While Jose Mourinho will play to the gallery with manic celebrations and rebukes to away fans, Benitez will "work on solutions to why my team is not controlling the middle of the park" – like he did last night.

That bond has grown because Liverpool fans trust him with their football club.

He may take liberties, like leaving Torres out of home games, signing players like Josemi and Pellegrino, and treating the FA Cup with an almost dismissive contempt.

But he gets results.

And that's something surely Tom Hicks and George Gillett cannot ignore.

Sure, Benitez spoke out of turn last week with his childish focus on coaching and training.

But it was a wholly understandable reaction.

Perhaps I'm old fashioned.

But I share the view of the greatest Liverpool manager of them all.

"At a football club, there's a holy trinity – the players, the manager and the supporters. Directors don't come into it. They are only there to sign the cheques," said Bill Shankly.

It's not the job of directors, club owners, chief executives or any other officials to weigh up the pros and cons of potential signings.

That's the job of the man with the football background – because he will rise or fall by those signings.

If those owners don't trust their managers' judgement, that's a different story. Then it's time to get rid. It's as stark and as simple as that.

But if they believe their manager still has what it takes to bring their club success, they must back him as much as club coffers will allow.

This appears to be a struggle for influence at Liverpool Football Club.

And it reminds me of an uncomfortable situation I worked through a decade ago.

Claus Eftevaag never played a single match for Everton.

Yet his name is woven into the historical fabric of the club.

And I'm worried that he might have a modern incarnation in AC Milan defender Kakha Kaladze.

Joe Royle was blocked from signing the Norwegian journeyman by his chairman, Peter Johnson, and Everton lost the last manager to bring silverware to Goodison Park.

Ironically, Royle always believed that had Johnson's right-hand man, Cliff Finch, not been out of the country that week he would have sat the warring parties down, talked some sense into them, and a crisis which damaged Everton Football Club would have been averted.

Liverpool have a man who can act as peacemaker in this current impasse.

Chief executive Rick Parry is close to the American owners and is in the ideal position to talk sense into all parties concerned.

Because losing Rafa Benitez now, in January, or even beyond, would not be beneficial to Liverpool Football Club.

The Kop delivered its message last night.

Rafa Benitez offered his response.

Now it's time for the Americans to make their own statement of support – unless their minds have already been made up.
---
NOVEMBER 29
Torres hails 'great' Benitez

By Tony Barrett - Liverpool Echo

Fernando Torres today praised the Liverpool fans for their show of solidarity with Rafa Benitez against Porto last night and hailed his manager as a "great".

The Spanish striker scored twice in Liverpool's 4-1 win over Porto, a victory which means the Reds will qualify for the knockout stages of the Champions League if they beat Marseille in France in a fortnight.

Torres said: "We knew we had to win and the way the match was turning out with the score 1-1 we were finding it hard to find a clear way to their goal. But at the end, after the substitutions were made, the team found a way and we scored three more goals.

"This is Liverpool, and when things go our away we have a lot of firepower.

"The atmosphere was amazing.

"For many reasons, because all that was going on this week with Rafa, and the people here really get behind the team when we need their backing most.

"They really support you as much as they can and that is a gift for all of us.

"It was great for those that had never enjoyed a night like this before and especially for Benitez because we've seen that the supporters are really behind him.

"I think Benitez is more than a manager.

"He's one of the greats in their history and people feel that way about him and they show it.

"And we all had an idea that he's somewhat special here but, honestly, what I saw at Anfield tonight was really impressive.

"I'm really impressed at how much he's loved by the people, above anything else, even the players.

"I feel their affection, the support for my team-mates and with each passing day I'm feeling more of a part of this and happier with everything and at the end of the day those things are reflected on the pitch."
---
NOVEMBER 29
Carragher: Torres is world class

By Ian Dixon - Goal.com

Jamie Carragher believes that Fernando Torres is one of the best strikers in the world and could become the goalscorer that the club have been looking for.

The Reds' defender has been very impressed witht the Spaniard since his arrival from Atlético de Madrid in the summer and thinks his pace and strength are his main assets.

Torres netted twice in Liverpool's Champions League triumph over Porto on Wednesday and now has ten goals in his first 16 appearances for the Merseyside outfit.

"He is a world-class striker and he's probably up there with anyone now in striking terms. I only have to mark him in training, thankfully," Carragher told Liverpoolfc.tv.

"It's raw pace and strength that he's got and that will cause defences problems.

"It was a big relief when he got the second goal because when it's 1-1 anything can happen. It was a great goal by Fernando, showing what a top player he is. It was a great performance from him. He's been outstanding all season but he's done it in the Champions League and in a big pressure game like that.

"He looks like becoming the 20-goal a season striker we've been crying out for but it's not just that, it's the work he puts in. He puts himself about and I think people appreciate the graft he puts in. Even if he doesn't score he makes it really tough for defenders.

"He's a great lad as well but as long as he's scoring goals it doesn't matter what he is!"

Carragher then reflected on Liverpool's chances of qualifying for the next round of the Champions League as they have now have to go to Marseille and win.

"When we came into the competition we probably wouldn't have liked to be in this position but, after the start we made, we're delighted to be going there with it in our own hands," he continued.

"We realise it's going to be very difficult. We played there a few years ago in the UEFA Cup and we know the atmosphere. It will be a great game to play in, so hopefully we will get the right result now.

"We've got to have confidence in the players that we have. Marseille have got good players too and they proved that at Anfield. With our experience, and the way we have played over the last few years in Europe, we have got to be confident.

"We're Liverpool, we have good players, so we don't have to fear anyone."
---
NOVEMBER 29
Mission to Marseille

Sky Sports

John Aldridge told Sky Sports News that Liverpool have the big-game experience to win in Marseille and qualify for the knock-out stages of the Champions League.

Following Liverpool's 4-1 win over Porto on Wednesday night, Aldridge is confident that his former team can get the win in France in the final match of Group A that would see them through.

"They still have an awful lot of work to do," said Aldridge, "but Liverpool are cock-a-hoop at the moment.

"Marseille have had a couple of bad results and hopefully that would have dented their confidence."

Marseille were beaten 2-1 by Besiktas which leaves them just ahead of Liverpool in second spot on goal difference.

And Aldo is sure that Rafa Benitez and his team will get the win they need at the Stade Vellodrome.

"We've been to a lot more intimidating places and come away with a win, ie, Barcelona last year at the Nou Camp. That will put them in good stead to go to Marseille and get that all important win."

Aldridge was pleased with the team's performance against Porto.

"We're on a good run of form in adversity maybe, but I think Rafa Benitez will be pretty pleased this morning.

"The team last night played very well - we went off the boil for about 20 minutes before half-time and 15 minutes after the break but in between they were superb - we played some really good, flowing football.

"I thought Peter Crouch when he came on was absolutely fantastic and Fernando Torres - what a great player he is."

And Aldridge has given his support to Benitez, who certainly has the backing of the Anfield faithful.

"I think the fans support for Rafa was to be expected after all the hullabaloo that's gone on.

"I don't think the Americans will be too happy - it wasn't a parade as such, it was just a backing for the manager. The fans want him to stay, he's done a great job and now they want him to continue doing the job.

"He's put the foundations in place to perhaps take us on the win the Premier League along with the Champions League."

Steven Gerrard grabbed the third goal - his 23rd goal in European football as he overtook Michael Owen's record - and Aldridge paid tribute to Liverpool's skipper.

"Well it goes without saying, Gerrard is Mr. Liverpool at times and to achieve that record - to beat one of the greatest goalscorers that Liverpool have had at such a young age is marvellous. And he will score a lot more, that's for sure."
---
NOVEMBER 29
Benitez maps out Reds future

By Chris Stanton - Setanta Sports

Liverpool boss Rafa Benitez believes he will come to an agreement with the club's owners Tom Hicks and George Gillett over his future role.

Relations between the two parties soured last week after Benitez was told, now infamously, by the American owners to 'focus on coaching the team' rather than discussing the club's transfer policy.

Benitez considered the comments an affront but Liverpool's victory over Porto on Wednesday witnessed overwhelming scenes of support for the Spaniard from The Reds' supporters.

Benitez said: "I don't have any personal problems with the owners. We were talking about the future of the club, not personal problems. So I wasn't angry, just surprised a little with the situation because I was trying to improve my club.

"Ok, maybe I need to wait, but I don't need to go back to go forward. I was just trying to do my best for my club – and I don't have any problems with George and Tom.

"We need to talk more. People said the problem is my ego. But it's not my ego, it's my responsibility. I need to take care of my team and my squad and my club – and that means planning for the future.

"It would be easy for me to stay here doing nothing and drawing my wages at the end of the month. But I want to do my best for the club. I want to be involved and I think they understand that.

"People have said winning will strengthen my position but I don't think I need to strengthen my position."
---
NOVEMBER 29
Kop state their case
but it may be too late

Comment by Nick Smith - Liverpool Daily Post

As usual when the Kop is involved on European nights, the message couldn't have been any more emphatic and inspiring.

But whether it's effective is another matter entirely. Because, all in all, it doesn't tell anyone anything they didn't know already.

Rafael Benitez, the man who brought the European Cup to Anfield for a fifth time and leads them into December still unbeaten in the quest for the Holy Grail of title number 19 and still very much in the Champions League after last night's demolition of Porto, is adored by the supporters and they want him to stay. News just in.

Something that must have been obvious to Tom Hicks and George Gillett long before word of last night's events got back to them.

But where was the marauding, menacing mass of banners back in February when the American owners sealed their takeover?

Being dyed red and rolled out as carpets mostly.

Of course not all Liverpool supporters welcomed the Americans so warmly amid that all-too-common apprehension and fear of the unknown.

But Gillett and Hicks arrived to fund the future and spearhead the move to the new stadium – and there weren't too many protest rallies blocking the gates of Stanley Park back then.

Their relationship with the manager is in sharp focus now but when the takeover dawned, it was an issue blurred by the bigger picture. When they were still quizzed about it in their first, and so far only, official Press conference they did their best to display a united front despite not appearing to have discussed the playing side with Benitez in any fine detail.

And while they insisted they would all be reading from the same hymn sheet, there was still the niggling suggestion they'd be singing different tunes before long.

The warning signs were there from day one, one day when the American duo were certainly on the same wavelength.

"We want to match Chelsea in winning not spending. It's not just about spending money," said Gillett.

"Teams who try to spend to win just by itself usually don't. It takes a combination of other things," followed Hicks.

Just two soundbites that summed up their attitude to an over-reliance on the transfer market.

And 10 months and a £20million net outlay later – plus the tentative approach to this January's window – proves that nobody can accuse them of wavering from that philosophy.

It's one that didn't seem to bother Benitez when they took over and even the rocky road that lay ahead in the aftermath of the Champions League final defeat was soon smoothed over by the Spaniard's desired summer of strengthening coming to fruition

Only now, when it becomes clear that their policy is jeopardising Benitez's position at the club do the Americans find the tide turning against them.

'As always we are focusing on supporting our manager' read one banner almost half the width of the Kop.

But the intensity with which this task was carried out last night hints at the genuine fear generated by the past week's descent into civil war.

A fear that the disharmony will soon spread through to the players and disrupt the promise of the domestic campaign.

A fear that Hicks, in particular, hasn't got where he is without a ruthless streak and a refusal to back down when he thinks he's right.

A fear that Benitez's insistence that he wants to stay and fulfil all his managerial ambitions with Liverpool will only happen if his employers allow him to do it his way.

And a fear that the most important voice of all, the fans', will get lost when the final say is delivered.

This was hinted at in another message spelt out in red and white and delivered directly across the Atlantic: 'You are the custodians, but it's our club. Rafa stays.'

And Liverpool is, of course, the supporters' club emotionally and historically.

But financially, it's Gillett and Hicks scribbling their names at the bottom of the cheques.

Their right to do this was handed to them with far less opposition than they will face if they can't re-establish their working relationship with the manager.

But that fact remains, they were on a collision course from the very beginning.

And, rousing as last night's show of solidarity behind Benitez was, it could all have come too late.
---
NOVEMBER 28
Rafa rubbishes rift rumours

By Peter Fraser - Sky Sports

Liverpool manager Rafa Benitez insists he does not want to quit Anfield after guiding his side to a 4-1 UEFA Champions League victory over Porto.

A Fernando Torres brace and goals from Steven Gerrard and Peter Crouch were enough to cancel out a Lisandro Lopez header and ensure Liverpool travel to Marseille in two weeks' time for their final group game knowing that another win would book a place in this season's knock-out stages.

However, the match was overshadowed by the reported bust-up between Benitez and the club's American-based owners Tom Hicks and George Gillett, which has cast doubt over the Spaniard's future with Liverpool.

The Liverpool supporters, though, made their appreciation of Benitez evident during the match at Anfield and the Reds boss insists he is also happy on Merseyside.

Proud
"I am really proud to be here and I say thank you because they (the fans) know that I want to stay and fight for my club," Benitez told Sky Sports 2.

"I don't have any personal problem with the owners or with anyone. I just try to improve everything and they also want the best for the club. We will talk and try to go forward and progress.

"I want to say thank you to the fans after their support for today. Today is for them."

Meanwhile, Benitez recognises that his team were in a difficult contest against Porto, but he remains confident that Liverpool can qualify for the knock-out stages after Besiktas' 2-1 win over Marseille ensured all Group A teams still harbour hopes of qualification.

Quality
"It was a very tough game against a very good team with quality and ability," Benitez added.

"We were a little bit under pressure, but when we scored the second goal it was a little bit easier, but it was always against a very good team.

"They were always pressing and so it was difficult to pass the ball and we gave the ball away a couple of times and were a little bit nervous.

"We had confidence. We needed to win three games in a row. We have won two and everyone can go forward."
---
NOVEMBER 28
Terrific Torres keeps Reds alive

TEAMtalk

Fernando Torres' double kept Liverpool's hopes of Champions League progress alive with a hard-fought
4-1 victory over FC Porto at Anfield.

The Reds' European survival fight will now go right down to the wire with victory in their final game against Marseille now required following their four-goal blast on Wednesday.

As a statement of support for under-pressure coach Rafael Benitez it was a pretty conclusive effort both on and off the pitch as Torres' double saw the Reds through a potentially difficult night after Lisandro Lopez had levelled for the Portuguese outfit.

It means the planned meeting between Benitez and co-owners George Gillett and Tom Hicks immediately after the Anfield encounter with Manchester United on December 16 will take place just six days after Liverpool's European fate is decided in the Stade Velodrome.

And, if the Kop have their way, win or lose Benitez will be hanging around, in their eyes the clear winner after an unseemly stand-off that has developed between the popular Spaniard and the men who run the club.

With his name being chanted from all corners of the ground, Benitez emerged from the tunnel, acknowledged the support, then immediately pointed to the pitch as if to ensure their fervour was directed towards his team.

The Kop heeded to an extent in that they maintained the atmosphere until Torres opened the scoring.

But most of their songs made it perfectly clear they saw Benitez, who has led them to two Champions League Finals without getting close to ending a near 20-year title drought, as the long-term future.

For Benitez, the requirement is two-fold; keep winning matches and prove his previous expenditure has been worth the investment.

Already, the £26million paid to Atletico Madrid for Torres looks like a shrewd deal.

The opener tonight, a firm downward header after Steven Gerrard had picked him out, completely unmarked, with a right-wing corner, was his ninth goal in 16 games for Liverpool, although strangely his first in Europe.

Such a statistic begs an obvious question over why Benitez has repeatedly left him out of his starting line-up.

The answer is in the Spaniard's cherished, if controversial, rotation policy, which Benitez is convinced will bear fruit come the spring.

For the period around Torres' goal, it all looked entirely plausible.

The Spain forward might have scored already but Helton got behind his powerful 20-yard drive and Andriy Voronin was also making a nuisance of himself as the Porto defence creaked.

Everything changed just after the half hour mark though as Liverpool's passing suddenly became sloppy and Porto seized their chance.

Alvaro Arbeloa completely misread the flight of Przemyslaw Kazmierczak's cross and as it drifted over the full-back's head, Lopez arrived with perfect timing to power home.

Gerrard and the previously excellent Javier Mascherano became hesitant and but for half an inch, Liverpool would have been behind as the excellent Lucho Gonzalez lifted a sublime pass to Lopez whose flicked finish bounced agonisingly wide of Pepe Reina's goal.

Marek Cech then saw his piledriver flick off Mascherano and fly just over with Reina beaten.

The interval at least allowed Benitez to generate some self-belief into his players, which had the desired effect as Liverpool attacked with some gusto immediately after the restart.

Yossi Benayoun had a gilt-edged chance to relieve the pressure when he was set up by Torres, who himself had been found by Reina's amazingly accurate 70-yard clearance.

All it needed was a firm strike. Instead, Benayoun scuffed his shot which bobbled horrendously wide.

The miss induced even more nervousness in Liverpool ranks, which only the arrival of Harry Kewell alleviated.

Helton then cut out Mascherano's low cross in unconventional feet-first fashion as Ryan Babel closed in.

A close thing it may have been but it was enough to raise the rafters once more.

Kewell went close twice, Sami Hyypia had a shot blocked and Milan Stepanov booted Babel's curling effort off the line.

It needed a master craftsman to unpick the Porto defence. Thankfully for Liverpool, in Torres they had one.

And, after collecting Arbeloa's through ball, the 23-year-old retained the calmest head in the stadium to finish superbly.

For the first time Porto's heads dropped, their spirit deflated by the knowledge they have another chance to go through against Besiktas in a fortnight.

Liverpool ploughed on regardless and when Stepanov handled Gerrard's free-kick, the Reds skipper ignored the fact Torres was on a hat-trick to stroke home the spot-kick himself.

Substitute Peter Crouch added a fourth three minutes from time.

"Rafa's going nowhere" chanted the Kop as he shook every player by the hand and then left the pitch on his own with the support of the crowd ringing in his ears.

Benitez will hope they get their wish.

---