---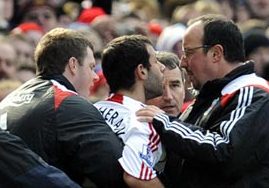 Rafa does his best to calm Mascherano down.
MARCH 28
Reds fine Mascherano

Ireland On-Line

Liverpool have fined midfielder Javier Mascherano after he admitted a Football Association charge of improper conduct following his sending-off away to Manchester United last weekend.

Mascherano today asked for a personal hearing which is expected to take place in London next Friday. But today Anfield boss Rafael Benitez also revealed that Mascherano had been fined by the club – believed to be the maximum two weeks' wages of around £100,000 – with the 23-year-old asking that the money be donated to charity.

Benitez said today: "Javier is a fantastic professional and he knows he made a big mistake, he apologised to his team-mates and the supporters and he has now apologised to the referee.

"He accepts he lost control after the sending-off and has said sorry to the referee. I have also talked with him now and told him he would be fined by the club, and he has accepted that and wants the money donated to charity.

"We would like a personal hearing now. This was the first red card of our season and we do not have problems of this kind. We will now await the outcome of the hearing and the lawyers are now working on it."

Mascherano will serve an initial one-match ban in the Merseyside derby on Sunday. It is possible that that suspension could be extended for two more matches if he loses the appeal.
---
MARCH 26
Masch hit with FA charge

By Alex Livie - Setanta Sports

The Football Association have stepped into the Javier Mascherano affair by charging the Argentina international with improper conduct.

The Liverpool midfielder was sent off against Manchester United at the weekend, with his second booking coming on the back of a constant stream of criticism towards referee Steve Bennett.

Mascherano was apoplectic with rage when shown a second yellow card and had to be ushered down the tunnel by team-mates and manager Rafa Benitez.

Liverpool were unhappy with Bennett's actions, a view not shared by the wider football community, but The FA have taken a dim view of the player's conduct.

"Liverpool's Javier Mascherano has today been charged with improper conduct," read a statement from The FA.

"The charge relates to his reaction towards referee Steve Bennett after being sent off against Manchester United on Sunday 23 March.

"He has until 6pm tomorrow (Thursday) to respond. The case will be heard by a Regulatory Commission on Friday 4 April.

"Mascherano is currently serving a one-match suspension for the sending-off."
---
MARCH 25
Respect agenda must
start at top of the game

Old Trafford analysis by Tony Barrett - Liverpool Echo

If Steve Bennett had been refereeing an amateur game at Walton Hall Park on Sunday the chances are both managers would have told their players beforehand not to bother speaking to him.

It is a scene played out in Sunday League dressing rooms on a weekly basis when matches are officiated by over-officious referees.

It is no different in the Premier League and Bennett is one referee who players and managers have long been wary of getting on the wrong side of. Which makes Javier Mascherano's attempt to question him time andagain all the more difficult to comprehend, particularly as he already had a yellow card to his name.

Throw in the fact Bennett had just sent out a clear message that he would not tolerate any back chat by booking Fernando Torres and Mascherano's decision to ask the referee "what's happening" was always going to end in dismissal.

Under the laws of the game – and no matter what anyone says about the current climate, matches should only be governed by the laws – Bennett was well within his rights to send him off for a second bookable offence.

Law 12 stipulates a player can be booked if he shows dissent by word or action.Mascherano was a repeat offender.

The problem is, like the off-side rule, dissent is another grey area open to the interpretation of the referee on the day and this can, and often does, result in inconsistency.

Bennett decided that being asked "what's happening" was a show of dissent too far as it questioned his decision making.

The laws clearly allow referees to make such decisions and for the sake of football it is vital players know there is a line that they cannot cross.

But, similarly, players have a right to demand at least a degree of consistency and at Old Trafford this quality was conspicuous by its absence.

The Match of the Day cameras later showed Mascherano had spoken to Bennett on three or four separate occasions leading up to his sending off. After seeing these incidents it was easier to understand why Bennett felt his authority was being questioned therefore compelled to act.

But what Match of the Day did not show were incidents – and they were numerous – of players on both sides questioning his decisions and, at times, launching foul mouthed tirades against him.

Did Bennett decide these instances did not amount to dissent? Does he allow players to have a little pop as long as it doesn't happen over and over again? Or does he have his own personal line he doesn't let players cross?

These are questions which need to be answered. They need to be answered for every single player who kicks a ball on pitches the lengthand breadth of this country.

The FA has a moral duty to support Bennett in this case, particularly at a time when respect for officials is so high on the agenda in the wake of Ashley Cole's well publicised maltreatment of Mike Riley.

But there is an element of Sunday's controversy which needs examining as a matter of urgency and that is the role rival managers play in putting pressure on officials.

Alex Ferguson has been indulging in this highly dubious pastime for decades only for it to be given the euphemism of "manager's mind games" by somein the media.

It is not mind games. It never has been and never will be. It is a clear attempt by a manager to influence the decision making of a referee to favour his team.

Is it really okay for managers to talk about officials in the days leading up to games when their players are hardly allowed to talk to them during the game itself?

Agendas are being set by managers and this will continue while those who govern the game wash their hands of the problem as a relative insignificance.

Ferguson knows he can get away with it as he did in 1999 when he spoke of the need for the official in charge of United's Champions League clash with Inter Milan to be on his toes because the Italians had a propensity for cheating.

Sure enough, Inter hardly got a decision in their favour – despite having several excellent penalty claims – and United went through.

Ferguson's 'mind games' had paid off, just as they have done several times since, and he was at it again in the build up to Sunday's game, as highlighted in advance by both Rafa Benitez and former Liverpool star and ECHO columnist John Aldridge.

Ferguson is far from alone, of course, particularly at Premiership level where most managers frequently use the media to try and exert undue influence on referees.

It has got to this stage because the law makers have allowed it to. They have the power to put a stop to this unsporting practice but choose not to, probably out of fear of upsetting the big personalities.

Pontius Pilate impressions have long been the order of the day at Soho Square and even when the FA do act, they invariably take on those who cannot call upon the media to fight their battles.

That is why, in January this year, they wisely banned any player other than team captains from talking to referees – but only at amateur levels.

Had this rule change been in force in football's top tier, Mascherano's venture towards Bennett would have been even more ill advised would surely have helped him see sense.

It would also have removed those grey areas which see some examples of clear dissent go unpunished.

Mascherano's mistake has been rightly punished but football has to get its own house in order from top to bottom if the respect for officials the game so badly needs is to be achieved.

And unless all managers and players at every level are brought into line then Mascherano will be no more than a sacrificial lamb.

Launching the plan to try and rid the scourge of dissent at amateur level, Football Association chief executive Brian Barwick said: "In my opinion this thing has to start at the bottom."

If the Cole and Mascherano incidents have shown anything it is that this thing has to start at the top.

The very top.
---
MARCH 25
MARK LAWRENSON:
I'm amazed Benitez
is defending stupidity

By Nick Smith - Liverpool Daily Post

Sunday's sending-off could set a benchmark that will be good for the game in the long-term. If Javier Mascherano has to be the fall guy that enables that to happen then so be it. Tough luck.

But something needs to be done to stop all this business of getting in referees' faces and showing absolutely no respect for authority. Fans have had a belly-full of it.

Okay, so Ashley Cole should have been the one to have an example made of him last week when Mike Riley failed to red-card him for his dissent.

But after Sunday, we can all see that officials aren't going to stand for any more of that and the game will be all the better for it.

Yet Mascherano still fully deserved his dismissal for the sheer stupidity of his actions – and it amazes me how Rafael Benitez can defend them.

On the monitors we have in our radio commentary position we could see Mascherano, even after he had his first yellow card, mouthing off at Steve Bennett after every decision. You could see what was coming.

What's even more baffling is the fact that the incident he got sent-off for came from a Liverpool free-kick. It wasn't like it was a dodgy penalty at the Stretford End or something that gave Ronaldo a free shot at goal. It was no big deal.

And then just as Torres is being booked for dissent, Mascherano decides to run over and add his opinion. How could he have thought that Bennett would let it go after he'd already booked his team-mate seconds earlier? What did he expect?

You could see Gerrard and Alonso trying to grab him to stop him protesting because they knew he was on his way if he continued harassing the ref.

If they could get their heads round what was going on, why couldn't Mascherano? And why couldn't his manager?

Benitez should be coming out after that game and slapping a fine of two weeks' wages on the player and making him apologise to his team-mates and fans.

As good a player a Mascherano is, you can't afford to lose the plot in a game of that importance – it just lets everyone down.

Including Benitez. Which is why I was surprised he came out and defended the player because surely he would have been more frustrated with him than anyone?

A few more looks at it, coupled with some time to think, might make Rafa realise how foolish his midfielder was, especially as he was treading such a thin line after his initial booking.

After all, when you're 1-0 down at Old Trafford it's difficult enough to get back into the game but down to 10? No chance.

Sadly, Liverpool were already looking well on their way to defeat to United before the sending-off.

They were cut open down the middle four or five times and Skrtel and Carragher had a poor day positionally.

It was already looking so ominous even before Mascherano put the result well beyond doubt.

Mark Lawrenson was talking to NICK SMITH
---
MARCH 24
Mascherano: I don't
know why ref saw red

Liverpool Echo

Javier Mascherano today admitted he remains at a loss as to why he was sent off against Manchester United during Liverpool's 3-0 defeat at Old Trafford.

Goals from Wes Brown, Cristiano Ronaldo and Nani brought Liverpool's seven-game winning run to an abrupt end but the big talking point was the dismissal of Mascherano after he received two yellow cards.

Referee Steve Bennett had already booked the Argentinian for a foul when Mascherano approached the official after Fernando Torres had also been booked.

Television replays appeared to show Mascherano was asking Bennett "what's happening", only for the referee to issue him with a second yellow card for dissent.

Mascherano was left distraught by the controversial dismissal which left Liverpool with ten men for 46 minutes and he today apologised to his team-mates.

He said: "I do not know why I was sent off.

"I asked the referee what was happening. I did not swear, I was not aggressive and I did not confront him.

"All I did was ask him what was happening, nothing else.

"So when he showed me the second yellow card and sent me off I could not believe it.

"I am sorry to my team-mates because that meant we went down to ten men and that made things even more difficult for us."

Mascherano flew to Egypt to join up with the Argentina national squad straight after the game and he will now be banned for the forthcoming Merseyside derby.

The Football Association is also expected to study Bennett's post-match report before deciding if Mascherano's refusal to leave the pitch immediately after his dismissal should result in further disciplinary action.

But Reds boss Rafa Benitez believes there is no need for any more sanctions and his immediate concern lies with the fitness of Fernando Torres, who picked up a number of knocks in what turned out to be a bruising encounter for Liverpool's top scorer.
---
MARCH 24
Mascherano must take
responsibility for his actions

Comment/Liverpool Daily Post

Rafael Benitez needn't have worried about comparisons to Roy Keane going to Javier Mascherano's head.

But it was when they went to his mouth that the problems deepened for the Liverpool manager yesterday.

What disappointed Benitez most is that it wasn't exactly a Keane-style rant that led to the demise of his midfield enforcer.

This wasn't the vein-bulging, eye- popping intimidation that Andy D'Urso had thrust in his face at this ground eight years ago – an incident even serial referee sympathiser Sir Alex Ferguson admitted he was ashamed of in the build-up to yesterday's game.

Mascherano might share many traits with Keane but no-one can do 'angry' quite as well as the former Old Trafford skipper.

Yet the Argentinian does have to take responsibility for his own actions.

If a referee is dishing out a yellow card for back-chat to one of your team-mates, you don't run half the width of the pitch to join in the dissent when you're already on a booking yourself. But it won't be lost on Benitez that Mascherano was yesterday something of a fashion victim. The first to be made an example of by officials keen to set a trend.

All seemingly because – breaking news – Ashley Cole showed someone some disrespect. So Cole is allowed a potentially leg-snapping lunge, followed by the equivalent of a two- fingered salute to Mike Riley's authority, then a PR stunt disguised as grovelling apology.

The Chelsea left-back comes out of it all with a yellow card and Mascherano is left to pick up the pieces of that mess with two of them.

So the sum of his crimes – the first being a badly timed but in no way malicious scything of Paul Scholes ­– is deemed twice as bad as those of Cole only four days earlier.

However, in the context of 'disrespect' being the buzzword of the week, Mascherano is the fall guy of those morally lop-sided circumstances.

Maybe he should have been wiser to it and kept his mouth shut. But surely Bennett should have been wise to the fact that you can't impose gagging orders when emotions are running high in the biggest club fixture of the Premier League season.

Still. Mascherano mouthed off and, just like Keane used to, he single-handedly and comprehensively turned the game in United's favour.

Not that they weren't well on top before Mascherano departed just before half-time, but halting United's relentless surge with a full side is difficult enough. With a man down, it's like trying to stop Sky's horrible week-long hype ahead of 'Grand Slam Sunday'. Impossible.

Liverpool actually made a better fist of it for periods in the second half as the home side's complacency threatened to cost them an equaliser.

But the absence of Mascherano was always more likely to lead to what happened late on, with Pepe Reina more exposed than Paul Jewell as things gradually unravelled in front of him.

The controversial sending-off aside, however, events only once again underlined Liverpool's limitations in keeping pace with the genuine title challengers.

Cristiano Ronaldo had a subdued afternoon yet still scored his 34th of the season, while Wes Brown and Nani were able to come up with decisive contributions when then big guns weren't firing on all cylinders.

Liverpool don't have those luxuries. Benitez at least got one thing right ahead of the fixture that always goes wrong for him when he predicted United would be just as worried about Fernando Torres as they were about Ronaldo.

And he was spot on – they were worried to the point of obsession.

If Torres saw off Vidic, Ferdinand was all over him. If he eluded them both to get into a shooting position, Carrick was covering.

It was almost as if United knew that they could afford to plough all their resources into stopping Torres.

That if they gave Ryan Babel room, his final ball would let him down every time and that Dirk Kuyt wouldn't have the guile and invention to make any useful contribution with whatever space or possession he was afforded.

And there was the difference. United can haul match-winners out from the back of the sofa, Liverpool's are on display for all visitors to see. If they can't produce it in the big games – and Steven Gerrard stood no chance once the gap where Mascherano once was beckoned him back in – nobody is there to pick up the baton.

So United benefited from having one extra man. And it's looking increasingly like Liverpool will have just that one extra league title in the record books come May.
---
MARCH 23
Benitez: Javier knows his mistake

By Jimmy Rice - LFC Official Website

Rafa Benitez admitted Javier Mascherano was naïve during Sunday's 3-0 defeat to Man Utd but claimed the Argentine was dismissed simply for asking the referee a question.

Steve Bennett showed the midfielder a second yellow on the stroke of half time after his enquiry as to why Fernando Torres was booked.

Lively protests followed before Benitez eventually calmed Mascherano down.

The Liverpool boss said: "It's clear Mascherano made a mistake but he was only asking the referee a question. Ryan Babel was there and saw that he was just asking.

"I do not think that to ask is a big problem in the end. Maybe Javier does not know the referees.

"If you want to win you must have passion in a big game, and sometimes you make mistakes, but he was only asking the referee about a bad tackle.

"I have talked to him and he knows it was a mistake."

On the player's response to the red card, Benitez added:
"The referee decided to give a second yellow and he couldn't understand. He was as surprised as me.

"I could speak to him in Spanish, so I said, 'Listen,
it's finished.'

"He is a very good professional who has played a lot of international games all around the world, and he couldn't understand why he was sent off for just asking.

"It's difficult to explain some things that happen on the pitch and I think it is perhaps better to not say too much this time."

Benitez was asked after the final whistle whether he'd now talk to his players about their conduct in front of referees.

He said: "We haven't had too many problems with referees in the last three or four years. I can see other teams but not ours. Tell me in which game over the last four years you've seen our players go at referees? We have a lot of respect for referees."

Asked if he thought Bennett would have sent off Mascherano had Ashley Cole not caused such outrage with his show of dissent in midweek, Benitez replied: "You will have to ask him."

The result means Benitez is now eight league games without a win against United.

Even though the hosts were in front through Wes Brown when the sending off took place, the Spanish coach felt the day could still have brought that first win had the second half started with 22 men on the pitch.

He said: "I am really disappointed because we saw two games: one before the sending off and one after.

"Before the sending off we were more or less okay. We were trying from counter attacks and had some corners.

"We pressed a little bit in the second half but when you play against a team with pace and ability it is hard.

"Our people will now be disappointed and I am the first to be disappointed, but we cannot change the situation."

Benitez admitted afterwards that defensive errors cost his side dear on the day.

"We conceded two goals from two mistakes," said the Anfield boss. "Pepe Reina is better than a lot of players and sometimes you think you can arrive but you just arrive late. These things can happen."

Another player in the thick of the action was Fernando Torres, who received tough treatment from Nemanja Vidic and Rio Ferdinand before being brought off with 10 minutes to go.

Benitez added: "He has some knocks on his ribs and ankle. A lot of knocks and a lot of kicks. I was just trying to protect him. The doctors will do a scan and we will see."

Despite the result, Liverpool go into next weekend's Merseyside derby with a two-point cushion in the race for fourth.

Benitez said: "This game is finished, now we have an international break and then an important game against Everton. I will say to the players to forget about this as soon as possible and think about Everton.

"It's never easy to forget when you lose against one of your rivals when you know that, if you beat them, you will be really, really close. The only thing we can do is think about the next one."
---
MARCH 23
Fergie hails mature display

By Lewis Rutledge - Sky Sports

Sir Alex Ferguson paid tribute to the performance of his Manchester United side following the 3-0 victory over Liverpool.

Wes Brown headed United in front on 34 minutes and Liverpool's task was made more difficult when Javier Mascherano was shown a second yellow card just before half-time.

Cristiano Ronaldo and Nani added further goals in the second half to take United, temporarily at least, six points clear at the top of the table.

Ferguson was delighted with United's display and felt it demonstrated how his side had improved in recent months.

"It was a really good performance - a performance of maturity," the United boss told Sky Sports.

"We've seen a team mature over the last six months and today they hit their high peak.

"We've beaten a strong Liverpool side playing good football."

Ferguson had no complaints with Mascherano's dismissal for dissent, after the controversial incident involving Chelsea defender Ashley Cole raised awareness of the issue in midweek.

Ferguson said: "He has been booked and kept badgering the referee. We've talked about dissent and I think that was dissent."

The Scot still believes the title race is wide open, adding: "It's going to go right to the end, with Chelsea and Arsenal going really well."
---
MARCH 23
United slam sorry Reds

By Ciaran Baynes - Setanta Sports

Though headlines may go to Javier Mascherano's controversial first-half sending off, Manchester United outclassed Liverpool at Old Trafford on Sunday and were full value for their 3-0 victory to push them closer to their 17th league title.

Two Jose Reina howlers either side of half time put United comfortably in front, with Wes Brown and Cristiano Ronaldo benefiting from him missing crosses and substitute Nani put the gloss on the victory with a third.

Having been in their best form of the season coming into the game Liverpool would have been confident of getting something from their trip down the M62 but instead they were well beaten in all departments and were heading for defeat even before Mascherano's sending off for a second yellow card.

Twice inside the first ten minutes Rooney could have scored after being found with balls right down the centre of the Liverpool defence.

First Anderson found him with a threaded ball around Jamie Carragher and the veteran defender was fortunate not to give away a penalty as he clipped the England striker whose strength and honesty on this occasion kept him upright to attempt a shot at goal that Reina saved.

Moments later Scholes clipped a free-kick over the top that caught the defence asleep but Rooney just failed to get the ball under his grasp and Reina collected.

United came close again when Giggs' free-kick fell to Ronaldo at the back post courtesy of a flick-on but his shot came back off the post - though an errant offside flag would have disallowed this anyway.

Although Giggs was not a danger for much of the game he again created trouble with a regulation cross from the left that Reina almost pushed the ball over his line.

Moments later, Reina made an error that would cost his side as he was late to a cross from Rooney that went into the net off Wes Brown's back.

If one Spanish speaker was letting Liverpool down in their net, another did his best to ensure they stayed behind.

Although a second yellow card for running up to the referee and continually shouting "what for?" could be considered harsh, in a week when the media talk has constantly been of the treatment of referees it was foolish in the extreme. Especially as he had been warned for doing the same previously in the half.

After the interval United remained in control. After Rooney had embarrassed Skrtel on the right wing by skipping past him and then nutmegging him, Scholes clipped a trademark scoop over the top of the Liverpool defence and Ronaldo failed to beat Reina with his effort, while Anderson skied over the rebound.

Rooney had an opportunity himself when he took down a long ball from Edwin van der Sar but could only fire his effort straight at Reina.

A couple of Steven Gerrard efforts from range apart, the lone real chance Liverpool had was when a rare effort from Nemanja Vidic put in Torres but the usually sharp striker did not expect the ball to come to him and he could not bring the ball down.

Reina remedied things a little saving from Tevez from point blank range and then Ronaldo after the Argentinian had set him up with a majestic chest pass.

From the resulting corner, Reina showed his worst qualities once more though as he was hopelessly late coming for a cross and allowing Ronaldo to head home.

Nani made the scoreline more representative of the domination United enjoyed when he skipped inside a challenge to slot stylishly past Reina from 20 yards.

The performance and result said a lot about Manchester United's title credentials but it said just as much about how far Liverpool are away from the division's top three.
---