---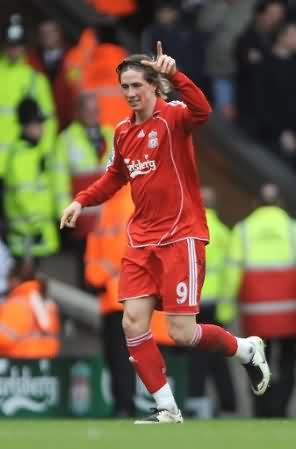 Fabulous Fernando celebrates at Anfield. (Photo: EMPICS)
FEBRUARY 25
Fernando Torres in
a league of his own

Comment by James Pearce - Liverpool Echo

When Fernando Torres arrived at Anfield last summer he was hailed as the final piece in Liverpool's jigsaw.

The Spaniard was the 25 goal a season striker who could finally help the Reds make the step up from also-rans to Premier League title contenders.

With the club shattering their transfer record and shelling out £20million, the pressure on the quiet 23-year-old was immense.

Many overseas players need time to adjust to the pace and physical nature of the Premier League but Torres' impact has been remarkable.

Saturday's clinical hat-trick secured a priceless three points against Middlesbrough and took his haul to 21 goals in just 31 appearances.

In doing so he became the first Liverpool striker since Michael Owen five seasons ago to reach the coveted 20-goal mark.

Combining stunning natural talent with powerful athleticism and the heart of a lion, Torres has undoubtedly lived up his pre-season billing. Sadly, the same can't be said for the rest of his team-mates.

Torres' goals should have helped the Reds bridge the gap and challenge Arsenal, Manchester United and Chelsea for the title. Instead they find themselves 17 points adrift of the Gunners and locked in a desperate battle with Everton, Aston Villa, Portsmouth and Manchester City in the race for fourth.

Just when Rafa Benitez thought he had completed the jigsaw with the acquisition of Torres, other crucial bits have gone astray.

Saturday's clash at Anfield highlighted some of the current shortcomings.

The Reds' inability to defend set-pieces reared its ugly head again early on as Tuncay Sanli was gifted the freedom of the penalty box to nod Boro in front. In fact, for the best part of half an hour, the Reds were woeful.

After the heroics of the midweek win over Inter Milan there was a definite sense of 'the morning after the night before' among both the players and the fans.

And nobody could point the finger at rotation as Benitez made just one change with Alvaro Arbeloa preferred to Martin Skrtel at centre-back to deputise for the suspended Jamie Carragher.

Arbeloa looked edgy but he wasn't the only one as possession was given away with alarming regularity.

Even the usually reliable Javier Mascherano started spraying simple passes into the second row of the Main Stand.

Middlesbrough, who arrived on the back of a eight-game unbeaten run, were dreaming of a first victory at Anfield since March 1976.

Torres admitted last week that the chance to play in big games like the Champions League clash with Inter was why he chose to swop Madrid for Merseyside.

But in truth it's on days like Saturday when the Reds need his talent the most.

Everyone raises their game on big European nights but when the team is struggling to impress you look to your stars to stamp their authority on proceedings. Torres certainly did that, turning the game on its head with two goals in the space of 90 seconds.

Julio Arca's hopelessly ambitious attempt to head the ball 40 yards back to his keeper was ruthlessly punished and parity was restored.

If his first was a gift there was no disputing the quality of Torres' second as he unleashed an unstoppable shot into the bottom corner from 25 yards.

The Reds were in front but with the backline clearly missing the influence of Carragher, a one-goal lead never looked like being sufficient.

In fact if Tuncay had used his head rather than his arm to divert home a cross and then hadn't wandered offside before teeing up Jeremie Aliadiere, Boro could even have regained the lead before the break.

As it was, the visitors pressed the self-destruct button in the second half, keeper Mark Schwarzer paying the price for rushing out of his goal as Torres got the better of David Wheater before side-footing into the empty net.

It was Torres' second hat-trick of the season and only Schwarzer's fingertips denied him a fourth minutes later.

That should have been it but the Reds got sloppy and Stewart Downing was allowed time and space to burst into the box and pick his spot.

Aliadiere's dismissal for a petulant swipe at Mascherano soon after killed off Boro's hopes of a dramatic finale and ensured nothing was going to take the spotlight off Torres.

The Spanish hitman departed in stoppage time to a standing ovation but returned soon after the final whistle to finally wrestle the match-ball from referee Lee Mason.

The Kop have a hero who in time should take his place alongside the club's all-time greats. But 18 years on from their last championship triumph and despite boasting one of the finest strikers on the planet, Liverpool's jigsaw remains incomplete.
---
FEBRUARY 24
A victory, but the defensive
worries will remain for Liverpool

Comment by Chris Beesley - Liverpool Daily Post

The individual brilliance brought by the presence of Fernando Torres ensured that Liverpool defeated Middlesbrough on Saturday but it was the absence of one of his colleagues that almost cost them the game and a crucial three points.

On the face of things it was well done, job done and a second victory in five days to keep Liverpool's twin ambitions up and running.

Rafael Benitez's side gave themselves a foot in the quarter-finals of the Champions League on Tuesday by rising to the occasion and bringing another of the so-called superstar teams of Europe down to earth as Italian champions Inter were disposed of 2-0 in a similarly no-nonsense fashion to the way Barcelona were humbled a year ago.

So to follow that up with a win in the Premier League against an improving Middlesbrough outfit who were unbeaten in their last five outings, results-wise at least – and it's a results-based business of course – ensured that it was a fruitful week for Benitez's troops who have recovered well from their shock FA Cup exit at home to Barnsley.

However, while the first win against Roberto Mancini's legions proved that Liverpool's players and supporters have no problems getting themselves up for the big European nights, total satisfaction from this encounter would only paper over the cracks as to why Benitez's side are actually in a dogfight with the likes of Everton, Aston Villa and Manchester City for fourth place rather than putting in a serious challenge for the title alongside Arsenal, Manchester United or even Chelsea.

A game that in recent years would have been a home banker for Liverpool was almost thrown away due to the absence at the back of the team's ever-dependable warrior Jamie Carragher.

Like all great defenders, you don't realise what you're missing with Carragher until he's not actually there.

The Bootle-born stalwart has never let his incredible standards of consistency drop, yet you sense there's a certain freshness in his play again this season since he took the decision to relieve himself of international duties.

Although too often overlooked or played out of his most natural position of centre-half by various England managers, the 30-year-old has never once seen his ability or commitment question in Merseyside football circles.

Even the great rotator Benitez seldom shuffles his pack to deal Carragher out of the starting line-up and while Steven Gerrard could be seen as being the team's heart, his fellow Academy graduate remains the stomach for a fight.

Passing the 500-game landmark for the club this season, Carragher has featured in more Liverpool games than any of his team-mates during the current campaign.

Before Saturday, the last Premier League outing he missed was the 6-0 mauling of hapless Derby County almost six months ago on September 1 – and they hardly needed him on that occasion – while the only other games he has not featured in have been the similarly emphatic 4-0 thrashing of Toulouse in a Champions League qualifier second leg and the FA Cup win over Havant & Waterlooville which should have been a foregone conclusion.

Liverpool's usually steady back-line looked distinctly shaky throughout on Saturday and the hosts looked to be missing Carragher as early as ninth minute as Tuncay was allowed to ghost in unmarked to head Middlesbrough into a shock lead.

It's not that Liverpool's central defenders could be particularly blamed individually for the problems – the evergreen Sami Hyypia has stepped up to the challenge of regularly playing twice a week for most of the season due to Daniel Agger's prolonged injury problems and the hardly statuesque Alvaro Arbeloa was a full-back trying to cover gamefully in the middle.

But considering that he was fit enough to be included in the 16 and was nominated as man-of-the-match in many quarters in the recent goalless draw at Stamford Bridge it was perhaps curious that the most expensive defender in Liverpool's history, Martin Skrtel, remained on the bench throughout considering the situation.

Far too many times Liverpool were carved open by Gareth Southgate's side who went into the game having netted just nine goals away from home all season – the third lowest in the Premier League after relegation strugglers Derby and Fulham.

For all his creativity in attacking areas, Yossi Benayoun, is not the kind of player you want to try and stop Stewart Downing cutting inside from the left-wing but the England international cruelly exposed his Israeli counterpart for Middlesbrough's second goal seven minutes from the end which set up a tense finale.

In between their goals, the visitors had twice had the ball in the back of Pepe Reina's net only to be denied by marginal calls and it was only Torres's anticipation that ensured Liverpool came out on top.

Although the Spaniard's second goal was a piece of pure genius, his first and third were the results of a couple of horrendous errors by first Julio Arce and then Mark Schwarzer and David Wheater.

As only their second Premier League win in eight matches, Liverpool will take three points in whatever way they can at the moment, particularly as it edges them back above their neighbours but the return of the man in the number 23 red jersey can't come quick enough.
---
FEBRUARY 24
Hitman Torres targets titles

Football 365

If Rafael Benitez is remembered for just one thing at Anfield, bringing Fernando Torres to the club will be right up there alongside winning the Champions League.

Torres was the local hero at Atletico Madrid, and now he has proved inside just seven months to be worth every penny of his record fee, with this already the best-ever goals tally for a season in his career.

Here is the genuine article. The classic, instinctive goalscorer with the film star looks to go with blistering talent in his feet.

It has taken him just those seven months to reach 21 goals in 31 games, the first Liverpool forward to achieve that total in a campaign since Michael Owen five years ago.

The hat-trick against Middlesbrough destroyed an effective, organised team who felt they deserved more for their efforts.

Torres had already managed a previous trio in a Liverpool shirt, the one bagged in September at Reading in the Carling Cup.

But this was different. It was his first at Anfield, finished off in front of an adoring Kop. Those fans have finally got a hero to potentially match the exploits of Ian Rush.

And the Spaniard, 23, insists he wants more, with a very clear idea of his objectives at Liverpool, saying: "I know the fans enjoyed the hat-trick and so did I.

"It was fantastic to score in front of the Kop. I am very comfortable playing here and I am very, very happy with my first hat-trick at this ground.

"It is important though, that we win titles. I would prefer to be remembered for the titles rather than my goals.

"I would prefer that more than anything else, and I am happy with the way I have learned to cope with the physical side of the English game.

"When I was in Madrid and watching English games on TV, I could see how difficult it would be to play here.

"There are so many strong defenders. But I have settled, I have scored goals and I have coped with the physical side.

"Even if it is true that I would not be getting hit in the back all the time in Spain!

"But I have scored 21 goals already, and we have a minimum of 14 games more in the Premier League and the Champions League, and I aim to score a lot more.

"It has been a very good season for me already, and yes, I would be happy now with 30, but I am more happy when the team wins.

"I have not won anything yet, just for the under-18s and under-19s in Madrid. It is a long time ago and I have come to Liverpool to win things.

"My target is titles, not just goals. I don't know when, this season or the next but I will want that.

"I hope I stay here for a long time. I have a six-year contract so I have every intention of being here a long time, and if everything continues okay maybe I will want to sign for more."

Even with his current deal, he could still be at Anfield when he is approaching 28, and at this rate of goal scoring he could be well into the hundreds by then.

He added: "It was only the second hat-trick of my career so it was a great moment for me.

"But we knew that we had to start winning home games if we want to finish in the top four."

That top four objective was achieved, a position they have not held for six weeks.

And boss Benitez knows he has struck gold with Torres. Benitez said: "He will score plenty more. We signed him because we believed he had the quality, pace and strength for the Premier League. Also, because he is young, he can grow and improve.

"He has adapted to the physical side of the English game very well. He is strong and can cope with big defenders.

"In Spain he would not continually be hit from the back, but we knew he would not be afraid of the centre-backs, he would be brave and cope with that style of defending."

Without Torres around, Boro may well have got something after goals from Tuncay Sanli and Stewart Downing.

But the red card for Jeremie Aliadiere, after raising his hand to Javier Mascherano, killed the fightback.

Boro boss Gareth Southgate said: "Liverpool had been involved in a very tough European win earlier in the week against Inter Milan, and games after Champions League can be an anti-climax so we were hoping that would be the case.

"We are upset because we felt we did enough right to get something from it.

"We then suffered a red card when we had turned the tide. It's harsh but Jeremie will have to learn from that. You cannot raise your hands and get away with it."
---
FEBRUARY 23
Southgate: We deserved more

By Peter Fraser - Sky Sports

Middlesbrough manager Gareth Southgate believes his side deserved more in their 3-2 defeat to Liverpool
at Anfield.

Boro took an early lead through Tuncay Sanli, but Liverpool striker Fernando Torres then hit a hat-trick to hand his side the points.

Stewart Downing set up a nervy finish as he hit a late second for Boro, but the Teessiders could not find an equaliser, much to the disappointment of Southgate.

"We are disappointed to come away with nothing because of the effort," Southgate told Sky Sports News.

"I think we deserved something from the game and more so because we've created chances and scored goals here.

"But that is a sign of the progress we have made. We have come to one of the 'big four' and given them a game and we are disappointed which is a good sign."

Southgate, though, insists he will not blame his captain Julio Arca or defender David Wheater after the duo both produced blunders to gift Torres two of his goals.

"There is no blame," Southgate added. "We win and lose together. There were mistakes all over the field some were punished and some were not.

"We have to learn the lessons, dust ourselves down and we have two big games to look forward to next week."
---
FEBRUARY 23
Rafa: The key was to win

By Lee Brown - LFC Official Website

Liverpool boss Rafa Benitez was delighted after a Fernando Torres hat-trick paved the way for his side's 3-2 victory over Middlesbrough at Anfield on Saturday.

The result takes the Reds above their city rivals Everton and into fourth place and Rafa was particularly pleased with the performance given that it came just days after their titanic tussle with Inter Milan.

"I was really happy with the performance," said Rafa. "I think coming after a Champions League game the most important thing was to win.

"After we scored the third goal on the counter attack you could see that we could score more, but they put us under a bit of pressure because they have some good players in attack. The key for us was to win and we won."

Liverpool's victory was made possible by Fernando Torres' second hat-trick for the club and El Nino has now scored a magnificent 21 goals this term. Rafa had some special praise for his hotshot compatriot and gave an insight into why he brought him to the club.

"It's not easy for a foreign player in his first year, but he has done really well," declared Benitez. " In the summer we were looking at a number of options, but we chose Torres because he is young and hungry and we thought his game would suit the Premier League.

"It's always difficult to score more than 20 goals, but he has done it in his first season. We knew that he was a player with power and pace, he can kill defenders with his pace.

"I didn't have a target in mind for him, the main thing for a striker is to score goals, but they also need to give assists and create space for the other players. Torres' work rate is good and everything is positive now for him and for the club."
---
FEBRUARY 23
Fabulous Fernando too hot for Boro

TEAMtalk

Fernando Torres' splendid hat-trick earned Liverpool a 3-2 victory over brave Middlesbrough at Anfield as the Reds reclaimed fourth spot.

The Spaniard became the first Liverpool forward to hit 20 goals in a season for five years, his total now being 21 since his £20million move to Merseyside.

But Liverpool were made to fight for the win. Tuncay Sanli's header gave Boro an early lead before Torres struck twice in two minutes before the break.

He completed his hat-trick, the second since he arrived at the club, on the hour.

But Stewart Downing kept his side in the game with a goal in the closing minutes.

But any chance they had of grabbing a point was ruined when Jeremie Aliadiere was sent-off after an incident with Javier Mascherano.

Liverpool decided on Alvaro Arbeloa as the stand-in for the suspended Jamie Carragher. Martin Skrtel was only considered fit enough for the bench after an ankle problem.

A ninth minute free-kick from Downing curled into the box for Tuncay to head home, to the dismay of a static Liverpool defence who assumed he was offside.

Mascherano's positioning on the back post disproved that theory.

Liverpool's response was scrappy, to say the least. The closest they came was a Dirk Kuyt hook over from a Ryan Babel run and cross.

From a side who had outshone Inter Milan in midweek, Liverpool had reverted to their former self.

Passes were going hopelessly astray, with possession constantly conceded and not a hint of rhythm.

It took Torres to pull Liverpool together. Jose Reina's clearance on 28 minutes was back-headed by Julio Arca straight to the Spaniard.

He raced away, went round Mark Schwarzer and then found the net with his right foot.

Sixty seconds later Torres struck again. Fabio Aurelio found the striker in midfield and Torres lashed home a 25-yard shot into the bottom corner.

Aliadiere was booked for a foul on Aurelio, before Tuncay thought he had equalised, sending a Downing cross past Reina on 34 minutes.

But referee Lee Mason ruled the Boro man had used his arm and booked the forward.

Boro were still in the game and put Liverpool under pressure early in the second period.

On 53 minutes Reina and David Wheater were booked after an incident at a corner. The Boro defender looked to have flicked his heel at the keeper, who reacted angrily.

Six minutes later Boro sent on an extra striker in Mido, replacing Gary O'Neil.

Liverpool, without Carragher, had not looked comfortable in defence all afternoon.

But again Torres bailed them out when he completed his second hat-trick for the club, the first being at Reading in the Carling Cup in September.

On 60 minutes, Kuyt's hard graft in defence saw him win the ball and launch a 50-yard angled ball towards the Spanish striker.

It looked like Wheater would comfortably tidy up the situation, but with Schwarzer almost alongside him now, there was fatal hesitation between the pair and Torres took advantage to hook the ball home from the edge of the box into an empty net.

Yossi Benayoun came on for Babel before the restart, and Fabio Rochemback was booked for a foul on Torres.

Torres was on a roll by now and took a Steven Gerrard pass before outpacing Emanuel Pogatetz and forcing Schwarzer into a desperate save to his right.

Afonso Alves replaced Tuncay on 69 minutes.

John Arne Riise came on form Kuyt on 73 minutes, the hard-working Dutchman getting a well-deserved ovation from all sides of the ground.

Steve Finnan was booked for pulling Alves' shirt on 78 minutes, and Middlesbrough got themselves a lifeline on 83 minutes when Downing got in behind Benayoun on the left to run on into the box before beating Reina from a sharp angle.

But three minutes later Aliadiere was sent as he slapped Mascherano after an exchange between the pair on the touchline.

The Liverpool man seemed to have patted the French youngster on the cheek a second earlier.

Two minutes from time Luke Young was booked for tripping Mascherano from behind.
---