---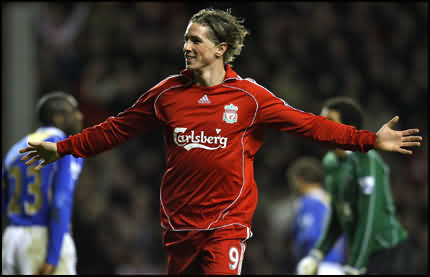 Fernando Torres - he's the man. (Photo: AFP)
DECEMBER 24
Sound of silence as
the Reds go it alone

By Nick Peet - Liverpool Echo

While Sylvain Distin was still wrestling with his demons after calamitously handing Liverpool maximum points on Saturday the goading cheers of the fans raised the roof.

However, despite going 2-0 up inside the first 15 minutes against one of the best away sides in the Premiership, it wasn't the home fans who turned up the volume inside Anfield.

"Can you hear the Scousers Sing?" bellowed the Pompey faithful, before they burst into a rendition of: "Two nil and you still don't sing!"

And they were embarrassingly spot on.

Anfield on Saturday was as solemn as a morgue.

When the small pocket of visiting fans on the Anfield Road stopped to catch their breath, you could hear a pin drop – and every word out of Jamie Carragher's mouth!

This was the first 3.00pm Saturday kick-off at home for the Reds in three months – and judging by Saturday's poor display from the terraces, the players will be hoping that it's at least another three before the next one.

Do the players need to walk out under the floodlights to the sound of the Champions League anthem these days to get any real backing from Liverpool fans?

It wasn't until the third goal went in that we heard anything resembling a song from the Kop choir – who must have all been nursing hangovers from night's out after most people finished work on Friday afternoon.

With at least two-thirds of that stand being season ticket holders, too, there really is no excuse.

It's too easy to blame the day-trippers from Scandinavia and Ireland, too.

Whatever the Blue side of the city may jest, the heartbeat of Liverpool Football Club is still local fans – and it's they who lost their voices against Pompey.

The Reds were two up before Portsmouth boss Harry Redknapp had even had the chance to moan at the fourth official, yet the fans failed to respond.

Portsmouth, remember, were on a run of seven away wins prior to Saturday's kick-off.

Redknapp has put together a tasty little side with genuine European ambitions this season, while the Reds entered the game on the back of two title-pinching league defeats, and being knocked out of the Carling Cup.

This was a massive game for Rafa Benitez's side, yet they were left to do it alone as the winter chill set firm with the fans.

Liverpool's incredible 12th man has been cherished and caressed by the world's media over the years, and rightfully so after countless occasions when the Red army has reaffirmed the club's claims to home the best fans on the planet.

But, on Saturday, the 12th man, like Harry Kewell in the second half, went missing.
---
DECEMBER 24
Fernando Torres so special -
a talent poised to be legend

By Nick Peet - Liverpool Echo

It's been written before and will be again, but when watching Fernando Torres run at defenders in his red number nine shirt you know you are seeing
something special.

'El Nino' is truly world class and if Liverpool are to get anywhere near the title this season it's the young Spaniard and not just the club skipper who will orchestrate the symphony.

He's got everything; pace, skill, strength, guile, tenacity and, perhaps above all else, that uncanny ability to be in the right place at the right time when it matters most.

The rest of European football's big clubs must be kicking themselves for not gambling on the youngster, whose genuine predatory skills were questioned for years.

Pompey boss Harry Redknapp is certainly not the first visiting coach to bow down to the talents of the striker already this season – and, needless to say, he won't be the last.

"He's a special talent isn't he," conceded the Pompey boss, after watching his side being brushed aside by Torres and his team-mates at Anfield. "He's a top player."

Liverpool has a wonderful tradition of being home to some of the finest goalscorers of their generation.

And it's already quite clear the Fernando Torres will stand shoulder to shoulder with them all.
---
DECEMBER 23
Yossi nets a bonus

By Paul Hassall - LFC Official Website

Yossi Benayoun is confident Liverpool can sustain a serious challenge for the Premier League title after they got back to winning ways with an emphatic victory over Portsmouth on Saturday.

The Israeli, who opened the scoring with a crisp volley from the edge of the penalty area, feels the 4-1 success over Harry Redknapp's side is the perfect boost ahead of a busy period of fixtures and admits it was vital for the Reds to bounce back following defeats against Manchester United and Chelsea.

"We played a great game against a strong rival in Portsmouth and it was an important win for us after we lost to Man United," he told Liverpoolfc.tv.

"It was good to get back to winning ways and to prove that we can still go to the end of the season. So overall I think it was a good performance for us."

The midfield playmaker admits he was delighted to net what was his sixth goal of the season, but while he was happy to get his name on the scoresheet, he insists that his main aim is to keep working hard for his team and help Liverpool close the gap on the league's pacesetters.

"It was nice to score and the goal was a bonus," he said. "But it's not the main thing for me. The main thing is to keep playing and try to do my best for the team so that we keep winning.

"I enjoyed the goal and I caught it well but I'd have to give credit to Harry Kewell because he delivered a great cross from the left to pick me out. It gave us the start we needed and we went on from there."

The win was the perfect end to a week that saw the Reds drawn to face Italian giants Inter Milan in the last 16 of this season's Champions League. Benayoun accepts it will be a difficult test for Liverpool but believes it was always going to be tough at this stage, and is relishing the prospect of taking on Roberto Mancini's side.

"Any of the teams we could have drawn would have been difficult because all of those sides finished first in their group," he said.

"So we knew it would be a difficult game. Inter are a very good side, a very strong team and they have been the best team in Italy for the past two years. But we have a lot of confidence that we can progress and a lot of time to prepare for the game, so we will look forward to it."
---
DECEMBER 22
Benitez salutes Torres

By Mark Doyle - LFC Official Website

Liverpool manager Rafa Benitez was full of praise for Fernando Torres after the striker played a key role in the team's impressive 4-1 rout of Portsmouth
on Saturday.

Morale in the Liverpool camp was low after successive defeats in the league but it did not show at Anfield, where the home side ran out easy winners after an inspired performance from Torres, who scored twice and also had a hand in Yossi Benayoun's opener and the own goal from Sylvain Distin.

"It was a great performance from the team, especially in the first half," Benitez enthused afterwards.

"We looked good and created a lot of chances. But then we got a little bit nervous against a team with a very good away record.

"Torres, though, is always a threat. Not only that he makes room for our other players.

"He has a good mentality and experience. He uses his ability and pace to hurt defenders.

"When you have a team like ours behind you it is easy for someone like him to get chances."

However, while Benitez was thrilled with his side's display, he stopped short of saying Liverpool were now back in the hunt for a first championship success since 1990.

"It is too early to talk about the title or whether we will be in the top four," the Spaniard stated.

"There are a number of sides around that mark, who are playing well, so you cannot say who are going to be contenders."
---
DECEMBER 22
Harry: That's the way it goes

By Peter Fraser - Sky Sports

Portsmouth manager Harry Redknapp admits he suspected his side's Premier League winning away run could come to an end against Liverpool.

Redknapp saw his side, who had recorded six consecutive away league victories prior to kick-off, slump to a 4-1 defeat at Anfield as an early Yossi Benayoun strike and a Sylvain Distin own goal were followed by a second half brace from Fernando Torres.

Benjani Mwaruwari pulled one back for Pompey at 2-1, but Liverpool cruised to victory and Redknapp accepts that his side's run had to eventually come to an end.

"If it was going to end anywhere there is always a possibility it could have ended at Liverpool that's for sure," Redknapp told Sky Sports News.

"They are a terrific side, but we didn't start well and got sloppy and were punished.

"We came back when we got the goal at half-time and I thought that there might be something in the game for us because Liverpool had gone off the boil.

"But, it has been a great run. Six consecutive away wins, but this is a difficult place to win.

"That's how it goes. The four games against the big four are almost bonus games. If you can pick up results in those games you take that."
---
DECEMBER 22
Liverpool overpower Pompey

By Mark Doyle - Setanta Sports

Fernando Torres helped himself to a brace of goals as Liverpool returned to winning ways in the Premiership by defeating Portsmouth 4-1 at Anfield.

The Reds raced into a two-goal lead after just 16 minutes, with Yossi Benayoun volleying home the first and the unlucky Sylvain Distin deflecting an attempted clearance from Sol Campbell into his own goal.

Portsmouth got themselves right back into the game when Benjani Mwaruwari drilled home his ninth league goal of the season shortly after half time, but Torres replied for the home side when he slotted home in characteristically confident fashion in the 67th minute.

Torres struck again with five minutes to go to put the seal on a badly-needed win for Liverpool after tucking away Steven Gerrard's knockdown.

Going into the game on the back of two successive defeats, victory was imperative for Liverpool and their faltering title challenge.

Portsmouth, who had won their previous six away games, were never going to simply allow to their hosts to have it all their own way, though, and Harry Redknapp's men began confidently, forcing a corner inside the first two minutes.

However, with Torres very much to the fore, Liverpool gradually took control and Harry Kewell went close with a well-struck drive which flashed just wide of David James' left post in the eighth minute.

Liverpool should have went in front moments later when Torres broke into the box after playing a clever one-two with Benayoun on the right.

The Spaniard pulled the ball back expertly for his strike partner Dirk Kuyt but even though the Dutchman got his shot away, Johnson managed to get a block in and deflect it out for a corner.

Pompey were struggling and the breakthrough that Liverpool were threatening arrived in the 13th minute.

Torres streaked clear down the left wing and even though the number nine's progress was cut short, Kewell was on hand to pick up the loose ball and float an inviting cross into the box which was volleyed past James in impressive fashion by Benayoun.

It was harsh on Pompey because they were temporarily down to ten men at the time, with Johnson still receiving treatment after injuring himself whilst making his earlier goal-saving challenge. But worse was to follow for the visitors barely three minutes later.

The impressive Javier Mascherano released Kuyt with a superb pass from the centre of the park and the Dutchman immediately slid in Torres. The Spaniard tried to turn Campbell but the Englishman managed to nick the ball off.

Unfortunately for the Portsmouth centre-half, his clearance struck Distin, ricocheting into the bottom corner of the Pompey goal past a helpless James.

The goal was extremely fortuitous but it did highlight Pompey's inability to deal with the movement of Liverpool's front two.

Steven Gerrard was by no means his usual effervescent self in the first half, being largely outshone by Mascherano, but he did produce a decent long-range drive midway through the first half which had James scrambling across his goal.

Portsmouth did become increasingly effective at curbing Liverpool's attacking threat but they were offering little going forward.

Indeed, the game had become a bit stale when Benayoun interrupted the tedium just ten minutes before the interval when he cut into the box on the right-hand side and skipped past Distin. However, the Israel's left-footed strike ended up in the side netting.

Portsmouth looked far livelier after the restart, with the introduction of Kanu undoubtedly aiding their cause. It was hardly suprising then when Pompey pulled a goal back in the 57th minute thanks largely to a sublime pass from the lanky Nigerian.

Kanu received possession just on the edge of the box on the left-hand-side, turned and then picked out the unmarked Benjani with a beautifully-weighted cross.
Benjani controlled expertly before cutting inside the scrambling John Arne Riise and driving the ball low past Reina with his left foot.

Suddenly, it was game on but Liverpool responded positively, with Hyppia forcing James into an unconvincing save after getting his head on a Gerrard free-kick from the right.

Kewell very nearly found the net with a powerfully-struck, long-range effort in the 66th minute and then, just seconds later, The Reds restored their two two-goal lead.

Mascherano was again heavily involved, the diminutive Argentine playing substitute Ryan Babel in on goal with yet another fine pass and, even though James was alert to the danger and managed to clear, the ball only went as far as Torres, who passed the ball coolly and calmly into the bottom right corner of the net.

Torres' strike signalled the end of Portsmouth's attempted comeback and he quickly struck again with five minutes to go.

Jamie Carragher picked out Gerrard with a smart cross-field ball and the England midfielder directed his guided his header intelligently across the goal. Torres was first to it and volleyed the ball with his weaker left foot into the bottom corner.

The ball took a slight deflection off Campbell on its way but there was no doubting the identity of the goalscorer or indeed the indeed the identity of the most dangerous attacking player on the pitch.

Torres did not get the chance to pursue a hat-trick, as he was hauled off seconds later, but he exited to a rousing reception on what, after the disappointment of last weekend's defeat at home to Manchester United, was a hugely satisfactory day for both him and his Liverpool team.
---