---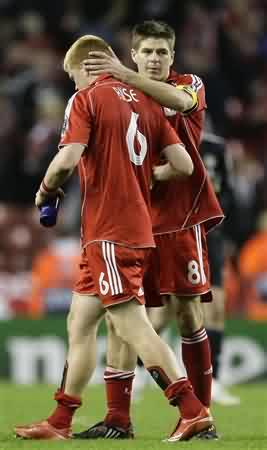 "We're all behind you, John... (Photo: Reuters)
APRIL 24
Riise reveals own goal pain

By Eivind Haugen - Sky Sports

John Arne Riise has spoken of his heartbreak following the own goal against Chelsea in Tuesday's UEFA Champions League semi-final.

Liverpool had taken the lead in the first leg at Anfield before Riise stooped to head Salomon Kalou's cross past his own goalkeeper in the final minute of injury time.

The away goal has given Chelsea the edge ahead of next week's return leg at Stamford Bridge and Riise admits he was utterly distraught.

"It was very disappointing to see the ball go in our own net, especially at that time," The Norwegian full-back told NTB.no.

He added in The Sun: "What can I say? I'm ashamed and devastated."

However, Riise is determined to respond in the right way and help his team-mates overcome Chelsea in the second leg.

"Sometimes you experience these things and for defenders it happens from time to time. Now it has happened to me," he said.

"I know how strong I am mentally, and what really matters is how you recover. I've experienced tougher things and I know I will learn from this.

"I'm disappointed, but I won't go around and hang my head. I have to use this as something positive."
---
APRIL 23
Hansen: Reds can turn it round

By Frank Malley - PA Chief Sports Writer

Former Liverpool captain Alan Hansen is backing Rafael Benitez to take his old club to their third Champions League final in four seasons.

Hansen accepts Chelsea are the bookies' favourites after John Arne Riise's 95th minute own goal gave them a 1-1 draw and a precious away goal to take back to Stamford Bridge for the second leg of the semi-final next Wednesday.

But he believes Steven Gerrard and Fernando Torres could still play a big part in the all-English encounter.

Hansen said: "Torres and Gerrard did not play particularly well but they can change the game in two seconds flat.

"Liverpool might have won the game by two or three last night without playing particularly well, which shows you that when they have got the best players on the pitch they can compete with anybody.

"Benitez knows he has the players who can turn it around. He will play the game itself exactly the same way. He will be cautious and try to nick a goal. It would be no surprise to see Liverpool going through."

However, Hansen expects Liverpool fans to have a long and nervous night in the capital.

He said: "It wouldn't surprise me if it went to penalties and extra time again."

Hansen does not expect Riise's howler, when he stooped to head the ball into his own net when it appeared much easier to clear with his right foot, to play on the defender's mind

He said: "You just pick yourself up. He should have hit it with his right foot. He did the same thing at Fulham in the cup earlier in the season.

"It came to him quick and he got it wrong, but he's not the first to get it wrong when he should have gone with his right but did something else. They are professionals. You just get on with it.

"If it affects him in the next game he shouldn't be there. After all, half of English football haven't got a right foot and a left foot. He's not the only one."
---
APRIL 23
Gerrard: Torres can Bridge the gap

By Paul Walker - PA Sport

Liverpool skipper Steven Gerrard believes goal machine Fernando Torres can help the Reds end their poor record at Stamford Bridge and reach the Champions League final.

In manager Rafael Benitez's four seasons in charge of Liverpool they have not even scored a goal on Chelsea's ground.

But Gerrard shrugged off those damning statistics by saying: "We haven't gone there with Torres in our side before."

Liverpool have fired blanks on eight occasions at Stamford Bridge under Benitez - two Champions League 0-0 draws and a goalless Premier League game there this term are the best the Merseysiders have managed.

Now all that has to change if Liverpool are going to reach the European Cup final in Moscow on May 21.

Chelsea have only been beaten at home by Barcelona in those four seasons, having built Stamford Bridge into a fortress.

So after Tuesday's Champions League semi-final first-leg 1-1 draw at Anfield between sides who have clashed 19 times during Benitez's four-year reign, Liverpool will have to re-write history.

Gerrard and his team suffered the agony of John Arne Riise's 95th minute own goal as a priceless victory was snatched from them.

And they have it all to do in the capital next Wednesday to stop Chelsea reaching their first European Cup final.

But Gerrard remained defiant, saying: "We have the players and the belief. We've done it so many times, this team never knows when it is beaten.

"We may not have scored or won at Chelsea in four years, but we haven't been there with Fernando in the team before.

"Even the two games there this season, the league draw and the Carling Cup defeat, Fernando wasn't playing."

Torres, who has 30 goals this season, had a rare off-night under the close attention of centre-back John Terry.

Chelsea keeper Petr Cech also produced two wonderful saves from the Spaniard to keep the west Londoners in the tie.

Dirk Kuyt put the hosts ahead in the first half, and Liverpool had enough clear chances to put the game beyond Chelsea long before Riise's howler.

Gerrard said: "Chelsea know they will be in for a tough time next week, there may be a little more space for Fernando, and I don't hear any of their players thinking it's all over.

"Torres can cause any defence problems. You saw that in the first leg. He was very disappointed not to score.

"We've been to Inter Milan and Arsenal in this season's run and scored. So I can't see why we cannot score at Stamford Bridge.

"We created the better chances at Anfield and I don't recall Pepe Reina having anything to do except pick the ball out of the net.

"Cech pulled off two or three fantastic saves and we believe that even if we had come off that pitch winning 1-0, it should have been at least 2-0 or 3-0."

With full-back Fabio Aurelio now out for at least a fortnight with a recurrence of his abductor muscle injury, Riise will almost certainly have to play from the start in the second leg.

But Gerrard had words of encouragement for his Norwegian team-mate, whose future at Anfield has been in doubt for some months.

Gerrard said: "John has been here a long time and done great things for this club and as captain I cannot point any fingers. But we've got to get John's head right, because he will have an important job to play next week."

Centre-back Jamie Carragher also refused to blame Riise for Liverpool's last-ditch anguish.

The defender, who fought a tremendous running battle with Didier Drogba, said: "There is no blame attached to John because there's a couple of things we could have done to stop the cross coming into the box.

"It is a team game and we are all in it together. It affects all of us and we have got to move on now.

"We know it is going to be tough. There is a slight advantage to them now. But if we get a goal, it's advantage Liverpool.

"So we have got to go there and score with time to get another one. They are very tough defensively so it is going to be hard to score, but it's about time we did there.

"It is a different scenario now. We go there knowing we have got to score, so it is a different mentality altogether now."
---
APRIL 23
Final dream is still alive

By Tony Barrett - Liverpool Echo

Come back Bruno Cheyrou, all is forgiven.

The much maligned Frenchman remains the last Liverpool player to score at Stamford Bridge and someone is going to have to repeat his feat of four years ago if the current side is to stand any chance of qualifying for their third European Cup final since then.

John Arne Riise's injury time own goal was the kind of sickening blow not suffered at Anfield since Michael Thomas won Arsenal the league title with the last kick of the game in 1989.

It gave Chelsea a crucial away goal and makes Avram Grant's side favourites to make it through to Moscow.

But it should not be allowed to mask the fact that, after a shaky start, Liverpool were the better side and could and perhaps should have put the tie beyond doubt by the time Riise used his head when a swipe of the right foot would have been more advisable.

Had Petr Cech not enjoyed one of those nights which prove why he is considered the best keeper in the world and had Fernando Torres not endured pretty much his first night to forget in a Liverpool shirt, Rafa Benitez's men would have won and done so quite comfortably.

Pepe Reina's role as a spectator would only have been more apparent had the Liverpool keeper joined in with the Kop when they did the visually stunning Torres bounce.

But Chelsea kept up their knack of producing a result that their performance level did not deserve when a Liverpool player did something no-one dressed in blue had looked likely to do all night.

Riise was drugs tested after the game and no doubt the testers wanted to know what kind of substance would cause a top level footballer to make such a calamitous decision at such a crucial moment.

In truth, though, the Norwegian's refusal to use his right foot has been an accident waiting to happen for far too long and last night it happened at the worst possible moment.

The chances of Riise being able to head Salomon Kalou's hopeful cross over his own bar were as slim as the possibility of Didier Drogba staying on his feet for 90 minutes but for some unfathomable reason he attempted to do so and only succeeded in sending the ball crashing past Reina.

Only the cruellest of souls will sing 'I wanna know how you scored that goal' to Riise from now on.

It was only an equaliser but such was the nature and the timing of the goal, Anfield deflated as if Liverpool had lost.

An air of celebration was replaced by a mood of desolation as the reality set in that Liverpool had gone from odds on favourites to underdogs in the blink of an eye.

That mood will be difficult to shift but Benitez could do a lot worse than gather his players at Melwood to take them through the video of this game because that should restore their belief that they can still conquer Chelsea.

Liverpool have nothing to fear from the side built with Roman Abramovich's fortune, not on this evidence anyway.

Yes, they are obstinate and hard to beat and yes, they seem to have an innate ability to get results they ill deserve.

But when it comes down to it, they are not a great side – far from it.

Arsenal were vanquished in the last round and they are a far superior outfit to their London rivals. Similarly, Inter Milan have a pedigree that Chelsea cannot match and they were also disposed of.

And it should not be forgotten that in both of those ties Liverpool managed to score an away goal, something they have done on every single European trip so far this season.

They also have one of the Champions League's most in-form strikers in Dirk Kuyt who has now scored eight goals in his last 12 European games.

The Dutchman has developed a welcome habit of scoring on the biggest occasions and having notched the winning penalty in last year's dramatic shootout win over Chelsea at the same stage of the competition he will again be hopeful of being the hero of the hour.

It certainly looked like Kuyt would acquire such status last night after he scored a goal which appeared likely to be the winner until Riise's unfortunate intervention.

There are still those in football who find fault with Kuyt, damning him with faint praise for being an artisan rather than an artist.

But in sport, as in life, hard work can so often pay off and Kuyt and Liverpool are currently feasting on the fruits of his labour on an increasingly regular basis.

In the past his industry has not always been accompanied by end product but the way Kuyt created his goal last night showed what he is all about.

Other players would have allowed Frank Lampard the time to clear his lines but that's not what Kuyt's about. Instead he closed the England man down and got a block in before making his way into the box to seize on Javier Mascherano's misplaced shot and firing the loose ball past Cech.

Apart from a wonderful block by Mascherano when Florent Malouda looked set to score, Chelsea barely troubled Liverpool from that point on.

With Martin Skrtel and Jamie Carragher bossing Drogba, the visitors looked short of ideas and equally bereft of any genuine threat.

In contrast, Liverpool continued to look menacing, largely thanks to their ambitious approach which saw them push men forward into attacking positions at every opportunity.

Xabi Alonso pulled the strings in midfield in his best performance in a number of weeks and Chelsea's central defensive pairing of John Terry and Ricardo Carvalho were forced into increasingly foul means to keep the red tide at bay.

How Terry got to injury time before finally being booked is a question only the normally card happy Konrad Plautz can answer.

At times the Austrian referee seemed intent on turning football into a non-contact sport with countless insignificant incidents producing free-kicks. But he also allowed Terry and Carvalho to use the kind of overly physical approach on Torres not seen since the days when Ron 'Chopper' Harris wore Chelsea blue.

Torres will learn from that. He now knows exactly what Chelsea's twin centre backs are about and will be ready for that when the two sides meet in next week's second leg.

And should the Spaniard go on to score the winning goal at Stamford Bridge he will take Cheyrou's mantle – what more could you ask for in your first season in English football?
---
APRIL 23
Liverpool must play
with passion to make Moscow

By Tommy Smith - Liverpool Echo

Liverpool don't have to climb a mountain to succeed in the second leg at Stamford Bridge, but they will need to scale a few more heights than they managed last night.

Yes, it was a sucker punch. Yes, the Reds were unlucky given the good chances they created. But the game did not live up to the passionate, exciting affair we had all anticipated.

The Reds deserved to win but failed to dictate and dominate after going ahead, leaving the door open for an unfortunate late twist of fate.

There was always the danger that Chelsea might score, which is why I thought the second half was so disappointing. I was surprised that with another 45 minutes to add to our lead – and make the Londoners' hopes slim in the return – it just didn't happen.

As the game wore on, Rafa Benitez's men didn't really look like they were going for a second. The fire of European nights was missing and the game lacked the passion we have come to associate with Anfield clashes.

Fernando Torres is a tremendous player from what we have seen, but his control let him down on several occasions, he was hesitant and missed a glorious first-half chance.

The anticipation of Chelsea being forced to defend frantically after half time never materialised and, in fact, the visitors often looked more positive.

The game was really about those missed chances – Cole had one he fluffed in the first half, as did Dirk Kuyt before he opened the scoring – and two defensive mistakes.

Frank Lampard was guilty for our goal and, while John Arne Riise headed into his own net late into stoppage time, the ball should never have been allowed to be crossed in the first place.

The worse part for Riise about his own goal was that, as a left back, the ball came over on his right side and he obviously didn't trust the idea of kicking it clear with his right foot. The headed option proved incorrect, but at that stage of the game we should have been looking to put the ball down into the Chelsea corners, not allowing the cross to come in.

Some people thought the tie was like a game of chess. I thought it was more like Scrabble!

We need to go down there and get a quick goal and put them under pressure. We are not in the driving seat now, but we have to draw them out a little more to create more space than we managed to do last night.

Stamford Bridge is a bit like a fortress. Chelsea have not lost there for two years, so we have a problem on our hands.

Whether Benitez will change things for the second leg and possibly give Chelsea more defensive problems by putting Peter Crouch up front alongside Torres, I don't know. But, too often, Torres looked isolated and got little out of John Terry.

As the game wore on, you got the impression that Benitez was happy with the 1-0 which, I think, we all would have been in the end. But by not scoring a second that could have made all the difference, we are now chasing the game.

Ultimately, we paid the penalty of sitting back too much as the second half wore on, inviting Chelsea to attack us.

Cech was obviously the busier of the two keepers and made good late saves from Gerrard and Torres, but the visitors kept plugging away and got their reward.

The Reds showed against Arsenal at home that they, like their visitors, could play exciting football. They will have to reproduce that away from home now.

Avram Grant's side have the ability to hold on to what they have. The Reds must go there and make things happen to upset them.
---
APRIL 23
Spirit of '81 offers
a belief in Reds' cause

By David Prentice - Liverpool Echo

Rafa Benitez compared his modern Anfield charges with greats from the Reds illustrious European past in the build-up to last night's blockbuster.

"In terms of Europe, this is one of the most successful periods in the club's history," he declared. "We won the UEFA Cup and two European Cups in the late 1970s but this is the first time we have reached the last four of this competition with such frequency."

If the chronology was a little sketchy, the sentiment was heartfelt.

It was 27 years ago when Liverpool last reached the semi-final of Europe's most prestigious prize for the third time in five years. And the Reds boss now needs the spirit of '81 like never before.

Not since Ray Kennedy plundered one of the most famous away goals in Anfield history have Liverpool needed to go away in a European semi-final and score.

But that's the task which now confronts them following John Arne Riise's heartbreaking 94th minute own goal.

In 1981 it was the intimidating Olympic Stadium in Munich. This time it's Stamford Bridge – a stadium where Chelsea haven't lost for two years and Liverpool haven't scored under Rafael Benitez.

But there are lies, damned lies – and then statistics.

"We will change that statistic," declared the Reds boss, with a defiant grin.

And on last night's evidence, you wouldn't argue.

Stamford Bridge is not a cauldron; Chelsea are not Bayern Munich; they're not even as accomplished a team as they were in 2005 – and Avram Grant is not a master tactician.

Frank Lampard and Joe Cole are toiling for form, Liverpool will almost certainly give their big guns this weekend off, while Chelsea face another high intensity occasion against Manchester United on Saturday.

There are reasons aplenty for Liverpool to lift their crushed hearts off the canvas and go again.

The Reds can go to the capital and score a goal – just like they did at The Emirates.

The only fear is that Lady Luck has finally chosen to smile on the Londoners after two losing semi-finals. Because last night only pure bad fortune – plus a left-back's unwillingness to swing his right boot – were the factors which conspired against Liverpool.

John Arne Riise may not even have been on the pitch had the outrageously unlucky Fabio Aurelio not succumbed to an adductor muscle injury.

But it was the Norwegian's head – 40 seconds over the allotted four minutes of time added on – which deflected Chelsea's second on target effort of the evening past Pepe Reina.

Benitez's acute disappointment was surely the reason for his churlish dissection of referee Konrad Plautz's performance.

"Why four minutes of added time?" he asked.

Four substitutions, a yellow card and a lengthy stoppage, then a stretcher for Fabio Aurelio, would be the obvious answer.

And while Ashley Cole used two hands to shove Dirk Kuyt in front of the Kop, Jamie Carragher failed to get a touch on the ball when he slid in to bundle Didier Drogba to the ground – perhaps the only time Chelsea's giant pantomime dame hit the deck with good cause.

No, Liverpool weren't undone by the match officials.

They were thwarted by a monumental performance by Petr Cech.

If Tom Hicks had really wanted to prove he was a Liverpudlian, he might have kicked the giant keeper as the pair passed in the lobby of the Malmaison, the swish city centre hotel Chelsea shared with the Americans ahead of last night's clash.

Three times Cech spectacularly denied Liverpool – perhaps most crucially of all in the 93rd minute from Fernando Torres.

Barely 60 seconds later, Chelsea had claimed the away goal they scarcely deserved.

A lack of ruthlessness in front of goal was the only disappointing aspect of Liverpool's performance.

Even off the pitch the focus was impressive.

The unwanted Americans took their place alongside the rival DIC camp in the Anfield Directors' Box, but you would hardly have known they were there. There were no banners, no anti-American chants – all efforts were admirably focused on the action on the pitch.

Bar a handful of unruly urchins offering two-fingered salutes in front of the Directors' Box, the only acknowledgement the Americans were even inside the stadium came deep in the second half when a member of the Hicks party caught the match ball as it was tossed back towards the pitch.

There were a smattering of boos from the Kop.

Then, in the 89th minute, when another famous victory looked to have been assured, the famous La Bamba Rafa song rang around the stadium – and many fans couldn't help but turn to make sure that the men who at one-time had planned his removal had taken note.

Many of those rubber-neckers weren't around when Carlos Rexach last managed an away goal in a European semi-final at Anfield.

That gave Barcelona a 1-1 draw and apparently a place in the UEFA Cup final. But the class of '76 secured an incredible away result in the Nou Camp.

Benitez is right when he claims: "In terms of Europe, this is one of the most successful periods in the club's history."

Now Liverpool must go away from home and prove it.
---
APRIL 23
Kuyt: This team can score anywhere

By Jimmy Rice - LFC Official Website

Dirk Kuyt is confident Liverpool will continue their record of scoring in every European away game this season when they travel to Stamford Bridge next week.

The Reds must find the net in south-west London after Chelsea grabbed a last-gasp away goal at Anfield on Tuesday night.

Though the 1-1 scoreline gives Avram Grant's side an advantage going into the second leg, Liverpool goalscorer Kuyt thinks the tie is still anyone's.

He told the club's official website: "We are disappointed but we are ready for next week. People are talking about us not scoring at Stamford Bridge for a long time but you could look at the positive of us scoring in every Champions League away game this season.

"We scored in Milan, we scored at the Emirates. We know we can score next week."

Liverpool had the better of the first leg and could have entered the final stages with a two-goal advantage but for the excellence of Petr Cech.

Kuyt added: "We controlled the game until the 90th minute but you have to be focused all game long. It was really disappointing, as was the fact we didn't score more than one goal.

"But, you know, it's two games you have to play. At the end of the game maybe they were thinking they were already in the final but I am sure that's not the case.

"We know what we can do. It will be more difficult but we have a strong belief we can reach the final. A 1-0 scoreline would have been excellent but for me it's still 50:50.

"We know we were better than them. We created more chances but sometimes football is like that."

Kuyt has now scored in every round of this season's Champions League, including crucial strikes against Marseille, Arsenal and Inter Milan.

The Dutchman insists he'd swap every one of these picture-book moments for a plane ticket to Moscow.

"I love to score important goals but I would give away all my goals to reach the final," he said.
---
APRIL 23
Carragher: Don't blame Riise

TEAMtalk

Jame Carragher says Liverpool must take collective blame for conceding late on in the Champions League clash with Chelsea at Anfield.

It was John Arne Riise who handed the Blues a lifeline in the semi-final when his last-gasp own goal ensured the first leg ended 1-1 at Anfield.

But Carragher says he and his team-mates must share the blame for failing to hang on after Dirk Kuyt had put them ahead.

He told Liverpool's official website: "It was just bad luck. We've all been there, all done something like that. There's no blame attached to John.

"I think a couple of things happened before that and there were a couple of things we could have done to stop the cross even coming in. It's a team game, we are all in it together."

Liverpool have yet to score at Stamford Bridge under Rafa Benitez and they know that must change next Wednesday if they're to reach the final in Moscow in May.

Carragher added: "Obviously when you concede as late as we did you're going to be disappointed but we've got a massive game now and it's only like it being 1-1 at half-time. We've just got to get on with it.

"We've got to regroup but it's only half-time. They're obviously delighted, you could see that at the end, but there is another game to go yet."
---
APRIL 23
Liverpool have enough to upset
the odds and beat Chelsea

By Nick Smith - Liverpool Daily Post

If only Chelsea were as easy to shrug off as police advice.

With supporters channelling their energies into hoisting their heroes up amongst the European gods once more, the nearly men of West London again found themselves being ushered closer to another semi-final exit door.

Until John Arne Riise used his head to forcefully slam it shut once again.

But even that calamitous injury-time own goal couldn't stifle the singing and the insistence – however optimistic it looks now – that "we shall not be moved".

In that sense Tom Hicks, like choosing Sky camera angles, positioned himself perfectly last night – even if the Merseyside constabulary wouldn't agree.

The Texan, like all figures of opposition on European nights of Anfield, couldn't escape the firing line completely – he even loaded his own bullets by taking his seat 10 minutes before kick-off.

There were fingers pointed, mostly in quite offensive formations, during You'll Never Walk Alone.

There was booing when one of the Hicks party stood up to field Pepe Reina's wild clearance, which only got louder when they completed the catch instead of copping one full in the face.

But for one night only Hicks was in general unison with the Liverpool hordes.

It may be for very different reasons to the majority, but he wants Chelsea to go the same way as Rick Parry – out.

So like Claude Makelele to Steven Gerrard, the eyes, and indeed voices, were trained one only thing – giving Anfield the perfect send-off as it closes business for the 2008 European Cup run.

It seemed to have the desired effect for so long but the fact that it failed to inspire a bigger lead or repel that late heartbreak, won't diminish the belief.

Especially as it's still too close to call once again.
---
APRIL 23
Lampard: We deserved luck

By Chris Burton - Sky Sports

Frank Lampard insists that Chelsea did enough to earn a draw against Liverpool at Anfield on Tuesday night.

The Blues needed a late own goal from Reds defender John Arne Riise to snatch a 1-1 draw in the first leg of their UEFA Champions League semi-final.

That crucial away goal could prove to be the turning point in the tie ahead of next Wednesday's second meeting at Stamford Bridge, and Lampard feels that the fortunate lifeline which has been handed to them was just reward for all their hard work on Merseyside.

"The home tie in the second leg was only going to be a benefit to us if we got the right result here, and that late goal has obviously made it a much better result," the midfielder told Sky Sports.

"I think we deserved that little bit of luck. We could have had a penalty, and in the years before we haven't had much luck here and if you keep going and working hard you get that little bit of luck."

Lampard also admitted after the game that a one stage last week his involvement in the European encounter had looked doubtful.

The England international has been keeping a bedside vigil beside his seriously ill mother for the last week, and only made himself available for the game after a slight improvement in her condition.

"This time last week was very bleak," revealed Lampard.

"I won't go into details but we were getting a very bleak outlook. That was the hardest moment for me in my life.

"I am very lucky because I have a very tough mum, who is a very good person, and I think that might be what is helping her at the minute.

"Three days ago I wasn't playing in my mind. But we got some decent news on Saturday afternoon and my head came round a little bit then. I made a decision to go in training on Sunday to see how I felt.

"The manager and the club have been fantastic and have not put any pressure on me whatsoever. I just felt I could come and play and in a way the training and the playing has helped to take my mind off things, whereas last week I was in a bad situation.

"I trained yesterday (Monday) and I will be honest I wasn't in the greatest of shape. I have been in better shape for games both mentally and physically but it has been a very difficult week."
---
APRIL 23
Bridge is not too far for Benitez

By Paul Walker - PA Sport

Liverpool manager Rafael Benitez believes his side can overcome their Stamford Bridge hoodoo and still reach the club's third Champions League final in four seasons following their 1-1 draw with Chelsea at Anfield.

The Reds have never scored at the Bridge under Benitez, but they know the must do so now to salvage this semi-final.

Benitez said: "Yes, I realise we have not scored a goal at Chelsea in the Champions League over the past four seasons. But there is always a first time.

"If we play as well as we did in the first leg and take the chances we created, we will get to the final."

Liverpool were ahead in the first half through a Dirk Kuyt goal, but saw their prized victory snatched from them in the fifth minute of injury-time by a John Arne Riise own goal.

With an away goal to their name, Chelsea must now be considered favourites to complete the job next Wednesday and reach the May 21st final in Moscow.

Benitez said: "We must now be positive and clear our minds. If we play like that at Stamford Bridge next week and take those chances, we will go through.

"We have confidence in ourselves. I am confident we can do it, I will recall the first 20 minutes of the second period when we were very much on top of Chelsea.

"If we can do that again at Stamford Bridge, we can still get to the final."

Benitez was critical of Austrian referee Konrad Plautz for giving so much added time.

He was also upset by the stream of free-kicks awarded by the official - who also refereed the group-stage home defeat by Marseille - against his side.

The Spaniard added: "It was a difficult match and I was very disappointed with the referee. This was not the first time.

"We knew what to expect because we'd had him before against Marseille. He gave just one minute injury-time in the first period and four in the second - it was hard to understand.

"All the free-kicks seemed to go against us. The first four free-kicks against us were for pushing, and then when one of their players (Ashley Cole) pushes one of our players in the back with both hands in the box, there's nothing.

"But we cannot blame the referee for our missed chances. We had at least four clear opportunities, and we must score those."

Benitez also confirmed that he had held brief talks with co-owner Tom Hicks yesterday ahead of the first leg.

He said: "I had a short discussion with Tom Hicks, and the idea now is to set up a meeting involving both owners so we can discuss the future. I believe that is possible and can be arranged."
---
APRIL 22
Wily Hicks joins the Anfield chorus
line at Liverpool against Chelsea

By John Edwards - Daily Mail

Rafa Benitez has always insisted there is nothing to compare with the Kop in full voice.

Their favourite anthem must have been music to his ears as it filled Anfield in the build-up to Liverpool's third Champions' League semi-final in four seasons.

In an instant, any misgivings the Liverpool manager might have harboured about Moscow ambitions being derailed by crowd hostility towards visiting co-owner Tom Hicks were banished.

Slightly more than an instant, if truth be known. For a good five minutes, chorus after chorus of You'll Never Walk Alone rang out, and the tone was set for another evening when trying to relay a message even to the seat next door proved an exercise in futility.

Benitez had backed Liverpool's vociferous supporters to save anti-American sentiments for another day and lend their lung power to the task in hand — and they did not disappoint him.

The feedback from fans' websites shows that they have not been taken in by Hicks' transparent attempts to win them over.

Fair play to the wily old Texan, though, he does try.

Police cautioned against his first Anfield visit since December and added that, should he choose to risk life and limb, he would be well advised to sit out of harm's way.

Both warnings were ignored as he breezed in through the main entrance — flanked only by son Tom Jnr, rather than a security posse — and took a front row seat 10 minutes before kick-off.

It was the moment the media had been waiting for.

An opportunity to discover the true level of animosity towards the 62-year old.

But his entrance coincided with Chelsea's team being read out, and it was impossible to be sure whose name was on the cascade of booing. Hicks remained undaunted.

As the Kop broke into their extended rendition of You'll Never Walk Alone, he stood up, held his red and white scarf aloft and joined in every line. Been on the Google search engine again, Tom?

Yet when it comes to causing ructions, his estranged partner George Gillett could hardly be considered blameless.

After taking Hicks to task over an outburst that was perceived as ill-timed, coming so close to Liverpool's biggest game of the season, what did Gillett do to restore harmony?

Only invited the other participants in an endless three-way power battle, Dubai International Capital, to trail along as special guests. Illness prevented George attending, but son Foster did the honours, while former Liverpool chairman David Moores and chief executive Rick Parry forsook their usual front row vantage point to stay a safe distance from Hicks, three rows behind him.

Demand for tickets in the directors' box for the boardroom bun fight was such that Sven Goran Eriksson and Alex McLeish, England and Scotland managers of the recent past, had to settle for seats alongside each other in the overspill section of the press area.

As he looked down at the bank of cameras, Manchester City boss Eriksson might have mused that life under Thaksin Shinawatra wasn't so bad after all.

Once the match started, though, he may well have had second thoughts, such was the noise generated on another electrifying European night at Anfield.

There really is nothing to compare, and there were suggestions, three years ago, that Chelsea may have been affected by the din.

They coped well enough third time round, though, and were rewarded in the dying seconds when an own goal wiped out Dirk Kuyt's opener.
---
APRIL 22
Lady Luck turns her back on Reds

TEAMtalk

TEAMtalk feels Lady Luck finally turned her back on Liverpool in the Champions League semi-final, and courted Chelsea at Anfield instead.

An intense but ultimately dour affair, with two opponents apparently content to merely scrap for the huge prize on offer - and that was just Rick Parry and Tom Hicks in the directors' box.

The annual march of Liverpool and Chelsea to the Champions League semi-finals has been a victory for pragmatism if nothing else and that approach was exemplified by the first leg at Anfield on Tuesday night.

Any neutrals could be forgiven for secretly hoping that whichever of these sides makes it to the final in Moscow - and after Chelsea's last-gasp equaliser the balance is tilted firmly in their favour - either Manchester United or Barcelona will provide the flair to win in style.

We knew what to expect of course, for neither of the previous meetings at this stage were classics in terms of the quality of the football, just in terms of intensity.

With the stakes so high, this was all about commitment, passion and hoping for the rub of the green.

Chelsea have not enjoyed that in their past encounters - just ask Jose Mourinho about that Luis Garcia goal back in 2005 - but they won back a large chunk of luck through John Arne Riise's own goal in the 95th minute.

It was barely deserved, for even if the match had been short on chances as well as panache, Liverpool had by far the better of them.

An off-day for Fernando Torres, and there have been precious few of those this season, arrived at just the wrong time for Rafael Benitez.

Three times he appeared destined to write a new chapter in his Anfield fairy-tale, but each time was found lacking.

First, put through by Steven Gerrard into the sort of position you would expect him to finish from every time, the Spaniard appeared to lack conviction and made it all too easy for Petr Cech.

Then a lofted ball over the defence found him with a clear run on goal but his first touch was so awful that Chelsea were able to recover.

Finally, an admittedly difficult opportunity deep in injury time was once more saved by Cech and Chelsea stormed up the other end to force that equaliser.

Benitez looked like a man who had swallowed his pen, a look of pure disbelief that Javier Mascherano and Alvaro Arbeloa had allowed Salomon Kalou to fire in a cross when he seemed to be trapped in the corner, and then for Riise to head it unerringly into his own net.

Until that moment it had been very much as planned by Benitez as Chelsea's offensive forces, especially Joe Cole, Didier Drogba and Frank Lampard, had an off day.

Liverpool's goal was a microcosm of the whole match, a combination of mistakes by Lampard and Claude Makelele leading to Dirk Kuyt bundling the ball into the net through Cech's legs.

The rest was eminently forgettable apart from those Torres chances and a fizzing volley from Gerrard.

Benitez tried to make an issue about the time allowed at the end of the second half compared to the first but that was just clutching at straws.

The truth was that Liverpool's luck - that has held fast in these contests with Chelsea each time before - had finally run out.
---
APRIL 22
Grant: We controlled it

By Joseph Caron Dawe - Setanta Sports

Avram Grant rued the mistake which gave Liverpool their goal in his Chelsea side's Champions League semi-final, first leg draw at Anfield on Tuesday and said his side 'controlled the game'.

The Israeli watched on as Dirk Kuyt capitalised on some hesitant defending to put The Reds 1-0 up before half time, before substitute Salomon Kalou's cross deep into injury time was turned into his own net by John Arne Riise to salvage a 1-1 draw and snatch a valuable away goal.

"It was a great result. It was a game where the two goals were mistakes," said Grant. "For my opinion we controlled the game and then we made a mistake and they scored.

"We made some changes in the second half and played a different system and it got a result for us."

Chelsea midfielder Frank Lampard echoed his boss's sentiments and said he thought the last-gasp goal was no more than his side deserved.

"I think we deserved to get the draw at the end," said the England international. "They had chances and we did and we started the game very well. It was a battle and we carried on until the end. Credit to Salomon Kalou who came on and put a great ball in, and I think we deserved that."

Petr Cech turned in an impressive display in goal for The Blues, denying Fernando Torres and Steven Gerrard efforts, and both Lampard and Grant sung the stopper's praises.

"I think he was fantastic," said Lampard on ITV1. "For us he's the best keeper in the world. He showed that and showed great character.

"He's the unluckiest man in the world with his injuries. But he keeps coming back and when he does he's even better."

Grant added: "He was good, he was unlucky with the goal between the legs. He made some good saves but it's Petr, we're used to it."
---
APRIL 22
Chelsea grab vital away goal

By Joseph Caron Dawe - Setanta Sports

A John Arne Riise own goal in injury time handed Chelsea a vital away goal in their Champions League semi-final, first leg with Liverpool at Anfield on Tuesday as the sides drew 1-1.

Dirk Kuyt put Liverpool a goal up in front of The Kop two minutes before half time after Chelsea had started the game brightly, and both sides had chances to add to the scoreline as the match progressed with each having a penalty appeal rejected.

Joe Cole squandered an opportunity in the first half, as did Kuyt early on before the Dutchman capitalised on a muddled Chelsea defence to give his side the lead going into the break.

The Reds came out strong for the second half but the balance swung their opponents' way towards the end of the game, and Gerrard almost added a second to his side's tally with a volley that was tipped over by Petr Cech after Florent Malouda and Frank Lampard had both had chances to level for The Blues.

Fernando Torres fired a far-post effort straight into Cech's body in injury time as Liverpool went ever so close to gaining a two-goal advantage, and it seemed the as if home side were heading towards a first-leg victory before drama struck in the dying seconds.

Salomon Kalou's cross in the fourth minute of added time was headed into his own net by Riise, under pressure in his own area with Nicolas Anelka lurking and panicked into action. Unfortunately for the Norwegian his stooping header flew into the roof of his own net.

The result handed Avram Grant the away goal at Anfield at this stage of the competition that his predecessor Jose Mourinho was unable to garner in two attempts during his time in charge, although whether that will have any effect on his fate come the end of the season remains to be seen.

Chelsea made the more assured of starts to the game as Didier Drogba initiated his battle with Jamie Carragher – preferred by Rafa Benitez to Sami Hyypia at centre back – as the pair tussled early on with the Ivorian winning a free-kick, and little time on the ball was afforded to either side as the midfield area became a tightly-patrolled battle ground.

Malouda tested his shooting range with an effort that was deflected off Carragher for a corner and Liverpool edged their way more convincingly into contention as Kuyt was presented with a great chance to rattle off a shot on 13 minutes. A long Xabi Alonso pass – perfectly weighted and dropped right onto the Dutchman's chest – was touched too heavily by the eventual goalscorer and that allowed Cech just enough time to fly out and block a toe-poked effort.

With that signal that the game could be opened up with a single damaging pass, Lampard – returning for Chelsea after missing two games – then played a similarly impressive one into Joe Cole, but the midfielder's mind was clearly divided between taking a volley on the full and trying to find Drogba in support, neither outcome coming to fruition. That came after the striker had fizzed a low ball across the face of goal which his team-mate was unable to meet.

The tension mounted on the half-hour mark when Drogba went down under a Carragher challenge right on the edge of Liverpool's area, a clash that Austrian referee Konrad Plautz deemed unworthy even of a free-kick. Moments later at the other end Fernando Torres went close to opening the scoring.

The Spaniard was played in by a superb first-time pass on the bounce from Steven Gerrard, and through one-on-one with Cech The Reds' top scorer took perhaps one touch too many before firing into the Chelsea keeper's legs.

That was forgotten three minutes before the break though as Liverpool did take the lead when a quickly-taken Alonso free-kick found Kuyt down the right flank. His delivery was a poor one which John Terry had little trouble in heading away – a clearance which found Lampard. His dithering in possession was punished severely though.

Javier Mascherano's mis-hit shot sliced up into the air and amidst some indecisive defending from Claude Makelele the ball dropped to Kuyt, who drove it through Cech's legs for a half-time advantage that sent Anfield into raptures.

The goal clearly took Liverpool's self belief to the next level and Benitez's men were straight at their opponents from the very start of the second half.

Torres checked inside a Ricardo Carvalho challenge inside the Chelsea area but was foiled by an alert Makelele, and then Alonso had a shot deflected wide after good work down the left from Ryan Babel as Liverpool sensed they needed to make their spell of dominance count.

Babel so very nearly did that on the hour when he came in off the left and swerved a sumptuous volley not far wide of Cech's left post from 20 yards, and there was a blow for the home side when Fabio Aurelio was stretchered off with a groin injury shortly after.

The injury proved something of a curse for The Reds as after that Chelsea enjoyed their most consistent of attacking spells. First, Malouda played a pass just behind Drogba on the edge of the Liverpool area and then Lampard's touch was far too ample as he cut inside a Martin Skrtel challenge when meeting a Drogba pass but ran out of pitch.

That was punctuated by a Liverpool penalty appeal when Carragher crossed into Michael Ballack's arm, but it was back up the other end straight away as The Blues continued to try and keep alive their offensive phase. Chelsea's German midfielder directed a header from a free-kick straight at Jose Reina and Malouda was guilty of delaying his shot for too long as Mascherano slid in to block when the Frenchman was poised to hit the target from close range.

The visitors continued to plunder forward as the second half reached the final quarter-of-an-hour but poor delivery let them down on numerous occasions, and Carragher put in a vital challenge on Lampard with the England international set to pull the trigger inside the final 10 minutes after Kalou teed him up.

Terry was adjudged to have fouled Reina under a high ball when it was more a case of six of one, half a dozen of the other inside a frantic Liverpool area as time crept on, and at the other end Cech denied Gerrard with a fine fingertip save that prevented a similarly eye-catching volley from the edge of the 18-yard area.

Liverpool fans were on the edge of their seat inside the 87th minute when Gerrard freed Torres but the Spaniard's first touch was poor – a clear run-in on goal awaited him otherwise, and the striker then fired straight at Cech at the far post as a corner dropped to him late on.

The game then took its twist as Riise put through his own net late in the day to ensure Chelsea secured a crucial away goal, which sets the tie up for an intriguing return leg at Stamford Bridge next Wednesday.
---