---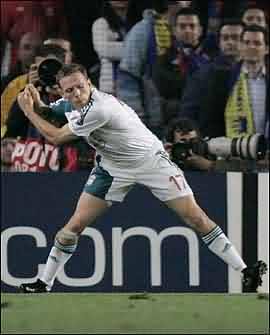 Bellamy celebrating his goal - with a swing. (Photo: AP)
FEBRUARY 22
Bellamy in focus

By Richard Hookham - BBC Sport Online

Craig Bellamy: Misunderstood goal-hunting genius or a manager's uncontrollable nightmare?

The Welsh international's career has been littered with more contradictions than President Richard Nixon's guide to White House etiquette.

Blessed with uncanny speed and agility, Bellamy couples his undoubted striking prowess with a seemingly intrinsic ability to annoy opposing fans, managers and his own team-mates.

Court-room appearances and nightclub brawls have sadly been as much of the Bellamy story as his on-field exploits - but without doubt he's a talented big game player when he puts his mind to it.

This week encapsulated Bellamy's life in the beautiful game.

It began with reports of a training camp bust-up with Liverpool team-mate John Arne Riise.

It ended with Bellamy scoring one and setting up the winner for - who else? - Riise, as the Reds sealed a brilliant 2-1 Champions League victory in Barcelona.

Such is Bellamy's melodramatic life on and off the pitch, manager Rafael Benitez could have almost written the script and handed it in to the Uefa officials with his team-sheet at the Nou Camp.

His colourful career has attracted pure venom from some big names in the game - while others have struggled to hide their admiration of his goal-scoring instincts.

So here, BBC Sport recalls just some of the opinions from some key figures in the game who have voiced their views of football's one-man soccer soap opera.

THE LAD'S NOT BAD

Gordon Strachan (when Coventry manager):
"He is not a one dimensional player, he has a bit of everything and has the ability and intelligence to take information on."
(After signing Bellamy for Coventry, August 2000).

Mark Hughes (Blackburn manager):
"We've got a player who I feel is one of the best of his type in Europe."
(After signing Bellamy for Rovers in July 2005).

Martin O'Neill (former Celtic manager):
"Craig played in midfield and I thought he was Lubo Moravcik for a while, making little incisive passes in around the box."
(O'Neill praises Bellamy during his Parkhead loan spell).

Neil Warnock (Sheffield United boss):
"I don't think Craig's self-belief is a bad thing - strikers are a different breed."
(the former BBC Sports columnist on Bellamy's on-field confidence).

Steve Bruce (Birmingham boss):
"Craig's a quality player, quality players don't become available very often and that's why we've made the offer."
(On trying to buy the striker from Newcastle in January 2005).

WELSH SPIRIT

John Toshack (Wales manager):
"Craig is the closest thing to Kevin Keegan. Their work-rates are very similar - Craig just runs and runs, and so did Kevin."
(Toshack compares Bellamy to his old Liverpool team-mate, November 2006).
Wales assistant boss Dean Saunders:
"When Craig turns up for training, he trains properly and when he plays he has a go and puts 100% effort in. He is a top professional, with a proven temperament, and is a great ambassador for Wales." (After Bellamy was being made Wales stand-in captain, October 2006)

NEWCASTLE TURMOIL

Sir Bobby Robson:
"What Craig Bellamy should do is just honour his contract. At the moment, he is doing too much talking. He should just concentrate on playing and scoring goals for this club."
(The ex-Newcastle manager shows his frustration in August 2004)

Conflicting views: McDermott, Souness and Saunders

Graeme Souness:
"He can't play for me ever again. He has been a disruptive influence from the minute I walked into this club. He can't go on television and accuse me of telling lies."
(The former Magpies boss was left fuming after another Craig outburst in January 2005)

Former Newcastle assistant Terry McDermott:
"I've never come across so much hatred and unrest over one person - what I've learned about him has astonished me."
(After Bellamy's row with Graeme Souness).

Newcastle chairman Freddie Shepherd:
"Alan Shearer told Bellamy he would knock his block off if he ever returned to Newcastle."
(After Bellamy reportedly sent insulting text messages to Shearer after losing to Man United in the FA Cup semi-final.)

THE MODEL PRO?

John Hartson:
"I'll be having a word. I've been here four years now and you simply cannot afford to go around like he does and say the things he does".
(The ex-Celtic striker was happy to give advice while Bellamy was on loan at Parkhead).

ANFIELD HERO

Liverpool manager Rafael Benitez:
"He has the ability, the pace and the talent we've been looking for."
(After Bellamy signs in June 2006)
"I am really pleased for Bellamy and Riise. The atmosphere in the team is very good. The training camp in Portugal was helpful. The players' commitment was good before and after the problems."
(After the Reds' 2-1 win in the Nou Camp this week)

Ian Rush:
"Bellamy's got that extra quality the team has been lacking, which is lightning pace. For me, there's no risk at all at £6m."
(The Reds' legendary striker on Bellamy's transfer to Liverpool last summer).
---
FEBRUARY 22
Gerrard's respect for Barca

By Mark Buckingham - Sky Sports

Steven Gerrard insists Liverpool will not under-estimate Barcelona ahead of their meeting at Anfield.

The Reds claimed the upper hand in their UEFA Champions League last 16 tie with a 2-1 success at Camp Nou on Wednesday night.

Goals from Craig Bellamy and John Arne Riise put the 2005 winners in with a great chance of reaching the quarter-finals of the competition.

But while Liverpool are in a strong position to qualify, club captain Gerrard is not taking a place in the last eight for granted.

The midfielder is aware of the holders' quality and admits The Reds can not afford to let their standards slip back on home turf.

"We've got an awful lot of respect for Barcelona, they're a fantastic side," Gerrard told Sky Sports News.

"We won't under-estimate them at Anfield in two weeks' time, we'll show them the same respect.

"We need to put in the same shift in two weeks' time and hopefully we'll qualify."

Liverpool will be hoping to avoid a repeat of their last home game with Barcelona, when the Spanish titans came from behind to win 3-1 in November 2001.
---
FEBRUARY 22
The best week of my life

By Chris Bascombe - Liverpool Echo

Nou Camp hero Craig Bellamy today brushed aside concerns about his long-term Anfield future and insisted: "I've had the best week of my life at Liverpool."

The striker claimed the headlines for the right reasons in the 2-1 win in Barcelona, scoring and creating the winner for John Arne Riise during another historic Euro night for the Reds.

After such a troubling few days, the script couldn't have been written more appropriately for the team mates involved in the notorious Algarve dust-up.

Bellamy reflected on the last five days and claimed he had no cause for regrets.

"This is the best moment I've had in football, the highlight of my career. I've been lucky and had good times for my country, but this is the best," he said.

"It sounds mad and people can write want they want, but we have a quiet group of lads here and the last week has been the best we have had since I came here in terms of having a laugh. It's brought us all closer as group, and maybe because we had Barcelona coming up we knew that we had to work for each other. It's all turned out perfectly.

"A club in turmoil? We've had a decent week. We were all looking forward to this game and nothing could spoil that.

"This is how it happens for me. I don't read what's in the papers, so it's not been a problem for me. It's all out of my control what people write about me. All I could do was work hard and try to get selected to play in a special atmosphere.

"I didn't feel I owed a performance, except for the fact it's my boy's tenth birthday, so that was for him. If anyone scored, that celebration was part of the deal."

Bellamy's long-term Anfield career has been widely debated since Sunday, but it's clear the Welshman is unperturbed by the speculation.

"I feel as if I've always been asked about my future at every club I've been," he said.

"It was the same at Blackburn last year when I was linked everywhere, and when I was at Newcastle I was always linked with someone else.

"I'm used to that, and when you're at a big club like Liverpool and you're my sort of player, you'll always hear someone wants to get rid of you, so it's not unusual for me."

Bellamy is determined the efforts in Spain don't go to waste during the return leg, but insists there's no prospect of Liverpool feeling the hard work is done.

He said: "There's still a long way to go and Anfield will be a completely different game. It was important we didn't milk it up at the end and let them see us celebrating as if it's all over, because we all know it isn't. We were as subdued as you can be when you win at the Nou Camp."

Liverpool returned to Merseyside this morning. Momo Sissoko's shin injury is not considered too serious.
---
FEBRUARY 22
Alonso ready for Barca return

By Mark Buckingham - Sky Sports

Xabi Alonso admits Liverpool are relishing the second leg of their tie with Barcelona after a stunning 2-1 victory
at Camp Nou.

The 2005 winners of the UEFA Champions League came from a goal down to beat the holders in the first leg of their last 16 encounter.

In-the-news duo Craig Bellamy and John Arne Riise scored the goals to put The Reds in a strong position to qualify for the quarter-finals.

Spanish midfielder Alonso was beaming at the result and revealed confidence is high ahead of the return meeting at Anfield in a fortnight.

"We are delighted with the result," Alonso told Sky Sports News.

"I think we have performed in the way we wanted to before the game.

"We are really happy and are looking forward to the second leg at Anfield.

"Of course, it is a massive success for us. It is always a hard game here, so to win in a Champions League tie against Barcelona in the Nou Camp is always great."

Liverpool's former Barcelona keeper Jose Reina praised his team's resilience for coming back from Deco's early header.

Reina said: "It was brilliant. I think we have worked really hard from the beginning, and also with the goal against us in the first minutes, it was a little bit difficult.

"At the end, we are so happy because the result is great."
---
FEBRUARY 22
Valdes upbeat despite
Nou Camp defeat

Ireland On-Line

Barcelona goalkeeper Victor Valdes refused to be downhearted after his side's shock Champions League defeat at home to Liverpool, insisting they still have a "great chance" of progressing through.

The reigning European champions suffered only their second home loss to an English team after succumbing 2-1 to Liverpool, who remain unbeaten in their four trips to the Nou Camp.

Deco had given the hosts a flying start in the last-16 first leg with an opening goal after 14 minutes – the first goal Liverpool have ever conceded away to Barca – and the Catalan giants then enjoyed a prolonged spell of pressure.

However, Frank Rijkaard's men were unable to make the most of their domination, and Liverpool hit back to snatch the victory thanks to goals in either half from Craig Bellamy and John Arne Riise.

Valdes may have felt he could have done better with Bellamy's header, which just sneaked over the line despite the Barca goalkeeper getting his body behind it, but he could do nothing about Riise's winner.

Valdes had already done well to deny Dirk Kuyt when the rebound fell to Bellamy, who promptly passed across the goal where the unmarked Riise smashed a superb rising shot into the roof of the net.

Valdes admits Bellamy's goal just before half-time was the real blow to their confidence.

"The first goal was hard to take, but I thought we would come back and win," he said.

"We are all very disappointed but we still have it all to play for."

Barca now face an uphill battle to keep their title defence alive, and while Valdes admits it will be tough, he sees no reason why they cannot go to Anfield and turn the tie around.

"Liverpool made it difficult for us today and we made some mistakes as well," he added. "It will be hard to go through, but we still have a great chance. Just as they won here, we can win there."

Barca defender Gianluca Zambrotta, who set Deco up for the game's opening goal with a pinpoint cross to the far post, also believes his side are not out of it yet.

"We are disappointed but at the same time relaxed because we still feel that we can get through to the next round," he said.

"The dressing room was quiet after the game, but we will get over it and come back stronger. We will now have to make sure we learn from the mistakes we made today."

Midfielder Andres Iniesta added: "Teams like Liverpool make things very hard for us and sometimes we don't take our chances.

"We have to be optimistic."
---
FEBRUARY 21
Rijkaard issues rallying cry

By Tom Adams - Sky Sports

Frank Rijkaard called on his under-fire Barcelona side to pull together after their 2-1 UEFA Champions League defeat to Liverpool.

Having lost to rivals Valencia in La Liga at the weekend, the Catalans suffered a substantial blow in their bid to retain the European Cup by going down to goals from Craig Bellamy and John Arne Riise at Camp Nou.

Morale in the Barca camp was already low after reports of a dressing room rift, and Rijkaard insists his squad must help each other through a difficult period in the season if they are to rescue the tie at Anfield.

"It wasn't our night," Rijkaard said. "The rhythm of the game slowed down after we conceded the goal.

"After that moment, Liverpool had more strength and we couldn't find a way to change this.

"It's a complicated situation and it will be difficult to make the comeback but that's what (the situation) is.

"We'll just get ready for the game and be confident and have trust in ourselves as well.

"We have to get through this suffering together and look forward."

Cameroon star Samuel Eto'o missed the defeat due to fitness concerns, and Rijkaard admits he is unsure whether his key striker will be back for the second leg on Merseyside.

"I really don't know," Rijkaard said. "I hope so."
---
FEBRUARY 21
Rafa hails Reds response

By Tom Adams - Sky Sports

Rafa Benitez was delighted with his players' response to a controversial week as they secured only the second victory by an English team at Camp Nou.

Goals from Craig Bellamy and John Arne Riise - reportedly the chief protagonists in the club's ill-fated training camp in Portgual - saw The Reds claim a superb 2-1 victory over Barcelona in the first leg of their UEFA Champions League last 16 tie.

Liverpool have been under intense scrutiny ever since weekend reports of an alcohol-fuelled bust-up, but Benitez's men produced a display full of fight in all the right places and the Spaniard was delighted with their efforts.

"I said before in the press conference that the atmosphere between the players was really good and you could see today them all working very hard for the team, for the club and for the supporters," Benitez told Sky Sports.

"For me I am really pleased with Bellamy and John scoring these goals and also pleased for the team too.

"The players have done a very good job, we were training and working very hard to prepare for this game and to play Barcelona is not easy.

"I think that the team was very good at playing counter-attack."

Deco had put Barcelona ahead early on in Catalunya, but Bellamy's header just before half-time gave The Reds hope as his effort managed to sneak over the line after some poor goalkeeping from Victor Valdes.

Benitez admitted that lady luck shined on his team in that instance, but the Spaniard insisted his side fully deserved the one-goal advantage they will seek to protect at Anfield in two weeks.

"We started well but after we conceded a goal - we made a mistake that was clear - we did not play well for the last part of the first half," Benitez added.

"The second half we had better ideas, good movement and we played good counter-attack and then the team were better.

"Sometimes you have luck [for the first goal], and we had luck, but afterwards I felt we deserved the final score."

Barca still represent a clear danger despite Liverpool's advantage, and Benitez was careful not to count his chickens ahead of the second leg.

"At the end of the day we need to play another game, I don't want to say that everything is done, we need to be careful and think about the next game also."
---

FEBRUARY 21
Bell and Riise put Reds in the swing

TEAMtalk

Craig Bellamy and John Arne Riise both scored as Liverpool claimed a stunning 2-1 Champions League victory over Barcelona at the Nou Camp.

Bellamy and Riise were allegedly the two players involved in last week's training ground fracas in Portugal - and the response from the pair will have delighted coach Rafael Benitez and the mass of travelling Liverpool fans.

In the battle between the last two winners of the competition, 2005 champions Liverpool tonight became only the second English team to beat Barcelona at the Nou Camp.

The only previous side to win here was the 1975-76 Liverpool team, which downed Barca 1-0 in the UEFA Cup semi-finals before going on to win the final.

Liverpool, who had not lost in three previous visits to the Nou Camp, made a confident start, and they should possibly have taken the lead after creating the first incisive move of the match in the fourth minute.

However, Riise, having broken the offside trap to latch onto Steven Gerrard's pass, could not find Bellamy in the middle, when a decent pass would surely have led to the Welshman putting Liverpool ahead.

After a quiet start, the home side and their fans were finally woken up when Ronaldinho went sprawling in the box, only for the referee to wave play on.

Deco then tried his luck before Juliano Belletti blazed high and wide, before Barca took the lead in the 14th minute when Gianluca Zambrotta crossed to the far post where the diminutive Deco headed into the corner of the net.

Saviola had a chance to make it 2-0 just minutes later after skipping past Jamie Carragher, but the Argentinian's left-footed shot went wide.

Barca were rampant at this stage, and Reina was forced to come out and deny Deco following a neat pass from Lionel Messi.

With Rafael Benitez's side clearly shell-shocked, Barca continued to push forward and only some desperate Liverpool defending kept the Spanish champions from increasing their lead.

Liverpool managed to regroup - and they had a chance to draw level seven minutes before the break after earning a free-kick out wide on the left. However, the unmarked Bellamy could only head Gerrard's cross into the side-netting.

Bellamy made amends for that miss in the 43rd minute though as Liverpool drew level.

Steve Finnan dinked a ball into the box and Bellamy powered in a header which Victor Valdes was unable to keep hold of, with Dirk Kuyt pouncing to slot the ball home.

Bellamy's header had already crossed the line before Valdes pushed it back out though, and the striker celebrated his goal by imitating a golf-swing.

Barca coach Frank Rijkaard then opted to make a change at the start of the second half, with Thiago Motta replaced by Spain international Andres Iniesta, much to the delight of the home fans.

But even with the highly-rated Iniesta on the pitch, Barca were still struggling to re-establish their early dominance and Rijkaard made his second switch in the 65th minute, sending on Ludovic Giuly for Xavi Hernandez.

Liverpool were gifted a chance to take the lead when Valdes picked up a back-pass from Giuly.

Gerrard saw his shot saved by the feet of Valdes, but Liverpool really should have netted when the ball came back into the box, with Kuyt unable to head home from just three yards out.

That let-off seemed to spark Barca into life briefly and they fashioned their best chance of the second half soon afterwards.

Saviola created some space for a shot inside the Liverpool penalty area, but he was denied by Reina. The rebound fell for Messi - but he saw his shot deflected over.

Liverpool scored their second goal in the 74th minute, after Gerrard picked out Kuyt with a brilliant pass.

Although the Dutchman was denied by Reina, Bellamy played the loose ball across goal for the unmarked Riise to blast right-footed into the roof of the net.

With their title defence beginning to slip away, Barca piled forward after that in search of an equaliser, but poor control from Saviola saw one decent chance go begging.

With five minutes to go Reina flapped at a cross to leave Liverpool fans with their hearts in their mouths, but he was saved by his covering defence.

A similar misjudgement from Reina minutes later almost cost his side a goal though, and he will have been hugely relieved to see Deco's curling free-kick hit his far post and rebound away to safety.

That was the closest Barca would come to an equaliser however, and they now face an uphill battle in the second leg at Anfield.
---