---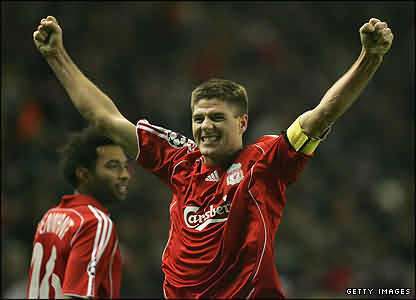 The captain himself celebrates his goal and Reds'victory.
(Photo: Getty Images)
FEBRUARY 20
Kuyt delighted as Reds
rise to the occasion

Evening Echo

Liverpool used Tuesday night's Champions League match against Inter Milan to prove they are a better team than their recent results have suggested, according to striker Dirk Kuyt.

Having been dumped out of the FA Cup at home to Barnsley on Saturday, success in Europe presents the only chance of silverware for Rafael Benitez's side this season.

The manager and the players have been criticised for under-performing, dropping out of the Barclays Premier League's top four and falling 19 points behind leaders Arsenal.

Inter Milan presented one of the toughest tests in the Champions League last 16 but were despatched 2-0 in the first leg at Anfield after Marco Materazzi was sent off after 30 minutes.

And Kuyt said that performance proved how good the team could be.

"I think that is the magic of football. You lose four days ago against Barnsley when everybody is expecting you to beat them easily and you see a whole different team (against Inter) with a lot of the same players," said the Holland international.

"We haven't played well the last few games but we know how we have to play in the big games, especially the Champions League games, and we used that.

"All the players worked really hard as a team and we had confidence in ourselves because we know we have a lot of quality in the team and we showed that.

"Everyone I have spoken to, especially the Dutch people at big clubs in Europe like AC Milan and (Real) Madrid, know how good Liverpool can be.

"We haven't shown it the last couple of months but we still want to be there and we have a game to go [in this tie].

"If we can go really far in the Champions League like last year (when they were runners-up to AC Milan) it will be great. We have the quality, we only have to show it on the pitch.

"We just want to keep looking forward and not too much in the past."

Having gone two months without a goal, Kuyt has now scored in successive matches, getting the first against Inter in the 85th minute before Steven Gerrard added a late second.

"The most important thing is to keep patient and wait for the one chance and I was really thankful I scored," added the Dutchman.

"I am really happy with that. It was a great moment. I had a difficult period behind me, now I just want to look forward now."
---
FEBRUARY 20
Awesome Liverpool in different class

By David Prentice - Liverpool Echo

They say revenge is a dish best served cold.

And after a wait of 43 years since the larceny perpetrated upon them the last time they faced Inter, Liverpool can surely wait a further three weeks to finally lay the ghosts of '65.

That they have a golden opportunity to do so was down to another masterful display of tactical acumen from Rafael Benitez – and a commanding performance from his first team.

How could a side which had lost so embarrassingly to a team struggling in the Championship produce a performance of such drive and verve against the unbeaten Serie A leaders?

Simple really. This wasn't the side which lost to Barnsley.

Compelling evidence for the folly of over-rotating your first team resources came even before Marco Materazzi's dismissal.

With Pepe Reina spreading calm assurance throughout his penalty area, Javier Mascherano magnificently marshalling the midfield and Fernando Torres causing consternation in Serie A's most miserly rearguard, Liverpool were always the more ambitious, imaginative side.

And then there was Steven Gerrard.

Fabio Capello had already left his main stand seat to head for his limousine when the Reds skipper speared a bobbling drive of laser guided precision beyond Julio Cesar.

But the England coach is already aware of what Gerrard is capable of.

He is probably less acquainted with Jermaine Pennant's qualities, but he too played a decisive part in a monumental result for the Reds.

Liverpool had chiselled out crossing opportunities all night – and not taken full advantage of them. Kuyt, Gerrard and most wastefully Steve Finnan all found themselves in excellent positions, and all failed to find a telling pass.

But then Pennant replaced Ryan Babel and instantly started to find red shirts with his crosses.

Reds fans probably wouldn't have earmarked Dirk Kuyt as the likeliest recipient of one of those crosses with only six minutes remaining, but the much-maligned Dutchman took one sure touch then drilled a fierce drive, with a decisive deflection, beyond Julio Cesar.

If that was what Liverpool had dreamed of on Monday night, what happened next was beyond their wildest dreams.

A 2-0 win against a team unbeaten in the league since March 2007, 11 points clear in Serie A and bristling with international class and quality was an awesome result.

It was also another spectacular result for Liverpool's fans.

Inter coach Roberto Mancini later complained that several of his side's key men simply hadn't turned up. What he perhaps meant was that they had gone missing in another vibrant, intimidating atmosphere.

Amongst those fans were Ian Callaghan and Tommy Smith, and it was with gloriously rich irony for those two that a match official was pivotal to the proceedings.

Robbed by a corrupt Spanish referee in the semi-final of 1965, Belgian Frank de Bleeckere changed the dynamics of last night's last 16 knockout stage with an unexpected red card.

But Marco Materazzi's harsh dismissal – his fourth here on Merseyside after an unwanted hat-trick during a turbulent 12 months at Goodison a decade ago – should not detract from Liverpool's achievement.

Lynchpin Materazzi was booked after 11 minutes for nothing more serious than allowing himself to be outpaced by Fernando Torres.

The harshness of that decision was exacerbated when Materazzi tugged at Torres 18 minutes later and was sent off.

But even before that moment Liverpool had looked the likelier side to break through.

And Mr de Bleeckere also proved spectacularly unsighted when Gerrard tried to juggle the ball past the awful Patrick Vieira, and straight into his outstretched arms.

Vieira's first touch after arriving as a substitute was to cannon the ball straight into Torres' path, but this time Cesar made a stunning save.

There was little he could so about the strikes which beat him.

Liverpool once again celebrated a famous European night.

The only worry for Reds fans is that they now face crucial home games against West Ham and Newcastle in the build-up to the San Siro return.

Liverpool's first team have shown what they are capable of.

No more rotating Rafa . . . por favor!
---
FEBRUARY 20
Kennedy: Reds will need
to score in Milan

By Tom Kell - Setanta Sports

Former Liverpool defender Alan Kennedy has told Setanta Sports News that The Reds' Champions League tie with Inter is not done and dusted yet, despite the 2-0 first-leg win on Tuesday.

The victory alleviated a modicum of the mounting pressure surrounding Rafa Benitez's tenure at Anfield, but looked to be out of their grasp until late goals from Dirk Kuyt and Steven Gerrard.

Two-time European Cup winner Kennedy knows that with a trip to the San Siro to come, Liverpool still have work to do if they are to secure their path to the last eight.

"Even with a 2-0 lead and a good performance like that, going to Milan will be very, very difficult," he said on Setanta Sports News.

"I think Liverpool will have to score to get through the tie, it isn't over yet."

The win against the Serie A runaway leaders was characteristic of Benitez's time at Anfield, his side so often making strides in Europe even when toiling in The Premier League.

Kennedy, expressing the sentiments of many Liverpool supporters, is crossing his fingers that the club can now transfer their European form onto the domestic stage and secure the fourth spot they need to ensure their place in next season's Champions League.

"We can turn it on in Europe but not in the league," he continued. "The players are up for it in Europe, they seem to have a mentality.

"We're fighting for fourth place at the moment. Now we have got to look forward to Middlesbrough [on Saturday] and start picking up points to ensure we don't end up outside the top four."
---
FEBRUARY 20
Benitez should not
be judged by mob rule

By Chris Beesley - Liverpool Daily Post

It would be an overreaction to suggest the writing was on the wall for Liverpool manager Rafael Benitez going into this game but the graffiti daubed around Melwood yesterday showed just how frustrated many of the club's supporters have become.

Esteemed coaches like the Spaniard should not be judged by mob rule and such obscenities do not portray much intelligence or tactical acumen but the message to the man in the Anfield hot seat was a blunt and simple one – a plea to play his best team.

Although gambling somewhat by preferring Brazilian rookie Lucas to the experienced Xabi Alonso in midfield, Benitez, as expected, brought back the big guns for this heavyweight clash and was rewarded handsomely with a potentially historic win after his patient side saw off 10-man Internazionale with a two-goal salvo in the final five minutes.

Following the FA Cup humiliation to Barnsley on Saturday, Benitez was given a chance to restore some pride at Anfield by keeping beleaguered Liverpool's season alive with a tie in his security blanket competition.

As the Spaniard pointed out to his detractors after the last-gasp defeat to Championship opposition at the weekend, few managers have a European Cup success on their curriculum vitae but it's success in this season's Champions League final in Moscow that will ultimately help him to retain his position, not his past glories in Istanbul.

Since arriving on these shores, Benitez has shown the kind of consistency in club football's elite tournament not enjoyed by Liverpool sides for a generation.

It's thanks to his remarkable achievement of leading his new team to victory in his first season in 2005 that the former Valencia coach enjoys such cult status among the majority of the club's support. But having achieved such a benchmark of excellence so soon, Benitez has ensured that expectation levels remain so high – as if they ever seriously dip at a club that has collected so much silverware both at home and abroad.

But for many years now, Liverpool have relished these big European nights which often bring the best out of their team and supporters and with Benitez's in-depth knowledge and understanding of the continental game, the alliance in this competition has so far been a fruitful one with two finals reached in three seasons.

This time a year ago, Liverpool, in similar fashion to now, were already well out of the Premier League title race so nobody gave them a chance against the superstars of Barcelona.

Yet, on the back of a bizarre training camp spat, Benitez's side produced their performance of the season to stun the Nou Camp.

In contrast, it has been a lack of consistency in the domestic game that has raised serious question marks for the first time over the Spaniard's stewardship.

The Champions League trophy was lifted using a team generally comprised of Gerard Houllier's players – indeed the Frenchman entered the jubilant Liverpool dressing room after the final to congratulate the team in an awkward fashion akin to that of an estranged father.

Now, almost three years on, with the squad supposedly strengthened with his own signings, including a genuinely world-class centre-forward in Fernando Torres, at home Liverpool seemingly remain no closer to challenging for their first title of the Premier League era.

In fairness, if you're going to appoint an overseas manager then he should expect to be given time to adjust to his new league but in this respect Benitez is still playing catch up to the likes of Jose Mourinho (first season) and Arsene Wenger (second season) who fashioned table-topping sides at Chelsea and Arsenal respectively.

Ironically, Liverpool's opposition last night, Internazionale, are a club who are currently dominating their national league but still crave the European success that tantalisingly eludes them.

After a similar lean patch to Liverpool's – their last title before success by default due to Juventus' match-fixing scandal in 2006 came in 1989 as opposed to Liverpool's in 1990, Inter have re-emerged as Serie A's dominant force over the past couple of seasons.

Yet they have not conquered Europe since 1965 – when Helenio Herrera's side controversially eliminated Bill Shankly's Liverpool, playing in the competition for the first time, en route to the final – and in the subsequent years they have seen city rivals Milan add a further six successes to their 1963 triumph.

The architect of one of those victories, new England coach Fabio Capello was in the stands at Anfield to view this 'Anglo-Italian' encounter but there were only two Englishmen in Liverpool's starting line-up and only Steven Gerrard is available for his team following Jamie Carragher's international retirement.

While Capello bemoans the lack of English players in the Premier League compared to the number of Spaniards in La Liga where he coached Real Madrid this season, Inter, the outstanding club side in his native country who are current world champions, fielded just a single Italian – Marco Materazzi – in their XI and he only lasted half an hour before bowing out in similar fashion to his last appearance on Merseyside with a red card.

Following several weeks of disappointment domestically, Liverpool knew that victory last night was imperative to keep their season alive but following this latest European conquest who's to say that Benitez's won't be leading his troops into Moscow come May for another crack at the big one.
---
FEBRUARY 19
Rafa's critics must hold fire

By Tom Adams - Setanta Sports

Liverpool produced the result that Rafa Benitez required against Inter on Tuesday night, but little can be gleaned regarding his long-term future from a game that proved hard to analyse.

Just as a defeat to Inter would not have spelt the end of Rafa's reign as some in the national press were suggesting, a victory in these circumstances will not fully dispel the doubts surrounding the Spaniard who has failed so badly on the domestic front this season.

Whilst beating a side that have lost just once in their previous 62 Serie A games is clearly a great feat for the Spaniard, Liverpool were handed the game on a plate after just 30 minutes when Marco Materazzi was dismissed in curious circumstances.

The Italy international is not adverse to the odd dismissal – he received three in his only season with Everton and was memorably left crying by the advertising hoardings after the red that came in his final game against Coventry – and referee Frank de Bleeckere must have had his previous charge sheet in mind when making a decision that was extremely harsh on the Inter defender.

Two bookings in the first half hour for fouls on Fernando Torres, the first doubtful at best given the ease at which the Spaniard went to ground, handed Liverpool the initiative but for all of 85 minutes they dominated possession whilst rarely threatening Julio Cesar in the Inter goal.

One smart effort from Fernando Torres drew a good save from the Brazilian but a resolute performance from the Inter backline meant he was largely comfortable until the much-maligned Dirk Kuyt and captain Steven Gerrard struck late on to give Liverpool a huge advantage that must not be squandered in Milan.

If it is, then the knives will be out again for a manager who benefitted from a slice of luck to subdue Inter as they withdrew into their shell after Materazzi's dismissal and offered just three shots, none of which were on target.

After a build-up that had some on Merseyside dragging up the ghost of a controversial meeting between the two sides back in 1965, the red card put any suggestions of favouritism to rest, even if the referee did mystifyingly decide against giving a penalty when Patrick Vieira handled in the box.

It gave Benitez's side no margin for error and no excuses, and thankfully for the former Valencia boss a late rally gave him some much needed breathing space.

For now the Rafa bandwagon rolls on and who would bet against another appearance in the final given that Lady Luck is clearly on their side?

However, the critics will still be circling and it will take more than a fortuitous win over Inter, excellent as the final result was, to convince me that Benitez is still the right man to take Liverpool forward and make them a real force in the domestic game.
---
FEBRUARY 19
Benitez hails 'important' victory

BBC Sport Online

Liverpool boss Rafael Benitez admitted his side's 2-0 Champions League win over 10-man Inter Milan was crucial after another turbulent week for him.

The Spaniard has come under intense pressure this season and none more so than this week following Liverpool's FA Cup exit to Barnsley at the weekend.

And he said: "I think everyone knew we needed this. It was really important for the club and fans that we won.

"I have always had confidence in this team and we will win a lot of games."

Dirk Kuyt and Steven Gerrard got the goals in the last five minutes what had at one point looked like being a frustrating match to ensure Liverpool are well placed to make the quarter-finals of the competition.

That came after Marco Materazzi had seen red on the half hour and Benitez said: "We needed to be patient.

"Against a good team like Inter, who are a very well organised outfit, you have to be patient and wait for the chances to come, because they will.

"It will be difficult for them to come back now, but they have a lot of good players and while we are confident, we will not be complacent."

It was a particularly pleasing night for Kuyt, who has also come under criticism after a lean season in front of goal, but Benitez played down suggestions he and the team wanted to hit back at the critics at Anfield.

"The determination to prove people wrong was no different to any other game," he said.

"We've not had much luck of late and the confidence is low but we must keep keeping working and that's what we did.

"I'm also pleased for Kuyt. I have a lot of confidence in him because his commitment is always 100% and every team needs a player like that."
---
FEBRUARY 19
Mancini rues Materazzi red

By Tom Adams - Setanta Sports

Roberto Mancini remains convinced that Inter can overturn their 2-0 defeat to Liverpool in the second leg in Italy, despite a game at Anfield that the coach believes should have had a completely different complexion.

Mancini felt that the first-half dismissal of Marco Materazzi, which came after two fouls on Fernando Torres, transformed the tie and that Inter 'paid dearly' as a result.

His team are not unbeaten in Serie A for nothing this season though, and Mancini is remaining hopeful ahead of the return leg in three weeks' time.

"They put us under pressure from the start and didn't let us play much," Mancini told the club's official website. "They closed down every space and pressed us very hard.

"It's normal to meet a few difficulties when you're playing away from home against a great opponent in a stadium like this. Unfortunately we paid dearly for Materazzi's sending-off.

"Everything was much harder with 10 men. With 11 against 11 it would have been a completely different match.

"Everything went well up to the 85th minute, and we held up without conceding too much. We should have been a bit more careful.

"We'll have to score three goals in the return leg and it won't be easy, but I'm convinced that it's possible."

Inter suffered a further blow when seeing Ivan Cordoba stretchered off after 76 minutes and Mancini fears for the Colombian defender.

"Unfortunately it looks serious," Mancini added. "Ivan told me his knee turned. It's difficult to assess the entity of the damage right now."
---
FEBRUARY 19
Late double puts Reds in firm control

By Tom Adams - Setanta Sports

Dirk Kuyt and Steven Gerrard rode to Rafa Benitez's rescue at Anfield as two goals in the last five minutes gave The Reds a 2-0 win over 10-man Inter and one foot in the Champions League quarter finals.

Despite all the pre-match focus on Benitez and his future, referee Frank de Bleeckere initially became the central figure at Anfield before Kuyt and Gerrard's late interventions as he made two puzzling decisions that could have exercised a huge influence on the course of the game.

After harshly dismissing Inter defender Marco Materazzi after just 30 minutes, De Bleeckere then missed a blatant handball by Patrick Vieira after half time which should have given The Reds the penalty that could have eased so much of the pressure on their under-fire manager.

With 85 minutes on the clock it seemed as though Liverpool's chance to secure a first leg advantage was slipping through their fingers, but Kuyt and Gerrard summoned on their reserves to give Benitez a shot in the arm and Liverpool real hope of another European adventure.

Inter set up with a sadly-predictable defensive approach – a midfield of Maxwell, Javier Zanetti, Esteban Cambiasso and Dejan Stankovic crying out for creativity – and sprung no surprises in looking comfortable in soaking up pressure and playing on the counter-attack.

Whilst Liverpool started brightly, with Sami Hyypia having a header tipped over the bar by Julio Cesar from a Steven Gerrard corner, Ryan Babel looked like the only player on the pitch actively willing to make something happen in what rapidly became a tepid first half hour.

All that changed though when Materazzi was shown his marching orders in a desperately harsh decision. After being unfortunately booked for a trip on Fernando Torres after 12 minutes, a tug on the same player 18 minutes later precipitated his removal as referee De Bleeckere ruthlessly brandished the red card.

With Materazzi gone there were no excuses for Benitez or his men, but despite their tempo intensifying, a dearth of quality in the final third prevented a breakthrough before the break with the disappointing Dirk Kuyt particularly culpable.

When Gerrard did burst emphatically into the box after collecting a through-ball from Babel and fire in a wicked low cross, neither Kuyt or Torres were able to tap the ball home and Inter breathed a huge sigh of relief when clearing through Maicon.

A vocal Anfield sought to urge their heroes on after the break but Liverpool appeared to be lacking urgency despite their numerical advantage, even if a wonderful ball from the excellent Javier Mascherano allowed Steve Finnan to fire in a cross that Cristian Chivu did well to clear.

Nerazzurri manager Mancini sought to tighten things in midfield on 55 minutes when readying former Arsenal hero Patrick Vieira on the sidelines, and it was Julio Cruz who was withdrawn after attempting a hopeful long-range effort.

Continuing to dominate possession, Liverpool then began to find a cutting edge and a fortunate deflection off Kuyt allowed Torres to race clear on goal and fire in an angled effort that Julio Cesar did superbly to tip just round the post in the best chance of the game up until that point.

The excellent opening seemed to invigorate The Reds, who saw Hyypia head narrowly over from a drawn-out corner routine and Torres fire just wide on the turn, but referee De Bleeckere curbed their enthusiasm when making another dubious decision.

Gerrard looked to lift the ball over Vieira's head in the box on 60 minutes, but when the France international knocked the ball out of play with his raised arm, the official merely signalled a corner despite the vehement protestations of those in red.

Looking to capitalise on the growing pressure on Inter, Benitez threw on Peter Crouch for Lucas Leiva and brought on Jermaine Pennant for the fading Babel, and the tall striker was gifted a chance on 74 minutes when Cordoba headed straight into his path in the box. Crouch, though, pinged his volley well wide of the post.

Having successfully unsettled the Inter defence with his arrival, Crouch was unable to add finesse though and when presented with the ball in the box again, saw a drilled effort blocked by the Brazilian Maxwell.

Despite failing to impress for much of the game, Kuyt then struck a crucial goal for his manager on 85 minutes for his third in six Champions League games this season.

Inter failed to clear from a Pennant cross and when Kuyt collected the ball at the back post, his shot appeared to take a deflection off Maicon that wrong-footed Cesar and allowed the ball to evade the clutches of the Inter keeper.

Five minutes later, Pennant was again involved as he cut back for his captain and Gerrard drove a low effort past two Inter defenders and across the front of Cesar to see the ball nestle in the back of the net for a 2-0 lead that looked distinctly unlikely for much of the game.

As 'You'll Never Walk Alone' serenaded Liverpool's players once more, the referee brought a conclusion to one of the most satisfying results of Benitez's time on Merseyside.
---