---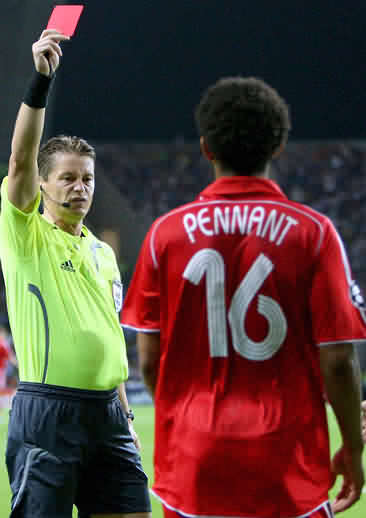 Pennant: "I didn't think it was
the right decision to send me off."
SEPTEMBER 19
Carragher: Porto game one of toughest

Goal.com

Liverpool defender Jamie Carragher believes that last night's test away to Porto was one of the toughest European matches he has played in.

As expected, Porto gave Liverpool a tough time of it in front of a vociferous home support. An early Gonzalez penalty was cancelled out by a Dirk Kuyt header, however Liverpool had to play much of the second half with ten men as Jermaine Pennant was sent off for a second bookable offence.

Porto bossed large portions of the match and gave last year's beaten finalists very little in the way of goal scoring chances.

Carragher admits that Porto made life very difficult, but the centre-half was pleased to walk away with a draw.

"They fizzed the ball around very quickly. Quaresma and the other winger caused us problems," he told Liverpool's official webste.

"Sometimes you've got to hold your hands up and say the other team has played well. I'd say the first 30 minutes was up there with the toughest games we've ever had in the Champions League.

"But we have a lot of experience in Europe now, and we knew there was a long way to go in the game.

"There was no need to panic. We showed a lot of character to get ourselves back in the game and probably had the better of the chances in the second half with 10 men.

"It would have been a good point with 11 men, but with 10 it's great."

After going behind through a spot-kick, Liverpool extend their run of not conceding in open play to 8 games, but worryingly, they have given away four penalties already this season.

Carra added: "I think it's just one of those strange things that happen sometimes, we seem to be giving penalties away every game. I'm sure it won't continue.

"The disappointing thing is, all the penalties we've conceded weren't really from goalscoring chances.

"But we're not giving many chances away in open play and that's something we've got to be proud of."
---
SEPTEMBER 19
Reds make point the hard way

By Tommy Smith - Liverpool Echo

It started badly, could have got worse, but in the end Liverpool battled well for their first point in this season's Champions League.

Put it down to the international break, but the Reds are not playing with anywhere near the fluency so evident in the pre-England games.

We know Porto are a good side, which is why the Reds needed to stamp some sort of authority on the game quickly. But, quite frankly, they had a nightmare in the opening 10 minutes, during which they might have conceded a couple of goals.

The performance at Portsmouth was poor, yet they came away with a 0-0 point, and they have to be patted on the back for another draw after being reduced to 10 men.

Rafa Benitez saved one or two players specifically for last night, but the form missing on Saturday was absent again, until Jermaine Pennant's dismissal resulted in the Reds showing that steely resilience we have come to expect.

It was not a sudden end for Pennant – he had fouled several times and unfortunately it was just down to clumsy, ridiculous challenges. But his dismissal could have cost the Reds a point and he has to learn from that.

Admittedly, Porto have some quality players who showed good touches, but they did not have enough punch up front to hurt the Reds in the second half.

Benitez will be concerned at the sluggish start and an ability to concede possession so easily in the first half.

His side could have been a goal down within minutes when an attempted clearance ricocheted across goal and Reina had to save. But he was helpless to stop the penalty by Lucho, caused when Hyypia was beaten for pace and the keeper arrived too late to intercept.

But Hyypia, whose selection was another puzzle for me, at least made amends, rising to Finnan's cross and providing Kuyt with an easy chance.

The striker was probably the Reds' best player, scoring the close-range header that got them level and chasing and harrying all over the park.
---
SEPTEMBER 19
Pennant: I must learn Euro lesson

By Chris Bascombe - Liverpool Echo

Jermaine Pennant was quick to thank his team-mates for bailing him out of trouble following last night's red card during the 1-1 draw in Porto.

Pennant's 58th minute dismissal certainly cost Liverpool the chance of victory in Portugal, but fortunately for Pennant it didn't contribute to an opening group defeat.

The right winger insisted he didn't deserve to see red after two lunging tackles, but he acknowledged he must learn to show more discipline in Europe where referees are less tolerant of such indiscretions.

"The referees are harsher in Europe and I was baffled by him all night," said Pennant. "I definitely have to learn from the fact there's a difference in how the referees approach the games in Europe.

"In Europe you just have to stay on your feet.

"I didn't think it was the right decision to send me off. It wasn't a yellow card because it wasn't a serious foul, and I didn't touch the Porto player anyway. He made a meal of it, so it was way too harsh. The whistling from the crowd influences the referee and makes his decision easier, probably.

"In the Premiership, it wouldn't have been any more than a goal kick to the other side, not even a free kick.

"It was agony watching the game in dressing room. I was just thinking 'come on lads, stick it out for me'. They deserve full credit for getting the draw with ten men, which obviously makes it a lot more difficult.

"I'm sure the manager won't hold the sending off against me. I hope it won't go against my name. It's the first time in my senior career I've been sent off. I was once sent off in a friendly under-18 international, but that's the only other time, so my disciplinary record isn't bad."

Pennant's sending-off summed up a forgettable night for Liverpool in terms of the team's performance, although the draw represents an encouraging start to the campaign.

Emotions were understandably mixed as the side returned to Merseyside this afternoon.

"We were sloppy, particularly in the first five minutes, when they showed us they were right up for the game," said Pennant.

"We made it difficult for ourselves giving the ball away in our own half, and the boss told us at half-time where we needed to improve. In the end the boys deserve credit for getting the point, which is a good result for us."

Liverpool will today check on the extent of Xabi Alonso's foot injury, which kept him out of the 1-1 draw.
---
SEPTEMBER 19
Porto ace: Reds deserved nothing

By Ben Blackmore - Setanta Sports

Porto striker Lisandro Lopez took a swipe at Liverpool after Tuesday's 1-1 Champions League draw, insisting The Reds deserved nothing from the match.

Liverpool boarded the plane back to Merseyside with a hard-earned point in their luggage following the dismissal of Jermaine Pennant, but they did so with a knife in the back from Lopez.

Dirk Kuyt's equalising goal after Lucho Gonzalez's opener was The Reds' only shot on target in the entire 90 minutes, as Porto controlled large chunks of the contest.

Lopez and co could not do what no other team has done this season though by scoring from open play, and the Argentine was clearly frustrated at the climax of the game.

"We knew beforehand this game would not be easy, but I think we played well and were the best team," he said.

"Porto should have been the winners and Liverpool did not deserve the draw.

"The key to the game was at 1-0 when we could not finish the job. If Porto had scored a second goal I am convinced Liverpool would not have been able to react.

"We have been held to a draw at home, but I believe we have a big chance of going through to the next round. Liverpool is a great side, so we have shown that we can go far in this competition."
---
SEPTEMBER 19
'We would have taken
a point' says Gerrard

Goal.com

Liverpool skipper Steven Gerrard admits that a draw against Porto did not live up to the club's high European standards, but on reflection believes the result is par for the course.

After an early Gonzalez penalty, Dirk Kuyt snatched a rapid equaliser, however the scores stayed the same until the final whistle.

After reaching two finals in three years, Gerrard believes the club have found a winning formula, but he felt those attributes were lacking.

"We've built a successful team in Europe on starting well, making it difficult for the opposition, being good in possession and very good on the counter attack. All these things never went well here.

"We've got to two finals in the past three years but we never reached those standards this time.

"Having said that, before the game maybe we would have taken a point because Porto are a good side with really dangerous attacking players.

"But they can expect a different Liverpool at Anfield, and if we can take four points off them it will stand us in good stead in the group stages."
---
SEPTEMBER 19
Benitez anger at Pennant red card

TEAMtalk

Rafa Benitez is hoping Jermaine Pennant will "learn his lesson" after his red card against Porto - and admitted he was trying to take him off.

Pennant has been walking a fine line for much of the season, and now he must learn the hard way after his red card in Liverpool's 1-1 draw.

The former Birmingham winger's form has improved tremendously over recent months but he has still clashed with officials this term and spent too much time arguing with them.

And in the Estadio do Dragao in the Reds' Champions League group A opener, he discovered an official - Slovakian Lubos Michel - who lost patience.

Michel was the official who awarded the controversial Luis Garcia goal that sent Liverpool to the 2005 Champions League final at the expense of Jose Mourinho's Chelsea, and he chose a game at the Stamford Bridge manager's former club to give Liverpool a hard time.

Pennant was chipping away at the official long before the first of his two bookings.

And he got no sympathy from his manager Benitez, who said: "We were really very bad in that first half, there are no excuses.

"We gave the ball away too easily and made too many mistakes. But the second half was much better. We needed to show real character and that is what we achieved.

"We were more organised, there was an excellent workrate and there were positives to be drawn from the second-half performance.

"We were playing against a good side and we have no complaints about the result."

And when Pennant was dismissed in the second half for a second bookable offence, Benitez said: "I have no complaints about the decision. It was correct.

"Hopefully Jermaine will learn from this experience. Maybe it will produce something positive for the future, the tackle in that position was just not needed.

"It is difficult to understand why he did it, we had talked to him about staying on his feet and not making rash challenges.

"We were even talking on the bench about taking him off, but we just did not get the time to do it."

Liverpool were under pressure from the first whistle, and Benitez said: "We started very, very badly and it is hard to explain why because our build-up and preparation had been good.

"It was easier to do the right things in the second period, but the damage had been done.

"We gave the ball away far too easily, we conceded clear chances and gave away a penalty that was also a correct decision."
---
SEPTEMBER 18
Kuyt feels for Pennant

Ireland On-Line

Goalscorer Dirk Kuyt sympathised with Jermaine Pennant after the winger was sent off in Liverpool's nail-biting 1-1 draw at Porto.

Lucho Gonzalez handed the hosts an early advantage from the spot after Jose Reina brought down Tarik Sektioui after Sami Hyypia's mistake.

Kuyt levelled with a close-range header before Pennant was sent off for two yellow cards early in the second period – the second for a pointless challenge near the touchline.

But the Dutch striker told ITV1 afterwards: "He was unlucky. He tried to do his best and maybe it was a bit too much."

Kuyt added: "We are pleased because we played 30 minutes with 10 men.

"We didn't play well in the first half and were unlucky with the red card.

"The first half we had problems passing. We tried to do it better second half and we worked really hard. With a bit of luck we could have won.

"Porto is a really strong team and at least we didn't lose. If we can beat them at home we will be okay."
---
SEPTEMBER 18
A fortunate draw and
too many mistakes

By John Sinnott - BBC Sport Online

Liverpool escaped with a fortunate draw after a poor display against Porto in this Champions League
Group A match.

Liverpool goalkeeper Jose Reina gave away a penalty and was beaten by Lucho Gonzalez's spot-kick on eight minutes.

Despite their error-strewn first-half performance, Dirk Kuyt pulled Liverpool level with a close-range header.

But Liverpool had to play with 10 men for over 30 minutes of the second half after Jermaine Pennant was sent off after picking up a second yellow card.

If Liverpool are to reach their third Champions League final in four years they will have to cut out the mistakes that littered their play in the first half.

Too many Liverpool players were too ponderous and too often the visitors conceded possession too easily.

In Ricardo Quaresma, Porto had a player all too eager to capitalise on Liverpool's mistakes.

Unfortunately for the Portuguese champions had nobody to finish off Quaresma's impressive approach work.

Quaresma gave Steve Finnan and Pennant all sorts of problems on the right for Liverpool as they tried to keep track of the tricky Porto winger.

Pennant was booked for a first-half tackle on Quaresma and the former Arsenal winger was sent off just before the hour when he foolishly fouled Lucile.

Trying to chase a Javier Mascherano pass, Pennant swung wildly as the Uruguayan shielded the ball.

A pointless challenge that ensured Pennant's deserved dismissal.

Strangely Liverpool looked more cohesive at a numerical disadvantage and apart for a half-chance for Quaresma the final 30 minutes passed without too many scares for the visitors.

Late on Quaresma had track back to his own penalty area to ensure Kuyt did not reach Steven Gerrard's dangerous pass.

The first 10 minutes must have been akin to a horror movie for Liverpool's perfectionist manager Rafael Benitez.

Finnan was too slow in trying to clear his lines and after he was tackled by Quaresma the ball richocheted to Lisandro Lopez.

The Porto striker had just Reina to beat, but the Spanish keeper did well to block Lopez's shot.

Carragher was the next Liverpool defender to fail to clear, enabling Quaresma to send in a shot that just went over the bar.

Liverpool might have escaped on those two occassions, but there was to be no repreive when a third mistake was made.

Tarik Sektioui was too quick for Sami Hyypia and then for Reina as the Moroccan went down under the challenge of the Liverpool goalkeeper.

Reina's record of saving penalties is superb, but he was fooled by Gonzalez as the Argentine midfielder put his shot in the centre of the goal as the Spanish keeper dived to his right.

If Finnan and Hyypia had had less than impressive starts the two Liverpool defenders were soon to made amends.

Finnan's diagonal free-kick was headed across the goal by Hyypia and Kuyt beat Nuno with a close-range header.
---