---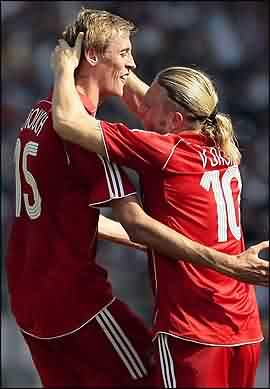 Voronin and Crouch celebrate at Toulouse. (Photo: AFP)
AUGUST 15
Benitez stays calm after victory

BBC Sport Online

Liverpool manager Rafael Benitez warned against complacency after the win over Toulouse in the first leg of their third round Champions League qualifier.

Andriy Voronin scored a spectacular winner in a 1-0 victory for the Reds but Benitez said: "We must not think we are already through.

"This tie is not yet over, it is just one goal.

"We know they are a very good side who like to counter-attack, which is what they will try to do at Anfield."

Voronin's strike saw him score his first competitive goal for Liverpool since his free transfer in the summer from Bayer Leverkusen.

"Andriy scored a wonderful goal, it summed up his qualities as a very fine striker," added Benitez.

"He is clever, has great game awareness and gives us so many more options in attack.

"He can play behind a main striker, lead the line himself, or come into the attack from the flanks.

"And of course he can score truly great goals like that. But we must not think this tie is over.

"We did a very professional job in a match played in difficult conditions. It was so hot for the players and we were having to give them water continually.

"But the referee stopped us throwing the bottles on to the pitch. The players had to come to the sidelines to drink, which was a little strange considering the conditions."

Toulouse coach Elie Baup had little complaint after the game and he highlighted the heat and Liverpool's experience as key factors in his side's defeat.

He said: "In those conditions it is hard to keep running and trying to create things when you are playing against a side with such experience and quality.

"Our players lack the experience of playing in this competition and they found Liverpool's ability and technical quality hard to cope with out there."
---
AUGUST 15
Carra not complacent after Reds win

TEAMtalk

Jamie Carragher claimed Liverpool still had much work to do to reach the Champions League group stage despite their 1-0 win in Toulouse.

Last season's beaten finalists overcame the French side 1-0 at the Municipal Stadium after Andriy Voronin struck in the 43rd minute.

The away goal gives the Reds a strong advantage ahead of the return leg but Carragher insists the job is far from done.

Carragher told Setanta Sports: "Over the last few years we have had good results away and then lost at home.

"It was far from great but the away goal makes it a lot easier.

"It was a great goal from Andriy. We were not playing particularly well in the first half but it was a great finish."
---
AUGUST 15
Voronin seals Reds win

By Amanda Cornforth - Sky Sports

Andrei Voronin's strike earned Liverpool a 1-0 first-leg advantage in their UEFA Champions League qualifier in Toulouse.

The Reds edged closer to reaching the group stages of the tournament as Voronin netted the winner in the 43rd minute when he calmly powered the ball past Toulouse keeper Nicolas Douchez following a through ball from Peter Crouch.

The game was not highly entertaining as Liverpool enjoyed the upper hand of play with Toulouse's best chance coming from an overhead kick from Achille Emana just before half-time but his effort fell wide.

Liverpool captain Steven Gerrard tried his hand at getting on the score sheet as he saw two of his strikes soar over the crossbar either side of the break.

Gerrard hit a 20-yard free-kick inches wide in the third minute, but Liverpool were having to do a lot of running to keep the hosts - who finished third in their domestic league last season - at bay.

Captain Nicolas Dieuze needed his head heavily bandaged after a clash of heads with Voronin, but that did not stop the flow of Toulouse's football.

A slight error from Sami Hyypia allowed striker Johan Elmander a 20-yard effort, which was held by Jose Reina after a lunging tackle by Jamie Carragher had taken the sting out of the shot.

In the 28th minute, Steve Finnan, Crouch and Benayoun worked the ball down the right and when play was switched to the left by Gerrard, Ryan Babel went on a fine run before laying the ball back to the England man - but the shot was too high.

Reina was only called into action to block a Paulo Cesar break down the right in the opening half, which ended in fine fashion for the visitors when Voronin made the breakthrough in the 43rd minute.

Finnan's long ball was nodded down by Crouch, and with Dieuze failing to react, Voronin lashed a rising drive into the top corner of the home net.

Toulouse sent on Fode Mansare for Bryan Bergougnoux at the break to give Elmander some more support up front.

Crouch was almost gifted a chance for a second goal when a ball from Benayoun fell into his path, but as he tried to take the ball round Douchez, the goalkeeper scooped it off his foot.

Elmander was booked for a foul on Mascherano on the hour mark and four minutes after that the Swedish striker finally managed to evade the clutches of Hyypia and Carragher to send in a flicked shot which was held by Reina.

Another decent chance fell Elmander's way in the 69th minute when he sent an angled header over the top from Cesar's cross.

Fernando Torres came on for his Champions League debut for Liverpool late on as Rafa Benitez's men claimed a handy advantage.
---