---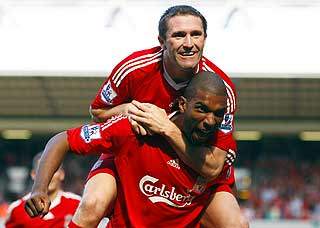 Babel and Keane celebrate Babel's winning goal. (Photo: AFP)
SEPTEMBER 15
Babel: It was a fantastic moment

By Joe Curran - LFC Official Website

Ryan Babel today revealed how it felt to score the winner in Saturday's breakthrough victory over Manchester United.

The Dutch winger was on the pitch for just seven minutes before finding the net with an expert finish at the Kop end after being set up by the hard-working Dirk Kuyt.

The move ensured Liverpool ended a four-year wait to defeat Alex Ferguson's men in the league, and Babel, who has now scored 11 goals for the club, confirmed it was a great personal moment for him.

"It was a fantastic moment for me and for the team," said Babel. "Before I came onto the pitch the manager was telling me to give the game some energy.

"He said I have done that every time I have come off the bench and said to try and do the same this time. The fact that the goal came towards the end of the game was very good for us because it meant they did not have too much time to equalise."

The 20-year-old has now found the net eight times for the Reds after coming on as a substitute.

He added: "This is a new season and we want to get off to a good start, so this is an important goal for me and the team.

"Hopefully I can score more important goals because there are a lot of games still to play and a lot of points to play for.

"But it's always nice to score a goal against a big opponent, especially Manchester United, and I suppose it is an even better feeling when you've only come into the game late on as a substitute.

"We want to be able to compete until the end of the season and you have a better chance of doing that if you win games like this."
---
SEPTEMBER 15
Win shows Reds
may have cracked it

TEAMtalk's Reece Killworth reflects on Liverpool's 2-1 victory over Manchester United - but warns the hard work starts now for Rafael Benitez.

As statements of intent go, it was akin to parking a battalion of tanks on the Old Trafford forecourt.

Forget Manchester City's deadline-busting record signing of Robinho, which even upstaged Manchester United's £30.75million recruitment of Dimitar Berbatov.

Because as impressive as the goal the Brazilian scored on his debut was, and as much as manager Mark Hughes insists the 3-1 defeat by Chelsea was not a "reality check", the euphoria that has surrounded the City of Manchester Stadium was brought down a notch or two as they were clinically swept aside in front of their own fans.

The real statement of intent came at Anfield, where Rafael Benitez's Liverpool came from a goal behind to beat the English and European champions 2-1.

The scoreline barely told the story as having weathered an early storm - in which Berbatov went close himself and then set up Carlos Tevez to score - the hosts came into their own and dominated from the moment Edwin van der Sar needlessly palmed a deflected shot onto the legs of the Wes Brown.

Yes, as United boss Sir Alex Ferguson said after the game, Liverpool had "a bit of fortune with both goals" - with Ryan Babel's clincher hardly the cleanest of strikes - but if ever there was a case of luck being earnt then this was it.

Benitez has always exuded the air of a man who were he at a Blackjack table with 16 in front of him would rather stick than twist.

Yet this was different. Refreshingly different.

Maybe it was the realisation that United are now within one title of Liverpool's stand-alone record of 18 domestic titles.

Maybe it was the realistation that in his five years at Anfield his side have never truly done themselves justice in this fixture, though in truth their five successive defeats did not tell the whole story of those games.

Or maybe it was the realisation that - as many have speculated - this season is crunch time for Benitez in the Premier League.

Whatever, from the moment the first whistle blew it was clear something was different.

Rather than letting United have a few easy touches and find their footing in a white-hot Anfield atmosphere, Yossi Benayoun and Dirk Kuyt chased like terriers to force an error from the usually unflappable Red Devils backline.

Of course, their efforts would come to nothing as United not only opened the scoring but also looked much more the confident side for the first 25 minutes.

But it was a sign that maybe, just maybe, things had changed.

And from the moment Brown turned the ball into his own net it was as though a light suddenly switched back on in the Liverpool camp.

Javier Mascherano, possibly seeking redemption after allowing Tevez to evade his attention in the lead-up to United's goal, tackled like a demon and his central-midfield partner Xabi Alonso also caught the eye.

After a fitful start, debutant Albert Riera grew in confidence while on the other flank Benayoun was a bundle of energy and no little quality.

Up front Kuyt and Robbie Keane were tireless, even if the latter appears to have become a rabbit in the headlights when presented with a shooting chance.

And when Benitez had the chance to play safe as Benayoun and Riera tired, he did the opposite as Babel and Steven Gerrard were introduced.

Babel, of course, scored the winner while Gerrard's mere presence - as always - seemed to lift Liverpool's attacking threat to another level.

Before the game Sky pundit - and former Liverpool midfielder - Jamie Redknapp had suggested Benitez still "didn't get" the Premier League.

A familiar criticism - his constant tinkering and apparent refusal to go for the jugular have had Liverpool fans tearing their hair out at times.

Yet this could be the day people look back and say, finally, he got it. Could be.

Because as Liverpool bask in the glory of a deserved victory over the fiercest rivals, the elephant in the room is the return of the Champions League.

Benitez's perceived obsession with 'Big Ears' has certainly borne fruit in the form of that famous night in Istanbul - and a final appearance in Athens.

But that has come at an obvious cost domestically as United and Chelsea have kept them firmly off their "perch".

Beating United represents a step into unchartered territory for Benitez, but now the hard work really starts.

For a victory over the reigning champions - as impressive as it was - won't win Liverpool the title; indeed finishing above the Red Devils may not even guarantee that given Chelsea's early-season form.

Now Benitez must balance the demands of domestic and European campaigns as he has never quite managed before, and as Ferguson did so memorably last season.

He must prove that this isn't the latest false hope at Anfield. He must prove that, finally, he has cracked it.
---
SEPTEMBER 15
Magnificent Reds
on full throttle

By Tony Barrett - Liverpool Echo

Rafa Benitez got it wrong on Saturday.
Badly, badly wrong.

Asked pre-match what his team had to do to finally inflict defeat on Man United, the Reds boss replied: "If we score first, we can win".

By that token, Benitez – like pretty much everyone else inside Anfield – must have thought the wait for victory over the reigning champions was set to continue when Carlos Tevez gave United the lead after just three minutes.

The bookies lengthened their already generous odds on a home win, the visiting supporters in the away end gloated and looked forward to a stroll to victory and the majority of Liverpool fans started to fear yet another ritual humiliation at the hands of their most hated rivals.

Each of these reactions was apt as in going a goal behind Liverpool had to do something which they hadn't done in almost seven years of duels with United – score twice against them in a single game.

And they had to do so without regular match-winners Steven Gerrard and Fernando Torres, who were consigned to bench duty after their recent struggles with injury.

The so called "two man team" had to find two goals without their two men. Orders don't come any taller than that.

Oh, and to make matters worse, Tevez's early goal prompted a spell from United in which their imaginative use of the ball and swaggering movement was threatening to overwhelm a Liverpool side which had been found wanting badly when the Argentine struck.

But the night is always darkest before the dawn and little by little shafts of light began to break through the unremitting gloom to illuminate Liverpool's play and it wasn't long before it was they, and not their much vaunted foes, who were playing all the football.

They may have needed a bit of luck to get back into the game when a mistake from Edwin van der Sar dictated that Wes Brown would have to take on the patsy's role. but any good fortune they received was richly deserved.

Recent experience has taught Liverpool to their cost that coming under pressure in games of this magnitude induces mistakes, so they should apologise to no-one when it is they who benefit from an error, not when they have played with the kind of belief, spirit and determination to make one of Europe's best defensive units perform, in the words of their own manager, like a Conference team.

In the 87 minutes that followed Tevez's strike, Liverpool were simply magnificent. It would not be hard to think of games in which they have passed the ball better or played with more creativity, but you would be hard-pressed to remember an occasion when they performed with so much desire that their sheer will to win made them so beautiful to watch.

Javier Mascherano set the tone, crunching into tackle after tackle and chasing every single United player down as if they were Steve Bennett.

Where the midfield general went others followed. So much so that choosing a man of the match became almost as difficult as doing PR for Tom Hicks and George Gillett.

Up front, the lung-busting workrate from Robbie Keane and Dirk Kuyt was breath-taking. In defence, Jamie Carragher and Martin Skrtel put in the kind of bone-crunching tackles needed to stop the most expensive forward line ever assembled.

Xabi Alonso put in his best performance in some time, Albert Riera impressed on his debut, Pepe Reina did everything asked of him and after a shaky start Fabio Aurelio managed to quell the considerable threat of Wayne Rooney, who suddenly looks almost as old as the grannies the Kop taunted him about.

Every single player deserves plaudits but perhaps the ones who deserve the most praise are the pair who have received the most criticism – particularly on these pages – following Liverpool's lacklustre early season performances.

Yossi Benayoun proved that he is not really allergic to tackling and in one match-changing moment the Israeli crunched into Michael Carrick to leave the United man hobbling.

Carrick was eventually forced off injured as a direct result of Benayoun's unlikely ferocity and United were never the same side following his departure.

Alvaro Arbeloa was another sensation as he produced a display which even surpassed his Nou Camp debut, when he shackled the superlative Lionel Messi.

The Spanish right back had never even come close to hitting such dizzy heights since then – until Saturday. The challenge for Arbeloa now – and the rest of the team for that matter – is for such high standards to become the norm rather than the exception.

Ryan Babel's goal gave Liverpool the spoils and sparked the kind of jubilant scenes on the Kop you would normally expect if the roundly reviled Hicks and Gillett finally got the message and walked away from the club they are threatening to destroy.

But, as the thousands of protesting fans demonstrated so wonderfully before the game, it takes more than a couple of American carpet baggers to suppress the Liverpool spirit.

That spirit was equally as evident on the pitch as Babel – the umpteenth substitute to score a crucial goal during Benitez's reign – provided the coup de grace on a day when hard work, effort and collective spirit was rewarded.

Such a crucial victory will inevitably act as a cause for optimism and justifiably so. Vanquishing the reigning English and European champions is a major achievement, particularly after they have been given a one goal start.

But a word of warning. It is almost exactly 12 months since the hammering of Derby County on a warm September afternoon caused a mass outbreak of delusions of grandeur on the Kop.

Dreams of a title challenge were hatched when the reality was Liverpool had simply become the first of several sides to dish out a hiding to the worst team in Premier League history.

Granted, United occupy a totally different stratosphere to the abject Rams and any win over them is not to be sneezed at, particularly after waiting so long for one to come along.

But if this wonderful victory is to become the catalyst which everyone at Anfield hopes it will be, then Saturday's performance must become the benchmark for the rest of the season.
---
SEPTEMBER 13
Rafa: I am so proud of my team

By Joe Curran - LFC Official Website

Rafael Benitez today declared Liverpool's momentous victory over Manchester United as something the whole team can be proud of.

The Reds went down to a Carlos Tevez goal early on in the match but rallied to produce their best performance of the season and record a first league win over Alex Ferguson's side in over four years.

Benitez paid tribute to his players after the match and was happy with the amount of character his charges showed to come from behind and take the points.

"I think today is a game we can be really satisfied with because we were losing against a very good team," said Benitez. "But we showed character and played very well in the second half, so this was very positive.

"The team showed a lot of character after conceding an early goal. I was really disappointed when they scored so early because I wanted a high tempo from the start. They were passing the ball and keeping possession, so we needed to change a lot of things. I think it was really important to have chances and to improve a lot in the second half."

There were many stand-out performances during the match, but the Liverpool manager focused on the whole team and said: "Today you could see a lot of players working really hard, especially the strikers Dirk Kuyt and Robbie Keane, who were doing amazing work up front, and also Albert Riera in his first game played well – he is a lucky man.

"Physically he was not ready but we needed to use his ability. And after we used Steven Gerrard, he did well too. I can talk about a lot of players - Ryan Babel was really good too, but I think the overall play of the team was good."

Manchester United manager Alex Ferguson admitted that his team couldn't cope with Liverpool's tackling and harassing in midfield.

Benitez agreed, saying: "In the last two years, I can remember that they were happy waiting and just playing on the counter-attack until we make mistakes," added Benitez. "And today was more or less the same situation. When you have players with the quality of Berbatov, Tevez or Rooney in front, sometimes they just need to wait and if we make a mistake they will kill us off.

"We didn't make many mistakes today. We can always improve and do things better, but the team played well.

"One thing that we needed to improve was our results against the top sides so now we have three points and we are in a better position than last season. We now have more wins against the top four so hopefully it will be the same against Chelsea and Arsenal. Everton is also another difficult game for us."
---
SEPTEMBER 13
Fergie: We should
have coped better

Manchester Evening News

Disappointed United boss Sir Alex Ferguson admitted his side failed to handle Liverpool's combative approach in the 2-1 defeat at Anfield.

Carlos Tevez put the Reds ahead but a Wes Brown own goal and Ryan Babel's second-half strike clinched the win for the home side.

"You don't expect that from Manchester United," Ferguson told Sky Sports.

"When we have a bad day we usually still get something from the game

"Overall, they were the better team today. Liverpool produced a performance of tackling, hassling and getting about us.

"The source of our defeat was not coping with the hassling and the tackling. You have to give them credit for that - but at the end of the day, we should cope.

"We started excellently, and it was a wonderful ball from Berbatov for the goal. But I can't really take anything from the game, apart from Rio Ferdinand's performance."

Reflecting on the end of a run of five successive league wins over Liverpool, Ferguson said: "The difficulty of holding a record like that is that it gives the other team a big incentive every time they play you."

The United boss, asked about Vidic's dismissal, retorted: "Carragher was making those challenges all day long, and no fouls were given.

"We had several bookings and a red card. Is that a reflection of Man United being a dirty team? I don't think so. I think the crowd plays a part."
---
SEPTEMBER 13
Reds give Rafa
first win over United

TEAMtalk

Rafael Benitez saw Liverpool beat Manchester United for the first time in his Anfield career thanks to Ryan Babel's late goal in a 2-1 win.

The Reds boss had never beaten United in nine previous league games, with the champions having won the last five meetings between these two giants.

But United wilted under a relentless second-half pressure, had Nemanja Vidic sent off and saw substitute Babel secure victory.

Carlos Tevez put United ahead early on. But after a torrid opening period, Liverpool were level with a Wes Brown own goal before Liverpool dominated the second half and grabbed a priceless win with 13 minutes left.

Liverpool gave new signing Albert Riera his debut but Steven Gerrard and Fernando Torres were not risked any closer to the initial action than the bench.

For the champions, Michael Carrick returned after an ankle problem, but all eyes were on £30million striker Dimitar Berbatov on his first appearance for his new club.

Liverpool fans staged a march to the ground from a local pub to protest at the club's American owners.

But that did not stop co-owner George Gillett taking his place in the directors' box, although not in the front row close to the fans.

There was also a row of smartly-suited Americans, all singing along to "You'll never walk alone" - the anthem moved to seconds before kick-off rather than when the teams march out, presumably to unsettle United.

It did not work. The champions were ahead after just three minutes.

Berbatov was allowed to get to the line by some sloppy marking and covering, and Liverpool's defence was nowhere to be seen when his pulled back cross was lashed home by Tevez.

United were quicker and more mobile all over the pitch while Liverpool continually conceded possession.

But the Merseysiders should have scored after 13 minutes when Edwin van der Sar fumbled a corner but Kuyt's blast from three yards was blocked by the keeper on the line.

Liverpool at last started to get into the match as Tevez was booked for a foul on Alvaro Arbeloa and a succession of free-kicks pinned United back.

And they were level after 26 minutes. Xabi Alonso's curling, low shot into the area deflected off Patrice Evra and Van der Sar hurled himself forward.

But he only managed to push the ball on to Brown, who could do nothing about it cannoning off him and over the line. Riera followed the ball in, but it was the United man's last touch.

United sent on Ryan Giggs for Carrick at the break, the midfielder having taken a heavy blow on his ankle in the first half.

Liverpool started the second period in much sharper form, Benayoun almost saw a flicked effort evade Van der Sar and Alonso fired over from 20 yards.

Keane narrowly missed breaking his scoring duck when he failed by inches to connect with a Javier Mascherano cross-shot. United's reply came from Paul Scholes who drove wide.

United sent on Hargreaves for Scholes after 66 minutes, having been forced back for much of the second spell.

Two minutes later Liverpool introduced Gerrard in place of Benayoun as United started to come back into the game.

As if to underline the point, Jose Reina was forced into a fine save from a dipping Giggs volley.

Riera was taken off after 71 minutes and replaced by Babel having made a good impression after a shaky start.

And on 77 minutes, Liverpool's pressure paid off. Mascherano battled his way down the right and to the line, Kuyt took up possession and played the ball across for Babel to crack home.

Nani came on for Anderson, and Rio Ferdinand was booked for bringing down Keane as the Irishman looked to be bursting through on goal. Nani was next into the book for bringing down Mascherano.

Liverpool were going to replace Keane with David Ngog, but changed their minds at the last moment when it was clear Mascherano had injured his ankle. The Argentinian limped off and Sami Hyypia came on instead.

United had Vidic pushed up front by now, and Liverpool needed three central defenders.

Vidic was then sent off for crashing his arm into Alonso's face after 89 minutes, a second yellow card swiftly followed by a red. He will now miss the visit to Chelsea on September 21.
---