---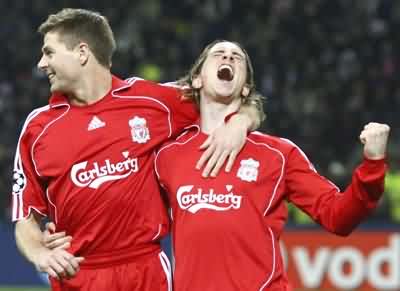 More to celebrate for Gerrard and Torres.
(Photo: Getty Images)
MARCH 12
Will people shut up about Torres

By Ben Blackmore - Setanta Sports

Rafa Benitez has to be the only manager in England who can dump the Italian champions out of the Champions League - on their own turf - and get criticised for doing so.

Liverpool moved ominously into the last eight of the Champions League for the third time in four years on Tuesday, yet despite a European record that Sir Alex Ferguson and Arsene Wenger dream about, Benitez instantly faced scarcely-veiled criticism.

It surrounded Fernando Torres, who had just leathered in his 26th goal of a wonderful season, justifying a huge Benitez gamble in spending £20.1 million on the Spanish superstar, who had scored just 14 goals the previous season for Atletico.

Liverpool had just beaten Inter, and looked comfortable doing so, so what could Benitez expect as his first question?

This is what he got: "Fernando Torres is in wonderful form, but should he have played more games at the start of the season, and can Liverpool fans expect to see him play every game until the rest of the season?" Or words to that effect.

Now I won't mention names, but anybody watching coverage of the game on T.V will know who I mean when I then turn to an even worse comment: "How many goals could Torres have scored had he not been in and out of the team all season? Wouldn't Liverpool fans swap the Champions League for the League?"

More criticism of Rafa's 'rotation policy', where apparently he has dropped Fernando Torres more times than Paul Robinson drops footballs.

So here is a fact for all those who bang on with this 'if only Torres had played more games' nonsense.

Of the Premier League games that Torres has been fit for this season, he has been rested only twice, the last of which came six months ago. The only other game he came off the bench for was on his return from injury against Fulham. A game he scored in and Liverpool won.

Cristiano Ronaldo meanwhile, has been rested three times, and United lost one of those games away at Bolton.

Liverpool aren't trailing United because Torres missed two games, they are trailing because they are not good enough over the course of the season - yet.

The two games Torres was rested for, came just two weeks before he picked up a thigh injury that saw him miss over a month of the season. Maybe Rafa knew something.

After all, Frank Rijkaard suffered similar criticism for resting Lionel Messi, right before the Argentine also suffered a muscular injury.

As crazy as it sounds, maybe Rafa knows more than these clueless pundits who continue to use magnificent victories like Tuesday night to bash the Liverpool boss.

I wouldn't bet against him having a second European Cup in his locker to prove it in May.
---
MARCH 12
Mascherano reflects on brilliant night

By Paul Eaton - LFC Official Website

Javier Mascherano today reflected on Liverpool's latest epic European triumph and declared: "It doesn't matter who we get in the next round."

The Reds made sure of their place in the last eight of the competition after a 1-0 victory in the San Siro sealed a 3-0 aggregate success, and Mascherano - Liverpool's best player on the night - believes that after knocking the Italian champions out there is nothing to fear in the rest of the tournament.

"It was a very good result for the team and it is one of the best. It was amazing for the players, for the supporters and for everyone at the club," he said.

"Now we want to progress in this competition. We are playing well and confidence is high so we have to keep up our form.

"It doesn't matter who we get next. It will be a difficult game for us but it will also be a difficult game for them. After a result like this we have to believe that we can go further in the competition.

"It is all about working really hard for one another and playing as a team. That is the only way you can get results like we have had against teams like Barcelona and Inter Milan. Liverpool is one of the best clubs in the world so we have to prove this on the pitch.

"The history of the club is so special, everyone around the world knows the history and we have a very good record in Europe. We are just doing our best to try and create more history."

Mascherano was also keen to pay tribute to the vast army of travelling Kopites who made themselves heard in the San Siro.

"We know that the Liverpool fans are the best in the world," he added. "They really are amazing.

"I don't know how many thousands of Inter Milan fans there were in the stadium but we could still hear the Liverpool fans supporting us and singing their songs.

"It is very important for us because it helps us to know that our fans are with us and I would like to thank them for their support."
---
MARCH 12
Awesome Reds a team to fear

By Tony Barrett - Liverpool Echo

Never mind the catwalks of Milan, Liverpool made their latest visit to Europe's fashion capital look like
a cake walk.

On a night when their credentials to compete with the continent's finest outfits were expected to be put to the sternest of tests, the Reds brushed Inter aside with such ease it ultimately bordered on the mundane.

That is the way of things for Liverpool in Europe under Rafa Benitez – it doesn't matter how big a club they face, how intimidating their reputation or how greatly the odds are stacked against them, when it comes to the Champions League they have a seemingly innate ability to produce results.

When Liverpool were paired with Internazionale in the draw for the last 16, there were precious few outside Anfield who gave them even the slightest chance of making it through to the quarter finals.

But, such was the emphatic nature of their two-legged victory over the Italian champions that it is unlikely anyone will be making a similar mistake when the draw for the last eight is made in Switzerland on Friday.

And nor should they.

Liverpool have won more European Cups than the other seven clubs who will join them in the hat put together and having earned their seat at the head of the continent's top table thanks to decades of conquest, they should be among the teams to fear when the latest pairings are determined.

As Inter Milan can testify, Liverpool have developed a way of playing in Europe which makes them phenomenally difficult opponents simply to score a goal against.

Defensive solidity has underpinned their assaults on European football's top title since Benitez took over at Anfield.

It served them incredibly well en route to the glory of Istanbul in 2005 and it also took them to last season's final in Athens.

The difference this time around is that they now also have a striker who is capable of terrorising even the very best defensive units.

It is this new added dimension which should give Liverpool all the confidence and belief they could ever need to launch yet another assault on a title which only Inter's local rivals AC and Real Madrid have won more times than them.

Inter tried and failed to contain Torres but they should not feel any shame about that because the Spaniard is well on his way to becoming one of the very best around.

Before last night's game, he had been busily gobbling up goals against some of the Premier League's weakest outfits at Anfield.

Inter on their own patch were an altogether more difficult proposition though and his winning goal in the second half provided proof, if any was needed, that he is no flat track bully.

Decisive goals in such iconic locations are the stuff legends are made of and judging by the way the magnificent travelling Red army bellowed his name long into the Milanese night, Torres is already well on his way to securing such exalted status even at such an early stage in his Liverpool career.

But he would be the first to admit that Inter were vanquished thanks to a supreme team effort rather than his own moment of individual brilliance following a piece of imaginative build up play by the outstanding Fabio Aurelio.

This was a victory which owed everything to the team ethic instilled in Liverpool by Benitez and one which would not have been possible had it not been for the way every player wearing red worked his socks off from the first minute to the last.

Steven Gerrard had called on Liverpool's players to become heroes in the build-up to the game but the captain knew only too well that even holding onto the two goal advantage they had built up in the first leg might have proven difficult had the Reds not produced as a team.

As expected, Inter did have their chances but with Pepe Reina again showing the kind of form which marks him out as one of the finest keepers around it was always going to be difficult for them to get the goal which would have set nerves jangling in the away end.

Reina made a pair of top class saves from Julio Cruz in the first half as the hosts tried to whip up a storm to match the one which battered Merseyside overnight.

But, significantly, he was not called into action anywhere near as often as many expected before the game and, again, this comes down to the tactical acumen and supreme organisational skills of his manager.

Benitez revels on this stage and it was no surprise that members of the Italian press corps wanted to know if he would be willing to take over from outgoing Inter boss Roberto Mancini when he quits the San Siro in May.

Only a month after it looked like only a win over Inter would keep him in position at Anfield, Benitez is again back in fashion and victory in the European style capital merely confirmed it.

Having reached the last eight of the Champions League for the fourth time in just seven years, Benitez and his players will know that they are unlikely to meet opponents as reckless and lacking in discipline as Inter.

After going down to ten men at Anfield in the first leg, the Italians again left themselves at a numerical disadvantage when Nicholas Burdisso was dismissed for his second booking with 40 minutes remaining.

That was all the incentive Liverpool needed to hammer home the advantage they had fashioned on Merseyside and with one swipe of Torres' right foot the contest was well and truly ended.

From that point on, Liverpool coasted home in a manner which totally belied their billing as rank outsiders when the fates brought them together with mighty Inter back in December.

It became so comfortable that the 5,000 fans packed into the away end even indulged themselves in a chorus of "oles" as
the clock ticked down.

Liverpool have cleared one of the toughest obstacles with the minimum of fuss. The challenge for them now is to repeat the trick.
---
MARCH 12
Reina delivers in rock solid show

By David Prentice - Liverpool Echo

It's not just a player's fitness, form, diet and state of mind which troubles the thoughts of modern football managers.

They now have to keep a check on when children are conceived.

Rafa Benitez will have been mightily relieved that Mrs Reina chose to deliver on the eve of a run of the mill home match against Sheffield United last season.

Hubby Pepe's absence was hardly noticed against the blunt Blades.

But while Xabi Alonso was left at home last night as girlfriend Nagore went into labour, Reina was Liverpool's minder in the San Siro.

Brazilian Lucas was a more than adequate deputy for Liverpool's latest father-in-waiting.

The prospect of Charles Itandje facing Cruz, Ibrahimovic, Zanetti and co hardly bore contemplating.

A clean sheet was crucial to Liverpool's hopes of progress in Italy last night. The longer the Reds went without conceding the greater the pressure cranked up on Inter.

And Reina's splendid tip round the post early in the contest from Julio Cruz was pivotal.

So, too, was Liverpool's new-found formation, which once again was highly efficient.

While in recent weeks the 4-4-1-1 system has proved capable of generating chances and goals, it showed last night it can also be used as an effective suffocating system.

Liverpool largely restricted Inter to long range efforts at Reina, while on the occasions they did chisel their way through the Reds' rearguard, Ibrahimovic looked less than a player vaunted to be one of Europe's top marksmen.

There is no doubt which striker holds the current mantle of the continent's most in-form forward – and Fernando Torres showed once again that he can deliver when it matters most.

To crucial Champions League strikes against Porto and Marseille, Torres can now add a match winner in the San Siro. But it isn't just Torres who is benefiting from this new fluid Reds formation.

Steven Gerrard has rarely looked happier – or performed more creatively – while the system even seems to have thrown up an answer to the Dirk Kuyt conundrum.

There's a precedent for these type of switches at Anfield.

Ray Kennedy's conversion from burly, all-action centre-forward to a left-sided midfield of craft and vision was originally conceived as a temporary measure.

An injury crisis in the winter of 1975 saw Kennedy pressed into emergency midfield duties at Middlesbrough. Such was his lack of impact the following day's Daily Post actually declared: "With poor Kennedy looking a most temporary left-half, the nimble Armstrong, Souness and Mills outnumbered the loyally-working Callaghan."

The switch was more permanent than the Post could ever have predicted – 393 games and 72 goals.

The stream of penetrating and damaging crosses Kuyt supplies from the right flank, allied to his work rate and ability to ghost unnoticed onto the end of crosses (he came close to repeating his first leg goal after connecting with Babel's first half ball) suggest that this, too, may be an experiment Rafa Benitez will persist with.

Fabio Aurelio actually supplied the cross from which Torres added the San Siro's name to list of great footballing cathedrals Liverpool have conquered in Europe.

The Reds comfortably held onto the lead.

The last time Liverpool lost a two-goal lead to Inter they had a bent ref to contend with. That accusation certainly couldn't be levelled 43 years later.

After Marco Materazzi's harsh red card in the Anfield leg, Nicolas Burdisso followed last night for a challenge on Lucas that was little more than a fraction high. But Liverpool were already well in charge.

Ultimately, it was a night for milestones.

Jamie Carragher celebrated his 100th European match with a clean sheet, skipper Steven Gerrard his 50th Champions League match with a famous victory, while 4,200 travelling fans could even savour the sight of Inter supporters applauding their team.

There's even a wetting the baby's head session to look forward to when the Reds return.

Short of a for sale notice landing in L4 from Texas, the night couldn't really have gone much better.
---
MARCH 12
Benitez had tactics spot on

By Tommy Smith - Liverpool Echo

Liverpool exposed the Italian way of football
in the San Siro.

The Reds effectively won the tie at Anfield by taking the 2-0 lead.

I expected Inter would put the Reds under far more pressure in the return leg, but it was obvious long before the finish that they don't have the power or the energy when they are behind, due to the fact that their game plan is a more defensive one.

With 15 minutes remaining, and with a 3-0 advantage, the Reds were just rolling the ball about and if the referee had called a halt there and then I think Inter would probably have taken it.

They had come to Anfield to do the same type of job the Reds were looking to achieve last night. Two late goals scuppered their plan – but the Italians could not do anything about their plight and their players looked well beaten by the time Fernando Torres fired home the all important away goal.

Inter are top of their league, supposedly one of the best sides in Europe, but the Reds were superb, outplayed them, and manager Rafa Benitez got the tactics just right again.

There is no doubt that Benitez comes into his own in the Champions League. His eye for detail is astute, his team was carefully prepared to do an "Italian job" and they accomplished it perfectly.

There were a few scares – Pepe Reina made two outstanding saves – but you expect the opposition to threaten sometimes. I thought they would have been more positive in that first period, but the Reds defence held firm and that was the springboard to a relatively straightforward passage to the quarter finals.

The San Siro, as you know, has been at the back of my mind for many years after we were robbed of victory there in 1965. But I was more than happy with the result. It might not have eased my pain completely but I was delighted last night for the team.

In fact, the referee looked as if he was on our side for some of the decisions, but the Reds, with an excellent show, did not really need him.

In Torres, the team has a master craftsman when it comes to scoring. His touch is excellent, his pace always a worry for defences, and he showed with the way he took his goal that he only needs a little space to be a special striker.

The side is almost back to where it was at the start of the season with the Reds dominating the opposition and winning well. The Newcastle game was another example.

Thankfully, rotation is now being restricted. With hindsight, the one niggle of recent weeks has been that Barnsley cup defeat.

Fernando Torres is a true Anfield great

Fernando Torres is up there with the best Anfield strikers of the past 50 years.

Roger Hunt was a tremendous player and could score from anywhere – a bit like Torres, who is one of the best I have seen in a red shirt.

In the 70s you had Kevin Keegan, a good link player who was always on hand to accept chances.

Ian Rush had a great time scoring for the Reds in partnership with Kenny Dalglish. I always said when he was sold to Juventus that they forgot to take Dalglish, too, because he made so many of Rushie's goals.

Torres has a special ingredient we have not seen for some time. He has the ability to glide past defenders with effortless pace and often places the ball home rather than use power. What a talent!
---
MARCH 12
Rafa: We've shown English standard

By Joseph Caron Dawe - Setanta Sports

Rafa Benitez hailed his Liverpool side's Champions League victory over Italian champions Inter as an example that The Premier League is the best domestic competition in the world, and the Spaniard says he would relish facing another English club in the final.

Following a historic 1-0 win at Giuseppe Meazza on Tuesday evening – a result which completed a 3-0 aggregate triumph – Benitez was in fearless mood as he answered many critics by masterminding a stylish Italian job in the fashion capital.

"This shows The Premier League is the best in the world and the top four clubs are maybe the top four in Europe," beamed Benitez after watching Fernando Torres secure progression.

"That is the power of The Premier League. It is a very special league at the moment - it's clear we have got good players.

"I would be really pleased to play the final against any club, but perhaps if it is an English club then it would be even better.

"But for now I am just going to enjoy tonight and not worry about who we get in the next round."

Benitez went on to hail the impact Torres has had in his debut season at the club, and he expects even more from El Nino this campaign.

"We have a lot of confidence in Fernando," Benitez added.

"He has got 26 goals now, but we are looking for even more!

"He's got a great mentality and is trying to improve every day."
---
MARCH 11
Torres gets Inter groove in San Siro

TEAMtalk

Liverpool marched into the Champions League quarter-finals after Fernando Torres' second-half goal gave them a 1-0 win over 10-man Inter Milan.

The Reds ended Inter's hopes thanks to Fernando Torres' 26th goal of the season to join the Gunners, Manchester United and Chelsea in Friday's quarter-final draw.

Liverpool needed to defend magnificently in the first half but when Nicolas Burdisso was sent off after 50 minutes the visitors took control and got the goal they needed to make the Italians' task of recovering from a 2-0 first-leg deficit an impossible task.

But Rafael Benitez's side have been the better team in both legs and received an ovation not only from their own fans but the home supporters too.

Jamie Carragher played his 100th European match - a new Liverpool record - at right-back to allow Sami Hyypia to return in the centre alongside Martin Skrtel.

Lucas Leiva played in central midfield in place of Xabi Alonso, who stayed on Merseyside to be with his pregnant girlfriend who had gone into labour, with Javier Mascherano also back after a groin problem and the pair turned in an outstanding defensive display.

For a while the gratitude Inter fans feel towards Liverpool shone through this vibrant, passionate occasion as a huge banner was hung above the 5,000 visiting contingent saying "Whatever happens, Istanbul 2005, thank you Liverpool", in reference to that famous victory over hated rivals AC.

But once the banner was taken down the real battle began in an electric atmosphere amid deafening noise.

Inter were desperate for an early breakthrough and it almost came after eight minutes when Jose Reina made a fine save at full-stretch from Julio Cruz's drive from just outside the penalty area.

Crosses flew in, while a string of free-kicks were conceded too close to the box making Liverpool's task even more difficult.

Javier Zanetti was a constant threat down the left while Esteban Cambiasso followed Gerrard everywhere and still had time to keep Inter's play moving relentlessly forward.

Liverpool had their moments, though. One outstanding ball from deep by Fabio Aurelio sent Ryan Babel away behind Inter's defence and keeper Julio Cesar needed to rush out of his box to intervene.

Then a mistake by Cambiasso in his own box let in Torres, who side-stepped one defender and forced Cesar into a crucial block at his near post.

But Cruz should have scored after 30 minutes, racing on to an Ibrahimovic pass only to fire an angled shot just wide of the far post.

Maicon's error from a poor crossfield ball let in Kuyt but his low drive bounced back to him off Nelson Rivas and ricocheted behind.

It was left to Reina to end the first half with another fine save, diving backwards to hold a Cruz flick from Maicon's cross.

Gerrard was booked for a foul on Cambiasso but after 50 minutes Inter were reduced to 10 men when Burdisso received a second booking for a high tackle on Lucas.

Inter, who had Materazzi dismissed at Anfield, had to move Cristian Chivu into a central defensive role and push Zanetti back.

The tension was racked up and Aurelio was next into the book as Inter urged referee Tom Ovrebo to produce cards for seemingly every Liverpool tackle.

Zlatan Ibrahimovic should have scored after an Aurelio error before Rivas was cautioned for body-checking Babel, who was soon to be replaced by Yossi Benayoun.

Inter were being stretched and after 64 minutes Liverpool scored the goal which effectively ended the contest.

Aurelio won possession on the left and surged forward, feeding Torres on the edge of the box. The Spaniard turned to fire a stunning shot inches inside Cesar's right-hand post to send the Red hordes behind the goal wild.

Dejan Stankovic and then Benayoun found themselves in the referee's book with former Arsenal midfielder Patrick Vieira taken off after 76 minutes and replaced by Pele, the Portuguese 20-year-old.

John Arne Riise and Jermaine Pennant took over from Kuyt and Mascherano as Liverpool saw out time to claim the 12th European Cup quarter-final place in their history.
---