---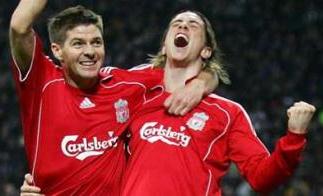 Anfield magic! Gerrard and Torres celebrate. (Photo: Imago)
APRIL 9
Torres dreaming of Moscow

TEAMtalk

Goal machine Fernando Torres is dreaming of Moscow glory as Liverpool march on in the Champions League.

Torres netted for the 29th time in what is a truly remarkable debut season in English football to help secure Tuesday night's dramatic 4-2 quarter-final second leg win over Arsenal.

And the 24-year-old is confident Liverpool can come out on top of yet another semi-final showdown with Chelsea later this month.

Torres arrived at Anfield last summer having never played in Europe for his boyhood club Atletico Madrid. Now he has bagged five goals in Liverpool's roller-coaster ride into the last four.

The Spaniard said: "This was the greatest night of my career so far. My dream now is to get to the final, it is what I have always wanted.

"And the fact that I am enjoying myself here in Liverpool makes it even more important.

"Yes we can get to the Moscow final in May. The two league games we have had with Chelsea this season were both draws, very close. We know we can do it."

He added: "I came to Liverpool for nights and games like this. It is hard to believe, the emotion, the fans, the high-tempo, everything about this is what I wanted and expected.

"It was a good game, I'm sure, for the people watching. And Arsenal are a fine side and played some very nice football. But we are in the semi-finals, which is what matters.

"We knew Arsenal would be difficult and Chelsea would be waiting. We needed to win and win well. It was difficult but we had worked hard all week with our preperation for the game and everything was worthwhile in the end.

"Maybe when Arsenal made it 2-2 I felt we were out. It was so near the end, five minutes away.

"But the magical place that Anfield is got us through. The fans were tremendous, but we had to play with our heads, not just our hearts.

"We had the believe, and we got two more goals in those final minutes to prove it. Liverpool is special, a special place, special fans, special city and a special team."

Life on Merseyside could not be better for Torres, already a Kop folk hero in the mould of Kevin Keegan, Kenny Dalglish and Ian Rush.

He said: "I'm so happy to be playing for Liverpool and to be living in this city. We do this for the supporters, and we aim to get to the final for them.

"Chelsea will be difficult, but the same as playing Arsenal, really. It is another English league side and it will be physical and a strong match.

"Now we have two games to get to the final. We have drawn with them twice in the league this season, so that means it will be very tight.

"We have two targets, to finish in the top four and to win the Champions League. We are getting to the final a step at a time, and we also must keep going in the league, too, to make sure we qualify for next season.

"I do not have any more personal targets, I am just doing my job to score goals. That is what I do.

"Everything was wonderful, all the work, the team play, the goals, everything. And to beat a great side like Arsenal, what a night.

"It was a very happy day for us."
---
APRIL 9
Fairclough hails Reds win

By Kate Burlaga - Sky Sports

Liverpool legend David Fairclough has tipped Rafa Benitez's men to reach their third Champions League final in four years after attributing their win over Arsenal to "great character".

The former Reds striker hailed the 4-2 victory at Anfield and 5-3 aggregate triumph over Arsenal, despite admitting there were moments of magic from Arsene Wenger's side.

And he now believes Liverpool's track record in Europe makes them favourites to overcome Chelsea in the semi-final.

"It was fantastic, the twists and turns made it so exciting," said Fairclough.

"It takes two good teams, two great teams to make a really great night and certainly the way the game went - one way and then the other - I think it had everything. All the emotions were there."

Fairclough admitted the home side were second best before going behind to Diaby's 13-minute opener but praised the a plucky comeback - including a stunning Fernando Torres strike twenty minutes from time.

"I think Arsenal started much better - Liverpool were a bit untidy, they gave the ball away and were really chasing shadows for a while, but Arsenal never really made the most of that possession.

"But it was an incredible turnaround. I think it shows great character from Liverpool.

"Torres certainly chooses his moments. He hadn't seen a great deal of the ball all night but you always knew he would get one sight of goal and make it count. It was an incredible strike, an unstoppable shot."

Fairclough, who scored 34 goals in 98 appearances for Liverpool, reckons the current squad will be in the driving when they host Avram Grant's side in the first semi-final tie on 22 April - and is confident the Anfield faithful could be the difference.

"Anfield becomes something different on a Champions League night," he added.

"Anyone that goes there with a ticket in their hand knows that they're going to have a part to play and you just sense it from the moment that they play You'll Never Walk Alone.

"They've got the track record, they've beaten Chelsea twice, there's no reason to think that Liverpool can't do it again."
---
APRIL 9
Heroic Liverpool don't
know when they are beaten

By Tommy Smith - Liverpool Echo

This was a great European night to saviour -
a marvellous result and an outstanding team effort
by Liverpool.

It was a magnificent cup tie, played on a knife-edge for most of the time, but the crucial difference is the belief the Reds have.

Most teams, having taken the lead and then seen their rivals snatch a late equaliser that tipped the tie in the Gunners' favour, would have just buckled.

But Rafa Benitez has this team believing anything is possible – that incredible night in Istanbul will forever be in their minds – and back they stormed.

Some might feel sorry for Arsenal after their performance early on in the first half, but I don't. They have terrific players, but what their team lack are older players good enough to control what the young ones are doing.

And, irrespective of Arsene Wenger's view of the penalty, he should be pointing fingers at his defenders for their lapses at crucial moments – Senderos leaving Sami Hyypia a free header, two defenders allowing Torres to turn and put the Reds ahead in sensational style, Babel being allowed to run past two defenders before he was brought down.

But it was not down to those errors, in particular, more the togetherness of this Reds team who just don't know when they're beaten when it comes to the Champions League.

A lot has been said about the Dirk Kuyt incident at The Emirates. I thought that was a penalty, just as I thought it was a penalty last night. But the Reds still got a fourth as Babel showed a coolness in slotting home the clincher.

Where the Reds were in the first 20 minutes, I just don't know. Arsenal were going like the clappers, they scored a well worked goal and really looked a good side.

But the Liverpool spirit shone through and Hyypia's header gave them the lift they needed. The goal brought back memories for me of 1977 with its importance, but it was the signal for the Reds to start to get a grip on the game they had been chasing for much of the first period.

Second half we were right on top of them and started to dominate. I have seen some goals in my time, but how Torres created the space and got a tremendous shot in across Almunia I don't know. I could not believe how quick he was in controlling the ball, turning and then firing in a magnificent cross shot.

We looked set for victory at that stage, but the introduction of Theo Walcott changed it completely. He just ran amok (and almost the length of the field) to set up Adebayor, and it left us staring down the gun barrel.

But in Babel, the Reds had someone themselves who could run at the defence with pace, and his charge into the box before being brought down left the referee with no alternative.

Steven Gerrard was not as effective in his left-sided midfield rolewith Peter Crouch having been selected. He is far more dangerous in that central position, but this was a night when there was no man of the match – more a team effort – although the back four did well despite conceding the goals and Hyypia and Torres made telling contributions.

The Reds took the game to Arsenal and not many teams do that. Incredibly, it's Chelsea next up after they struggled to dispose of Fenerbahce, and Anfield is set for another tremendous night.

Benitez once again proved he is a master tactician when it comes to Europe – and the fans were outstanding in their backing of the team, even after that heartbreaking equaliser. What a night!
---
APRIL 9
Crouch ready for Chelsea clash

By Al Campbell - LFC Online

Peter Crouch is eager to face Chelsea in the Champions League semi-final.

The Reds play the rent boys in the Champions League for the fourth successive season and the third time in four years at the semi-final stage. After a fantastic team performance against Arsenal last night Crouch is eager to face the Stamford Bridge outfit.

"This is a fantastic win but, at the end of the day, it's only the quarter-finals and there are still three more games to go," said the striker.

"When Adebayor scored I was thinking are we going to go out here? I was sitting on the bench and it was a killer blow when Arsenal scored [to make it 2-2 on the night] but we were able to bounce back and we've done it time and time again.

"We made it difficult for ourselves but we showed great character again. Hats off to Arsenal, they are a fantastic side and you know they're going to put you under pressure, but in the first 25 minutes it was difficult to get close to them.

"I think in the second half we really started to close them down and get about them. That's when we showed our true form.

"We have to get over this one first but that's going to be another massive, massive game. We've had the upper hand at times in the semi-finals but, make no mistake, they are a fantastic side as well.

"We don't want to sit back and say we've done well tonight. We've got to go into a massive semi-final.

"All games are tough but those ones against Chelsea are probably going to be even tougher. We'll have to make sure we get ourselves into a lead, maybe in the first leg, but we are capable of going to Chelsea and getting a result, I think."
---
APRIL 9
This was the right response
from Liverpool and Rafa

Comment by Nick Smith - Liverpool Daily Post

Rafael Benitez has made no secret of the importance of his team being able to emulate and embody the Kop on these rousing European nights.

So with little else to cheer him during a woeful opening to last night's sensational second leg, he could only have been inspired by what happened when the Arsenal supporters sought to circulate their early superiority around a subdued Anfield.

"Where's your famous atmosphere?" they taunted – but they were soon about to find out.

The Kop instantly drowned it out with "Where's your European Cups?" and the tone was set.

An exchange that summed up the pattern of this tie – Liverpool were always able to come up with the right response.

And the constant failure of Arsenal to do so on this stage means the answer to the above query remains the same as it was when initially made last night.

The easy option would have been to inconvenience the under-used striker by making him lower his frame onto the bench again.

But as so often in this competition, Benitez decided to do it the hard way. Crouch was in alongside Fernando Torres and Dirk Kuyt.

It was his flick-on that opened the way for Fernando Torres to put the ball in his favourite place – not the Kop End, but the top corner of the net that stands in front of it.

Maybe Benitez has acquired another new skill to add to his repertoire when seeing out second legs – seeing into the future.

As if he sensed Liverpool would need some extra firepower if Arsenal cancelled out the away goal – something Benitez also predicted in the aftermath of last Wednesday's 1-1 draw.

What he couldn't have planned for, however, was the inept opening his team made to the game.

And that's why it wasn't Crouch himself that was the gamble, it was the formation demanded by his inclusion.

And while the presence of Crouch always looked like being a problem for Arsenal, the absence of the ball was an even bigger one for Liverpool.

Every time they touched it they lost it during that torrid first half-hour, and they seemed scared stiff of attempting to win it back as the Gunners' superior command of possession yielded a deserved goal for Abou Diaby.

Straight after that Gerrard planted the ball straight into Mascherano's back and Liverpool were about as in harmony as last night's odd 'You'll Never Walk Alone' rendition.

But as happened a week earlier, a quick response, however out of the blue, altered the whole tone of the tie and Sami Hyypia's towering header ensured it proved so again.

Wenger initially found the answers thanks to substitute Theo Walcott's brilliance in teeing up what looked to be the clinching second away goal for Adebayor.

But Benitez trumped him again. If sending Crouch out initially was inspired, hauling him off was even more so. His replacement Ryan Babel took advantage of the exhaustion Arsenal had taken themselves to in the quest for elusive European glory

Considering what fellow Dutchman Kuyt got away with a week earlier, rewarding Babel's tumble in the box with a spot-kick was somewhat harsh on Wenger.

But the fact remains that whatever the Frenchman came up with, Benitez was ready for.

For some reason, you get the feeling he will be ready for
a semi-final with Chelsea too.
---
APRIL 8
Anfield has edge when it's Europe

TEAMtalk

Tuesday night's Champions League clash between Liverpool and Arsenal was sensational and TEAMtalk was yet again caught up in the Anfield magic.

Nobody does it better. No football team does European nights quite like Liverpool at Anfield.

No sportsmen surely do excitement and frantic drama quite like the footballers of the English Premier League.

That was the conclusion after Liverpool beat Arsenal 4-2 on the night, 5-3 on aggregate, to progress to the semi-finals of the Champions League for the third time in four seasons.

There they will meet Chelsea yet again, for the fourth time in the competition in as many years, after the Londoners eased through their quarter-final against Fenerbahce.

Let's not forget Arsenal. Their spirit was dogged, their football fabulous but their season now is surely over with manager Arsene Wenger having to make sense of two months in which they have simply imploded.

And the big question was: How does Rafael Benitez do it? How does he constantly struggle to make an impact in the Premier League but consistently outwit his managerial colleagues when his players pull on their European shirts?

One answer would be Fernando Torres. The Spaniard cost more than £20million but the vital goal he scored in the second half was his 29th of a season which is rapidly fast-tracking him to the sort of legend enjoyed by Kevin Keegan, Kenny Dalglish, Ian Rush and Michael Owen.

Another would be captain Steven Gerrard, who coolly slotted the penalty which ostensibly won the match after Kolo Toure was deemed to have pulled down Ryan Babel.

Modestly, Gerrard insisted: "It was one of the worst performances I've ever put in in a Liverpool shirt." That was nonsense but says much of the standard this Liverpool team has set themselves in Europe.

The truth is that this victory was partly down to the industry and sheer bloody-minded determination of men such as Torres, Gerrard and Peter Crouch and the excellent Xabi Alonso.

And partly down to the strategist in Benitez who juggled his resources, switched his formation and had faith in the spirit of his side even when Arsenal scored the second away goal which they must have thought would take them through.

Mostly, however, it was down to the special atmosphere at Anfield.

Much has been written about it.

From the days of Kevin Keegan and John Toshack and Emlyn Hughes and supersub David Fairclough, the latter scoring the winner in a 3-1 European Cup quarter final victory against St Etienne back in 1977 which is still regarded by many as Anfield's most memorable night.

In modern times John Terry admitted the Kop had terrified the life out of his Chelsea side in the semi-final three years ago.

There is no doubt that when Liverpool were down, when Arsenal had wrested the initiative, it was that support which again made the difference.

And yet Wenger's side could hardly have made a better start, so much so that it is doubtful any side in the world could have lived with them in that first half hour.

They were quicker to the ball, precise with their passing, demonstrating the sort of crowd-pleasing football for which they are famed. Irresistible, you might say.

And they scored too, Abou Diaby's goal after 12 minutes a triumph for Arsenal's invention, although Liverpool goalkeeper Jose Reina should have done better at his near post.

Liverpool's Champions League hopes hung by the slenderest of threads at that moment.

We wondered whether Benitez for once had got it badly wrong.

The Liverpool line-up, a 4-4-2 formation with Crouch partnering Torres up front and Gerrard out on the left, could not have sent out a more positive message. But it also surrendered the compactness in midfield which had been such a feature of their three other meetings with Arsenal this season.

Tempo and rhythm are fragile commodities, however, and the Arsenal majesty was torn asunder by a magnificent Sami Hyypia header from a corner for the equaliser after half an hour.

The sigh of relief which wafted up the Mersey was enough to alert the shipping forecast.

That was nothing compared with what was to come. Theo Walcott's wonderful run for Emmanuel Adebayor's goal. Then the penalty. Then the clincher from Babel when Arsenal's legs and lungs were all but spent.

Footballers deservedly get their fair share of bad press. But this was a night for Liverpool and Arsenal and the world's most popular sport to take a bow. Simply magnificent.
---
APRIL 8
Wenger hurt by unjust exit

By James Dall - Sky Sports

Arsenal boss Arsene Wenger believes refereeing decisions went against his side in the two UEFA Champions League quarter-final legs against Liverpool.

The Gunners were knocked out of the Champions League on Tuesday evening as they succumbed to 4-2 loss at Anfield - losing the tie 5-3 on aggregate.

And Wenger has hit out at referee Peter Frojdfeldt's decision to award Liverpool an 85th minute penalty after Kolo Toure made contact with Ryan Babel in the penalty area.

The Frenchman also pointed to last week's first leg when referee Pieter Vink chose not to award his side a penalty when Dirk Kuyt challenged Alexander Hleb in the box at The Emirates.

"I believe it (the loss on Tuesday) is down to a dodgy decision from the referee and a lack of concentration at 2-2," he said on Sky Sports News.

"It is difficult to swallow. It is a double disappointment because all the big decisions went against us and with three minutes to go we were qualified.

"It is very difficult for me to understand because for me it was not a penalty. I have watched it clearly again. Last week it was a real penalty. But we have to accept that.

"We were too naive, we lacked a bit of maturity defensively. We had so much control.

"The mental strength of the team was fantastic tonight. It was down to lack of experience.

"This team has plenty of talent and potential but we lacked that little bit of extra confidence.

"Tonight we have a feeling of disappointment and injustice."
---
APRIL 8
Gerrard: I knew I'd score from spot

TEAMtalk

Steven Gerrard described his performance against Arsenal as one of his worst for Liverpool - but said he knew he would convert his penalty.

Gerrard netted his side's crucial third goal from the spot to earn Liverpool a third Champions League semi-final meeting with Chelsea in the last four years.

He told ITV1: "That was possibly one of the worst performances I've ever put in in a Liverpool shirt.

"But I still had the confidence to score the penalty."

On an epic night at Anfield, Arsenal deservedly led through Abou Diaby before Sami Hyypia levelled.

Fernando Torres put Liverpool in front only for a superb Theo Walcott run to set up Emmanuel Adebayor to level on the night and put the Gunners ahead on away goals.

But substitute Ryan Babel was brought down in the box almost immediately with Gerrard scoring and the Dutchman netted a fourth as Liverpool won 4-2 on the night and to clinch the quarter-final 5-3 on aggregate.

Asked how the match compared to other Anfield nights of drama, Gerrard said: "That's up there with them.

"Arsenal are a fantastic team. A times today, they passed us of the pitch.

"In the end we've come through.

"It was a great team performance tonight."

Asked if he thought Liverpool were worthy winners, Gerrard was diplomatic, saying: "It's difficult to say because it would be unfair on Arsenal.

"But over two legs we're a match for anyone."

The skipper paid tribute to the club's fans.

"If those fans perform like that, it's a big help to us and other teams find it impossible," he said.

Those sentiments were echoed by Babel, who said: "They pulled out another level.

"It's like you play with 12 men."

The Dutchman insisted he was fouled for the penalty, saying: "They held me a little bit and they tried to take a chunk of me.

"I had a feeling to create something.

"If they take that away from me then I think it's a penalty."
---
APRIL 8
Rafa: Our belief was the difference

By Paul Hassall at Anfield - LFC Official Website

Rafael Benitez hailed the belief and character of his players after they held off the challenge of Arsenal to book their place in the last four of the Champions League.

Late efforts from Steven Gerrard (penalty) and substitute Ryan Babel clinched a 4-2 win for the Reds after the Gunners had threatened to progress via the the away goals rule.

It was a sensational turn of events that transformed the complexion of the tie and Benitez put his side's last-ditch rally down to their powers of recovery.

"I think the key was the belief of the players," said Benitez.

"I think in the second half we were much better than in the first half. In the first half we were really bad but when we scored we had belief and began to show our quality.

"I think they had some players who played in the final two years ago, so they had experience but we also had players with experience. For me the difference was the belief.

"I was disappointed with the way they scored but after I was very, very happy with the character of the players and the way they responded."

The Reds had looked on the verge of elimination after goals from Emmanuel Adebayor and Abou Diaby had cancelled out efforts from Fernando Torres and Sami Hyyypia, but the tide turned once more when Steven Gerrrard ocnverted a penalty that also altered the manager's way of thinking.

"Sometimes the small details can make a difference and it was a good penalty from Steven Gerrard and it was really positive for us," said Rafa.

"I was thinking about bringing on Voronin because we needed more power and more offensive players but then we got the penalty so I brought on Arbeloa instead.

"Babel made a difference because we needed pace and ability and Torres was getting tired so we used Babel's pace up front."

The 5-3 victory on aggregate means the Reds are through to a third Champions League semi-final against Chelsea in just four years, but Benitez refused to look ahead to yet another meeting with the Blues and instead chose to savour what he felt was one of Anfield's greatest nights.

"My first idea is to enjoy today and then after we will think about Chelsea. It will be a tough, tough tie that's for sure," he said.

"You could see Arsenal played well in the first-half, there were six goals and it was fantastic to win such a great game. Everyone is really happy and I am pleased for our fans.

"It's always important for us to play in front of our supporters and you could hear from the start of the game, they were amazing and massive for the players."

Benitez also revealed the reason behind his decision to pair Peter Crouch with Fernando Torres and felt the towering forward was a pivotal presnece in most of this side's attacking play.

"We knew he had scored a hat-trick against Arsenal," added Benitez.

"After the other day when he had scored and played really well, he was a threat, so I was trying to take advantage of the strengths of our team with Torres playing off Crouch in the air as well as Gerrard and Kuyt.

"They are four offensive players who can score goals for us."
---
APRIL 8
Reds fight back to clinch semi spot

TEAMtalk

Liverpool marched into their third Champions League semi-final in four years after fighting back for a 4-2 triumph over Arsenal at Anfield.

With seven minutes left, Arsenal looked like were through as the score stood at 2-2.

But Steven Gerrard became the first Liverpool player in history to score in four successive home European matches to send his side ahead again from the penalty spot, before Ryan Babel's breakaway goal sealed a victory which sets up another semi-final clash with Chelsea.

Arsenal scored first through Abou Diaby, before Sami Hyypia and then Fernando Torres forced Liverpool ahead. An Emmanuel Adebayor strike with seven minutes left looked to have finished off the Anfield men.

But Gerrard's penalty and Babel's late break sealed another sensational night at this emotional old stadium.

With Tom Hicks back in Dallas, his co-owner George Gillett took the chance to be in the directors' box with son Foster, while Hicks' son Tom junior was also in attendance. But just for once they went unnoticed and the club's laughable politics took second place to the real drama on the pitch.

The end of the week-long trilogy between these English giants saw one surprise selection, with Benitez opting for Peter Crouch.

Arsenal were without Robin van Persie from the first leg, the Dutchman's injured knee not risked beyond the bench initially.

The Gunners started in sensational style, displaying blistering pace, strength in the tackle and sublime passing skills. Liverpool were stretched every way possible.

Alexander Hleb, in a central role supporting Adebayor, was a constant danger and they were ahead in the 13th minute.

Anfield was stunned into silence as Hleb threaded a ball down the right for Abou Diaby to surge into the box before crashing home a shot between Jose Reina and his near post.

The disbelief from the Kop made you wonder for a second whether the ball had gone in. But the delayed roar from Arsenal fans at the other end soon confirmed Arsenal's deserved advantage.

With Gerrard deployed on the left, Arsenal were destroying Liverpool's midfield, and flying at a frantic defence.

For 30 minutes Arsenal had been magnificent and Liverpool mesmerised by the quality swirling around them.

Somehow they needed a foothold in the game, just to draw breath if nothing else, such was Arsenal's superiority.

And it came from veteran Hyypia. The 34-year-old, with a newly-signed contract this week, produced a towering header from Gerrard's corner that crashed into the net on the half-hour off Manuel Almunia's post.

Suddenly Liverpool were alive. Gerrard flashed a 30-yard shot wide, Dirk Kuyt's drive was charged down and Philippe Senderos - already booked for a foul on the Liverpool captain - started to struggle against Crouch's height.

Then Arsenal suffered the blow of Mathieu Flamini being carried off after looking to have fallen awkwardly on an ankle. Gilberto came on after 40 minutes. By now Liverpool looked a changed side; steaming forward, their confidence restored.

England boss Fabio Capello and Manchester United chief Sir Alex Ferguson sat side by side, enthralled, as Arsenal steeled themselves to defend in front of the Kop after the break.

Fabio Aurelio's shot was deflected agonisingly wide by Crouch, Torres having provided the cross.

It was the Spain striker, quiet up to that point, who forced Liverpool ahead. Crouch's flick-on reached the Liverpool goal machine in the box, he turned Senderos with ease before firing his shot into the top corner.

Anfield erupted. Benitez, tie askew, urged his men on while Wenger replaced Diaby and Emmanuel Eboue with Van Persie and Theo Walcott, knowing another Arsenal goal would put them through.

Adebayor missed when clean through, the tension by now could be cut with a knife. Babel came on for Crouch, who left the field to a standing ovation.

Liverpool switched back to their preferred system, with Gerrard working behind Torres while two holding players protected the midfield.

But Liverpool were caught searching for more, and Arsenal caught them cold on the break. Walcott embarked on an amazing run from his own half before pulling the ball back for Adebayor to drill in the equaliser after 83 minutes.

Hyypia collapsed in anguish, all around Liverpool players could see the end of their dream.

But astonishingly they rallied. Straight from the restart, some Gunners still celebrating it seemed, Babel surged into the box and was brought down by Kolo Toure.

Swedish referee Peter Frojdfeldt pointed to the spot, and with the Kop in hushed agony, Gerrard drove the penalty high into the net.

John Arne Riise came on for Torres, Liverpool desperate for the end now. Another Gunners goal would again see them through.

But with Arsenal all up in Liverpool's box for a free-kick, the ball broke from the mass of players to be belted forward for Babel to outpace Fabregas to gloriously drive home the fourth.

Alvaro Arbeloa came on for a shattered Kuyt, and there was nothing left now from Wenger's men as Anfield celebrated.
---