---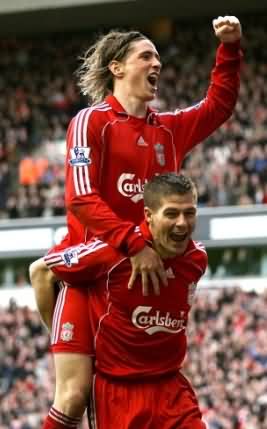 What a duo. More celebration from
Torres and gerrard. (Photo: Empics)
MARCH 10
Finding the right formula
is now reaping rewards

By Ben Thornley - Liverpool Daily Post

In uncertain times off the pitch at Anfield, rotation at least provides one constant on it. Yet even as Rafael Benitez made three changes to his starting XI – conservative by the Liverpool manager's standards – his side continued to exude an increasingly settled look in defeating Kevin Keegan's wretched Newcastle outfit on Saturday.

The personnel may have changed, but crucially the system which has served Benitez's men so well in recent weeks did not.

That two of the three incoming players – Yossi Benayoun and, despite his freak opening goal, Jermaine Pennant – were largely ineffective mattered little. For a fourth consecutive game Liverpool lined up in a 4-2-3-1 formation and for a fourth occasion the result was the same.

Employed intermittently throughout this troubled season, the tactic of deploying Fernando Torres as a lone striker supported by three rampaging midfielders has enjoyed varying degrees of success, with many observers castigating Benitez's approach following January's home draw with Wigan. Fielding one striker against a team as pitiful as Steve Bruce's men had to some appeared needlessly cautious, negative even.

The switch to the system favoured by the former Valencia chief during his successful Mestalla reign has, however, been at the root of Liverpool's revival since the FA Cup exit to Barnsley, enabling Benitez to field his stellar performers in their favoured roles.

The demand of the formation for two holding midfielders allows the manager to squeeze both Xabi Alonso, excellent here against Newcastle, and Javier Mascherano – or Lucas on this occasion – into the same team, giving Steven Gerrard the platform to drift and rampage further up the pitch in support of Torres.

It was, of course, also the preferred set up of Jose Mourinho's Chelsea when they were at their most potent under the Portuguese, the key feature of his Premier League title-winning side being the relationship between Frank Lampard and Didier Drogba.

The partnership of Torres and Gerrard bears similarities to that of their Stamford Bridge counterparts – a powerful front-runner and a prolific midfielder – but the Liverpool pair already appear to have forged an understanding once shared by a more fabled duo in these parts.

If Torres – now just one goal short of becoming the first Liverpool striker since Robbie Fowler's most prolific season, 1995-96, to score 20 league goals in a term – is the new Ian Rush, then the captain's left-footed through ball for the Spaniard's 19th strike evoked memories of Kenny Dalglish in his pomp. Admittedly, however, Torres's stylish dummy and finish was more Pele than Rush.

Gerrard and the club record signing are thriving in a system designed to exploit their strengths and the England playmaker has rarely appeared to enjoy his game as much as at present. Indeed, there are moments when the Huyton-born player actually appears in awe of the younger man.

The move to 4-2-3-1 has also coincided with Ryan Babel's best run of form in the side and Dirk Kuyt's Anfield rebirth, with each man occupying the wide positions in which they feature for the Dutch national side. At least before Kuyt was axed by Holland manager Marco van Basten that is.

Both men were rested here with Inter Milan in mind although the rejuvenated Kuyt again looked lively when he replaced Gerrard late in Saturday's game.

Their replacements, Benayoun and Pennant, were both off the pace, unsurprisingly given their lack of recent match action, although the encounter yielded the ex-Birmingham man a second goal in 71 appearances for Liverpool. Unlike on the occasion of his last strike – a stunner against Chelsea last term – even the winger himself was not going to champion his England credentials this time. The watching Fabio Capello would have been as convinced by this indifferent showing as his FA employers would have been by the Kop's pleas of "Keegan for England." Perhaps they meant in a playing capacity.

The Newcastle manager could certainly not fare any worse than his floundering striker, Michael Owen, whose influence faded once Martin Skrtel rose to the task of shackling the former European Player of the Year. At least Owen was afforded the reception his deeds at this ground deserved by the Anfield faithful on his second homecoming. He found Liverpool's defence less generous, however.

Benitez, who introduced Sami Hyypia for Gerrard in the final minutes as he switched to a back three – a dress rehearsal for tomorrow night perhaps – will be hoping Inter Milan encounter his men in similarly mean-spirited mood.
---
MARCH 10
Keegan salutes Gerrard
and Torres double act

By Nick Peet - Liverpool Echo

Kevin Keegan urged Liverpool fans to sit back and enjoy the next chapter of great goalscoring partnerships in the club's illustrious history after watching his dire Newcastle side slump to defeat
on Saturday.

The Toon boss and former Anfield goal hero couldn't help purring about the performances of Steven Gerrard and Fernando Torres after Liverpool's comfortable 3-0 victory.

Keegan seemed to revel in the opportunity to forget about his own side for a couple of seconds as he rapped on about the blossoming Reds strikeforce.

He commented: "You can see that Torres and Gerrard are building up a great partnership and really starting to get the best out of one another.

"For those two players this is just the start and it will only get better for them.

"As a Liverpool fan you should be looking at them two together and thinking, 'wow, this can only get better.'

"A player like Torres doesn't come cheap but you get what you pay for. Liverpool paid more than £20 million so you expect him to be that good.

"Let's face facts, Liverpool never took a chance on him the way they did when they bought me from Scunthorpe for £35,000. They have bought a world class international striker who was doing that kind of thing for Spain and in Madrid before they went for him so you would expect him to be that good.

"But Liverpool are really hitting top form right now. They are finding the back of the net and not only playing well but winning games."

Keegan admits that while the first goal was lucky, the second was the one which won the match for the home side.

"We started quite good but the loss of that first goal was hard and we needed a bit of luck like that if I am honest. But these things happen in football.

"To concede another goal before the break was a bigger blow. To go in at half-time one-down you've got a chance. But when you go two-down at a place like Anfield then you're in trouble.

"Our performance was just not good enough. We never did anything to hurt Liverpool."
---
MARCH 8
Rafa: It was a perfect day

By Lee Brown - LFC Official Website

Liverpool manager Rafa Benitez was happy after his side's 3-0 win over Newcastle at Anfield maintained their winning run ahead of Tuesday's crucial Champions League second leg with Inter Milan.

Goals from Jermaine Pennant, Fernando Torres and Steven Gerrard helped make it five wins on the bounce for the Reds and Rafa felt it was the ideal preparation before they set off for Italy.

"You must be happy," said Rafa. "We needed to win and we scored three goals and kept another clean sheet. We were also able to rest some players as well so it was perfect."

Torres and Gerrard were both withdrawn midway through the second half, obviously with Inter in mind, but they had already done the damage. Torres scored his 25th of the season to make it 2-0 in the 45th minute and then he turned provider for his skipper just after the break, and Rafa was full of praise for the pair.

"Both Torres and Gerrard are playing well and that is important for us," said Rafa. "If they have the space, with the quality and pace they have, they can kill defenders.

"Torres' goal was really good, Gerrard and Torres have a really good understanding and the goal came at a crucial time because it almost killed the game off. That helped us play with more confidence in the second half.

"The first goal was lucky, but the team was controlling the game. We were passing the ball well, but they were defending well and it was difficult to create clear chances. Sometimes you need the first goal and then after that it's easier."

The Reds will fly to Italy on Monday and Rafa was happy to report there were no new injury concerns after this game.

He said, "Lucas finished the game a bit tired, but the team should be ok. I have confidence that Mascherano will be ok, but it is too soon to say."
---
MARCH 8
Keegan wants a dose of Toon courage

By Tom Kell - Setanta Sports

Kevin Keegan pinned the blame on his players' lack of courage after the latest defeat of his waning Newcastle tenure.

The fanfare that greeted Keegan's return to St James' Park has now been replaced with a sense of trepidation after Saturday's 3-0 loss at Liverpool plunged the club further into the relegation mire.

Three points separate Keegan's side from the bottom three and he knows that his side can ill afford many performances of a similar ilk to that they produced against Rafa Benitez's side.

"It was disappointing and nowhere near good enough," he told Newcastle's official website. "We have gone behind to an unfortunate goal when Enrique tried to clear.

"That was the killer goal and typical of our bad luck. But the second one was a poor goal to concede and going in 2-0 at half-time is different. We didn't show enough courage or self-belief when we had the ball.

"When you come to Liverpool you also have to compete when you don't have the ball and earn their respect, but we didn't do that. We've got players who can compete but today we didn't."
---
MARCH 8
Rampant Reds pile pressure on Kev

TEAMtalk

Liverpool piled the pressure on both Everton and Kevin Keegan as they powered to a comfortable 3-0 win over Newcastle at Anfield on Saturday.

Keegan's Newcastle misery deepened on the ground where he is rightly still remembered as a playing legend in the heady days under Bill Shankly.

As a manager, Keegan has inherited a feeble, spineless Newcastle outfit who have now gone 12 Premier League games without a victory.

Liverpool cruised to their fourth successive league win, the first time they have achieved that measure of consistency for 13 months, and they will head off to their Champions League night of destiny against Inter Milan next week high on confidence.

This was Liverpool's 300th Premier League victory, and they now have a firm grip on that elusive fourth spot.

It was again their scoring double act of Steven Gerrard and Fernando Torres who put victory beyond doubt before the captain was withdrawn on the hour to protect him for Tuesday's date in the San Siro.

Ten minutes later Torres was also withdrawn, the Spaniard - now with 25 goals in 34 games, 13 in his last 12 - certainly could not be risked any longer with Inter next up.

Jermaine Pennant, very fortunately, deflected in the first goal while Torres and Gerrard created goals for each other.

Michael Owen, on his 250th Premier League appearance, was a pale shadow of the player who once electrified Anfield. Now Torres has taken that mantle.

Liverpool were without injured pair Javier Mascherano and Steve Finnan, while Dirk Kuyt and Ryan Babel started on the bench - with Yossi Benayoun, Pennant and Lucas coming into the side.

Newcastle were without Joey Barton, with Charles N'Zogbia the only change from the side which lost at home to Blackburn last weekend.

There was a show of strength from the Americans, with Liverpool moving towards shared ownership if Dubai International Capital complete their buy out of George Gillett next week,

A clutch of them were in the directors' box, including another of Tom Hicks' sons, Mike.

But Liverpool fans paid more attention to Kevin Keegan, a Kop legend, who spent 20 minutes before the game signing countless autographs as his team warmed up.

The Newcastle manager did not look like he had a care in the world - and his team started confidently, with Alan Smith seeing a seventh-minute header from a corner deflected wide from a corner.

At the other end Torres took on Abdoulaye Faye on the right and fired in a cross-shot which Steve Harper turned away.

John Arne Riise was booked for a high challenge on James Milner but Newcastle were still more than holding their own - until the freak 43rd-minute incident which took the game away from them.

Jose Enrique's attempted clearance cannoned back off Pennant and into the net, giving Liverpool the lead and Pennant only his second goal in 71 games for the club.

Seconds before the break Torres rubbed salt into visiting wounds when he rounded Harper and coolly netted following an outstanding ball from Gerrard.

Newcastle, who had replaced Milner with Geremi just before the break, fell three goals behind in the 51st minute, with Enrique again the man to suffer.

The Magpies defender failed to confront Torres, opting to back away as the Spaniard took possession. That invited Liverpool forward, and Torres sent Gerrard away down the middle to neatly chip Harper for the third.

Newcastle were now a shambles at the back, with Torres and Gerrard combining with ease before the latter saw a shot saved excellently by Harper.

Keegan sent on Obafemi Martins for the ineffective Damien Duff, before Liverpool replaced Gerrard on the hour.

Martins hit the bar with a fierce left-footed effort in the 68th minutes, before Dirk Kuyt and Peter Crouch formed the home strike partnership.

Sami Hyypia came on after 78 minutes - replacing Pennant - as Liverpool utilised a three-man central defence which could operate against Inter on Tuesday.

Harper saved well from a Kuyt flick and then got down to block a Riise drive, before Benayoun saw a diving header deflected just wide as the Reds finished in confident fashion against a team who are heading in the wrong direction.
---