---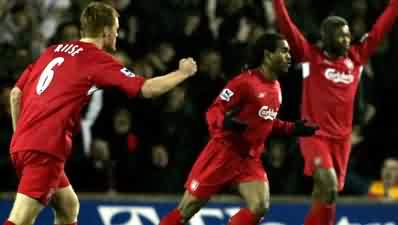 To goals of Pongolle and Reds came back. (Photo: AP)
JANUARY 11
Benitez found timely spark

By Tommy Smith - Liverpool Echo

There was one reason I never doubted Liverpool would make cup progress even when they went 3-1 down: Rafa Benitez.

The Liverpool manager has the habit of seeing where it is going wrong and putting it right.

The Reds were sparked into life in the second half, particularly with the arrival of Florent SinamaPongolle, while Steven Gerrard and Xabi Alonso's performances inspired the rest.

Gerrard's opening goal appeared to set the scene for what looked to be a routine win. But Luton didn't see it that way.

When Benitez threw Pongolle into the fray at 3-1 down, they looked a different proposition, with the skipper exposing the home side's back line and Alonso making telling contributions.

Pongolle, whose speed and approach eclipsed what Peter Crouch and Djibril Cisse had done before, showed that little bit of panache and his finishing was clinical.

The way he escaped his marker for a fine headed second was something Crouch had been unable to achieve.

There had been talk that Pongolle may be loaned out for the rest of the season. But his performance was just what Benitez was looking for as a response.

The more pressure you put on players the better they become, and Pongolle was outstanding. Now, the player, who has always stated he is happy at Anfield, has to prove he can do it consistently.

The trip to Portsmouth will be a tricky one, but the Reds are far more accomplished this season and should progress.
---
JANUARY 9
Gerrard right to play
up downs of Cup chaos

By Len Capeling - Daily Post

The true story of this gutwrenching game came not from the hysterical headlines or the heavyweight hyperbole of Hansen and his henchmen.

No, it came from the fixed and furrowed expressions on the faces of two of the tie's most influential figures.

Steven Gerrard is never less than honest about himself and his teammates. In this he resembles Roy Keane, with a tad more caution when it comes to naming names.

So when interviewed after this eight-goal frightener, Gerrard responded with a distinct lack of enthusiasm. We can't be pleased with our performamce was the gist, thus killing any notion of moonshine about a desperate rearguard action.

Before the Merseyside derby, Liverpool boasted the Premiership's least porous defence. Here they looked as if they'd forgotten even the basics of defensive stability - from front to back they were open to the skies and Gerrard couldn't get the madness of it all out of his mind.

Nor could his manager, who seethed as he strode across Kenilworth Road at the end. Face like thunder, he appeared to be muttering to himself - probably Spanish and more than probably unprintable.

Like some modern-day Poirot, he wrestled with a mystery. How could a side so expertly drilled come apart so completely, so abjectly?

Parallels with Istanbul and AC Milan would have passed him by, as well they might.

In Turkey, Liverpool suffered a first-half stuffing from a world-class outfit yet lived to tell an heroic tale. Luton are a universe or two away from that standard, yet they made Europe's champions look like dopes in the opening half.

Yet Liverpool began so brightly, Gerrard's classic curler giving them the lead after 16 minutes, following good work by Peter Crouch and Djibril Cisse.

Gerrard's goal was a gem, though, bizarrely, Luton not Liverpool drew heart from it. For the next 40 minutes or so one of the Premiership's finest allowed themselves to be out-fought.

Xabi Alonso - having his worst game for the club, until two spectacular late stunners spared some of his blushes - and Momo Sissoko were over-run as the outstanding Steve Robinson and Kevin Nicholls dominated midfield and ran the show. Their supply of quality ball to wingers Carlos Edwards and Rowan Vine gave John Arne Riise and Steve Finnan a problem they failed to address.

Exposed to raiding wide-men and midfield attackers, Jamie Carragher and Sami Hyypia lost their usual authority and the two goals Luton deservedly grabbed were no surprise given Liverpool's lameness.

First Robinson freed Luton's Steve Howard for the equaliser and then scored himself after too easily spinning Carragher.

Half-time was supposed to lead to a Liverpool re-think, and a foul on Gerrard, frantically pursuing a poor pass from Kewell, offered hope before Cisse compounded his anonymity by giving keeper Marlon Beresford an easy take.

Cue an attack of apoplexy by Benitez, though whether at Cisse or referee Mark Clattenburg for refusing to dismiss last defender Paul Under-wood was not clear.

Rafa's gaze got grimmer when the increasingly uneasy Scott Carson clipped Vine after another defensive cock-up, Nicholls knocking in the penalty for a swaggering 3-1.

Sissoko the Lost found himself sacrificed for Florent Sinama-Pongolle, a man who either disappears as soon as his boots hit the pitch, or proves to be an electrifying presence. Benitez gave him long, involved instructions, presumably along the lines of give me two goals and I might let you stay. Energised beyond belief, Florent became an instant Sinama sensation, making all that had gone before seem the stuff of haunting horror movies.

He quickly drifted on to a pass from Gerrard - now directing central midfield operations - and produced a Michael Owen finish.

Act two saw him rise among Luton's six-footers to guide Finnan's delivery high into the net. Exquisite.

In between times, Alonso remembered his reputation to score one of the goals of the season. From fully 35 yards, and under extreme pressure, he spun the ball up and then down over the toppling Beresford.

He wasn't finished either.

As if to wipe away his early dis-appearance, he ignored the demanding Gerrard to take audacious advantage of Beresford's own disappearing act.

Stranded upfield after an abortive Luton corner, he could only watch in amazement as the Spanish star lasered the ball into the net while 10 yards inside his own half.

Gerrard, after being dismayed when he didn't receive the ball, applauded his team-mate's affrontery. But, like his perfectionist manager, he couldn't wipe away the chaos that had gone before, when Liverpool played as wretchedly as they've done all season.

What happened will thrill the romantics but not anyone as hard-nosed as the Liverpool captain.

Great entertainment for the neutral, awash with goals, only one of them regulation. But, as Benitez begins a very necessary post-mortem, he will look only at the territory his team conceded, and fume.
---
JANUARY 9
Cup hero Sinama keen to stay in picture

By Ian Doyle - Daily Post Staff

Florent Sinama-Pongolle is willing to turn down a loan move this month and fight for his place at Liverpool.

The 21-year-old was on target twice after coming on as a second-half substitute as Rafael Benitez's side came from 3-1 down to win 5-3 at Luton Town in the FA Cup third round on Saturday.

It was only Sinama-Pongolle's 12th appearance of the season - his start at Bolton Wanderers last Monday was just his fourth of the campaign - and the player has attracted a host of clubs interested in taking him on loan during the transfer window.

French sides Nice, Auxerre and Nancy have all emerged as potential suitors with Manchester City also reportedly keeping tabs on the striker.

However, Sinama-Pongolle has insisted he would prefer to remain at Anfield despite admitting frustration at his lack of first-team action.

"I haven't played as much as I would have liked so far this season, so it's understandable that I am a little bit disappointed with how things have gone up to now," said Sinama-Pongolle.

"But I'm happy at Liverpool. I love the club and I am still very much enjoying myself here. Being at this club is a great footballing experience for me.

"I want to prove to people that I am a very good player and that I can be a big success here. Hopefully I will enjoy being a Liverpool player for a long time to come.

"I will have a talk with Rafael Benitez about his plans. I would love the manager to say that he wants me to stay at Liverpool. That's the answer I'm looking for."
---
JANUARY 8
Xabi relieved at recovery

TEAMtalk

Two-goal Xabi Alonso reflected on Liverpool's latest cup great escape and admitted: "We've had another comeback."

Liverpool, who fought back from 3-0 down against AC Milan to win the Champions League final, dug deep again to beat Luton 5-3 in the FA Cup third round after trailing 3-1 in the second half at Kenilworth Road on Saturday evening.

Substitute Florent Sinama Pongolle started the comeback and Alonso levelled with a spectacular long-range effort.

Sinama Pongolle headed a third Reds goal in 11 minutes to edge the visitors in front, and Alonso added a second at the death from inside his own half.

"At 3-1 down, things were pretty tough but we've had another comeback," Alonso told BBC1.

"We'd prefer to do the job from the beginning but we're still glad to get through."

Liverpool skipper Steven Gerrard, who had opened the scoring, was relieved that his side had escaped a second cup exit of the season at the hands of a Championship outfit.

"Credit to Luton, they stopped us from playing and upset us. They were fantastic," said the England midfielder.

"It was probably one of the hardest games we've played all season.

"We've not got the best of records against Championship sides in the cup and we got knocked out by Crystal Palace this season (in the Carling Cup).

"It was a great cup-tie for the neutral but we're not happy with the way we've played.

"They've got a Scouse manager (Mike Newell) and he's a good manager but, thankfully, we've done the job here in the end."
---
JANUARY 7
Benitez accuses 'complacent' Reds

BBC Sport Online

Liverpool manager Rafael Benitez accused his players of complacency after their incredible 5-3 FA Cup third round victory away at Luton.

Benitez said: "The problem was we scored too early and we thought the game was going to be easy.

"When we woke up the score was 3-1 to them. We got back into it and kept going forward, but you cannot afford to wait until the second half to play.

"I was not happy with the performance. We gifted them so many chances."

Benitez was livid Luton's Paul Underwood was not sent off after bringing down Steven Gerrard for a penalty, but he praised the hosts for their display.

"In the six-yard box, if it's a penalty it has to be a red card," Benitez added.

"If it's not a foul, fine, then it is also no penalty. It would have made a big difference, to have 10 players instead of 11.

"But Luton did a fantastic job, they really played well. Their supporters were great but so were ours too."

Luton manager Mike Newell was distraught after seeing his side concede four second-half goals but did not blame his team for their defeat.

"I'm majorly disappointed, we put on a good peformance in the first half and at 3-1 up you have to be able to shut up shop and close it out," said Newell.

"But I cannot fault the players for their honesty and their commitment.

"The lads are very honest and they keep going for it. We've lost to a good side but it's a disappointing day for me.

"Anything can happen in the Cup and we're a Championship side, not non-league.

"We gave them a real game and at the end of the day we can feel a bit hard done by. But now we can concentrate on the league.

"Our season's levelled out a bit. But we're in decent form, we're just not scoring many. We're a good side with good players and we want them to have a go now."
---
JANUARY 7
Reds fight back to win thriller

By Paul Higham - Sky Sports

Liverpool emerged from a truly memorable FA Cup tie at Luton with an amazing 5-3 victory in a third round battle that had everything.

A pulsating game saw Steven Gerrard put Liverpool ahead early on before Luton started to dominate the European champions and goals from Steve Howard and Steve Robinson deservedly put Mike Newell's men ahead at half time.

The game was far from over and the second half was spellbinding stuff as Djibril Cisse missed a penalty before Kevin Nicholls scored from the spot for Luton just minutes later to put them 3-1 ahead.

Liverpool then staged another miraculous comeback with substitute Florent Sinama-Pongolle the catalyst as he scored the first and third of three goals in 12 minutes to somehow put The Reds ahead, either side of Xabi Alonso's dipping 35-yard effort.

The Spanish midfielder then capped an amazing night's action by adding a fifth for Liverpool in stoppage time from inside his own half, with goalkeeper Marlon Beresford stranded after coming up for a corner.

Luton came flying out of the traps and were giving their illustrious visitors no time to settle whatsoever, forcing a couple of early corners.

Sami Hyypia almost put Howard through moments later, but Scott Carson came out to clear after the big Finn had knocked the ball back towards his own goal.

Liverpool took the lead on 16 minutes with a moment of real quality from their skipper, as Cisse's lay-off from the right was whipped unstoppably into the far corner by Gerrard with a fine first-time hit.

The hosts drew level on the half hour mark when Ahmet Brkovic slipped a fine ball through Hyypia's legs sending Howard through, and the big striker rounded Carson and finished well to send Kenilworth Road wild.

The Hatters did not rest there and they continued to dominate proceedings with only Steve Finnan's header off the line preventing Markus Heikkinen from heading Luton in front.

Rowan Vine had a shot beaten away by Carson before Luton took a fully deserved lead two minutes before half time when Robinson cushioned the ball superbly on the turn leaving Jamie Carragher for dead before lashing the ball home into the far corner.

Liverpool were given a glorious chance to equalise three minutes after the break when Gerrard was brought down by Paul Underwood after Harry Kewell had tried to square for him when clean through on goal.

However, Cisse's poor spot kick was saved by Beresford, and almost immediately referee Mark Clattenburg was pointing to the spot at the other end after adjudging that Carson had brought down Vine in a one-on-one right on the edge of the box.

Vine had broke free after being presented with the ball from a dreadful Hyypia mistake, and skipper Nicholls stepped up and put Luton in dreamland with a 3-1 lead after just beating Carson

Benitez responded by bringing on Pongolle, and he got Liverpool back into the game just after the hour mark when he rifled past Beresford after being put through by Gerrard's ball.

The game was literally end-to-end cup tie stuff, with Luton still looking to attack as Liverpool pushed for an equaliser - which duly came on 69 minutes with Xabi Alonso firing in a 35-yard after that dipped over Beresford at the last minute to amazingly make it all square at 3-3.

Liverpool kept going forward and bagged their third goal in 12 pulsating minutes when Steve Finnan's cross was emphatically headed home by man-of-the-moment Pongolle to give Liverpool a 4-3 lead in a truly gripping encounter.

With time running out, Beresford came up for a corner but, as Liverpool cleared he was caught out of his goal and Alonso showed a huge amount of ability to fire in to an empty net from his own half with his left foot to cap what was a truly epic cup tie.
---