---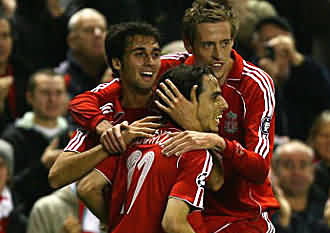 Benayoun celebrate with Crouch
and Arbeloa. (Photo: Allsport)
NOVEMBER 7
Crouch: It could have been more

By Jimmy Rice - LFC Official Website

Peter Crouch believes he and his teammates could have been even more ruthless in front of goal during the 8-0 massacre of Besiktas.

The Liverpool number 15 bagged a brace to add to Yossi Benayoun's hat-trick, a Ryan Babel double and a superb team goal finished by skipper Steven Gerrard.

Crouch admits the Reds felt under pressure before kick-off, but despite being proud of the response, he claims they could have been greedier.

"When we're under pressure we seem to pull out our best form, that was the case here," he told Liverpoolfc.tv.

"We started well, we wanted to make an impact from the beginning and we did that. From then on we made it easy for ourselves by playing some good football.

"It could have been more than 8-0. I think it's perhaps the best we've played for a long time – you don't get many 8-0 results in the Champions League.

"People have said we're in crisis but we're our own worst critics. We haven't been as good as we would have liked lately but hopefully we have put that to bed here."

The result is a record in the Champions League, though it does fall short of our all-time European best, the 11-0 win over Stromsgodset in the 1974 Cup Winners' Cup.

However, Crouch, who now has 10 goals in 27 Champions League appearances, insists no one was getting carried away in the Liverpool dressing room.

"It was a fantastic win, we scored some great goals, but we're not getting carried away. We'll enjoy it but there is still a long way to go. It's only three points and we've still got to win our remaining games.

"We still have to be realistic and we know we have a lot to do. But it'll be easier if we can go out again with the mentality we showed here."

On hat-trick hero Benayoun, the 26-year-old added: "Yossi is a fantastic player. He got a hat-trick and was involved in just about everything. He had a bit of space out there and if you give him space he will kill you."
---
NOVEMBER 7
Leaving out Crouch just too
tall an order for Benitez this time

By Nick Smith - Liverpool Daily Post

Beskitas coach Etugrul Saglam admitted he was scared of facing the 'physique' of Peter Crouch ahead of this game.

And no wonder, given the woeful shape the lot he sent out to deal with him were in.

The Turks might have been missing their outstanding defender from the first game a fortnight ago in injured Gokhan Zan – but they were also missing any idea of how to cope with Crouch and his team-mates.

Saglam's instructions were clear enough: "We will aim to stop him but that may mean we will have to work in other areas to stop the ball being played into him."

Instructions which Eduard Cisse ignored to the letter in the 19th minute when he slid in to send Crouch clear through and tee up the opening goal that sparked a glorious record-breaking rout.

Saglam called Crouch a difficult opponent and it proved a correct call as their preoccupation with him also opened the way for others.

But then Saglam's players would have found Northwich Victoria difficult opponents last night on this form – about as convincing as Alex Ferguson's disbelief at going to the Emirates Stadium and being shouted at by Arsenal fans.

If Yossi Benayoun is going to go around scoring hat-tricks you'd expect him to have to maybe beat a few men or produce some outrageous piece of skill that became his trademark at West Ham.

But being presented with three simple chances like those he tucked away merely indicates the ineptitude that he was faced with – summed up by the obscurity of Ryan Babel's seventh goal

But that's Besiktas's problem.

The main one for Liverpool still remains getting out of this group and if they don't, they will look at last night's hapless opponents and wonder how.

Liverpool should never have allowed this situation to develop with their European experience.

Hostile atmospheres in Istanbul should be second nature, not the ordeal they contrived to make it two weeks ago and events at Anfield last night only reinforced that.

As they won with such ease and would have done whoever was donning the red shirts, Rafael Benitez didn't really need to pick Benayoun or Crouch in the end.

But the fact is, in the case of the forward his opposite number feared so much, he had to.

Famously impossible to second-guess in his selection of striking partnerships, even Benitez doesn't possess the single-mindedness stubbornness to ignore the obvious.

When you need to score and you need a win, failure to do it won't be forgiven if you've left your most dangerous weapon on the bench.

And Benitez, particularly given the indifferent form Dirk Kuyt and Andriy Voronin have shown in front of goal of late, just had to accept that.

He has presented a strong case for leaving Crouch out – this was only his seventh start of the current campaign and he has only made one in the Premier League – but it's been based on a theory that isn't backed up by statistics. After another fruitless cameo at Blackburn on Saturday, Crouch was pretty much described by his manager as an impact player, effective when thrown on for the final 20 minutes to give defenders something different to think about.

But look at last year's record in the league – an impressive nine goals in his 19 starts while failing to score in any of his 13 substitute appearances.

It's a similar story this time. Last night's were only his second and third goals of the campaign but at least he was on from the off, as he was when he netted in the qualifying round second leg against Toulouse in August.

He might have had it relatively easy last night but he proved that if he's going to take 20 minutes to make that impact, he can do it 20 minutes from the first whistle as well as the last, which he proved when heading in the eighth.

And it did the vital job of settling any early nerves although it's not his fault that Besiktas gave nobody in Anfield except the scoreboard operator anything to be twitchy about.

So for Liverpool in the Champions League, last night was how it should be.

It's certainly how it was last season, inferior opposition ruthlessly put away only this time the wait for progress goes on. An emphatic win that doesn't exactly emphatically keep Liverpool in the Champions League .

And against this type of opposition even this scoreline gives them absolutely no indication if they have what it takes to make recent glories rise to the surface once again.
---
NOVEMBER 7
Record rout eases pressure on Rafa

TEAMtalk

Liverpool not only set a new winning margin in the Champions League on Tuesday, but they re-established themselves as a force at home.

Liverpool and their under-fire manager Rafael Benitez have taken merciless criticism for their European form this season, and many came to Anfield to write their European obituary on Tuesday.

But after the 8-0 destruction of Besiktas, a side that beat Liverpool in Istanbul last month to create a crisis for the Anfield club, Benitez knows he has a team now to be feared.

Benitez restored Peter Crouch to the front line and the England striker scored twice, and there was no need to remove Fernando Torres from the bench.

The Spaniard had recovered enough from a thigh injury to be named in the squad, but Benitez said: "He was fit, but he will be 100% fit.

"When we play Fulham here on Saturday then he may well start the game."

This was Liverpool's 280th European match, going back 43 years of competition in Europe and their biggest winning margin for 27 years, when they beat Finnish club Oulun Palloseura 10-1.

Liverpool once scored 11 against Stromsgodset in 1974 and another 10 against Dundalk in 1969. And there was an 8-0 against TSV Munich in 1967.

But in modern times of the European elite competition, this 8-0 is by far the most impressive.

Benitez said: "Obviously I want to win trophies, but it is good to be in the record books as well. It is something that people will take notice of."

Liverpool still have to beat Porto and Marseille in their final two group games to salvage their qualification ambitions, but Benitez now considers that opponents will be "worried and concerned" about facing the five-times European Cup winners now.

Benitez said: "Porto now have to come to Anfield in the next match and they will be worried by this. The rest of Europe will also be aware of what we have done.

"But in the end we still have to win those last two games, regardless of how many goals we scored this time."

Yossi Benayoun grabbed a hat-trick, Ryan Babel and Peter Crouch hit two each with skipper Steven Gerrard grabbing the other goal as the Turkish side collapsed under the pressure of Liverpool's stunning attacking play.

Benitez said: "We have been creating a lot of chances in previous games, but not scoring them.

"Today we scored early and the game opened up. Besiktas also had to win to keep their chances of qualifying going so they had to come out and try to attack and that gave our forwards space to use.

"It made our movement easier, the space was there and our strikers were on very good form.

"But will still must win the next two and then wait to see if it is enough. But we have confidence that we can beat Porto next, and our supporters will also have confidence in us too.

"When you create chances, score hat-tricks and play that well, it gives all the front players, Yossi, Ryan and Peter, plenty of confidence that they can attack and be successful.

"If you score then you have confidence, that is the difference from the way we have played recently."
---
NOVEMBER 6
Rafa: Bring on Porto

By Paul Hassall - LFC Official Website

Rafa Benitez is confident Liverpool can still progress to the knockout stages after they got their Champions League campaign back on track with a record-breaking victory against Besiktas.

The 8-0 triumph is the biggest margin of victory in the competition in its current format and the Reds boss believes the success will now give his side the confidence to go on and win their next two Group A matches.

"In the last few matches we have been creating chances and not scoring goals but today once we got the first it was easier for us to go on and score the second and then the other goals," said Benitez.

"We had the belief and know that we now need to win our next two matches.

"Our supporters will believe we can qualify and we now need to think about beating Porto when they come here."

Peter Crouch hit a double on his return to the starting line-up while Yossi Benayoun fired his first hat-trick for the Reds, but while Benitez was happy to see his forward players on the scoresheet, he feels it is the team that deserves the plaudits.

"Crouch was very good," said Benitez.

"But I prefer to think about the whole team. The strikers were very good and Voronin was fantastic but the midfielders and defenders were also good and we managed to keep a clean sheet which was important too."
---
NOVEMBER 6
Benayoun revels in 'special night'

TEAMtalk

Yossi Benayoun insisted Liverpool's record-breaking
8-0 Champions League rout of Besiktas would inspire qualification for the knock-out stages.

The Israel international scored a hat-trick, Peter Crouch and Ryan Babel netted twice with captain Steven Gerrard getting one as the Reds racked up the highest win in the Champions League.

A victory was the minimum Rafael Benitez's side required as, after a poor start in Group A, they were left needing to win their final three matches to qualify.

With one of those wins completed, Benayoun said the team could now go on with real belief.

"It is a special night for everyone. I am happy to score but what was important was the way we won," he said.

"We just need to continue to improve all the time. We knew we had our backs to the wall because we had to win three games.

"I'm sure this win will give us a lot of confidence."

Crouch was asked if he remembered the last time he had played in an 8-0 victory. "Schoolboy days," was his response. "Everything just clicked."

The England striker has found himself marginalised somewhat at Anfield this season but he refused to see his two-goal performance as proving a point.

"I would rather just enjoy tonight. I have played 90 minutes and we've won 8-0. I couldn't be more happy.

"Although it is a big win it is only three points. We need to win the other games and make sure we can qualify."
---
NOVEMBER 6
Yossi treble in Reds rampage

Football 365

Liverpool racked up the biggest-ever Champions League margin, blitzing Besiktas 8-0 at Anfield courtesy of Yossi Benayoun's clinical hat-trick.

The pressure was on Rafael Benitez's Reds after banking just a point from their first three Group A games - but first-half goals from Peter Crouch and Benayoun set them on course for a crucial three-point haul.

Far from backing off after the break, the hosts went goal crazy in the second half, with Benayoun bagging the second and third of his treble before seeing Steven Gerrard (69), Ryan Babbel (79 and 81) and Crouch (89) also net.

Andriy Voronin and Crouch started up front, with Fernando Torres on the bench, and both looked lively early on, respectively dragging a shot and steering a header narrowly off target.

Mehmet Sedef sidefooted a good chance wide for this visitors, who fell behind on 19 minutes when Crouch reacted quickly to stab home a rebound after Hakan Arikan had saved his first left-footed effort.

The collective relief around Anfield was tangible and the Reds were 2-0 up on 32, when Benayoun controlled Voronin's left-wing cross and volleyed an unstoppable drive into the back of the net.

John Arne Riise had a goalbound header cleared off the line and Crouch flashed a shot narrowly wide as the Reds finished the half strongly.

Benayoun pounced on two clangers by reserve keeper Arikan, who fumbled Riise's blockbuster and Gerrard's free-kick, to collect his hat-trick (53 and 56) and that opened the floodgates, with Gerrard slotting after a superb one-two with the impressive Voronin.

Sub Babbel bagged a cheeky sixth with a close-range backheel - and his second was very fortunate as a defensive clearance hit his back and looped over the keeper and under the crossbar.

Babbel was denied a treble as his header rattled the crossbar - but the Reds still went after eight and the icing on the cake came when Benayoun crossed for Crouch to head home.
---