---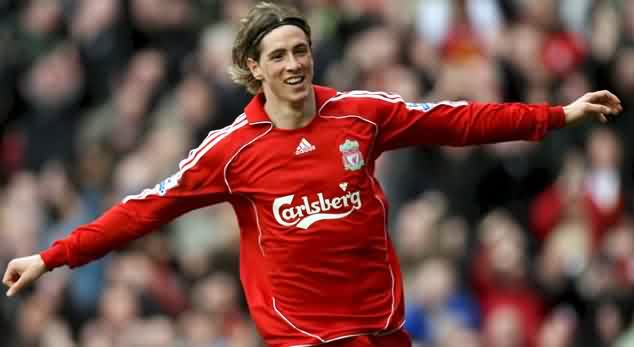 Fantastic Torres with a new treble.
MARCH 6
Torres keeps Reds fans smiling

TEAMtalk

TEAMtalk feels Fernando Torres has provided a ray of light for Liverpool fans amid all the takeover turmoil off the field at Anfield.

The only thing certain for Liverpool supporters right now is that the rising sun will bring another day of uncertainty.

Will co-owner George Gillett sell out his 50% share in the club to the Arab sheikhs from Dubai whose shoulders are pressed hard against the Anfield gates?

Will co-owner Tom Hicks raise the cash to buy out the partner with whom he appears to have fallen out so spectacularly?

Will Dubai Investment Capital come up with an offer Hicks cannot refuse?

Will the most fractious takeover shambles in English football be resolved before England's most successful club is torn asunder?

The questions could go on and on but in a week in which all the talk was about the brilliance of Arsenal, the efficiency of Chelsea and the deep pool of talent at Manchester United as they eased into the quarter-finals of the Champions League there was just one man at Liverpool who supplied answers.

Twenty four of them to be exact.

That is the number of goals Fernando Torres has scored in a season during which Liverpool have been so far off the Premier League pace that if they had been pounding around nearby Aintree they would surely by now have been pulled up.

Three more arrived against West Ham on Wednesday, a night when Liverpool fans protested again against the American owners who admitted when they arrived that they knew little about "sawker" and have since proved they know even less about what counts at a club steeped in football's finest traditions.

The form of Torres has been sublime.

So much so that when the time comes to pick the footballer of the year he will be right up there with Cristiano Ronaldo and Wayne Rooney and Emmanuel Adebayor and Cesc Fabregas.

And here's a thing. That's the same Fernando Torres who doubters, many from leading Premier League clubs, claimed was not a natural goalscorer before the season began, even though he had scored 82 in 214 matches for Atletico Madrid.

The point is that it was Liverpool manager Rafael Benitez who took the gamble on the Spaniard, who identified his worth and who invested £21million of the new owners' cash in the only mega-purchase he has been allowed since arriving at Anfield.

Apart from Arsenal, where the talent-spotting brilliance of Arsene Wenger remains unique, the likes of Manchester United and Chelsea have bought success by forking out big money on big players.

Sir Alex Ferguson spent £30million on Rio Ferdinand, £25million on Wayne Rooney and around £52million last summer on Owen Hargreaves, Nani and Anderson. Chelsea, meanwhile, play £31million Andriy Shevchenko in the reserves while £130,000-a-week Michael Ballack has taken two years to come close to matching his worth.

The fact is that while Gillett and Hicks famously promised unequivocal support for Benitez in his transfer dealings they have not delivered.

Apart, that is, from Torres.

Yes, Benitez has overdone the rotation. He has under-used Peter Crouch. He has disrespected England's cup competitions and some of his selections have been bizarre.

But the defeat of West Ham took Liverpool into fourth place in the Premier League and that crucial Champions League qualifying spot.

Next week the chances are they will join United, Chelsea and Arsenal in the quarter-finals of the Champions League when they visit Inter Milan with a 2-0 first leg lead.

Would anyone back against them going all the way to the final for the third time in four years?

Could anyone doubt that would be one of football's most fantastic feats given the warring factions disrupting Anfield this season?

Could anyone seriously argue that Benitez was not a success in such circumstances?

Yet most observers predict the sun will set on Benitez's Anfield reign this summer. If so, then one man at least will remain as testimony to his talent. A goal machine named Torres.
---
MARCH 6
Gerrard dazzled by Torres' class

TEAMtalk

Steven Gerrard described free-scoring Fernando Torres as "frightening" after Liverpool finally started to live up to their captain's demands.

The 4-0 win over West Ham sent Liverpool back into the Premier League top four and saw Torres score his second hat-trick in successive home games, with his overall total for the season now 24 goals in 33 matches.

Consecutive home hat-tricks have not been achieved by a Liverpool player since 1946, and only four players in their history have managed such a feat.

"Fernando is frightening. From the opening home game of the season to Chelsea when he scored a cracker, he has been consistent all the way," said Gerrard.

"He got off to a good start then and now he has hit 18 Premier League goals, the first person to do that here since Michael Owen. So far so good and hopefully he can continue like this right to the end of the season.

"He has pace, power and is very direct but the most important thing for us is his work rate. He hasn't come here as a star, he is chipping in with his work as well and when you get that from a player as well you cannot ask for much more."

But the true achievement after three straight league wins was that the demanding standards set out by Gerrard in his angry interview last week are at last being met by the inconsistent Anfield side.

Gerrard, who took his own tally for the campaign to 18 with the fourth against the Hammers, said: "I know I called for an improvement recently and the way the performances have gone I am obviously pleased.

"We were all disappointed with the inconsistency at home but against West Ham we started to put that right.

"It was a good team performance, I said well done to all of them. But we have another big game on Saturday and we must keep doing this right to the end of the season.

"There is still a lot of pressure on us to get fourth place. This is now a massive month for us, it will be tough all the way now.

"It is important for us to continue our league form. We have won the last three and if we can beat Newcastle on Saturday we will be able to focus on a huge game away to Inter Milan on Tuesday. That's so important for us now."

Torres has already eclipsed the top scorers at Liverpool over the last four campaigns.

Last season it was Peter Crouch (18) and previously Gerrard (23), Milan Baros (13) and Michael Owen (19) topped the list.

Owen's two hauls of 28 in both the 2001-02 and 2002-03 seasons are now Torres' next targets.

Whether he can get anywhere near the levels of Robbie Fowler, who hit 31, 36 and 31 in successive campaigns in the mid-90s is doubtful.

But on current form even that is not impossible for the 23 year-old Spaniard, who has scored 12 in his last 11 league games.

He was informed after the game his double hat-trick at home was last achieved by Jack Balmer 62 years ago, prompting him to say: "I only learned of the record after the game and it is a big honour for me.

"This club has a wonderful history so to be a part of that is very special and it is something I am very proud of.

"But it is also a record for everyone at the club because it would be impossible for me to score goals if it was not for my team-mates, the manager, the coaching staff, everyone."
---
MARCH 6
Torres delighted after
breaking 60-year record

Liverpool Daily Post

Fernando Torres today told of his pride at becoming the first Liverpool player in more than 60 years to score hat-tricks in successive matches at Anfield.

The Reds top scorer was again in magnificent form as he followed up his recent treble against Middlesbrough with another three-goal salvo in Liverpool's 4-0 win over West Ham.

Jackie Balmer was the last Liverpool player to score hat-tricks in consecutive home games, way back in November 1946.

And Torres was thrilled to have matched his feat.

He said: "I only learned of the record after the game and it is a big honour for me.

"This club has a wonderful history so to be a part of that is very special and it is something I am very proud of.

"But it is also a record for everyone at the club because it would be impossible for me to score goals if it was not for my team-mates, the manager, the coaching staff, everyone."

Torres was afforded a standing ovation by an enthralled Anfield as he was substituted shortly after grabbing his third goal and he admitted the reception left him stunned.

"It was incredible," he said. "The roar from the crowd was fantastic and it made the hairs stand up on the back of my neck.

"I feel really lucky and also humble to be loved by the crowd but what I would say is that I love them also.

"They have supported me since I first came to the club and I want to keep on scoring goals for them.

"The Liverpool fans are special and it is an honour for me to play for them, so if I can make them happy then I will be happy."

Torres was a major doubt on the day of last night's game having been laid low with a bug in the days leading up to it.

But he got off his sick bed to inspire Liverpool to one of their best performances of the season and his display earned him a glowing tribute from manager Rafa Benitez.

He said: "Fernando told me he wanted to play and that was the most important thing. We thought he might not have been able to but he assured me he would be fine and he went onto the pitch and proved it.

"To score hat-tricks in consecutive home games is a fantastic achievement and everyone at the club is very proud of that. Fernando is on fire at the moment."

Liverpool ended the game with 10 men after Javier Mascherano was taken off with a dead leg and the Anfield medical staff were today assessing his injury.
---
MARCH 6
Rush backs Reds

By Al Campbell - LFC Online

Ian Rush has backed Liverpool to finish ahead
of Everton.

The Reds moved ahead of the small club from Kirkby with last night's 4-0 win over West Ham and Ian Rush is backing his old club to finish the season ahead of their rivals.

"The big talking point on Merseyside at the moment is the battle for fourth place and I'm backing Liverpool to hold off the challenge from Everton and take the honours," said the Reds legend who was famous for breaking Blues' hearts.

"There is obviously a lot at stake because not only will the winners get to have a crack at qualifying for next season's Champions League, they will also have the local bragging rights which is very important in this part of the world.

"Everton have done well this season and it is credit to David Moyes and his players that they are challenging.

"They are in good form at the moment and I am sure confidence will be high at Goodison. But the big thing for me is that when Liverpool really need to win games they more often than not do so.

"They have proven this time and time again in Europe and now they have a similar challenge at home I'm sure they will rise
to it.

"Both clubs have big European games on the horizon - Everton meet Florentina in the UEFA Cup on Thursday and Liverpool play Inter Milan a week today - and that means both will have to fall back on their squad strength.

"You cannot play the same starting line-up week in, week out in the modern game because injuries, suspensions and loss of form will always take their toll.

"So when this does happen you have to be able to call on players from your squad to come in and do a job and I just feel Liverpool have the edge when it comes down to this.

"Liverpool also look like they are coming back into form at the right time, particularly after winning for the first time at Bolton under Rafa Benitez, and although there will be a few twists and turns along the way I'm backing them to take fourth place."
---
MARCH 5
Rafa: It's in our hands now

By Lee Brown - LFC Official Website

Liverpool boss Rafa Benitez was delighted after Fernando Torres' second hat-trick in consecutive home games helped his side seize the upperhand in the race for fourth place with an emphatic 4-0 win over
West Ham at Anfield.

Torres made it 24 for the season with a superb treble, before Steven Gerrard capped a fine win with a superb fourth goal close to the end to take the Reds back above Everton into fourth place.

"We are playing with a lot of confidence now," said Rafa. "We started the season well, but at this crucial stage of the season we are playing really well and you can see the team operating as a team, that is really important.

"It was important to win tonight because we have been talking about this game in hand for a long time, but now when you see the points on the table it is much easier and better for the confidence.

"We have three more points and we are closer now, it depends on us. If we can beat Newcastle we will approach the Inter game with a lot of confidence."

Liverpool's run of form has coincided with Rafa turning to a 4-2-3-1 system that sees Gerrard, Babel, Kuyt and Torres in a four pronged attack, but Rafa thinks there is more to the improvement than the system alone.

"It is more than the system because we have used it in some games before," said Rafa. "We were talking the other day about Ryan Babel and how he needed to settle down, and also Torres is on fire. Some players are playing really well now and that is the difference for the team because everyone has confidence that we will score."

Torres was again the hero, becoming the first Liverpool player to score a hat-trick in consecutive home games in over 60 years, and Rafa revealed that El Nino almost never made the game and then was almost substituted before completing his treble.

"He had a small problem and our first thought was to rest him, but he was ok," said Rafa. "Just before he scored his third and I had told Crouch to get ready to go on and maybe Torres saw him and pushed himself harder.

"If he continues scoring goals I'm sure he will be a threat for all defenders, but he can give us more than that because the defenders might be thinking about him and give a chance to Babel, Gerrard, Kuyt or another."
---
MARCH 5
Torres treble nails Hammers

Sky Sports

Liverpool moved up to fourth spot above Everton with a 4-0 thumping of West Ham at Anfield.

Fernando Torres was the star of the show with a superb hat-trick to take his tally to the season to 24 goals with Steven Gerrard grabbing the other goal with a stunning strike from the edge of the box.

Torres broke the deadlock after just eight minutes when he swept home Dirk Kuyt's cross with a brilliant finish.

The Spaniard doubled the lead just past the hour mark when he headed home Kuyt's cross and he completed his hat-trick with a cool finish nine minutes from time.

Gerrard put the seal on a fine night for Rafa Benitez's men with a trademark shot into the top corner from the edge of the box on 83 minutes.

The win lifts Liverpool above Everton on goal difference in the race to finish fourth, while the defeat was West Ham's second 4-0 loss in four days.

But despite moving above city rivals Everton, the dark cloud of the war for control of the club was never far away at Anfield tonight.

Before and at half-time fans all around the ground sung and chanted their anger at the American owners Tom Hicks and George Gillett.

Fortunately Benitez's players - and Torres in particular - gave the supporters something to take their minds off the behind-the-scenes turmoil.

Liverpool were more decisive and Torres put them ahead after eight minutes, having already sent a header just over from Dirk Kuyt's knock-down.

Opener
The Reds took the lead when Kuyt's low cross from the right was volleyed fiercely past Green by Torres from 12 yards.

West Ham should have equalised after 13 minutes when Luis Boa Morte was played in on the left, but from a tight angle his shot was hooked over his own bar by Arbeloa.

The same applied to corners and after 29 minutes Steven Gerrard fired one in from the left which Martin Skrtel, arriving fast at the near post, headed onto the roof of the net.

Seven minutes later Ryan Babel fashioned a cross from the left and Gerrard's close-range effort was superbly turned round a post by Green at full-stretch.

The Hammers continued to live dangerously after the break and only a fine save from Green stopped Babel after Gerrard had cleverly played the Dutchman into the box.

The hosts got their second goal on the hour - with Kuyt again the provider.

The Dutchman's chipped cross from the left enabled Torres to neatly lift a header into the top corner from six yards.

Torres saw a diving header hit a post, with Green scrambling to pick up the ball as it rolled across the six-yard box.

Hat-trick
Torres completed his hat-trick after 80 minutes when he took a knockdown from Riise to sidestep his way into the six-yard box before rolling the ball past Green.

The Spaniard's goal tally now reads 24 in 33 matches - 12 of them coming from his last 11 games.

Gerrard capped the win two minutes later, blasting home the fourth goal with a blistering drive from outside the box, as Liverpool eased back above Everton in the table.
---