---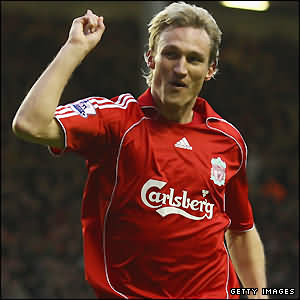 Sami Hyypia celebrates his opener at Anfield.
(Photo: Getty Images)
DECEMBER 4
Gerrard proves the perfect all-rounder

By Ian Rush - Liverpool Echo

Steven Gerrard has proved in recent games what
a great leader he is.

After a big disappointment on international duty a lot of players would take three or four games to really get back into it.

But the Reds skipper has shrugged off England's defeat to Croatia and shown everyone his quality.

People talk about the talents of Cristiano Ronaldo at Manchester United, but I wouldn't swop Steven for anyone.

Against Newcastle at St James' Park he was incredible and he produced another outstanding, all-round performance against Bolton on Sunday.

He leads by example and has been the key to the Reds' recent winning run.

Gerrard is enjoying a great scoring streak, too, with eight in the last nine games, but there is so much more to his game than goals.

His ability to create is a massive asset and his delivery for Sami Hyypia's header was top quality, as was his through ball for Fernando Torres to calmly make it 2-0.

I had a fantastic player in Kenny Dalglish to create chances for me when I was at Anfield and Torres is lucky to have a player of Gerrard's calibre playing behind him.

Torres has settled in so quickly and it's as if he's been here for years. We all knew how talented he was before he came to Liverpool but he wasn't prolific in Spain.

To have 11 goals already is impressive and he is clearly relishing playing in this Liverpool side.

He's so quick over 10 to 20 yards that he leaves defenders trailing. Bob Paisley used to say that the first two yards are in your head and that's the case with Torres. He's such a quick thinker.

Gerrard has been crucial to the flying start Torres has enjoyed at Anfield.

The pair of them seem to be on the same wavelength and they are turning into a great double act.

Bolton had beaten Manchester United in their previous league game but the Reds went past them with ease.

That's the way it should be at home and winning games like that goes some way towards making Anfield a fortress again.

Earlier in the season, Liverpool tended to look to consolidate when they got in front but now they are continuing to press and the goals are flowing. Visitors to Anfield must be starting to worry again and it's nice to see.

Another positive was the fact that the goals were shared around again with four different goalscorers. Torres is in great form, but it's important that others are chipping in.

The Reds are going for the jugular in matches now and I think that's the way we have to play if we're going to keep progressing.

Since the Besiktas game we've really gone for it and it's as if that game has given the players the confidence to keep pressing forward.

Saturday's trip to Reading is followed by two massive games – the crunch Champions League clash in Marseille and the Premier League showdown with Manchester United at Anfield.

In recent years, we would have gone into games like that more in hope than truly believing the Reds can triumph.

But with the current run the side is on, supporters can rightly look towards those two games with confidence.

The Reds have put themselves in a great position to challenge for the title.

It's a fascinating race and I still think whoever ends up above Manchester United will win the league. Arsenal are fantastic, but United set the standard, and it will be interesting to see how Arsenal react when they lose a game.

As for Chelsea, they will lose four players to the African Nations Cup in January and I think that could cost them points.

The recent resurgence has put the Reds in title contention and the challenge facing them now is to ensure they stay there.
---
DECEMBER 3
Torres Kops praise from all quarters

TEAMtalk

Rafael Benitez was moved to say "thank you" to Liverpool's American owners when they let him buy Fernando Torres in the summer.

Now the Kop understands why Tom Hicks and George Gillett gained such gratitude from a man they have been at war with, as they sing the praises of their new goalscoring hero.

Peace has finally broken out at Anfield at the same time as Torres confirmed his status as the real thing.

Legendary strikers over the decades at Anfield have gloried in their one-word adulation, the solitary verbal respect as a single name booms around the stadium.

The Spaniard has already joined that revered group. St John, Keegan, Dalglish, Fowler and now Torres, their names cascade down from the Kop.

Torres has reached that level of acclaim just five months into his Anfield career. He scored a sublime goal, his 11th in 17 matches, to send Liverpool on their way to a 4-0 hammering of Bolton, their fifth successive victory with 21 goals coming in that spree.

Liverpool's unbeaten league start to the campaign is their best opening run since 1991. Going unbeaten in 14 is already better than their run at the beginning of the 1989-90 campaign when they won their last title.

Torres may have started his career in England slowly after the £20million-plus move from Atletico Madrid, but he is on fire now.

Fellow countryman Jose Reina, who is grateful he is no longer on the receiving end of Torres' quality, sings the 23-year-old's praises just like the fans.

Goalkeeper Reina admits: "I was Fernando's favourite goalkeeper back in Spain, he put so many goals past me."

Now Reina can stand and watch safely from a distance as Torres creates havoc, driving Liverpool into a title-contesting position.

Reina says: "Fernando has been getting better and better over the last few weeks.

"He has become a very important player for us, he has pace, and he can now finish.

"He has the qualities to play consistently at a very high level, and now he is at that level in England.

"He is quick, strong and clever. He has great movement and can be aggressive to cope with playing against big defenders.

"He is so important. He can be a target player, but he can play other roles. Let's see how much more he can progress, I believe he will do that."

Torres has scored four goals in five games - skipper Steven Gerrard adding eight in nine - as Liverpool have started to stake a genuine claim on the title.

Reina added: "It takes time to adapt to a new league, but for him it has been easier than a lot of other players.

"It is important, though, for him to keep learning. There is still a long way for him to go yet.

"I played against him a lot in Spain, many times. He used to score a lot, I am one of his favourite goalkeepers because I have conceded many goals to him.

"Now he has become my friend and team-mate so that does not happen any more. Thankfully."

Torres has quickly won over his colleagues as well as the fans. Gerrard said: "Getting into double figures before Christmas is great for him and the team. We know if we get him chances, he will score."

Benitez, not known for praising individuals, added: "Torres scored a great goal. He has learnt well and quickly. But the team is playing better so he is playing better.

"The opposition are concentrating on him, and that leaves the space for the others to work and score."
---
DECEMBER 3
Reina: It was easy for me

By Paul Hassall - LFC Official Website

Pepe Reina admits he is delighted to play the role of spectator after Liverpool notched up yet another comprehensive victory with a 4-0 demolition of Bolton on Sunday.

The Reds stopper picked up his 12th clean sheet of the season as Rafael Benitez's men made it 21 goals in five matches, and he revealed that he is more than happy to sit back and enjoy the show - even if it does mean he gets cold.

"It is easier than ever for me at the moment with the way the team is playing," said Reina.

"I had to keep warm just in case I was needed but it was difficult because it was cold, wet and windy but the result did keep me warm.

"Hopefully every game can be like this one and like the last five because we have done really well.

"From my own point of view, it is always really important to keep a clean sheet because that brings confidence, trust and hope.

"And the fact that we are scoring plenty of goals and taking more chances is also good.

"The whole team is in good form and we have to keep going in that way."

Defensive stalwart Sami Hyypia got things underway against Gary Megson's side when he opened the scoring at the Kop end to secure his first goal of the season.

It capped another fine performance from the giant Finn, who has been in good form in the absence of Daniel Agger - a fact that has not been lost on Reina.

"I have said many times how good Sami is and I'm sure the people who were at Anfield yesterday won't need me to tell them that he was brilliant once again," enthused Reina.

"He has been like that all season and it is great for me to play behind players like Sami, Carra, Arbeloa and Riise. And Jack (Hobbs) came on and did a good job so he can be proud also."

The 4-0 triumph moved the Red into third place in the Premier League table, but had Nicolas Anelka converted a glorious chance with the match still finely poised at 1-0, it could have been a different story.

Reina said: "I was expecting it to be 1-1 but things like this sometimes happen even to the best strikers. Anelka is a good player and he was just unlucky and we were quite fortunate."

The miss of the season contender came as a result of a mix-up between both Reina and Jamie Carragher, and the keeper insisted it was simply a case of crossed wires between the two of them.

He added: "It's because we both (Carragher and Reina) go for every ball and we are both aggressive and I try to do the same as him - to do my best for the team - and sometimes things like this happen."
---
DECEMBER 3
How Fernando Torres is
overtaking the past masters

Comment by Ben Thornley - Liverpool Daily Post

For all the lyrical vividness of football's most famous stand, occasionally the Kop's message is most emphatically delivered without the need for poetic garnish.

While Anfield jeered the return of the only number nine in Liverpool 's history to finish a season without a league strike, the current occupant of that shirt was afforded the ultimate tribute, as he extended his tally to 11 goals in just 17 appearances.

As Fernando Torres was withdrawn for Dirk Kuyt, after a majestic 77-minute display of power, panache and precision finishing in yesterday's 4-0 victory, his substitution was met with a chant strictly reserved for Liverpool legends. Known as the 'Dalglish' or 'Fowler chant' depending on your age, it is effectively a series of claps followed by the insertion of the player's name.

Sometimes, even for supporters with as varied a hymn-sheet as the Anfield faithful, only the simplistic will suffice. Torres's Liverpool career is still in its infancy, but there is no better judge of talent on the stands of English football.

The Kop has celebrated many cult figures in recent seasons but still nothing quite excites its inhabitants like a player of Torres's calibre.

Even his team-mates greeted his exit with a round of applause, such was his contribution to this triumph over a primitive Bolton side which has no place in the top flight.

His stunning goal on the stroke of half-time – Liverpool's second of the afternoon, and according to Rafael Benitez, the most important – encapsulated his performance.

Steven Gerrard picked out the Spain striker's searing run with a delightfully weighted 40-yard pass. He burst beyond Bolton's defence before finishing with a delightful, dinked effort from an acute angle. Fantastic stuff.

As would any player with his vision, the Liverpool captain clearly enjoys playing alongside the club record signing. This was the kind of capture Gerrard – who netted his side's third from the spot and also had a hand in the other two – had demanded when he questioned the ambition of the Anfield outfit three years previously.

While Gerrard has forged an excellent understanding with countryman Peter Crouch, the Whiston-born playmaker has not enjoyed this kind of on-field relationship with a striker since the departure of Michael Owen.

Torres, however, offers much more than the Newcastle man. Like Owen, the former Atletico skipper's breathtaking pace enables him to create chances out of nothing, constantly forcing the opposition onto the back foot.

In one such moment, Torres collected a wayward pass from Ricardo Gardner on 34 minutes before bursting past his markers Abdoulaye Meite and Lubomir Michalik, only to fire across the face of goal from a difficult position.

Accompanied by an appetite for the grittier aspects of Premier League football, Liverpool are a completely different prospect with his inclusion – a force capable of challenging for the title.

While Torres's capture could prove to be the defining transfer of Benitez's reign, El Hadji Diouf represented everything that was wrong with the latter years of his predecessor's regime.

In an ineffective display brought to an end by Wanderers manager Gary Megson after just 66 minutes, Diouf reminded Anfield exactly what they were not missing, the sneering forward providing a stark contrast to the cheery persona of the current number nine.

Booed by the home fans throughout, he failed to stamp his mark on the contest, even if he did leave an imprint on the ankle of the excellent Alvaro Arbeloa with a disgusting lunge that should have earned the Senegalese a red card.

Also true to type, the Bolton forward at least provided the Anfield Road end with one moment of entertainment, when he fluffed an attempted trick as he made his way to the corner flag. His off-field flamboyance was never matched by similar exuberance on a pitch with which he was more acquainted to in a prone position.

Even his list of indiscretions, however, which include spitting at opposing fans, celebrating Marseille's UEFA Cup victory over Liverpool in 2003 and a pathetic penchant for diving, might perhaps have been overlooked by Liverpool's supporters had he possessed Torres's talent.
---
DECEMBER 3
Benitez: Reds can roll to title

TEAMtalk

Liverpool manager Rafael Benitez has revealed his confidence that the Reds can maintain a consistent challenge for the Premier League title.

The Reds boss is overseeing an impressive run of outstanding performances - five straight victories in all competition and 21 goals in that run - while his team maintain their unbeaten Premier League record.

Liverpool inflicted a 4-0 mauling on Lancashire rivals Bolton on Sunday and jumped above Manchester United in the table - at least until the champions face Fulham tonight.

Benitez is preparing for the busy December and January months and said: "We are playing well, we must see whether our rivals make mistakes. Then we will look at the situation again at the end of January before we start talking about titles."

Bolton, despite a brave first half display in which they should have been level had Nicolas Anelka scored a sitter, Liverpool won with goals from Sami Hyypia, Fernando Torres, Steven Gerrard and Ryan Babel.

"The team is playing well, we were not fantastic, but it was still a good performance," said Benitez.

"We scored four and it could have been more, you must be pleased with a performance like that.

"The last three years we were too far behind at this stage. Now we are closer, we have a better squad and confidence.

"We have confidence, we must keep going and see whether our rivals make any mistakes."

He added: "We have a lot of games now in December and January, we must keep everyone focused and concentrating. If we do not make mistakes then we will be closer.

"I have confidence for the second part of the season. We can improve, we have players doing well and improving.

"But we have five people injured now - Daniel Agger, Steve Finnan, Xabi Alonso, Jermaine Pennant and Fabio Aurelio.

"When we get all these players fit we can play better with more options and quality."
---
DECEMBER 2
Benitez praises team's performance

Evening Echo

Manager Rafael Benitez was happy to talk about his team's exploits rather than his own future for a change after Liverpool's 4-0 mauling of Bolton.

The victory took his side into third place in the Premier League, one point behind Chelsea with a match in hand.

Still unbeaten in the league this term, Liverpool have now won five on the trot and scored 21 goals in that spell.

After watching Sami Hyypia, Fernando Torres, Steven Gerrard and Ryan Babel grab the goals that finally deflated Bolton Benitez said:

"The team is playing well, we are making plenty of chances and scored four, but it could have been many more. I must be pleased with form like this.

"It is important for us to see the goals shared around, if one player can get 20 and nobody else scores, it is easier for teams to stop a team.

"But we are making it very difficult for our opponents now, we are in good form and I am very confident that we can maintain this in the second half of the season.

"But we can still improve, I believe that. We have quality, plenty of options and the opportunity to bring on fresh legs late in matches."
---
DECEMBER 2
Megson: No rash reactions

By Peter Fraser - Sky Sports

Bolton manager Gary Megson insists there will be no 'knee jerk reaction' to his side's 4-0 defeat to Liverpool.

"It was a bad day at the office for all concerned," Megson told Sky Sports News.

Poor performance
"There won't be a knee jerk reaction to what was a poor performance and obviously a poor result.

"We didn't get found out for lack of effort or desire. We made some poor decisions and it has happened on a stage where you are really going to get punished for those sorts of things.

"We'll be in on Monday. Pick ourselves up, dust ourselves off, lick our wounds and we'll be ready to go again on Thursday night and Sunday against Wigan."

Megson also refused to blame star striker Nicolas Anelka, who missed an open goal chance to equalise when the score
was 1-0.

Terrific
"It is one of them," Megson added. "The ball dropped to Nic and we all expected to see the net bulging, but that didn't happen.

"Certainly in my time at Bolton that is the first chance that I would have expected him to score and he hasn't, but he is still a terrific player and a terrific finisher.

"He'll go on from that and he won't dwell on it, we won't let him dwell on it. Even If that had gone in I'm not sure it would have affected the outcome."
---
DECEMBER 2
Rampant Reds crush Trotters

TEAMtalk

Liverpool maintained their unbeaten Premier League record and made it five successive wins as they crushed Bolton 4-0 at Anfield.

After demolishing Bolton, they have scored 21 goals in that five-game run to move into third place in the table, a point behind Chelsea with a game in hand.

In a week that has seen boss Rafael Benitez seemingly settle his public dispute with the club's American owners, his side have been in tip-top form.

Four goals against Porto, four against a dispirited Bolton has dispelled any lingering doubts about Benitez's side.

From Besiktas to Bolton over the past weeks there is now a list of people who have learned to their cost that if there is trouble in the corridors of power at Anfield, it ends when the players walk on to the pitch.

Goals from Sami Hyypia and Fernando Torres - his 11th in 17 games - had Liverpool in command at the break and a Steven Gerrard penalty sealed what was a comfortable victory before Ryan Babel tapped in the fourth.

Bolton had gone five games unbeaten under new boss Gary Megson, but despite a initially defiant display, they were eventually brushed aside.

Bolton made four changes from the side that produced their best display of the season in beating Manchester United last weekend. Jlloyd Samuel, Gary Speed, Gavin McCann and Lubomir Michalik all returned in a team that included two former Liverpool strikers, Nicolas Anelka and El-Hadji Diouf.

Bolton started with Kevin Davies, usually a striker, on the right of midfield, but moving in to support Anelka when the Trotters broke out.

And that ploy caused Liverpool more than a few problems.

Initially, Bolton were under pressure as Harry Kewell and Yossi Benayoun ran at their defence. Ricardo Gardner had to kick away from an open goal from Peter Crouch, and then Jussi Jaaskelainen needed to be alert to scoop away a Torres close range effort after Benayoun's run.

Bolton come into their own at set-pieces, and when a Diouf corner was flicked on by Abdoulaye Meite right in front of Jose Reina, the ball was hastily cleared.

Diouf was booked on 11 minutes for a nasty tackle into Alvaro Arbeloa's ankle with the ball long gone. And it was Liverpool who went ahead from a set-piece of their own.

Gerrard's 16th minute free-kick was flicked into the bottom corner by Hyypia.

Crouch, with a header over from Gerrard's corner and then Kewell with a snap shot that flew wide threatened to increase the lead, but generally Bolton were working very hard to stop Liverpool's build-up from the back.

Anelka and Diouf were always capable of causing problems for Liverpool's defence, while Campo, Speed and Gavin McCann battled to regain possession.

Torres saw a cross-shot go wide of the far post, but at the other end Davies got away into space on the right to fire in a fierce low shot that Arbeloa hooked away from a gaping net.

And on 38 minutes, Anelka should have equalised. Reina and Jamie Carragher collided on the edge of the box, and the ball ran for the Frenchman on the right of the six-yard box.

But somehow he managed to miss an open goal from 12 yards, putting his effort into the side netting. And Bolton were to regret that clanger.

A minute from the break, Torres eased Liverpool's tensions with a stunning goal. Gerrard's 35-yard, inch-perfect through ball, sent Torres into the box to clip his 12th goal of the season over Jaaskelainen.

Gerrard surged into the box and saw a fierce drive deflected by Jaaskelainen four minutes into the second-half, and a minute later Carragher was replaced by teenager Jack Hobbs, who made his league debut. Carragher had been hurt in that first-half collision with Reina.

But on 54 minutes Gerrard did beat Jaaskelainen, this time from the spot. Peter Crouch looked to be impeded by both Meite and Michalik as he went for a Gerrard cross.

Referee Steve Bennett pointed to the spot and Gerrard drilled the penalty home.

Reina saved from an Anelka snap-shot on 59 minutes but all hope had gone for the Trotters.

Campo was booked for a foul on Benayoun on the edge of the box and Torres almost scored again when he surged in from the right, beat three men and chipped the ball over the far angle.

Stelios Giannakopoulos replaced Diouf on 65 minutes, and a minute later Babel took over from Kewell for Liverpool.

Dirk Kuyt replaced Torres on 76 minutes, and the Dutchman helped Gerrard set up Babel for the fourth with six minutes left.

Meite headed a Babel effort off the line soon after as Bolton were reduced to praying for the final whistle.
---