---
OCTOBER 30
Hodgson: King Kenny and
I can take club forward

By Graham Chase - The Independent

So far it has been a story that might even test the brain of Milan Kundera, the Czech writer who Roy Hodgson espouses, but the Liverpool manager maintains that the club's fortunes are about to turn and the days of political struggling at Anfield are over.

They may have new owners but Liverpool remain in the relegation zone going in to today's game at Bolton and there is still much to be done for Hodgson, who has guided his team to only two wins in nine Premier League games so far.

Few managers in Hodgson's position would feel comfortable with Kenny Dalglish at the club (think Alan Shearer multiplied by Kevin Keegan in Newcastle terms), particularly as the Scot made it clear he was interested in the manager's job in the summer. But far from being threatened by Dalglish's presence, Hodgson even went to Wigan's 1-1 draw against Bolton with the Scot last week – Dalglish drove – and thinks the former player-manager is vital to taking the club forward.

Hodgson feels Dalglish, whose current role involves working with the academy and some scouting after returning to the club as an ambassador under Rafael Benitez last year, should be working at a level that is unaffected by the identity of the manager for as long as he wants.

"I'm not prepared to pass up on quality people who can help because of a fear the day may come when the club decides they want Kenny as manager," said Hodgson. "That wasn't the case in the summer, but that's not to say it won't be the case forever. I don't know. I have no fears in that respect because I know my qualities and I'm not a political person. He is doing a great job alongside us and we involve him in our scouting while he still works at the academy and plays an ambassadorial role. That's what he's good at.

"You cannot find a better person for that than Kenny. I told him I was disappointed he went for the manager's job because for me he should be working for Liverpool on a permanent basis, long after I leave for years to come assisting all future Liverpool managers. When it was mooted the club wanted me for the job I made it clear to Kenny I wantedhim on board and it wouldn't be like it was with Benitez where you are here in name but never allowed to set foot into Melwood and we don't want anything to do with you."

Attempting to keep Liverpool in their place today is the Bolton strikerKevin Davies, who was taken to Blackburn by Hodgson for £7.5 million in the summer of 1998, a spell that marked a low in both of their careers. Hodgson was sacked that November while Davies scored just once as Blackburn were relegated, before being sent back to Southampton. He struggled for regular starts at The Dell and even had a stint in the Championship with Millwall before joining Sam Allardyce's Bolton on a free transfer.

Davies, 33, who is now an England international, feels the spell at Ewood Park was pivotal in his career and Hodgson claims he would handle the situation differently.

"We were both very, very unlucky and circumstances contrived against us both. He wasn't a bad fellow but he couldn't get off to a decent start, we weren't doing well and I probably wasn't in a position mentally to give him the help he needed. I just expected him to just do it for me and I don't think I did enough for him," said Hodgson, who admits signing a striker is a major priority in January.

"For a while his career went in the wrong direction and it's great credit to himself and Sam Allardyce, who gave him his chance at Bolton. I met Kevin years later and he told me 'I needed a jolt'. He got the jolt, Sam gave him a chance and he decided he needed to get it right. He's gone from getting it right to excellent and I was delighted the other day when he got his England cap."

Although he would rather forget his time at Blackburn, Davies remembers his former manager fondly.

"He was brilliant, he is a top bloke and everyone knows that about him and his coaching was very hands on and he wants to be on the field coaching and he was passionate about that," Davies said.

"I try to forget about [the Blackburn experience] really. It wasn't the best part of my career but it's not something I dwell on or look back on. Roy has a wealth of experience and I'm sure he will use that experience to claw them out of it. They only need a couple of wins and they are back in the top eight or six so it is not a total disaster for them yet."
---
OCTOBER 29
Henry: Reds stars staying

Sky Sports

Liverpool co-owner John Henry insists he plans to strengthen the squad and not weaken it in January by selling their top stars.

Henry has described speculation linking Fernando Torres and Pepe Reina with moves away from Anfield as "destructive and unwarranted".

Reds boss Roy Hodgson has admitted he is planning to make new signings when the transfer window reopens in January and Henry has revealed they plan to improve the quality of the squad and not diminish it by selling the likes of Torres or Reina.

"We have recently read stories about our intentions for the forthcoming January transfer window and have a sense of humour about this type of inevitable speculation," Henry told the club's official website.

"As everyone knows we are new to English football, but not to sport, and we are studying all options. Opportunities and value will drive spending in January and in the future.

"Our clear focus from day one of our ownership has been - and will be - to improve the club and focus on what it will take to put Liverpool FC consistently in a position to challenge for trophies.

"We intend to build this club the right way.

"Stories about our top players leaving are destructive and unwarranted but we realise that this kind of speculation is also common.

"We intend to build on the strength of the current squad, not undermine it. And I can reassure our supporters that we have no intention of allowing the team to be weakened going forward."
---
OCTOBER 29
Roy outlines transfer plans

By Jimmy Rice - LFC Official Website

Roy Hodgson today revealed plans to improve his squad in the January transfer window - and insisted Liverpool can attract top stars.

The boss is hopeful of having money to spend following discussions with new owners NESV, but he is determined the Reds won't be held to ransom in the transfer market.

He explained: "If we want the right quality, we have got to be prepared to pay the right price.

"The owners know that perfectly well. We have got to make certain that if we go out and spend £20m, we are getting a £20m player.

"We want to be attracting the players that Barcelona, Real Madrid and Inter are chasing. It would be nice to think that we can shop at a high level.

"I'm like all managers in that I'm wary of the January transfer window. I think it can be dangerous as clubs try to correct mistakes.

"But, having said that, we are going to very interested in trying to improve our squad in January. There is no question about that. I am sure we will sign players."

Despite outlining his intent to dip into the market in two months' time, Hodgson's immediate concern is to guide those currently in his ranks up the Barclays Premier League table.

That way, he believes, there will be less pressure on any dealings carried out in the New Year.

"What I would hope to do is get this group of players playing well enough so we don't need to panic," said Hodgson.

"Then I can say to the owners, 'If we are going to spend a lot of money, let's get the right man.'

"I don't want to spend half the money that might be available on someone for the sake of buying when the player we actually want might not be available until the summer.

"The lucky thing is that we are rebuilding around several top-class players. We have got Reina, Carragher, Gerrard, Torres, Kuyt - it's not as if we are rebuilding from nothing."

The ownership of the club was resolved earlier this month when NESV completed their takeover.

Since then principal owner John Henry and chairman Thomas Werner have outlined their commitment to winning - but Hodgson knows being clever in his transfer dealings is just as important to that end as splashing the cash.

"I think you can pay an awful lot of money for poor players and you can pay not very much money for very good ones - it is all to do with how good your scouting and your eye is," he said.

"There are a lot of things here that the club has got to get right. We have got a lot more expensive failures on our list than good players that we have brought in for next to nothing.

"Free transfers don't necessarily mean that you have got a bargain. My experience of them has been very mixed. You need to be sure that the player you get can do the job you want from him."
---
OCTOBER 7
Roy's methods aren't working with Reds

Comment by Simon Wilkes - TEAMtalk

TEAMtalk's Simon Wilkes believes Roy Hodgson needs to drastically change his formation if he is to reverse Liverpool's dismal slump in form.

Liverpool's potential new owners New England Sports Ventures have reassured Roy Hodgson over his managerial future at Anfield, saying they feel he is "the right person to take this club forward" if their takeover goes through.

I'm happy to admit that I thought Hodgson was a fantastic appointment as Rafael Benitez's successor in the summer - and even went as far as tipping them for a top-four finish.

But now I'm not so sure.

Having watched Liverpool's disastrous start to the season under his tutelage, albeit only seven league games in, I just can't see how things will get better for the Reds under the former Fulham boss, who already has an embarrassing League Cup exit to Northampton and a humiliating home defeat by Blackpool on his record.

I can't shake the feeling that Hodgson is simply out of his depth at Anfield, with the glare of the constant spotlight on him overwhelming a man who now looks like he has the world on his shoulders.

The alarm bells started to ring a few weeks ago when Hodgson dropped into a press conference how many extra hours he was working in his new job.

You get the impression he was left to his own devices by Mohammed Al Fayed at Craven Cottage, and thrived on the freedom he had in west London.

But this is Liverpool Football Club - a club in crisis but still a club steeped in the grandest tradition and still one of the biggest in world football when it comes to history, silverware and fanbase.

I was never Benitez's biggest fan but there was never any doubt that he had red running through his veins while he was in charge on Merseyside, and he clearly worked around the clock, living and breathing Liverpool FC.

Benitez's meticulous approach to training and tactics seems to be something the players are only fully appreciating now that he's gone - and although Hodgson is desperate to stamp his own style on his new team, I just don't think the two are compatible.

"My methods have translated from Halmstads to Malmo to Orebro to Neuchatel Xamax to the Swiss national team," Hodgson has claimed in his defence, but that very list of clubs tells it's own story, with his methods perhaps not suited to the bigger clubs in world football, where world-class and World Cup-winning footballers are used to a much different approach.

Despite the distractions of the ongoing ownership and takeover wranglings since the summer, there's simply no way Liverpool should be in the relegation zone with the squad at Hodgson's disposal.

Many critics have pointed the finger at Benitez for the Reds' shortcomings, but although the squad as a whole needs greater depth, there is still a top-class starting XI there if the right players are picked.

Understandably Hodgson has transferred the formation and style that served Fulham so well last season from London to Merseyside - but Fernando Torres is not Bobby Zamora, so asking him to do a similar job in a lone striker role has been a key factor in the Spaniard's dip in form, body language and goals return.

Under Benitez, Torres had the likes of Steven Gerrard and Yossi Benayoun buzzing around him, pressing defenders, winning possession and providing ammunition for his predatory finishing skills in the attacking third.

Liverpool's midfield and attack has looked totally disjointed under Hodgson, with Torres' frustration at his lack of service visible to everyone.

The Reds boss needs to realise he has dropped a clanger in his recruitment of Christian Poulsen, and play the classy Raul Meireles in his best position - which is certainly not on the right wing.

I personally think Hodgson should take a look at the top of the table and mirror Chelsea's 4-3-3 formation, which has served them pretty well so far.

The Blues have a solid back four who are protected by a three-man midfield shield which could be provided by talismanic skipper Steven Gerrard in the centre, Meireles and the much-maligned Lucas Leiva (or Fabio Aurelio when fit for balance on the left of the trio). Jonjo Shelvey could even be an option alongside Gerrard and Meireles, while some Reds fans have called for Daniel Agger to be given a chance in a holding midfield role given Hodgson doesn't seem to want him in central defence.

This midfield trio would allow Glen Johnson the freedom to bomb forward in much the same way Ashley Cole does for the Blues, giving the Reds some much-needed width and delivery from the right flank which has been sorely missing so far.

With Lucas/Aurelio/Agger in the team, Gerrard could be the heartbeat pulling the strings from the middle of the pitch and the man tasked with linking midfield with an attacking trio of Joe Cole, Dirk Kuyt and Torres.

Chelsea play with Nicolas Anelka and Florent Malouda supporting star striker Didier Drogba, and although I'm not Kuyt's biggest fan, his workrate, passion and eye for goal put him way ahead of David Ngog and Ryan Babel, with Maxi Rodriguez another option for Kuyt's position if the Dutchman is unavailable.

This formation would give Torres plenty of company up top and allow him to harass defenders in a gang, rather than ploughing a lone furrow.

With so many teams starting to adopt this formation - one of which being Blackpool who rocked Roy's Reds last time out - Hodgson needs to realise his tried and tested methods are simply not working at Anfield.

Although Liverpool have previously tended to stand by their man, defeat to Everton in the upcoming Merseyside derby could make the call for Hodgson's head deafening, with Reds fans chanting the name of Kenny Dalglish in the humiliating defeat by Ian Holloway's Seasiders last weekend.

Hodgson insists he has not "lost any ability which has served me so well in 35 years of coaching" - and I'm sure he hasn't.

But his current methods are simply not working at the moment - and unless he accepts he may have to adapt his ways sooner rather than later, he may give Liverpool's hierarchy no other choice but to usher him towards the exit door.
---
OCTOBER 7
Hodgson delighted
with proposed takeover

Irish Times

Liverpool manager Roy Hodgson welcomed the club's potential new American takeover as a positive move and pleaded for patience from the fans as he tries to turn around problems on the pitch.

Liverpool accepted a €343 million offer from New England Sports Ventures (NESV), who also own the Boston Red Sox baseball team, although the deal is still subject to a legal challenge as well as approval from the Premier League.

"It's very positive and of course I'm delighted," Hodgson said. "It's been going on a long time and I know how hard the board have worked to set things up.

"I know it's not easy for them because the owners have other ideas in terms of the sale of the club and what is achievable. But I was delighted to hear the news and have it confirmed that it looks like it is going to go through."

While the board wrestles with the financial issues, Hodgson, who replaced Rafa Benitez this season, has to address the club's worst start for decades.

They are currently third-last in the standings with just six points from seven games having lost at home to Blackpool last weekend. They were also knocked out of the League Cup by Northampton and have made a limp start to their Europa League campaign.

"Unfortunately when you lose matches, especially games like Sunday that people don't expect you to lose, it colours everything," Hodgson said. "It comes on the back of a (League) Cup defeat, albeit with a second team, so that adds to the woe - but in actual fact not much has changed.

"We know what we've got to do, we know we need some new players, we know we need investment, and we know we are weak in certain areas of the team - these things have been the case since I arrived at the club and we haven't had chance to put things right.

"What I ask of the fans is their patience, their trust and their belief, because we will get it right - there are no doubts about that. The club will be in a pretty healthy situation in general terms if the sale goes through."
---
OCTOBER 7
Reds reassure Roy

By Chris Burton - Sky Sports

Roy Hodgson has been assured that his job his safe, as the proposed takeover of Liverpool gathers pace.

The experienced coach took the Anfield hot-seat over the summer in the knowledge that the club could fall under new ownership during his tenure.

It appears as though the Reds are now closing on such a deal, with the owners of the Boston Red Sox baseball team seeing a £300million bid accepted.

There are still a number of issues to resolve before an agreement can be pushed through, as current owners George Gillett and Tom Hicks dig in their heels, but the Liverpool board are confident a takeover will be completed.

Such an event cannot come soon enough for the faltering Reds, with off-field shenanigans proving to be an unwelcome distraction.

A torrid opening to the 2010/11 campaign has left them languishing in the Premier League relegation zone, with their dreams of returning to the top four lying in tatters.

Pressure
The slow start has seen pressure mount on Hodgson, just a few months into his reign on Merseyside.

He has, however, been informed by club chairman Martin Broughton that the prospective new owners still regard him as the ideal candidate to lead the side into an exciting new future.

"They are very happy that this manager is the right person to take this club forward," said Broughton.

"They talk enthusiastically about winning and investing in the team, stadium development and doing all the right things.

"I think they are going to be pretty hands-on and they have a track record of that."
---
SEPTEMBER 12
Hodgson issues title warning

Sky Sports

Liverpool boss Roy Hodgson admits that the club will need new owners before they can challenge for the Premier League title again.

Hodgson thinks his squad can compete, but to get to the level of the likes of Chelsea and Manchester United he feels changes have to be made.

The Anfield club are on the market and American owners Tom Hicks and George Gillett are anxious to push through a sale.

Hodgson is hoping that things in the boardroom will soon be finalised.

"I think we will have a decent season, but whether we are really able to get our act together and take the next big step forward? That might depend on the ownership issue," he said.

"The problems with the ownership are well documented and I can't wave a magic wand and make them go away. I certainly can't fool the public who live their lives through the club.

"What I would like to see is what everyone at Liverpool would like to see - a solution to the ownership problem; that Martin Broughton finds an owner acceptable to the rest of the board, with the right intentions and who will, first and foremost, build a new stadium that increases the capacity.

"That's for people who understand finance and I congratulate them for shielding us from those problems.

"One hopes, as everyone at Liverpool hopes, this matter will be resolved sooner rather than later. It puzzles me no-one has bought the club yet, but there are obviously complications.

"Of course, the club needs new ownership. We're not alone in that, but we're probably the most high-profile club in the world in that situation.

"We want to make this club have a better season. That has to be the first objective, to do a bit better and then build a platform for future greatness."
---
SEPTEMBER 9
Roy pleased with transfers

By Al Campbell - LFC Online

Roy Hodgson is happy with his dealings in the transfer market this Summer.

The boss has declared himself happy with the comings and goings in his first transfer window as Liverpool manager.

"It was important to sign a quality midfielder when we lost Javier [Mascherano]. We had half prepared for his departure by jumping in to sign Christian Poulsen when he became available, but it was important for us to keep strong in that area," said Hodgson.

"We loaned out Alberto Aquilani and so we are pleased to have been able to bring in [Raul] Meireles. He is experienced in the Champions League, in international football and has had proven success at Porto. He is an all-round midfielder who is capable of playing in all three of the central midfield positions.

"He has a pedigree which we researched, followed and studied. I followed him at my previous club so it was good when I heard he could be available and that we could do the business quickly.

"He has played a lot of international football so settling into the English game won't be a major problem. Our public are sensible people and they realise that having played all of his career in Portugal, it may take a bit of time. We have that time. He will adjust, but whether it's from the first moment we'll have to wait and see.

"It was difficult [signing Paul Konchesky] because Fulham were anxious to keep him and were against letting him go. Our good fortune was he was in the last year of his contract and he made it clear that if they didn't let him go he wouldn't sign a new contract. That was useful for us because otherwise it would have been very difficult to get him.

"There aren't many quality left-backs around in the world, never mind in England - so to find an English one who can go straight into the team without any adjustment problems is a big advantage.

"He is a player I know, a player I have worked with and he knows the way we try to play and the things we try to do. That's another little advantage, but the main reason for bringing him here is because we think he's a good player and he's the right man for the job.

"We should be very happy [with the squad now]. A lot of hard work has gone in and you have to mention Christian Purslow and Eduardo Macia, who both worked really hard during the transfer window to do the deals I wanted to happen but also to do deals for quite a few players to leave the club.

"We were unbelievably overstaffed when I came to the club and, if the truth be known, we still are overstaffed. It was just as big a job making sure some of the players who never feature for the first team move on and that we limit our squad to players who are either in the frame to play first-team football or who have a bright future who are still anxious to play academy and reserve team football.

"We don't want that middle group who are too old for reserve football but are not serving any purpose for the first team because they never feature."
---
SEPTEMBER 6
Carra hails Roy revolution

By Razwan Mirza - Sky Sports

Liverpool defender Jamie Carragher has hailed the summer signings by manager Roy Hodgson.

The Reds defender feels Hodgson has done well to bring some big names to the club despite the financial restrictions he has had to work under.

The new Anfield boss brought in Paul Konchesky from Fulham and Porto's Raul Meireles before transfer deadline day to supplement the arrivals of Joe Cole, goalkeeper Brad Jones, Milan Jovanovic, Christian Poulsen, Danny Wilson and the re-signing of Fabio Aurelio.

And, the 32-year-old centre-back believes that despite the sale of Javier Mascherano to Barcelona he did a good job of persuading Fernando Torres and Steven Gerrard to remain at the club.

Of the rest of his squad Hodgson sold Albert Riera to Panathinaikos, goalkeeper Diego Cavalieri to Cesena and sent Emiliano Insua and Alberto Aquilani out on season-long loans.

Carragher believes that represents a decent result considering there was not a lot of money available.

"I think he has done very well but time will tell. You have to judge signings after Christmas - good or bad," said Carragher.

"We've started quite nicely and hopefully the couple of players we have brought in (late on) will help.

"Everyone realised we needed a left-back so Konchesky came in and Raul Meireles coming in is something we can all look forward to.

"Maybe he can replace the Xabi Alonso/Aquilani-type of player so I think it is looking okay."
---
SEPTEMBER 6
Hodgson seeks investment

By Razwan Mirza - Sky Sports

Roy Hodgson admits that he would like Liverpool's next owners to be prepared to invest in the club.

Hodgson claims that his task is to keep the squad together until the situation regarding the ownership of the club is eventually resolved.

The former Fulham boss took over from Rafa Benitez in July and was immediately forced to sell Javier Mascherano to Barcelona.

The 63-year-old says his main aim has been to avoid having to rebuild the playing squad completely.

Hodgson told the LMA's magazine The Manager: "The club is up for sale and nobody knows what direction it will take if and when new owners are found.

"A few years ago when the situation was far more stable, the money to buy new players was available.

"I hope the situation will change when the club is eventually sold and owners who are prepared to invest in the club come in.

"When that situation arises I'm pretty sure that it won't be difficult for us to start achieving things again but at the moment the task is really to hang on to the players we've got and make certain we don't have a situation where we have got a total rebuilding process."

The Anfield giants have failed to see a proper bid for the club materialise despite intense activity over the summer but Hodgson insists that Liverpool can still achieve success this season with the backing of the club's supporters.

"The stature, traditions and ability of Liverpool to attract players certainly makes it an achievable task even though we are in strange times," he said.

"You should never try and dampen people's enthusiasm and optimism.

"Furthermore every season we see teams not expected to win titles winning them.

"It doesn't always go to the favourite in any country.

"So we should never play down the Liverpool fans' incredible desire and passion to keep winning trophies - and the Barclays Premier League in particular - and keep their noses in front of Manchester United."
---
SEPTEMBER 1
Reds name league squad

By Paul Eaton - LFC Official Website

Liverpool Football Club has submitted its 21-man squad to the Premier League, in accordance with new rules which have come into force today.

For the 2010-11 season, top-flight clubs must register a squad of up to 25 players for league games, which must include at least eight 'home grown' players and no more than 17 'non home grown' players.

Home grown players are defined as those who irrespective of nationality or age, have been affiliated to the FA or Welsh FA for a period of three seasons or 36 months prior to their 21st birthday.

This is the squad Liverpool have submitted today:

Home grown players
Jamie Carragher
Joe Cole
Stephen Darby
Steven Gerrard
Glen Johnson
Brad Jones
Paul Konchesky
Jay Spearing

Non home grown players:
Daniel Agger
Fabio Aurelio
Ryan Babel
Milan Jovanovic
Dirk Kuyt
Sotirios Kyrgiakos
Lucas Leiva
Raul Meireles
Christian Poulsen
Pepe Reina
Maxi Rodriguez
Martin Skrtel
Fernando Torres

Clubs can supplement their squads with an unlimited amount of players under the age of 21, meaning Roy Hodgson will also be able to call on the services of Peter Gulacsi, Martin Kelly, Daniel Wilson, Jonjo Shelvey, Daniel Pacheco, Nathan Eccleston and David Ngog for Barclays Premier League games this season.

This squad list applies to Barclays Premier League games only.
---
AUGUST 31
Insua moves to Galatasaray

Sky Sports

Liverpool defender Emiliano Insua has joined Galatasaray on a season-long loan deal, the Turkish club have announced.

The Premier League Reds have also offered their counterparts the option to buy the Argentine left-back on a permanent basis at the end of the temporary agreement.

Insua earned excellent reviews when he first emerged in the first team of former boss Rafa Benitez after arriving from Boca Juniors in 2007, but he received a vast amount of criticism for his displays in 2009/10.

As a result the 21-year-old does not feature in the plans of Roy Hodgson, who signed ex-Fulham colleague Paul Konchesky earlier on transfer deadline day.

Insua was close to joining Fiorentina earlier in the summer, but the Serie A side were not prepared to meet personal terms and the deal failed to materialise.

Liverpool also re-signed Fabio Aurelio after the appointment of Hodgson to leave Insua's prospects at Anfield looking increasingly bleak.

He has made 44 appearances for Liverpool and scored his only goal in the League Cup against Arsenal last season.

Having been a regular at youth levels, Insua has two senior Argentina caps, both coming in World Cup qualifiers.
---
AUGUST 31
Paul Konchesky: In profile

By James Carroll - LFC Official Website

One of the most experienced left-backs in the Barclays Premier League, Paul Konchesky has reunited with boss Roy Hodgson after signing for Liverpool.

After cutting his teeth at non-league club Senrab FC - where the likes of John Terry and Ledley King also started out - Konchesky joined Charlton Athletic in 1997.

The Barking-born defender quickly became the Addicks' youngest-ever player aged just 16 years and 93 days - a record somewhat ironically not surpassed until Jonjo Shelvey's emergence at the Valley.

Konchesky was utilised sporadically until the 2000-01 season, when he nailed down a regular first-team place and established himself as one of the most promising young defenders in the country.

After notching up a handful of appearances for England U21s, his consistency was rewarded with a first full cap for the Three Lions against Australia in early 2003.

A brief loan spell at Tottenham Hotspur came next before he secured a move to boyhood club West Ham United in the summer of 2005.

Konchesky enjoyed a promising maiden term at Upton Park, winning a second England cap and becoming a mainstay of the Hammers first team as they clinched a ninth-place finish as well as reaching the FA Cup final.

Though Liverpool dashed his dreams of silverware that afternoon in Cardiff, the defender did find the back of the net at the Millennium Stadium when his attempted cross deceived Pepe Reina and found the back of the net.

The Reds' Spanish custodian had the last laugh, however, and thwarted Konchesky in the penalty shootout to ensure the FA Cup headed for Merseyside.

A disappointing second season at West Ham followed, prompting a switch to fellow Londoners Fulham ahead of 2007-08.

Konchesky quickly set about becoming a key component of the Cottagers - and the arrival of Hodgson at Craven Cottage at Christmas 2007 helped elevate his game to the next level.

A blockbusting effort against former club West Ham clinched Fulham's Goal of the Season award in 2008-09 and Konchesky remained Hodgson's first-choice left-back as they reached the Europa League final against all odds in May 2010, seeing off the likes of Juventus and Hamburg en route.
---
AUGUST 31
Hodgson gets his
hands on Konchesky

TEAMtalk

Left-back Paul Konchesky has been reunited with former manager Roy Hodgson after finally completing his move to Liverpool from Fulham.

The 29-year-old has signed a four-year contract at Anfield, with Reds reserve-team players Lauri Dalla Valle and Alex Kacaniklic moving in the opposite direction as part of the deal.

Konchesky was at Anfield to watch his new team's victory over West Brom on Sunday but the completion of his deal was held up by negotiations and medicals for Dalla Valle and Kacaniklic.

The two-cap former England international, who played under Hodgson at Fulham, will provide much-needed competition for Fabio Aurelio at left-back and is likely to be first-choice in that position.
---
AUGUST 29
Raul: LFC move is a dream

By Steve Hunter - LFC Official Website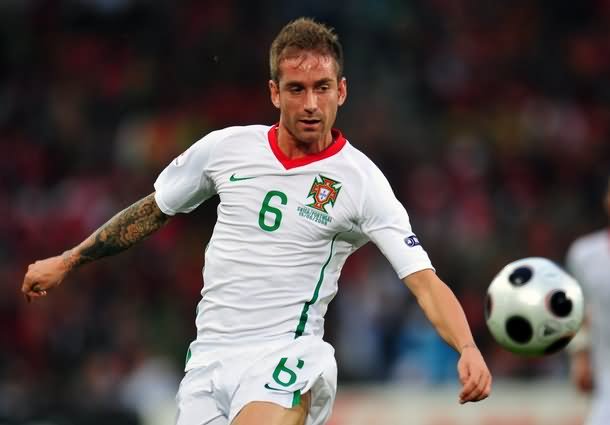 New signing Raul Meireles has spoken of his desire to repay the faith shown in him by Roy Hodgson and help Liverpool get back to the top.

The 27-year-old midfielder has won four titles with Porto and been capped 38 times by Portugal, including in all four of his country's games in this summer's World Cup.

He is determined to show his qualities and be a big success in front of the Kop.

"Liverpool are an historic club and I am happy for the move," said Meireles.

"Roy Hodgson was key because he worked so hard to get me.

"I hope the fans will one day remember me for my success at Liverpool. It has been a long time coming but finally I have achieved my dream of playing in England."
---
AUGUST 28
Meireles transfer complete

By Darren Phillips - Shankly Gates

Liverpool have completed the €14 million transfer of Raul Meireles and confirmed the agreement of a four year contract with the 27-year-old.

His omission from Porto's Europa League squad for the play-off round fuelled speculation that he would be signing for Manchester United, but, with a portion of the cash raised from Javier Mascherano's impending sale to Barcelona Roy Hodgson moved quickly to reinforce his midfield.

Miereles is expected to come straight into the Liverpool squad following the scheduled international break.

Despite rumours if homesickness Dani Pacheco is set to sign a two extension to his contract.
---
AUGUST 27
Hodgson takes
parting shot at Masch

TEAMtalk

Midfielder Javier Mascherano headed to Barcelona from Liverpool on Friday with manager Roy Hodgson criticising his selfish attitude.

The Argentina captain's long-awaited transfer to the Spanish club is expected to be completed in the next 24 hours after the Reds accepted a suitable bid, having rejected a £16million offer last weekend.

When news of that approach reached the 26-year-old he backed out of playing in the Barclays Premier League defeat to Manchester City at Eastlands on Monday.

That severely disrupted Hodgson's plans and he hit out at the player's unprofessionalism.

"It is not easy for me to defend the actions (of Mascherano) because professionals are paid to play and when they are called on to play, they play," he said.

"We had a player at Blackburn, Graeme Le Saux, who was very agitated when I joined the club because he was determined to go to Chelsea and that caused a lot of problems in pre-season.

"Tim Sherwood was wanted by Tottenham and that caused a lot of problems because he wanted to get back to London.

"These situations do occur unfortunately and we have to live with it.

"I don't think they (the players) mean it as a challenge to your authority or a challenge to the club's authority.

"It is just a selfish situation that they have got something they want to do and they just expect the club, and therefore you as one of the leaders of the club, to bow down and accept that they are going to do it.

"Unfortunately there are going to be periods of time when there will be some unpleasantness because players must also understand that when you sign contracts you sign contracts to play.

"If the club decide they are going to accept an offer for you and let you go that is one thing, but you run the risk the club might say 'I'm sorry, you've got the contract and we aren't selling you so you are staying'.

"It doesn't bother me as a challenge to my authority it is just a fact of life.

"But it is a fact of life which gets exacerbated in a one-month period in January and between July and August when it is a time of year when a lot of people are trying to do their business."

Mascherano has agreed a four-year, £85,000-a-week contract and Barcelona expect him to undergo a medical in the next 24 hours.

"FC Barcelona and Liverpool FC have reached an agreement in principle to the transfer of Javier Mascherano for the next four seasons," a statement from the Catalan club said this morning.

"The deal was closed after the intensive efforts made by the club in the last few hours and through the provision of the player himself engaged in the negotiation."

Hodgson has spent most of his time since taking over on July 1 talking about players who are leaving or reported to be leaving, the latest being Dirk Kuyt on Wednesday.

The Englishman dismissed that prospect out of hand despite Kuyt's agent claiming he wanted to move to Inter Milan and the player himself pledged his commitment to the club after last night's 2-1 Europa League play-off victory over Trabzonspor.

"We have to be forgiven for getting irritated by agents stirring things up even more," said the 62-year-old, who has mixed feelings about the imminent closure of the transfer window as it will stop speculation about his players but leaves him little time to buy reinforcements.

"It is bad enough if there is a genuine offer and a genuine problem to solve but it is even worse when you are constantly batting away things you shouldn't even be talking about.

"When the window closes then every press conference is about football and football matters rather than 'X's agent is saying this and is there any truth in it?' and you are trying to diplomatically answer the question without offending too many people."

The departure of Mascherano leaves Hodgson little time to bring in reinforcements but he is optimistic he can add players before the transfer window closes.

A deal is close for Fulham left-back Paul Konchesky but Hodgson also needs reinforcements up front to give Fernando Torres some back-up.

"We still need to improve our squad and we haven't much time to do that," said the Reds boss.

"I am hoping that in the short period left in the transfer window we still have the chance to add at least a couple of players in the squad to at least replace the ones who are no longer with us.

"With Mascherano going we are losing a lot of player and not bringing any in so it is not good in that respect."
---
AUGUST 27
Barca to sign
Mascherano for £17.25m

BBC Sport Online

Liverpool have sold midfielder Javier Mascherano to Barcelona for about £17.25m, BBC Sport understands.

The deal is subject to the 26-year-old Argentina captain passing a medical with the Catalan giants.

Barcelona confirmed on their website: "The clubs have reached an agreement in principle for the transfer of Mascherano for the next four seasons."

"Barcelona will report the details once the player passes the medical and the transfer is concluded."

And the Barca statement continued: "The deal was closed after intensive efforts made by the club in the final hours and through the player himself in the negotiations.

"It is hoped Javier Mascherano will arrive in Barcelona this weekend."

Liverpool had been keen to recoup the £18m they paid for former River Plate midfielder Mascherano when he arrived from West Ham.

The Anfield outfit had rejected an initial bid of £16m from Barcelona seven days ago but he subsequently missed Monday's defeat by Manchester City and Thursday's trip to Trabzonspor, where Liverpool secured a place in the group stages of the Europa League with a 3-1 aggregate win.

Mascherano joined Liverpool from West Ham in 2007, initially on a loan deal that was turned into a four-year contract in 2008.

Barcelona failed in an attempt to lure him to Spain last summer but on his return from the World Cup in July, Mascherano made it clear he wanted to leave Anfield, saying his wife could not settle in England.

Since taking charge of Liverpool in July, manager Roy Hodgson had been eager to end the uncertainty surrounding Mascherano's future.

"I am seriously hoping that in the next couple of days it will be sorted out one way or another," stated Hodgson on Thursday. "Although I have no idea which way that will be."

Liverpool have also received a bid for Mascherano from Inter Milan, now coached by Hodgson's Reds predecessor Rafael Benitez.

But former Fulham boss Hodgson dismissed the offer from the Italian side saying: "We received a fax about Mascherano [from Inter], but it was a joke fax."
---
AUGUST 25
Hodgson vents his anger
at Benitez over Kuyt

ESPN Soccernet

Liverpool manager Roy Hodgson's anger at Inter Milan's interest in Dirk Kuyt has led to him claiming that ex-Reds boss Rafael Benitez would be reneging on an agreement not to raid Anfield for former players.

Hodgson continues to deny any knowledge of Kuyt wanting to leave despite suggestions by his agent that talks between the two clubs are continuing.

"Dirk has not expressed that sentiment to me," said Hodgson, who insisted the assurances he had received from Inter president Massimo Moratti last week that the Italians were not intending to buy any Liverpool players still held firm.

"When he left the club Rafael Benitez signed an agreement that he would not poach players from Liverpool. We haven't received an offer from any club so this is something obviously going on behind the scenes, with the agent possibly talking to the manager of Inter Milan.

"We don't welcome any offers, we haven't received an offer and at this late stage of the transfer window it would be remarkably unusual for us to accept an offer for a player we don't want to leave for money we don't need.

"I would suggest, with respect, if his agent had a serious plan to move him to the club he should have been working during the last four to five weeks and not the last few days. It is highly unlikely we could receive any offer from another club which we could seriously entertain."

Kuyt's agent Rob Jansen had claimed in the Dutch press that negotiations were on-going.

"The two clubs continue to talk, but things are moving slowly," he said. "The difference between demand and offer is important.

"It is something between the clubs but Dirk told Liverpool he no longer wants to be involved as this is something that regards his career and life. It doesn't mean he wants to leave at all costs, but when a club like Inter comes along it's normal to look into the situation further."

The future of Javier Mascherano is no nearer being resolved with the midfielder again left out of the squad after Barcelona's £16million bid was rejected.

But Hodgson said he hoped there would be a conclusion one way or the other in the next few days and did not rule out selecting the Argentina captain for Sunday's Premier League match at home to West Brom.

"Tomorrow night was out of the question but Sunday is very much a question because I think by then I should know one way or another whether he is going to play for Liverpool this season or Barcelona."

During his press conference ahead of Thursday's Europa League qualifier with Trabzanspor, Hodgson confirmed that the club had held talks with his former side Fulham over left-back Paul Konchesky.
---
AUGUST 25
Hodgson sets Masch deadline

By Elliot Ball - Sky Sports

Liverpool manager Roy Hodgson has given Barcelona until Sunday to sign midfielder Javier Mascherano.

The Reds have already rejected a £16million offer from the Spanish giants for their midfield enforcer after insisting they are under no financial pressure to accept a substantial bid for the 26-year-old.

Hodgson is keen to have Mascherano's future resolved though after he was left out of Monday's 3-0 defeat to Manchester City, with the Reds boss citing the player was not in the right frame of mind for the Premier League fixture.

The former River Plate, Corinthians and West Ham performer, who will also miss Liverpool's Europa League second-leg tie with Trabzonspor on Thursday, is said to be desperate for a move to Spain after his family have grown unhappy with life in England.

But a move to the Camp Nou hangs in the balance after Hodgson gave his Barca counterpart Pep Guardiola an ultimatum of Sunday evening to come up with the Reds' £25million valuation for the Argentina captain.

"I wouldn't want to say he has played his last game for Liverpool," said the Liverpool manager.

"The negotiations are ongoing between the two clubs and if he had played here it might have prejudiced the transfer and I didn't wish to do that to the player.

"I am seriously hoping that in the next couple of days it will be sorted out one way or another - although I have no idea which way that will be.

"Tomorrow night was out of the question but Sunday is very much a question because I think by then I should know one way or another whether he is going to play for Liverpool this season or Barcelona."
---
AUGUST 24
Mascherano Barca deal
heading towards conclusion

By Harry Harris - ESPN Soccernet

Javier Mascherano's proposed move to Barcelona is edging closer, with both clubs moving towards a compromise on their respective valuations of the player.

The Catalan giants have now gone public on their interest, and the midfielder has openly expressed his desire to leave Anfield.

It has been reported that an initial bid of £12 million, plus Alexander Hleb, was dismissed out of hand by Liverpool, but Soccernet understands that the first bid was closer to £18 million - though that figure was still some way off Liverpool's £25 million valuation.

A source close to the deal told Soccernet: "Barcelona have offered 22 million euros, and Liverpool have put a price on the player of 30million euros. I believe the magic number is 28 million euros.

"Liverpool surely cannot say no to that figure, and now it's a question of how close to that mark Barcelona are prepared to move, as they know they have to increase their offer."

Through third parties, it is being suggested that Mascherano has already accepted a huge pay rise to move to the Nou Camp, with his £30,000-a-week wages at Anfield leaping to £85,000 a week in Spain.

But it is not simply a question of Mascherano's personal finances, as personal reasons drive his desire to leave England. Liverpool, meanwhile, want to fully realise the economic benefits of the Argentina captain moving on.

"It is now well established that the club are willing to sell him, and actually want to sell him, and the player wants to go because of personal reasons," Soccernet's source explains.

"Javier loves the club, and appreciates that Liverpool bought him for £20 million when he was sitting on the bench at West Ham. He has no problems with the club and in fact, contrary to the impression being given, he has no problem with the new manager. "He likes Hodgson. Hodgson would like the player to stay as he doesn't have a replacement, but the only solution is for the Barcelona deal to go through as quickly as possible. There is no knowing if Javier will play if asked to do so at the weekend.

"Roy Hodgson has been unbelievable in the way he has dealt with this situation. The player is deeply upset that his move to Barcelona has been put in jeopardy by the price being quoted for him, and that he was in no mood to play under the circumstances. The manager has said that under those circumstances it would have been pointless picking him in any case.

"Everyone accepts that it is not the way to go about it, refusing to play, but Javier is adamant he doesn't want to play again for Liverpool and wants to go to Barcelona because of his family."

Mascherano reported for training on Tuesday morning, after Hodgson admitted he had no idea of the player's whereabouts, ahead of Liverpool's 3-0 defeat to Manchester City at Eastlands.
---
AUGUST 16
Reds agree Jones fee

LFC Official Website

Liverpool have confirmed a £2.3m fee has been agreed with Middlesbrough for the transfer of Australian international goalkeeper Brad Jones.

The 28-year-old stopper passed a medical on Monday afternoon and has agreed personal terms. He is expected to complete the paperwork on a three-year contract on Tuesday.

The Australia international spent the early part of his career as understudy to Mark Schwarzer, before battling it out with Ross Turnbull to become first-choice at the Riverside at the start of the 2008-09 season.

During his time in the North-East he picked up a League Cup winner's medal and was between the sticks for the club's famous UEFA Cup semi-final victory over Steaua Bucharest back in 2006.

He has since won two caps for Australia and was named in their 2010 World Cup squad.
---
AUGUST 12
Poulsen: I have plenty to prove

TEAMtalk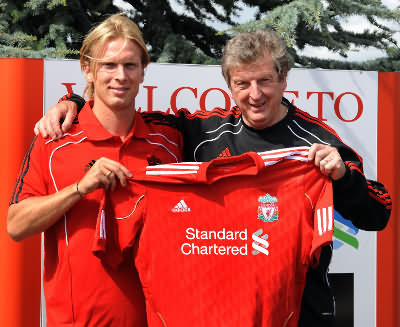 New Liverpool midfielder Christian Poulsen says he has plenty to prove after his move from Juventus despite being an experienced international.

Hodgson with his latest signing - Christian Poulsen. (Photo: LFC Transfer Speculations)

The 30-year-old has won 77 caps for Denmark and has been a mainstay in Europe's top leagues for the last eight years, having featured for Schalke in the Bundesliga, Sevilla in La Liga before moving on to Italy's Serie A with his former employers.

He has even played under Reds boss Roy Hodgson before, when the Englishman signed him prior to FC Copenhagen's title-winning season of 2000/1.

However, that does not mean the combative midfielder will rest on his laurels - especially as some fans will need some convincing he can plug the gap expected to be left by wantaway Argentina captain Javier Mascherano.

"With this move here I have a lot to prove," said the veteran of two World Cups, who has signed a three-year contract after joining for an initial fee of £4.5million with another £1million payable on certain conditions.

"If you come to a club like Liverpool, you have to deliver.

"I will hopefully show I can be a good player for Liverpool."

Poulsen is eager to rekindle his good working relationship with Hodgson, having previously enjoyed success under the Englishman - albeit it in the slightly lower-profile Danish Superliga.

"I had two good years with him so I hope to carry that on, and hopefully he'll be satisfied with my qualities," said Denmark's player of the year in 2006 and 2007.

"He's a manager who's been all over the world and has a lot of experience, so of course I have a lot of respect for him.

"Roy didn't have to say that much because Liverpool is known all around the world, and for people in Denmark, Liverpool are the biggest club in England."

Poulsen trained with his new team-mates soon after completing his move but Sunday's Barclays Premier League opener at home to Arsenal may come too soon for him.

Hodgson has previously suggested should Mascherano still be at the club - and no suitable bids have been received - by this weekend then he would be in contention to face the Gunners.

That may mean Poulsen has to wait for his debut, although he stressed that despite returning to training late because of World Cup involvement he is ready when called upon.

"I started a little bit later because of the World Cup but I've done pre-season with Juventus," he said.

"I didn't play the last matches in the Europa League because of the move to this club.

"I am feeling fit but of course it's a decision for the manager and the staff."

Poulsen has earned something of an abrasive reputation but he insists there is more to his game than just being a midfield destroyer.

"I like also to play technical football. I see myself as a player who tries to play football but I can also make a tackle," he explained.

Hodgson is still hoping to bolster his squad further but claims a fee had been agreed for Middlesbrough goalkeeper Brad Jones, for whom Liverpool had a £2million bid turned down last week, have been dismissed by the Teessiders.
---
AUGUST 12
Christian Poulsen joins
Liverpool from Juventus

BBC Sport Online

Liverpool have signed Denmark international Christian Poulsen on a three-year contract from Italian club Juventus for an initial fee of £4.5m.

The defensive midfielder, 30, has been earmarked by manager Roy Hodgson as a potential replacement for Javier Mascherano, who wants to leave Anfield.

Poulsen joins new signings Joe Cole, Milan Jovanovic, Jonjo Shelvey and Danny Wilson at the club this summer.

He knows Hodgson, having joined FC Copenhagen when he was boss in 2000.

Poulsen, who has also played for Schalke and Sevilla, has 77 Denmark caps.

Argentina captain Mascherano asked Hodgson for a transfer on the day he returned to pre-season training after an extended break following the World Cup.

Mascherano refused to discuss his future when asked after playing in Argentina's friendly against the Republic of Ireland in Dublin on Wednesday.

"I will not talk about that - I am still a Liverpool player but I can't say any more," said Mascherano.

The 26-year-old is keen to be reunited with former Reds boss Rafael Benitez at Inter Milan, although the Serie A club appear unwilling to meet Liverpool's valuation of him.

Macherano said he would return to Liverpool on Thursday and attend training.

Regarding any further fee, a statement on the Juve website said: "The consideration for the disposal may increase by a further maximum of 1.2m euros (£1m) on achieving given sports performances in the course of the duration of the contract."
---
AUGUST 11
Carra ready to fight for place

By Elliot Ball - Sky Sports

Jamie Carragher is ready to fight tooth and nail to maintain his status in the heart of Liverpool's defence.

The Reds stalwart has been an integral member of the Anfield backline but the 32-year-old suffered one of his poorest seasons on Merseyside last term.

Mirroring the club's early problems, Carragher looked a shadow of his former self until the Bootle-born performer rediscovered the form which has made him one of the most consistent defenders of his generation at the back end of the campaign.

But with the arrival of new manager Roy Hodgson after Rafa Benitez's departure, the former England international expects to have to prove himself all over again when the new season kicks off.

Point to prove
"You never know what might happen," said Carragher, who will be vying with Daniel Agger, Martin Skrtel and Danny Wilson for a centre-back starting berth.

"Last year after a few games, the whole world had written me off and said I was finished.

"But in the second half of the season, along with Javier Mascherano and Pepe (Reina), I was probably one of the most consistent players and when you look at how the defence played, we managed to keep 18 clean sheets.

"That's gone now and you have to do it all again. There is going to be a challenge and it has always been the case that players will want to take your place but you just have to be ready for the challenge.

"I played every week for Rafa for six years but I've got to prove myself again. Even if Rafa had still been here that would have been the case.

"There will be a time when I don't play 50 games a season but I've no intention of it happening this year."

Expectations
Although everyone at Anfield is keen to forget last season, when the club suffered early exits from the UEFA Champions League and FA Cup and slipped to their worst Premier League finish in over a decade, Carragher believes they must learn important lessons.

"You have got to remember that right until the end, we were still in with a chance of getting into the top four," added the vice-captain, whose team eventually finished seventh.

"I know people are writing us off and saying we have got no chance but I've no doubt that we will improve.

"We are not the type of club that says we are going to do this or that but now is the time for everyone to come together again and show that we can leave last year's form well behind.

"There will be new ideas, different voices on the training ground and all that helps.

"There is one thing that will never change: Liverpool will always be expected to do well and the pressure for us to be successful is just as intense as it was all those years ago; it might even be more.

"It will be like that for years to come."
---
AUGUST 10
Hodgson: Player fitness is key

By Carl Markham - Press Association Sport

Liverpool manager Roy Hodgson has pin-pointed the key to success this season - and it simply involves keeping his star players fit.

Pivotal among them will be striker Fernando Torres, who in three seasons with the Reds has yet to get through an entire campaign injury-free.

Last season was the Spain international's worst to date on Merseyside as he struggled with a groin problem before Christmas and then, afterwards, underwent two knee operations in four months, the second of which prematurely ended his domestic involvement.

Other players missed sections of last season with captain Steven Gerrard, defenders Daniel Agger, Martin Skrtel and Fabio Aurelio and the now-departed Yossi Benayoun affected.

It is something Hodgson knows he has little control over but he hopes, with the medical staff having had an overhaul during the summer with a new head of sports science in Dr Peter Brukner, that overall fitness will generally improve and contribute to more success on the pitch.

"It's to do with the quality of the sports science and medical department," said the 62-year-old.

"Ours is very, very good, so I am sure that will be an enormous benefit.

"The other thing is how big a squad you've got to enable players to be rested when they need it, and to ensure they're not being thrown into situations all the time where really and truly they'd have been better off having a rest.

"If we are to proceed in the Europa League (Liverpool face Trabzonspor in a two-legged play-off) it is going to mean an awful lot of matches, so the strength and size of our squad will be of vital importance.

"It doesn't matter if you're Fernando Torres or anybody else, to play three games a week for something like 35-40 weeks of the year is an impossible task at the level we're playing at.

"But matches are won by players who go out onto the field; the better the players you've got to put on the field, the more chance you have of winning matches.

"In this convoluted world of football today we try to find excuses and reasons for things all over the place and forget sometimes the most important people in the game of football are those guys you pay to go and watch."

One player who has experienced his fair share of injuries at Anfield is Aurelio.

The time he spent off the field contributed to former boss Rafael Benitez not giving him a new contract at the end of the season.

However, with cover at left-back thin on the ground the Brazilian has been given a second chance by Hodgson, who re-signed him last month.

Aurelio, who made just 23 appearances last season, is determined to seize his opportunity.

"When you are in a top side like Liverpool you will always have competition for your place," he said.

"I know they are looking for another full-back but if I can concentrate on my job and do well, hopefully that can convince the boss that I can be the first choice.

"I am thankful to the manager that I am back here. He wanted me to come back and now I want to repay him on the pitch, where I hope to be for most of the time this season."

Despite bringing back Aurelio, Hodgson has warned all of his squad that they cannot hope to exist on past reputations.

"My job will only be made easier if they perform like big players. Names don't win you anything, football players do," added the Englishman.

"Sometimes football players can get names and cease to be the player they were - but that has not been the case with the players we've got here and I am sincerely hoping it won't be the case in the future.

"We've got to hope Liverpool Football Club will continue to have the players who can get out and win football matches."
---
AUGUST 9
Liverpool FC's move for
Christian Poulsen edges closer

By Dominic King - Liverpool Echo

Liverpool's bid to land Christian Poulsen has moved a step closer after the midfielder was given permission to withdraw from Denmark's squad for the friendly with Germany.

Poulsen's adviser Joern Bonnesen confirmed last week positive negotiations had taken place with the Reds and suggested his switch from Juventus could be finalised in days.

And now Denmark coach Morten Olsen has allowed Poulsen to pull out of his squad for the friendly in Copenhagen on Wednesday night.

The 30-year-old is expected to arrive on Merseyside in the next 48 hours for further discussions and Roy Hodgson will be anxious to wrap up a deal quickly.

Should everything go to plan, Poulsen could even be hurried into making an instant debut against Arsenal at Anfield on Sunday.

Javier Mascherano's future is still up in the air, while Lucas – who has done well during pre-season – has just been recalled into Brazil's squad.

They face USA in New Jersey on Wednesday and the earliest Lucas will be back at Melwood is Friday morning.

Hodgson, who is on the lookout for a striker, will be hoping to make progress in the market and is expected to go back to Middlesbrough with an improved off for keeper Brad Jones.
---

Thor Zakariassen ©