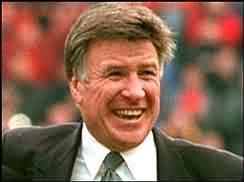 Emlyn Hughes (1947-2004)
NOVEMBER 17
Football bids farewell to Hughes

BBC Sport Online

Hundreds of former players and fans gathered on Wednesday at Sheffield Cathedral for the funeral of ex-England and Liverpool captain Emlyn Hughes.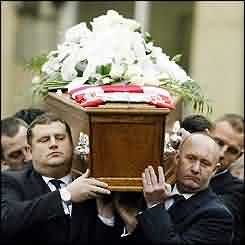 The Cathedral itself was packed to its 1,700 capacity with hundreds of mourners standing in the rain outside.

Liverpool greats John Toshack, David Johnson, Jimmy Case, Kevin Keegan, Ron Yates, Ian St John and Brian Hall were all present at the 12 noon service.

Hughes died of a brain tumour at his Sheffield home on 9 November, aged 57.

The service was led by The Dean of Sheffield, Very Reverend Peter Bradley.

Reverend Bill Bygroves, chaplain of Liverpool Football Club, offered condolences from the club and its fans.

The Archdeacon of Doncaster, Bob Fitzharris, gave a short homily.

New Wales manager Toshack paid tribute to Hughes in a reading during the service.

He said: " Emlyn epitomised what the club was all about in those heady days with Bill Shankly and then, later on, Bob Paisley.

"He was full of enthusiasm, a bubbly character who motivated his team-mates by his own example as much as anything else.

"Whatever the weather he would be first out onto the training ground and last to come in."

Two of Hughes' favourite hymns, Amazing Grace and I Vow to Thee My Country, were played at the service.

Liverpool chairman David Moores, chief executive Rick Parry, and former chief executive Peter Robinson, who was in charge of the club when Shankly bought Hughes from Blackpool, were also in attendance.

Other ex-Reds players at the service included Kenny Dalglish, Alan Kennedy, Phil Neal and current Newcastle manager Graeme Souness, while Coventry boss Peter Reid was also present.

Neal, who won the European Cup in 1977 and 78 with Hughes, told the BBC: "It was a fitting tribute for a terrific man. Emlyn was a great ambassador - he played with a smile and a competitive edge and he was a great captain."

Dignitaries from the world of football included former top referee Keith Hackett, who was there along with ex-Manchester City player and manager Tony Book, former Sheffield Wednesday manger Danny Wilson, and players Carlton Palmer and Peter Eustace.

The 45-minute service ended with a rendition of Liverpool anthem You'll Never Walk Alone sung by the Cathedral choir.
---
NOVEMBER 9
How the Crazy Horse won a place in history

Chris Bascombe looks back at the life of LFC legend Emlyn Hughes, who has lost his long battle against cancer - Liverpool Echo

You know who I've got in the back of this car, son? The future Liverpool and England captain.'

Bill Shankly's now infamous quip to a policeman in 1967, hours after signing 19-year-old Emlyn Hughes, could have been another example of his comic exaggeration.

Instead, it proved to be the legendary Scot's most accurate prophecy.

From the moment he saw Hughes, Shankly knew he'd bought a Kop idol. The Scot's excitement was matched by the fans when Hughes made his Liverpool debut against Stoke on March 4 1967.

No player could have embodied Shankly's footballing philosophy more than the enthusiastic Lancastrian, signed from Blackpool for a paltry £65,000.

Yet it's not beyond the realms of possibility Hughes could have ended up skippering Wales, not at football, but Rugby League.

Emlyn's father, Fred, made his name as a master of the oval ball and only left the valleys towards the end of his career.

He moved his family to Barrow-in-Furness where Emlyn was born on August 28 1947.

From an early age, it became obvious it was football, not rugby, which would be Emlyn's passion.

He signed apprentice terms for Blackpool as a schoolboy and played just a handful of first team games when Shankly made his first bid, which was rejected. Shankly refused to give up and eventually got his man.

Whatever Hughes' reputation since he left Anfield - and it's fair to say he developed a love him or loathe image in latter years - Emlyn the player never let the club down.

Four league titles, two European Cups, an FA Cup and two UEFA Cups made him one of the most decorated players in English history.

He completed the set of domestic honours by winning the League Cup with Wolves in 1980, an honour which eluded him at Anfield.

Perhaps the biggest tribute to his ability came when he was named the Football Writers player of the year in 1977, when Liverpool only missed out on the treble by losing the FA Cup final.

Think of the greats in that first European Cup winning side. Kevin Keegan, Tommy Smith, Ian Callaghan and Ray Clemence. Hughes was an inspiration.

His ecstasy, so visible in that broad smile as he lifted the giant trophy in Rome in 1977, perfectly embodied the feelings of thousands of Kopites.

In an age when stars are criticised for not giving 100%, this was one flaw Hughes never possessed during his 665 games for Liverpool.

His nickname 'Crazy Horse' aptly described his style.

"You ain't seen nothin' like the Mighty Emlyn," The Kop would sing.

Shankly had to tell his rookie defender to calm down, fearing he'd burn too much energy in his relentless pursuit of the ball.

Finding the right role for this jack-in-the-box was Shankly's first task. Left back and midfield were his favoured positions in the early years. He could play anywhere, in many respects one of those rare 'complete' footballers..

Eventually, he settled down as an elegant centre-half. The era of Alan Hansen and Mark Lawrenson is often considered as the beginning of Anfield's cultured play from the back.

Hughes and Phil Thompson could argue otherwise as they showed defenders could pass as much as tackle.

Hughes was an extraordinarily successful skipper, scoring 48 goals during his time on Merseyside and winning 59 England caps while at Anfield, a Liverpool record matched only recently by Michael Owen.

He won 62 caps in all and was awarded an OBE in 1980.

Soon after he left Liverpool in 1979, Hughes' achievements on the field started to become overshadowed by public spats with his former team mates.

Tommy Smith and Hughes never got on when they were at the club, and the war of words continued for two decades.

Hughes notoriously sang an anti-Everton song during Liverpool's European Cup celebrations in 1977, something which embarrassed team mates.

And after he'd left Anfield, a newspaper column in which he was quoted saying Brian Clough was a better manager than Bob Paisley further inflamed tensions between Hughes and those who once loved him on The Kop.

Perhaps Emlyn was misquoted or misinterpreted. Maybe he was misguided. But at public functions his ferocious passion quickly won back the respect of the Liverpool fans who'd been annoyed at some of his less favourable remarks.

After leaving Anfield for Molineux, a stint as player-manager at Rotherham never worked out, but he settled in Yorkshire after he quit football.

Later generations knew Hughes more as an outspoken pundit and regular captain on the BBC's 'Question of Sport'.

Sadly, he wasn't such a regular visitor to Anfield in latter years, even though his contribution to the Liverpool success story stands alongside any legendary figure.

Perhaps Emlyn was too outspoken for his own good, but as he said at last year's ECHO tribute dinner in honour of the 1977 European Cup winners, he would never stop loving Liverpool.

That's why, even though he was seriously ill, he was determined to join celebrations.

Great Liverpudlians are judged on their actions rather than words, and Emlyn's performances will never be forgotten by those who witnessed them.

As the man who lifted the European Cup for Liverpool for the first time, his place within Anfield's Hall of Fame is well preserved.

Just as Shankly had predicted.
---
NOVEMBER 9
Football pays tribute to Hughes

BBC Sport Online

Friends and former Liverpool players have paid tribute to Emlyn Hughes, who has died from a brain tumour aged 57.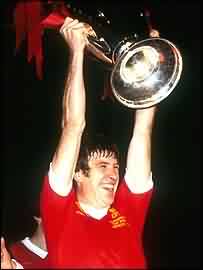 Former Reds captain and manager Graeme Souness told BBC Radio Five Live: "He was an absolute legend. When I went to Liverpool he was the main man.

"He was a wonderful player and a fantastic example to everyone. He was the best person to learn from and a larger than life character.

"Football will definitely miss him - he was a legend."

Former Liverpool and England goalkeeper Ray Clemence said: "We still have the old boys' association, we still have that closeness.

"It's a very sad day, one of the greats of a great Liverpool side is no longer with us.

Phil Neal told BBC Radio Five Live Hughes was an inspirational figure in the club's success in the 1970s and 80s.

"His character rubbed off on us all. I came in as an inexperienced player and he was so effervescent," he said.

"He used to drive me on a Friday to meet up with the team bus for an away game and he would convince me we would win 2-0 - just like Shankly would have done. He never dreamt of losing any game."

Former Reds midfielder Terry McDermott remembers Hughes as a "bundle of joy".

"He absolutely adored playing football. He would just give 110%," he said.

"They called him Crazy Horse and that's exactly what he was. He never stopped, he was up and down the pitch, cajoling everyone. He'll not be forgotten."

John Toshack, who made his name as a Liverpool striker in the 1970s, told BBC Radio Five Live that Hughes would have played an outstanding role in any dressing room.

"I have been in management for 25 years and all over Europe. I would have been very pleased to have had Emlyn in any of my squads.

"In our Liverpool days, if you were feeling low on confidence, you needed a player like him in your side. The bigger the game, the better he was."

BBC Sport's Mark Lawrenson said Hughes, who captained England 23 times and won two European Cups and four league titles with Liverpool, was one of the sport's true greats.

He said: "He was a really great player, quite obviously, because otherwise you wouldn't win so many caps for England.

"He was also larger than life - a fantastic person to go to the races with because he knew everyone."

Liverpool Football Club, who will hold a minute's silence in honour of Hughes before the Carling Cup tie against Middlesbrough at Anfield on Wednesday, paid their tribute in a statement on their website.

"Those lucky enough to see him play will recall his boundless enthusiasm, 100% commitment and unrelenting passion for the club whenever he had the Liver Bird close to his chest.

"Signed in 1967 by Bill Shankly, he was to be one of the most inspirational signings this club ever made."

Chief executive Rick Parry said: "Our deepest sympathies go out to wife Barbara, children Emma and Emlyn junior, and the rest of the family at this sad time."

Hughes, who also played for Blackpool, Wolves, Hull, Mansfield and Swansea, went on to make his mark in television as a captain on the BBC's A Question of Sport quiz show.

His rival captain Bill Beaumont, the former England rugby union captain, said: "He had an infectious laugh, wasn't afraid to laugh at himself and was a great team man."

And football fans have been paying their tributes to Hughes on the 606 message boards.

Graham McCann spoke for all Liverpool and Wolves fans when he said: "In infants school, I got my mum to sew a number six on the back of my tiny red footie shirt.

"You didn't need to pay for the name in those days. Everyone knew whose shirt it was meant to be."

But Hughes was not just popular with Liverpool and Wolves fans, as one un-named fan highlighted:

The fan said: "Not just a loss to Liverpool, or even England, but a great loss to football.

"One of those players who everyone admired, one of those few people on TV who everyone enjoyed."
---
NOVEMBER 9
Football great Emlyn Hughes dies

BBC Sport Online

Former England and Liverpool captain Emlyn Hughes has died from a brain tumour at the age of 57.

Hughes earned 62 caps for the national team and led Liverpool to a string of honours while at the Anfield club.

He helped the club to four league titles, two European Cups, an FA Cup victory and two Uefa Cup titles.

Hughes was the first player to lift the European Cup for Liverpool after the victory over Borussia Moenchengladbach in 1977.

He was awarded an OBE in 1980 for his services to sport and the larger than life personality was nicknamed Crazy Horse.

Hughes was a midfielder who converted to centre-back and was signed for Liverpool by Bill Shankly for £65,000 from Blackpool in 1967.

He left Liverpool for Wolves in 1979 for £90,000 and also went on to play for Rotherham, Hull City, Mansfield Town and Swansea City.

The legendary player won the Football Writers' Player of the Year in 1977 and completed his full set of domestic honours when he won the League Cup with Wolves in 1980.

Hughes had been battling a brain tumour for the last 15 months but his condition deteriorated in the last few days.

His wife Barbara said: "He died at his home in Sheffield with his family around him."

He was also known for his role as a team captain on the BBC quiz show A Question of Sport.

Liverpool will hold a minute's silence in rememberance of Hughes before their Carling Cup match against Middlesbrough on Wednesday.

"Those lucky enough to see him play will recall his boundless enthusiasm, 100% commitment to the cause and unrelenting passion for the club whenever he had the Liver Bird close to his chest," Liverpool said on their website.

"He was to be one of the most inspirational signings this club ever made and in a glittering career with the Reds he won almost every honour in the game.

"He will be sadly missed by all."

Liverpool chief executive Rick Parry added: "Our deepest sympathies go out to wife Barbara, children Emma and Emlyn junior, and the rest of the family at this sad time."
---
Emlyn Hughes factfile


1947: Born August 28 in Barrow-in-Furness, the son of former Barrow and England rugby league player Fred Hughes.

1967: Signed professional terms with Blackpool.

After just 31 league and cup appearances for the Seasiders, Liverpool manager Bill Shankly signed him for £65,000, aged just 19.

1970: April 19 - Won the first of his 62 England caps in a 1-1 draw with Wales in Cardiff. Included in the squad for the 1970 World Cup in Mexico but does not play in the finals.

1973: First career silverware as Liverpool win the league and the Uefa Cup.

1974: Liverpool win the FA Cup, beating Newcastle 3-0 at Wembley.

1976: More glory for the Reds as they win a league and Uefa Cup double for the second time in three years.

1977: Liverpool retain their league title and win the European Cup for the first time, beating Borussia Monchengladbach 3-1 in Rome. Named Football Writers' Player of the Year.

1978: Bob Paisley's team win back-to-back European Cups, this time beating FC Brugge 1-0 at Wembley.

1979: Secured last career league title. Joined Wolves for £90,000.

Worked on BBC quiz show A Question of Sport as a team captain alongside rugby union star Gareth Edwards.

1980: Won the League Cup with Wolves, completing a full set of domestic trophies. Won the last of his 62 England caps as a substitute against Scotland, having captained his country 23 times.

Worked as a player-manager at Rotherham while also playing for Hull, Mansfield and Swansea before winding up his playing career.

1984: Returned to Question of Sport as a captain opposite former England rugby union captain Bill Beaumont, in a popular double act which ran for five series.

2004: April - Hughes, who had already undergone surgery to have a brain tumour removed, attends Aintree on Grand National day, with the horse he part-owned, Mantles Prince, in the race. The outsider pulled up at the 16th fence.

November 9 - Hughes dies of a brain tumour aged 57.
---