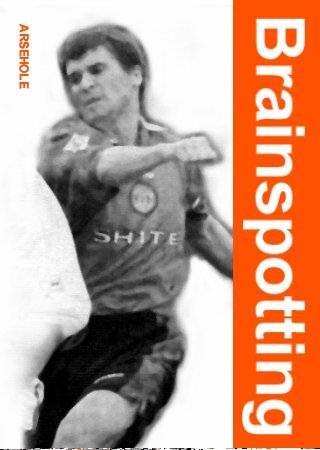 Follow the Devils down to hell

Enjoy the glory while it lasts,
For soon man. U and u will bite the dust
"Follow me and Man. U" so aptly the bumber stickers tell,
But with a Devil, where else can you go but straight down to hell.

The pretenders of the 90s is what Man. U will always be,
Never true champions without european glory
But alas, even if, god forbid, that is achieved,
How much true respect can a bunch of thugs receive.

For crowned in Old Trafford, is a king,
"O, ah, Cantona" his poor misguided fans constantly sing
In desperate search of a true treat,
Devoid of true heroes, even this dung can smell sweet.

For his greatest act was not one of charity,
But a kick in the chest - a distastful act of notoriety
And his men are equally disgraceful; while Keane constantly sees yellow,
Lusty Giggs can`t remember which women he slept
with nor on which pillow.

For they have never witnessed a king like Dalglish
Who ruled with flair; So graceful, so stylish
Neither can they comprehend when Fowler`s class act they see,
One where he would deny himself a penalty.

So enjoy your brief fleeting moment in the sun,
While the Reds regroup; while we wait for our fun
For to deny the obvious would only make you a fool,
And the fact is this - soon again the Mighty Reds will rule.
---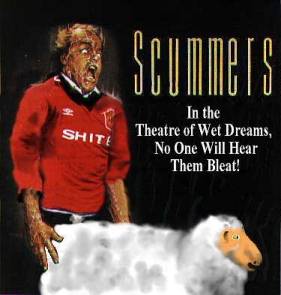 United We Stand

It was the dawwning of an era their greatest team for years,
The wonder kids from Manchester would outshine all their peers.
Moulded as a unit, this year they would not fail,
To win the league, the FA cup and Europe`s holy grail.

The ugly Neville brothers, stopped everyone on the ball,
Jaap Stam was the centre back, overrated by all.
Irwin played well with his left foot as good as anyone,
But he is so pale, can`t always play in the sun.

Johnsen and Beckham in the middle, could always play it nice,
But Beckham preferred to go to bed with a girl he called Posh Spice.
The flanks had Scholes and Giggsy, a right pair of likely lads,
Quick to get their kit off too, that`s why they`ll soon be dads.

Nicky would work his "butt" off, do anything for the boss,
So if he ever went off injured it really was a loss.
The old timers would compare him, to their hero Nobby Styles,
A right wee dirty bastard who could run for miles and miles.

Sheringham would be busy, playing balls into defensive holes,
For the ever running Cole to score some vital goals.
Solskjaer used his head and feet, and he scored a tidy sum,
Andy Cole scored most of his from deflections of his bum.

With May and Berg sat on the bench no weakness could be seen,
They could do without the lunatic, of a captain called Roy Keane.
Dwight York is their new man, Solskjear is no more,
Same problem as Cole, if only he can score.

Not for them the league cup, they would need their first team fit,
So they just sent out the kids, even though they played like "shit".
They got knocked out of this minor cup by a lower division team,
Still it didn`t really matter, European glory was their dream.

Alex claimed it wasn`t fair, with the matches they had to play,
So other teams should postpone their games until a later day.
When Hoddle would ask for players, Alex`s reply was curt,
There were none of them available as all of them were hurt.

But we all know football is a funny game, that can kick you in the balls,
And there is nothing quite as sickening as a "cer" thing when itfalls.
United`s collapse was sudden, supporters were taken bu surprise,
The Man United faithful just could not believe their eyes.

The theatre of dreams "Old Trafford", had thousands every match,
It was full of nervouse tension when they hit a rocky patch.
Alex had his stopwatch out, in case the ref played extra time,
Always moaning about decisions to the official`s on the line.

If a "booking" went against them, you should of heard them squeal,
Then it was on the phone to London to arrange a quick appeal.
I was only United players who were allowed to kick and spit,
If anyone else committed a foul then Alex took a fit.

The adulation from United fans, now seems to be amiss,
And all who hate United are queuing up to take the piss.
Weeks og "slobbering" from United fans has got our gander up,
And now we`re all delighted that they haven`t won a cup.

Glory, glory Man United is what their supporters like to sing,
So please tell me "Where is the glory", if you haven`t won a thing.
No shortage of oppotunities both in Europe and at home,
And still they won no silverware, just the odd wee bit of chrome.

Where it went wrong its hard to say, no one knows the reason,
The only thing for sure no is, they`ve won "sod all" this season.
Fergie`s had a breakdown, it`s been said he`s flipped his lid,
No more winning hugs and kisses from his "bum chum" Brian Kidd.

Still don`t despair United fans although you want to cry,
Look forward to this season, at least your team will try.
And when winning in the future, life just seems a "gas",
Just remember Arsenal, who showed your jibes right up your ass.