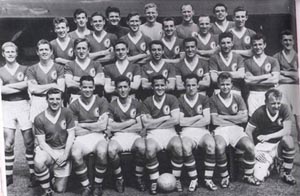 The team that Shankly inherited. When the new manager arrived at Anfield,
he discovered an overstalled squad of players, lacking ambition and determination.
Within a year 24 players had left the club.

Back row (left to right): Jones, Lawrence, Younger, Rudham, Molyneux.
Second row: Parry, Bimpson, Arnell, Byrne, Moran, Hughes.
Third row: Nicholson, Morris, Wilkinson, Best, Murdoch, Campbell, Twentyman, Smith, White.
Front row: Morrisey, Liddell, Saunders, Wheeler, Melia, A'Court, Harrower.
---

Thor Zakariassen ©