---
APRIL 30
Liverpool coach Borrell says
academy 'was unacceptable'

By Sam Sheringham - BBC Sport Online

Liverpool youth coach Rodolfo Borrell has revealed how surprised he was by the poor quality of the club's academy when he arrived at the club in 2009.

Borrell, who came with Jose Segura from Barcelona, believes it could take another two years before a player breaks through into the first team.

"The reality of what we found here was unacceptable," Borrell told BBC Sport.

The likes of Jamie Carragher, Steven Gerrard, Robbie Fowler and Michael Owen all came through the Liverpool ranks.

But since that crop of talented youngsters, the Liverpool academy has struggled to develop a regular supply of players ready for the demands of the Premier League and European football.

Striker Neil Mellor featured intermittently under Liverpool boss Rafael Benitez before being released to Preston, while full-back Stephen Warnock has gone on to play for England since leaving the Reds for Blackburn and then Aston Villa.

This season, Jay Spearing, Martin Kelly and Daniel Pacheco have been limited to occasional forays off the bench.

Benitez - who has signed highly rated Charlton midfielder Jonjo Shelvey, 18, and 15-year-old England youth international Raheem Sterling from QPR recently - says the club have a long-term plan to bring "British players with passion" to the club.

"(We want) players who you can feel what playing for Liverpool means to them," said Benitez,

"Shelvey is one of these and we have two or three names ready so we will try to do the best for the club.

"I was trying to sign Gareth Barry before and Glen Johnson was the same idea - we have this long-term plan in place and we will try to follow the plan."

Benitez has expressed his frustration at the lack of talent coming through and moves to restructure the youth structure began when former Liverpool winger Steve Heighway stepped down as academy coach in April 2007.

The club created a new position of academy technical manager, a post initially taken by former Ajax player Piet Hamberg before he was replaced by Segura in May 2009.

Borrell, who joined at the same time to coach the under-18s, said they have been working hard to introduce the practices that functioned to great effect at Barcelona's academy, which produced seven of the team who beat Manchester United in last year's Champions League final.

"The under-18s had no centre forward, no balance. They had no tactical level, no understanding of the game," said Borrell, who spent 13 years at Barcelona, where he worked with Cesc Fabregas and Lionel Messi.

"We are working hard, but you can't change things overnight.

"I think we have made a lot of progress over eight months, but we need to improve a lot more to get more players into the first team.

"I think if we keep working hard maybe in two years somebody can appear in the first team."

Liverpool's academy features players from Hungary, Iceland, Czech Republic, Denmark, Germany, Spain, Portugal and Australia, but Borrell says the priority is to produce English players.

"When I arrived the first thing Rafa told me was that the biggest interest is to try to develop English players," he said.

"I agree - the best players to defend the Barca shirt are Catalan players, the best players to defend the Liverpool shirt are English players.

"The rest of the players who are not English, they must be massive, massive quality.

"We have to fight to make English players arrive. If in two or three years one of our players does make the first team, I think he will be English."
---
APRIL 28
Reds tie up £1.7m Shelvey switch

TEAMtalk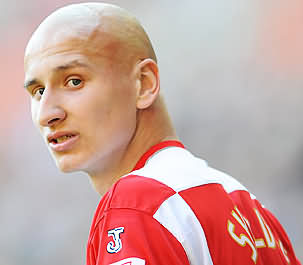 Liverpool have sealed the signing of Charlton star Jonjo Shelvey (pictured) for an initial fee of £1.7million - with the deal being completed on May 10.

The England Under-17 international has passed a medical and agreed personal terms at Anfield.

Reds managing director Christian Purslow told the club's official website: "Jonjo is an exciting young England international. His signing is part of our long-term strategic recruitment plan and we all look forward to welcoming him to Melwood (training ground)."

The fee also contains a number of potential add-ons, relating to domestic and international appearances.

Shelvey made 48 appearances for Charlton since becoming their youngest ever player when he made his debut aged 16 years and 59 days in April 2008.

He is also their youngest goalscorer in both the league and FA Cup and established himself as an important part of the League One side's first team this season, scoring four goals in 27 appearances in all competitions.

Charlton chairman Richard Murray told his club's website: "It's with the greatest reluctance that we have accepted an offer for Jonjo from Liverpool.

"No club likes to lose such a talented prospect, but the overall package is one we couldn't refuse, and one which was very attractive to Jonjo.

"As a club, we have never stood in the way of any of our young players moving to 'bigger' clubs, and this also applies to Jonjo.

"Liverpool are going to develop him over the next few years to be a top player, and I can't think of a better place for him to go."

The two clubs also revealed that they are in talks over "a strategic partnership involving the development of players in both directions" following Shelvey's move to the Premier League.
---
APRIL 25
Mark Lawrenson:
It will take years for Liverpool
to return to top four quality

By Anthony Sciarrino - Goal.com

Liverpool legend Mark Lawrenson believes that it will take some time before his old club will be able to reach the top four of the Premier League again.

The former Republic of Ireland insists that Liverpool's disappointing season could mean that stars like Steven Gerrard and Fernando Torres leave in the summer.

The Reds currently sit in seventh place in the Premier League with three games to go and are likely to miss out on Champions League football as they trail fourth place Tottenham by five points.

With Manchester City becoming an elite club and Liverpool's massive debt Lawrenson believes that the situation at Anfield will take a while to fix.

"City will finish fourth this season," Lawrenson told the Daily Star.

"Then you look at the type and quality of player they'll be bringing in when they're in the Champions League and it's going to make the task of finishing fourth next time even more difficult.

"It's a real difficult one. But, for me, the biggest thing is what happens to Gerrard and Torres when we're not in the Champions League?

"Nobody could ever point the finger at Stevie G if he says, 'I've given years of top service to the club but we're not in the Champions League and I'm off'.

"And what happens when Torres says, 'I came here to play Champions League, we're not in the top four, so I'm off?'."

With Liverpool looking for someone to buy the club, and a new stadium to replace Anfield, Lawrenson believes that there are going to be difficult times ahead for the Reds.

"The new ­chairman Martin Broughton says the club is still an attractive proposition and talks about the fact we've won 18 titles. But when was the last time we won one? God knows how long ago!

"Even if you buy the club for £400m, you are buying £237m worth of debt – and there is still a new ground to build.

"That means you're still at Anfield, with 40,000 people, trying to compete against Chelsea, Arsenal, Man United and City, who in effect are going to go away from us."
---
APRIL 15
Benítez's future may hinge on
Liverpool's cash flow, says agent

Press Association/guardian.co.uk

Rafael Benítez intends to see out the remaining four years of his contract at Liverpool but his future could be decided by the club's financial position, according to the Spaniard's agent, Manuel Garcia Quilon.

Quilon also claimed an unnamed Chinese investor was interested in buying out the co-owners Tom Hicks and George Gillett and keeping Benítez on as manager.

But if that did not happen then Quilon said the two Americans would have to find a solution to the club's current financial restrictions – Liverpool are currently trying to slice £100m off their £237m debt – to prevent Benítez considering his future.

The Liverpool manager has been linked with Juventus again this week, with the Serie A club reportedly having made him their No1 target back in January, while it seems likely the Real Madrid post will become vacant again this summer. However, Quilon said Benitez had a long-term commitment at Anfield.

"The intention of Benítez is to fulfil the contract that he has with Liverpool until 2014 but it's true that the club is subject to fluctuations in their financial situation," said the Spaniard's agent. "They could influence the future of the club and therefore Benítez as well.

"The Chinese have an interest because they have called Rafa and told him that their condition for buying the club is that he continues as coach."

Quilon said Benítez remained a potential candidate for some of the top jobs in Europe but that there had been no discussion about him leaving Liverpool.

"For now [Real] Madrid have not made a move to sign him," he told Spanish newspaper AS.
---
APRIL 11
Benitez may have to sell

Sky Sports

Liverpool boss Rafa Benitez has conceded he may need to sell one of his big name players this summer.

Liverpool's American owners George Gillett and Tom Hicks, who are reportedly set to appoint British Airways chief Martin Broughton as their new chairman, are actively looking to find a buyer.

But Benitez concedes that if no new investment is found, he could be forced to sell one of his big names - which would mean either Steven Gerrard or Fernando Torres going.

"I don't think I will have to sell a big player, but it will depend on investors so I cannot guarantee we won't have to sell. Our idea is to keep the spine of the team," he told the People.

"Sometimes you have to manage by selling two or three players who aren't playing too many games, but that does not bring in any big money if they are not playing."

Benitez agrees with recent assessments from Torres and Jamie Carragher that he needs at least four players next term and suggesting to that he would need between £60million and £80million to do this.

"I don't want to talk about figures, but if you analyse what Fernando and Carra have been saying, they were talking about four or five players," he continued.

"It doesn't matter if it is four or five or three or five, the cost of a top-class player is about £15million or £20million.

"So with three or four players, you start counting and I think we need up to four players.

"It is difficult to compete with other clubs who may spend big money again in the summer. Last year we tried to keep players and extend contracts and tried to add some players.

"It depends on the money available, and if you don't have too much money then you can't make any mistakes in the transfer market.

"It is not easy, I always say that we have to do almost everything perfectly and if we make a mistake in the transfer window it is extra difficult for us to manage.

"We have had problems with Alberto Aquilani because his ankle injury has taken longer than expected [to recover].

"We are talking about pressure. Sometimes you bring in someone who needs to settle down or they have a problem, so you cannot guarantee anything.

"Other teams have plenty of players worth £20million who are not playing, two or three players in the same position sometimes, but we cannot do that."

Benitez did confirm that one summer deal, for Standard Liege's Milan Jovanovic, was just about complete.

"A deal for Jovanovic is now very close and our scouts are working very hard," he said.

"We have our targets and we have to decide when to try and buy them, but sometimes it is too early.

"Maybe they are still playing in the Champions League or at the end of the season in their local leagues and you have to wait a bit.

"The World Cup is always very dangerous because if one player is playing really well then his value goes up, so I think it is important to do things before if we can."

Benitez also admits that the club need to improve on their record of brining through fresh talent.

"I think for us to bring players in through the system is crucial," said Benitez.

"This is the first year we have had control of the Academy and it is clear that we have not produced a player in the last 13 years, so that was a big problem."
---
APRIL 7
Torres: Summer sales 'killed us'

Ananova

Fernando Torres has offered a frank assessment of Liverpool's failings this season, admitting a spate of summer departures "messed everything up".

The sale of Xabi Alonso to Real Madrid for a reported £30million has been widely criticised as the Reds' difficult campaign has unfolded, with his £20million replacement Alberto Aquilani struggling for fitness all season. Alvaro Arbeloa joined Alonso in moving to the Bernabeu, while Sami Hyypia was allowed to join German side Bayer Leverkusen.

Torres, quoted in various newspapers on Wednesday, said: "There have been various important factors, like being so far behind the top teams so quickly. That killed us psychologically. The sales of Arbeloa, Hyypia and Alonso were important losses."

The Reds were eliminated in the Champions League group stages for the first time in manager Rafael Benitez's tenure and face an uphill task to return to the competition at all next season, lying as they do four points adrift of fourth-placed Manchester City having played a game more.

And a shock 2-1 FA Cup third-round replay defeat to Reading at Anfield left the Europa League - a consolation after their Champions League exit, but one in which they must overturn a 2-1 deficit to Benfica in Thursday's quarter-final second leg to progress further - as their only remaining chance of a trophy.

Torres added: "Injuries hit us hard and we have suffered a lot because of them.

"But after a good season last year, we needed certain reinforcements and we needed to keep the squad we had together. But circumstances dictated that we had to sell players and so everything got messed up.

"Alvaro always did a vital job for us, always played to a high level, and his flexibility was a huge bonus.

"Sami did not play every week but he was a 10 out of 10 on and off the pitch.

"And Xabi? Players like him are very rare. He was the team's engine, and you know that when you change an engine, it takes time to work again."
---
MARCH 27
Rafa reveals title-tilt plan

Sky Sports

Rafa Benitez insists plans are underway for Liverpool to become title-challengers next season.

The Reds boss has already made inroads in the transfer market for next season with a pre-contract agreed with Standard Liege forward Milan Jovanovic, while Jose Reina and Javier Mascherano are set to sign their deals at Anfield in the next month.

The Merseysiders have already secured the future of their key men in the last 12 months with forwards Fernando Torres and Dirk Kuyt, midfielder Steven Gerrard and defender Daniel Agger on new long-term contracts.

Torres, Liverpool's star striker, said on Saturday that he thinks the Reds need to bring in new additions in the summer.

And Benitez, whose side have failed to build from last season's second-place finish and are currently sixth in the table, is keen to bring more quality to Anfield in the summer to complement his current squad.

Plan
"It was the idea last year to extend contracts," said the Spanish tactician, who will be hoping for maximum points in Sunday's visit of Sunderland.

"It is the same this year to guarantee the spine of the team is there and, afterwards, try to bring in some good players to hopefully improve.

"With some players we are looking two or three years ahead, you have to be ready and prepare more or less the squad.

"In terms of the first team, to guarantee the extension of some players is enough to bring in the right players.

"We are always planning for the future. You can make mistakes but at least you have a plan.

"So if we don't make mistakes in the transfer window or if the [new] players settle down with this group of players we have at the moment we will improve."

Future
Benitez is also keen to bring players through from Liverpool's youth system and finding stars from the academy may become more important if the club's struggle to qualify for the Champions League becomes the norm rather than the exception.

The club have been criticised for not producing a first-team player since Gerrard and Jamie Carragher came through the ranks over a decade ago.

One of the conditions Benitez agreed on before signing his new five-year contract early last summer was that he gained control of the whole developmental side of the club.

He is keen for that to become a success and play a more central part in the long-term strategy at Liverpool.

"This is the first year I am in charge of the academy and we are trying to improve and bring players from the academy," he added.

"We need some time. The reserve team are doing well so these players will be the future of the club."
---
FEBRUARY 10
Jovanovic ready to sign for Reds

TEAMtalk

Standard Liege's Serbia international Milan Jovanovic has agreed to join Liverpool this summer, according to the midfieder and his agent.

A number of clubs across Europe have been chasing Jovanovic, who is available on a free transfer when his contract in Belgium expires at the end of the season.

Valencia, AC Milan and Juventus were all thought to be keen on acquiring the attacking midfielder, but Jovanovic's representative Zoran Stojadinovic has revealed the 28-year-old has been convinced to move to Anfield on a three-year deal by Reds boss Rafa Benitez.

"We have spoken with Rafa Benitez and he convinced us about his project for the club," Stojadinovic told the Daily Mirror.

"Milan speaks the language and adaptation will not be a problem for him when he moves to England."

The player himself now claims he has just to complete a medical before everything is concluded.

"We have reached an agreement for three years, with the option to extend with another season," the player told Belgian newspaper Sporza.

"I have yet to undergo a medical exam, but that shouldn't be a problem.

"I don't have any physical problems and I'm feeling perfectly fit.

"I opted to sign for Liverpool because they're one of the biggest teams around in Europe. They're definitely among the 10 biggest sides.

"I'm absolutely delighted that the deal is completed. From now on, I can focus on Standard Liege again. I want to leave the club in a good way."

Jovanovic was one of two free transfers Benitez was hoping to bring in this summer but the Reds boss admitted on Tuesday that Bordeaux's Morocco striker Marouane Chamakh would not be joining them.
---
JANUARY 13
Rafa's delight at Maxi deal

By James Carroll - LFC Official Website

Rafael Benitez is confident new signing Maxi Rodriguez has all the necessary attributes to become a success in the Barclays Premier League.

The 29-year-old became Liverpool's first acquisition of the January transfer window when he put pen to paper on a three-and-a-half year deal at Anfield on Wednesday.

And Benitez believes the former Atletico Madrid ace will prove to be a fine addition to his Reds squad.

"We were looking for players with character and a good mentality," the boss told Liverpoolfc.tv. "He has played for Argentina and Atletico Madrid and is a player with personality.

"He can play in three positions - on the right, left or as a second striker - and is someone with a very positive mentality, which is what we are looking for.

"He is comfortable on the ball, can pass and keep possession. He is good at getting into the box and scoring goals and a good finisher. Every year he gets five to 15 goals from the right side of midfield.

"I know he was not doing as well as he did in the past at Atletico Madrid, but he is doing really well with Argentina and wants to impress for the World Cup."

Rodriguez has been greeted by a couple of familiar faces at Melwood in the form of Argentina captain Javier Mascherano and Fernando Torres, whom he played alongside for two seasons at Atletico before El Nino moved to Anfield.

Benitez feels the duo will help their new teammate adapt to the demands of Barclays Premier League football, and reckons the pair will in turn be lifted by the deal.

"He knows Mascherano and Torres and he can provide a lift for some players," said the Spaniard.

"I think he will adapt to English football because he is a clever player and takes up good positions on the pitch.

"It is a question of adjusting to the pace of the game and he will need some time, but with these players around it will be easier for him."

The arrival of Rodriguez significantly bolsters Benitez's options in the wide-areas - and the manager is adamant this will be beneficial to Liverpool's form over the second half of the campaign.

"Rodriguez will be a different kind of player for us and also competition for Kuyt on the right side, along with Nabil El Zhar and Yossi Benayoun," he said.

"He will give us the opportunity to manage some of the other players and rest them if necessary to keep the level of the team."

Benitez added: "I have been talking with him and he is really pleased and ready to come here. I have told him what we are expecting from him and he is ready for the challenge."
---
JANUARY 13
In profile: Our new no. 17

By Paul Hassall - LFC Official Website

Liverpool today announced the acquisition of Maxi Rodriguez from Atletico Madrid. Here's the lowdown on our
new number 17.

A talented winger with an eye for goal, Maxi is the Reds' first signing of the January transfer window.

The Argentina international can play on either flank and has also been known to feature in an attacking midfield role.

Nicknamed La Fiera, he first came to prominence with Newell's Old Boys and enjoyed three seasons with Los Leprosos after rising through their youth system.

His superb technique had him earmarked for a move to Europe at an early stage and in 2001 he signed for Spanish Second Division side Real Oviedo on a six month loan deal.

He made just one appearance for the Carbayones but earned a permanent move to La Liga outfit RCD Espanyol after top scoring for Argentina's under-20 side as they secured the FIFA World Youth Championship on home soil.

During three seasons in Catalonia he scored 26 goals in 110 matches and also made his full international debut in a friendly match against Japan in 2003.

At the start of the 2005-06 season he made a big money move to Atletico before making a significant impact on his country's World Cup campaign in Germany.

A brace in a 6-0 rout of Serbia and Montenegro was followed by a stunning extra-time winner against Mexico in the last 16. Argentina were eliminated by the hosts in the next round, but when the competition was over, a poll conducted by FIFA saw the left-footed strike crowned as the best goal of the tournament.

The winger's impressive showing on the world stage meant much was expected of him when he returned to Atletico, but an injury picked up during Argentina's friendly with Spain in October 2006, reduced him to just 10 first-team appearances that season.

He hit top form again in 07-08, helping Atletico to fourth place in La Liga, thus securing Champions League football for the first time in seven seasons.

The Spanish outfit were named in the same group as Liverpool on their return to Europe's premier competition and it was Maxi who scored the opener in his side's 1-1 draw at Anfield. They would go on to reach the last 16 of the competition and would once again take fourth place in La Liga.

Maxi's contribution to Los colchoneros' success was significant, but despite featuring in Atletico's 2-1 win over the Reds in a pre-season friendly during the summer of 2009, it was clear he needed a new challenge and will now face that as part of Rafael Benitez's Liverpool side.
---
JANUARY 13
Purslow: We won't be
selling Gerrard or Torres

This is Anfield

Liverpool managing director Christian Purslow has dismissed weekend reports that suggested star players Fernando Torres and Steven Gerrard may be sold this summer.

Speaking to the Liverpool ECHO Purslow said "The idea that we would ever wish to sell our top players is completely against the interests of this club."

Purslow also discussed the club's existing debts, explaining that they currently total £237m – not the over-exaggerated amounts the national media often claim, and that new investment into the club should be expected within the next few months, in order to reduce the level of debt and kickstart the new stadium project.

"Provided all goes well, there is a serious possibility of new fresh investment into Liverpool Football Club within the foreseeable future."

He continued "There are no guarantees – we are operating in an environment where, as everybody knows outside football and in football, it hasn't been the most active investment market for the last 18 months. But largely because of the quality of Liverpool Football Club, both as a club and as a business, we haven't had problems in attracting interest.

"However, the devil is always in the detail and in coming months our job is to get somebody over the line that makes sense for all concerned.

"That could be part ownership or it could be complete ownership."

Fresh investment should mean the new stadium becomes a reality, at last, "Slowly but surely on the strategic side, we are making progress towards finding new investment which is the key to unlocking a new stadium. And that stadium is the single event that will transform the financial prospects of Liverpool."

Explaining that, "New investment in the next couple of months which reduces our existing debt to a very low level, to enable us then to push on with discussions with banks about financing the stadium.

"It's that stadium which holds the key to us transforming our fortunes both economically and in football terms.

Speaking about the January transfer window, Purslow said:

"The position is that January in general is not a high priority time for Rafa in terms of player acquisitions. That is largely because of the lack of availability of top quality players."

"Our plan – and what we are working on – is to try and improve the team; not to be so stupid as to reduce the quality of our squad.

"The suggestion in any way that we would sell players in order to pay down debt or pay money to our owners is preposterous. Neither is true. Neither is possible.

"Any proceeds we generate from the sale of players can only go into our player account for the recruitment of new players."
---
JANUARY 9
Benitez should not have
to manage Liverpool FC's debt

Comment by Dominic KIng - Liverpool Echo

Ryan Babel has found his name the subject of debate on numerous occasions this season and that was again the case in the opening week of the new year.

This time, though, rather than sparking chatter about why he can look a world beater one moment but a bungling novice the next, the interest Birmingham City showed in Babel opened a completely different can of worms.

When news emerged that Birmingham, flush with cash following Carson Yeung's takeover, wanted to make a marquee signing and felt they could do so with a £9m bid for Babel, the vast majority of Liverpool supporters immediately thought: "take it."

After all, the Holland forward has flattered to deceive more times than many would care to mention, the fee looked enticing and represented a reasonable return on Liverpool's initial outlay to Ajax in the summer of 2007.

Liverpool, however, had other ideas. Their valuation of Babel – who, remember, is still a current international, only just turned 23 and capable of producing extravagant moments of skill – is closer to £12m; they have no intentions of selling on the cheap.

On the surface, that is a totally plausible argument; good businesses do not sell commodities for prices lower than they have in mind and, furthermore, why would Babel be offloaded to a place where he could come back to haunt the Reds?

But scratch beneath the surface and there is another reason Rafa Benitez was anything but interested in talking terms with Alex McLeish, one that has set the alarms bells ringing loudly on the Kop and beyond.

While Liverpool are crying out for investment in their playing staff, had they cashed in on Babel, Benitez's best hopes of spending a figure in excess of £9m this month would be to invest in a lottery ticket and hope all six numbers come up.

In the others words, the money would have been swallowed up to help finance the £240m debt the club is trying to manage; club insiders insist that is not the case and the deficit is manageable but critics of Tom Hicks and George Gillett will beg to differ.

True, it's worth remembering the January window is capricious and top quality players – the type who would provide an injection of star quality Liverpool require – are not freely available; if they are, invariably clubs will have to pay over the odds.

Still it is hugely disappointing, to put it mildly, that Benitez will be limited to bringing just Maxi Rodriguez in for £1.5m when he also desperately needs experienced cover at right-back for the stricken Glen Johnson.

If he is unable to bring in a specialist for that area – and it is looking all the more likely – it will be hard to escape the feeling that Liverpool's main aim for the next few years will be debt reduction rather than trophy gathering.

Something desperately needs to change; while many see a new stadium or a redeveloped Anfield being key to transforming Liverpool's financial fortunes, isn't there a case to be made for investing in the one facet that should always take priority – the team?

Just say the Reds miss out on qualifying for the Champions League this season and, heaven forbid, some of the star players are sold to make up the shortfall in revenue they would normally receive from rubbing shoulders with the best in Europe.

Slowly but surely, Liverpool would find it harder and harder to keep pace with the likes of Arsenal, Chelsea and the two Manchester clubs, to the point where European football might slip off the landscape completely.

What would the point be in having a sparkling new stadium, then, if the standard of football on offer was way below what has become the norm during the past six years and the big names were out of reach?

The next five months will go a long way to shaping Liverpool's future and if Benitez feels it is best to hang on to Babel, who might just turn a couple of games with the kind of moments he produced against Lyon and West Ham, then the decision not to sell is right.

Yet what is not right is the fact a club with the Liverpool's history and pedigree is being forced to rummage around for bargains with nothing other than loose change; expectation and realisation, sadly, do not go hand in hand.

Dossena doesn't deserve derision

Andrea Dossena's £4.4m move to Napoli was under threat earlier this week when bad weather left him stranded at John Lennon Airport.

Within 10 minutes, though, 40,000 Liverpudlians arrived en masse to help clear the runway to make sure the deal went through. Boom, boom!

Okay, it's a decidedly corny joke and, quite possibly, the cruellest we have heard for some time at the expense of a Liverpool player.

Few tears will have been shed, however, now that Dossena has gone back to Italy and brought the curtain down on a difficult 18-month spell on Merseyside.

But, when you think of some of the players who have had the privilege of pulling on a Red shirt in the last 15 years, does he really deserve to have such derision heaped on him?

The answer, quite simply, is no; Dossena, simply, was more suited to European football than the hurly burly of the Premier League, as shown in contrasting performances against Fiorentina and Portsmouth last month.

And, whatever his faults, it should be remembered that he made significant contributions to last season's stand-out wins against Real Madrid and Manchester United – not too many duds could say that.
---

Thor Zakariassen ©