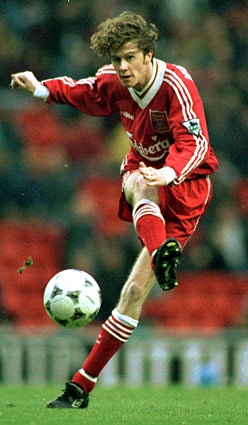 Born: Liverpool, 11.2. 1972
Signed: February 1990
Games: 364
Honours: FA Cup 91/92
League Cup 94/95
Champions League 99/00, 01/02 (as Real Madrid player)
Spanish League 00/01, 02/03
Other clubs: Real Madrid 99-03, Manchester City 03-

Kenny Dalglish brought him to the club and he came through the youth ranks signing professionalforms on his 18th birthday in February 1990. Lawrie McMenemy chose him for his England Under-21 debut against Wales at Tranmere in December 1990 before he had played for the Liverpool first-team and later commented about the spindly teenager that there was more fat on a chip. Making his debut as a substitute against Sheffield United ten days later, he was thrown in at the deep end by Graeme Souness at the beginning of the 1991-92 season, scoring at Manchester City in only his second full appearance.

He played 32 League games in that season, more than any other forward. He scored 11 goals (all competitions) in the season of which the most important was the extra-time winner in the "Reds" 3-2 FA Cup fifth round replay win at Ipswich. He ended his first full season by playing in the Liverpool side that beat Sunderland 2-0 in the FA Cup final.

In February 1993, he captained the England Under-21 side for the first time against San Marino and he scored the last goal in a convincing 6-0 win. However, the fall-off in his goalscoring return in this and the following season led manager Roy Evans to state that he should score more often and not drift out of games. Responding to the challenge, he was credited with his first hat-trick in a 4-1 win over Sheffield Wednesday in October 1994 in his 100th League appearance although the Premier League later decreed that one of the goals was an "own goal".

The reward for his improved form was the offer of a four-year contract worth £1,000,000. The following month saw him receive his first England call-up for the game against Nigeria and he came on as a 25th minute substitute for the injured Robert Lee. His full debut came against Colombia in September 1995. Arguably his finest performance thus far was his Man of the Match display against Bolton in Liverpool's 2-1 victory in the 1995 Coca-Cola Cup final where he scored both Liverpool goals. His dazzling dribbling skills would seem to ensure his future at both club and international level.

The 95/96 season was Steve's best for Liverpool, he made the right slot in the midfield his own,and he was nearly an ever present. Enjoyed an outstanding Euro 96 for England, until the penalty shoot-out defeat to Germany. Steve had another excellent season in 96/97 just missing one Premiership game and scoring seven goals in the top-flight.

Steve was also a regular for England until Roy Evans decided to pull him out of the squad to go to 'Le Tournoi' in France. This angered Glen Hoddle and it remains to be seen whether Steve will win back his place for the national side. However, Steve has had a brilliant start to the 97/98 season, despite tabloid stories linking him with a multi-million pound move to Barcelona. Steve's goal against Celtic in the UEFA Cup, where he picked up the ball in his own half and ran at the Celtic defence, was undoubtedly the best goal he has ever scored in a red shirt.
(LFC Official Website)
---
29.1.99: Steve McManaman tonight became the most lucrative Bosman transfer in history as Real Madrid agreed to a £14million package over five years for the Liverpool player.

16.5.99: Real Madrid-Bound Steve McManaman was given a rousing send-off on his Anfield farewell as Liverpool ended their season on a high with a comfortable 3-0 victory over Wimbledon. McManaman laid on the second goal for Karlheinz Riedle before being substituted with 15 minutes of his 364th and last competitive appearance for Liverpool remaining.

19.5.99: Steve McManaman missed playing in Tuesday night's Football League Centenary Challenge match against newly-promoted Sunderland to be in Crosby, Merseyside, at his mother's bedside. It is believed his 50-year-old mother died at 6am on Wednesday. She had a lumpectomy followed by radiography treatment and had campaigned for breast cancer awareness with her son.

24.5.00: McManaman claimed tonight's victory in the Champions League final was the biggest game of his career after he helped the Spanish giants to a 3-0 win over Valencia in Paris. The England midfielder set alight the Stade de France with his performance which he capped with a goal, an excellent volley midway through the second half.
Macca became the first Englishman since Chris Waddle in 1991 to play in the European Cup final for a foreign team.

26.5.01: McManaman could celebrate his first league title ever.
15.5.02: Macca tonight won the European Cup for the second time in his career with Real Madrid
30.8.03: Macca joins Manchester City on a free transfer.

20.5.05: Macca ends his football career.

---

Thor Zakariassen ©