---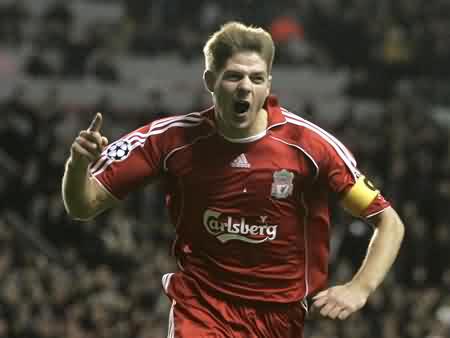 The smile has now returned to Gerrard's face...
(Photo: Reuters)
NOVEMBER 1
Carragher predicts top-class Gerrard

By Ken Gaunt - PA Sport

Liverpool are about to see the resurgence of Steven Gerrard, who is finally "up and running" after scoring his first goal of the season and steering the Reds to the last 16 of the Champions League.

You could almost reach out and touch the relief around Anfield when he found the target against Bordeaux - at the 15th attempt in Liverpool's colours.

Gerrard's goal was sandwiched between two from Luis Garcia, and it was little wonder he celebrated in style.

It was first goal for the club since the FA Cup final triumph against West Ham in May - when he scored twice.

Gerrard's finish was emphatic following a cross from Bolo Zenden as Liverpool secured their passage into the next stage.

Leading the praise for the 26-year-old England midfielder was his close pal Jamie Carragher.

"Stevie is up and running now, and it was a great relief for him to get that goal," said the Liverpool defender.

"He scored 23 last season, which is tremendous for a midfielder - and it will be difficult to better that.

"You cannot expect him to repeat it every year, but I am sure he will get into double figures.

"Stevie was a bit unfortunate before his goal. He had quite a few opportunities but did not hit the target.

"I know him well and how he would have felt if he had not scored."

Liverpool face PSV Eindhoven, who have also qualified, at home on November 22 in a top-of-the-table showdown.

The teams drew 0-0 in Holland, and Carragher is expecting another close match.

He said: "Obviously we are delighted get through to the next stage. The aim now is to finish top of the group.

"We have a decent defensive record in the Champions League, and I hope we can keep that going.

"Some great teams may finish second in their group, but the main thing is we are through.

"Now we have to take advantage of playing PSV at home. It will be very difficult, because they have great experience in the Champions League and are doing very well in the Dutch League."

Next up are Reading on Saturday, and the debate has already started about whether boss Rafael Benitez will return to his rotation policy.

For the first time in 100 games, Benitez named an unchanged side for the Bordeaux match.

Carragher quipped: "It was a bit strange he decided to quit on 99. You have a bit of laugh about it. Didn't [former England cricket captain] Mike Atherton go out on 99 a couple of times?"

But Carragher was quick to praise Benitez.

"He is the manager; he picks the team, and the success he has had speaks for itself.

"We knew the team an hour before kick-off. Of course, you are wondering whether you are going to play.

"But the manager has his way and is doing an excellent job."
---
NOVEMBER 1
Riise: Rafa's team made us smile

By Paul Eaton - LFC Official Website

John Arne Riise has revealed how Rafael Benitez's decision to name the same team for the first time in 100 games brought smiles to the Liverpool dressing room last night.

The Liverpool boss surprised everybody by sticking with the players who had defeated Aston Villa on Saturday and sending out the same starting eleven to face Bordeaux.

Riise admits there was a relaxed atmosphere in the minutes leading up to the game anyway before Benitez's shock announcement took everybody by surprise.

"We didn't know what the team was going to be when we arrived at the stadium but I think we all hoped it would be the same because we played well against Aston Villa, we were all fit again and we all wanted to help the club qualify for the next round," he said.

"When he told us it would be the same team as Saturday we just looked at each other and started smiling. This was the hundredth game - he couldn't be keeping the same team, could he?

"There was a great atmosphere in the dressing room before the game anyway, but this just added to the fantastic feeling we all had. It was a nice moment and good fun.

"To be honest we're bored of reading about rotation. We know what our manager stands for and we support him one hundred per cent. He's one of the best around, he's so tactical and so thorough in his preparations and he knows what he's doing.

"He wants every player to be fit for every game and it's just not possible to keep using the same players over and over again."
---
NOVEMBER 1
Reds showing true character

By Tommy Smith - Liverpool Echo

Character is one major asset Liverpool teams have shown down the decades.

But this current team has revealed in the past week that they have it in abundance, too.

It is often said that football is a funny old game, and how true that has been with the events on and off the pitch at Anfield since that disappointing defeat at Old Trafford.

I was highly critical of the team over their performance against Manchester United - but if you were looking for a positive response from that setback it has come in the best possible way.

Ten goals, three victories and enough good football to suggest that the Reds may finally be getting to grips with their season.

The Reading cup result certainly boosted morale, even if it was not quite as emphatic as it should have been, and then I thought the demolition of an Aston Villa side which had been unbeaten was the best football Liverpool have produced this season.

Then, to cap it all, Rafa Benitez's side moved relatively smoothly into the knockout stages of the Champions League last night with a 3-0 success over Bordeaux.

In between, we've had an Anfield director criticising the manager over his rotation system and moves in the transfer market, and his subsequent resignation. What a week!

But I think the Villa match gave clear evidence that this Liverpool team can be a force this season if it can produce consistent performances like that one.

Martin O'Neill has exerted his influence on Villa since his arrival and they look a far more solid proposition, as their displays had proved, and they came to Anfield full of confidence. But the rampant Reds shattered that in a first half show that was top class from start to finish, with fine goals to go
with it.

That set them up perfectly last night and, with the manager sticking with an unchanged line-up, they were soon confidently sweeping the ball around the pitch.

Patience is often essential in Europe and the first goal didn't come until midway through the half, but what a superb one it was as link-up play on the right resulted in Steven Gerrard's perfect cross being volleyed home by Luis Garcia.

The Spanish midfielder has often infuriated me with his ability to give the ball away, but I have to admit he is turning into a good player, getting far more involved in the inter-play, and his finishing can be exquisite, as his second one showed, too.

The early part of the second half saw the French in a more positive mood and they threatened on a few occasions, but any hopes they had faded immediately Fernando put his head into John Arne Riise's face and the red card was immediately brandished.

Gerrard, roaming all over in the later stages, was a big influence once again and delighted in his goal in front of the Kop, while Momo Sissoko again looked a terrific player and continues to impress despite his tender age.

The Reds' form had been patchy up to the past week but, even so, director Noel White's criticism of a manager that has won the Champions League and FA Cup in successive seasons, was totally over the top.

It's not the Liverpool way - but at least he made the right decision with his resignation!
---
NOVEMBER 1
Stevie: The spark is back

By Chris Bascombe - Liverpool Echo

Steven Gerrard believes the 'spark' has returned to his game after admitting he'd not been producing the goods earlier in
the season.

The skipper was relieved to claim his first of the campaign in the 3-0 win over Bordeaux, as Liverpool secured their last 16 Champions League place.

And now Gerrard senses a definite shift in momentum as the Reds seek to maintain their winning streak.

"It was a weight off my mind to get the goal," he said.

"I had a few chances before and you could see I was getting too anxious. But I just had a feeling it was going to come last night.

"My form has been a lot better in training and I knew it was just a matter of time before I took it onto the pitch.

"The most important thing for me is always going to be the team, but I know if I'm playing to my best I can have a big influence on our form.

"I've been missing something since the start of the season. I've not had the spark to my game, and I definitelythink coming back from the World Cup has been a factor.

"It's more to do with missing pre-season. You're never as sharp if you don't get the full pre-season training, and it's no coincidence as far as I'm concerned that if you look around Europe a lot of the major players haven't started the season that well."

After the disappointing Premiership defeat to Manchester United on October 22, Gerrard felt it was essential the players responded.

With three wins, and ten goals, he's confident the side is starting to move into a higher gear.

"When we were on the bus home from Old Trafford, we were all down," he said.

"We knew we'd let ourselves and the club down and we got together as a group and said to ourselves there had to be a strong reaction.

"I think in the last few games you've seen that, and now it's important to keep that going."

The smile has now returned to Gerrard's face, and he couldn't resist an extra swipe at the ongoing obsession with how 'happy' he is at Anfield.

"What gets me down is losing games and hearing so much rubbish about me," he said.

"I could go on for several paragraphs about what was written last weekend, but I think in this case I summed it up well enough in one sentence on Monday.

"We're all a bit sick of reading the same things. I'm sick of it, the players are, the fans and the manager is.

"I feel really sorry for the fans that they have to see the focus put on me again in those stories, but what can I do about it?

"I think from the reaction of the supporters last night, it's clear to me they're not taking any notice of that stuff any more and that's exactly how I want it
to be."
---
NOVEMBER 1
Benitez explains change of tactic

BBC Sport Online

Liverpool manager Rafael Benitez has explained why he unusually opted for an unchanged line-up in Tuesday's 3-0 win over Bordeaux in the Champions League.

It was the first time in 100 games that Benitez had not made an alteration from the previous team he had selected.

He said: "The players were physically strong enough to play and had the motivation for the Champions League.

"So, I thought if we are playing well, we have the confidence and we have time, then we can use the same team."

The victory, achieved through Steven Gerrard's first goal of the season and two from Luis Garca, sent Liverpool into the knockout stages of the competition.

Benitez has already stated he will revert to ringing the changes for Liverpool's next Champions League game - at home to PSV Eindhoven on 22 November.

Now that progress to the next round has been assured, Benitez said he will use the match to allow some younger players to gain European experience.
---
NOVEMBER 1
Gerrard loving Anfield life

By Paul Higham - Sky Sports

Liverpool captain Steven Gerrard has brushed aside any talk of his unrest at Anfield, as he bagged his first goal of the season in a 3-0 UEFA Champions League victory over Bordeaux.

The Reds' 3-0 success was enough to secure their place in the last 16 of the competition with two games to spare, and Gerrard's goal was a huge bonus on the night.

Gerrard banged in 23 goals for Liverpool last season but has not yet found top gear this term and his goal against Bordeaux was his first since his heroics in the FA Cup final back in May.

His lack of goals has been part of the reason some have speculated that he has become unhappy with Rafa Benitez's rotation policy and his decision to play Gerrard on the right instead of central midfield.

However, Gerrard has never complained and simply laughed off any talk of him being unsettled at Anfield and says he is still loving life at his hometown club.

"You look at my performance tonight, it didn't look unsettled," insisted Gerrard.

"I will be at Liverpool for many years to come and I'm loving every second."

As Benitez finally named an unchanged line-up, Gerrard admitted that the team were surprised when they heard the manager's decision.

Although Benitez's rotation policy has come under fire in some quarters, Gerrard insists the players have belief in their manager and says it is their own performances that have been a problem.

"He named the side an hour before kick-off and the lads were looking around in astonishment," admitted Gerrard.

"You have to believe in what he says, whatever team he puts out.

"Our form has been inconsistent and it is up to the players to improve that."
---
OCTOBER 31
Rafa targets top spot

By Paul Higham - Sky Sports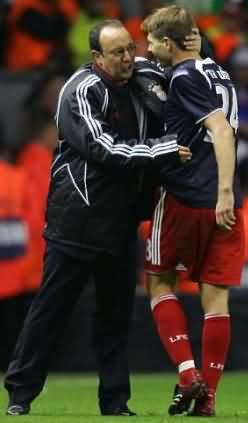 Liverpool manager Rafa Benitez has now set his sights on winning their UEFA Champions League group after his unchanged line-up secured a place in the knockout stages.

Benitez surprisingly kept the same side which dispatched Aston Villa at the weekend, as Liverpool remained unchanged for the first time after 99 games of change.

The Reds were hardly troubled as they beat Bordeaux 3-0 at Anfield to ensure their progress from the group with two games to spare.
Rafa thanks his captain.
(Photo: Empics)
Liverpool now face fellow qualifiers PSV Eindhoven at Anfield in their next match when they can seal top spot with a victory against the Dutch side, and take any pressure off their trip to Istanbul.

"This is important for us, and it gives us the chance now to go on and win the group in our next match here against PSV Eindhoven," said Benitez.

"Then we can maybe make changes for the last game and give young players European experience."

Bordeaux were already 1-0 down and struggling when Fernando Menegazzo was sent off for an outrageous headbutt on John Arne Riise.

"After the sending off it was easier for us to press and chase the ball and we had more space for us to work in.

"I was on the other side of the pitch and I did not see clearly but I saw John's head with blood and the red card was the right thing.

"It was a headbutt and you could see the blood. You do not like to see things like that on the pitch, you prefer to talk about good football."

Benitez's Bordeaux counterpart Ricardo Gomes was not happy with the build-up to Menegazzo's dismissal, as he believes Liverpool should have returned the ball instead of taking a quick free kick.

"The sending-off for Fernando was the turning point, we were disappointed that Liverpool raced away from a throw and did not give the ball back to us after a stoppage," said Ricardo.

"That was not fair play.

"But it was an incident that you cannot condone, in the end it gave Liverpool the extra man and the incentive to go on and win the game. Beforehand we certainly had a chance of an equaliser.

"Our plans to attack were not helped by losing (Marouane) Chamakh early on, it meant an inexperienced player going into a very important game.

"Now we are out of the Champions League, but we have two games left in the group and we must make sure that we qualify for the UEFA Cup by taking third place in the group.

"The fact that we have not scored in the Champions League shows that we are not quite ready yet for the higher level, but I feel that with some adjustments we will be much better in a couple of seasons."

Benitez was happy with his side bagging three more goals, with Steven Gerrard's goal drought coming to an end an obvious bonus.

"We wanted to see more good football, some good passing and more goals," added Benitez.

"We could have scored maybe one or two more goals but it's good to see three goals and its good to see us playing well and creating chances.

"I think it was really good for Steven because when you have finished one season with 23 goals and not scored for a few games, it does become something that prays on your mind.

"Steven Gerrard scored a lot of goals last season but has not scored this season and he wants to score because he is a winner and so now maybe after this goal he will be calmer in front of goal."
---
OCTOBER 31
Garcia at double as Reds go through

TEAMtalk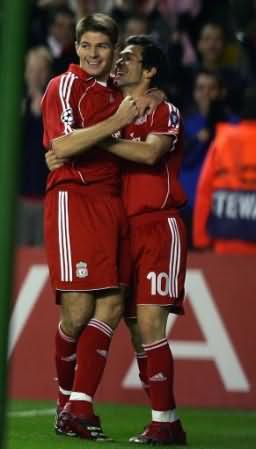 Liverpool secured their place in the next stage of the Champions League with a convincing 3-0 victory over 10-man Bordeaux at Anfield.

This win, coupled with PSV Eindhoven's triumph over Galatasaray, means Liverpool have qualified from group C with two games to spare.

Luis Garcia scored in each half - taking his Champions League tally for Liverpool to 10 - and Steven Gerrard finally grabbed his first of the season to settle things.

Garcia and Gerrard - the goalscorers - celebrate.
(Photo: Empics)

But had it not been for a crazy headbutt by Fernando Menegazzo on John Arne Riise on 66 minutes, with the score at 1-0, Bordeaux may well have grabbed something from the game.

Liverpool boss Rafael Benitez sprung the ultimate surprise when he named an unchanged side to face the French league runners-up.

After 99 successive matches tinkering with his side, the Liverpool boss opted to retain the team which beat Aston Villa at the weekend.

Bordeaux made five changes from the team which lost 1-0 to Liverpool a fortnight ago, but Vladimir Smicer, a Liverpool hero of Istanbul now with the French side, failed to make the 18 and took up a seat in the directors' box after a rousing ovation from the Kop.

Liverpool showed their intent with an opening minute move down the left which saw Gerrard hook over from Riise's cross.

Bordeaux needed to win to have any chance of going through themselves and opted for twin strikers and a more adventurous approach.

But that was upset on just 11 minutes when striker Marouane Chamakh limped off with a knee injury, Edixon Perea coming on as substitute.

The French were still keen to come forward and Menegazzo ran from midfield to fire just wide from 20 yards.

Liverpool found it difficult to break through the French back line until the 23rd minute and the goal came from a familiar route.

Luis Garcia has a habit of scoring in the Champions League and he was there just beyond the far post to meet a Gerrard cross with a left-foot volley which bounced away from Ulrich Rame into the far corner.

Gerrard's flick then gave Dirk Kuyt a sight of goal from 30 yards and he held off two defenders to send a shot fizzing wide of a post.

It was not until the 41st minute that Liverpool came close again, a Kuyt header just over from another Gerrard cross.

Bordeaux were first to threaten in the second half when on 47 minutes Florian Marange sent in a swerving 25-yarder that Jose Reina touched over.

Three minutes later Reina was in action again when Jean-Claude Darcheville was put clear, the Spanish goalkeeper blocking the close-range effort.

Mohamed Sissoko was booked on 55 minutes for a foul on Pierre Ducasse, and two minutes later Liverpool sent on Bolo Zenden in place of Alonso.

Bordeaux continued to make life uncomfortable for Liverpool, Micoud pulling the strings, the threat of an equaliser always there. The French team then replaced Darcheville with Gabriel Obertan.

Gerrard fired wide from a good position and a misplaced pass soon after showed that the Liverpool skipper was not quite on his game.

Then what had been a tepid game produced a red card and a row over a Sissoko tackle.

Referee Markus Merk calmed the uproar and opted to take no further action, with Liverpool taking a quick throw and racing away before Merk pulled them back and awarded the throw to Bordeaux.

But the French were furious and Menegazzo lost his cool and headbutted Riise on 66 minutes, Merk immediately waving the red card.

That was the incentive Liverpool needed to take control, and on 71 minutes Gerrard scored his first goal of the season when Zenden put him clear down the middle.

Rio Antonio Mavuba then came on for Micoud and on 76 minutes Liverpool had their third. Mavuba made a dreadful error to gift the ball to Luis Garcia who raced into the box to blast home his second of the game.
---