---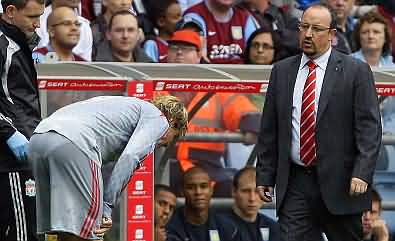 The picture we don't want to see. (Photo: Reuters)
SEPTEMBER 2
Rush: Reds lost the chance
to put pressure on United

By Ian Rush - Liverpool Echo

Any team that comes away from Villa Park with a point this season is not going to be disappointed – but I can't help but think that Liverpool missed a big opportunity on Sunday.

If they had won the game, they would now be five points ahead of Manchester United and with the international break that gap could not have been closed until the two sides meet at Anfield on September 13.

It might still be early in the season and United do have a game in hand, but they would not have wanted to come to Anfield knowing that a defeat would leave them trailing by eight points.

Football at its very highest level is all about pressure, and the best sides are the ones who can deal with it the best.

United have certainly not been found wanting in this respect, but it would have been interesting to see how they would have coped with the knowledge that they could lose touch with the league leaders.

As it is, Liverpool did not do enough to beat Villa and that means United will not be under quite as much pressure, and I think that's a shame.

Seven points from your first three games of the season is always going to be a good return and there are plenty of other teams in the Premier League who would love to have made as good a start as Liverpool.

Even though they are nowhere near their best, they have still managed to pick up points from some difficult games and that is definitely a positive.

But if they had just gone for Villa a bit more at the weekend I am sure they could today be boasting a maximum points haul and be top of the league on their own instead of sharing the leadership with Chelsea.

That is the next test for this Liverpool side and their title credentials – they have to start going to tough away grounds believing that they can win and doing everything they can
to do so.

Too many draws stopped them from mounting a proper title challenge last season and they do not want the same thing to happen this time around, but they are going to have to start going for the jugular more if they are to turn draws like Sunday's against Villa into wins.

Why break can be fortunate for Rafa

Rafa Benitez is never usually happy when the international breaks come around but I'm sure he's quite relieved on this occasion.

Losing Steven Gerrard and Fernando Torres to injury at the same time is obviously a massive blow but at least the blow is being softened by the fact that Liverpool do not have a game for a couple of weeks because of the internationals.

The two-week break means Torres and Gerrard can work on their recovery without missing games and hopefully they will both be back sooner rather than later.

But even if either or both of them have to miss the Manchester United game it is up to the other players to step up and prove that Liverpool can win without their star duo.

When I was a player, Bob Paisley was always telling all the lads at Liverpool that we had to make sure we were not found wanting whenever chances came our way.

That meant that if someone got injured you had to come into the side and do everything you possibly could to stay there.

That very same message will be being delivered by Rafa Benitez to those players he feels can come in and do a job if Torres and Gerrard are absent.

Reina is a class act

One of the big plus points to the way Liverpool have started the season has been the form of Pepe Reina.

There were a lot of people who wondered whether he would be good enough when he first moved to Anfield and I've got to admit I was one of those people.

But since then Reina has got better and better and he is undoubtedly one of the best around at the moment.

In the first few games of the season he has proved himself to be a match winner and when you've got a keeper who can do that it makes a massive difference.

Against Standard Liege he was Liverpool's best player in both legs and the saves he made were the difference between going through or being knocked out.

Another thing I've noticed about Reina is how popular he clearly is with his team mates.

I first picked up on it during Euro 2008 when he made sure he looked out for all Spain's players even though he wasn't in the starting line-up. No doubt he is exactly the same with Liverpool and players like that are worth their weight in gold when it comes to building team spirit.
---
SEPTEMBER 1
Creative sparkle
missing in action

By Nick Smith - Liverpool Daily Post

It clearly wasn't in Rafael Benitez's plans to get to one day from the end of the transfer window and be watching Gareth Barry playing for the opposition.

But it was the players missing from his own squad that proved the greatest frustration for the Liverpool manager at Villa Park on the last day of August.

Steven Gerrard's absence already assured Liverpool would be suffering from a lack of creativity – but having to make do for an hour with the one player who can make something happen out of nothing left Benitez on a hiding to nothing.

And although in circumstances a draw can be considered a decent result, it brings back bad memories of what cost Liverpool a title challenge last season – settling for one point when three were on offer.

A win would have given Benitez the boost of getting one over on Martin O'Neill where it really matters – on the pitch.

If only events between the two clubs there could have been half as feisty as they have been off it during this long, heated summer.

But victory would have taken Liverpool top of the Premier League on their own with three wins out of three.

And unlike the previous two successes this season, they would have been easily forgiven for another below-par performance if they had forced the decisive breakthrough against a side like Villa.

The statement of intent that all title challengers want to make would be there for all to see this morning.

Liverpool on top of the pile on their own and unable to be shifted for at least another fortnight.

As it is, they stand vulnerably and unconvincingly shoulder to shoulder with Chelsea having not been able to produce a display that will inspire confidence that they will still be alongside them come May.

And when Reo-Coker was shifted to right-back to allow James Milner to make his second Villa debut, Benitez responded by adding full-back Fabio Aurelio to the midfield battle.

It was all taking on a congestion of spaghetti junction proportions and just made the likelihood of a 0-0 depressingly inevitable.

But at least that scoreline only reaffirms the one positive constant running through Anfield this season and that is the reliability of the defence and goalkeeper, having now only conceded once in five competitive games this season.

Pepe Reina's fine save from John Carew proved vital while Jamie Carragher and Martin Skrtel expertly repelled perhaps the most dangerous attacking line-up outside the top four.

Villa – six goals in their two previous Premier League outings plus a glut in their UEFA Cup qualifiers – had plenty of pace and passion but, like their visitors, couldn't transform it into anything that overly-worried the opposition.

And other things were just as predictable.

Such as the biggest cheers of the day being for Barry, the biggest jeers for Benitez.

The Villa fans' way of sticking one to Liverpool for the apparently despicable way they tried to prise away their captain.

Incidentally, the next loudest roar was for Milner, the same supporters presumably having no problem with their club's pursuit of the winger to the point of him handing in a transfer request to Kevin Keegan last week.

Double standards that perfectly sum up a tiresome transfer window.

Yet Barry has emerged from the whole saga relatively well off out of it all.

He still has the adulation of the Birmingham faithful and his desired move falling through doesn't seem to have affected his game.

Best of all, not being a Liverpool player spared him from having to wear those hideous red stockings with his silver away strip.

It was Barry who opened up the Liverpool defence to create the game's first real chance after 35 uneventful minutes of shadow boxing, setting Ashley Young free to tee up Carew, whose low shot was well blocked by Reina.

Liverpool took 40 minutes to register their first meaningful effort when Dirk Kuyt lashed into the side netting – but it lifted his team-mates and Ngog was soon shaving the crossbar after a deft touch by Keane put him free.

It was a spell that at least seemed to give Liverpool some inclination that they could win the game and they came out for the second half in a much more positive frame of mind.

Keane teed up Alonso for a shot deflected wide by Nicky Shorey, then Brad Friedel had to tip Dossena's dangerous cross over the bar.

Keane then had an opportunity to find the net in August for the first time in six years when he raced on to a long ball but he fluffed the finish under pressure from Reo-Coker.

From that point, Villa looked the more likely as Milner forced Reina into a sprawling save and a series of late set-pieces also had the nerve ends jangling.

And as many have feared during Liverpool's recent run of late winners, when the standard of opposition was raised, the chances of getting away with another ineffective attacking showing would lower.

Which proved the case yesterday as Villa, with Martin Laursen enjoying a much better afternoon than this time last year when his own goal contributed to an opening day defeat to the Merseyside men, found them all too easy to defend against.

All of which means it shouldn't be too difficult for Benitez to stop lamenting his side being without Barry – because the players he has got are giving him plenty enough to worry about at the moment.

The loss of Torres with a hamstring injury after half an hour could still have major significance with Manchester United the next opponents but it wasn't the biggest problem yesterday.

Indeed, his replacement David Ngog looked lively and almost scored towards the end of the first half.

But the deadliest finisher in England might as well be limping down the tunnel when he's not being given anything to finish off.

Once again, a chronic lack of options and ideas in the final third paralysed Liverpool's chances of getting among the goals.

The return of Javier Mascherano and Lucas from the Olympics couldn't have been better timed but teaming them up with Xabi Alonso in midfield again exposed a lack of width.

At one point, Mascherano stared into a gaping hole where Albert Riera should be, realising all his team-mates were to his right even though he was in the centre of the field.

Lucas had seemed to start on the left flank, then Robbie Keane occasionally dropped in there to provide an outlet before everyone seemed to abandon the idea all together.

All too narrow and negative to cause Villa any serious sustained problems

For that reason, it wasn't just the sight of Barry in a Villa shirt that made Benitez envious.

Nigel Reo-Coker and Ashley Young proved the value of genuine wide men with some electrifying breaks.

Their supply line was pretty well snuffed out on the whole but they still showed up Liverpool's lack of variety.
---
SEPTEMBER 1
Delight at seeing Barry
line up against Liverpool FC

By Nick Smith - Daily Post

Martin O'Neill revealed his delight at watching Gareth Barry take part in an Aston Villa versus Liverpool fixture – in a claret and blue shirt.

It's a scenario the Villa manager admitted he couldn't envisage for most of the summer, during which Liverpool have relentlessly chased the midfielder.

Before yesterday's stalemate, O'Neill walked over to shake the hand of opposite number Rafael Benitez – who was desperate to push the deal through before being denied the funds to meet Villa's asking price.

And O'Neill said: "I'm sure everything with Rafa will be absolutely fine – until the next time! But no, I don't think anybody should be surprised I went across and did that.

"It's gone as far as I'm concerned and I'm just so pleased that Gareth is here. I wouldn't be making any promises about anything but he is here for the foreseeable future and I hope he can now settle down a bit.

"He did very well because he's had a lot to cope with in recent weeks. But three weeks ago I envisaged he would be playing against us today but that wasn't to be.

"That's great for us and our hope now is to get him back to the form that took him close to getting the England captaincy."

O'Neill also remarked on the close attention Benitez paid to another of his prize assets – Ashley Young.

The left winger, whose manager values him at £30m, was stifled in his creativity by Alvaro Arbeloa. O'Neill said: "That is the biggest compliment Ashley could be paid.

"It was as if the right-back was told to just concentrate on him and not do any covering. The other defenders seemed to be saying, you take care of him and we'll deal with everything else. He should take that as a massive compliment."

O'Neill added: "It was a really tough game, but we expected to create more chances than we have done. We kept a clean sheet, which is unusual for us, but we are normally more fluid than that.

"But having said that we probably carved out the best chance with the best piece of football in the game, when John Carew had a chance cleared off the line.

"But overall it was tough and I thought they have played to get something out of the game and I thought our effort was terrific. We kept going right to the end.

"We have a habit of scoring goals, but also letting a few in at the other end, so I thought if we kept a clean sheet, we would win – but it wasn't to be. But we'll learn a lot because that's a big, tough game for us, physically it was demanding and we'll have gained from that."

The lingering bad feeling over the Barry saga led to Benitez receiving a torrent of abuse from the Villa fans.
---
AUGUST 31
Benitez demands improvements

By Peter Fraser - Sky Sports

Liverpool manager Rafa Benitez admits his side need to improve if they are to develop into genuine Premier League title contenders.

The Reds were held to an uninspiring 0-0 draw away to Aston Villa on Sunday as Benitez's side lost their 100 per cent start to the season.

And having received their perennial tip to end an 18-year wait for a league title, Benitez confesses his team need to up their game after failing to produce a shot on target at Villa Park.

"We were controlling and creating the opportunity for the final pass," Benitez told Sky Sports 1. "We have to improve the final pass and that could be the difference."

The improvement Benitez is keen to see could be provided by the £8million arrival of Espanyol winger Albert Riera.

And Benitez is confident the deal will be completed before the end of the transfer window on Monday and does not expect to make any other new signings.

"I think so," said Benitez when asked if Riera will be Liverpool's final new face of the transfer window. "He will be a good addition. It is nearly done."

Liverpool's failure to trouble Villa goalkeeper Brad Friedel owed a lot to the first half injury of Fernando Torres.

The Spaniard suffered a suspected hamstring strain and is to undergo a scan on Monday to determine the full extent of the injury.

Benitez is already without captain Steven Gerrard, but he is hopeful Torres will recover in time for Liverpool's next Premier League outing, at home to Manchester United on 13th September.

"We don't know how long Torres will be out for yet," Benitez told Liverpool's official website. "We'll have to wait for the results of the scan on Monday.

"It could be he is out for seven to 10 days, but until he has the scan we won't know."
---
AUGUST 31
Villa end Reds' record

Sky Sports

Liverpool lost their 100 per cent start to the season and missed out on the opportunity to move to the top of the Premier League following a goalless draw at Aston Villa.

The Midlands encounter produced further disappointment for Reds manager Rafa Benitez, who was already without sidelined captain Steven Gerrard, as star striker Fernando Torres sustained what appeared to be a hamstring injury in the first half.

Three points would have seen Liverpool move to the top of the table following Chelsea's draw with Tottenham, but Benitez's side never truly looked capable of finding a winner.

Villa also struggled and John Carew wasted the best chance of the opening 45 minutes as the Norwegian striker fired straight at Jose Reina from close range following good work by Ashley Young.

Both sides came out with more intent after the interval, but shots on goal remained at a premium as Robbie Keane wasted an excellent chance to open his Liverpool account with 20 minutes remaining as he made a mess of things when through on goal.

The build-up to the game had been overshadowed by the appearance of Gareth Barry, a summer transfer target of Liverpool, but it was Martin Laursen who almost earned the points for Villa as he headed narrowly wide in the closing minutes.

Benitez was met with a crescendo of criticism from Villa fans when he made his way to the dug-out before shaking hands with home manager Martin O'Neill, who he angered with his pursuit of Barry.

But the game itself was mostly disappointing, with both sides cancelling each other out and for long periods adopting a safety-first approach until an exciting finale.

The first incident of note saw Liverpool defender Martin Skrtel booked after 13 minutes for hauling back Carew on the left flank.

Liverpool suffered a setback after 27 minutes when striker Torres pulled up sharply when chasing an innocuous-looking pass and was immediately taken off.

It led to Benitez giving a debut to striker David Ngog, who was signed from Paris St Germain earlier in the summer.

Then, after 35 minutes, Carew squandered the first clear-cut chance when set up by Young.

Liverpool threatened for the first time when a deep cross from Andrea Dossena was only headed by Nicky Shorey into the path of Dirk Kuyt, but he shot into the sidenetting.

Then a superb reverse pass from Keane opened up the Villa defence for Ngog and his left-footed curler was only inches too high.

The visitors stepped up their game in the second half and Keane teed up a shot for Xabi Alonso which was deflected over Brad Friedel's bar by Shorey.

Then Friedel did well to tip over, at full stretch, a superb cross on the run from Dossena.

Villa enjoyed pressure of their own and Curtis Davies made good ground to get on the end of Young's free-kick but summed up the game by heading the ball away from the Liverpool goal.
---