---
SEPTEMBER 1
Houllier fighting his corner

Football 365

After overcoming major heart surgery and returning to lead Liverpool to success, Gerard Houllier has proved himself a fighter.

Following Liverpool's poor start to the season, he has needed his fighting qualities once again to counter claims that his job was on the line.

The Reds failed to win and score from open play in their first three games of the new Barclaycard Premiership season and the arguments that Houllier's side were boring and over-defensive came back stronger than ever before.

Houllier's plea for patience after their dismal goalless draw with Tottenham last Wednesday was falling on deaf ears as, after a miserable second half of last season, the time for that had all but run out.

Facing mounting criticism from pundits and fans, the last thing Houllier needed was a trip to Everton on Saturday.

In such a situation, the consequences of defeat could have been terminal for Houllier as Liverpool boss, but as it happened little could have turned things around more quickly than a win over the local rivals.

One swallow does not make a summer, but winning at Goodison Park, and winning well, was just the tonic Houllier needed. For Liverpool fans, the world looks a brighter place after a 3-0 victory over Everton.

No-one will be getting carried away, but for now the crisis is over. Houllier's decision to play a more attacking style paid off, and although there were a few moments of alarm, they were full value for their win.

With confidence restored, Liverpool will now look forward to their return from the international break with renewed vigour. Any talk of a title challenge may still be premature but Houllier, as Liverpool's famous anthem implores, has once again walked through the storm with his head held high.

His side displayed intent and commitment at Goodison and there were signs that his new midfield diamond, with Steven Gerrard playing deeper but with licence to get forward, could be the way forward. El Hadji Diouf was lively and linked well with new team-mate Harry Kewell and Michael Owen took his chances.

The Reds' performance has shifted the tag of `crisis club' to Premiership rivals Newcastle.
---
SEPTEMBER 1
Attack, attack, attack

By Ian Doyle - Daily Post

Derby hero Michael Owen last night urged Gerard Houllier to stay true to the newfound attacking philosophy which has kick-started Liverpool's season.

The striker netted twice as the Reds gained their first Premiership win of the season with a comprehensive 3-0 victory at Everton on Saturday.

Owen also created a goal for Harry Kewell - the midfielder's first following his £5million move from Leeds Untited - as Liverpool recorded their biggest victory at Goodison Park since 1982.

The goals were the first from open play for Houllier's side this season after having just Owen's twice-taken penalty against Chelsea to show from their opening three games.

The victory vindicated the Frenchman's decision to keep faith with the attacking line-up which drew a blank at home to Tottenham Hotspur last week.

And Owen has urged Liverpool to persist with their new offensive style, insisting he feels more confident than ever of producing the goods in front of goal.

"I was surprised with the team selection," admitted the striker.

"It is certainly an attacking formation. There are lots of options he could have used, but give the manager credit. We've come to Goodison where not many teams get a positive result and he has picked an attacking side, and it really paid off.

"It is encouraging that we created the chances. We have got the ability and the players such as Harry Kewell, Vladimir Smicer, Steven Gerrard, Danny Murphy and others who can pass the ball and create a chance.

"I have faith in the players that are playing alongside me and are capable of creating those chances. I hope we can keep creating them from now on. I'm as confident as I've ever been of scoring them.

"Our back four are good enough to handle what most teams can throw at them. Attack can be the best form of defence, but you've also got to be disciplined.

"Let's be honest, a big part of our game is based on our cracking defence and we don't want to start scoring more but conceding twice as much, so we have to be careful.

"The manager has taken a more offensive approach in the last few games and it paid off on Saturday."

Saturday's double means Owen has now scored four goals in his last three Goodison derbies.

And he added: "Strikers rely on service, and I can only show what I can do if the players behind me produce chances and the bits of magic they are capable of, and on Saturday they did.

"It's essential for us to create chances, otherwise we won't score as many goals as we should.

"We have had a few this season but unfortunately for me in the first three games none have fallen to my feet, apart from the penalty against Chelsea. But I managed to get a few chances against Everton and thankfully I scored twice.

"I go into every game dreaming of being put through on goal. That's what I play the game for, and when that dries up, it is tough being a striker."

Owen also insists he is now reaping the rewards of his hard work in the gym last season which, by his own admission, was a "write off" as he strived to improve his physical fitness and decrease his vulnerability to injuries.

He added: "I physically feel really good, and I am finishing games as strong as when I have started them. But as with any striker, I have to rely on my team-mates, and if they continue to create the chances then it's a pleasure to play alongside them.

"I prefer to have five chances in a game and not score rather than go through a whole game and not have any chances at all, because you know your team-mates will keep creating the chances and eventually you will score one."

Saturday's victory proved welcome relief for boss Houllier, who has been criticised in many quarters following Liverpool's slow start to the Premiership season.

And Owen admitted: "We needed the win. Coming away from home to a place like Everton, there isn't as much expectation as when we play a Tottenham at home when the away team get players behind the ball.

"Playing at Goodison, we knew Everton couldn't afford to sit back.

"They had to get forward and impress their fans and we knew we'd get chances if that happened.

"We know we have a better chance of winning at Goodison than at Anfield because, like Tottenham, Everton get players behind the ball and it is hard to break them down."

He added: "You only have to pick up the newspapers or turn on the radio to get a general feeling of what the fans are thinking. What the players can do is continue to try and win games.

"It's not as if we have played awful this season. We came up against a Spurs side who were happy to get a point, we got a point away from home at Aston Villa and Chelsea are a very good side.

"I'm not trying to fool anyone by saying we've been brilliant this year, but it has not been as bad as some people have been making out.

"Seven points behind at this stage of the season is better then being seven points behind at the end of the season. But we needed the win and we need to get a few more.

"The top teams have had good starts, and the onus is on us to win games rather than rely on the others slipping up."

Owen and Everton counterpart Wayne Rooney were called up by Sven-Goran Eriksson last night and are likely to form England's striking partnership for their Euro 2004 qualifying double-header against Macedonia and Liechtenstein next week.

But while the Liverpool man celebrated two goals and a victory, Rooney suffered a frustrating afternoon, missing a number of clear-cut chances before being yellow-carded by referee Mike Riley.

However, Owen had words of wisdom for his international colleague.

"Things like that happen," he insisted. "Probably in a few years, I might miss a few chances in the derby and Wayne will score one. He's got plenty of years ahead of him, and I'm sure he'll get his first derby goal sooner rather than later.

"He will be a thorn in our side for years to come, but our defenders have coped well with him in the last two derbies.

"I can relate to the expectation he is under. Sometimes he will create a spark in game but in others he will be quiet.

"He's still only 17 so people just have to be careful not to build him up too soon as everyone knows he will be a great player in the future."
---
AUGUST 30
Houllier: The Reds are not dead

LFC Official Website

Gerard Houllier reflected on Liverpool's 3-0 derby triumph and quipped: "The Reds are not dead!"

Houllier was well aware that he and his players were under intense scrutiny going into the game following a disappointing start to the new campaign, but a Michael Owen brace and a goal for Harry Kewell helped bring smiles back to the faces of manager, players and fans alike.

Houllier said: "It was a good day at the office for us and it's good to see the Reds are not dead!

"I told the players before the game that this was a chance for them to be special. It was a chance to show the supporters what they could do. It's a special game and they needed to be special today. And they were. From the captain right through the team, they all played their part.

"Against Spurs in midweek we had the performance but not the result. Today we had both and I am very pleased. We had a plan and it worked well. I'm pleased for the fans and for the players because that was our first win.

"We prepared for the game in difficult psychological circumstances but the lads kept their heads up and we got our reward today."
---
AUGUST 30
Kewell delighted with derby win

By Gary Purvis - LFC Online

Harry Kewell loved his first Merseyside derby and was delighted with the result.

"We'd played three games and not scored in open play, but it was a good team performance today," he said. "It was a great goal by Michael to set us on our way really.

"I've played in a derby at Leeds against Bradford but it was nothing like this. The atmosphere was sensational."

When asked what his role in the team is, Kewell simply said: "I just play and set Michael up. That's what I do and I love doing that. If I can get on the scoresheet all good and well."
---
AUGUST 30
Owen: Pressure off after double

Ananova

Michael Owen believed he picked the perfect time to hit form - for club and country.

The England striker was a happy man after his double strike helped Liverpool to their first win of the season, with a 3-0 victory at Everton.

The Reds had struggled in their first three games of the season, failing to score in open play.

But Owen - who netted their only goal of the season from the penalty spot prior to today in the opening-day defeat at the hands of Chelsea - turned things round before Harry Kewell rounded off the win 10 minutes from time.

And Owen said afterwards: "I didn't have a good record in the derby until the last couple of years so it's nice to score, especially here.

"The only thing we've been lacking is the final ball, a cross or through-ball - and Harry's great through-ball started it off and it continued from there.

"Now we go on international duty so it's nice to go away with that pressure off your shoulders.

"There's has been a lot of pressure on us and it's nice to go away on a high."
---
AUGUST 30
Liverpool romp to victory

BBC Sport Online

Liverpool put Merseyside neighbours Everton in their place with style to record a comfortable first victory of the season at Goodison Park.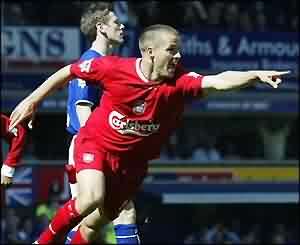 Michael Owen struck twice either side of half-time to put Gerard Houllier's side in the driving seat - and Harry Kewell added to the red celebrations with his first goal for the club late on.

Owen's double and Kewell's late strike gave Liverpool their first goals from open play this season - and relieved the pressure on Houllier after a barren start to the Premiership campaign.
Owen celebrates his second goal at Goodison.
But it was a day of misery for Everton, who saw a week of frustration in the transfer market worsened by a fourth straight Goodison defeat against their arch-rivals.

Everton suffered a blow prior to kick-off when goalkeeper Richard Wright was ruled out with a knee injury, being replaced by Steve Simonsen.

Liverpool were without Stephane Henchoz, with Igor Biscan continuing in central defence alongside Sami Hyypia.

Everton's ploy was to release the pace of Wayne Rooney and Tomasz Radzinski - with the latter an early threat.

Radzinski raced on to Rooney's pass but fired across the face of goal.

And it took a brilliant saving tackle from Biscan to halt Radzinski as he looked to take advantage of another Rooney through ball.

Liverpool took time to settle, but their passing game exerted a measure of control and they went ahead seven minutes before the interval.

Kewell stabbed a pass through to Owen, who took advantage of hesitation from Alesssandro Pistone to beat Simonsen.

Everton had an instant chance to restore equality when Rooney took a return pass from Steve Watson, but he failed to control and Jerzy Dudek made a smothering save.

Liverpool responded with a trademark counter attack and it took a fingertip save from Simonsen to deny Kewell his first Liverpool goal.

Everton made a change at the interval, sending on Thomas Gravesen for the struggling David Unsworth.

And Moyes side were almost level within seconds of the re-start when Dudek fumbled Mark Pembridge's free-kick and Liverpool survived a scramble.

But Liverpool delivered a hammer blow after 51 minutes when Milan Baros shrugged off weak defending from Joseph Yobo to set up Owen to score from ten yards.

Dudek was having an eventful game and he produced a stunning reflex save to stop Rooney's header from Gravesen's corner.

Everton made a substitution with 20 minutes left, sending on Duncan Ferguson for Tobias Linderoth.

And the big Scot almost threw Everton a lifeline with 12 minutes left, sending a free-kick against the underside of the bar from 20 yards.

Liverpool wrapped up victory with eight minutes left, with Kewell opening his goal account.

Everton goalkeeper Simonsen has to take the blame, racing from goal to allow Owen to cross for Kewell to score.
---