---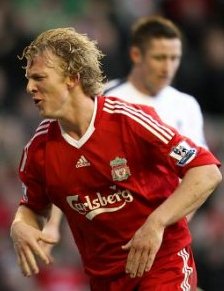 Dirk Kuyt has scored - again. (Photo: PA)
FEBRUARY 2
Why Rafa Benitez wonít
leave Liverpool FC for Juventus

Comment by Ian Rush - Liverpool Echo

There has been so much speculation over the past week, but I canít see Rafa Benitez quitting Liverpool to take over at Juventus.

To be honest, it just wouldnít make any sense. Juventus is a club close to my heart and as far as Iím concerned they are the best club in Italy.

But if Benitez left to go there he wouldnít be going to a better club or one with more money to spend on signings.

In fact Juventus are in a worse financial situation than Liverpool.

They are only fifth in Serie A and arenít challenging for trophies.

Iíd be very disappointed if he went there and I just canít see it happening.

Juve clearly want Benitez and have used the media to see what reaction they would get.

There have been so many rumours but Benitez insists he has not had any contact with them and heís also reaffirmed his commitment to Liverpool.

He has vowed to stay on and I donít think heís the sort of man to go back on his word.

Of course this season has been frustrating but he signed a five-year contract last year and has a job to do.

The supporters have been very loyal to him and he has always said he will stay here as long as the supporters are still behind him.

I think some people read far too much into Benitez saying he was proud to be linked with Juventus.

Of course itís a good feeling when a big club wants you and thatís all he said. Rafa also said heís staying so that should be the end of the matter. Heís given his word and we have to believe him.

All this speculation can be unsettling for players. You donít want to hear stories about how the manager who signed you might be moving on.

Performances prove the players still believe in the manager. They have to stay focused and concentrate their efforts on ensuring we finish fourth in the league and win the Europa League this season.

We all know Liverpool need new investment to be able to really push on. I travel all around the world and the one league everyone watches is the Premier League. Serie A is rarely talked about.

There should be no shortage of interest in Liverpool and hopefully an injection of cash will ensure Benitezís long-term future is at Anfield.

Iím disappointed Liverpool didnít buy another striker

Iím disappointed we didnít sign a striker before the transfer window shut.

Fans want to know what happened to the £6million we got from selling Voronin and Dossena and rightly so.

Maybe the boss believes his squad is strong enough as it is or maybe that money wasnít available to him.

Weíre all in the dark about that.

With Torres out injured, there is a lot of pressure on young David Ngog.

Heís still learning and is improving but Liverpool donít have much time because they are in a situation where they canít afford to drop points.

Ngog missed a great chance against Bolton but even the best miss sitters.

He has got to forget about that and concentrate on getting the next one. A derby goal would more than make up for it.
---
JANUARY 2
Rafael Benitez owes
the Liverpool FC fans

Comment by Mark Lawrenson - Liverpool Daily Post

The supporters at Liverpool have been great with Rafael Benitez Ė at a lot of other clubs he would no longer have a job.

They are a patient bunch at Anfield and in times of trouble they go to the manager and say Ďhow can we help?í

So in light of some of his comments which emerged at the weekend about the interest from Juventus, Benitez has got to be careful.

If he decides to go to Italy then he must realise he will be managing a game of chess; the game is played at walking pace at times over there.

Although he says it was flattering to have Juve interested in him, would he rather manage there after being in charge of Liverpool in the Premier League? I would have thought not.

One of the main signs of encouragement from Liverpoolís win at Bolton Wanderers on Saturday was the more attacking line-up Benitez selected.

I have said it before, but Liverpool do not need two holding midfield players, they need to be winning games now if the club still harbour hopes of a fourth placed finish Ė draws are of no use to them.

With teams like Aston Villa and to a greater extent Manchester City, having games in hand, Liverpool need to be winning games.

Alberto Aquilani, who the manager brought in to add an attacking threat at the expense of Lucas against Bolton, came in for some criticism for his performance.

We need to give him between 15-20 starts in the Premier League before we can properly judge him Ė he has only had four.

At the moment he has just been a bit of a peripheral player and with the injuries to Steven Gerrard and Fernando Torres the hope was he would have been a bit more of a game winner.

But we have to give him 15-20 games, it is only fair and he hasnít played that much football over the last year so letís just wait and see Ė though at present he doesnít look like a world beater.

Although I am loath to talk about the American owners, Tom Hicksí appearance at Anfield on Saturday was unusual given it was not a particularly high profile game; call me cynic but it would suggest he was just over here on business.

It will be three years this month the Americans put the spade in the ground at Stanley Park and made all these grand claims.

I know we have gone through a recession but the supporters have been left with broken promises.

It is a shame because managing director Christian Purslow seems like one of the good guys who is trying to do something about it all, though the situation seems impossible to resolve unless we accept a loan with massive interest rates.

Everyone tuning into the derby on Saturday will be hoping for a better game than the one in November.

Much like you had the feeling when the sides met at Goodison Park, whoever gets the first goal will probably win the game this time around.

For Everton, there has never been a better time to go to Anfield and play against a Liverpool side without Fernando Torres.

Liverpool are on a decent run of undefeated in six Premier League games but are still not playing that well.

Mark Lawrenson was speaking to Phil Kirkbride
---
FEBRUARY 1
Reina: Reds gaining confidence

TEAMtalk

Liverpool goalkeeper Jose Reina admits the Reds players have been hurt by the club's poor performances so far this season.

But the Spain international said a sense of pride had forced the squad to face up to their problems and he believed their recent good run showed what could be done when they worked hard together.

The Reds, who suffered early exits from the Champions League and FA Cup, are currently 13 points behind Premier League leaders Chelsea.

However, a six-match unbeaten run in which they have conceded just one goal has lifted Liverpool to within a point of fourth-placed Tottenham and rekindled hopes of Champions League qualification next season.

It has also eased some of the pressure on the under-achieving players and manager Rafael Benitez.

"It is about pride. We knew we were not in the right situation," said Reina, who is currently in negotiations over a new long-term contract at Anfield.

"This club is bigger than that and we had to think about the fact we were not doing as well as we could. Hopefully we will start getting better.

"At least we are gaining confidence from this run and that is why the result is all-important. That has to be the message.

"There will be more tough moments but our pride is at stake and, if we stick together, we can come through it."

Pride was a word which cropped up at the end of last week when Benitez used it to describe his feelings when Juventus made him their number one summer target.

The Spaniard last night issued a strong rebuttal of claims he had already agreed terms with the Serie A club and pledged his long-term future to Liverpool.

Although some of his signings have been questionable, Benitez has been pivotal to bringing in some of Liverpool's key players.

It is unlikely Reina or Fernando Torres would have been convinced a move to Merseyside was the right thing for them had he not been in charge.

To that end those players feel a certain loyalty to the Reds boss and Reina said his belief in the manager - or his Liverpool future - had not wavered.

"He brought me here - that says it all," said the 27-year-old.

"You only have to look around the stadium to see what the people think about him.

"There is no point talking about his future. We just play football because, in tough moments, we have to stick together."

The cornerstone to Liverpool's mini-revival has been a return to the type of frugal defending which allowed them to run Manchester United a close second in the league last season.

Significantly it has been the unheralded summer bargain buy Sotirios Kyrgiakos who has stood out in recent matches.

At the time the signing of the £1.5million Greek international, bought as back up for the well-established Jamie Carragher, Martin Skrtel and Daniel Agger, was seen as symptomatic of the financial problems Benitez has to work under at Anfield.

He has, however, developed into the type of no-nonsense nuts-and-bolts centre-half Liverpool need to help grind out results.

As full-back Glen Johnson is sidelined with a hamstring problem Carragher has had to be switched to the right and with Agger only just recovering from a calf injury Kyrgiakos has filled the void in the centre.

Benitez, who used to be criticised for changing his line-up too often, has selected the same back four the last three matches.

Reina believes it is no coincidence the team has started to defend better.

"Proper teams build from the back and from good defending," said the Spaniard, who played in his 100th consecutive Premier League match in the 2-0 win over Bolton on Saturday.

"It is important to keep a settled back line and the understanding between those four players will be better if you don't touch anything.

"Defensively we are better now but it is not just that, it is the mentality in tough moments.

"People have to be more together and that is what we are trying to do.

"Let's build from that and try to win as many points as possible."
---
JANUARY 31
Benitez coy over Hicks visit

Fotball 365

Liverpool manager Rafael Benitez is too intelligent not to have drawn his own conclusions over the significance of the surprise visit of co-owner Tom Hicks to Anfield on Saturday but he side-stepped questions over what implications it had for himself.

The American, who together with compatriot George Gillett has become a hate figure among a large section of fans, appeared in the directors' box shortly before Saturday's 2-0 victory over Bolton having made the club aware of his impending arrival just hours earlier.

That he should take in such a low-key match when there is a Merseyside derby at Anfield next Saturday raised a few issues, especially in the week when Benitez admitted he was flattered by the public courting from Juventus who want to make him their new coach in the summer.

Reports in Italy suggest the Turin club are set to send a delegation to Merseyside tomorrow to thrash out an agreement with Liverpool to release Benitez from his contract at the end of the season.

Whether Hicks' presence was coincidence or part of the preliminary stages of an exit strategy for the manager only the Texan knows.

One thing was for certain, however. He was not bringing a last-minute transfer window war chest for the Spaniard to spend to help Liverpool secure the Champions League football which is so vital to their future.

"If he is around I will see him. It is good to see him here. It is always positive," said Benitez when asked if Hicks had come for a meeting.

The Liverpool manager stressed that Hicks was not involved in the club's transfers in any way and his input was not required nor welcome.

"For us we are working hard on a daily basis with the managing director so it is not a big difference," added Benitez.

"We have a managing director and a chief scout and we are working together.

"We don't need more people deciding about any player."

A group of a hundred or so supporters staged a noisy protest against Hicks and Gillett's running of the club outside the ground after the match.

Reports today suggest the co-owners' search for outside investment will see them drop their asking price to around £100million for up to a 50% share.

Should they be successful that could see the beginning of the end of the Americans' tumultuous and controversial tenure at the club but, at the moment, that is still a long way off.
---
JANUARY 31
Hansen praises determined Dirk

By Louise Goulding - LFC Official Website

Former Liverpool captain Alan Hansen believes Dirk Kuyt deserves praise for his attitude and endeavour in recent weeks.

In the absence of Fernando Torres the task of leading the line has been passed to Kuyt and the Dutchman recently found his goal scoring touch against Tottenham, before netting the opener in Saturday's 2-0 win over Bolton.

Hansen told LFC Weekly: "Dirk Kuyt scored both our goals against Spurs and that will do his confidence the power of good following his late miss against Stoke a few weeks earlier.

"He might not have played as well as he can this season, but he never lies down and dies, something which supporters appreciate."

The former Scotland international has also been impressed with Kuyt's willingness to play in any position for the benefit of the team.

"Dirk was signed as a centre-forward, but has adapted to Liverpool's system by playing wide on the right," he said.

"Learning to play in a different position isn't easy and to Kuyt's credit, every time he pulls on a red jersey he gives it his best shot."

Hansen added: "When you are playing out of position, it is a lot easier to do that in a side that is doing well, compared to playing in a less familiar role in a side that is struggling.

"Again, to his credit, he has never moaned about not playing up front every week, as some players would, and has simply got his head down and got on with things."
---
JANUARY 30
Liverpool fans protest after
co-owner Tom Hicksí surprise visit

By Joe Bernstein - Daily Mail

Hundreds of Liverpool fans protested against American co-owner Tom Hicks as he made a surprise visit to see the game at Anfield yesterday, heightening speculation about the future of
Rafa Benitez.

Club officials were told of Hicks' attendance only on the morning of the game and the Texan was given a security escort into the stadium.

But once his presence was spotted by fans, about 500 gathered outside the main Anfield entrance and chanted 'Yanks out' and 'Get out of our club' for 90 minutes. One banner unfurled on The Kop earlier read 'Yank Liars'.

Hicks and co-owner George Gillett have been hate figures for many Liverpool fans since they bought the club in 2007. Hicks' son, Tom Jnr, resigned from the board after sending an abusive email to a supporter who had questioned the club's transfer policy.

Hicks' presence at a relatively minor game will lead to questions about Benitez's long-term prospects at the club.

The Anfield hierarchy are becoming exasperated at Benitez being linked to other clubs, most recently Juventus last week. They have written to the Italian club asking them whether they have illegally 'tapped up' Benitez.

Juve deputy director of football Roberto Bettega is reported to be a good friend of the Liverpool manager.

Liverpool's directors are unlikely to be pleased with Benitez's statement that he was 'flattered' to be linked with the Serie A giants.

Hicks also had business matters to discuss with managing director Christian Purslow yesterday.

Liverpool are trying to raise £120million that will reduce the stake of Hicks and Gillett, who was not present yesterday.

Benitez looks likely to go to Italy in the summer unless Liverpool's financial situation dramatically changes so he can compete in the transfer market.
---
JANUARY 30
Rafa: Still room for improvement

By Jimmy Rice at Anfield - LFC Official Website

Rafa Benitez admits Liverpool's performance in the 2-0 win over Bolton was far from perfect - but he believes his side now have momentum heading into three massive encounters.

It means Liverpool are now six league games unbeaten as they prepare for fixtures against Everton, Arsenal and City.

Benitez said: "I'm pleased with the result, pleased with the second half - but not too happy with the first. At the end of the day we needed to win and we won.

"The first half Bolton had some chances and we were a little bit lucky. Pepe (Reina) and Soto (Kyrgiakos) were doing well but the second half was totally different. We were more controlled and had more opportunities. We could have scored more goals.

"I am really happy because we're six games unbeaten and have more clean sheets. Very good.

"We are improving. You can see the team is working very hard, and hopefully we can keep the momentum."

Asked how he assessed Steven Gerrard's performance, Benitez replied: "Stevie was a little bit better. He was trying very hard, that's the main thing. When we scored the second goal the team played with more confidence and he was one of the players who could make a difference."

The gaffer also had words of praise for goalscorer Kuyt, adding: "It doesn't matter if he plays as a striker or a winger or second striker, he's always around. He can score goals and I'm really pleased for him."

Meanwhile, Benitez is not ruling out more transfer activity before the window closes on Monday - though Ryan Babel looks set to stay at Anfield.

He said: "We are working. We have a managing director and a chief scout.

"It's not easy because it's difficult to find better players than you have already in January. At least we are watching players and trying to find someone who will be good for the team."

Quizzed about Babel's immediate future, Benitez added: "He will stay."
---
JANUARY 30
Kuyt leads way
as Reds beat Bolton

TEAMtalk

Liverpool kept up the pressure in the race for fourth place in the Premier League with a 2-0 victory over Bolton at Anfield on Saturday.

Dirk Kuyt's 49th strike for the club and Kevin Davies' own goal either side of half-time eventually proved enough in a performance which was lacking a touch of class if not endeavour.

Rafael Benitez's side are now unbeaten in six league games, in which they have conceded just once, and remain on course to deliver the manager's "guarantee" of Champions League football next season.

It was also the first time this campaign they have shut out opponents on three successive occasions, which contributed to a fourth-successive home victory.

Much of the pre-match focus had been on Juventus' interest in making Benitez their next full-time coach.

His response to that speculation was to hint that the club's owners needed to match his ambitions in terms of finances for squad-building.

And with captain Steven Gerrard shackled for long periods by the man-marking job of Fabrice Muamba the side needed inspiration from somewhere but struggled to find a cutting edge without star striker Fernando Torres, who is still several weeks away from fitness.

That alone will have at least given one of those owners, the watching Tom Hicks, food for thought.

It will have also given Benitez more ammunition in his bid to squeeze every last cent out of the Americans who have yet to fully back their manager with the finances he needs to compete with Manchester United, Chelsea and even Arsenal - never mind the likes of multi-billionaires Manchester City.

When Gerrard did see the ball his back-heel from Jamie Carragher's pass released David Ngog in the area but his cross-shot from the byline looped up off Zat Knight and into the arms of Jussi Jaaskelainen.

Wanderers were managing to crowd out Liverpool's tight passing game in and around the penalty area but when they did break free Emiliano Insua flashed a cross through the six-yard box with Kuyt just unable to reach.

The hosts were indebted to Sotirios Kyrgiakos for clearing Lee Chung-Yong's shot off the line after the South Korean's diagonal run from the right took him past both centre-backs and goalkeeper Jose Reina, making his 100th consecutive Premier League appearance.

Liverpool's pressure eventually paid off in the 37th minute with a move started by Albert Riera's inch-perfect crossfield pass to Insua on the left wing.

The Argentinian defender crossed to the far post where Alberto Aquilani jumped highest to head back into the six-yard area, and Kuyt stabbed home through Gary Cahill's legs.

Bolton thought they had won a penalty seconds before half-time when Lee tumbled in the penalty area under Aquilani's challenge but referee Steve Bennett booked the South Korean for diving.

Eight minutes into the second half Ngog should have given Liverpool some breathing space but fluffed his big chance.

Jaaskelainen saved Gerrard's first-time shot from Riera's cross but the young French striker bundled the rebound into the floor six yards out and it bounced off the outside of the post and went wide.

Gerrard tested Jaaskelainen with a driven 25-yard shot which the goalkeeper parried low to his right before the replacement of Aquilani with Lucas led to the second goal.

The Brazilian midfielder headed Riera's deep cross back for Ngog to lay the ball off to Insua who drove in a shot which was heading wide until it deflected off Davies to wrong-foot Jaaskelainen.

Kuyt's late dribble left Knight on the floor and his cross had to be turned over the crossbar by Gretar Steinsson as the pressure continued on Bolton until the final whistle.
---