---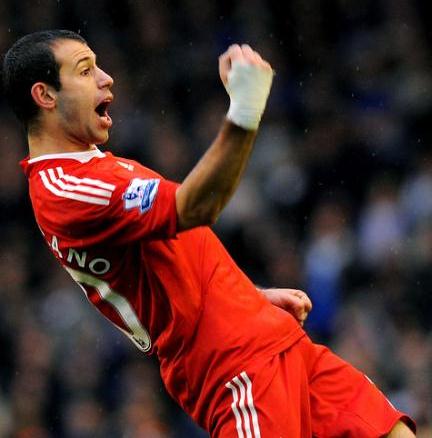 Mascherano celebrates "my goal".
(Photo: AFP/Getty Images)
DECEMBER 1
Tireless Liverpool FC earned slice
of luck in Mersey derby win

Comment by Ian Rush - Liverpool Echo

When you show the kind of spirit and desire Liverpool did at Goodison on Sunday, then you deserve
a bit of luck.

Maybe we were fortunate to win but getting the three points was all that mattered. We had to really fight for what we got and the work ethic of the side was tremendous.

They say luck evens itself out over the course of the season and there's no doubt we were due a break.

There have been a number of games, like Lyon away, where we deserved a lot more.

With our deflected goal, the chances Everton missed and that stunning double save from Pepe Reina, hopefully it's a sign that our luck is starting to change.

The derby win could really kick-start our season.

With Villa, Spurs, Man City and Arsenal all dropping points, it was a good weekend.

Last week it was all doom and gloom but now we're only two points off the top four.

Of course going out of the Champions League was a setback, but not qualifying for next season's competition would be a much bigger blow.

With Fernando Torres and Albert Aquilani to come into the side I'm sure performances will improve over the coming weeks and I'm confident we'll finish in the top four.

Reina has received a lot of praise for his performance on Sunday and rightly so. As far as I'm concerned he's the best goalkeeper in the Premier League and he proved that against Everton.

His double save came at a crucial time in the game and he also made a key save to ensure we held on against Debrecen last week.

Two clean sheets in a row will certainly help to build confidence.

We defended really well at Goodison and hopefully the problems from set-pieces we've seen this season are behind us. We certainly looked a lot more assured.

We can start going into games now thinking if we score one we can win.

I was always confident we would do the business on Sunday and even made a few quid out of it.

I had a £1 on us to win 2-0 at 9/1!

It was a good day all-round and now we've got to build on that at Blackburn on Saturday.

Jamie Carragher was outstanding in Sunday's derby.

He epitomised the attitude and commitment in the Liverpool side and you could see how desperate he was to get the three points.

He put his head in when it hurts and was everywhere, fighting for possession, determined to ensure Everton didn't get back in the game.

I bet Carragher was shattered when he woke up yesterday because he put in a tremendous amount of hard work.

He took some stick earlier in the season but Sunday proved he's back to his best.
---
DECEMBER 1
Mersey derby can turn
around season – for both

Comment by Mark Lawrenson - Liverpool Daily Post

Everton and Liverpool went into Sunday's Merseyside derby as clubs in the midst of a something close to a crisis – and I think the game reflected that.

There was a real fear in the air and it made for a nervy game in which whoever got the first goal was always likely to emerge victorious.

But it also contained signs that both clubs can emerge from it and resurrect their seasons.

Liverpool, of course, badly needed a win to get their Premier League campaign back on track but they don't need to just look at how they played, but how others around them are faring too.

The fact of the matter is, amidst all this doom and gloom, the media packs from London coming up to hunt for Rafael Benitez's head, the exits form the Carling Cup, Champions League and, it's fairly safe to say, the title race, nobody has actually managed to capitalise.

We have to work on the basis now that qualifying for the Champions League will be Liverpool's chief aim and I think they have to be favourites to preserve their top four status.

In fact, the best price I got against that the other day was 11-10 so that tells you everything.

Manchester City, Tottenham and Aston Villa have all showed signs that they are ready to pounce on Liverpool's poor form. But despite the fact that Benitez's team have been dropping points left, right and centre, they're still in fifth and very well placed to claw back their place in the Champions League elite.

Tottenham are flaky when you get at them, Villa are a good counter-attacking team but sides have worked out how to play against them and City just don't have that balance – or indeed an ability to close out a game for victory.

And none of those sides have one of the best strikers in the world to come back from injury.

When Fernando Torres does make his return, Liverpool will be in a position to strike at the pretenders to their throne.

The other sides have all been improving but they will all struggle with the weight of expectation as the pressure builds.

Liverpool have been there before and, as they showed on Sunday, they are ready to fight it out.

Everton can also be encouraged by their performance. Bilyaletdinov should have scored in the first half and then Marouane Fellaini would have equalised if it wasn't for Pepe Reina's miraculous save.

At the moment the luck just isn't going for them, but they didn't look like a side who had conceded six goals in a week and had been humbled by Hull days earlier.

They are still struggling for results but it was a performance of promise rather than desperation.

And one that they can build on when they welcome Tottenham to Goodison Park this weekend.

But the players need to tune in to the message their manager sent out last week about walking to the ground with the punters to appreciate how they are feeling.

They need to stop thinking they can coast through games just because there are a few out injured.

Tottenham could be there for the taking if they go for it – and with Goodison rocking once again, they need to take the best bits form the derby and throw them at Spurs from the off.

Mark Lawrenson was talking to NICK SMITH
---
NOVEMBER 30
Mascherano claims goal

By Carl Markham - Press Association Sport

Liverpool midfielder Javier Mascherano believes he should be credited with the opening strike in Sunday's 212th Merseyside derby despite it going down as a Joseph Yobo own goal.

The Argentina captain let fly from 30 yards and although his shot appeared to be heading just off target it took a wicked deflection off the Everton centre-back and went spinning past goalkeeper Tim Howard.

That goal gave Liverpool something to hold on to and they defended resolutely under increasing Everton pressure until Dirk Kuyt scored the second after Howard half-saved Albert Riera's shot.

Mascherano, however, is determined to claim the opener, which would be only his fourth career goal after hitting just one for Liverpool and two for Argentina.

"I think it's my goal because I tried to score with the shot," said the 25-year-old, whose celebration in front of the visiting fans at Goodison Park showed just what the strike meant to him.

"It was a really important moment for me because I want to do my best.

"This season some people have criticised my shooting but I am trying hard to improve it and I am happy."
---
NOVEMBER 30
Liverpool got lucky, Everton didn't

Comment by David Prentice - Liverpool Echo

Given the afternoon he'd endured, David Moyes' reaction was understand- able. "Do you want this leaving on?" enquired an eager to please press officer, as the Blues boss trudged into the press room while Sir Steven Redgrave and Kelly Smith were still plucking balls from the FA's drum.

"No," he rapped, probably fearing a third round trip to Melchester Rovers with Roy Race on a hot scoring streak.

He needn't have worried. Carlisle at home was a good draw. But it was the only thing which went right for him all day.

David Moyes got all the running he demanded from his players, and a little bit more.

He got commitment and character. And he got the best performance his side has produced in a derby match under his tenure.

But he didn't get that other quality which wins football matches. Luck.

That was the bottom line at Goodison Park yesterday.

Liverpool got lucky, Everton didn't.

And as a result the huge injection of confidence that a derby win can bring was pumped into red veins, not blue.

Rafa Benitez's post-match suggestion that Everton played "a direct and set-pieces game" was perhaps designed to deflect from his own side's deficiencies.

True, Everton's best chance of the game came from three headed flick-ons, but the Blues mixed their game up impressively and it is still baffling to work out how they failed to win, let alone came away beaten.

But lose they did, leaving their fans with the hollow taste of defeat, and their manager scrabbling around for positives.

At least this time David Moyes didn't have to look far.

Marouane Fellaini's peerless performance showed that he should be left to grow into the holding midfield role, rather than lumped up front every time Everton lack a little physical presence.

He was the platform on which most of Everton's attacking moves, considerable in the first 45 minutes, were constructed.

He had willing accomplices in Steven Pienaar, comfortably the game's most outstanding individual until he tired late on, and Tim Cahill, who showed signs of returning to his role of spiky little penalty box nuisance once again.

But while they were the plusses, there were a couple of minuses – and both were predict- able. There were two players whose appearance on the teamsheet made the home fans nervous.

Sadly both were involved in pivotal moments of the match.

Diniyar Bilyaletdinov's ability to cope with the intensity of a derby clash was queried ahead of the match, and he horribly scuffed Everton's best chance of the day just five minutes after Liverpool's fortuitous opener.

Incongruously compared to Pele after his right footed finish for Russia a fortnight ago, his right foot this time showed all the elan of a house brick.

Then there was the real Brazilian, real in birthplace at least.

David Moyes raised an eyebrow or two when he declared afterwards that "Brazilian Jo played really well" (is the prefix always used to differentiate him from Nigerian Joe? Or because so many find it difficult to believe he actually hails from the country of Kaka and Robinho?) Either way Jo led the line adeptly enough, but always seemed back on his heels when the half-chances came calling.

He didn't quite react quickly enough to Pienaar's defence-splitting pass, he didn't quite connect with a left-footed first half volley and he didn't quite keep himself onside when he finished impressively with the outside of his right foot.

It is to be hoped the youngster doesn't become a whipping boy of the home fans, but there were signs all around the ground of growing frustration at his display.

Those groans apart, the Blues fans gave their side admirable backing until Dirk Kuyt finally ripped their heart out 10 minutes from time.

That came after Joseph Yobo's second decisive miskick of the afternoon.

In echoes of Howard Kendall's decision to haul off Gary Stevens in the first derby FA Cup final, Yobo was replaced soon after.

Moyes' frustration was palpable, but the Blues boss is not exactly blessed with central defensive options at present, and in hindsight perhaps he could have chosen not to undermine the player's confidence any further.

One man who never sufferes from a lack of confidence is referee Alan Wiley. Happily this time his self-confidence was not misplaced.

There were widespread groans when it was revealed he was taking charge of the derby.

But he displayed an understanding of the occasion and a hitherto hidden sensitivity, managing to keep his cards in his pocket until Johnny Heitinga finally gave him no option seven minutes from time.

In a depressing postscript, Everton's defeat meant the noughties have officially gone down as the Blues' leanest decade for derby wins.

They have managed just two League victories against their neighbours since the millennium dawned, eclipsing even the sorry seventies for league derby celebrations.

At least their display gave them heart they can reverse that sorry statistic.
---
NOVEMBER 29
Moyes: Toffees deserved more

Sky Sports

Everton manager David Moyes was left struggling to understand how his side lost Sunday's Merseyside derby to Liverpool.

A deflected Joseph Yobo own goal in the 12th minute and a Dirk Kuyt tap-in close to the final whistle handed the Reds the points at Goodison Park.

But the result did not tell the real story as Everton dominated for the majority and paid the price for failing to take chances against their neighbours, with Jose Reina producing a fine double save in the second half.

Both sides have struggled to meet targets and the defeat leaves the Toffees flailing near the Premier League relegation zone, but Moyes could not fault his players.

The Everton boss said: "I don't feel we came off the pitch losers. The players worked extremely hard and I felt they deserved more than what they got in the end.

"The deflected goal took the sting out of us. I don't know how many times Liverpool had been in our half up to that point but it wasn't many.

"But I thought the players reacted great. They kept going and I thought in the main we kept Liverpool quiet.

"The game was tight and we, in the main, were trying to set the tone and make it difficult for them. It is disappointing you don't get anything from that.

"I think the two saves by Reina [were crucial]. I felt maybe our luck would change in the second half and we would get the goal but maybe that double save just altered it a little bit.

"But up until it went to 2-0 I can't remember Liverpool having a chance apart from Emiliano Insua's first-half header.

"But in big games, especially, you hope you don't get situations where there are mistakes because it is hard enough to score a goal without making anything which leads to one."
---
NOVEMBER 29
Benitez on the up

Sky Sports

Liverpool manager Rafa Benitez believes his side are edging back towards their peak form and fitness after Sunday's smash-and-grab Merseyside derby win at Everton.

The Reds were second best for the majority at Goodison Park, but their hosts failed to take chances in a tense encounter and paid the price as Joseph Yobo's deflected own goal after 12 minutes was followed by a late, close-range finish for Dirk Kuyt.

Steven Gerrard started another match despite appearing to lack match fitness as he continues to recover from a groin setback, while Albert Riera entered as a second-half substitute after injury.

Fernando Torres failed a late fitness test as he rehabilitates from another groin problem but Yossi Benayoun also came off the bench as he works back from injury, and Benitez believes that his side are improving.

A poor season has seen Liverpool off the pace in the Premier League and eliminated from the UEFA Champions League, but the eventually-meaningless win over Debrecen followed by the success at Everton has slightly steadied the ship in the past week.

Hard work
Benitez told Sky Sports News: "After the time with a lot of injuries, some players are coming back and then we will see the difference hopefully in the next weeks."

He added on his side's display: "It was very difficult. We knew that it could be physical given the position of both teams and that they needed to win.

"We were working hard and had one or two chances and were maybe lucky with the deflection.

"But they were playing long balls and set-pieces and we were trying to defend and working very hard.

"The defenders were really good. Their full-backs and keeper were always kicking the ball long and it was difficult, but we knew it would be like that.

Under pressure
"We were playing counter-attack because we were under pressure all the time, but I think that we had two or three very good counter-attacks."

Benitez is hopeful Torres will soon be back in his plans after missing the Spain star over recent weeks.

The Anfield boss said: "He will be working very hard and we will see if he can be available."

Alberto Aquilani, who underwent a summer ankle operation prior to his £20million move from Roma, remained an unused substitute and Benitez did not want to expose the Italian to the English derby experience.

Benitez said: "Today was a very tough game so to change a player, Lucas (Levia) (Javier) Mascherano or Gerrard, who were working hard, was a difficult decision."
---
NOVEMBER 29
Carragher hoping
Liverpool can kick on

TEAMtalk

Jamie Carragher admits the 212th Merseyside derby was not a spectacle - but hopes Liverpool's 2-0 win can signal the start of a renaissance.

The Reds have endured a tough time this season, with a host of injury problems and too many defeats both domestically and in Europe.

But a deflected goal in the first half and Dirk Kuyt's poacher's finish ensured local bragging rights against Everton at Goodison Park - and Carragher is now looking to get on a winning run.

"I think we just shaded it to be honest, but it was not a great game," he told Sky Sports 1. "It was a typical derby game, a lot of long balls, second balls and a lot of fighting but not a lot of quality.

"But a win is important. Results went for us yesterday so we realised it was an important game to move up the league.

"We've not performed as well as we'd have liked this season but we're the ones who can change that, with a couple of wins hopefully we can do that but we still have a long way to go."
---
NOVEMBER 29
Reds restore Merseyside pride

Sky Sports

Liverpool restored a morsel of pride in a disappointing season to date with a hard-fought 2-0 victory over fierce Merseyside rivals Everton at Goodison Park on Sunday.

A match usually associated with passion and pride took on a new edge given the struggles of both sides, but it was Rafa Benitez's men who recorded what will be a massive win after a Joseph Yobo own goal and a second half tap-in from Dirk Kuyt.

The prelude to the encounter had focused upon the cloud of misery loitering over Merseyside, with both teams failing to meet respective ambitions in the Premier League and Liverpool having crashed out of the UEFA Champions League.

Everton would therefore argue that Liverpool's opener epitomised recent luck, while their neighbours would claim Yobo deflecting a Javier Mascherano shot into his own net in the 12th minute was a first piece of good fortune in several weeks.

David Moyes' men responded and enjoyed the better of the first half, having two goals correctly disallowed for offside, but they were fortunate not to be two behind at the interval after Tim Howard saved an Emiliano Insua header.

The second half followed suit, but was marked by the low confidence and form of both teams as the only real moment of quality was Jose Reina's sensational double stop from Tim Cahill's header and Marouane Fellaini's follow-up.

Everton, who had planning permission for a new stadium rejected by the government in midweek, were then further punished as Kuyt applied the second goal after Howard had failed to hold an effort from substitute Albert Riera in the 80th minute.

A two-goal win flattered Liverpool if the truth be told as the Reds were second best for the majority, but Benitez proved he is capable of selecting a team and tactics that is capable of recording smash-and-grab wins when neccesary.

Rarely can a Merseyside derby have been played out with both rival managers - David Moyes and Rafa Benitez - having had to handle questions over their longevity in their jobs.

Bitterest of rivals
The 212th clash between these bitterest of rivals certainly held the immediate futures of both seriously under-achieving clubs. Everton, fighting to get away from the relegation zone and Liverpool desperate to put their distressing season back on track.

Everton made four changes from the side that lost so poorly at Hull in midweek, Tony Hibbert, Jo, Fellaini and Diniyar Bilyaletdinov all returning with youngster Jack Rodwell the most notable omission with a groin injury.

Liverpool fielded the side that had won in Hungary against Debrecen, but could not save the Reds' Champions League lives.

And again there was no Fernando Torres in the squad, leaving young striker David Ngog to continue his Premier League education in the unforgiving glare of a derby battlefield.

With so much at stake, the opening exchanges were even more ferocious than usual.

Mascherano and Cahill traded kicks and warnings from referee Alan Wiley, with the latter finding himself dumped on the track by the Argentina captain.

But it was Mascherano who was soon celebrating, having had a major part in Liverpool's 12th minute lead.

Everton criminally allowed the midfielder to advance towards their box, where he lashed in a 20 yarder that deflected off Yobo and into the opposite corner than had been intended with Howard hopelessly wrongfooted.

It was the lead Liverpool had craved, but one that ignited a fierce and sustained response from Everton.

Twice they had the ball in the net before the break, but two efforts by Jo were ruled out for offside, the second when Fellaini blocked Reina right on the line.

Enemy territory
But there were other chances for Everton, with Bilyaletdinov managing to miscue wide from six yards when it would have been easier to score.

Reina saved from Russian winger, while the excellent Steven Pienaar was twice close as Everton surged forward in search of an equaliser they fully deserved.

Liverpool were barely noticeable up front, although Kuyt fired over and Howard made a fine save from Emiliano Insua's close-range header.

But they were rare excursions into enemy territory for Liverpool in a one-sided first-half.

Everton came out after the break intent on more of the same. They hurled themselves at Liverpool's creaking defence in which Jamie Carragher and Daniel Agger were working overtime to keep the blue waves at bay.

Liverpool were hanging on under the most searching of examinations. Saha replaced Jo after 66 minutes, still Everton rolling relentlessly forward.

Yobo managed to deflect an Ngog effort wide, but that was a rare venture out by Liverpool.

Reina produced a stunning double-save from Cahill and then Fellaini, Liverpool penned back and defending with increasing desperation.

In all of this, Steven Gerrard was a peripheral figure. Clearly short of pace and movement he was unable to influence what was going on all around him, until taking a hand in the critical second goal.

Ngog was finally withdrawn with 15 minutes to go, Yossi Benayoun arriving to play on the right with Kuyt taking the central attacking role. Riera was next into the fray, in place of Fabio Aurelio, somehow Liverpool still ahead.

But with 10 minutes left, all Everton's brave efforts came to nothing as Liverpool dealt them a sickening blow.

Reina's long clearance was headed down by Kuyt with Yobo slashing wildly at the ball. It fell to Gerrard who set up Riera for a shot that Howard pushed into the path of Kuyt, who stabbed home the second.

Ayegbeni Yakubu came off for Cahill, and Lucas Neill for a crestfallen Yobo. But it was all over for Everton, who will never know how they lost this one.
---