---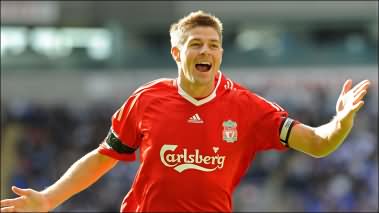 Just keep smiling, Steven. (Photo: AFP)
SEPTEMBER 1
Late Liverpool FC winner at
the Reebok was typical Steven Gerrard

Comment by Ian Rush - Liverpool Echo

What happened at the Reebok Stadium on Saturday was just typical Steven Gerrard.

The skipper had taken some criticism after the defeat to Aston Villa but he never has two bad games in a row.

It was a stunning finish to win the game after Fernando Torres had fired us back level.

It was a crucial victory but we can't keep relying on those two players to rescue matches.

They are only human and can't be expected to always be on hand to pull the team out of trouble.

It's time that others took on some of the responsibility.

Throughout the season those two will maybe have four or five bad games.

And when Gerrard and Torres aren't at their best we need other players to put their hand up and produce the goods.

It seems that when those two don't play well we don't win and that's wrong. It's a team game and others have to help out.

Gerrard talked about how after the defeat to Villa there had been a big team meeting and I'm sure a few home truths came out.

When things weren't going well when I was at Liverpool that's exactly what we did.

What's said remains behind closed doors but it gave a chance for people to speak their minds.

It's all about how you respond and Liverpool responded in the right way at Bolton. To come back from behind twice and win the game showed a lot of character.

I think everyone knew that even a draw wasn't good enough on Saturday.

Those two defeats mean there is little room for error and the three points keeps us in contention.

We didn't play brilliantly but it was one of those games in a season when you don't care how well you play as long as you get the three points.

Sotirios Kyrgiakos was handed his debut and I thought the Greek defender did well.

He was strong in the air and it obviously helped having Jamie Carragher alongside him.

Competition for places is always good and he showed enough to suggest he will be competing for a regular place in the side.
---
SEPTEMBER 1
Why Liverpool FC should
get used to close encounters

Comment by Mark Lawrenson - Liverpool Daily Post

So Steven Gerrard has already made his first priceless intervention this season – because that game at Bolton was one that Liverpool had to win.

That's not me over-stating the importance of victories in August or suggesting that dropping more points would mean the title challenge was already over.

But I said after the defeat to Aston Villa last week that to get the season up and running, it was all about response and reaction. And going into the international break with another three points in the bag was essential to Liverpool's mindset after the first few games of the campaign.

And with a few decent looking fixtures coming up, with Burnley and Hull soon to visit Anfield, the confidence boost of an away win is the perfect weapon to take into games that, if you're going to be up there, you have to take three points from.

But I hope no Liverpool fans got too stressed during the drama at the Reebok Stadium on Saturday – because I get the feeling there's going to be plenty more where that came from.

Rafael Benitez's players are already paying the price for their vast improvement last season. They are seen as an even bigger scalp than before and teams are determined to stop them from playing.

Bolton are a prime example. They don't really look to play too much football as long as they stop their opponents from doing it and they seemed quite happy with a point.

As it was, before Sean Davis got sent off, Liverpool found it a struggle. And it's a struggle they are going to have to get used to because I reckon any teams in the bottom 10 or so will just make sure they compete in the midfield areas and if it's 0-0 or 1-1 they will be happy to take that.

When they go to Anfield you expect five men flooding the midfield but I think it could be a similar story even when it's Liverpool who are the away team.

Because of the way the Premier League pans out so many teams set out to avoid relegation, and every point is precious. So it's one up front when the top teams come to town and the onus is on them to break these sides down.

Chelsea found it to their cost last season when sides exposed their lack of width.

So in Liverpool's case, it's a good job Glen Johnson has made the start he had in terms of going forward, and other wide players like Albert Riera and Yossi Benayoun need to follow suit.

They are absolutely vital outlets if Liverpool are having trouble breaking teams down.

Which brings us back to Gerrard. That type of match-winning strike is something he has been doing for 10 years and I don't think it had anything to do with anything Benitez said about his performances.

That sort of thing doesn't work with him.

The fact is he sets himself such unbelievably high standards and even on a bad day he is as good as most of the rest of the players.

He knows the best way to respond to a dodgy game is to bounce back in emphatic style and the captain certainly did that at Bolton.

And you get the impression it's not the last time he will be needed to produce something like that this season.

Mark Lawrenson was talking to NICK SMITH
---
AUGUST 31
Megson in broadside
at 'diving' Liverpool FC

By Ian Doyle - Liverpool Daily Post

Angry Bolton Wanderers manager Gary Megson has accused Liverpool's players of "chucking themselves all over the pitch" to secure victory at the Reebok Stadium.

Rafael Benitez's side twice came from behind before a late Steven Gerrard strike eventually earned a 3-2 win on Saturday.

The turning point of the game came in the 54th minute when Sean Davis was shown the red card for a second bookable offence after upending Lucas.

Megson was unhappy with the Brazilian's part in the incident, which he claims was typical of the antics of the Anfield outfit.

And while the Trotters manager stopped short of referring to Liverpool's players of cheating, the inference was patently obvious.

"The sending-off was up to the referee's interpretation on both yellow cards but I would strongly suggest that that would only happen to 14 clubs in this league," said Megson. "There are six clubs that it wouldn't happen to. You either accept it or get better at it ourselves which we won't do. I can't go on about honesty and integrity and then tell players to chuck themselves all over the show.

"You just have to hope that the referees and officials, when they have these meetings, recognise what is happening.

"I didn't see all what happened at the sending-off but you just know what is going to happen. As soon as the challenge was made we tried to organise a substitution because you know damn well what is going to happen."

Megson added: "There were other things going off out there. Liverpool know we are going to be physical and no-one in this division likes handling Kevin Davies at set-pieces or when Jussi has got the ball.

"Instead of just coping with it, you will see a lot of stuff written about him in the press before the game from the opposition and during the game there will be a lot of stuff happening on the touchline, a lot of moaning about it. It is a bit sad that those things happen."

Megson continued launching his broadside by implying Lucas made sure referee Alan Riley brandished a second yellow card to Davis, who had earlier been booked for kicking the ball away.

"We are not going to accept it," said Megson. "I am going to keep moaning about it until people stop criticising Kevin Davies and stop trying to get our players booked.

"Some of the opponents we play are chucking themselves all over the pitch. We compete. We close the ball down and we battle for every ball on that pitch.

"But you will never see one of our players on that pitch rolling all over the ground when there is nothing wrong with him.

"Our physio rarely goes on the pitch and yet you see it happening all the time with the opposition and you know damn well that it is not life-threatening."

Megson extended his theme by insisting two Liverpool players had dived during Saturday's game. "Did they take the rule out that if someone throws themselves over and they don't get booked that they can get punished for that?" he said. "I think that is still in there but when did you last see that happen? It happened twice in this game. Two people chanced their arm on trying to get a penalty. I am not saying who they were.

"You either join in or accept it. Tell me the last Bolton player you saw throwing himself all over the place."
---
AUGUST 30
Gerrard glad to be back on track

By Al Campbel - LFC Online

Steven Gerrard was pleased to see Liverpool return to winning ways yesterday.

Gerrard was happy to see the Reds put the disappointment of Monday's defeat behind them and return to winning ways against Bolton at the Reebok yesterday.

"It would have been difficult going into the international break if we didn't get the result we wanted and this was all about a reaction to the Aston Villa defeat, and I thought we got that," said the captain.

"We played really well, showed character and deserved the three points.

"Against Villa we never showed enough character and we didn't play well enough. I certainly didn't play well enough on a personal level and this was all about individuals and the team reacting.

"The manager questioned the whole team after Monday and rightly so. We were no way near good enough and we didn't play close to our standard.

"We have had a couple of good meetings this week and we couldn't wait for this game to come around.

"We went behind twice but again we showed what character we have in this team. Going behind twice there are times when you think you are not going to get a point, never mind three, but we got our rewards in the end and we could have ended up scoring four or five."
---
AUGUST 29
Rafa delighted with Reds response

By James Carroll at the Reebok Stadium - LFC Official Website

Rafael Benitez admitted he was delighted with the reaction of his Liverpool players after the Reds beat Bolton Wanderers at the Reebok Stadium on Saturday.

Liverpool twice came from behind to secure an impressive 3-2 win, courtesy of goals from Glen Johnson, Fernando Torres and Steven Gerrard.

Following Monday's defeat to Aston Villa, victory over the Trotters comes as a welcome tonic for the Reds.

"Today all of the players wanted to impress and do well - they knew we needed to improve," Benitez told reporters at a post-match press conference.

"From the first minute, the players were playing with a great determination to win and it was important to have this mentality. I am really pleased with the reaction of the players.

"I think today we showed we have quality and when we play at our level, we can beat anyone.

"We had a game plan and we wanted to keep the ball and have plenty of possession. It was a difficult game and we had to come from behind twice, but I think we showed a lot of character.

"We have to improve on some other things, but at least we have won and we can prepare for our next game a little bit more relaxed."

With the scoreline poised at 2-1 in their favour, Bolton were reduced to ten men in the 55th minute when Sean Davis was sent off for a second bookable offence.

Benitez added: "We had plenty of possession playing 11 against 11. Against ten players, it was easier to keep control of the ball, but sometimes it can be more difficult playing against ten men because everybody works harder.

"We stayed calm and were moving and passing the ball. Last year we did the same and won some games like this, and it is important for the confidence of the players."

Meanwhile, Benitez admitted he was pleased with the performance of Greek debutant Sotirios Kyrgiakos.

He said: "It was a difficult game for Kyrgiakos, but I am really pleased because he was very dominant in the air against Kevin Davies, which is not easy, and also Johan Elmander.

"I think for his first game in England he was really good."
---
AUGUST 29
Reds hit back to beat 10-man Bolton

TEAMtalk

Steven Gerrard responded perfectly to having his early season form questioned by hitting Liverpool's winner in a 3-2 success at 10-man Bolton.

But the visitors were made to fight desperately hard by a Bolton side who were down to 10 men for much of the second period.

In fact, Gary Megson's men had been ahead twice through Kevin Davies and Tamir Cohen, and Liverpool only really got on top when Sean Davis was dismissed for a second bookable offence.

Glen Johnson had fired one equaliser in the first half, before Fernando Torres pulled Liverpool level at 2-2 a couple of minutes after Davis angrily trudged off.

Then Gerrard struck with a fierce drive seven minutes from the end to lift at least some of the pressure from Benitez.

Bolton made one change from the side that won at Tranmere in the Carling Cup in midweek, with Tamir Cohen replacing Mark Davies.

Liverpool, who lost disastrously at home to Aston Villa on Monday, gave new Greek signing Sotirios Kyrgiakos his his debut in place of Martin Skrtel, while Spanish winger Albert Riera replaced Yossi Benayoun on the left-flank.

Riera soon knew he was in a game. He was clattered by a strong Sam Ricketts tackle and then collected the Welsh international's boot in his ribs minutes later.

Predictably Bolton midfielder Fabrice Muamba was once again detailed to man-mark Gerrard, just as he did in both matches between the sides last season.

Liverpool soon had chances. Riera's cross was missed 12 yards out by Lucas, and the ball was returned into the box by Johnson for Fernando Torres to see a glancing header skim wide.

Torres was next in the wars, cut down by Gary Cahill, with the defender one of three Bolton first-half bookings, the others being Davis and Muamba.

The visitors had plenty of possession, but without making many clear-cut chances, Matt Taylor and Cohen working tirelessly in midfield, breaking up Liverpool's flow.

One through-ball from Lucas saw Torres shake off Cahill and attempt to chip Jussi Jaaskelainen from just inside the box, but the goalkeeper pulled down the effort.

At the other end, a Taylor free-kick was headed away for a corner by Torres, and that gave Bolton their breakthrough.

Taylor's 32nd-minute corner curled to the far post where Johan Elmander headed it down into the six-yard box for Davies to turn past Jose Reina from a couple of yards.

Liverpool surged back looking for an equaliser, and it almost came when Torres chested down Johnson's cross - but he fired across goal and wide of the far post.

But the visitors were level in the 42nd minute when a corner was cleared only as far as Johnson just outside the box, and he fired a low show inside Jaaskelainen's near post.

Bolton caught Liverpool asleep at the beginning of the second period. Liverpool's failure to clear a right-wing cross saw them go behind again just two minutes after the break.

Davies was able to flick the ball across the box, where two defenders failed to stop Cohen lashing the ball home from eight-yards.

Bolton were reduced to 10 men after 54 minutes. Lucas was racing towards the Bolton box when Davis clipped his heels from behind. Referee Alan Wiley produced a second yellow and then the red card.

Davis was furious. He had onfronted the Brazilian before receiving his marching orders and ran towards Lucas again, before being halted by a colleague and ushered away.

It was the incentive Liverpool needed. Gerrard hit the bar before Torres took a chest-down from Dirk Kuyt before steering the equaliser past Jaaskelainen in the 56th minute.

Next into the book was Gerrard for a foul on Muamba, before Benayoun replaced Riera after 63 minutes.

Not surprisingly, it was all Liverpool now. Andriy Voronin was sent on after 74 minutes to replace Javier Mascherano as the pressure on Bolton increased.

Torres and Kyrgiakos both had chances, and Bolton sent on another defender in Gretar Steinsson for Cohen with 12 minutes left.

Liverpool's pressure paid off with seven minutes left when Gerrard crashed the ball home from 12 yards. Benayoun's corner had been headed down by Torres for the Liverpool skipper to finally put his side ahead - and it proved decisive.
---