---
JULY 30
Lucas looking to retain captaincy

By Andy Hampson - Press Association Sport, Skopje

Liverpool midfielder Lucas hopes to have laid down a marker after captaining the team to a comfortable season-opening Europa League victory last night.

The Reds were pressed into action with an inexperienced side 17 days before their Barclays Premier League campaign begins after last season's seventh-placed finish left them needing to qualify for Europe's second-tier competition.

With several World Cup players having only recently returned to training, and others still on holiday, manager Roy Hodgson chose to travel to face Macedonian side FK Rabotnicki in Skopje with a youthful squad.

Lucas was one of just a handful of senior players to feature and, in the absence of Steven Gerrard and Jamie Carragher, wore the captain's armband.

And, after a comfortable 2-0 victory, the Brazilian wants to keep it for the second leg of the third round qualifier next week.

Lucas said: "It is a really good achievement for me. I am really proud, really happy, but the most important thing was the win.

"I know there are a lot of senior players in front of me but I hope I did a really good job and hopefully I will keep it.

"We are really pleased. It is our first win of the season and it was an important game.

"We got two away goals against a difficult team, so we have started the right way.

"Hopefully we will keep the same for the next match."

David Ngog scored both goals as Liverpool eased to victory with few alarms.

Lucas played alongside homegrown youngster Jay Spearing with Alberto Aquilani playing in a more advanced role behind lone striker Ngog.

With the likes of Gerrard, Joe Cole and Javier Mascherano - although the latter has expressed a desire to leave - training back on Merseyside, Lucas feels competition for midfield places is strong.

"Jay was fantastic and Alberto is getting the fitness back," Lucas said.

"This is good for the team, this is good for the season.

"When you have good competition with good players it will always be good for the team.

"The first two friendlies were to get our fitness back. Now for the official game we were 100% and we were ready.

"It was really important we won away with two goals and we didn't concede.

"The shape of the team was really good and hopefully we will keep doing the same, but we still have to play the second leg.

"We have to make sure we beat them again."

For Spearing the tie offers an early opportunity to impress new manager Hodgson.

The 21-year-old Wirral-born player briefly broke into Rafael Benitez's first team last season but ended the campaign on loan at Leicester.

Spearing said: "It's a massive season for me, with a new manager I've got to try to impress.

"It was a chance for me and the other young lads, (David) Amoo and (Martin) Kelly, to show the boss what we are capable of.

"I'm happy with my performance but at the end of the day it is a team one.

"We had our shape right, played for the 90 minutes and passed the ball well at times.

"We are halfway there but we need to get back to Anfield and finish the job off as soon as possible.

"We have got a lot of players to come back and fight for places.

"We have got to try to show the boss as many times as we can that we can stay in it. I've got to show him I'm capable of sticking around."
---
JULY 30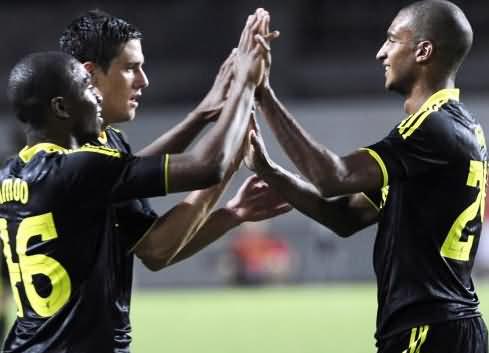 Ngog (right) celebrating with Amoo and Kelly.
(Photo: Reuters)
Ngog can reach top, says Agger

By Dominic King - Liverpool Echo

Daniel Agger today tipped matchwinner David Ngog to make it to the top after he got Roy Hodgson's reign as Liverpool manager off to a flying start.

The young French striker scored either side of half-time last night to secure a 2-0 victory for the Reds against FK Rabotnicki that has made the second leg of their Europa League third qualifying round tie at Anfield a formality next week.

Aside from his goals, Ngog impressed in the way he led the line and there is little doubt, judging from his physical appearance, that has been on an intensive programme this summer to strengthen his spindly frame.

Agger – who was making his first appearance in Skopje after his summer break – was taken with Ngog's performance and believes he will mature into more than just a deputy for Fernando Torres if he applies himself correctly.

"We have got to give David credit for the two goals. He took them very well – it was a very good performance," said Agger, who coasted through the 72 minutes he played.

"He was there in the right place at the right time, which is what all good strikers do. He is a good player and has the qualities but he knows that he still has a bit to learn.

"I know that he works hard every day but if he continues to work hard then he will come on a long way. But he has to keep working hard, as every one of us is doing, if he wants to get there."

Liverpool have a friendly against Borussia Moenchengladbach to play on Sunday before they welcome Rabotnicki to Anfield for what will be the final match ahead of the new campaign.

There is little doubt it has been a fragmented pre-season, particularly as so many players have ended up returning to Melwood at different times, and many fans are wondering what impact it will have when the real business gets under way.

But Agger does not intend to get distracted by looking too far down the line; his immediate priority is to help Liverpool secure their place in the Europa League's play-off round.

"I feel okay," he said. "A bit tired but good. It's a bit different to training and I suppose after six training sessions, it was okay to get through the game without any problems.

"It was just a question of managing the game and keeping hold of the ball so they couldn't cause us problems. Hopefully we have taken care of it for next week but you never know.

"We have still got to play the second leg and we have got to make sure that we win it. How will we be for the season? We have just got to get on with it and not complain.

"Things are different at the minute and I am only just getting to know the manager; I've only trained with him a few times but we are all going to try and push on again. We'll see what happens."
---
JULY 30
Happy Hodgson hails hitman Ngog

TEAMtalk

Roy Hodgson hailed the performance of David Ngog after the Frenchman's double got the new Liverpool manager's reign off to a winning start.

Ngog, playing alone up front, struck in each half as an under-strength Liverpool emerged from a potentially tricky Europa League test against FK Rabotnicki in Macedonia with a 2-0 win.

Ngog's future has been uncertain since Hodgson took charge a month ago with reports linking the 21-year-old with a move to West Brom.

The player, however, has expressed a desire to remain at Anfield and Hodgson said: "I can't stop players being linked with other clubs. I certainly have never discussed him leaving.

"I think Ngog has done well in the pre-season matches so far and he has worked very hard in the training sessions.

"I was pleased that he crowned his performance with two goals.

"I thought his target play, his general movement and his ability to keep the ball for us was also very good.

"But front players need goals and that will be a very big weight off his mind.

"It will mean he doesn't have to worry too much about the coming matches."

With their Premier League opener still 17 days away, Liverpool were without 10 of their World Cup players for the third qualifying round first leg.

The likes of Steven Gerrard, Joe Cole, Jamie Carragher and Glen Johnson were left to train on Merseyside while Fernando Torres, Jose Reina and Dirk Kuyt are still on holiday.

Ngog was one of only a handful of recognised senior players on duty along with Lucas, Sotirios Kyrgiakos, Martin Skrtel, Daniel Agger and Alberto Aquilani.

Youngsters David Amoo, Jay Spearing and Martin Kelly all took the chance to impress against a limited Rabotnicki side and Hodgson's selection was fully vindicated.

"I am very satisfied," Hodgson said. "It was a game that could have been very difficult for us.

"It was a big crowd and some of our players that played are not used to big crowds.

"I was really pleased with the way everyone went about their business and we can go back to Anfield with a margin of victory which will enable us to feel a little more comfortable."
---
JULY 29
Ngog gets Roy's reign off to a flyer

TEAMtalk

David Ngog struck twice as Roy Hodgson began his reign as Liverpool manager with a 2-0 Europa League win over FK Rabotnicki on Thursday.

The Frenchman found the net in each half as an under-strength Liverpool side overcame FK Rabotnicki with little alarm in the first leg of their third qualifying round tie in Macedonia.

With 17 days still to go before their Premier League opener, Liverpool were without 10 of their World Cup players but their blend of youth and experience coped well in a game of little drama. Hodgson's decision to leave behind the likes of Steven Gerrard and Joe Cole was fully vindicated.

Daniel Agger, Martin Skrtel, Sotirios Kyrgiakos, Alberto Aquilani, Lucas and Ngog were the established players to start, while new signing Milan Jovanovic was handed his debut alongside David Amoo, making his first senior appearance.

Diego Cavalieri, Martin Kelly and Jay Spearing made up the team but it was a sign of the times that the side on show at the Philip II Stadium - an old arena halfway through an impressive rebuild - was still worth £41million.

Liverpool, playing in black, began with Aquilani operating in an advanced role behind Ngog on a balmy evening in sweltering Skopje.

Rabotnicki had the first opportunity but Ze Carlos' optimistic shot from a 40-yard free-kick was blocked by Lucas.

Wandeir dos Santos attempted to beat Kelly on the left but the young right-back stood up well.

Liverpool's first serious chance came when Kyrgiakos headed wide from an Aquilani corner.

The visitors took the lead in the 17th minute when Ngog raced through a static Rabotnicki defence to reach a Lucas free-kick.

The Frenchman ran into the box unchallenged and clipped the ball past a half-hearted attempt at a save from Martin Bogatinov.

Brazil-born Ze Carlos found space as Rabotnicki tried to respond but shot tamely at Cavalieri from distance.

Vladimir Tuneski also tried his luck from the edge of the box but fired wide.

Amoo made his first dangerous run after switching from the right to the left wing as half-time approached.

He reached the byline and pulled the ball back across goal but Jovanovic was unable to get around a defender to reach it.

Amoo showed a glimpse of his potential early in the second half as he set off on a run down the right after a neat turn on halfway.

The 19-year-old Londoner cut inside to beat one man and then went outside another but his cross was too long.

Another good run by Amoo created an opening for Lucas but the Brazilian's touch let him down.

Liverpool were almost caught out as Dos Santos ran onto a long ball into the box but he lost balance and Cavalieri gathered.

Liverpool countered through Jovanovic but Aquilani could not control and Lucas shot over.

Dos Santos had another chance for the hosts but missed the target from the edge of the box.

Liverpool doubled their advantage just before the hour as Ngog volleyed in a fine second.

Kelly found space on the right and whipped in a ball which the striker nimbly turned in.

Kelly worried Rabotnicki with another good run but his cross was deflected and Bogatinov claimed.

The referee played on when half of the floodlights went out with 10 minutes remaining and any fears the game might be abandoned were quickly dispelled as some of the failed power was quickly restored.

Many Rabotnicki fans knew the game was over, however, and had left long before the final whistle.

And a lot of those that remained seemed to have had enough as they tried to fool the players by blowing for time with their own whistles.

Liverpool eased to walking pace and the real final whistle eventually came to signal a winning start to the Hodgson era.
---