---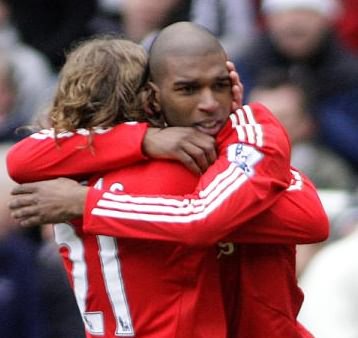 Babel scores and celebrates with Leiva.
(Photo: Getty Images)
DECEMBER 29
Laursen tips Reds for glory

By Richard Torgerson - Sky Sports

Aston Villa defender Martin Laursen believes Liverpool will win the Premier League after watching Sunday's 5-1 destruction of Newcastle.

Laursen is fully aware of how impressive the win was for Liverpool as they ended the year three points clear at the top.

Newcastle have fared well against the top teams this season, including an away win against Laursen's Villa, as well as two draws against Manchester United and Chelsea at Old Trafford and Stamford Bridge.

After Liverpool's emphatic win over the weekend, Laursen feels the Merseyside club are in prime position to end their 18-year-wait for league success.

"Liverpool are great and my favourites to win the title," the 31-year-old told Ekstra Bladet.

"Everything works for the team and they play positive and attacking football. They have a good squad and seek goal opportunities all the time.

"You should never write off Manchester United or Chelsea, but at the moment, Liverpool are ahead on all levels."

Laursen also singled out Reds skipper Steven Gerrard as the outstanding performer at St James' Park and he feels the midfielder will be pivotal in Liverpool's quest to bring the title back to Anfield.

"Gerrard was the man (against Newcastle)," Laursen added.

"He both scored and created opportunities for other players. He is a great player that has had an enormous impact on Liverpool's success.

"If he can make it through the season without injuries, then Liverpool will look more and more like champions to me."
---
DECEMBER 29
Gerrard backs Liverpool to win title

The Irish Times

Steven Gerrard has hailed the table-topping Liverpool side as the best he has played in and is backing the Reds to clinch a first Premier League title.

Rafael Benitez's side will start the New Year three points clear of the chasing pack following yesterday's 5-1 thrashing of Newcastle.

Captain Gerrard, who scored twice at St James' Park, said: "We have given ourselves a great chance. We have to remain consistent, that is the key.

"If we want to stay at the top and be involved in this title race, we have got to deal with the pressure.

"We have big players here and we will have a lot of tests and challenges to come, but if we keep playing like this then we will be there.

"This is the best team I have played with. You look around the dressing room and, from the 'keeper to the forwards, we have some fantastic players. There is a confidence that we can get over the big hurdles."
---
DECEMBER 29
Alan Hansen: I'm beginning
to believe Liverpool can win league

Liverpool Daily Post

Liverpool legend Alan Hansen is starting to believe his former club are serious title contenders.

The Reds have not been domestic champions since 1990 but top the Premier League at the halfway stage with a three-point lead over second-placed Chelsea.

And Hansen said: "I have been tipping Chelsea for the championship all along, but the longer the season goes on the better chance that I think Liverpool have got."

Liverpool looked in championship form as they beat Newcastle 5-1 yesterday, while Chelsea struggled to a 2-2 draw with Fulham.

The Cottagers also took a point from Liverpool recently, as did West Ham and Hull, but Hansen reckons it is the ability to recover from such setbacks which shows Rafael Benitez's men have improved from previous seasons.

"Certainly Liverpool have a better chance of winning than they had least season," he wrote in his column in The Daily Telegraph.

"They are more resilient than at the same time last season, they have more strength in depth and, crucially, they are able to create impetus and momentum.

"In the last month they have had three draws against lesser teams and it has not affected them.

"The most important thing is that they are not getting beaten.

"Mentally, the difference between drawing and losing is massive, even if the gap in points between winning and drawing is greater.

"As a title contender a defeat places unbelievable pressure on you, so it is when you lose two games in four or five that you find out what you are made of.

"This is where Manchester United and Chelsea have become brilliant; it is the aptitude test of a championship-winning side."
---
DECEMBER 29
Kinnear: Liverpool FC
will be the champs

By Ian Doyle - Daily Post

Newcastle United manager Joe Kinnear believes Liverpool will end their long wait for the championship after watching his team torn apart by the Anfield outfit yesterday.

Liverpool romped to a 5-1 win at St James' Park yesterday to extend their lead at the top of the Premier League.

The Anfield outfit go into 2009 three points clear of Chelsea having taken 45 points from 20 games.

And as well as backing Rafael Benitez's side for the title, Kinnear hailed a "magnificent" individual performance from Liverpool skipper Steven Gerrard, who scored twice and had a hand in two other goals.

"I think we have just seen the title winners," said the Magpies manager. "And I think we've seen the best performance I've seen from a single player for a long time in Gerrard, he was magnificent.

"Without a shadow of doubt they are the best team we've played this season. They were head and shoulders above us. They are an exceptionally good side."

Kinnear believes Newcastle would have put up a better fight had their squad not been decimated by injury, particularly in defence where three first-team regulars were absent.

"With all the injuries we have had and three of the regular back four out, whatever problems we had Liverpool took full advantage," he said.

"Had we had half of the players missing available, then maybe the result could have been different.

"But it was such a one-sided game because they are a world-class team. You have to take your hat off to Liverpool.

"Without Shay it would have been even worse. The only positive from the game is that he has proven he is the best goalkeeper in the league by a mile."

Kinnear added: "We had a lot of players missing. We had no Joey Barton, no Habib Beye, no Oba Martins, no Mark Viduka.

"We had no Sebastien Bassong, and without his height at centre-back we couldn't deal with Hyypia at set plays."

Before the game, Newcastle owner Mike Ashley had announced he was no longer seeking a buyer and had withdrawn the club from the market.
---
DECEMBER 29
Kuyt: The hard work starts now

By Paul Hassall - LFC Official Website

Dirk Kuyt was delighted to see Liverpool finish 2008 three points clear at the top of the Barclays Premier League but admitted: "The hard work starts now."

The Dutch striker played a key role as a lone striker in the Reds' 5-1 demolition of Newcastle United and felt it was the perfect way to cap an impressive festive period.

"It's great to be top at the end of the year," he told Liverpoolfc.tv. "But it's just the beginning for us. We need to step up every week and in every game and try to perform as well as that in the next match.

"I enjoyed playing up front again. Unfortunately I couldn't get my goal but I'd prefer to play in a team like this and win 5-1, than score every week somewhere else.

"I really enjoyed the game and it caps a good Christmas period in which we have picked up six very important points and scored eight goals along the way."

The Reds stormed into a two goal lead at St James' Park courtesy of efforts from Steven Gerrard and Sami Hyypia - only to allow Newcastle back into it courtesy of David Edgar's header in first-half stoppage time.

Kuyt was disappointed to see the Magpies snatch a lifeline but felt the Reds stepped it up again in the second period and could have easily made it an even bigger margin of victory.

"It was a great result and we could have scored even more," he said. "We started the game really well.

"We missed a lot of chances at the beginning but after that Stevie scored a great goal from a nice assist from Yossi.

"After that we continued to play well, got another goal and were really unlucky to concede just before half-time. But I think we stepped it up again in the second-half and it was a well deserved result."

Kuyt also had words of praise for Liverpool skipper, Gerrard, who produced another man of the match display.

"Stevie was great, but he always is," he added.

"He scored two goals and got two assists. He is a great captain and showed once again how he likes to lead by example - it's not just this game that he does it, he does it every game. He's very important to us."
---
DECEMBER 28
Gerrard: We should have won by more

By Paul Eaton - LFC Official Website

Steven Gerrard reflected on Liverpool's thumping 5-1 victory at Newcastle and admitted: "We're disappointed we didn't win by more."

The Reds ended 2008 in style with a brilliant display at St James' Park as two goals from the skipper plus strikes from Sami Hyypia, Ryan Babel and Xabi Alonso ensured Rafael Benitez's men will hold onto top spot going into the new year.

Gerrard opened the scoring after half an hour in the north-east, by which time Liverpool could have been out of sight after a number of goalbound efforts were brilliantly kept out by an inspired Shay Given in the Newcastle goal.

"We've been threatening that sort of scoreline for a while," said the skipper after the game. "We've had a lot of chances in games without being clinical but today we were.

"Having said that, we could have had more and the disappointing thing at half time was that we hadn't scored more goals. We could have been three or four up but they have a world class goalkeeper and full credit to Shay for some of the saves he made today.

"That's our only disappointment after the game, that the scoreline could have been more emphatic. That's the standard we have at Liverpool. We don't milk results, we always look for the positives and the negatives. There weren't many negatives today, but we could have had a few more goals."

Liverpool will head into the new year three points clear of the chasing pack after Chelsea were held to a draw at Fulham - and Gerrard insists there is still a lot of hard work to get through if the Reds' title dreams are to be realised.

"If we want to stay at the top and get involved in the title race then we're going to have to deal with the pressure," he added. "We have big footballers and big players here.

"There are a lot of tests and challenges to come but if we keep playing as we did today we will be there at the end. There is a confidence but there's still a lot of hard work to do and a lot of hurdles to get over if we want to stay where we are."
---
DECEMBER 28
Lee says Reds have belief

By Alex Livie - Setanta Sports

Sammy Lee claims there is a growing sense of belief that Liverpool can end their long search for Premier League glory.

The Reds will welcome in the New Year with a three point lead at the top of the table and were hugely impressive in disposing of Newcastle on Sunday.

Lee has experienced winning titles at Liverpool in the 1980s and he claims the players are determined to work hard in search of their goals.

"We feel this is a very strong, very focused, very determined bunch of players, and the joy from my point of view is that they are all willing to work hard and improve on their game," said Lee.

"That as a coach and a manager is all you can ask from players.

"We have got a belief. It's not an arrogance - hopefully it doesn't sound conceited, but we prepare to succeed, we don't prepare to fail.

"These lads are working very, very hard to make sure they get out the game what we feel as a club they deserve.

"But over the course of the season, only time will tell."

Rafa Benitez was again in the stands as he recovers from surgery, but Lee claims the Spaniard has not taken his eye off the ball.

He added: "We plan for wins - that's what this team is set out to do in each and every game.

"It doesn't always work out like that, but yes, he was pleased.

"But Rafa being Rafa, I can assure you he will be looking at the DVD now and analysing the performance and seeing where we can improve.

"That's our responsibility as managers and coaches, to not rest on our laurels, but to try to make sure we improve because we have got another hectic schedule coming up."
---
DECEMBER 28
Reds enjoy St James' romp

Sky Sports

Liverpool will head into 2009 on top of the Premier League table after an emphatic 5-1 victory over hapless Newcastle United at St James' Park.

Spirits on Tyneside had been lifted by owner Mike Ashley's pre-game announcement that the club are no longer for sale, but that buoyancy quickly evaporated as Liverpool should have put the game out of sight by half-time.

Poor finishing and inspired goalkeeping from Shay Given kept the scores level until the 31st minute when Steven Gerrard crashed his shot in off the post following a neat move involving Javier Mascherano and Yossi Benayoun.

Just five minutes later Sami Hyypia, who had already gone close twice, rose above Fabricio Coloccini to head home a Gerrard corner.

Newcastle gave themselves hope for the second half when David Edgar headed home a corner at the near post in injury-time.

However, the hosts' gameplan was in disarray again five minutes after the interval when Ryan Babel poked home from close range after a string of defenders failed to clear a corner.

Gerrard grabbed his second of the game on 66 minutes when he darted on to a superb through ball from Lucas before clipping a delicate shot over Given and the rout was complete on 77 minutes when Xabi Alonso tucked away a penalty after substitute David N'Gog had been tripped by Edgar.

Torn apart
The Magpies were torn apart by the visitors in a breathtaking first 45 minutes which demonstrated once again just how important Given is to the club.

The Irishman was one of three Magpies, along with Steven Taylor and Charles N'Zogbia, to be linked with a January move to Arsenal by one newspaper this morning, but had it not been for him, his side could have conceded at least eight by the time they headed back into the dressing room.

In the space of four minutes, he parried Dirk Kuyt's drive at the near post, blocked Gerrard's flick and then pulled off a stunning one-handed save to deny the Reds skipper.

But his work was not done and he had twice thwarted Lucas by the time the clock ticked around to the 20-minute mark before keeping out Hyypia's 42nd-minute header with the help of N'Zogbia on the line.

However, by that point, he had been beaten twice as the rampant visitors finally made the pressure tell, Gerrard sweeping the ball home from Benayoun's 31st-minute cut-back before Hyypia headed home his captain's corner five minutes later.

Liverpool were simply irresistible, and a rout seemed on the cards.

But the Magpies rallied and after Taylor had headed a Danny Guthrie corner wide, Edgar proved the man for the big occasion once again.

Just short of two years ago, the Canadian marked his home debut with a stunning equaliser against Manchester United, and when he headed another Guthrie set-piece home in injury-time his side at least had hope.

Half-time substitute Shola Ameobi almost made an immediate impact when Michael Owen only just failed to meet his 48th-minute cross with a diving header, but Liverpool's advantage was restored within two minutes.

Referee Mark Halsey was simply not interested in the home side's appeals for handball after Hyypia and then Lucas had helped on Gerrard's corner, and Babel stabbed the loose ball home to make it 3-1.

Joe Kinnear's resources were stretched further with 56 minutes gone when Nicky Butt limped off to be replaced by Geremi, although the Cameroon international almost dragged his side back into the game on the hour.

After Owen had been cynically tripped by Mascherano, Geremi drove the resulting free-kick against the bar with goalkeeper Jose Reina beaten.

But if the game was not already over, the result was put beyond doubt with 24 minutes remaining when Gerrard ran on to Lucas' pass and lifted the ball nonchalantly over Given to make it 4-1.

Alonso made it five from the penalty spot after Edgar had tripped Ngog with 77 minutes gone, and although Guthrie and Taylor both went close, Given had to make a superb double stop to deny Lucas and then Babel at the death.
---