---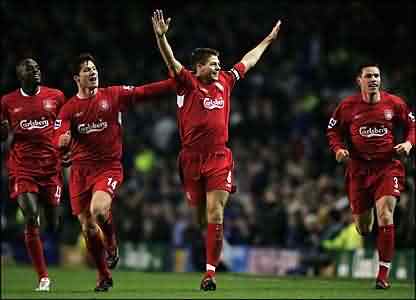 More to celebrate for goalscorer Gerrard and his team-mates.
DECEMBER 29
Red-hot Rafalution now
spurs title aspirations

By Chris Bascombe - Liverpool Echo

A classic finish by the Liverpool nine, fans singing 'we're gonna win the league' and post-match angst at the refereeing.

It was just like old times at Goodison last night.

Liverpool's followers had refrained from openly expressing their belief a title challenge is on, but in the face of nine consecutive wins the proof finally overwhelmed them.

Perhaps it took this convincing win over neighbours who severely embarrassed them a year ago to provide the last piece of evidence.

Or maybe it was a purely symbolic gesture, underlining where their side has gone in the 12 months since the last wholly unsatisfactory visit to this venue.

The Blues fans mocked Rafa Benitez for much of last season, but now they've paid the price at the hands of the manager who never makes the same mistake twice.

Benitez's first year in the Premiership is looking more like an elaborate reconnaissance mission.

At Goodison last December, Steven Gerrard didn't play in midfield, Xabi Alonso warmed the bench for 75 minutes and Liverpool opted for a lone striker.

Only four survivors from the lineup began here, which not only reveals plenty about the injury list a year ago, but also how swiftly Benitez has come to understand the idiosyncrasies of English football.

While David Moyes has spent £25m since the corresponding fixture in December 2004, including first pick in a line of Southampton strikers, Benitez has spent a net £15m.

The differences between both sides undermines such facts. The old arguments which used to claim finances, not managerial clout, separated both clubs doesn't survive close scrutiny.

The most significant question for fans of both sides today is how is it Moyes has invested more in a team which finished above Liverpool, yet the gap between the two is now developing into a chasm?

Such matters will worry the home faithful more than the thrilled visitors, whose most dangerous opponent proved to be those indulging in premature gloating midway through the first half.

At 2-0 up, memories of a certain Ian Rush-inspired win in 1983 were creeping into the consciences too readily. This explained a temporary lull when Liverpool decided to stop doing what they'd done so well for 20 minutes. They didn't just take their foot off the pedal, but virtually turned the engine off.

A Blues goal was threatened before Beattie obliged those who wanted balance restored in a hitherto onesided contest.

Half-time spared Benitez's side the indignity of holding on in the final stages prior to the interval.

The break was needed, since the Achilles heel which has been exposed throughout the recent run almost led to self-inflicted damage.

The Reds still need to develop their ruthlessness. When an opponent is wounded, they need to fire some extra bullets, just to be sure. Otherwise, positions of superiority can be squandered.

The excellent Djibril Cisse made the game sensible with a delicious finish two minutes into the second half. This was comfortably Cisse's finest game for Liverpool. There was a maturity and intelligence to his performance which has too often been missing amid erraticism.

His goal provoked justifiable comparisons with Thierry Henry. Earlier in the season, such opportunities were snapped at with power substituting guile.

This was an altogether different Cisse goal and display. Scoring in a derby has transformed many a career, and a week before the transfer window opens, this may prove to be the French striker's most significant of all.

Both he and Peter Crouch tormented the home defence. Even when Liverpool didn't create a chance of their own, they looked likely to get one via an error.

At 3-1, Liverpool didn't make the same mistakes as they did at 2-0.

They were assisted, of course, by some appalling refereeing. If Graham Poll ever takes charge of a dirty game, his dream of officiating in a five-a-side derby will be realised.

But to suggest his influence was decisive is delusional. Liverpool were already commanding proceedings before Poll decided to remind everyone he was on the pitch.

Having comfortably consolidated their position in third, there was still one moment of symbolism left behind the scenes.

Goalscorer Crouch admitted the Reds were gutted to hear Chelsea had won again.

It's over a decade since Liverpool left Goodison Park worrying about how a result impacted their title hopes. A year ago, they departed in despair, justifiably fearing they wouldn't finish in the top four.

The word 'progress' scarcely does justice to what's happened since.

The Blues may have ensured Liverpool left Goodison feeling frustrated again, but sadly for Moyes and company, it's the men from Stamford Bridge who occupy Benitez's thoughts now.
---
DECEMBER 29
Derby goal one of my sweetest

By Chris Bascombe - Liverpool Echo

Peter Crouch described last night's debut derby strike as one of the sweetest moments of his career - and then vowed Liverpool will push Chelsea all the way in the race for the title.

The Reds striker handed his side an early initiative which they never surrendered on their way to a 3-1 win at Goodison.

Now Crouch wants the momentum of nine straight league wins to continue into the New Year as Rafa Benitez's men try to cut the 15 point gap to Chelsea.

"I think that's my sweetest goal of all," said Crouch. "We all know what this game means to the supporters in this part of the world, so for me to get the first goal gave me a great buzz because I know it was crucial.

"My confidence is really high and that's natural when you're in the goals. When my chance came I had no hesitation putting it away.

"It feels even better because it's helped us to a good win in very difficult circumstances. It's never easy to win a derby."

The only downside to Liverpool's winning streak is Chelsea's refusal to buckle. The Londoners remain well ahead of Benitez's side, albeit having played two games more.

But Crouch admits it's frustrating that a magnificent run hasn't taken the Reds closer to top spot.

"It does deflate us a little bit when we come off the pitch and find out they've sneaked another win, but our main focus has been our own form," said the striker.. "We go out there to win every week and we've been succeeding. A lot of other teams around us dropped points last night, which is to our advantage.

"If you start thinking too far ahead you can get complacent. I'm sure if we keep playing as we are, we'll be there or thereabouts at the end of this season.

"We're doing our job superbly. I'm not surprised how quickly we've put ourselves in this position. I don't think anyone should be surprised when you look at what Liverpool achieved last year by winning the Champions League.

"If you do that, you're no mugs."
---
DECEMBER 29
Chasm in quality

By David Prentice - Liverpool Echo

Having seen every other footballing tactic fail them in recent weeks, Everton ran out for the derby match clinging onto the window principle.

You know the one - that peculiar footballing thought process that says in derby matches at least, the form book usually flies out of said window.

Last night, however, somebody had locked it.

The 202nd Merseyside derby ran as true to form as possibly any of the 201 which had preceded it.

Liverpool, a side which had just won eight successive Premiership matches - all without conceding a goal - looked every inch the Premiership's form team, as they comfortably beat an Everton team which had just lost back-to-back matches by an aggregate of 8-0.

And they effectively wrapped the game up by the 17th minute.

James Beattie's 41st minute consolation merely provided a mood of defiance around Goodison Park during the half-time interval.

It lasted barely 75 seconds after the restart, until Djibril Cisse killed off the match for good. That strike ensured Rafael Benitez's name was chanted relentlessly from the away section of Goodison Park.

There wasn't one solitary rendition of their rivals' red--haired version. It had been conspicuous by its absence at Villa Park, too.

But while David Moyes raised Evertonian eyebrows by suggesting his side had played well during back-to-back hidings by Bolton and Aston Villa - blaming individual errors for his team's plight - this time he might just have had a point.

Moyes stuck stubbornly behind his men after the 3-1 defeat.

Some might say he didn't dare alienate them with two crucial and winnable matches looming.

But, in truth, they simply never looked good enough to challenge a Liverpool team in this kind of form, playing this quality of football.

Everton tried to take the game to their neighbours as best they could. But they were facing a side which has grown in authority, style and swagger since their watershed week in London two months ago.

Then they made more mistakes. Everton gave away possession cheaply to allow Peter Crouch to sweep past Martyn; Joseph Yobo reared away from Steven Gerrard's shot like the ball had been dipped in sulphuric acid. Then, just when Beattie's goal had given the Blues hope, David Weir let Cisse run straight through him and clip in an uncharacteristically classy finish.

As if individual errors weren't enough for Moyes to contend with, he couldn't even turn to his tartan talisman.

Many fans had hoped to see Duncan Ferguson produce one last derby hurrah. They prayed that, already contemplating retirement, he might want to bow out with a bang against the team he has so often tormented.

It seems, however, that his legs weren't up to it. As a result, his lurking presence couldn't even be used on the substitutes' bench.

Not that his presence would have perturbed the rock-steady firm of Carragher and Hyypia unduly. They defended superbly yet again, against a willing but increasingly isolated Beattie, and provided the platform for the midfield triangle of Alonso, Sissoko and Gerrard to pass Everton to death.

All three possess stature, too, while the Blues' triangle of Davies, Cahill and Neville looked lightweight in comparison.

When Neville trailed a foot for Sissoko to tumble theatrically over in the 67th minute, that trio was reduced by 33 per cent and was the signal for many to exit the blue sections of the stadium.

They missed Beattie crash another close range shot into his favourite section of the Gwladys Street stand - the same one efforts against Newcastle and Middlesbrough also landed in - but his work ethic was admirable.

It was just never going to be enough against a Liverpool team which can now combine aggression and bite with quality and class.

As Liverpool's ecstatic fans were only too happy to remind the other half of the city - it was 3-1 in their cup final.

In about 48 hours time, however, Everton face an even more important match: A Premiership play-off - and this is a match Everton most definitely can win.

They must go to Sunderland without Mikel Arteta and Neville, Andy van der Meyde and probably Davies, without a striker who can't push his body through the pain barrier any more, and another whom Moyes patently does not trust.

That can be the only reason for Marcus Bent being left in the dug-out during successive home matches, while the Blues have been crying out for goals.

Oh, and Sunderland had last night off as well, after somebody forgot to put 10 bob in the Reebok Stadium meter. But excuses won't wash any more for Evertonians.

Saturday's clash is one they simply must not lose, or Monday's date with Charlton may see more than the sound of silence directed towards Moyes.

As for Benitez, he will step out at Anfield on Saturday to yet more renditions of La Bamba.

On last night's evidence, it will be a long time before that song wears out.
---
DECEMBER 29
Nightmare festive period
seals swift shift of power

By David Prior - Daily Post

That jockey at Leopardstown must be a relieved man today - there's someone around who has celebrated more prematurely than he did.

When, last May, David Moyes supped champagne in his conservatory chair and confidently announced a new hierarchy on Merseyside, he probably knew only an extraordinary turn of events would result in those words coming back to haunt him.

Extraordinary? That doesn't quite do them justice.

Moyes's self-appointed kings have not just been deposed from the throne, they've been deprived of all privileges and kicked back down the stairs to feed on scraps with the rest of the basement stragglers.

Such a slide was unbearable enough, but then there were the neighbours.

Seemingly taking last December's derby defeat as their cue, Liverpool conquered the Continent and then, with Rafael Benitez finally cracking the Premiership code, proceeded to reassert domestic superiority.

Even with a few more glugs of that bubbly, Moyes would not have believed it.

What a backdrop for the derby. Forget bragging rights - last night's game was about nothing of the sort.

For the blue half, it meant much more. It was a question of pride, of responsibility, and, in Moyes's words, of standing up and being counted.

For the reds, it was - almost - just another game.

Such contrasting priorities probably explained last night's game. The usual rule of the derby did not seem to apply. Great levellers they may be, but when fragility and nervousness meets confidence and swagger, the identity of the opponents tends to be irrelevant.

While Everton looked like a team who had lost 4-0 twice in the last fortnight, Liverpool looked like a team who had spent several hours poring over the videos of those same eight goals.

From the first minute, the hosts' weak spots were targeted with ruthless efficiency.

Steven Gerrard, having welcomed Phil Neville into his first Merseyside derby with a tackle that suggested his appetite for the game was alive and well, was relishing the ocean of space he found himself in.

Having seen his side stifled and suffocated on his first visit to Goodison, Benitez could probably not believe the extent to which his side were able to roam at leisure.

Three months ago, his side would not have taken advantage. But Liverpool are unrecognisable from those profligate days when goals were separated by hours.

Now it's only the against column that ticks over so lazily, and it was almost to be expected that they would benefit in the match-deciding way they did.

First Crouch, completing his journey from journeyman to legend, and then Gerrard, powering in a shot that Nigel Martyn barely caught sight of as it flashed into the back of the net.

There was little comeback for Everton after that. It was the start even the most optimistic home fan had feared, and with their already edgy fans silenced, the original 'long night' was assured.

That's not to say they lost heart. No doubt with their manager's pre-match reminder ringing in their heads, they rediscovered some of the pride largely missing against Villa and Bolton.

Liverpool, helpfully, took their foot off the pedal.

Had it not been for the dreadfully soft way in which they conceded seconds after the break, James Beattie's header could have meant something more than the consolation it eventually did. Possibly. At least it ended their rivals' clean--sheet record.

So where now? For Everton, their nightmare at Christmas continues. Now they must pick themselves up from what will be an energy-sapping setback, and their task at Sunderland in two days' time was not helped by the postponement of their game at Blackburn last night.

Somehow Moyes must pick his players off the floor and prepare them - mentally,, most importantly - for the second half of this relentlessly unfestive season. The last few games is hardly overflowing with evidence that he currently knows how to, though.

For Liverpool, their credentials as serious title contenders look more convincing by the game. Their defence was breached last night, but the way in which Carragher, Hyypia and co. dealt with everything else Everton could throw at them does not suggest any imminent bursting of the dam.

The fluidity of Benitez's rotational policy continues to impress. The likes of Mohamed Sissoko - so beloved by the home supporters last night, not least for his extremely amateur dramatics - and Stephen Warnock can come in and not rock the cruising boat to any negligible degree.

In all, it was as uneven a derby as two seasons ago, and Liverpool's 3-0 plundering at Goodison. Given Graham Poll's overly officious refereeing, it could and perhaps should have been more emphatic than even that game.

Moyes would probably be the first to retract those ill-advised words, now. For him, being number two on Merseyside is the least of his problems.
---
DECEMBER 28
Carra rues rare goal against Reds

Sporting Life

Jamie Carragher admitted a failure to keep a ninth successive league clean sheet took the shine off Liverpool's derby success at Everton tonight.

Peter Crouch, Steven Gerrard and Djibril Cisse got the goals which gave Rafael Benitez's men victory in the 202nd Merseyside derby.

But James Beattie netted for Everton just before half-time in a 3-1 win for the Reds - the first goal they have conceded in nine Barclays Premiership matches.

And Carragher told Sky Sports afterwards: "It's disappointing to concede just before half-time - we were expecting a battle in the second half but the third goal (by Cisse) killed the game.

"We are disappointed to concede because the aim before the game was to keep a clean sheet and we haven't done it."

The defender continued: "I know how much this game means - people talk about the Manchester United games but I think for me and Steven it's the biggest game of the season."

Gerrard added: "We've got the bragging rights until the next derby now.

"I practise shooting as much as I can and although tonight's goal took a bit of a deflection I'll take it."

Liverpool are now third, four points behind second-placed United with two games in hand - but 15 adrift of champions Chelsea.

And as for Liverpool's title hopes, Gerrard added: "We'll keep going, trying to make up ground.

"Chelsea aren't dropping many points but we've got to just concentrate on what we're doing."
---
DECEMBER 28
Rafa: We can play a lot better

By Steve Hunter - LFC Official Website

Rafael Benitez declared himself very happy with Liverpool's Merseyside derby victory over Everton but admitted his team can play a lot better.

Benitez said the 3-1 win over Everton was not Liverpool's best performance of the season but added that confidence is high in his team.

Benitez said: "I am very happy but at times in the first half Everton caused us problems in the air and we were not winning second balls. We can play a lot better and have played better this season.

"The team is playing well and with confidence. We knew before the game it would be physical and we knew what to do. The whole team worked hard, everybody.

"We started at a high tempo and we knew they would make some mistakes and we wanted to take advantage of that.

"The big difference for us this season is we know how to handle the physical games and we have players like Sissoko, Crouch and Reina who have helped us do that.

"Crouch is playing well and scoring goals for us and I'm very happy with him but the most important thing is he continues to play well. Before the game I wanted to use two different kinds of players against Everton and play Cisse with Crouch. Cisse has the pace and can run into wide areas and Crouch is good in the air and can hold the ball up."
---
DECEMBER 28
Liverpool storm to win at Everton

BBC Sport Online

Liverpool cruised to their ninth successive Premiership victory as struggling Everton's problems piled up.

Peter Crouch's clever finish and Steven Gerrard's deflected 25-yard drive put Liverpool two up inside 17 minutes.

James Beattie, who had a header controversially ruled out, pulled one back four minutes before half-time.

But Djibril Cisse fired in Liverpool's third after 47 minutes and Everton were reduced to nine men when Phil Neville and Mikel Arteta were sent off.

Beattie's header may have ended Liverpool's sequence of 761 minutes of Premiership action without conceding a goal, but it was another impressive performance from Rafael Benitez's rapidly-improving side.

Liverpool recalled Cisse and left Fernando Morientes on the bench, while Everton recalled experienced duo David Weir and Nuno Valente in defence.

And it was Liverpool who flew out of the blocks and stunned Everton with two early goals.

Cisse had already fired wide when Gerrard's header released Crouch after 10 minutes, and he expertly rounded Nigel Martyn to roll a composed finish into an empty net.

And seven minutes later, a rampant Liverpool doubled their advantage as the 202nd Merseyside derby threatened to turn into a nightmare for Everton.

Goalkeeper Martyn punched clear, but when Cahill's header fell to Gerrard 25 yards out, he fired a low shot into the corner with the help of a slight deflection off Joseph Yobo.

Cisse then shot inches over as Liverpool threatened to run riot, but Everton slowly worked their way back into the game.

They were aggrieved when Beattie had a header ruled out from Tim Cahill's cross, with replays throwing doubt on whether the ball was out of play.

But the striker was rewarded with a goal that gave Everton a lifeline four minutes before the interval.

Kevin Kilbane's far post header was cleverly turned on by Simon Davies, and Beattie headed past Pepe Reina.

But any hope Everton had of mounting a revival appeared to be snuffed out when Liverpool added a third only two minutes after the re-start.

Liverpool broke quickly, and Cisse raced on to Harry Kewell's pass before easily avoiding a poor challenge from David Weir to beat Martyn.

Everton's confidence was visibly knocked, and Gerrard could have added a fourth for Liverpool with a powerful drive that was only inches off target in the 67th minute.

And Everton's miserable night got worse a minute later when Neville was shown the red card for a second bookable offence, a foul on Mohamed Sissoko.

Beattie wasted a glorious chance to give Everton some hope in the dying minutes, but he blazed over from point-blank range from Yobo's flick.

As if Everton had not suffered enough, Arteta then also saw red for his second booking, a senseless foul on Liverpool substitute Luis Garcia.
---