---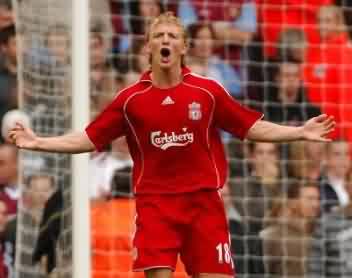 Dirk Kuyt celebrates Liverpool's first goal vs Villa.
(Photo: Empics)

OCTOBER 31
Time for Benitez to put
his trust in winning side

By Mark Lawrenson - Daily Post

It's no coincidence that Liverpool played their best football of the season against Aston Villa on Saturday. Because it was their best XI that went out onto the pitch.

And it's the team that Rafael Benitez should now stick with - both for tonight's Champions League game with Bordeaux and Saturday's Premiership home game against Reading.

In all honesty, we know there will be one or two changes because that's the way Benitez likes to do it and I'm sure his 100th consecutive game without naming an unchanged line-up is only hours away.

It's not that me, or anyone else (aside from one unnamed director but we'll get to that in a bit), has a problem with the Liverpool manager.

I just think supporters like to see a settled XI playing for a few weeks.

Look at the four away games Liverpool have lost.

They sent out different teams for each of them and none of those were what you'd consider their strongest line-up.

Everton, Chelsea, Bolton and Manchester United away are all very tough games and Liverpool got nothing out of them.

As a result, the chances of winning the title are all but over even at this early stage.

And next up away from home is Arsenal, so I would have thought that going there with the best XI is the best chance of getting something from such a big game. It's a no-brainer.

All of which means, of course, Steven Gerrard staying on the right.

But I'm right behind Benitez on this one.

If everyone is playing well, knocking the ball around like they did against Villa, Gerrard is able to come inside and join in as he likes.

When the combination is right, I don't think playing Gerrard on the right hand side is a problem at all.

As for the rest of the team, not many can argue that Finnan and Riise as full-backs with Hyypia and Carragher in the middle is the strongest back four.

Then the midfield, with Sissoko and Alonso dictating things in the middle and Garcia coming in from the left to link with the attack is Liverpool's most dangerous option on that side - proven by that superb third goal he scored on Saturday.

Up front, well I don't think anyone would complain which combination Benitez went with from week to week.

Kuyt and Crouch looked good on Saturday, but even one of those alongside Bellamy would still be dangerous.

Fowler is looking sharp at the moment, but is more likely to be seen in the final 20 minutes.

So out of 20 or more players available for first team selection there's 12 there that I reckon should be stuck with at the moment.

If it doesn't work, then is the time to change it.

But following a performance like that against Aston Villa isn't.
---
OCTOBER 30
Wounded lion roars
back with proud response

By Chris Beesley - Daily Post

Whether you're playing in the Premiership or the Sunday League, managers will tell you that a team's quality and character can be measured by how they bounce back from
a disappointing result.

It doesn't get much lower for Liverpool than being outplayed by Manchester United in a defeat that leaves them with half as many points as the Red Devils.

So it was imperative against Villa that Rafael Benitez's side showed a response following their Old Trafford disappointment six days earlier.

In that respect, it was mission accomplished as Liverpool produced their best performance to date of a season that has so far flattered to deceive.

Martin O'Neill's Aston Villa arrived at Anfield as the only unbeaten side left in English football but they returned to the West Midlands with their tails between their legs and plenty to think about after having their proud record vanquished in style by a team that finished them off with a three-goal blitz in 14 minutes before the interval.

The reason that Liverpool's defeat at Old Trafford hurt so much - apart from the obvious reason that it was against their old foes - was the fact that it left them 11 points adrift of the Premiership summit and no doubt painfully aware of their current shortcomings when it comes to mounting a serious title bid.

Benitez must so far be judged a success by anyone's standards after bringing home silverware in both of his first two campaigns - in the shape of the Champions League and the FA Cup.

But while his triumph in Istanbul brought a trophy that is the greatest prize in club football, it is perversely more difficult to become champions of England than of Europe due to the knockout format of the continent's premier competition.

Back in the days when the Reds won their first four European Cups, they actually had to win their domestic league first just to gain entry.

And they did, with recordbreaking regularity. That was only a generation ago but in football terms it may as well be a lifetime.

Saturday's opponents Aston Villa lifted the European Cup in 1982, thanks to a goal from Liverpool-born Peter Withe on the back of claiming their seventh League Championship - but first for 71 years - 12 months earlier, in a season in which they incredibly used just 14 players.

Rafael Benitez, who named a different side for the 99th consecutive time on Saturday, clearly thinks that rotation is the key to success in the 21st century game but for all his chopping and changing, you could make a strong argument that when he shuffled the pack against Villa, he came up with his strongest combination and it gave him a winning hand.

While Daniel Agger and Gabriel Paletta are exciting prospects for the future, when everyone is on form, you'd expect the back five to be Reina, Finnan, Riise, Hyypia and Carragher - but that's not where the Spaniard does the bulk of tinkering.

It's in midfield and up front where you'd struggle to second guess Benitez's selections.

There's the age-old argument of where best to put Gerrard but the presence of Sissoko and Alonso perhaps suggest that it's best for the team to keep the skipper on the right while Luis Garcia is often most comfortable when operating on the left flank.

In attack, both Kuyt and Crouch netted and that's the first time a Liverpool strike partnership has done so in the same game this season.

However, you'd still be a brave man to suggest that the same combination will take to the Anfield pitch against Bordeaux tomorrow night. That's Benitez's style - and despite the voice of discontent from an unnamed Liverpool director last week, he's not for turning.

The Reds have not looked vulnerable at Anfield for a long time and with home games against Reading, Manchester City and Portsmouth on the horizon they shouldn't be troubled here.

It will be away at Arsenal and Middlesbrough that will gauge just where they're now up to.
---
OCTOBER 30
Kuyt reveals delight

Clubcall Sports

Liverpool striker Dirk Kuyt has admitted that Saturday's goal against Aston Villa was extra special - because his father was at Anfield to see it.

The Dutchman's father, who recently underwent a life-threatening operation to cure cancer, saw his son net in the 3-1 win.

Kuyt said: "He's doing very well after the operation. It was a big operation, but he's recovering well.

"He's been a big inspiration for me. He's always been like that, now even more so because it was such a big operation. I have a lot of respect for him.

"It was great to have all the family here and great to score, especially when he's here. It was a good moment.

"It was an important win to give the crowd something. The first half was really great and we could have scored one or two more goals, but 3-1 is still a good result.

"There's Bordeaux then Reading to come, and it will give us more confidence to win those games."
---
OCTOBER 30
Barry: The best I've played against

By John Atkin - LFC Official Website

Aston Villa captain Gareth Barry believes Liverpool played some of the best football he has ever faced on Saturday.

The left winger admitted his side couldn't get near the Reds in a first half which ended 3-0 to the home side.

"You've got to give credit to Liverpool, first half. That's some of the best football I've played against, like the Liverpool name, pass and move," he said.

"We struggled to get near the ball in the first half and, when we did, credit to them for closing us down."

Barry also reckons it is only a matter of time before the goals start flying in for Steven Gerrard, who has yet to break his duck this season.

He said: "I'm sure once one goes in, the rest will flood in as well.

"The rest of his game is still there. You saw the work-rate and the spirit he's got, and the way he's captain of a big club like Liverpool.

"The whole team follows him. If he plays well, the whole team do likewise.

"And I was bit relieved I wasn't left-back today."
---
OCTOBER 29
Villa win pleases Momo

By Al Campbell - LFC Online

Liverpool's impressive win over Aston Villa yesterday was pleasing to midfielder Momo Sissoko.

Yesterday's excellent performance against previously unbeaten Villa was the perfect tonic for the Reds after last week disappointing display at Old Trafford. Momo Sissoko believes yesterday's performance can be a springboard for the Reds.

"Yes it was a good win, especially coming so soon after the difficult match at Manchester United," said the Mali international.

"It was good to get back to winning ways in the Premiership. Everybody played well. It was a good team performance and afterwards the gaffer was happy.

"It's important for everybody; the players, supporters and management that we try to win every game. That is our number one objective.

"This Liverpool team is better than last year and our aim now is to get back into the top four of the Premiership and continue to progress in the Champions League. To do that we need to keep working hard and keep improving."
---
OCTOBER 28
O'Neill praises Reds

Vital Football

Martin O'Neill was generous in his praise of Liverpool, after seeing them bring to an end Aston Villa's unbeaten start to the season, with a 3-1 defeat at Anfield.

'I thought they were absolutely splendid,' O'Neill told Sky Sports News.

'We didn't play well and that doesn't help of course, but they were absolutely splendid.

'They knocked it about terrifically and their form at Anfield is absolutely magnificent.

'We could have helped ourselves a bit and we tried to in the second half. We got back into the game 3-1, but in the 90 minutes it was a lesson for us.

'We are aspiring to where Liverpool are, but that will take some time.'

Despite the result, O'Neill was pleased with the response he got from his players at the interval.

'We wanted to have a go,' he added.

'I'm not really worried about damage limitation. Okay I suppose if you're going to get beat seven, eight or nine it might not read too well but there was no point.

'We had a lot of travelling fans there who were wanting to see better than we did in the first half.

'I think they got that and we kept going right to the death. So if there was any sort of crumb of comfort it was that in the last few minutes Liverpool were trying to keep possession and prevent us from getting that second goal to give them a nervy time.'
---
OCTOBER 28
Benitez: That proves a point

ITV Football

Rafael Benitez saluted Liverpool after they bounced back from a disastrous defeat at Manchester United to end Aston Villa's unbeaten run with a 3-1 Anfield victory.

The Liverpool chief has come in for some criticism from within his own boardroom, but said: "After what happened at Old Trafford we had to show people we have good players here.

"The first half was as good as anything we have produced this season, apart maybe for the first 30 minutes against Galatasaray.

"We started with a high tempo and maintained it. And the players were able to give the fans what they wanted.

"The players were able to enjoy their skills and they came in at half-time knowing they had played well.

"The second half was a little more difficult, Villa came back at us, but we were able to control the situation and make sure we took the points.

"Basically the players enjoy being able to show people what they can do."

He added: "We showed we have quality and if we can play consistently like we played in this game then I believe we will soon be much higher in the table.

"This win will give us more confidence going into the Champions League game against Bordeaux on Tuesday. The lads knew they were reaching the right levels."

Liverpool, though, have doubts about the fitness of Mohamed Sissoko and Steven Gerrard, who both picked up ankle injuries in the second half.
---
OCTOBER 28
Liverpool's best display of the season

By John Sinnott - BBC Sport Online

Liverpool produced their best display of the season to hand Aston Villa their first league defeat of the campaign.

The home side were 3-0 up at half-time, Dirk Kuyt volleying Liverpool in front, before Peter Crouch added the second with another first-time effort.

Steven Gerrard, Kuyt and Crouch then linked to set up Luis Garcia, who slipped the ball under Thomas Sorensen.

Early in the second half Gerrard hit the post before Gabriel Agbonlahor's incisive finish reduced the deficit.

The frustration for Villa was that until that mini second-half revival they were unable to show the form that had brought them to Anfield unbeaten in their previous nine Premiership games.

But they can have few complaints at the half-time scoreline after failing to establish any sort of connection with their forwards Juan Pablo Angel and former Liverpool striker Milan Baros.

Liverpool proved much more adept at finding their forwards Kuyt and Crouch.

Kuyt had missed an early chance after Garcia had crossed, while Crouch went close with a downward header.

John Arne Riise then tried his luck with a couple of powerful shots.

Liverpool finally found the solution to turning possession into goals on 31 minutes.

Kuyt's goal came from an unusual source - Liverpool's central defensive partnership of Jamie Carragher and Sami Hyypia.

Carragher's flighted pass was headed on by Hyypia to Kuyt, who after controlling the ball on his chest, arrowed a volley past Sorensen.

Steve Finnan picked up the attacking baton from his fellow defenders to help create Liverpool's second.

Liverpool had kept possession well before Kuyt played the ball out to Finnan, who swung in a cross from the right.

As the ball came into the box Crouch extended his right leg to guide a volley down and past Sorensen.

If Liverpool's opening two goals had owed much to the attacking play of their defenders, the home side's third saw their forwards combine in a flowing move.

Gerrard, Kuyt and Crouch swiftly exchanged passes on the edge of the Villa box to set up the marauding Garcia, who sidefooted home.

Soon after the break Gerrard came close when he rattled the post after Villa failed to clear the ball.

But Agbonlahor's goal gave Liverpool a real jolt.

Agbonlahor broke clear of the Liverpool defence to collect a pass from Chris Sutton, who was one of two substitutions made by Martin O'Neill at the start of the second half after Villa's lacklustre performance in the opening period.

Sutton came desperately close to scoring his first goal for Villa when his flicked header was superbly tipped away by Jose Reina.

The former Celtic striker then tried to turn a Steve Davis shot past Reina.

Garcia might have had a second goal after he collected a pass from Gerrard, but the Spaniard put the ball the wrong side of the post.

In stoppage time substitute Robbie Fowler came close to scoring on his 350th appearance for Liverpool.
---