---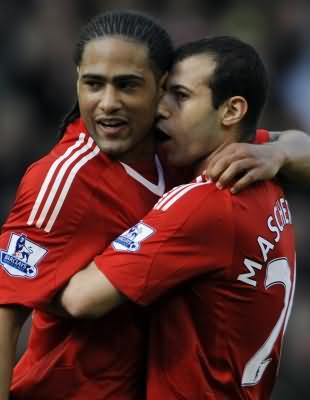 Johnson celebrating his goal with Mascherano.
(Photo: Reuters)
MARCH 30
Liverpool FC can cope
with end-of-season pressure

Comment by Mark Lawrenson - Daily Post

Even when Liverpool turn on the style and record such a convincing triumph as they did against Sunderland on Sunday, there's still that element of frustration.

The joy is soon tinged with a bit of regret, based on what might have been.

When you see Liverpool take a team from outside the top bracket apart like that, you know you're watching the real Liverpool.

The Liverpool that are a top four side, that do go all out on the attack – it's the way it should be.

But it's not the way it has been for much of this campaign, one that has been very average and left us in a position we should not be in.

Even watching a good performance like the one on Sunday, it's clear to see where it has gone wrong.

When we have our best players available and playing well, we are a good side. But the problem is we haven't got any replacements.

So while it's all very well bemoaning the amount of games Fernando Torres has missed through injury, the fact is the lack of decent striking cover has made that time on the sidelines completely wasted.

But the main thing is, he is fit now, scoring goals and – if the evidence of the Sunderland victory is anything to go by – he is in a team that is playing to his strengths.

Which is essential to this Liverpool side in the final six games of the season as they chase this top four spot.

It is out of their hands, granted. But can their main rivals Manchester City and Tottenham handle the pressure?

I have my doubts, especially when you look at the fixture list and see that Liverpool have comfortably the easiest run-in.

Birmingham away this weekend will be no picnic but there isn't much else to worry them.

And if you think the final home game of the season against Chelsea is a tough one, imagine being Carlo Ancelotti's team, going for the title and having to travel to face one of the most formidable current home records?

It's eight straight wins at Anfield since the FA Cup defeat to Reading and if that momentum can be maintained then there's no reason why Liverpool shouldn't believe they can end the season with a maximum haul.

They did it this time last year when they had the matter of a Premier League title race to endure and kept the pressure on Manchester United every time.

But City and Spurs are no United when it comes to holding your nerve closing out a campaign.

They haven't been there and done it – Liverpool have.

Approach every game like they did on Sunday and I wouldn't bet against them doing it again.
---
MARCH 29
Torres wins Kuyt praise

BBC Sport Online

Dirk Kuyt believes Premier League life is easier for Liverpool with Fernando Torres fit and firing.

Torres scored a goal in each half during Sunday's 3-0 win against Sunderland to help keep alive the Reds' hopes of finishing in the top four.

Kuty told BBC Radio Merseyside: "He's scoring some great goals and playing really well.

"That's what we like to see from him and that's very important and makes football for this team a lot easier."

He added: "Not only today but since he's come back from his injury he's done a great job for the team."

With the win over the Black Cats, Liverpool are four points behind Tottenham in the race for fourth place and that all important Champions League spot.

The 29-year-old believes the Reds can secure fourth but he knows there is more hard work ahead.

"We have to try and we have to push," he continued.

"We are behind and we also know it's going to be hard but the only thing we can do is win our own games and that is why we we're happy with the result today.

"We have to keep going from here. Fernando in this form and also the team is playing better hopefully we'll have a chance."
---
MARCH 29
Torres shows Liverpool FC fans
a glimpse of what might have been

Comment by David Randles - Liverpool Echo

Even the Sunderland fans applauded when Fernando Torres was substituted.

Perhaps it was with relief as much as respect.

With his 19th and 20th goals of the season, Torres displayed once again exactly what Liverpool have lacked in his absence throughout a campaign that has desperately needed his majestic influence.

They say Manchester United are not the same team without Wayne Rooney.

That may be true but at least they have the odd multi-million pound replacement to come in and deputise.

Sadly, Liverpool don't.

While Robbie Keane has never been replaced, it is too much to ask David Ngog to stand in for Torres on his own.

Now, with seven goals in Torres' last four games, this is the kind of form that can help fire Liverpool back into the Champions League.

His double against Sunderland moved him to fourth in the Premier League scoring charts with 18 for the season.

It's an incredible tally for a player who has missed large chunks of the campaign through injury.

It's also a tally that leaves you pondering 'if only'.

If only the Spanish striker had been fit for most of the season there is a good chance the Reds would be looking higher up the table than digging in for a scrap to the finishing line for fourth.

Regardless of yesterday's result, mention of Liverpool and Sunderland from this season will always conjure thoughts of big red beach balls.

According to the Kop, the only thing that resembled one inside Anfield yesterday was Steve Bruce's head.

The Sunderland manager had the good grace to join in the joke afterwards while highlighting what he described as 'a Torres and Gerrard masterclass'.

It was at the Stadium of Light in October that Gerrard and Torres were both missing from the squad for the first time in the league since the Spaniard joined the club in 2007.

Little did we know it, but that was to be a precedent for much of what would follow.

It is little coincidence that, with Gerrard and Torres struggling for fitness, Liverpool's season truly began to hit the skids after that 1-0 defeat.

Yesterday was only the 13th time since then that the pair have lined up together.

While Torres will grab the headlines for two goals of the highest distinction, Gerrard was somewhere near his marauding best yesterday too.

The first half in particular saw the captain everywhere.

One minute he was on the left supporting Ryan Babel, the next he was popping up on the right, linking with Maxi Rodriguez, before dropping deeper to pull the strings through the middle.

There's an argument that says Gerrard is at his most dangerous from here. Rafa Benitez will point to the goals he's scored playing further up the pitch.

Either way, it's a nice dilemma to have and one that, with Torres leading the line, can reap rewards whichever way they play it.

Gerrard reflected last week on his own form this season, admitting that he hasn't always been at the races.

That may be so, but the words of his manager come closer to explaining why Liverpool have struggled to emulate last year's title challenge.

"Always you expect big things from your important players and then the other players follow them," said Benitez.

"But sometimes the other players have to lead and that is the way it must be if you want to be a strong team."

As Benitez says, it is up to the rest to stand up and be counted to compensate for any shortfall in the performance of others.

That hasn't happened often enough this season and results have suffered accordingly.

This isn't to say Liverpool are a one-man team though.

That tired accusation fell flat when people started bemoaning the impact of Xabi Alonso's departure.

But there is a heavy reliance on Gerrard and Torres to turn things on.

Against Sunderland there were positives all over the pitch however.

With Dirk Kuyt looking to address his own dip in form, the Dutchman was at his industrious best while Maxi Rodriguez showed signs of why he is valued so highly in his homeland.

Javier Mascherano continued to perform to the level you would expect from a player who is about to commit his future to the club, and Ryan Babel is enjoying a new lease of life.

Add to this another clean sheet, plus Glen Johnson's goalscoring exploits, and that strong finish to the end of the season that Gerrard talked about may already be under way.
---
MARCH 28
Glen: Dressing room believes

By Jimmy Rice - LFC Official Website

Glen Johnson hailed the 'togetherness and belief' within the dressing room following a comfortable 3-0 win over Sunderland on Sunday.

The full-back chipped in with the second goal while Fernando Torres took his tally for the season to 20 with a memorable double.

The scoreline keeps Liverpool well in the hunt for fourth spot, though Tottenham still have a game in hand on top of their four-point lead.

Johnson said: "The belief is there - if it wasn't it'd be pointless playing. The lads are sticking close together with the staff, everyone's pulling together. I think we can do it."

Liverpool can take heart from the fact Spurs still have to face Man City, Man United, Chelsea and Arsenal - not that Johnson is dwelling on the fixture list.

"It's not something we've been thinking about," he said. "We're trying to take each game as it comes and trying to pick up three points in every game.

"We also know goal difference could be vital for us at the end of the season, so we're looking to keep as many clean sheets as we can and keep chipping in with goals."

Johnson's third strike of the season came with his left foot.

"It's something I've always been comfortable doing, coming inside and shooting on my left," said the England man. "I'm happy with the way it came off here."
---
MARCH 28
Benitez delighted
with impressive Liverpool

ITV-Football

Liverpool manager Rafael Benitez felt the hard work his side had been putting in over the last few weeks paid dividends in the 3-0 win over Sunderland at Anfield.

Two goals from Fernando Torres, taking his tally to seven in four matches and 18 in 21 Barclays Premier League appearances, either side of Glen Johnson's deflected strike secured an eighth successive home league win.

What was more impressive, however, was the opening 45 minutes in which Liverpool destroyed Sunderland with a high-tempo, attacking passing game not seen all season.

It would not have flattered the Reds had they been six goals to the good at half-time instead of the 2-0 scoreline they had to settle for.

Centre-back Daniel Agger had three good chances, Maxi Rodriguez's near-post header was tipped over by goalkeeper Craig Gordon while Torres also hit the post and then bundled the rebound wide.

It left the always difficult to please Benitez more than satisfied as he felt it justified his much-criticised tactics.

"Always you try to do your best and play a bit better," he said.

"But today we started with a really high tempo, passing the ball well and scoring an early goal always helps," he said.

"With the same tactics we scored more goals than anyone in the Premier League last year and more goals in anyone in England two years ago.

"It is a question sometimes of accuracy, pass completion or just a little bit of luck."

Benitez paid tribute to the quality of Torres' strikes but the exacting manager stressed his star striker could still get better.

"It (the first) is one of Fernando's better goals but also, with the second one, sometimes it is not just a good strike but to do the right thing at the right moment," he added.

"For me both goals were good."

A return to top goalscoring form will no doubt have pleased Torres, who missed five weeks of the season after a knee operation in January, but he has continually stressed that the club need investment in players to keep him happy.

Benitez said his - and his players' - main concern was to secure Champions League qualification.

"At this moment the main thing for all of us is to try to play well and win games and we will be closer to the top four," added the Reds boss.

"We know we have to keep going. You can see the players have confidence and if we play at this level we will win more games for sure.

"That is the best way for the manager, the staff and players to move forward so we will try.

"We are working behind the scenes to improve things for the future but now it is best to concentrate on football."
---
MARCH 28
Torres: Reds are full of confidence

Sky Sports

Fernando Torres claims Liverpool have hit form at the right time following the 3-0 win over Sunderland as they chase a Champions League spot.

Torres scored twice in Liverpool's 3-0 win over Sunderland at Anfield to put them within four points of fourth-placed Tottenham.

The Spain striker told Sky Sports: "You can see the team is different to the first part of the season, now we have confidence and we know we can beat anyone.

"We have to win all our games until the end of the season and wait for the other results, but we are going the right way.

"We are much better in the last part of the season and now we have six games to play and we have to be as strong away as we are at home."

Torres' first goal was a stunning strike into the top corner but he did not agree that it was the best he had ever scored.

"I think I have scored some better than that - and hopefully the best are still to come," he added.

Glen Johnson struck the second for the Reds and the England defender echoed Torres, saying: "The belief is there - everyone is pulling together and we are confident we can do it."
---
MARCH 28
Bruce: We were outplayed

Sky Sports

Steve Bruce conceded his Sunderland side were very much second best after watching them fall to a 3-0 loss to Liverpool.

The Black Cats have enjoyed an upturn in form of late to ease fears of the drop but looked out-of-sorts as they were comfortably beaten at Anfield.

A brilliant brace from Fernando Torres and a deflected drive from Glen Johnson did the damage as Liverpool cruised from the moment their Spanish striker gave them a third minute lead.

Bruce admits his players could not get even close to Liverpool's top performers, with Jose Reina largely a bystander in the home goal.

While in no doubt Liverpool were excellent on the day, Bruce also believes his players underperformed throughout.

Bruce told Sky Sports: "Sometimes you are well and truly beaten and in the first half in particular Torres and Steven Gerrard gave a masterclass and sometimes you just have to say 'well done'.

"It's hard to take but today Liverpool were just far too good for us, though I would expect more resilience and us to put up more of a fight than that.

"The way we started was disappointing, we should have been better out of the traps and made it far too easy for them.

"They were far better than us and we couldn't get to grips with them."
---
MARCH 28
Torres stars in Reds rout

Sky Sports

Liverpool underlined their intent not to hand over fourth place without a fight as they played some wonderfully expansive football in beating Sunderland 3-0 at Anfield.

Fernando Torres was the star as a pair of stunning goals sandwiched an effort from Glen Johnson to move Liverpool to within four points of Tottenham.

The defensive shackles that have afflicted Liverpool so often this season were banished from the off as an attack-minded line-up tore about a Sunderland outfit which has enjoyed a mini-renaissance of late, but was badly out of sorts on Merseyside.

Liverpool needed just three minutes to pierce Sunderland's backline as Torres demonstrated what might have been had he not struggled with niggling knocks for much of the campaign. There was nothing pretty about Jose Reina's assist as he launched the ball into Sunderland territory but thereafter there was much to admire. Torres cut inside Michael Turner and from the right edge of Sunderland's box arrowed a missile past Craig Gordon into the top corner.

The Scot did not have a prayer and were it not for a string of excellent saves Liverpool would have chalked up an even more commanding victory, as Torres struck the base of a post and Maxi Rodriguez was denied by a stunning tip over. Daniel Agger alone could have bagged an unlikely first-half hat-trick from set-pieces.

It was left to fellow defender Johnson to show him how to do it just past the half hour mark as his strike from the edge off the box came off Turner to leave Gordon stranded.

If Torres' first goal was special his second, after the break, was arguably even better as he conjured the most impudent of finishes to dink past Gordon after being fed by the buccaneering Johnson.

Winning run
For Liverpool this was an eighth successive home league win, their best run at Anfield since winning eight in a row towards the end of the 2007/08 season.

More importantly it kept Rafa Benitez's side within range of Spurs, whose win over Portsmouth on Saturday cranked up the pressure in the race for fourth.

Liverpool responded accordingly and within 55 seconds defender Agger smashed a left-footed volley straight at goalkeeper Gordon after Dirk Kuyt had flicked on Steven Gerrard's free-kick.

That the Denmark centre-back had a further two good goalscoring opportunities before half-time gave an indication of how dominant Liverpool were.

However, when it comes to goalscoring there are few to equal Torres and his third-minute strike was a piece of individual brilliance.

Goalkeeper Jose Reina picked him out wide on the left touchline and he dribbled inside Turner to curl a shot over Gordon and perfectly into the far top corner.

In what was the best 45 minutes of football in Liverpool's season, Javier Mascherano had two long-range shots, one headed clear by Kieran Richardson and the other skewed wide, while Torres was just off target with a near-post effort following intricate passing between Rodriguez and Gerrard.

Ball retention, the pace of the passes, and the general attacking intent made for an exhilarating half.

Thrilling
More chances came and went as Gerrard's run and shot in the penalty area ended in a deflection behind and Rodriguez's near-post header from his captain's corner was superbly tipped over by Gordon.

Had Liverpool been 5-0 up after 30 minutes it would not have flattered them, but they had to settle for just the two goals at the interval.

The second came from Johnson in the 32nd minute when Gerrard's inswinging corner was only cleared to the edge of the penalty area and the defender touched the ball inside on to his left foot and unleashed a shot which took a slight deflection off Turner to beat Gordon.

Torres hit a post and then bundled the rebound wide before the break as Sunderland almost imploded under the pressure.

Liverpool's biggest problem in the second half was the expectation on them to reproduce the football they had displayed before the break. While it did not reach those heights, they were hardly troubled.

Ryan Babel fired well over after Gerrard's driving run from halfway while Torres had an eight-yard shot blocked by Paulo da Silva, on at half-time for Lee Cattermole.

But the Spain international was not to be denied much longer and on the hour he scored his second goal, which was as simple as his first was brilliant.

Deft finish
Babel's far-post cross to Rodriguez dropped to Johnson who slipped a pass inside where Torres spun on the penalty spot to turn the ball past Gordon.

Alberto Aquilani replaced Kuyt with 20 minutes to go, with Torres making way for David Ngog to another standing ovation 12 minutes from time.

Richardson probably went closest to scoring for Sunderland when he flashed a left-footed shot just wide of Reina's right-hand post.

Gerrard's removal for winger Nabil El Zhar late on signalled that Benitez was more interested in saving his players for Thursday's Europa League quarter-final against Benfica in Lisbon.

What the Liverpool players must now prove in their remaining six league matches is that this performance was not a one-off.

If they can, then Benitez's guarantee of fourth place may yet hold good.
---