---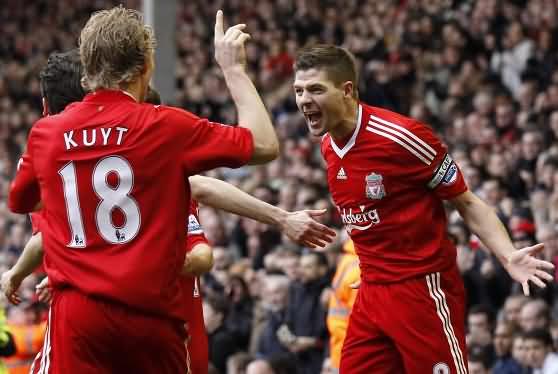 Gerrard celebrating his scoring vs Blackburn.
(Photo: Reuters)
MARCH 2
Liverpool FC all geared up
for a battle to the bitter end

Comment by Ian Rush - Liverpool Echo

Better football last year, better at grinding out result this year – Liverpool's win over Blackburn was not for the purists but its importance should not be dismissed.

It was hard work but when you come up against a side like Blackburn, the first thing that you must do is fight and it was really encouraging to see Liverpool roll their sleeves up and battle.

With Tottenham and Manchester City winning, we had no other option but to do likewise to keep ourselves in the running for fourth place; our two main rivals are refusing to go away and the remainder of the season is going centre on which team can hold their nerve.

There is some speculation that it will take a tally of around 80 points to win the title, so what do you imagine it will need to clinch the final Champions League spot? Looking at it from this distance, with 10 games left, I'd say 68-70 points will be enough to achieve that goal, which effectively means Liverpool need to win another seven times before May 9.

With games against Chelsea and Manchester United impossible to predict, you are working on the basis that we need to win every other fixture to get to where we want to be.

Some will say that is too big an ask, that Liverpool have struggled for consistency all year, but the signs against Blackburn suggested Liverpool are going to be able to embark on a winning spree. All the good football that was played at Anfield came from men wearing Red shirts and it was great to see Steven Gerrard, Fernando Torres all linking to good effect.

It was no coincidence that Steven and Fernando got on the scoresheet and the longer they play together, the better Liverpool will be on the run. As Jamie Carragher said after the game, you have always got half a chance when your special players are fit.

The way things stand, though, inevitably Liverpool are going to have to keep churning out results under pressure, as the majority of games they will play now will be on a Sunday.

Next week, of course, it is Monday night but that won't be a bad thing, as the international contingent will have a few days extra to recover for Wigan.

And that means they will be in good shape if they need to fight once more.

If you needed further proof as to why Pepe Reina will be Liverpool's Player of the Year, it arrived in the last seconds on Sunday afternoon.

The save he made from Christopher Samba was quite incredible - all the more so when you consider he was roughed up by Blackburn's over-excited players.

It's all very well talking about Steven Gerrard and Fernando Torres but they would be the first to acknowledge what role Reina has played so far.

He deserved a clean sheet for his performance at the weekend and I felt really sorry that he failed to keep Keith Andrews' penalty out.

But that won't matter at the end of the season; if Liverpool qualify for the Champions League, his save off Samba could be decisive.
---
MARCH 1
Carragher welcomes return of Torres

Irish Examiner

Liverpool vice-captain Jamie Carragher hailed the "special" talents of Fernando Torres, expressing hope the player would come through Spain's midweek friendly against France unscathed to spearhead the club's bid for Champions League football next season.

Torres marked his first start since January 13 with the winning goal in the bruising 2-1 victory over Blackburn at Anfield yesterday.

The Spain international has now scored 13 goals in 17 Barclays Premier League appearances and despite having missed nearly six weeks after a knee operation he is still the club's top scorer.

Liverpool remain sixth, a point behind fourth-placed Tottenham, but Carragher believes a fit Torres will give them an extra dimension in their final 10 Barclays Premier League matches.

"Fernando has come back in and it goes without saying how much we have missed him," said the defender.

"He is still our top scorer, the kind of special player who will make a difference.

"He's a big, powerful lad, who is right up for the fight, and he's ideally suited to English football. That's why he's done so well.

"It would be wrong to rely on just one man. After all, you never know, he could come back injured off international duty.

"Please God, that doesn't happen, but he makes a big difference and you can see we are a much better team when he is with us."

Just when it seemed Liverpool's injury problems were over they have had three defenders injured in the last four days.

Martin Skrtel has been ruled out for several weeks after breaking a metatarsal in his right foot against Unirea Urziceni on Thursday while Fabio Aurelio limped off with a thigh injury against Blackburn and Daniel Agger's knee problem meant he left Anfield on crutches yesterday.

The good news is that right-back Glen Johnson's recovery from a knee injury could see him make his first appearance since December 29 at Wigan a week today.

"Glen will be back soon, maybe in time for Wigan, and things are looking a bit more rosy," Carragher told the Liverpool Echo.

"You talk about having a squad but we've got our big players back."
---
MARCH 1
Maximum points
all that matter at Anfield

Comment by Dominic King - Liverpool Echo

Three points gained, 90 minutes for Fernando Torres and Sam Allardyce sent home in a huff; for Rafa Benitez it was, clearly, a case of mission accomplished.

When Blackburn Rovers come to town, the prospects of witnessing a classic game of football are as realistic as their manager – not someone who is familiar with the concept of self-effacement – winning a shrinking violet competition. It will never happen.

We have reached the stage of the season, though, where classics are games not required; some, inevitably, will throw their hands in the air and say Liverpool have a duty to start playing with a swagger but all that matters now is they keep their points tally ticking over.

So while Allardyce ranted and raved about how Blackburn deserved to win as "they created the most chances", Benitez was able to afford himself a wry smile, as Liverpool kept themselves in Champions League contention with a crucial triumph.

The day also started with a smile. For once, the Sunday morning papers made for an amusing read, thanks primarily to the latest claptrap spouted by Allardyce; it would have been easy to take offence, had his claims not been so ridiculously wrong.

Having had one crack at Benitez in Saturday's editions – suggesting he had copy the tactics he used at Bolton – Allardyce's lack of gumption in declaring that Liverpool were to blame for nearly ruining El-Hadji Diouf's career almost took the breath away.

Liverpool to blame? Of course they were. It was entirely Liverpool's fault Diouf continually failed to report for training on time, that he brought shame on the club by spitting at an opposing fan and showed a wanton lack of professionalism, wasn't it?

Benitez has often found his transfer record called into question but surely everyone would agree one of the best pieces of business he has done was to get £4m for a player who most Liverpool fans would have used their own petrol to get him away.

That Diouf was once the possessor of one of the club's most sacred shirts will remain in the file titled 'life's great travesties' and it says everything about this foul character that Cristiano Ronaldo would receive a warmer welcome from the Kop. Well, probably.

Fortunately the current number nine is cut from a completely different cloth and his return to the starting line-up provided reassurance, particularly with Liverpool's main rivals for a top four place stating their intentions before this contest had kicked-off.

If Liverpool are going to secure a spot in next season's Champions League – it might take as many as another seven wins to achieve that goal – having Torres available to start matches between now and May 9 is imperative.

Will it be possible? Every time a bruising central defender or an overzealous full-back clatters into Torres, fingers are clasped over eyes and prayers are offered to higher places, hoping any damage he may have sustained isn't serious.

Inevitably, he took a buffeting here. As you would expect, Allardyce's tactics were primitive and Blackburn were nothing but agricultural; all nasty, spiteful challenges, pushes and shoves, they tried all they could to rough Torres up.

Happily, however, Torres can give as good as he gets and it was inevitable he would exact retribution in the best possible way, sliding in his 13th of the campaign with aplomb just before half-time, after good work from Lucas and Maxi Rodriguez.

That strike restored Liverpool's lead and proved to be the winner, after a Keith Andrews penalty – awarded when Jamie Carragher inadvertently handled – had enabled Blackburn to restore parity; one game back, one goal, three points. That's how important he is.

Mind you, if keeping Torres fit is essential, similar sentiments apply to Steven Gerrard. He left the impression in Bucharest on Thursday evening, both on and off the pitch, that he was ready to start making up for lost time and banish his lingering frustrations.

How it showed again yesterday. Liverpool did look a little anxious in the opening exchanges, as Blackburn sought to capitalise on any deficiencies and Nikola Kalinic went closest to opening the scoring after a mistake by Lucas.

Yet, after seeing Tottenham and Manchester City win, Gerrard was not in any mood for Liverpool to lose ground and he started and finished the move on 19 minutes which gave Benitez's men the nerve-settling lead both they and the home crowd craved.

Seizing possession midway inside Blackburn's half, he exchanged passes with Yossi Benayoun and surged into the area to receive the Israeli's return ball, as Torres' movement and presence created uncertainty. The finish, predictably, was emphatic.

There is no point dwelling on 'what ifs' in football, as to do so is an exercise in futility but, seeing Gerrard and Torres combine, you cannot help but wonder how different the table would have looked had they played, say another 10 games together this season.

"If Steven and Fernando play well they can score goals and maybe they can be the difference," said Benitez, who delivered the put down of the season when saying Barcelona should copy Blackburn's style of play.

Should they dovetail as sweetly as they have done in the past for the final 10 matches, then Liverpool will remain strong contenders for the spot they crave but it must be stressed that, as a team, there is still room for improvement.

Unable to find the goal that would have killed the contest early in the second period, Liverpool found themselves hemmed back as Blackburn propelled a succession of long balls forward – and to think the FA were considering Allardyce for the England job.

But the ploy almost paid off as deep into injury time, Christopher Samba rose to meet a Vince Grella free-kick and his header appeared destined for the bottom corner; that was, until, the outstanding Pepe Reina stretched out a hand and made a quite magnificent stop.

Cue sighs of relief all around. Two months ago, that header would, in all probability, have sneaked in and left Liverpool to launch more inquests but, perhaps, this is a sign that things have turned.

All that is required now, then, is for the international contingent to return unscathed; should that be case, Benitez can really start plotting to accomplish the mission that matters most – Liverpool's return into the Champions League.
---
FEBRUARY 28
Rafa frustrated by Rovers

By Richard Bailey - Sky Sports

Rafa Benitez was left clearly frustrated at Blackburn's robust style of play as his Liverpool side recorded a narrow 2-1 win at Anfield on Sunday.

The Reds boss saw his side struggle at times against Sam Allardyce's men but first-half goals from Steven Gerrard and Fernando Torres either side of a penalty from Blackburn's Keith Andrews gave the hosts all three points.

The win keeps Liverpool in sixth, just one point behind Tottenham in that all important race for fourth spot with both Spurs and Manchester City also recording wins at the weekend.

However Blackburn's behaviour, Pascal Chimbonda and Steven N'Zonzi can both count themselves extremely lucky to have escaped with yellow cards when red was perhaps more appropriate, while El-Hadji Diouf was always walking a disciplinary tightrope, left Benitez feeling rather irritated.

"We had to win and we won," he stated.

"We won and that is the most important thing. I don't know but I was really surprised that it was just five (bookings for Blackburn).

"It doesn't matter - we won.

"It is really important (the way to play) but sometimes we cannot play football.

"Nzonzi was very clear, touching the face of Lucas, and the rules are the rules.

"We have had four of five players with problems, bleeding, and Maxi with stud (marks) in his abdomen. Interesting - but we won."

Benitez, who had a strained relationship with Allardyce before the match, continued and when asked whether the referee Alan Wiley should have come down harder on the visitors' behaviour the Spaniard replied, rather tongue in cheek: "I think that everybody knows that his (Allardyce) teams play great football under this manager.

"When you play these kind of games you have to win and we did. I don't know if he (Allardyce) has had contact with (referee chief) Keith Hackett maybe he should know.

"We try to do our talking on the pitch. If they are pleased with the way they play under this manager it is their decision.

"They have a style and they are a team that plays this way under this manager. We won so they have to be thinking about whether the style is good or not.

"Some people have to talk before the press conference or after because it is more difficult for them to do a football job.

"I think it is a model for all the managers around the world, their style of football, his behaviour.

"It is the perfect model for all the kids and I'm sure all parents will enjoy this model and encourage their kids to be the same.

"The style of football, I think, Barcelona are thinking of copying."
---
FEBRUARY 28
Big Sam: We lack firepower

By Richard Bailey - Sky Sports

Blackburn manager Sam Allardyce bemoaned his side's lack of firepower as his side lost 2-1 to Liverpool at Anfield on Sunday.

Rovers enjoyed plenty of possession on Merseyside but failed to capitalise on the numerous chances that they created.

Despite starting brightly the visitors went behind to a Steven Gerrard opener on 20 minutes. Keith Andrews levelled from the spot after Jamie Carragher had handled in the area on 40 minutes but Rovers shot themselves in the foot four minutes later when they allowed Fernando Torres to simply tap home.

The difference in finishing between the two sides was there for all to see according to Allardyce but his team's performance at least pleased their boss.

"If we had a goalscorer we would have won, it is that simple," he said.

"Chances came and went and we didn't convert them and unusually we had more chances than Liverpool today.

"But because we failed to convert them and they have Torres and Gerrard, who are superb finishers and superb players, and that is the difference and they made us pay and it is a great shame for the players with the effort they put in and the football they played and the chances they created.

"We can moan about the defending but the quality of their players is what Liverpool are about and why they are at the top of the league most seasons and we didn't have that, so sadly we have not managed to get the result we deserve.

"Even at half-time when we were 2-1 down I felt we were still going to get a result. Certainly we had enough of the lion's share of the play in the second half to get that equaliser but in front of goal we are not good enough at the moment, especially away from home."

The game turned into a somewhat scrappy affair in the second half with numerous Rovers players, notably Pascal Chimbonda and Steven N'Zonzi, finding themselves lucky not to be sent off as tempers flared. But Allardyce insists the Anfield crowd influenced referee Alan Wiley's decisions.

"They are very, very good here at swaying people's decision making process that's what the crowd are good at and the Liverpool team for many, many years have been very, very good at it," he pointed out.

"Our frustration is that we have been deemed to have committed 25 fouls and five bookings and that is totally against the run of play when you look at the other stats and that is the disappointing thing for me."
---
FEBRUARY 28
Torres on target as Reds win

ITV-Football

Liverpool striker Fernando Torres marked his first start since January 13 by scoring the winner in an ill-tempered 2-1 victory over Blackburn at Anfield.

The Spain international hit his 13th goal in 17 Barclays Premier League appearances just before half-time, having missed five weeks at the start of the year after a knee operation.

Liverpool had gone ahead midway through the half through Steven Gerrard only for Jamie Carragher's handball to allow Keith Andrews to equalise from the penalty spot five minutes before the interval.

With fellow top-four challengers Tottenham and Manchester City both winning this weekend, it was imperative Rafael Benitez's side maintained the pressure - and they managed to grind out a win against combative opponents.

Before the match Blackburn manager Sam Allardyce, who has never had a great relationship with Benitez, had said the Spaniard's side played like his former club Bolton.

However, on this evidence - five Rovers players were booked and they could easily have had Steven Nzonzi and Pascal Chimbonda sent off - it was Rovers who lived up to Allardyce's reputation.

But it was the goalscoring return of Torres that will have put a smile on Benitez's face as Liverpool scored for the 26th successive league game at Anfield and the 33rd in all competitions.

Surprisingly, the Spain international played no part in the opening goal, which came from a swift and incisive move started by Lucas on the halfway line.

The Brazilian picked out Gerrard who, after exchanging passes with Dirk Kuyt and offloading to Yossi Benayoun, continued his run into the penalty area to collect the return ball, go past Samba and clip home a left-footed shot.

That was after Chris Samba, Martin Olsson and Morten Gamst Pedersen had all had half-chances to put Blackburn ahead.

Liverpool, though, were indebted to Jose Reina in the 17th minute as the goalkeeper made a good double save from Pedersen, particularly the first shot which deflected off Jamie Carragher.

On the half-hour Kuyt should have made it 2-0 from Gerrard's corner but appeared to be surprised by the pace of the ball and headed wide from three yards.

In the 38th minute Liverpool were forced into a change when Fabio Aurelio limped off with what looked like a thigh injury and was replaced by Emiliano Insua.

Two minutes later Rovers were gifted an equaliser when Benayoun's weak clearance was played straight back into the penalty area and, despite three Liverpool players surrounding Kalinic, Carragher catastrophically went to ground where the ball hit his hand.

Andrews fired home from the spot to put his side firmly back in the game.

However, Liverpool went ahead again a minute before the break when Samba could only poke the ball off Torres into the path of Rodriguez, who crossed into the six-yard area for the Spaniard to smash home.

Early in the second half Olsson was booked for handball in the centre-circle before Nzonzi was lucky to escape with a caution, having flattened Lucas with an aggressive push to his face.

Pascal Chimbonda's first act, having come on for Olsson, was to bring down Rodriguez as he threatened to cut into the penalty area.

Daniel Agger headed Gerrard's whipped-in free-kick over at the far post.

Chimbonda's second contribution was to carelessly give the ball away to Kuyt, which eventually resulted in Robinson having to tip Rodriguez's shot around the post.

Kalinic was next to go into referee Alan Wiley's book for hacking down Mascherano from behind and, after several close calls, former Liverpool forward El-Hadji Diouf was eventually booked for bringing down Mascherano.

Referee Wiley and one of his linesmen somehow missed Chimbonda, who had already been booked, thrusting his boot into Rodriguez's chest as the Rovers defender rolled on the floor.

Ryan Babel replaced Benayoun for the final 10 minutes but with only a slender lead the pressure began to mount on the hosts.

Torres departed to a standing ovation with his work done but in the knowledge he will have to continue to produce on a regular basis if his club are to secure Champions League football next season.
---