---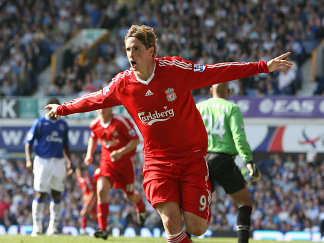 Torres back on the scoresheet.
SEPTEMBER 30
Signs that this
could be Benitez's year

Comment by Mark Lawrenson - Liverpool Daily Post

Whisper it softly, but Liverpool are showing signs of putting together a genuine title challenge.

And it may be that manager Rafael Benitez is prepared to gamble more on Premier League success this year than in the past.

He is putting out his most attacking teams since arriving perhaps in the realisation that it is no use drawing games if you want to finish as champions.

Last season Liverpool drew 13 matches compared with just seven by table-topping Manchester United, who lost one game more. But turning a couple of those draws into wins – even at the risk of losing the odd game more – would make all the difference.

There is still a worry teams like United and Chelsea have more potential match-winners, which is why Steven Gerrard and Fernando Torres may need to be wrapped in cotton wool. But if they stay injury free, Liverpool are in as good a position as they have been for some time.

Playing Xabi Alonso at Goodison Park was not a negative move. He is not a holding midfielder.

He does a different kind of job and has a good passing game. Steven Gerrard was disciplined against Everton and in Torres, Kuyt, Keane, Babel and Riera, Benitez has a many attacking options.

In the past Benitez has always played that extra defensive player, but that is not the case this season.

The trick will be settling on a wide player and giving them a run of games.

Results breed confidence, there is good competition for places at Anfield and Liverpool will be looking to keep the momentum going.

Benitez has had the chance over the past two seasons to bring in the kind of players he wants, get rid of those he doesn't and has had enough money to build a team capable of challenging for the title. For many people, this is his year.
---
SEPTEMBER 29
Torres: My derby debt
to Dirk and Robbie

By Paul Eaton - LFC Official Website

Fernando Torres today hailed unsung derby heroes Robbie Keane and Dirk Kuyt for providing him with the chances to bury Everton at Goodison Park.

The Spanish striker was the toast of the red half of Merseyside after his second half double, but he insists his team-mates deserve as much of the recognition after the Reds continued their excellent start to the season with a well deserved victory.

"It is very simple – without Robbie and Dirk, the goals I scored would not have been created," he said.

"They were involved in both goals and it is because they give everything for the team that I was able to score them.

"If you look at my first goal, the ball that Robbie crossed in was perfect and so was the run by Dirk which took the Everton defenders away and gave me a clear chance.

"It is always nice to score, but without my team mates it would not have been possible.

"It is not always easy to form a new partnership but we are working hard in training all the time and it was good to see that work pay off on Saturday. Robbie was very important for our victory and I am sure that very soon it will be him who is getting the goals because he is a great player.

"Once he gets his first goal even more will follow because sometimes you just need to relieve the pressure with one goal.

"I have not been scoring for six games, which is too long for a striker, but when I got one on Saturday the other one followed almost straight away and that is often the way it happens."

Torres admits he was delighted to end his mini barren spell in front of goal with the decisive strikes on the day - but he was more thrilled for everybody else connected with the club.

"I am so pleased for the staff, for the boss and for all the players," he said. "But also for the workers in the factories, the offices, the restaurants, the hotels and the bars who want to win this game so much.

"I would like to dedicate my goals to them as thanks for their support. I hope we made them happy by winning.

"When we win we win together – so this victory is shared between all of us. It is not about one player."
---
SEPTEMBER 29
Reds win was on the cards
from instant teams lined up

Comment by David Prentice - Liverpool Echo

Derbies were always different. Unpredictably different.

Because the potency of the adrenalin fuelled mixture which drove the participants in these very singular fixtures meant that superior technique and ability was usually worthless.

"It was like 90 minutes of frenetic lunacy at times," Joe Royle once observed. "We always said we could go out and play for 20 minutes, settle down and then someone could throw the ball on."

But, like sideburns and Stylo matchmaker boots, that attitude seems to have gone.

Don't be fooled by another red card and six bookings on Saturday. That's a result of modern referees' zero tolerance policy.

Derbies of 20 and 30 years ago were infinitely more furious, when artists like Duncan McKenzie and Steve McManaman were suffocated in an atmosphere of frantic aggression.

Nowadays the team with the better players can flourish, and Liverpool boast the better players.

The Reds have now emerged triumphant on seven of their last nine visits to Goodison Park – a sobering statistic if your affections lie with the Royal Blue half of the city.

Saturday's seventh was a victory in the making from the second the teams lined up.

Yakubu was an isolated and increasingly frustrated figure up front, while behind him Everton retreated like building society share prices.

Liverpool were granted an astonishing amount of possession for a derby match; it was merely a matter of whether they could convert that possession into a goal.

With class like Fernando Torres and Steven Gerrard on show the answer was always likely to be in the affirmative.

Everton used to take a perverse pride in getting in their rivals' faces.

It was Royle again, who once quipped: " A crisp packet blew across the pitch and Joe Parkinson and Graham Stuart both tackled it."

On Saturday Liverpool were allowed to dictate.

Throughout the entire 90 minutes Pepe Reina was not extended once. True, Tim Howard wasn't exactly flinging himself around his goalmouth either, but in a mid-match purple patch for the Reds he was actually beaten four times – only Torres' brace counting.

Everton's only hope hinged on Tim Cahill getting a connection at a set piece – he missed his kick in the 13th minute – or Pepe Reina making a rare error. He flapped at a Joleon Lescott cross and was spared by a combination of a monumental Jamie Carragher block and a poor Mike Riley decision.

The biggest worry for the Blues was the reaction to Torres' second goal – the ground began to empty instantly.

Many of the Everton crowd had no stomach for a fight, no defiance. Maybe they'd seen one derby day surrender too many, but that reaction seemed to be mimicked on the pitch, the effervescent Louis Saha excepted.

Something isn't right at Everton at present. What's that old saying about a fish rotting from the head down?

It would be wrong to say that David Moyes' contract deadlock is affecting the players.

Footballers will always be wrapped up in their own self-absorbed worlds.

But it does appear to be affecting the manager. His demeanour, his body language, his ability to inspire seems to be lacking its previous urgency.

If finance is not the issue, and we are told Moyes has ignored the best part of £300,000 by refusing to sign his new deal, it appears there is something else irking his consciousness.

Has the summer transfer debacle, which effectively caused this fractured start to the season, upset his equilibrium?

Has the knowledge that he will never be able to compete financially with the big four . . . and Manchester City, Aston Villa, Tottenham and maybe even Sunderland, affected his once fiercely ambitious drive?

We don't know. Messages from inside the club, like they were during the summer's transfer window, are mixed. But Everton's mental resolve is certainly a cause for concern.

After Fiorentina flattened Goodison at the end of one of the most vibrant evenings in recent L4 history, the players found it impossible to pick themselves up for the rest of the season.

It was the same when Dinamo Bucharest inflicted some hurtful wounds a couple of seasons earlier.

And Standard Liege are well placed to ask Everton to go to that mental well again this Thursday. How they respond to that particular challenge will shape the rest of their season.

And Liverpool? They went top of the table for a couple of hours on Saturday without reaching a peak level of performance yet this season.

Their world class spine carried them through again at Goodison; Carragher organising and repelling, Gerrard cajoling and creating and Fernando Torres finishing.

It's not just in his ability to score goals that the Reds record signing resembles Kenny Dalglish. He's even starting to moan as much.

But Reds fans won't mind the odd yellow card for dissent if he continues to make the decisive difference in matches like this one.

Liverpool approach a European challenge this week in good humour.

Over Everton, however, storm clouds are gathering.
---
SEPTEMBER 28
Gerrard wants repeat performance

BBC Sport Online

Steven Gerrard has warned his Liverpool team-mates not to get carried away with their strong start to the season.

They are second in the Premier League after beating Everton
2-0, their best start in 12 years, but Gerrard is keeping his feet on the ground.

Wednesday's Champions League clash with PSV Eindhoven is next and he said: "It's important to be humble and not get carried away by the performance."

"But we set a standard (at Everton) we need to match week in week out."

A Fernando Torres double proved the difference against Everton at Goodison Park on Saturday and Gerrard was delighted to see him back to his best.

Gerrard admitted he was relieved with the Spaniard's impressive quickfire double, as the derby had been giving him sleepless nights.

"You can't keep strikers with his talent down for long because they aren't going to go long without a goal.

"It was only a matter of time. He was a bit frustrated first-half, but then [Robbie] Keane's put one on a plate for him and the second one was typical Torres.

"As a local lad these are the most difficult games to prepare for. The nerves start the week before and you can't wait for the game to come about, so the fear of losing these games takes up a lot of energy beforehand."

Gerrard remains one short of his 100th Liverpool goal, but he is confident it will come soon and is more concerned with how the team is doing.

"We were winning games but stumbling early on in the season, but I think the derby performance has set the standard now.

"We've got a big game on Wednesday and then another important game against Manchester City, (and) if we can continue that level then we will certainly be there or thereabouts come the end of the season."
---
SEPTEMBER 28
Torres: Title is in our sights

TEAMtalk

Liverpool have managed their best start to a league campaign for 11 years - and Fernando Torres has only just got his act together.

Captain Steven Gerrard believes the Spaniard is back to his "deadly" best after Liverpool "made a statement of intent" in the title race with their Merseyside derby victory.

The 2-0 win over a worried Everton side means Liverpool remain unbeaten this term, with their neighbours struggling to recapture anything approaching last term's form.

Torres has spent the opening weeks of the campaign shaking off the effects of a summer which saw him win the European Championship with Spain.

He has shown little of the form that produced 33 goals last season, and even in his two-goal display against Everton he was nowhere near his peak.

But now the striker believes he is about to launch into overdrive as Liverpool go after the Barclays Premier League title.

Torres said: "It has been a difficult start for me this season after a busy summer. But now I have got myself back into form with these two, I hope to go on a run like last season and maybe get more than the 33 I managed then.

"We know if we can stay near the top of the table in January or February we can win the title.

"We must stay in the first three or four, and if we can keep winning in the Champions League we can have a fantastic season.

"I have been working very hard and knew the goals would come."
---
SEPTEMBER 27
Rafa hails derby victory

By Steve Hunter at Goodison - LFC Official Website

Rafael Benitez saluted the performance of his players after a Fernando Torres brace inspired Liverpool to a 2-0 win over Everton in the 208th Merseyside derby.

The Reds number nine scored on his derby debut at Anfield last season and he was the hero again on his first appearance at Goodison Park - but the Reds boss was keen to stress the whole team deserved credit.

"It was a good performance by the team and Fernando was really good," said Rafa. "We had a lot of players like Keane, Gerrard and Kuyt who were doing a good job for the team and the defenders, but I prefer to talk about the team and how well we did today.

"With these type of games you have to play with passion and also with game intelligence, so you need to use your brain and also your muscles. We did both things really well.

"I thought we played really well against United and again today. This was a very positive performance and the team was well organised and we knew what to do.

"Clearly we have players who can change games like Fernando with his goals and it gives the team confidence and it makes it easier for us to play well and keep the ball. Torres is always a threat for defenders."

Last season El Nino scored 33 goals in his debut season in England and the striker believes he could beat that this campaign. It is a view that he shares with his manager.

"I think it's positive he has confidence but I like to see the team winning and if he scores 32 goals then I will be pleased," added the boss.

Benitez also had words of encouragement for Robbie Keane who played a major part in both Torres goals.

"Robbie was doing a good job for the team and played his part in both of our goals," he added. " I think the team did a really good job and each player did their job really well.

"We are level on points with Chelsea at the top of the table and I am really pleased and I hope we can stay there for a long time. We can talk about the next game with more confidence. We have confidence and you can see the team is playing well and has a good balance.

"We are strong in defence and we know we can create in attack so that is very important. When you are playing well we know we can beat anyone."
---
SEPTEMBER 27
Terrific Torres terrorizes Toffees

TEAMtalk

Liverpool striker Fernando Torres was on target twice as the Reds beat 10-man Everton 2-0 in the 208th Merseyside derby at Goodison Park.

The Spain international had managed just one goal all season before Saturday's match.

He got himself booked at Goodison Park, argued with referee Mike Riley about the heavy-handed treatment he was getting from Everton's defenders and then hit back where it hurts.

Torres volleyed home his first after 59 minutes and cracked in the second three minutes later.

Everton have still to win at home this season and had Tim Cahill sent-off with 10 minutes to go to cap a miserable day for David Moyes' side.

The hosts had full-back Tony Hibbert back for the first time this season after a knee ligament operation in the summer, while midfielder Mikel Arteta had recovered from a virus to play.

Liverpool were without Javier Mascherano, with a calf problem, and fielded the side that drew 0-0 with Stoke last weekend.

An interested observer in the directors' box was Standard Liege boss Laszlo Boloni, who was preparing for this week's UEFA Cup tie but also watching former player Marouane Fellaini in his first derby.

The midfielder probably won his move to Goodison Park after two excellent performances against Liverpool in the Champions League.

Fellaini was first into referee Mike Riley's book after just nine minutes for a foul on Alvaro Arbeloa.

Everton should have been ahead after 14 minutes when Cahill failed to make a decent connection to Arteta's corner from just six yards.

With Ayegbeni Yakubu up front and Arteta and Cahill attacking from deep it meant Liverpool had the majority of possession as Everton sat back and tried to hit them on the break.

It almost succeeded after 26 minutes when Joleon Lescott's cross was dropped by Jose Reina under minimal pressure from Fellaini, who spun to strike a fierce shot that Jamie Carragher somehow blocked on the line.

But referee Riley had spotted an infringement and awarded a free-kick.

Xabi Alonso was booked for blocking an Arteta run on the right before Robbie Keane almost created a scoring opportunity for Dirk Kuyt, arriving late in the box.

Yakubu was booked three minutes into the second half for diving in the box having pushed the ball past Martin Skrtel before plunging to the floor.

Two minutes later Riley booked Torres, who had questioned the referee's decisions throughout the first half, for a foul on Lescott.

But the Spaniard finally channelled his annoyance into the game and saw a 20-yard strike go just wide before Gerrard was much closer from slightly further out.

Albert Riera should have done better when presented with a shooting chance by Keane but when Torres was denied a clear opportunity, having shrugged off Phil Jagielka, Riley was again on his case, awarding a fortunate free-kick to the hosts.

But after 59 minutes Torres got his own back. Arbeloa robbed Arteta far too easily on the touchline and quick passing involving Riera and Alonso released Keane on the left.

The Irishman's cross to the far post was met beautifully on the volley by Torres to beat Tim Howard.

Three minutes later Torres was celebrating again. Liverpool surged forward again and when Jagielka's tackle 10 yards out stopped Keane in his tracks, the ball fell for Torres to smash into the top corner.

Torres scored again seconds later but the effort was ruled out by referee Riley.

Arbeloa was booked after 85 minutes for a retaliatory kick at Cahill after a tussle between the pair before Yakubu missed an open goal as Leon Osman's cross flashed in front of him.

Five minutes later Cahill was sent off. Referee Riley showed him a red card for a late challenge on Alonso.

It was the eighth red card in the last eight derbies, and the 17th in 33 Premier League clashes between the clubs.

Substitute Louis Saha fired a 25-yard shot just wide in the dying minutes but that was the closest Everton came all time.
---