---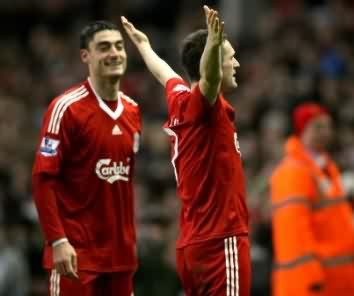 Keane celebrates his second goal. Riera (left).
(Photo: PA Photos)
DECEMBER 27
Sammy Lee has been Liverpool's
best summer signing of all

Comment by Tony Barrett - Liverpool Echo

Who was Rafa Benitez's best signing during the summer?

Even Andrea Dossena's mum would be hard pressed for making a convincing case for it being the Italian left back who has endured a torrid time since arriving on Merseyside.

Robbie Keane was the most expensive but has struggled to live up to his £20m price tag and will have to add dramatically to his goal tally if speculation on his future is to go away.

Swiss defender Philipp Degen has barely been seen because of injuries, which his critics believe isn't a bad thing given his performances when available.

Diego Cavalieri was brought in as back up to Pepe Reina and has only appeared in three cup games up to now so can't really be judged.

Of all the signings on the playing front, Albert Riera has undoubtedly made the biggest impact as the Spanish winger has given Liverpool the width they so badly needed and proven himself to be a far better player than the one English football fans remembered from his loan spell at Man City in 2006.

On the whole, it wasn't Liverpool's most productive summer in the transfer market but there is one signing which stands out above all others.

When Benitez was on the lookout for an assistant manager Sammy Lee seemed like the obvious choice for the job.

Proven top class coaches with Premier League management experience and the universal respect of his peers don't come on the market too often, especially not ones who are steeped in the tradition of Liverpool Football Club.

Having been discarded by Bolton Lee was on the market at a time when the club he supported as a boy was on the lookout for a new addition to its backroom team.

The timing could not have been better for both parties and Lee was able to slot in seamlessly, even taking in a couple of days training at the end of last season.

As several of the players have since admitted it was as if Lee had never been away as he set up training drills for the squad to take part in and equally importantly added a Scouse accent to the mix of Benitez's staff and a knowledge of what makes Liverpool tick which was gained during his previous spells at the club as both coach and player.

You can't put a price on such experience and Lee's input since returning to Anfield has been invaluable.

Over the past couple of weeks, the 49-year-old has faced his biggest test since becoming Benitez's number two.

The illness which laid the Reds boss low and kept him away from first team duties meant someone had to fill his shoes and the command structure at Melwood made it inevitable that Lee would be that man.

At Arsenal last week, commander Benitez may have been directing operations by mobile phone but it was his understudy who was putting his orders into practice and the combination was enough to win Liverpool a hard earned point at what remains a difficult venue despite the Gunners' inconsistent league form so far this season.

Benitez trusts Lee totally and enjoys a relationship with him that he probably didn't have with Alex Miller, the coach whose departure to Japan at the end of last season created a space in the Liverpool backroom staff which Lee has filled.

He also respects Lee's vast knowledge of Liverpool as a football club and the way it should conduct itself and rightly so.

Having graduated from the Kop to go on and play for the Reds, Lee won League Championship and European Cup winners medals with Liverpool before coaching at Anfield under Gerard Houllier.

What Sammy Lee doesn't know about Liverpool Football Club probably isn't worth knowing and his knowledge alone has made him an invaluable member of Benitez's staff in the short time he has worked with the Spaniard.

The fact that he talks like a Liverpool coach from a bygone age, a modern day version of Ronnie Moran, is also a huge positive even if it doesn't give press men the easy headlines they are looking for.

It can be all too easy to get carried away with big four status, particularly with Liverpool having enjoyed their best start to a season in more than a decade.

But in the press conferences leading up to the Arsenal game, Lee was humble and understated and refused to take the bait certain individuals were offering him in the hope of getting a cheap headline.

On a couple of occasions he actually apologised in advance for talking in clichés, but he needn't have bothered because his routine Anfield speak is exactly what Liverpool needs right now.

This is no time for promises that can't be kept or for bold statements that could end up making the club look foolish at a later date. It is a time for feet to be kept on the ground and for perspective to be retained and Lee does that do perfection.

That is why Sammy Lee is the perfect man to be Rafa Benitez's number two and why he will take some beating as Liverpool's best summer signing.
---
DECEMBER 27
Keane: Reds sent out warning

Sky Sports

Robbie Keane feels Liverpool sent out a statement to their title rivals with a 3-0 victory over Bolton Wanderers.

Liverpool maintained their position at the top of the Premier League with the Boxing Day win, hours after Chelsea and Manchester United had also picked up three points.

Keane grabbed two of the goals in the success over Bolton and believes the performance issued a warning to the other title challengers.

"We can't be too worried about others, we have to concentrate on ourselves, but it was a statement from us," said Keane.

"The lads were superb. I can't remember Bolton getting a shot on goal."

Irish ace Keane has now scored three goals in two games for the Reds and insists he has taken no notice of the criticism aimed in his direction since his move to Anfield.

He added: "If I keep playing and keep doing well, I've said I know I'll score goals.

"You can't be worried about what people say, you have to be strong enough to take criticism or there's no point in doing this job.

"It's always nice to score, it's what I'm paid to do, and this sets us up nicely for Newcastle tomorrow. It was a good performance and important to get the three points."
---
DECEMBER 26
Lee hails two-goal Keane

By Paul Hassall at Anfield - LFC Official Website

Sammy Lee praised the quality of Robbie Keane after the striker's brace kept Liverpool top of the Barclays Premier League with an emphatic 3-0 win over Bolton at Anfield.

The Reds assistant manager was delighted with the home side's overall display and was quick to hail the number seven's contribution.

"It's always nice to see Liverpool players score goals, whether it's Robbie Keane, Dirk Kuyt or Sami Hyypia," he said.

"Robbie's been working tirelessly and he's kept on going. We know the quality of the lad, that's why we brought him here.

"If you speak to him he may give you a better answer, but for me, he's never been lacking in confidence.

"We've had no doubts in Robbie's ability. His work rate and commitment and what he adds to this club is immense. We've had no doubts about him. We know what he's capable of."

The Reds had drawn their previous three league matches at Anfield prior to the victory over the Trotters and the assistant manager was delighted to see them pick up the three points and put an end to that run.

"It's always important to win at home," he said.

"We've tried not to get hung up about our recent home performances because you have to give credit to the opposition. But it's always nice to win, particularly at home.

"The patience and quality in our play was paramount. The crowd's patience was also impressive. They were with us all the way. They realised what we were trying to do, passing the ball and using the width of the pitch to create chances."

Lee also admitted that the Reds' impressive win was the perfect tonic for boss Rafael Benitez who maintained overall control of the side despite watching from the directors' box.

"Throughout his illness he's been in total control," he said. "It's the measure of the man that in spite of his pain, he had total control of everything that was going on.

"He's put a great team in place to implement his plan. So if he's not there, we still have a plan. But it was nice to have him back in today."

Liverpool now head to the North-East to face Newcastle United in our final match of 2008 at St James' Park.

A win would guarantee the Reds of top spot as they head into the New Year but Lee is refusing to get carried away.

"It's very important to be top," he said. "We prepare to be top and it's nice to be top going into the clash with Newcastle. Hopefully we'll recover in time. We know it will be a difficult task but we are looking forward to it.

"We can't get carried away because it's only December. But it's nice to go into the last match of the season against Newcastle in this position and it is pleasing. It shows our improvement. We are top at this moment but know it will be difficult going to Newcastle.

"We prepare to try and win games. If we win more than the other teams then hopefully we can win trophies, that's the nature of our club - to win."

When asked about the likely return to action of Fernando Torres, he added: "When he's ready we'll decide when we will put him in. He's working hard on his rehabilitation."
---
DECEMBER 26
Keane double downs Trotters

By Toby Davis - Setanta Sports

Robbie Keane went some way towards silencing his doubters with a well-taken double as Liverpool strolled to a 3-0 win over Bolton.

The Republic of Ireland striker continued where he left off against Arsenal on Sunday with two sharp finishes to put The Reds back on top of The Premier League.

Rafa Benitez's side had taken a first-half lead when Albert Riera stabbed them ahead after 26 minutes and went on to dominate throughout in a one-sided clash at Anfield.

Keane doubled the lead eight minutes after the restart with a sharp left-footed finish before adding a third five minutes later, tapping in from close range after an incisive Liverpool passing move.

Bolton rarely threatened and, in truth, once, they had fallen behind, had no back-up plan to counter Liverpool's total domination.

Despite topping the table at Christmas for the first time in 12 years, Liverpool's home form has been dubious to say the least.

Unsuccessful title challenges had been characterised in recent years by numerous failings, but Anfield has, for the most part, always remained a fortress.

But Bolton arrived on Merseyside, with more than just faint hope of following in the footsteps of Stoke, Fulham, Hull and West Ham and taking something away with them.

The Trotters were breathing the rarefied air of their lofty ninth place in The Premier League, defying some bleak pre-season predictions.

And their position almost looked a whole lot rosier when Nolan broke into the Liverpool box inside a minute.

The midfielder found himself free and bearing down on Liverpool keeper Pepe Reina 15 yards from goal, but lobbed the ball harmlessly into the Spaniard's hands when he ought to have found the net.

Rafa Benitez, sat in the directors' box, rather than the dug-out after failing to recover in time from his kidney stone operation, must have been shifting uneasily at the way in which The Reds defence opened up.

But the hosts quickly gained the upper hand and were dominant in possession, while Bolton retreated into their shell and put numbers behind the ball.

Liverpool's first chance of note arrived with only three minutes on the clock as Riera rifled a cross shot into the six-yard box that cannoned off Robbie Keane and fell harmlessly wide.

The Reds then set up camp in the visitors' half without troubling them unduly. Their football was attractive and their movement incisive, but their final ball was poor.

Riera and Emiliano Insua, who had kept his place at left back following an impressive display against Arsenal, both had efforts that came to nothing.

So often this season, Benitez's side have dominated without killing off their opponents and when Dirk Kuyt headed over a cross from Xabi Alonso on 21 minutes it looked as though it could be a case of déjà vu.

But nerves were well and truly calmed when Riera poked The Reds into the lead four minutes later. Steven Gerrard whipped a corner from the right into the area to find Riera arriving unmarked at the near post to stretch out a toe and stab the ball into the back of the net.

Yossi Benayoun could have added to the lead before the break when he volleyed wide from 10 yards, but The Reds went in at the break leading comfortably and without breaking a sweat.

The game was essentially put to bed in five second-half minutes shortly after half time. Robbie Keane has had his detractors: those who felt he was not worth a fraction of the £20 million Liverpool paid for him and citing his failure to find the net as ample evidence.

But the striker went some way to silencing the naysayers with a superb finish against Arsenal the previous week and looked a forward in prime form and high on confidence as he demolished Bolton's hopes of turning this game in their favour.

His first and Liverpool's second arrived on 53 minutes as Steven Gerrard burst from midfield before feeding the striker in on goal - Keane took a touch and rifled a left-foot effort past Jussi Jaaskelainen.

Keane's second was a sharp finish that rounded off an incisive Liverpool passing move that highlighted the gulf in class between the two teams - Alonso fed Benayoun who crossed for Keane to tap home from five yards to wrap up all three points for The Reds.

There were further chances for Liverpool to extend their lead as Keane and Dirk Kuyt collided as Keane was about to pull the trigger for his hat-trick, while Bolton could have snatched a late consolation when Ebi Smolarek dragged a shot inches wide at the other end.

While Liverpool have undoubtedly missed the goals of star striker Fernando Torres, boss Benitez will surely have seen enough in Keane in recent weeks to shelve any plans he might have had to ditch the striker in January.
---