---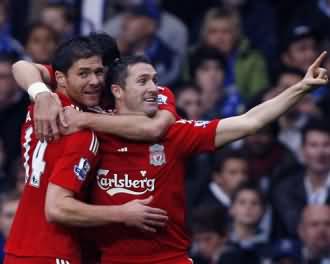 Alonso celebrates with Keane and co.
(Photo: AFP/Getty Images)
OCTOBER 28
Hansen: Liverpool have
a great chance

TEAMtalk

Alan Hansen believes Rafael Benitez's Liverpool side now have their "best chance" of winning the league title for the first time since 1990.

The Reds ended Chelsea's 86-match unbeaten home record with a 1-0 success at Stamford Bridge yesterday to put them clear at the top of the Premier League and further boost belief they can finally mount a sustained title challenge.

And Hansen believes they have shown they are equipped to push favourites Manchester United and Chelsea all the way.

"I would like to congratulate Rafa Benitez and his team for pulling off an incredible result at Stamford Bridge," said Hansen.

"To beat a Chelsea side on their own patch where they've not lost in 86 League games is fantastic.

"It wasn't just the result but also the manner of the win which was so impressive.

"After just half an hour there was only going to be one winner as the Liverpool tactics were spot on and the team display was outstanding."

Hansen added: "After this great start to the season, this is the best chance Liverpool have had to win the title since they last won the trophy back in 1990 as they're looking very much a team.

"They've shown great resilience in some remarkable comebacks, the signing of Albert Riera has given them great width and players such as Dirk Kuyt have performed far better than they have played before.

"Rafa's team looks very solid and you get the feeling that when teams put pressure on them as Chelsea attempted to do, they're not going to fall apart.

"They may have dropped points at home to Stoke but winning the title is not all about thrashing teams every week but how teams respond to setbacks.

"That's the big test and from the Liverpool performances so far this season, the players have shown the kind of resilience that suggests they would bounce back from any poor result with great spirit," the former Liverpool captain continued.

"This was a momentous result but the victory over Manchester United at Anfield is the result that gave Liverpool the real belief they could beat the likes of Chelsea. If Rafa's team had lost that one, I don't think they would have truly felt they could win at Stamford Bridge.

"However, by finally beating United they have become a team in every sense of the word as confidence and belief is sky high to launch a far too long-awaited title challenge."
---
OCTOBER 27
Gerrard: We've won nothing yet

By Tom Adams - Setanta Sports

Steven Gerrard has sought to curtail any culture of complacency at Anfield by warning his Liverpool team-mates they must prove capable of holding onto their Premier League lead in the face of strong challenges from Chelsea and Manchester United.

The Reds sit proudly atop the league table after ending Chelsea's 86-game unbeaten home record on Sunday and hopes are high on Merseyside that Rafa Benitez could lead the club to their first league title since 1990.

However, Gerrard has been quick to leave his team-mates in no doubt that the two teams who fought for the title on the final day of last season will be determined to rein The Reds in as soon as possible.

And the Liverpool skipper has now challenged his colleagues to handle the pressure and expectancy that has been generated by the club's fine start to the season.

"It's important not to get carried away," Gerrard told the club's official website. "We're still only in October. We're in a nice position in the league but Chelsea are a fantastic side who will come back and Manchester United will be there or thereabouts.

"We've won nothing yet. It was a massive win and three big points but if we slip up against Portsmouth then those points will be irrelevant.

"To win this league and become champions you have to handle the pressure of being at the top. That's the challenge for us now. Can we handle being top of the league?

"We've done superbly well so far, we're unbeaten, and we have to keep that going now, starting against Portsmouth."
---
OCTOBER 27
No Reds clan for Riera

By Laurent Picard - Setanta Sports

Albert Riera has insisted there are no clans within the Liverpool squad despite the large number of Spanish players at Anfield.

The left winger, impressive during the 1-0 win over Chelsea at Stamford Bridge, has explained why he left Espanyol last summer.

Riera revealed he jumped at the chance of playing for The Reds, as he was desperate to make the step to a bigger club in order to win medals.

Espanyol asked for a lot of money for his transfer, as they are building a brand new stadium and need liquidity, but the midfielder is happy that the Anfield outfit found an agreement to secure his services on a four-year deal.

"Espanyol needed to sell a player but they were asking for a lot of money for me," Riera told Don Ballon. "I understand £12 to £14 million is a lot of money, except for two English and two Spanish clubs.

"Liverpool finally made an offer after having been interested in me over the past few months. When I realised this was an opportunity I pushed for it because I wanted to play for a great club.

"I am very grateful to Espanyol and wish them the best, as they made big efforts to sign me when I was in France [in Bordeaux] as they paid £3.5 million to sign me.

"A player has to be in the right place at the suitable moment for him and it depends on many things. I could have stayed at Mallorca for many years but they needed to sell, and the same happened at Espanyol, where I was happy, but changes were needed."

Riera claims The Reds' Spanish players are not a clan and make massive efforts in order to adapt to their squad.

"And now I am the latest Spanish to have joined Liverpool. Being together there is a boost but we have to adapt and speak English and the manager is very keen on it.

"The English are very professional and they see the positives when you work hard. What defines Liverpool the best is the dressing room's winning mentality.

"The Spanish players seeing each other at home after the games is something normal, but the coach insists a lot in order not to see smalls groups within his squad, in order to be a real team."

Riera finally set his sights on ending The Reds' miserable trophy-less run in the top flight.

"They have not won the league for 18 years and I am aware of it," he added. "I know it because the fans remind it to me all the time in the streets.

"But we are not going to give up on the Champions League, even if our start to the Premier League season as been great so far. It is too early though but the feeling is good.

"At the moment I am focused on the four year-deal I have signed with Liverpool and I am enjoying myself like a kid, but for sure one day I will return to the Spanish league."
---
OCTOBER 27
Alonso: Chelsea
goal was mine

By Tony Barrett - Liverpool Echo

Xabi Alonso today claimed the goal that brought Chelsea's unbeaten home run to an end and took Liverpool to the top of the Premier League.

Alonso's ninth minute strike took a wicked deflection off Jose Bosingwa to leave Petr Cech helpless but the Spaniard is in no doubt that the goal belongs to him.

Alonso came within inches of doubling his tally when he hit the post with a superb free kick, but the main thing for him was Liverpool collecting all three points at a venue where they hadn't previously won in the league since January 2004.

"It was my goal," he insisted.

"The shot was on its way towards the goal when it was deflected but that happens, that's part of football and you have to cope with these things when they go for you and when they go against you.

"I could have had a second goal as well when the ball hit the post but the main thing is to get the three points.

"It was very important for us because in the last few seasons in the league we have been coming here and we haven't had the best results.

"So we are really pleased to get the result and to take the three points."

Alonso believes the key to Liverpool's 1-0 win at Stamford Bridge was teamwork and he is looking for more of the same in the weeks to come as the Reds look to consolidate their place at the top of the league.

Now the 26-year-old is looking forward to the visit of managerless Portsmouth on Wednesday, a fixture which gives Liverpool a chance to continue their own unbeaten run which stretches back to April 30.

He said: "The team worked really hard, you have to work hard as a team to get a result at places like this and that is one of our strengths.

"When everyone works really hard for one another you have a chance to beat anyone.

"It was really important to score first as well because it would have been very difficult to come back in a game like this one.

"Now we have to think about Wednesday and remain really calm"

Alonso is adamant that everyone at Anfield believed they could bring an end to Chelsea's 86-game unbeaten run at Stamford Bridge, despite being well aware it would take a particularly industrious performance to make it happen.

But now Liverpool have the three points in the bag, the midfielder has vowed that Liverpool will be keeping their feet on the ground and not getting carried away.

"In the first half especially it was really difficult.

"But in the second half we were much better and we were able to control the game much better even though we did not make the most of a couple of chances we had to score the second goal that would have killed the game.

"It's a great victory but it is only three points.

"The three points against Chelsea are as important as the three points against Wigan and the three that are available against Portsmouth on Wednesday – they are all of the same value."
---
OCTOBER 27
Benitez the terminator

By Tony Banks - Daily and Sunday Express

It has happened before and it will no doubt happen again. There Chelsea are, tootling along without a care in the world, bowling over all and sundry with their lovely, winning football. And then along comes Rafa Benitez.

He did it to Jose Mourinho, to the Special One's fury, he did it to Claudio Ranieri, he very nearly did it to poor old Avram Grant and now he has done it to Luiz Felipe Scolari …stopped their teams in their tracks and completely upset the seemingly unstoppable applecart.

No one has the measure of Chelsea quite like Benitez. The Spaniard's tactical wizardry all too often explodes in his face, especially in domestic games, but not against the men from Stamford Bridge.

Twice he has ended their hopes at the semi-final stage of the Champions League, once turfed them out of the FA Cup, several times frustrated them in the Premier League.

Yesterday in the driving rain at Stamford Bridge, Benitez wrote his name in the record books as he ended the longest unbeaten home league run in English football. Eighty-six games, four years and three managers had gone by since Chelsea last went down on their own turf – on February 21, 2004, when Arsenal won 2-1.

But thanks to Xabi Alonso's deflected shot yesterday, Benitez confirmed Liverpool's status as genuine title challengers this season. Not since 1990 have they lifted the trophy, but this win gave them their best start to a Premier League season – and their manager's first away victory in the league against another top-four team. Of course, it had to come against Chelsea.

Benitez has been grumbling lately that with just two years of his contract left he has heard nothing from the Anfield hierarchy about talks on a new deal. Six weeks ago his team, once again without Fernando Torres, beat Manchester United at Anfield. Now they have beaten Chelsea at Stamford Bridge. His pounding on the boardroom door will surely soon become difficult to ignore.

As for Chelsea? The end of an era. Even Grant never lost at home in the league.

This was a pale shadow of the Chelsea side that have been so imperious lately, sweeping aside Aston Villa and Middlesbrough and overcoming Roma. This time they met a team meticulously prepared as ever by Benitez, packed full of players able to hurt them – and most importantly full of players who at last look as if they are beginning to believe.

Under Scolari, this type of defeat was always more likely to happen to Chelsea. Not for him the locking up of a game in the steely fashion of Mourinho, or the grim caution of Grant. The Brazilian goes for it in a big way. When it works it is glorious and the plaudits flow. When it fails, it is because it has become a victim of its own romance.

The procession has been stopped. The remorseless winning machine with a smile has been derailed. And now Hull await on Wednesday.

In truth, Chelsea looked out of sorts from the off. Even though Deco had an early shot blocked, they were too frantic, too rushed, too sloppy.

The goal was typical. John Terry's headed clearance was a poor one. It dropped to Alonso on the edge of the area and his volley deflected off Jose Bosingwa to leave Petr Cech helpless.

The troublesome Albert Reira hit the side-netting, but Liverpool went even closer as Steven Gerrard picked up Dirk Kuyt's flick-on and cracked a dipping 35-yard drive that Cech showed quick reflexes to tip over.

Chelsea created very few clear-cut chances as Liverpool throttled the life out of the game in midfield. Too often Florent Malouda and Salomon Kalou ran into blind alleys and even when Gerrard lost the ball, Deco fired wide.

Liverpool were always menacing on the break and they should have wrapped up the points when Alonso fired in a free-kick from the edge of the area. With Cech an onlooker, Chelsea breathed again as the ball cannoned off the foot of a post.

It was then, ironically, that they created their best chance. Frank Lampard chipped the ball in, Franco Di Santo nodded down, but Ashley Cole, alone eight yards out, somehow skewed his shot high and wide.

Jamie Carragher's usual diligence foiled Deco as the Portugal midfielder broke through again and Chelsea wilted. They knew this was not their day.

The proper title race is officially open. The full list of runners has been declared.
---
OCTOBER 26
Scolari praise for cute Benitez

By Richard Field - Setanta Sports

Chelsea boss Luiz Felipe Scolari said Chelsea played in to Liverpool's hands by launching too many aeriel salvos during the 1-0 Premier League defeat which ended Chelsea's proud unbeaten home record.

A deflected goal by Xabi Alonso finally ended the 86-game run, and inflicted a first defeat on Scolari since taking charge at Stamford Bridge during the summer.

This venue has been a miserable hunting ground for Rafa Benitez during his previous visits there in the league, but Scolari conceded that the Spaniard's trap suckered his charges.

"[Liverpool manager Rafa] Benitez is intelligent and he knows we do not have a centre-forward two metres tall," Scolari said on the club's official website.

"The only chances were for us to cross the ball, and when we do he has very good players at the back to jump. I don't want this.

"I don't want to lose the game, but we need to play, touch the ball, not put the ball in the box every time."

Chelsea were without Michael Ballack, Joe Cole and Didier Drogba who missed out through injury, but Scolari is refusing to go for the sympathy vote.

"We need to understand these are the players I have at the moment, I need to believe in and give confidence to these players. I changed the system to put two players up front, these are the players I have," added the Brazilian.

"Maybe in the future I have one, two, three more players [back] from injury and I have more opportunity to change the system and the players. We lost today [Sunday] because Liverpool were better than us in the game. This is life."
---
OCTOBER 26
Rafa calls for calm

By Chris Burton - Sky Sports

Rafa Benitez is refusing to get carried away despite seeing Liverpool go top of the Premier League table on Sunday.

The Reds secured an impressive 1-0 win away at Chelsea, ending the Blues' 86-game unbeaten run at Stamford Bridge.

That result sent Benitez's side three points clear at the summit, further underlining their title credentials.

Their manager was delighted with the manner in which his side ground out a crucial three points, but has moved to curb the wave of optimism flooding over the club.

"I think it was really good. We knew it was going to be tough, so thanks to the players, thanks to the fans," the Spaniard told Sky Sports.

"I think the mentality of the players was good, they were working together and everybody was doing the right things.

"We have shown character to come from behind in some games and now we have shown character against a very good team. We were trying to do everything perfectly.

"But I will keep saying the same thing - one game at a time. We are in a good position and we have to try and keep going and keep calm."

Chelsea rarely threatened throughout the contest, with Benitez surprised by how comfortably his side were able to snub out the Blues' attacking threat.

"The second half they were attacking with more direct players so it was difficult, but were a little bit more comfortable," he added.

"In the first half they were coming forward and we knew they were a threat, but the players were organised and we played well on the counter-attack.

"I think we now have a better understanding between the players and the belief is good. We have quality, we have a team."

Despite being the side to end Chelsea's four-year unbeaten run on home turf, Benitez insisted his greatest achievement this season was grinding out a 2-1 victory over arch-rivals Manchester United in September.

"I like to beat United, so I am really pleased this year!" he smiled.
---
OCTOBER 26
Benitez axes squad rotation
to mount title challenge

Comment by Richard Field - Setanta Sports

All hail Rafael Benitez as the Liverpool boss finally puts his eggs in the basket of trying to win that elusive Premier League title for the Liverpool fans.

The player rotation is becoming a thing of the past as Liverpool search for a first league title since 1990 to add to their Champions League pedigree since Benitez arrived on Merseyside.

The omens are beginning to look good for The Reds with wins now over two other sides from the so-called Big Four which has been an Achilles' heel for Benitez in the past.

The former Valencia manager's side are now unbeaten in the last six months, but they looked a shambles for most of preseason, and the Spaniard's lack of spending power seemed to be putting his side out of The Premier League title race at such an early stage.

But when you fashion 3-2 wins, against Wigan and Manchester City this season, team spirit grows and when you shatter Chelsea's 86-match home record – then it really is game-on for Liverpool!

Albert Riera has already done enough to suggest that he can be one of the players to give Liverpool that much-prized quality in wide areas, but the jury is still out on Marcus Babel who continues to lack that consistency, especially in his crossing.

So what of Chelsea? They rallied at Stamford Bridge and were beaten by a deflected goal, but the attacking intentions of Liverpool definitely left them rattled.

Nicolas Anelka has not done enough, it seems, to stop Didier Drogba marching back into the side when he eventually returns from injury.

Jose Bosingwa once again demonstrated that he is fine going forward but his defensive decisions can be questionable, Xabi Alonso's goal is a case-in-point.

Liverpool were bossing the midfield for large chunks of the game at Chelsea, and John Obi Mikel was actually being pushed off the ball on occasions, which is not what the home fans want to see.

Chelsea chief executive Peter Kenyon says his side will not enter the January transfer window for signings, but Felipe Luiz Scolari was unsure when asked the same question, earlier this week.

Perhaps the Brazilian has question marks over his current squad and, with the likes of Michael Ballack, Joe Cole and Drogba all missing, the replacements were unable to effect Sunday's result – this may have crossed Scolari's mind when he replied in a sketchy fashion to reporters concerning Kenyon's comments.
---
OCTOBER 26
Carra: Still a long way to go

By Paul Eaton - LFC Official Website

Jamie Carragher has refused to get carried away after helping Liverpool break Chelsea's 86-match unbeaten record at Stamford Bridge.

Liverpool moved three points clear at the top of the Premier League after Xabi Alonso netted the only goal of the game, and Carragher admits the result should help give the Reds a massive confidence booster for the rest of the campaign.

"Before today Chelsea were playing as well as anyone in Europe. To come here and win should give our confidence a boost but we realise there's a long way to go yet," said the Reds defender.

"Their record was never going to go on forever, they were always going to lose at some point, and I'm just glad it was us who managed to beat them.

"We are top of the table but as I said, there's a long way to go. Over recent years Chelsea and United have been towards the top and ourselves and Arsenal are trying to get involved and challenge. Hopefully we can bridge the gap this season."
---
OCTOBER 26
Alonso goal shatters
Chelsea's home record

By Richard Field - Setanta Sports

A deflected goal from Xabi Alonso was enough to give Liverpool a 1-0 win against Chelsea which ends The Blues unbeaten 86-game home record stretching back to February 2004.

Liverpool move three points clear at the top of The Premier League with Alonso's deflected goal in the first-half dividing these two sides. The Spaniard was close to a brace when his curling free-kick hit the post in the 61st minute.

It is all clicking into place for manager Rafa Benitez who has now beaten fellow title rivals Chelsea and Manchester United this season, as Liverpool look for a first league title since 1989.

Liverpool started in determined fashion with Steven Gerrard driving them forward, but Rafa Benitez's side were given a warning when Alonso's mistake allowed Nicolas Anelka to race towards goal before a determined challenge displaced the ball to Deco whose shot was deflected wide of the target.

Alonso was the hero in the 10th minute though as Dirk Kuyt headed the ball towards Robbie Keane who was pressing John Terry and the loose ball found its way to Alonso whose shot deflected off Jose Bosingwa - who for some inexplicable reason had turned away from the ball – and past a wrong-footed Petr Cech.

The industrious Albert Riera shot wildly into the side netting when a cross to the waiting Liverpool strike force would have been the preferred option with a rampant Liverpool looking to double their lead.

On a day where the two best midfielders in England, Frank Lampard and Gerrard were in opposition, it was Gerrard who edged their battle and produced a fingertip save from Cech with a left-footed shot on the half-volley.

Ashley Cole and Salomon Kalou demonstrated the flustered nature of the home team with the forward deciding to try and thread the ball back into the path of the left-back when a shot looked the best option. Deco took it upon himself to run at The Reds and unleashed a shot which went wide of the left post as the Liverpool defence unusually failed to close down the marauding opposition player this time.

Both managers decided against making changes during the interval and it was the visitors who again surfaced early to provide the attacking intent.

Chelsea saw a potential penalty shout go South when Florent Malouda was upended by Jose Reina, but the flag had already gone up to signal offside against the Frenchman.

Benitez's men went close again midway through the second-half with Alonso curling a free-kick around the wall only to cannon off the post to deny the midfielder a second, this opportunity arose due to substitute Juliano Belletti 's foul on Riera just outside the penalty box.

Chelsea were left wondering if they could get back on level terms when Ashley Cole sliced his shot wide from just eight yards following a knockdown from replacement Franco Di Santo.

With the London side piling on the pressure, Deco fired wide after giving Liverpool problems and, with Chelsea pressing, Ryan Babel failed to add a killer second.

A fidgety Chelsea coach Luiz Felipe Scolari tried all the tricks in his repertoire to salvage something, but it was not to be as fortress Stamford Bridge was breached in his 13th game in charge of the West London aristocrats.
---