---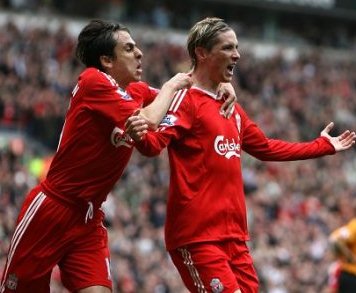 Torres and Benayoun celebrate vs Hull. (Photo: PA)
SEPTEMBER 28
Fernando Torres earns comparison
with Liverpool FC legend Roger Hunt

Comment by John Thompson - Liverpool Echo

There's a word beginning with T which always crops up after every Liverpool game these days – good, bad or indifferent.

As soon as the points are registered, lost or shared, there's a weekly rush of indecent haste to compute the facts and reach a definitive conclusion on what the day's drama means for Liverpool's 'title' hopes.

The results of this regular investigation can have Liverpool installed as sudden favourites, whispered as dark horses, dismissed as also-rans or mocked as deluded fools, blinded by their own cravings from the harsh reality of no-hope.

This premature prescience has nowadays become as futile as it is regular.

And there's another T word for this turgid, weekly over-analysis of all things Anfield.

Tedious.

Because whatever happened to rolling up to a football match for a few hours with your pals and just enjoying the action, appreciating the stuff on show?

You know, the days when you could return home or fall into the pub without a sense that some jury has just delivered a major verdict in a serious court case affecting a relative?

Cue another T word – thankfully the only one that was being spoken at the weekend.

Torres.

Barry Horne, Football ECHO columnist, former international captain and as feisty an Evertonian as they come, is also an astute and fair-minded TV football pundit.

Co-commenting on Sky's Football First re-run of the action, he hailed the made-in-heaven Spaniard as a 'genius' as he spoke over a replay of Torres' sublime second goal.

It was a strike more likely to be seen in a city park than on a Premier League football pitch in so many ways; evidence of one young player so much better than the ordinary lads around him, that he just danced and waltzed the ball between the posts leaving his opponents looking utterly bow-legged and hapless.

In the Press box at Anfield, another ECHO columnist and club legend, Tommy Smith, raised his eyebrows and gave an understated shake of his head.

Smithy isn't given to high praise. Not for anyone.

A brilliant, world class player is, in his esteem, just a good player.

A really good international star is merely 'half decent'.

But Smithy was, for once, lost for words as he watched Torres. Except perhaps two.

'Roger Hunt', the Anfield Iron proclaimed with sureness in his voice.

'He's so like Roger' in the way…. it's just bang, the ball is in the net in a flash.

"He so reminds me of Roger.'

Others will have brought the watching Kenny Dalglish to mind as Torres began dribbling around the six yard box, teasing his prey at the moment of its slaughter with his sheer confidence and ability.

With 33 goals in 34 Anfield games, and many more statistical indicators of that ilk, Torres is well capable of ending up alongside Hunt, Keegan, Dalglish, Rush and Fowler in Anfield's striking Hall of Fame.

He is a truly wonderful footballer – and in Rafael Benitez as his manager and Liverpool as his club, undoubtedly in the right place to become an even more complete player, to continue his rise to world super-stardom and ultimate legendary status at Anfield.

Torres fits Liverpool.

And Liverpool fit Torres. As anyone who has read his proclamations of love for the city and who understands his character and his strength of character, will surely understand.

But to hell with such analysis.

This was a Saturday afternoon which will live long in the memory of the fans who were there to witness the sublime talents and unstoppable power of one of the most gifted players ever to wear the red of Liverpool.

And that includes the terrific Hull City supporters, who for all their shattering dreams, rose to a man and roundly applauded Torres off too after his stunning hat-trick.

Like the Kop, they knew they were witnessing something very special – and were big enough to show it.

So thanks to Torres and of course an impressive supporting cast of others, a Saturday afternoon in the weakening September sunshine ended with warm smiles for every Liverpudlian.

It also left sports journalists the length and breadth of England – with just one T word their lips this time.

One that thankfully brought beaming smiles to the faces of the faithful, rather than a furrow to the brow.
---
SEPTEMBER 27
Torres lauds team effort

By Richard Bailey - Sky Sports

Fernando Torres insists the 6-1 win over Hull City was a team effort despite the Spaniard helping himself to
a hat-trick.

The 26-year-old added to his two goals against West Ham last week by producing another match winning display against the Tigers at Anfield on Saturday.

The former Atletico Madrid man now has eight for the season after some had suggested he was struggling for form just a few weeks ago.

Torres almost single-handedly took the Tigers backline apart as he fired the Reds into a 3-1 lead but the striker accepts that the whole team played a part.

"When you score a hat-trick it is always an amazing day and when the team scores six it is fantastic for us and we have more confidence now," he said.

"I did my work and this is a team game and players deserve to play. Ryan Babel came on and scored two.

"It is important to win and score goals but three was more than enough for me."

The result was Liverpool's sixth straight win and sets up next week's crunch clash with Chelsea perfectly, but Torres believes the Merseysiders can still improve.

"We have to keep going as we are still not at our best," he said.

"We have a very hard game against Chelsea next weekend but we are in a fantastic position and we could be on the same points as them if we win that game."
---
SEPTEMBER 26
Brown rips into Tigers' defending

Sky Sports

Hull City boss Phil Brown labelled his team's defending as 'disgusting' following the 6-1 thrashing at title contenders Liverpool.

Brown is reportedly under pressure following a disappointing run of form which has left his side second from bottom in the Premier League.

On the back of a 4-0 home defeat by Everton in the Carling Cup in midweek, the Tigers were not expected to enjoy a positive result against the Toffees' Merseyside rivals.

However, Geovanni briefly gave the travelling support something to cheer when the Brazilian cancelled out Fernando Torres' early opener.

But Torres went on to complete his hat-trick and Ryan Babel also added two late goals after Steven Gerrard had scored Liverpool's fourth.

Brown was bitterly disappointed with the result and was unhappy with the attitude displayed by some of his players at Anfield.

"I was disgusted with some of the defending, individually and collectively," said Brown.

"For me it was demoralising and I hope it was for the players as well.

"People will say Torres was the difference between the two sides, but I thought we gifted them the goals.

"To come out in the second half and throw away a third goal and give up our position was disgusting.

"That killed us off and one or two towels went in after that, which is bitterly disappointing from my point of view.

"It is going to have to be uncomfortable for one or two this week - myself included - because there is a little bit of pain flying around at the moment and it is all coming my way."
---
SEPTEMBER 26
Benitez: Torres can get better

Football 365

Liverpool manager Rafael Benitez believes Fernando Torres has yet to reach his peak despite witnessing a brilliant hat-trick in the 6-1 demolition of Hull at Anfield.

The Spain striker hit three goals in the opening 47 minutes - after Geovanni had briefly equalised - and terrorised the Tigers defence all afternoon.

Steven Gerrard added the fourth on the hour before Ryan Babel hit two late on but the day belonged to Torres, who has now scored eight in seven matches and an incredible 33 in 34 matches at Anfield.

"In the last three games he was really good, he is improving his mentality, work-rate and movement and he is now showing his ability but I think he can do it better," said the Liverpool boss.

"The main thing is the mentality of the player. He is keen to learn and he will improve but how much depends on him."

Benitez said he was always confident the 25-year-old would become one of the world's greatest strikers after bringing him to Anfield from Atletico Madrid in the summer of 2007.

"If you think about the money we were spending on players we then decided to spend £20million on Torres - that was a massive figure for us," admitted the Spaniard.

"We decided to bring him here because of his quality but also his potential and the future he had.

"We had a lot of confidence he would get better and we are pleased now but he can improve."

Benitez did not go so far as to class today as a perfect performance - they conceded a goal - but he was impressed by the attitude of his players even when the game was won midway through the second half.

"The first goal was important but after we conceded I thought our second goal made a big difference," he added.

"The team was playing with confidence, creating a lot of chances and at the end of the game we could change players and think about the next game.

"Six goals is fantastic but it could have been even better because we had more chances at the end.

"The positive thing was the mentality of the team going forward, trying to win the game and still trying to score more goals."
---
SEPTEMBER 26
Rampant Reds hit Hull for six

Sky Sports

Liverpool thumped Hull City 6-1 at Anfield to pile the pressure on Tigers boss Phil Brown with Fernando Torres helping himself to a hat-trick.

The Reds were in superb form as Torres brought his season's tally to eight goals with substitute Ryan Babel netting two and Steven Gerrard grabbing a sublime effort with Geovanni's strike bringing Hull back into the game at 1-1 in the opening quarter.

Torres gave the Hull defence a day to forget with an electrifying performance before being substituted midway through the second half.

Gerrard added a fourth just before the hour mark with a superb curling effort from wide on the left and Babel added two late strikes to set Liverpool up nicely for their midweek Champions League trip to Fiorentina.

The day belonged to Torres, who took his tally for the season to eight in seven matches and an incredible 33 in 34 matches at Anfield. This was also his fourth Liverpool hat-trick and the third he has scored in the Premier League.

The writing was on the wall for Hull, who have not won in their last nine away matches, from the 11th minute when Liverpool took the lead with a neat passing move and a clinical finish from Torres.

Dirk Kuyt and left-back Emiliano Insua combined to allow Albert Riera to cross to the near post where Torres shimmied past Ibrahima Sonko to coolly fire past Boaz Myhill.

This season Liverpool have leaked goals through defensive mistakes and another one cost them just four minutes later when Martin Skrtel's weak header dropped to Geovanni eight yards out and he volleyed home the equaliser.

The goal unsettled home side but Lucas should have done better in the 23rd minute when he tamely side-footed Insua's cross straight at Myhill from 15 yards.

But if there is one Liverpool player you can rely on to hit the target it is Torres and his individual brilliance put his side ahead again in the 28th minute.

Yossi Benayoun's incisive through-ball picked out the Spaniard's run into the penalty area but there was still plenty of work to do.

Torres cut back inside, beating Sonko, Myhill and then 18-year-old debutant Liam Cooper to poke home from close range.

Frailties were still apparent at the back, however, and twice Riera gave the ball away 10 yards outside his own penalty area only to be saved by Jamie Carragher and poor shooting from Kamil Ghilas.

Two minutes into the second half Torres scored his third, again with an assist from Benayoun. He raced into the inside-right channel and, with everyone in the ground expecting him to shoot right-footed, he turned inside Sonko and fired through Paul McShane's legs and into the far corner.

Torres continued to terrorise the Hull defence and was only inches over the crossbar with a looping 58th-minute header from Skrtel's cross.

On the hour Gerrard, who had been quiet by his standards, added a fourth when he curled a shot into the far corner from wide on the left wing after his original corner had only been half-cleared to Insua.

Hull then seemed to self-destruct with McShane, who had been having a running disagreement with Riera all afternoon, lucky not to be sent off after being booked for a clash with Carragher and then appearing to show dissent to referee Peter Walton.

With a Champions League clash away to Fiorentina on Tuesday, Torres departed to a standing ovation in the 68th minute as he was replaced by Babel with Gerrard following soon after.

By then the hard work had been done, although Babel had a point to prove and added a fifth by turning in Kuyt's right-wing cross late on.

The Dutchman scored a fortunate second in injury time when he deflected Riera's shot over Myhill.

But even the former Ajax forward would admit he is not in the class of Torres, who once again showed how intrinsically linked he is to Liverpool's ambitions.
---