---
JULY 27
Carra dedicates goal to Michael Shields

By Paul Rogers - LFC Official Website

Jamie Carragher today dedicated his first goal in over six years to Michael Shields, the Liverpool supporter jailed for 15 years in Bulgaria for a crime somebody else has claimed responsibility for.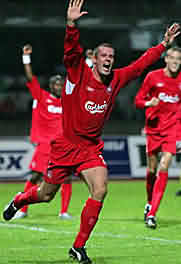 Shields, from Wavertree, has protested his innocence ever since being charged by Bulgarian police with the attempted murder of waiter Martin Georgiev in the aftermath of Liverpool's Champions League final victory and despite another man delivering a sworn statement admitting he committed the attack, the 18-year-old was found guilty and sentenced to 15 years in prison on Tuesday.


Carra scores in Kaunas and dedicates his goal to the innocent Michael Shield. (Photo: Getty Images)

For Carragher, Liverpool's undisputed Player of the Year last season, news of the verdict came as a massive shock to both himself and Steven Gerrard, who had followed the trial even while away on Champions League duty in Lithuania.

"We got a phone call with the news on Tuesday but we've been aware of what's being going on throughout the whole trial," Carragher told liverpoolfc.tv. "There was a banner about Michael at the TNS game in the last round and what's happened with the verdict was in our minds on Tuesday night.

"If I'd have known I was going to score against Kaunas I would have worn a t-shirt under my Liverpool shirt with Michael's name on it. I want to dedicate that goal to Michael Shields and all his family who are suffering so badly right now.

"When we got the news that he'd not only be found guilty for a crime he didn't commit but actually been sentenced to 15 years, our hearts sank. For myself, Steven [Gerrard] and the other local lads in the team, it really hit us. He's one of us; a young lad who went to a game to watch Liverpool and ended up being thrown in prison in a foreign country. He must be absolutely distraught at what's happened just as everyone in Liverpool is. He should have been here in Lithuania cheering us on but instead he's locked up. Me and Stevie are heartbroken for the lad because it's obviously an injustice.

"I'm not sure how the justice system works in Bulgaria but hopefully something can be done about this case. I think somebody very high up in the government - possibly even Tony Blair himself - should step in and fight Michael's corner because what has happened is wrong. There is a lad in Liverpool who has owned up to the crime and admitted it was him and not Michael Shields who is the guilty one.

"I know there is a lot going on around the country right now with everyone working overtime to prevent any more terrorist activity but I really do think someone from very high up in the government needs to get involved in this case.

"I won't pretend to know how Michael must feel right now but I've got kids of my own and I can imagine how his parents must feel seeing their son locked up for a crime they know he didn't commit. If it was my kid, I'd be in pieces. We're not giving up hope though. We know he's innocent and we're sure that someone from the government will step in to make sure justice gets done."
---
JULY 26
Benitez content with display

By Alex Dunn - Planet Football/Sky Sports

Liverpool boss Rafa Benitez was left satisfied with his side's performance after watching them come from behind to beat
FBK Kaunas 3-1.

Liverpool fell behind to their hosts in the 20th minute but goals from Djibril Cisse, Jamie Carragher and a second half Steven Gerrard penalty secured a comfortable victory in Lithuania.

Although Liverpool were never at their first, Spanish taskmaster Benitez is confident they have now done enough to enjoy a comfortable second leg at Anfield.

"We conceded a goal but we had clear chances after scoring three - we had many chances,'' said Benitez.

"It's a good result - we only made one mistake during the game.

"All the team worked hard.''

Benitez continued to confirm that he believed debutant Peter Crouch did an admiral job on his first start - setting up Liverpool's first goal for strike partner Djibril Cisse courtesy of an astute header.

"It was difficult for Peter Crouch in his first official game,'' concluded Benitez.

''But I thought he did a good job - as did all the players."

Carragher's goal - a header from a corner - was his first in six years and the popular stopper is now hungry for more ahead of a new Premiership campaign.

"It's good to get something out of these games but we had a few scares - credit to Kaunas, they caused a few problems for us in the first half,'' said Carragher.

"Even before they scored they had everyone behind the ball - so when they scored we realised it would be doubly difficult because they had something to hang on to.

''I can promise you it won't be that long before you get another one (goal) from me - the manager wants another three or four more this season."
---
JULY 26
Liverpool ease past Kaunas

BBC Sport Online

Liverpool came from behind to beat Kaunas in the Champions League second round qualifier first leg.

Giedrius Barevicius' close range finish put the Lithuanians ahead on 21 minutes, but soon Liverpool led.

Debutant Peter Crouch's header set up Djibril Cisse for the equaliser, with Jamie Carragher's header putting Liverpool 2-1 ahead.

Early in the second half Steven Gerrard won and converted a penalty to claim his sixth goal in Europe this season.

Soon after his goal Gerrard was withdrawn to be replaced by Mohamed Sissoko, as the former Valencia midfielder made his Liverpool debut.

Crouch had a promising debut, with his height causing Kaunas problems, while the big striker also held up the ball well, in the process helping to bring other players into the game.

Liverpool's defence looked altogether more rusty.

On a couple of occasions in the opening stage Kaunas almost sprung Liverpool's offside trap, but Barevicius' goal gave the European Champions a real jolt.

The Kaunas midfielder got in front of a clutch of Liverpool defenders at the near post to prod home Arturas Rimkevicius' cross.

Kaunas' goal galvanised Liverpool into a more offensive approach, with Zenden starting to see more of the ball.

On 27 minutes one of the Dutch winger's crosses was headed down by Crouch, a header pounced on by Cisse, whose instinctive half volley surprised Eduardas Kurskis.

Liverpool's second came from a more unlikely source considering Carragher last scored six years ago, in an 7-1 home win over Southampton in January 1999.

The Liverpool defender ran to the near post to meet Gerrard's corner and his glancing header crossed the line after taking a slight deflection off Irmantas Zelmikas.

Just before the interval the Kaunas defender enjoyed better fortune when he raced back to his goal to clear a Cisse shot off the line.

Gerrard, who had scored five goals in the previous round, made the game safe early in the second half.

After exchanging passes with Crouch, Gerrard strode into the Kaunas penalty area where he was upended by Mindaugas Baguzis.

The Liverpool captain made no mistake with a fiercely struck penalty.

Late on Cisse should have added a fourth, but he scooped the ball over the bar, after he had released by Luis Garcia.

Liverpool might have won the game easily in the end, but Kaunas provided the match's most skillful moment - Eimantas Poderis outrageous flick when the ball was behind him almost sneaking past Reina.

The second leg is next Tuesday at Anfield.
---