---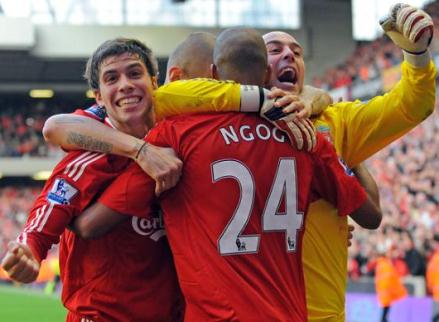 Reds celebrate Ngog's goal. (Photo: Getty Images)
OCTOBER 27
Time for Liverpool FC
to build on Man Utd victory

Comment by Mark Lawrenson - Liverpool Daily Post

In the cold light of day, it's time to assess where Liverpool go from here – because there's no point beating Manchester United if you don't build on it.

It is, admittedly, a decent platform to start from. It's relieved the external pressure on the side, not that there was any pressure internally after Christian Purlsow and Kenny Dalglish gave Rafael Benitez their full support.

But the fact that the Anfield press box was suddenly populated by journalists from London for a north west derby shows just how much the circling cultures were sharpening their talons.

I reckon a losing run of five games for the first time in 56 years was already chiselled in to a few laptops.

So the result gave some people a reality check.

But now it's time for Liverpool to get one because there are still some niggling doubts about the current side that are undeniable.

First of all, without Fernando Torres, there's a real problem.

If Steven Gerrard is out you can just about get away with it but not a world class superstar leading the forward line.

Despite his goal, David Ngog is not ready to take on that kind of role yet.

Also, the squad is still too fragile. You're talking about getting back into a title race here, and whether Liverpool can live with United and Chelsea over the course of a full season rather than 90 minutes is open to question.

However, issues like that can always be resolved in January. What Benitez needs to do now is figure out how he is going to make sure all Sunday's good work doesn't go to waste.

First of all, he needs to take note of the table. Liverpool have lost twice as many Premier League games as they did throughout the whole of last season and yet they are still well placed to be in contention for the title again.

And it's because they have finally forgotten how to draw games. The 4-4 against Arsenal is the only time they have taken just a single point from a game in 22 and those six wins in 10 games have really taken the edge off the disappointment of falling to four defeats at such an early stage.

It proves the value of going out to win – and, more importantly, not being afraid to lose.

It was one of my bugbears last week after the Sunderland game, that fielding too many defensive players sent out the message that Liverpool were happy to hang on to what they had, rather then being willing to take the game to the opposition.

But that's exactly what I want to see them do now.

And to do it, the best players need to be played in their best positions.

Yossi Benayoun is the one player who I see as vital to the creativity of the team and I think his best work is done when he's on the right side.

He can go past men on the flank and he can drift inside to add more to the attack.

He can produce moments that change games.

If he is on the right and Gerrard is tucked in behind Torres, I think that could spell bad news for Dirk Kuyt.

The Dutchman will always get praise for how hard he works – but working had is the least you expect from any footballer. I think Benitez needs more than that from his forward line and it's time to get tough.

I would also like to see Alberto Aquilani given his chance soon. If he is the player Benitez thought he was when he forked out for him then he needs show that faith and give him a go as soon as possible.

Because for me, starting with Fulham away this Saturday, it's time to build on the confidence and win games to put some daylight between Liverpool and the teams trying to threaten that top four monopoly.

Benitez probably left for Sunday's game questioning himself and wondering what direction the team was going in if they slumped to yet another defeat.

But now he doesn't have to be afraid of losing.

He doesn't have to be cautious or defensive.

He has everyone back onside now and this is the time to go for it and get some more victories on the board.
---
OCTOBER 26
Ngog: Best moment of my career

By Steve Hunter - LFC Official Website

David Ngog admitted his injury-time goal against Manchester United was the best moment of his career so far.

The French striker came on as a substitute for Fernando Torres and netted a stoppage-time second goal at the Kop end in the 2-0 win over Manchester United.

It was a special moment for the Reds as not only did the result herald a return to winning ways, but it came in Rafael Benitez's 200th league game in charge.

"This was a fantastic moment for me and the team and I would say it's my best moment in football," the Reds No.24 told Liverpoolfc.tv.

"I have always dreamed of scoring a goal for Liverpool against Manchester United and now it has happened and it is a really good feeling.

"I dedicate this goal to my family who always support me and the Liverpool supporters. We know how much this victory means to our supporters.

"I also give thanks to my teammates and the manager for always showing faith in me.

"We know we have a lot of quality so this result means everything for the team. We have worked really hard together and I think we deserved to win."

The team spirit was epitomised when goalkeeper Pepe Reina joined in the celebrations for Ngog's goal when the three points were guaranteed Liverpool's way.

"I was surprised because the first person to celebrate with me was Pepe but that shows you just what this victory means for us," he added.

"This was a big moment for the team and everyone wanted this victory. It shows how good the team spirit and togetherness is."

Arsenal are up next in the Carling Cup and Ngog is hoping for a starting role after his match-winning exploits against Leeds United in the third round.

"We are looking forward to it and all I can do is keep working hard and show what I can do when I get the opportunity," said Ngog.

"I just want to do my best for the team."
---
OCTOBER 26
Carragher wakes up
to brighter days

Comment by James Pearce - Liverpool Echo

They were heroes in red all across the Anfield turf. In the face of adversity this was a performance of remarkable spirit and character as Rafa Benitez's side breathed new life into a flagging campaign.

Nobody epitomised those qualities more than Jamie Carragher.

The shattered skipper's clenched fists and look to the heavens at the final whistle told a story.

There was joy and relief in equal measure as the club's worst run for 22 years had been halted in glorious fashion.

Nobody has been hurt more than Carragher by the Reds' miserable start to the season. After each demoralising setback the 31-year-old has had the pain of defeat etched across his face.

Carragher's honest admission that at times he has slipped below his usual high standards has been pounced on by critics. His age has been used as a stick to beat him with and he's copped plenty of unfair flak for the Reds' shortcomings.

The centre-back is his own biggest critic and spends hours watching re-runs of matches and examining his own performance.

"I know when I've had a bad game because I can't get to sleep at night thinking about it," he admitted.

It's fair to assume the Bootle-born defender slept soundly last night.

Fernando Torres provided the touch of class and David Ngog put the icing on the cake but the inspiration came from Carragher.

With every crunching tackle, brave block and towering header from their captain, Liverpool grew in confidence.

Carragher was a colossus and as he put his body on the line countless times in the closing stages it brought back memories of a memorable night in Istanbul.

Crucially, he also prevented his old mate Michael Owen from providing a devastating late twist in the tale with a perfect rugby tackle. It was the most vital booking of Carragher's career.

This was also a personal triumph for Benitez.

The Spaniard has made a habit of pulling off results when his back has been against the wall over the past five years and he did it again.

A fifth straight defeat wouldn't have triggered his demise but it would certainly have dashed any remaining hope of challenging for the Premier League title.

If visiting co-owners George Gillett and Tom Hicks were wondering whether the manager still had the support of the players and supporters, the answer was emphatic.

Before the game thousands of supporters marched to the ground to vent their anger at the Americans' reign. There is no doubt who most fans blame for the club's problems and it's not Benitez. However, once inside the ground talk of debts, broken promises and inadequate transfer budgets were put to one side.

The team needed the supporters to help drag them out of a slump and the fans responded by creating the kind of electric atmosphere which energised the home side.

It was a real display of unity with all energies channelled towards lifting the Reds and intimidating the visitors. It did the trick.

Manchester United were never given the chance to settle as Liverpool found an intensity lacking in recent weeks. From the start they were in United's faces, putting them under pressure and forcing mistakes.

Lucas and Javier Mascherano covered virtually every blade of grass. The duo bossed the middle of the park and ensured Paul Scholes and Michael Carrick barely had a kick.

Yossi Benayoun was at his clever, creative best, while Dirk Kuyt ran himself into the ground.

Then there was Torres, returning from injury to terrorise Nemanja Vidic and the hapless Rio Ferdinand.

The mere sight of Torres must have brought Vidic out in a cold sweat after last season's humiliation and once again he was embarrassed by the striker.

But for keeper Edwin van der Sar, Liverpool would have been in front by the break.

The goal their dominance deserved finally arrived when Torres exacted revenge for some rough treatment from United's backline in the best possible way.

United responded and at times it was desperate. Fortune favoured the hosts when Antonio Valencia struck the bar and Carragher escaped with a yellow after his tangle with Owen.

However, having seen his side beaten by a beach ball in their last league game and dogged by injuries to key players Benitez will rightly believe he was due a spot of luck.

The dismissals of Vidic and Mascherano added to the drama during a frantic finale. Ngog was one of the few who managed to keep cool and his precise finish triggered mass euphoria, with Pepe Reina charging the length of the field to embrace the goalscorer.

From the depths of despair against Lyon five days earlier, this was pure ecstasy.

The gloom over Anfield has been lifted and a season has been revived.
---
OCTOBER 25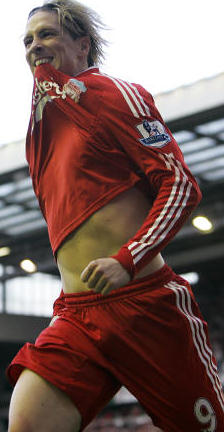 Torres: We had to win

By Richard Bailey - Sky Sports

Fernando Torres believed Liverpool had to beat Manchester United at Anfield on Sunday to keep their title hopes alive.

The Spaniard returned from injury to soften the blow of losing captain Steven Gerrard to a groin strain and netted the crucial opener deep into the second half before his replacement David Ngog applied the gloss to the victory with a second in stoppage-time. (Photo: AP)

Following a run of two consecutive league losses, four in all competitions, defeat for the Reds would have meant falling 10 points behind United in the table.

However after a commanding performance on Sunday Liverpool appeared a team transformed and Torres insists the change in attitude was down to the fact that Rafa Benitez's side knew they could not afford to lose.

"Of course it was a massive result for us," he said. "We needed to win to stay in the title race. We are very happy to perform today but we must keep going.

"I think after that game we were playing as a team and working hard. I think we know at Liverpool we can beat anyone.

"We have a good result so we will think about that now and we will keep playing well and working as a team, as a unit, and try and make things better than before."
---
OCTOBER 25
Jeers become cheers
for revived Reds

TEAMtalk

TEAMtalk reflects on Liverpool's 2-0 Premier League win over Manchester United, which came amid scenes of protest at Anfield on Sunday.

They came to protest about the co-owners Tom Hicks and George Gillet about the way Liverpool are being run under the American co-owners.

They left praising Fernando Torres - and substitute David Ngog - as Manchester United suffered their first defeat in 12 games in all competitions.

Not only did the champions lose their way, they also lost their composure with Nemanja Vidic sent off.

Curiously it was the third time in a row the Serbian had been red carded against their old rivals after a challenge on Dirk Kuyt.

Liverpool also had Javier Mascherano dismissed for a lunge on Edwin van der Sar but that could not prevent the smiles around Anfield.

Despite Steven Gerrard remaining absent, the influential Torres picked up the baton after recovering from a thigh injury that caused him to miss two games.

Liverpool had lost both as well as another two so the pressure was really on manager Rafael Benitez.

You have to go back to 1953 when the club last suffered five defeats in a row.

So finishing second best to United was unthinkable to those who wear the Mersey red.

Torres, however, made sure his fellow Spaniard Benitez, enjoyed the victory and the night.

United for their part find themselves trailing Chelsea by two points so the title race is wide open.

They could have little complaint about the outcome either as they looked lacklustre following the trip to Russia last week and the victory against CSKA Moscow.

However, it wasn't all sweetness and light before the game with Liverpool supporters staging a demonstration.

The 1,000 fans were protesting at the way the club is being run under Gillett and Hicks and the level of debt accrued - chanting 'What do we want, Yanks Out; When do we want it, now' - not to mention the team's poor form in the run-up to the game.

Gillett and Hicks were in attendance in the directors box with beach balls being lobbed onto the pitch before the game from the Kop.

It was meant to serve as a joke aimed at the Americans and also to deflate the United supporters.

Although Wayne Rooney found the net in the third minute, only to be ruled offside, Liverpool carved out the best chances in the first half.

Fabio Aurelio saw his free-kick turned away by Edwin van der Sar 12 minutes later then the goalkeeper blocked the rebound from Dirk Kuyt.

Kuyt squandered a good chance 19 minutes wide following a mistake by Paul Scholes and Aurelio headed into the Dutchman's arm 18 minutes later.

In between Wayne Rooney sent a soft header into Jose Reina's arms but the second half really belonged to Liverpool.

Daniel Agger headed wide wide from an Aurelio free kick before Torres sent a shot a across the face of the goal after being released by Dirk Kuyt.

The moment Liverpool fans had waited for came in the 65th minute. Torres skipped clear of Rio Ferdinand following a glorious through ball from Yossi Benayoun and the finish was emphatic.

The cheers from the Kop turned to jeers nine minutes later when former favourite Michael Owen came on.

He did not have a sniff of a chance and Ngog sealed victory in stoppage time after Lucas sprung the offside trap.

The Liverpool supporters raised the roof as tempers flared both on and off the pitch as their side got back on track.
---
OCTOBER 25
Fergie critical of
referee's decision

The Irish News

Alex Ferguson believes his Manchester United side did not get a fair crack of the whip from referee Andre Marriner at Anfield.

Nemanja Vidic was sent off for two yellow cards and Ferguson questioned a number of the official's decisions as they slumped to their first defeat in 12 games in all competitions as Liverpool triumphed 2-0.

Goals from Fernando Torres and David Ngog ended Liverpool's run of four successive losses and eased the pressure on manager Rafael Benitez.

While Ferguson thought Liverpool deserved to win, he claimed that Marriner was swayed by the home crowd.

He felt Vidic was unlucky to be red-carded, that home defender Jamie Carragher should have been dismissed and Michael Carrick was denied a penalty.

Ferguson said: "It is very difficult atmosphere here. There was a wounded animal aspect to the game and it was something we did not overcome.

"I think it affected our players and it affected the referee. There were so many controversial things that happened we have to feel aggrieved at some of them.

"The Vidic booking was the worst decision. It is a foul, fine. But the player has played on, he won the second ball and knocked it for a throw in and got booked. It put Nemanja under pressure.

"The most controversial decision was Carragher bringing down Michael Owen. He was clear through.

"The laws of the game were altered to prevent professional fouls of that nature and if Carragher goes off, he is their best player and their captain. It would have been a different game. They would have been under pressure.

"The referee was only four or five yards from it he cannot use a covering defender as an excuse. Michael was clean through. With Michael's pace he is going to get away from him."

Ferguson was also incensed they were not awarded a spot-kick for a Carragher challenge on Michael Carrick.

"He has gone right over the top of the ball, " said the United boss.

"If it is outside of the box it is a free kick and maybe a yellow card.

"But it was inside the box and the referee was only six yards from it. It was another bad decision."

Ferguson did, however, conceded Liverpool were worthy winners.

"Liverpool were the better team and I am not taking anything away from them at all," he said.

"They deserved to win the game as it was a disappointing performance from us. We were not good enough."

Torres opened the scoring in the 65th minute with his ninth goal of the season and Ngog sealed the victory in stoppage time.

United remain two points adrift of Chelsea at the top of the table and Ferguson insists they will recover.

He added: "Part of the challenge is to get over disappointments. Last season we lost at home 4-1 to Liverpool which was a travesty but we went on to win the league."
---
OCTOBER 25
Rafa: United win
the perfect response

By Paul Hassall - LFC Official Website

Rafael Benitez hailed Liverpool's 2-0 victory over Manchester United as the 'perfect response' and urged his side to use the triumph to embark upon a winning streak.

The Reds brought a run of four straight defeats to an end with a dominant win against the Red Devils, leaving the boss delighted by his team's show of character in what was his 200th league match in charge.

"I am really pleased for the club, the players and the staff. We knew we needed to change our luck and it was a fantastic victory," he told his post-match press conference.

"Before we were talking about how it was maybe the perfect game to respond, and it proved to be the case. We needed to produce a performance against a good team in front of our fans and I think it was a fantastic performance from the players.

"It was important to score and to win, but it was also important to do it in the way we did, with the team defending well. They had some set pieces at the end but we defended well, so I am really pleased for Pepe and the defenders.

"We needed the three points for our confidence, so I think it will be a big boost for the team, especially because it is against a good side. The fans are delighted and you can see that the players are in the same mood. It is very positive, but we have a game in three days so we need to be ready.

"If we can keep the momentum, I am sure we a have good team that can win games in a row, but we have to try and win on Wednesday and then continue against Fulham.

"The players didn't want to lose. We wanted to win and show character and today was the perfect response."

After dominating throughout the first period, the Reds finally made the breakthrough courtesy of a sublime strike from the returning Fernando Torres.

Substitute David Ngog made sure of the points in stoppage time, but Benitez felt the opening goal was the crucial factor in Liverpool's success.

"There wasn't much difference between the teams," he said. "As always, the small details can be the difference between two big teams.

"Today they had one or two chances but I think we were on top of them from the beginning, and everyone was doing his job. When Torres scored the goal it made the difference.

"For me, the team was working hard and all the fans, from first to the last, were supporting."

Asked about his decision to start Torres, following the forward's injury, Benitez said: "It was a difficult decision because he was not training, just like Gerrard.

"We needed to decide what to do and talked with him. We decided it was better to start with him. You could see he wasn't 100 per cent fit.

"You could see he was not fresh, but sometimes 80 per cent of Fernando can make a difference.

"We knew he could score, but we knew he was not 100 per cent fit and had to take care of him. We were waiting to replace him, but we knew we had to time it right because we were doing well.

"He had two light training sessions leading up to the game. The main thing, was that he was working with the physios and the fitness coach to make sure he was not at risk.

"He wasn't a risk, so we chose to start with him."
---
OCTOBER 25
Reds stun rivals
to end losing run

TEAMtalk

Fernando Torres and David Ngog left Manchester United reeling as Liverpool halted their four-game losing streak with a 2-0 win at Anfield.

Liverpool boss Rafael Benitez had said prior to Sunday's Premier League game that one win would change everything, and what a result his team delivered to ease the pressure on the Spaniard.

The champions were eventually beaten after a stunning performance of defiance that followed days of the worst crisis Liverpool have suffered in decades.

If the critics were to be believed, boss Benitez was for the chop, Liverpool were all washed up and facing financial ruin.

Well not after this cracking Premier League battle. Liverpool restored their pride with a victory over, for them, the best victims possible.

Torres forced his injured frame through the game and grabbed his ninth goal of the campaign midway through the second half to get Liverpool really firing.

Ngog hit the second in stoppage-time, with the match at boiling point. United had by that stage lost defender Nemanja Vidic to his third red card in successive matches against Liverpool.

Javier Mascherano saw red too, but it was Liverpool who inflicted the second league defeat of the season on United to restore faith among their worried fans.

As expected, Steven Gerrard missed the match with a groin problem, but Wayne Rooney recovered from a calf injury to play for the champions.

Liverpool had Torres and Glen Johnson back after both missed the Champions League defeat to Lyon on Tuesday, while United also had Ryan Giggs, Patrice Evra and Michael Carrick back in their starting line-up. Michael Owen, facing his former club, started on the bench and on his introduction received a punishing reception from the fans who once worshipped him.

United's supporters made the most of Liverpool's recent misfortune. Beach balls, Eric Cantona masks and insulting banners were smuggled into the away section.

The banner that hurt most, no doubt, was "You told us to come back when we'd won 18 titles...well, we're back".

Watching on were co-owners Tom Hicks and George Gillett, sitting side by side in the directors' box, but not in the exposed front row.

The atmosphere was electric, the noise deafening, as Liverpool set about trying to restore their battered reputation.

Evra was booked after two trips on Torres in as many minutes, and from the free-kick Fabio Aurelio sent in a curled effort that Edwin van der Sar clawed away. It went straight to Dirk Kuyt, whose follow-up was also saved by his Dutch countryman.

Then Lucas robbed Paul Scholes and gave Kuyt another chance, this one guided wide of the far post.

Rooney, who had seen one effort disallowed for offside, rose to met an Antonio Valencia cross, but his header was held low to his right by Jose Reina.

United had better possession and hit Liverpool with pace and slick movement, but Van der Sar was again needed to plunge to his right to keep out an Aurelio header from Yossi Benayoun's cross.

Then Dimitar Berbatov was booked for a trip on Lucas, with the game finely balanced as the half ended.

Kuyt should have scored early in the second period when he was played in by Johnson, but he chose to pass rather than blast an angled effort, and the chance was lost.

Then Benayoun's touch sent Torres away on the right, but his lack of genuine pace following his groin problem did not see him shake off Rio Ferdinand, and again the opening went begging.

It then needed a block from Johnson on the far post to keep out Rooney's header from Giggs' free-kick.

But Liverpool were growing in confidence and they grabbed the lead after 65 minutes. Benayoun's pass sent Torres beyond Ferdinand, onside only by inches.

The Spaniard was not going to be denied this time. He held off the England centre-back and lashed a shot into the roof of the net. The roof almost came off Anfield too.

Mascherano was booked for a foul on Evra before Anfield had its first sight of Owen in a United shirt as he came on for Berbatov and Nani replaced Scholes after 74 minutes.

Owen's arrival was greeted with jeers and chants of "Where were you in Istanbul?" as well as "Once a Manc, never a Red".

Vidic was booked for a foul on Torres, and then after 80 minutes Torres could run no more and Ngog took his place.

Valencia saw a cross-shot clip the Liverpool bar and Owen was searching for any inch of space. He almost had a chance when he chased a through-ball, only to be hauled down by his good friend Jamie Carragher. The Liverpool skipper was booked.

With just a minute of normal time left, Vidic pulled down Kuyt as the Dutchman raced into an empty half. Red followed a second yellow, and the Serbian was sent off for the third successive game against Liverpool.

Three minutes into added time Mascherano was also sent off for a challenge on Van der Sar, the Argentinian's second yellow-card offence.

Then came the killer blow to United. Liverpool broke from deep defence, Lucas delayed his pass to sent Ngog away on his own and the striker slid the second past Van der Sar. Anfield, and Benitez, could finally celebrate.
---
OCTOBER 25
Reds fans protest outside Anfield

TEAMtalk

Around 1,000 Liverpool supporters staged a protest march against the club's owners Tom Hicks and George Gillett on Sunday.

Angry fans marched from Liverpool's Supporters' Club in Breck Road to Anfield ahead of their Premier League clash with Manchester United.

The supporters were voicing concerns about the management of the business and the amount of debt the club is in.

The US-based owners were also expected to be greeted with placards calling on them to quit Anfield as they took their seats in the director's box on the Main Stand.

Gillett had attended last Tuesday's Champions League defeat by Lyon where a large banner on the Kop claimed that fans had been lied to by the owners.

James McKenna, of the Spirit of Shankly fans group which organised today's march, said: "We want to say to Hicks and Gillett that they are not welcome at our club and they should sell up and go home.

"Obviously we have a massive game against Manchester United and we would all like to be focused on that.

"But the strength of feeling against the owners is such that we feel we couldn't let today go by without making ourselves heard."

Spirit of Shankly was also circulating an email which the group has sent to Mr Hicks.

The email claimed the owners had achieved little more than the winning the "hatred" of the fans.

It added: "All we care about is our football club, our history and traditions and our future.

"You will leave a black mark on the history of our football club.

"The broken promises and repeated lies have caused anger, and there is nothing you can do to change that.

"So do one thing for us fans. Leave. Sell the club, clear the debt, take the profit and go away."

Spirit of Shankly committee member Paul Gardner added: "They are the ones who put us into £245million of debt, promised us a new stadium that has not been built, took money out of the club to pay for their own expenses.

"We want the owners out now."

Liverpool FC has made no comment about the protests although it is understood there is an increased police presence at today's match.

A spokesman for Merseyside Police said the march passed off peacefully.
---