---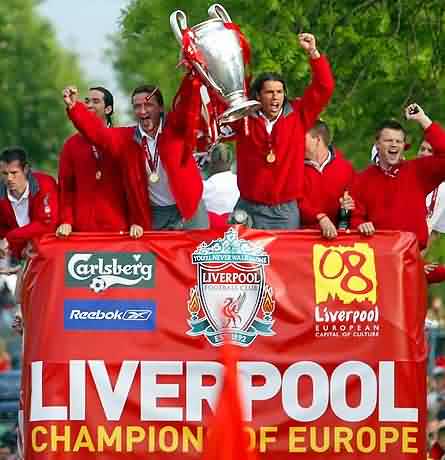 The men with the Cup wil truely both leave Anfield. (Photo: AP)
MAY 27
Lawro: Just the start for Kop Rafalution

By Football's number one expert Mark Lawrenson - Daily Mirror

A new Anfield era began in Istanbul on Wednesday night.

But Rafael Benitez knows this is only the start and there is still lots of work to be done to build a squad capable of domination at home and abroad.

Winning the Champions League was a fantastic achievement but it will be fascinating to see how many of those heroes from the Ataturk Stadium will still be at the club in a year.

Even the manager has admitted he has only half a dozen top-class players he wants to keep.

Remember this is a group of players which lost 14 times in the Premiership this season and would still only finish fourth in the next campaign unless more changes are made.

But the massive bonus of winning the Champions League in Benitez's first season is the boost it will give to this rebuilding.

It should allow him to keep Stevie Gerrard while also attracting other quality players to make the push into the top three and become a regular Champions League side.

It is so important not only because of all the money it will bring to a club still heavily in debt, especially if Liverpool are allowed to defend their trophy.

But top-class players will also now want to come to Anfield to play for the European champions.

The whole of Europe was talking about the atmosphere in the semi-final win over Chelsea. Now the whole world will have seen this amazing win. To show that spirit – and no little skill – in the second half was a great advert for the club.

Benitez has a long shopping list. He will be looking for a new goalkeeper, even though Jerzy Dudek was probably his best player in the final, a new centre-back, a left-back, another midfielder to play off the strikers and another striker if he sells Milan Baros.

But the Spaniard has to be careful over who he brings in from La Liga. Xavi Alonso has been a great signing, while we have still to see the best of Fernando Morientes. Luis Garcia has good and bad days.

But Benitez's worth to the club just grows. He has been there only a year and he has already won the biggest competition with a lot of ordinary players.

He has made some of them play even better than even they thought they could.

The way Djimi Traore performed in the first half, he wouldn't get in the Dog and Duck pub team on a Sunday.

But after the break, on the left side of a back three, he was a totally different player.

That was down to the manager.

He made a mistake with his original line-up but he had the 'balls' at half-time to solve the problems.
---
MAY 27
Benitez on his greatest team-talk

By Paul Eaton - LFC Official Website

Rafael Benitez has revealed how he spent the half time break in Istanbul convincing his players they were capable of the greatest European Cup final comeback of all time.

The Liverpool boss had to give the team-talk of his life to instill confidence into his shell-shocked players that they could recover from three goals down to take their place in Anfield folklore.

He admits his first thought was just to score a goal and put Milan under pressure, and he then went about devising the perfect tactical plan to make that happen.

"It was very difficult to go into that dressing room and see the players with their heads down. We talked about different things. We had worked very hard for ten days and we needed to fight to the end. You have to keep believing in yourself.

"We had fought hard to be in the final. I was thinking about what to say and what to change. I needed to change the system and we needed to be more aggressive. I had to give confidence to the players.

"The first thing I did was explain the plan to Didi. I wasn't thinking about winning then, only about scoring. If we did that then Milan's reaction could be very different. They were afraid and everything changed when we scored.

"I was last in the dressing room. I didn't hear Milan celebrate but Alex Miller did. He told the players they were celebrating winning the cup. That was a good thing for us."

Benitez's assistant Paco Ayesteran was full of praise for the tactical re-think which blew Milan away in the second half.

He said: "We were three nil down and had made three mistakes, but to solve the problem showed his capability.

"I have never seen him nervous because when you are nervous you cannot think clearly but to change the system was the key. Rafa is someone up thinks very quickly but it is difficult to think quickly and thing right. That shows his talent.

"We couldn't change things in the first half because of the problems with Harry's injury but he came up with a great solution at half time. Didi started winning the second ball and that became a great help."
---
MAY 27
Kennedy bows to new Reds history

TEAMtalk

The man renowned for two of the greatest moments in Liverpool's history believes even his own feats were eclipsed by the unforgettable occasion in Istanbul.

Former left-back Alan Kennedy will forever be remembered by Reds fans as the player to score winning goals in two European Cup finals.

Kennedy first gloriously stepped into the spotlight with the only goal of the match in the 1981 win over Real Madrid in Paris, and followed that three years later with the vital spot-kick in a penalty shoot-out triumph over Roma in their own Olympic Stadium.

Now 50, Kennedy was at the Ataturk Stadium to watch the drama unfold as AC Milan strode into a seemingly invincible 3-0 lead by half-time.

But the Italians reckoned without the tactical nous of manager Rafael Benitez, the passion and purpose of captain Steven Gerrard, as well as the spirit and determination of his team-mates.

Three goals in the space of six second-half minutes turned the match on its head, and after a remarkable double save to deny Andriy Shevchenko late in extra-time from Jerzy Dudek, it was the Pole who again emerged the hero in the penalties as Liverpool won 3-2.

On reflection, Kennedy said: "To re-iterate what the fans have been saying, it's probably the greatest night they have ever had.

"A lot of people I was sitting with [at the Ataturk Stadium] had seen me score the winning goal in '81, then in '84 after a penalty shoot-out which was nerve-racking.

"But I think this has eclipsed everything. I think it tops the lot because of the fightback and the spirit they showed in the team.

"It was Liverpool at their best, and I've never seen a team come from three goals down and show the character and commitment they did. Only a team like Liverpool, with that manager, could have done it.

"But Milan got complacent. They would have gone in at half-time and their manager would have told them to do what they had been doing, but they didn't. They fell asleep.

"Liverpool then went and produced the performance we had been hoping they would produce."

All the talk now surrounds Gerrard and whether he will still be at Anfield next season, although by his own admission, the England international midfielder believes there is no way he could leave.

"I think the fans would physically prevent him from leaving," added Kennedy. "But money can buy any player. If £100m was on the table...but it's what clubs are prepared to give and Steven Gerrard is one of the best midfielders in the country, if not the world.

"He was playing at right-back, tackling back and doing well. He is one of the most complete players and whatever people are prepared to pay for him it isn't enough.

"I'm sure Liverpool will not want to sell one of their assets."
---