---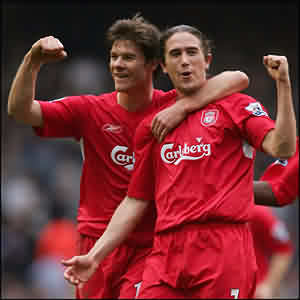 Kewell and Alonso celebrating. (Photo: Getty Images)
MARCH 28
Dramatic and passionate
- just what a derby should be

By Ian Rush - Liverpool Echo

After clenching my fist with delight after last weekend's derby, I've found myself shaking my head in bemusement at some of the articles I've read since.

You'd have thought the game was a blood bath judging by the number of cards shown, but that's far from the case.

It wasn't even a dirty game.

Besides, the day a derby lacks the kind of passion we saw at times at Anfield, we might as well stop getting excited by the game.

What makes the fixture unique is the level of intensity it generates. If everyone behaved like choir boys, there would be far more reason to be critical.

Over the years we've seen far more serious misdemeanours than we witnessed on Saturday. Even the sendings-off weren't due to anything malicious. You have to accept players will get caught up in the heat of the moment sometimes.

Imagine if some of the challenges which were typical of the match in the 1980s had been made at the weekend? How many players would have been left on the pitch.

Referee Philip Dowd didn't win many plaudits for his performance, and I think the accusation he was over-fussy is fair.

It was the first time he's refereed the game, and it showed.

Once the first yellow card came out, he lost it a bit and it seemed every indiscretion was punished. Sometimes, it's common sense to make an allowance for the occasion.

There were no disagreements with Steven Gerrard's sending-off, but there were plenty of other bookings which were petty and avoidable.

read Alan Stubbs' comments about players trying to get each other booked, and I have to say I agree with many of his observations.

However, the suggestion only Liverpool's foreign players were guilty of trying to get the opponents into trouble is wrong.

There were plenty of blue shirts chasing the referee to make sure Gerrard got his marching orders too.

This is a trend which has crept into the game and all clubs have their culprits, whether they're from England, Europe or everywhere else.

I've said before the only way to cut it out is for the PFA to become self-policing. When a player like Didier Drogba actually admits to diving, it's time for the union to take action rather than take a back seat.

I'm heartened to hear Drogba's actions have even provoked Chelsea's fans to make their discontent known. Maybe this is a taste of things to come.

If players feel their cheating is turning their own fans against them, they'll soon cut it out.

Despite all the fuss, I don't feel the referee's performance had any impact on the game.

The better side won, which was doubly pleasing for me since I'd bet on a 3-1 Liverpool win.

When Gerrard was sent off, I didn't think there was any chance that was going to happen.

Most credit should go to Xabi Alonso and Momo Sissoko for holding the midfield together, but also the manager for winning the tactical battle.

At 1-0, most managers would have urged his side to sit back and defend what they had.

Benitez continued to push men forward, and that certainly surprised Everton.

Liverpool were duly rewarded for keeping their positive approach, and they're now probably just a couple of wins from securing a top four place.

If Benitez leads his side above the 70 point mark, that will be a tremendous improvement on last season and offer the perfect platform for more success next year.
---
MARCH 27
Finnan clears skipper of red card blame

By Andy Gilpin - Daily Post Staff

Steve Finnan believes captain Steven Gerrard doesn't need to apologise to his Liverpool team-mates, despite him being sent off in Saturday's Merseyside derby.

The England midfielder was shown a second yellow card in the 18th minute for a tackle on Everton winger Kevin Kilbane, just seconds after entering referee Phil Dowd's book for kicking the ball away.

But despite the needless nature of the sending off, Republic of Ireland international Finnan says that his team-mates - who dug in to win the game 3-1 - don't want him to say sorry.

"Stevie was very quiet after the match," said Finnan.. "These games mean a lot to him and he is disappointed to have missed out on the victory.

"But he doesn't need to apologise. The first one was for kicking the ball away, but he looked like he got a bit of the ball for the second one. However the referee said it was twofooted.

"It's okay because he has got us out of trouble so many times in the past, he was just disappointed that it happened in a derby game."

Finnan believes Liverpool were content with a draw after Gerrard saw red, but Phil Neville's 45th-minute own goal which put them ahead gave them the self-belief they needed to go on and win the match.

"Maybe at 0-0 we may have thought we couldn't win it and would have settled for the draw," Finnan added. "But going in 1-0 up gave us the belief in our own heads that we could go on and win it.

"That goal was important. We were still causing problems with 10 men and the confidence we have got from our previous three wins helped us through."

Finnan believes that Liverpool were well worth their win, despite being reduced to 10 men so early on.

"We got the goals at really good times," he added.. "When we went down to 10 men, maybe we expected a little bit more from them, but I thought we deserved to win in the end. We fought really hard and showed a lot of character.

"It didn't really happen for them. They had been on a good run, but when they got the goal back, they started playing long balls and that wasn't a major problem. It is great to do the double over them and psychologically you can sleep well after a derby win."

Centre-back Sami Hyypia criticised referee Dowd for sending off Gerrard - believing the Staffordshire official was hasty in giving the Liverpool captain his marching orders.

Hyypia reckons Dowd didn't need to book Gerrard for kicking the ball away, but admitted the referee was correct to caution the skipper for the challenge on Kilbane.

"I don't know if the referee needed to give the first one against Stevie," he said. "The second one I don't think you can argue that it was a yellow card.

"But when he gave the first one so easily, maybe he could have let him off the second one.

"Stevie is a big leader of our team and he takes a lot of responsibility so it was up to the ones left on the pitch to take more responsibility. We did that.

"We needed to work hard and we did and at the end we are very happy," he added.. "Defensively, I really don't remember many chances coming along for them, and it wasn't their best day.

"We closed them down and got a lot of second balls."
---
MARCH 25
Benitez defiant despite Spurs anger

Ireland On-Line

Rafael Benitez has declined to apologise to Tottenham chairman Daniel Levy in the worsening row between Liverpool and the London club over the Djibril Cisse-Jermain Defoe saga.

The Liverpool boss claimed on Friday Spurs were "desperate" to sell Defoe, an accusation Levy immediately refuted, claiming he found Benitez's comments "beyond belief."

Levy added: "Not only are they completely untrue but it is unprecedented that any manager should comment in this way on another team's player. It could be interpreted as a direct and blatant attempt to unsettle Jermain."

But after watching Liverpool's 3-1 Mersey derby victory over Everton, Benitez was unrepentant and accused Levy of being "unprofessional."

The row has erupted because Liverpool claim Defoe has been offered to them and that Cisse has been linked in a swap deal, as well as a similar situation involving Manchester United's Louis Saha.

Now Benitez has declined to apologise and said: "The problem is that the Tottenham chairman is not professional, but I am professional.

"If you read in the papers last month you can see who first started talking about Cisse, who started talking about Defoe and Saha.

"The problem is I have a good memory and he cannot remember when he talks with agents about these things. But I can remember and I have talked to agents and they tell me what has been said.

"He talks with the agents and afterwards he cannot remember, but I remember because I am professional and he is not professional.

"I talk with agents and they tell me a lot of things, but he cannot remember what was said.

"He must think about what he said to agents. That is all I want to say, it is very clear."
---
MARCH 25
Rafa thanks fans after Derby win

By Steve Hunter - LFC Official Website

Rafael Benitez reserved special praise for the Liverpool supporters for helping lift his 10 man team to a 3-1 derby win over Everton and dedicated the victory to them.

The Liverpool manager said the support of the fans gave his team a great lift and felt they responded brilliantly to earn a vital three points, and a Premiership double over Everton this season.

"I must say thank you to our supporters and I am really happy for them because this was a massive win," enthused Benitez.

"To play with 10 men for most of the game at this intensity is difficult but the players worked so hard and deserved this win. We showed a lot of passion and Luis Garcia and Harry Kewell scored fantastic goals.

"We knew what to do with 10 men against a physical and a good team. Crouch played well up front for us and held the ball up well and he had good support from Harry and Luis. Xabi Alonso and Momo Sissoko controlled the midfield and we did a fantastic job as a team."

On the sending-off of Steven Gerrard for two bookable offences in succession Benitez believes his captain will learn from that.

"Steven was really disappointed with himself but really happy for the team," explained Benitez.

"He is a player with a lot of passion and always plays with 100 per cent commitment but sometimes you need to use your brain as well as your heart. It was a mistake and he gives the team a lot of things and he can learn for the future."
---
MARCH 25
Kewell hails 'massive' victory

TEAMtalk

The hosts overcame the early dismissal of captain Steven Gerrard to take the lead through an own goal from Phil Neville on the stroke of half-time.

Luis Garcia doubled the advantage just after the interval before Tim Cahill pulled one back with a header from a corner.

Everton had Andy van der Meyde sent off on a busy day for referee Phil Dowd, with Kewell completing the scoring with a spectacular strike.

Kewell told PremPlus: "It was a massive achievement for us and the fans. We knew we were up against it from day one with 11 men before the sending off.

"We knew it would be tough but we pulled though."

He added: "It was crucial for us to score the first but we stung them with the quick second, although they came back well."

Liverpool midfielder Xabi Alonso believes Gerrard's sending off changed their approach to the game.

"It changed the game because we defended more," the Spain international added. "He was disappointed but in the end we won so that is the most important thing."
---
MARCH 25
Reds keep up derby dominance

By Mark Buckingham - Sky Sports

Liverpool battled to a 3-1 victory over Everton in an ill-tempered Merseyside derby at Anfield.

The Reds had captain Steven Gerrard sent off early in the first half, but were in front at the break following a Phil Neville own-goal and quickly made it 2-0 through Luis Garcia.

Tim Cahill headed in a reply for The Toffees, who then had substitute Andy van der Meyde dismissed, before Harry Kewell's stunning strike settled a bitty encounter, punctuated by a plethora of yellow cards.

The first half was a textbook derby, as football took a back seat to a series of crunching tackles and prolonged periods of scrappy play.

Though Liverpool applied the early pressure, Everton had two good openings inside the first 10 minutes, with both falling to Cahill.

Firstly, the Australia international could not get a clean contact when spinning to shoot at Jose Reina and he then lashed a volley wildly into the side-netting from a tight angle after latching on to James Beattie's flick-on.

Cahill continued in the thick of things by picking up a booking for a poor challenge from behind on Gerrard before the Liverpool captain endured a minute of madness.

He was booked for kicking the ball away, after Xabi Alonso had brought down Kevin Kilbane, and he compounded his petulance barely 60 seconds later.

With The Reds still defending the set-piece, Gerrard lunged recklessly, and needlessly, into a tackle on Kilbane, leaving referee Phil Dowd with no option but to produce a second yellow card.

The standard of football only deteriorated from there, as Alonso was cautioned for a high tackle on Neville, while Alan Stubbs and Kewell had their names taken after jostling in the area whilst awaiting a free kick.

Respite from the dirge came at the end of the first half when Liverpool took the lead from a second corner, after Alonso's drive had originally taken a nick off an Everton defender.

The Spaniard whipped in the set-piece from the right and, in attempting to clear his lines, Neville only succeeded in diverting his header beyond Richard Wright at the near post.

The half-time interval only served to invigorate the home side, as Rafa Benitez's men added a second goal just two minutes after the restart.

Jose Reina's punt downfield was glanced on by Peter Crouch. Garcia nipped in ahead of the static Gary Naysmith before lofting a precise shot over the onrushing Wright.

Everton initially struggled to get a foothold in the contest and manager David Moyes was contemplating a triple substitution when The Toffees pulled one back on 61 minutes.

Leon Osman curled in a corner from the left and Cahill stole in unmarked to head the ball inside the far post to hand Everton hope.

That was almost extinguished on 67 minutes when, after David Weir had been booked for bringing down Mohamed Sissoko, Alonso crashed the resulting free kick against the crossbar.

Moyes then introduced Duncan Ferguson and van der Meyde, but Everton could have fallen further behind amidst their reorganisation, only for Garcia to fail to get a clean shot in when the ball broke kindly to him six yards out.

The Toffees were starting to wobble and hesitation from Weir allowed Kewell to forage forward, as the Australian's stinging drive was superbly pushed away by Wright.

Van der Meyde's impact lasted just six minutes and was only negative from Everton's point of view when he was sent off, perhaps harshly, for catching Alonso in the face with a leading arm, with intent not seemingly at the forefront of the Dutchman's mind.

Alonso was the architect, momentarily, of a third Liverpool goal on 78 minutes when his swirling free kick from range found its way into the net, possibly via a blond hair belonging to Sami Hyypia, but Crouch was penalised for offside and Everton breathed again.

The reprieve was brief, though, as Liverpool scored a deserved third goal on 84 minutes. Kewell collected a pass from Steve Finnan 25 yards from goal and let fly with a rip-snorter of a shot which flew past a helpless Wright.

Garcia was denied by Wright late on as Liverpool finished strongly, while Moyes will be bitterly frustrated by his team's inability to capitalise on playing against 10 men for a 55-minute spell.
---