---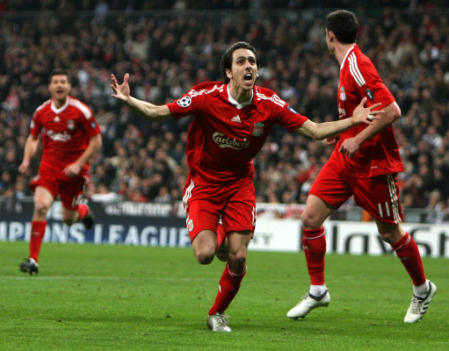 Yossi Benayoun celebrating his winning goal at Madrid.
(Photo: PA Photo)
FEBRUARY 27
Liverpool are officially
the top ranked club in Europe

By David Prentice - Liverpool Echo

Wednesday night's famous victory in the Bernabeu has sent the Reds to the top of UEFA's ranking system for the first time since 1985.

Based on performances in European competition over the past five years, the complicated system awards points for matches won and quality of opposition.

The victory in the Bernabeu has seen the Reds overtake Chelsea at the top of the table, with Barcelona third and AC Milan fourth.

Liverpool's five year record under Rafa Benitez – who arrived at the club in the summer of 2004 – has been phenomenal.

In his five years the Spanish coach has won the Champions League, taken his team to another final, reached last season's semi-final and got to the last 16 in 2006.

It's a record of unparalleled consistency in recent times.

Even when the Reds won the Champions League in 2005, their ranking for the season put them second behind AC Milan, while their five year record left them in fifth behind Barcelona, AC Milan, Valencia and Real Madrid.

This is the first time the Reds have topped the co-efficient rankings since 1985 when the European ban was imposed, effectively asking them to start their ranking points tally from scratch.

Liverpool also have the highest ranking for this present season with (18.1775 points) closely followed by Bayern Munich, who handed out a 5-0 demolition at Sporting Lisbon on Wednesday night.

UEFA's latest rankings: 1 Liverpool FC (114.077), 2 Chelsea FC (110.077), 3 Barcelona (109.403), 4 AC Milan (109.306), 5 Arsenal (101.077), 6 Sevilla (100.403), 7 Man Utd (99.077), 8 Bayern Munich (93.664), 9 Lyon (90.576), 10 Inter Milan (87.306).
---
FEBRUARY 26
Reds duo urge Rafa stay

By Chris Stanton - Setanta Sports

Liverpool's players have urged the club to end the uncertainty over Rafa Benitez, with Albert Riera and Javier Mascherano both revealing that it was the presence of the Spaniard that persuaded them to join the Anfield club.

Several bookmakers suspended betting on Benitez leaving Liverpool on Wednesday amid suggestions that talks over a new contract for the former Valencia boss had once more hit an impasse.

Benitez's stock rocketed once more though just a few hours later when he masterminded a 1-0 win for The Reds at Real Madrid.

Riera admits the players are aware of the upheaval behind the scenes.

"We are aware of the dispute over his contract. But it is not something we were talking about in the dressing room, the match took up all our thoughts.

"Of course we want Rafa to stay. I wanted to play for Liverpool and he was a very important person in achieving that for me.

"Not only for me but for the other players too, we all want Rafa to be with us. If you asked everyone, 100 percent they would say they want Rafa to stay with us."

Mascherano added: "The manager brought me to Anfield, he has done a very good job here.

"We can get to the quarter finals again and he has shown that against the top sides like in Barcelona, at Inter Milan last season and now at Real Madrid he is a very good coach for us.

"We are always a team who works very hard and every Liverpool supporter has to be very happy with this. Every player gives everything for the club.

"He is important for me. When I came to Liverpool I did not have any confidence after being at West Ham.

"The manager gave me that confidence. The only thing I can say to Rafa is thank you, he helped me during a bad moment in my career and now I try to do everything for my team and for him.

"I cannot say what is going to happen, but with him Liverpool is doing a great job. If we want to keep going in the Champions League and Premier League it is important to have him with us."
---
FEBRUARY 26
Benayoun: G-force will
carry Reds through

ITV Football

Goal hero Yossi Benayoun believes Steven Gerrard's return will ensure Liverpool reach their fourth Champions League quarter-finals in five years under Rafael Benitez.

Benayoun headed the late winner against Real Madrid to stun a vast Bernabeu crowd in Wednesday's first leg of their last-16 tie.

If Liverpool do march on to the last eight, it will be the 14th time they have reached the stage of the competition formerly known as the European Cup.

Benayoun's fourth European goal for the club - he converted Fabio Aurelio's free-kick in the 82nd minute - ended a night in which Liverpool's disciplined performance made them deserved victors.

Now Benayoun awaits with relish the return of captain Gerrard to the fray for the second leg on March 10.

The England midfielder was risked for only the final minutes in Madrid because of his recent hamstring problem.

Benayoun said: "I was delighted to have scored, but the most important thing for us was the win. It was the perfect result, a clean sheet and an away goal.

"It was hard against Real, they have great players and it is a difficult place to win. But we achieved our objectives.

"Now we have great confidence for the second leg at Anfield, we will have the fans behind us and Steven Gerrard will be fit by then. We all believe now that we can reach the quarter-finals.

"It is easier when Steven is playing, so we had to work extra hard to cover for his absence, which is not an easy thing to do.

"He is the most important player in our squad. But we did do the job well.

"We were facing a Madrid side who had been in outstanding form, this has been a key time for them in their season.

"So that makes the victory even better. We believe we can finish the job, and we will have Steven back for the second leg."
---
FEBRUARY 26
Robben hopeful of
Madrid comeback

By Mike Perez - PA Sport, Madrid

Real Madrid winger Arjen Robben is confident his Champions League dreams will not fall foul of Liverpool yet again despite their home defeat to Rafael Benitez's men.

Madrid have been left with a mountain to climb if they are to avoid being dumped out at the last-16 stage of the competition for the fifth successive season after going down 1-0 to Liverpool in front of their own fans.

Yossi Benayoun scored the only goal of a closely fought first leg in which there were precious few goalscoring opportunities for either side as defences largely kept their opponents at bay.

Robben, who had arguably Madrid's best effort in the second half when his thunderous 25-yard strike was palmed over by Jose Reina, has not given up hope of his side progressing, and in the process avoiding another European exit at the hands of the Reds for the Dutchman.

Robben was part of the Chelsea side that was eliminated by Liverpool at the semi-final stage in both 2005 and 2007, but he has faith it will be third time lucky on this occasion.

"We have to go to Anfield and give it everything. We don't have anything to lose and we are going to go there confident of getting through the tie," he said.

"I'm sure we can be in the quarter-finals."

Robben knows from bitter experience how hard it is to get a positive result at Anfield.

In 2005 Chelsea lost 1-0 there after being held goalless at home, while in 2007 the London outfit were again defeated 1-0 having led by the same scoreline from the first leg, and were subsequently knocked out 4-1 on penalties - Robben missing his side's first spot-kick.

"The situation now is difficult, because we wanted to win this game," he added on his club's website.

"They are an English team, which means they are very strong, especially at a tactical level. They closed up the space very well and scored a goal. It will be difficult, but in the return match we are going to try and turn the tie around.

"To get a good result at Anfield we have to move the ball very quickly and try to create as many chances as possible.

"They have done very well. They have not left any spaces because they wanted to keep a clean sheet.

"They are tactically very strong, and although I do not really like the way they play it is always effective.

"They are a stronger team at home and it will be difficult to beat them, although we can do something big there."
---
FEBRUARY 26
Benitez clears up
Gerrard confusion

By Ben Blackmore - Setanta Sports

Rafa Benitez has revealed Steven Gerrard so nearly started Liverpool's 1-0 victory over Real Madrid on Wednesday.

Gerrard eventually started on the bench at El Santiago Bernabeu, playing only a handful of minutes as Benitez adopted a cautious approach to the recovery of his skipper's hamstring.

However, the Liverpool boss admits he had still planned to start the Liverpool number eight as close as an hour before kick-off, eventually settling for having his skipper on the bench.

Benitez explained to the club's official website: "Clearly Stevie needed to do a special warm-up in the dressing room with the physios.

"Afterwards he was doing the normal warm-up with the other players. He needed to do something special beforehand but still he was not fully fit.

"We knew it could be a problem so, after talking with the doctor and the player, it was decided he could play maybe a few minutes at the end."

Liverpool now hope Gerrard can start the weekend's trip to Middlesbrough, where Fernando Torres is almost certain to miss out with an ankle problem.
---
FEBRUARY 26
A Real reason to back Benitez

Comment by Ben Blackmore - Setanta Sports

Without a shadow of a doubt…Rafa Benitez has become taken for granted.

Taken for granted by the media (to a ridiculous extent) and, judging by reaction to yesterday's departure rumours, taken for granted by some of his own fans.

Last night Liverpool went to the home of the biggest club in world football, the home of the nine-time European Champions, the home of 'resurgent Real Madrid', without Steven Gerrard, and they made them look very ordinary.

I would like to stress the 'made them look ordinary' part of that last sentence. For if you listened to an extremely familiar voice during Wednesday's match, you would think Madrid had beaten themselves.

This was a Madrid side who has scored 10 goals in the last two games, a Madrid side that boasted 13 goals-in-23 games Raul alongside 14 goals-in-21 games Higuain, supported by one of the world's top three widemen Arjen Robben.

But while Real's terrific trio barely made any impression throughout 90 minutes, all we heard was how 'disappointing' Madrid were, how 'average' they looked.

Funnily enough, the same was said of Inter after Liverpool silenced The San Siro in equally comfortable manner last year.

Has it ever occurred to anyone that maybe it is Benitez and Liverpool who are making these teams look average? I suggest you watch Wednesday's victory again, and imagine you're a Madrid player. Look how few options each man has every time he receives the ball, look how little time each man has as Mascherano and co snap away.

The case in point is Arjen Robben. Once or twice he inevitably broke free – he is a class player after all, but in the main he was forced inside by the excellent Fabio Aurelio, where Mascherano and Riera were always ready to nip the ball off his toes. It was military stuff, led by Lieutenant Benitez.

Five years ago, in the season before Benitez took charge at Anfield, Liverpool were slumping out of the Uefa Cup fourth round to Marseille with Igor Biscan committing his usual clown impressions in defence.

Now, under Benitez, The Reds dismiss the cream of Europe's crop every season with so much ease that they barely get the credit they deserve.

Joe Cole even went as far as to label Liverpool the one team that NOBODY in Europe wants to play, yet it seems every European win nowadays is only used as extra ammo to attack Benitez's inability to catch Manchester United.

Compare the reaction to Liverpool's away win against Bayer Leverkusen back in 2005 with Wednesday's win in Madrid. Glory European nights are being taken for granted.

You even hear fans saying "we're not interested in the Champions League, we want the Premier League". Yes the league is priority, but who on earth do these fans think they are to be so blasé about club football's greatest trophy?

Benitez is taking Liverpool closer and closer to the title but, until he reaches the Holy Grail, why not sit back and enjoy the sheer volume of glory European nights that no club can rival in the past four seasons? The Reds are extremely fortunate to have him.

Newcastle should be an example to everyone here. A portion of their 'supporters' hounded Sir Bobby Robson out of the club after a slow start to a season – despite the fact he was constantly delivering top four or five finishes for the club. Now they can only dream of playing Madrid, let alone beating them so comfortably.

Liverpool were heading for similar anonymity before the arrival of Benitez. His departure could very well lead to a return to those dark days.
---
FEBRUARY 26
Benitez confident
over Anfield contract

The Irish Times

Rafael Benitez is confident of making progress in discussions over his Liverpool contract after last night's 1-0 Champions League last-16 first-leg victory over Real Madrid.

Yossi Benayoun's late header at the Bernabeu put the Reds in pole position to progress to the last eight and Benitez was swift to dismiss speculation he had been ready to quit Anfield.

The Spaniard said: "My lawyers and advisors have been talking to the club's owners over the past few days about the contract and I believe that problems we have can be overcome.

"I was very surprised to hear rumours that I was going to resign.

"I can assure you that I have not been considering such a move, and it was a shock to hear such suggestions.

"It needs to be clear that I was not thinking of resigning. My aim is to keep working and winning and to tell the owners that on the pitch."

Benitez has been locked in talks with owners George Gillett and Tom Hicks over a new four-year deal for several weeks.

And he strenuously refuted claims he was considering his position, reiterating he is happy at the club.

"I expect talks to continue between my lawyers, my advisors, myself and the owners," added Benitez.

"I am really pleased with my position at the club, I have not been thinking about resigning.

"My aim is to win every game that is possible for this club, and my advisors will continue to talk. We will see what happens then.

"We are still talking, so we will see what happens in the future.

"I was not thinking about resigning, obviously I cannot control other things that I could be fired, but I was just concentrating on the game.

"The club has made it clear this rumour was not true. That is important for everyone. Stability is the key if you want to be successful.

"And the players were able to do their talking on the pitch, not beforehand."
---
FEBRUARY 25
Benitez baffled by quit rumours

Sporting Life

Liverpool manager Rafael Benitez has insisted he was unaware of rumours he was about to leave Anfield.

The Spaniard was speaking after watching Liverpool beat Real Madrid 1-0 in the first leg of their Champions League last-16 clash, with Yossi Benayoun scoring the only goal.

Referring to the speculation about his future, Benitez told Sky Sports: "I didn't know, I was talking with my friends here in Spain and concentrating on the game."

Asked if there was any truth in the rumours, he said: "No, clearly I was thinking about the game.

"There are important games coming up and I want to concentrate just on the games, and I'll keep in touch with the owners."

Benitez has so far refused to sign a new contract and is demanding total control over transfers.

Liverpool defender Jamie Carragher also dismissed the speculation about the Spaniard.

Carragher told Sky Sports: "I got a text message about it but Liverpool have created a lot of rumours over the years and that's another one. It was a rumour and there's nothing in it."

Earlier on Wednesday, Liverpool sources felt moved to respond to claims that bookmakers have suspended betting on Benitez's future.

A source close to the club said: "Rafa is not going to be sacked, such suggestions are ridiculous.

"We are aware of the rumours and speculation that has been buzzing around in Madrid but it is just not true."

Support for this view, enflamed by on-going contract negotiations, has come from one of Benitez's closest confidants.

Leading Spanish journalist Guillem Balague is a personal friend of Benitez and has dismissed claims the Liverpool boss is about to be axed.

On his website, Balague wrote: "There are reports that betting has been suspended on this particular market and the rumour that Benitez will be gone has spread like wildfire around the Liverpool supporters out here in Madrid and on the internet.

"If I am honest, I am not entirely comfortable indulging in these stories at the moment as there is so much misinformation being spread around that it is impossible to respond accurately to every single report or rumour.

"However, because of the number of people who are getting in touch with us, I feel I should respond.

"I can say with absolute certainty, categorically, that Rafa Benitez will not be sacked as manager of Liverpool this evening and that these rumours are not true.

"At the moment, the situation is delicate, and there have been developments with regard to the ongoing contractual negotiations at Anfield, and this is something that we will discuss later."
---
FEBRUARY 25
Carra: Yossi goal is massive

By Jimmy Rice - LFC Official Website

Jamie Carragher labelled Yossi Benayoun's late header 'massive' after Liverpool left the Bernabeu with a 1-0 advantage.

The Israel captain nodded home a Fabio Aurelio free-kick on 82 minutes to give the Reds a priceless away goal.

The sides will reconvene at Anfield in two weeks, when Juande Ramos will have no option but to send his men out to attack.

Captain for the night Carragher said: "Away goals are massive in Europe and that means they've got to get one now in the second leg. Hopefully if they come at us it'll give us more space and make it easier.

"We have done well in this competition by being organised. We are one of the best organised teams in this competition. That's why we've done well in the last few years and we've done it again tonight.

"That's just what we came for - a clean sheet and an away goal. But it's only half time, you know. They know what they've got to do and that's come to Anfield and score, so it's still game on."
---
FEBRUARY 25
Yossi the giant for Reds

By Alex Livie - Setanta Sports

Liverpool put one foot in the quarter finals of the Champions League with a 1-0 win at Real Madrid on Wednesday.

The Reds nullified the threat of the Spanish giants and secured a vital away goal when Yossi Benayoun popped up to head home with nine minutes remaining.

It was a polished defensive display against a Real side lacking any bite and they secured the added bonus of an away goal to take back to Anfield in a fortnight's time.

Real will have to find some attacking sparkle in the second leg if they are to stand any chance of progressing, but their January signing Klaas Jan Huntelaar is ineligible.

The Spaniards' only real threat came through Arjen Robben who has a penchant for cutting in from the right onto his left foot and he is pretty good at it. He proved the point five minutes in when driving inside and releasing Raul who had got away from Martin Skrtel but his shot had no punch and was easily saved by Jose Reina.

Real dominated possession and territory in the opening quarter hour and Liverpool nearly shot themselves in the foot as Albert Riera gifted possession to Higuain, but he lacked conviction and Javier Mascherano got back to make a saving tackle.

It took Liverpool 20 minutes to fashion a chance and what a chance it was. Real made a complete mess of playing the offside trap and this allowed Fernando Torres to sprint clear and unleash a powerful drive, but Spain international star Iker Casillas was equal to the effort with a fine diving save.

The offside trap looked an alien concept to Real who got it hopelessly wrong again to allow Benayoun a sight of goal, but Casillas raced off his line to make a smothering save.

Despite looking far from secure at the back, Real dominated the ball and Higuain had the ball in the net on the half-hour – but his close-range header from a corner was rightly chalked off for offside.

For all Real's possession, they were restricted to efforts from distance although The Reds survived a scare five minutes from half time when a cross from Robben took a wicked deflection and Reina did well to adjust and make the save.

Xabi Alonso has scored some memorable goals in his time with Liverpool and he nearly bagged a stunner on the stroke of half-time. The schemer picked the ball up in his own half and spotted Casillas off his line and fired a long-range chip. It was perfectly executed, as it would have dropped just under the bar, but the keeper got back with a full-length dive to tip the ball over.

The second half followed a similar pattern to the first, with Liverpool seemingly content to allow Real plenty of possession and being extremely comfortable in dealing with the threat.

Robben was Real's most potent attacking threat and he was denied by a fine save from Reina with 20 minutes remaining. The Dutchman picked the ball up after his fellow countryman Dirk Kuyt had failed to win a free kick, drove forward at pace and, for once, direct to goal. He flashed a swerving effort which looked destined for the back of the net, but Reina did superbly to tip the effort over the bar.

Liverpool seemed content to take a 0-0 draw back to Anfield, but they were given a helping hand in securing an away goal nine minutes from time.

Gabriel Heinze committed a needless foul wide on the Liverpool's right, Aurelio delivered the ball into the box and Benayoun climbed unopposed to head home from six yards.

Liverpool saw out time to secure the win, with the only sour note being Torres' departure on the hour with an apparent ankle injury.
---