---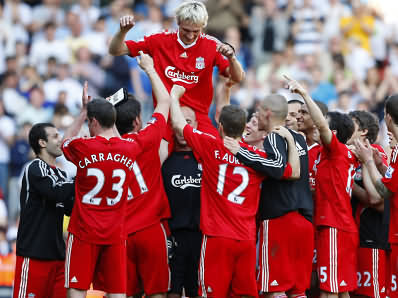 Bye, bye Sami - and welcome again...
MAY 26
MARK LAWRENSON:
Hyypia head and
shoulders above the rest

Liverpool Daily Post

Sunday was all about Sami Hyypia – and that's probably the only time in his 10-yerar Anfield career you could say that about the man.

And that says it all when you consider the selfless, unspectacular and consistent way he has gone about his business in the past decade.

Everyone's reaction confirmed that – and the one that I thought was most significant was Pepe Reina's. It sums up the impact Hyypia has made on Merseyside.

It was as if the Spanish goalkeeper was thinking about when he first came to England, and he was struggling to settle in.

Hyypia probably looked after him and saw him through many of those early games to help him find his feet.

Sami has played a major part in making Reina the player he is today and he was only too happy to acknowledge that by hoisting him on to his shoulders at the end of the victory over Tottenham that secured the runners-up spot.

Popular with players and popular with managers too.

For Rafael Benitez to come out and say that there will be coaching role open to Hyypia in the future after his playing days with Bayer Leverkusen end just shows the esteem he is held in.

It's rare Benitez would publicly commit himself to any appointment but there is clearly an infectious and irresistible charm to Hyypia that even the most ruthless of coaches can't resist.

And talking of managers, surely Hyypia has to go down as Gerard Houllier's best signing? One to debate maybe.

But the thing that is to Hyypia's greatest credit is that he has acquired this status without shouting and screaming the place down.

He has never struck me as being particularly vocal yet he has always come across as a leader. Which is a mark of class – he has led by example.

His ability in the air has always been obvious but there's also been a calmness in possession and ability to read the game which always stands out.

It's just a shame it was Sami being lifted above the heads instead of the Premier League trophy and he will be sad that his last chance to win a league title medal has gone.

But that doesn't make it any less of a glorious career in English football.

Just one moan about the whole send-off though. As we watched the huge 'Sami' banner on the Kop when getting ready for Sunday's Match Of The Day, me and Lam Hansen couldn't help but feeling a bit hard done by.

After all when we left Liverpool all we got was a cup of tea and wagon wheel!

Mark Lawrenson was talking to NICK SMITH
---
MAY 25
Benitez's five-year plan for Liverpool FC
is dependent on next five weeks

By David Prentice - Liverpool Echo

It's taken Rafael Benitez five years to close the gap at the top of the Premier League. At the end of his first full Anfield season the Reds were a cavernous 37 points behind runaway champions Chelsea.

Now they're the equivalent of turning a couple of home draws into victories behind Manchester United.

Whether Benitez can close the most difficult gap of all, however, could depend on the next five weeks.

After the competitive action came to a predictably uncompetitive end at Anfield yesterday, attention instantly switched to the identity of the men the Liverpool manager seeks to bring in this summer.

And perhaps even more importantly, who he lets go.

"No names, today, please" he grinned, as soon as the first transfer related query was directed his way after the 3-1 defeat of Tottenham.

But evidence that Benitez was thinking of the future had already been presented in his extended look at the Martin Skrtel-Daniel Agger central defensive axis.

Touted as the club's future central defensive partnership, the pair have not started a match together before.

But with Alvaro Arbeloa injured, Benitez ignored the sentimental claims of Sami Hyypia – and the increasingly insistent demands of The Kop – to scrutinise the young duo for almost the entire afternoon.

It was the 83rd minute before Big Sami was called for his emotional swansong.

Even then, it was Steven Gerrard who was asked to make way, with Agger and Skrtel remaining in situ until the final whistle.

But it was difficult to form too much of an opinion of their future prospects against a demotivated Tottenham.

"Liverpool were a bit end-of-seasonish," said Harry Redknapp. "If we'd have upped the tempo there's a chance we could have gotten something here today.

"I told them at half-time, listen we've got to raise our game here. Fulham are getting beat. But we were a little bit short."

That certainly applied to their forward line.

Spurs turned to all four international strikers during the course of an afternoon that started slowly and picked up pace as the match wore on.

But Pepe Reina only had a couple of long range shots to field before, ironically, it was Robbie Keane who found a way past him for the first time this month.

Keane had taken 17 minutes before he even touched the ball, and his most meaningful moment of the first 45 minutes was an embarassingly miscued volley.

But he finished clinically enough when he found himself clean through in the 76th minute – and after being ignored by the home fans all afternoon – a fate perhaps even more cutting than being booed – his respectfully muted celebrations brought appreciative applause from The Kop.

The most insistent calls from the home fans, however, came in the demands for Sami Hyypia to be introduced.

Rafa's reluctance stressed that his thinking was focused very much on the future rather than the past.

"I was waiting for the last minute," he explained somewhat puzzingly afterwards. "I thought that was best for the fans. I thought the last minute would be perfect, but the fans were pushing, pushing . . . so we brought him on for Gerrard so he could have the armband."

Sami Hyypia most certainly will not be at Anfield next season.

Whether Xabi Alonso follows him out of the Anfield exit door remains to be seen.

The Spaniard had a quiet game yesterday, and his influence on the Liverpool squad is worthy of an article all of its own.

But, for now at any rate, Benitez was adamant that the 27-year-old is not for sale.

There has been plenty to admire in this second half of the season.

An unbeaten home league record for the first time in 21 years was secured; a more adventurous, ambitious attacking policy which saw the season end with 77 goals and the best goal difference in the country – in all four divisions – was completed.

And there were no unecessary injuries to worry about – with fingers crossed now that the pointless Confederations Cup brings no unwanted surprises this summer.

Fernando Torres and Steven Gerrard are clearly pivotal to Liverpool's future prospects.

Yesterday was only the 14th time this season the pair have started together.

And Torres' headed finish from a Dirk Kuyt cross was pivotal.

But, so, too could be the next few weeks.

Manchester United have won the last three Premier League titles, but the margin of victory has been progressively smaller.

It was 21 points in 2007, down to 11 last season – now just four points remain between the North-West rivals.

This could be a very interesting summer.
---
MAY 24
Boss: It's been
a bittersweet season

By Jimmy Rice at Anfield - LFC Official Website

Rafa Benitez admits it has been a bittersweet season for Liverpool despite a record points haul in the Barclays Premier League.

The Reds lost just twice in accumulating 86 points but it wasn't enough to overhaul champions Manchester United.

And after Sunday's 3-1 victory over Spurs, Benitez spoke of the 'challenge' facing Liverpool in the transfer market this summer as they seek to go one better in 2009-10.

"It's both pride and disappointment," the boss told reporters. "We have to be proud because when you talk about 86 points, it's massive. But still it's not enough to win the title. Clearly we have to improve and be almost perfect if we want to win the title.

"It's not just United. You see Chelsea, you see Arsenal, and I'm sure Aston Villa, City and Tottenham will be better in the future.

"We have only lost two games in the Premier League and five or six in all competitions. It's not easy ending the season without a trophy with these numbers but the Premier League and England is very difficult. We still have to improve, but clearly we have improved a lot.

"We have to now keep the same level as this season, the consistency. You can talk about the draws but also we've won a lot of games at the end. We need to be more ruthless from the beginning.

"It's a challenge for us now to sign the right players, start the season like we did this one and not make mistakes."

Asked whether Xabi Alonso would be a Liverpool player next term, Benitez added: "Xabi has three years on his contract and we're really pleased with him. We do not want to sell. He is not for sale. He says he's happy here in Liverpool. He says it to you in every single interview and press conference.

"We have some ideas for the summer without losing any key players.

"We want to keep key players, the spine of the team. If we want to do business we can do it with other players. It's not a question of selling players we don't want to sell."

The summer may have arrived but there is no respite for Liverpool's Spanish contingent, who play in the Confederations Cup in South Africa from June 14.

Benitez added: "They have to play, so I will not be happy watching the players all round the world this summer. They will need a rest after these games.

"You need a rest at the end of the season, especially in England where you play a lot of physical games."
---
MAY 24
Rafa's tribute
to 'idol' Sami

By Jimmy Rice at Anfield - LFC Official Website

Rafa Benitez claimed Liverpool were losing an 'idol' after Sami Hyypia's tearful goodbye in front
of the Kop.

The 35-year-old came on wearing the captain's armband for his final five minutes at Anfield as the Reds secured second place with a 3-1 victory over Spurs.

Hyypia then broke down before being held aloft by his teammates as the Kop sang his name.

"I am really pleased for him but a little bit sad because we're losing a fantastic professional, a good player and a good person too," said Benitez.

"I told him before the game I wanted to wait until the last minute, but the fans were pushing. At the end it was better (that he came on earlier than the last minute) because he almost scored.

"I was thinking about him coming on in the last minute and all the fans applauding him until the end.

"It has been 10 years and he's an idol here with the fans. Everyone loves him because he's been so good."
---
MAY 24
Sami signs off in style for Reds

TEAMtalk

Liverpool claimed runners-up spot in the Premier League and denied Tottenham European football after a 3-1 victory at Anfield on Sunday.

Their unbeaten home stretch was extended to 30 games as Sami Hyypia bid a tearful farewell to Anfield after 10 years at the club.

The ovations were for the veteran Finn and a Liverpool side who had pushed Manchester United all the way in the title race.

Their goals came from Fernando Torres, Yossi Benayoun and an own goal from Alan Hutton, with Robbie Keane scoring for Spurs on his return to Anfield.

Spurs, even though Fulham lost at home, could not take advantage and will not be in the Europa League next season.

Boss Rafael Benitez left out two defenders who had played in the win at West Brom last week but veteran Hyypia was not in the starting line-up.

A packed Anfield, who sung the Finn's name at every opportunity, would no doubt have liked to see the 35 year-old on from the start before he leaves to join Bayer Leverkusen but it was not to be that romantic a day.

Out went Alvaro Arbeloa, Lucas Leiva and Emiliano Insua, with Fabio Aurelio, Xabi Alonso and Martin Skrtel back in the starting XI.

Spurs were without defender Jonathan Woodgate (groin) and Tom Huddlestone (knee), while Roman Pavlyuchenko was back on the bench. Alan Hutton, Gareth Bale and Didier Zokora returned.

Hyypia's name echoed around the stadium beforehand and there was a new, giant flag in his honour on the Kop.

But, ever the perfectionist, Benitez used both Daniel Agger and Skrtel in central defence with Jamie Carragher at right-back, as Liverpool tried to pin down the one point needed to be certain of runners-up spot.

They started at great pace, with Steven Gerrard firing over with a hooked shot from 25 yards, while Benayoun fired over from close in after Dirk Kuyt's header down.

Spurs were organised and controlled. Ledley King at the back even out-paced Torres on one run, while Jermain Defoe searched for the gaps at the other end.

Torres sparked into life when he surged through from midfield, got himself clear in the box but saw his attempt to steer a shot wide of Heurelho Gomes thwarted by a defiant challenge by Jermaine Jenas.

But he did not have to wait long for the breakthrough. Kuyt's cross from the left sailed towards the far post where Hutton was patently the wrong side of Torres.

The Spaniard rose to head in off the underside of the bar - his 50th goal for the club - with Gomes not even getting off the ground.

Spurs then lost Jenas - David Bentley coming on as a 39th-minute substitute - with the midfielder still suffering from the injury he had sustained in stopping Torres earlier.

Defoe then beat the offside trap to race clear but Jose Reina managed to block the chipped shot with his body, just outside the area.

King was felled by a fierce Skrtel drive in the box and Alonso tried to beat Gomes from the half-way line - a trick shot he has succeeded with in the past but not this time.

Spurs responded with a curling Bale free-kick that was pulled down by Reina. Then another Skrtel drive following a corner deflected inches wide.

But Liverpool finally got their second when Benayoun's cute pass set up Kuyt for a shot from just inside the box. It looked to be going just wide but Hutton's outstretched foot turned the effort past Gomes.

The calls for Hyypia's involvement increased from the Kop but it was Albert Riera who was the first Liverpool substitute, in place of Kuyt after 66 minutes.

Gerrard then hit the far post from an acute angle. Hyypia at last came off the bench for a warm-up.

There is still plenty of speculation about Alonso's future but he had been outstanding throughout and forced Gomes into a flying save to his left.

Pavlyuchenko then replaced Defoe after 70 minutes for Spurs but Liverpool were in full flow now and Gerrard was next to go close with a curler from the edge of the box.

The Kop were now baying for Hyypia but, after 77 minutes, Robbie Keane - on his return to Anfield - was put clear by Luka Modric to calmly slot in only his fifth goal for Spurs since returning to White Hart Lane from Anfield in January.

Spurs then brought on another striker, Darren Bent, for Bale while Liverpool replaced Torres with David Ngog.

But Liverpool's worries were ended when Gerrard slipped the ball to Benayoun, who eased his way into the box to clip the third past Gomes.

The "we want Sami" barrage was booming again. Surely Benitez could risk it now. Vedran Corluka was booked for a foul on Gerrard and at last Hyypia was allowed to take off his training top for one last cameo appearance.

There was seven minutes to go, Gerrard was the man taken off and he made sure he put his captain's armband onto the giant defender as he came off.

Hyypia almost scored with a typical flying header from Aurelio's corner and at the end he was carried off by his team-mates at the end of a career that makes him a Liverpool legend.
---