---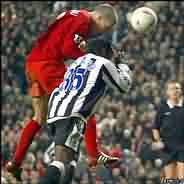 JANUARY 25
Bruno a knockout, no mistake

By Steve Tongue - The Independent

The banner high up in the Centenary Stand was unequivocal: "Sort it out, Houllier. Not good enough for LFC. No more expensive mistakes. We want the title."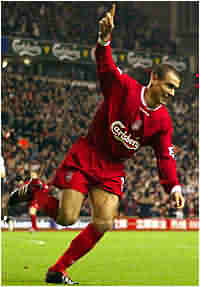 Not this season, but perhaps another FA Cup, if accompanied by a Champions' League place, will keep the dissidents at bay. Yesterday evening the much-criticised Bruno Cheyrou, generally regarded as one of those costly mistakes, did his bit by producing the match of his brief Liverpool career and scoring the two goals that took them into the last 16 of the competition.

For most of the first half Newcastle, with some wonderfully sharp passing under pressure, were the more composed side, the home team's frayed nerves still in evidence after poor performances in the past week at Tottenham and Wolverhampton.
Cheyrou - the goal hero - celebrates.
A point in the latter game carried them above yesterday's opponents in the Premiership, fifth against sixth, by virtue of having scored one goal more, and eventually the tie became as close as the League table. Liverpool began to edge it after the interval and took control once Cheyrou, whose early goal was almost immediately cancelled out by Laurent Robert's blinding free-kick, headed his second just after the hour.

So for all his many and varied achievements in football ­ not least winning the FA Cup for Ipswich Town some quarter of a century ago ­ Sir Bobby Robson has still never won a match at Anfield as player or manager. "I'm gutted, that's how much the FA Cup means to me," he said. "It's gone for another year. At half-time we were quite confident and I didn't think we'd lose it. And I have to say second half we were under pressure. Our forward play and penetration were poor."

Gérard Houllier, in contrast, must have physically felt the pressure easing with this result. "I'm pleased and proud," he said, "because it was a difficult game. Look at the run of form Newcastle are on. We said at half-time that we didn't want a replay, so let's take the game to them." For once his team carried out their instructions to the letter.

It would have been difficult for any game to live up up to the promise of the explosive start, briefly threatening to make the 4-3 scorelines of 1996 and '97 look tame. Within 70 seconds, Steven Gerrard and Michael Owen played in Emile Heskey, sprinting forward from his starting position on the right of midfield; Shay Given, impeded rather than assisted by the full-back Olivier Bernard, managed to block, but Cheyrou was following up for the most straightforward of his four goals in the past five matches.

When Robert then lined up a free-kick 35 yards out, everyone in the ground knew what to expect, but Jerzy Dudek in Liverpool's goal was the only man theoretically able to take preventive action. Some faulted him for coming so close to the 78mph shot without saving it, but at that speed he must have felt as helpless as the Kop patrons behind him.

If the noise from two sets of supporters persisted for some time, and the pace of the game remained furious, the number of chances understandably slackened. By half-time Heskey was hobbling painfully and needed to be replaced. With three strikers injured and El Hadji Diouf at the African Nations Cup, there was not a forward available to sit on the bench so Anthony Le Tallec was summoned, Harry Kewell continuing to support Owen from the left to fluctuating effect.

To the home crowd's relief, their team found greater impetus, and just after the hour a flurry of attacking brought three opportunities and a second goal. Owen failed to take advantage of a two-against-one with Gerrard, and Kewell fizzed a drive across goal before Cheyrou's second memorable moment. After Newcastle had surrendered possession carelessly in midfield, he came from deep to meet Gerrard's perfect cross with a firm header past Given. Houllier said of the day's hero: "I hear he's been criticised but he's not been playing, he's been injured."

Owen did not have any opportunity to add to a remarkable record against his favourite opponents ­ 13 goals in nine previous meetings ­ and there was inevitably some late edginess as Newcastle poured forward, Dudek defying Shearer in added time. So it was Robson offering the congratulations at the finish, painfully aware that as his opposite number recently remarked: "We win together but as a manager, you lose alone."

Whichever of two decent men lost this tie was always going to be under greater pressure as the season progressed towards the possible climax of a play-off for a Champions' League place when their teams meet here again on the campaign's final weekend. Last May Liverpool lost in identical circumstances to Chelsea and have never quite recovered, so this was a result to boost morale in the dressing-room ­ if not the Centenary Stand.
---
JANUARY 24
Boss pleased and proud with Cup victory

LFC Official Website

Gerard Houllier said he was a pleased and proud man with his players as Liverpool produced an excellent display and battling performance to knock Newcastle United out of the FA Cup.

The Liverpool manager praised Bruno Cheyrou for his goals, Jerzy Dudek for a matchwinning last ditch save and hailed the return of Jamie Carragher and Stephane Henchoz.

Houllier said: "I am a pleased and proud manager tonight because this was a difficult game and we did well.

"It was a great game of football and a really good cup tie. That is why our performance needs to be highlighted because we have beaten a really good team here today who have been going really well.

"We scored early on and unfortunately they equalised with an amazing strike really. The first half was very even but in the second half I told the boys to go for it because we didn't want a replay. Jerzy made a brilliant save at the end from Shearer.

"I am pleased for Bruno Cheyrou to score the two goals as he is a player with good skill and has the ability to score goals and create them. I thought the young boy Le Tallec did really well when Emile had to go off with a hamstring injury.

"Jamie Carragher epitomised the spirit out there and was absolutely brilliant. Stephane Henchoz was back and did really well alongside Sami. We have missed Jamie and Stephane this season."
---
JANUARY 24
Sir Bobby: I'm gutted to be out of cup

Sky Sports

Newcastle manager Sir Bobby Robson said he was "gutted" that his FA Cup dream died for another year with a 2-1 defeat at Liverpool.

But Robson, who praised Laurent Robert for his equaliser, had no qualms with the result and praised Liverpool defender Stephane Henchoz and midfielder Anthony Le Tallec.

He said: "I certainly will not be winning it this year! I am gutted to be out, the Cup means so much to me.

"We scored a wonderful goal, an incredible strike, and I felt we were comfortable at the break, I certainly did not think we were going to lose the game. But after they came out and started to attack us, we started to drift.

"They took control too easily and we let them do it. We did not do enough in the second half to win the game, Alan Shearer's effort in injury time was our only shot in the second period. That was just not good enough.

"We just did not seem ready for it. They got the ball behind our full backs and we did not do that to them. Gerard Houllier had a lot of his best players back, and it showed.

"Stephane Henchoz looked much better at centre back than full back, and young Le Tallec did well for them. And our players needed to realise quicker that they had to improve their game, it just drifted from us."
---
JANUARY 24
Cheyrou sinks Newcastle

BBC Sport Online

Bruno Cheyrou's brace guided Liverpool to victory over Newcastle and a place in the FA Cup fifth round.

An explosive opening four minutes saw Cheyrou give Liverpool the lead as he started and finished a rapid move by sidefooting the ball into the net.

Liverpool had barely time to celebrate before Laurent Robert flashed a vicious free-kick past Jerzy Dudek.

Just past the hour a surging Steven Gerrard run ended with him picking out Cheyrou and the Frenchman headed home.

With three goals in two games, Cheyrou's Anfield career has undergone a remarkable revival after he struggled with injuries and a loss of form since arriving from Lille.

With Liverpool opting for more direct approach and Newcastle preferring a more patient build-up, the game offered an intriguing contrast in styles.

A goal for each side in that pulsating opening only served to add to the intrigue as well as suggesting the two clubs were about to recreate their high-scoring encounters in the late 1990s at Anfield.

Picking up the ball in the second minute, Cheyrou exchanged passes with Michael Owen before setting Emile Heskey free.

Oliver Bernard slid in to tackle Heskey but the ball broke to Cheyrou, who calmly slotted his shot home.

Robert has also been scoring plenty of goals recently and the Frenchman added another fine effort to his impressive collection of spectacular strikes.

Hit with the outside of his left-foot, Robert's vicious free-kick rocketed into the net past Dudek's flailing hand.

After such a dramatic opening a brief impasse ensued before Liverpool created a series of half chances.

Owen gave the Newcastle defence a couple of anxious moments, while a Cheyrou shot curled just wide.

Kieron Dyer almost broke free for Newcastle, while Jermaine Jenas went close with a header from a corner.

Heskey was replaced at the interval by Anthony Le Tallec as Liverpool rejigged his resources, deploying Owen as a lone striker.

The switch prompted Liverpool to begin to pass the ball more and gradually Gerrard emerged as a dominant force in midfield.

Just before the hour, Gerrard capitalised on Andy O'Brien's mistake only to overhit his pass to Owen, who was unmarked in the area.

Within minutes Gerrard quickly made amends for his error, surging down the Newcastle left and crossing for Cheyrou, who powered his header past Shay Given.

Newcastle mounted a late charge and Dudek superbly tipped over Alan Shearer's powerful drive in stoppage time.
---