---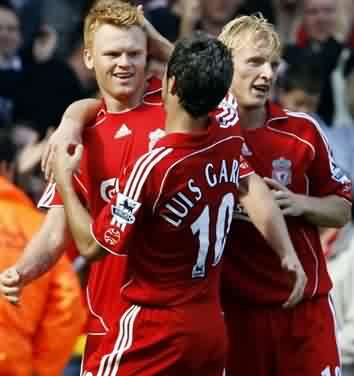 Celebrating Riise goal. (Photo: AFP)
SEPTEMBER 25
Gonzalez: I'll thrive on Anfield pressure

By Chris Bascombe - Liverpool Echo

Mark Gonzalez is confident he can justify the hype which preceded his summer move to Liverpool, after claiming his first Premiership goal for the club at the weekend.

The Chilean says he finds the high expectations placed upon him a help rather than a hindrance as he adjusts to life in England.

A year's delay before securing a work permit made Gonzalez one of the most anticipated arrivals in recent times.

And although a virus prevented him making as many starts as he'd like so far, the 21-year-old has still made an immediate impression.

"I like that all the fans knew me and were watching me before I joined the club, because then they know the kind of player you are and the qualities you have," said Gonzalez.

"Now it's up to me to show them, because if people know what to expect, there's no reason why you can't show it.

"I feel I can contribute a lot of goals here, scoring and creating, just like I did in Spain. I always look for goals, and I think I'm the type of player who can get them.

"I want to show everything I have in my game. Right now I don't think I've shown everything for many reasons. I've not played a lot and I'm not used to English football yet. Hopefully that won't take long, but it's not easy. As soon as I adjust I'm sure I will be a different player.

"I'm happy with what I've done for now, with scoring two goals, but I'm determined to do a lot more."

Gonzalez contributed his second in Liverpool colours in the 3-0 win over Spurs, and senses the Reds are already putting their early season troubles behind them.

"I'm really happy with my goal because it was really important for us to keep winning," he said. "Now we've two wins in two games, so we need to keep this going if we want to think about the championship.

"It's not been easy for me because I've not played many games, but the more you play the more you learn and get used to it.

"I wasn't in the squad for a couple of games because I was ill, but this time it was my turn to play and I felt comfortable out there and happy with how I played. Now I need to keep learning.

"English and Spanish football is very different which I've known from the beginning. The pace and physical side of the game isn't the same as Spain.

"The physical side is what I'll be working on most. You have to do a lot of running in England and that takes some getting used to."
---
SEPTEMBER 25
Bellamy: I know I'll be
judged on my goals

Liverpool Echo

Craig Bellamy has admitted he is getting very anxious to score his first league goal for Liverpool after another afternoon where nothing went right for him, despite the Reds' eventual 3-0 victory over Spurs.

Bellamy hit the post from a simple chance but was let off the hook when Mark Gonzalez slammed in the rebound.

The Welsh striker underlined how keen he is to get on the goal trail, admitting: "That's the way it is at the moment, the ball keeps going the other side of the post or hitting it. It happens, but I have had times like this in my career before.

"I am maybe too excited to score. You want to do so well and you are snatching at chances, and when you do that as a forward you find the chances slip away.

"In some ways it is different for me. It's the club I supported and there is an extra determination to do well.

"I'm putting extra pressure on myself, but then I always do that, it is how I play football. I demand high standards of myself and I don't worry about missing chances.

"But the one thing I don't like is when anxiety creeps in and it affects my game a bit. That's something I can't handle.

"Probably that is how it is at the moment. Okay, the people around me are scoring and I feel the rest of my game is going all right, making runs, helping create chances for others.

"But at a club like Liverpool you are judged on goals, and that is one thing you want to achieve.

"The chances will come at a club like this because there are such good players around who will create them. I am still enjoying it all."
---
SEPTEMBER 25
Murphy: Gerrard can take Liverpool far

By Nick Smith - Daily Post Staff

Returning to Anfield brought back many happy memories for Danny Murphy - but being reunited with Steven Gerrard didn't.

The Tottenham midfielder was given a painful reminder of the influence of his former Liverpool team-mate as Gerrard gradually took control of the midfield and inspired his side's 3-0 success.

"There was a 10-minute spell in the second half when I couldn't get anywhere near him," admitted Murphy, who left Liverpool for Charlton in 2005 before joining Spurs in last January's transfer window.

"If Steven Gerrard stays fit Liverpool have always got a chance of doing anything in any game.

"He can make things happen, he can change games and he showed that today."

It's keeping all the best players fit that Murphy believes will be the key to his former team-mate getting his hands on more silverware this season.

But he has also warned that finding a settled and constant first 11 might provide the best chance of a first championship trophy in 17 years.

Murphy added: "Liverpool can achieve anything. With a full strength team they are a match for anybody.

"They were unlucky not to get something at Chelsea last week. I suppose it makes things more difficult that the team is changed a lot.

"Rafael Benitez tends to do it more than most but looking at what he's done you can't really argue with his decisions.

"The problem is the amount of games stops you from playing your best players in every game and keeping all the players fit."
---
SEPTEMBER 24
Early kick offs annoy Rafa

By Al Campbell - LFC Online

All these early kick offs are hampering Liverpool's pre-match preperations says Rafael Benitez.

Liverpool have kicked off at 1.30pm against Everton and Chelsea and at 12.45pm against Sheff Utd, West Ham and Spurs with next week's game at Bolton also kicking off at 12.45pm.

The Reds won't play at the traditional time of 3pm until Blackburn come to Anfield on October 14th and Rafa Benitez admits to being annoyed with all these early starts.

"It's too soon for us to be continuously given early times to play in a row. This doesn't give you a lot of time to prepare the players in the way you prefer," says the Liverpool boss.

"I can't understand the fixtures in general. The person who arranges them must be a genius. In Spain, you play every team in the same order in the first half of the league and the second part.

"Here you can play the last game of the first half against Charlton, and then play them again two weeks later.

"They could easily change things to be more fair. There can a big difference in the standard of a team, depending on what time of year you play them. That's why the order should be the same in both parts of the season.

"For example, when will a newly promoted team be most dangerous? Maybe at the beginning of the season when they're new to the league and we don't know much about them, and then at the end if they're fighting to stay in the division. It would be unfair for a side to only play them at these times.

"And when you play a big club at the start of the season, you might expect it to be around Christmas time when you play them again. For some reason, these games are always pushed back towards the end of the season. I don't know how this happens, but as I say, the person who arranges it this way must be very clever."
---
SEPTEMBER 23
Rafa content with display

By Alex Dunn - Sky Sports

Liverpool boss Rafa Benitez has declared himself content with his side after they claimed a 3-0 victory over Tottenham.

After a goalless first period at Anfield, Benitez's charges raised their game in the second 45 minutes as goals from Mark Gonzalez, Dirk Kuyt and John Arne Riise secured maximum spoils.

When coupled with a midweek victory over Newcastle, Benitez can be more than satisfied with his week's work, after what was a previously slow start to the campaign.

"Before we played the two games that we lost, people were talking about crucial times," said Benitez.

"But everything in this division is crucial, every result.

"They were two difficult away games, and we are in the middle of a spell of many important games close together. But we have now won two in succession, things are looking a bit better.

"In the first half we were searching for space and the right pass, but after the break we started with a much higher tempo. That was the key.

"After they made that mistake with the missed chance, we hit them on the counter attack and from then on we got better and took control."
---
SEPTEMBER 23
Jol rues Jenas miss

By Alex Dunn - Sky Sports

Martin Jol was left to rue a horrendous miss by Jermaine Jenas after watching his side go down to a 3-0 defeat at Liverpool.

The England midfielder missed an open goal with the scores level, before Liverpool swept up the field seconds later and opened the scoring through Mark Gonzalez.

Spurs' miserable start to the season has been characterised by such misses and their Dutch tactician admits that they will not improve until they learn to finish sides off.

"It is the same story. We created a lot of chances, should have been ahead before they scored, and then lost our concentration and composure in defence," lamented Jol.

"We just didn't keep our heads at the right time. In that first half we could have been ahead.

"Ledley King, Jermain Defoe and Robbie Keane all had chances.

"Then in the second period Jenas misses like that. Yes, he should have scored and it should have been a goal but it is a familiar story for us at the moment."
---
SEPTEMBER 23
Kuyt: Jenas miss was key to victory

TEAMtalk

Goalscorer Dirk Kuyt admits a glaring miss by Jermaine Jenas was the turning point in Liverpool's 3-0 victory over Spurs at Anfield.

The hosts made it two league wins in four days while Tottenham slumped to yet another defeat.

Rafael Benitez's side have got their season back on track thanks to second-half goals from Mark Gonzalez, Kuyt and John Arne Riise, but after spending heavily in the summer, Spurs have now lost four of their first six league games.

They should have been ahead through Jenas - who somehow missed from five yards - before Liverpool punished them with two strikes in 10 minutes and Riise finished the job in the final seconds.

"We had a difficult day, we had to work really hard for the 3-0," said Kuyt.

"Spurs are a very good team and they played well first half. In the second we did well, created chances and got the goals. That's the main thing.

"The game changed when they missed the open goal and we scored straight after. It was not so funny for them.

"My goal was a great goal but I still have to play better for the team. I have a lot more confidence now and hope to move on and make more goals."
---
SEPTEMBER 23
Reds sweep aside Spurs at Anfield

TEAMtalk

Goals from Mark Gonzalez, Dirk Kuyt and John Arne Riise ensured Tottenham's poor start to the season continued with a 3-0 defeat at Liverpool.

Spurs spent heavily in the summer but have lost four of their first six league games and must wonder just what has gone wrong for a side who so nearly qualified for the Champions League last season.

Liverpool will not be bothered by the Londoners' woe, however. They go into their Champions League clash with Galatasaray in fine form.

They toiled somewhat in the first period as Benitez maintained his rotation policy - no doubt with Wednesday in mind - by leaving out Jamie Carragher, Luis Garcia and Fabio Aurelio from the side that beat Newcastle in midweek.

Riise returned after an ankle injury. Also recalled were Sami Hyypia and Mark Gonzalez. The Liverpool manager has now made 19 changes in six Premiership games this term.

Spurs, with their worst start to a league campaign in 14 years and 13 of those since they last won at Anfield, fielded an unchanged side from the one that drew with Fulham last time out in the league.

They found out that Hyypia does not like being left on the bench much, if his first two tackles were anything to go by. His first took out fellow Finn, Teemu Tainio and earned him a warning from referee Howard Webb, while the second was perfectly legal but pole-axed Jermain Defoe.

Liverpool attempted to take the initiative. Craig Bellamy with a 20-yard shot over the top, and then a bouncing effort from Xabi Alonso - who the crowd begged to shoot from any range after his midweek stunner - also just missing the target.

Spurs were intent on deep defence, at times all 10 outfield players were less than 30 yards from Paul Robinson, while trying to set Defoe free with long balls from the back.

Robbie Keane was almost put through by one pass from Danny Murphy, Hyypia getting a toe in the way, but the onus was on Liverpool to open up the Londoners.

Ledley King got a touch on a Murphy free-kick, the ball bouncing just wide before Liverpool felt they should have had a penalty when the ball hit King on the arm.

Then Pascal Chimbonda sliced a Gonzalez corner onto the upright before Mohamed Sissoko saw a shot blocked. The tempo was quicker but Spurs were getting more possession as well as extra men forward.

King and Michael Dawson worked to contain Bellamy and Kuyt, with Steven Gerrard belatedly getting into the game with surges from the right flank.

There was more urgency about Liverpool after the break but anxiety crept in when Bellamy got in the way of Kuyt as the Dutchman sent a header over the bar, with the Welshman also just failing to get on the end of a low cross from his strike partner.

Gonzalez, too, was more involved and the supply of crosses from both flanks increased.

On 55 minutes, a Gonzalez corner found Alonso racing in on the edge of the box but this time his effort sailed high into the Kop.

Spurs sent on Edgar Davids for Tainio on the hour as it seemed the visitors might get something from the game so frequently were Liverpool conceding possession in midfield, Alonso frequently at fault.

The turning point came on 61 minutes. Davids got away on the left and set up Jenas two yards out, the midfielder somehow missing the far post.

And as he lay in the six-yard box in sheer disbelief, Liverpool broke away and took the lead.

Gerrard crossed from the right and Bellamy hit the post from close range, the ball breaking for Gonzalez to fire his first league goal for the club into the bottom corner.

Hyypia was booked for a foul on Didier Zokora, with Luis Garcia coming on for Bellamy.

Then Kuyt struck a classic strikers' goal on 73 minutes. Garcia's pass threaded into the box and Kuyt latched on to it, cracking a fine shot high into the net.

Gerrard was in an offside position to his right, but as Spurs momentarily stopped, the Dutchman had eyes only for the back of the net.

Four minutes later, Liverpool sent on Aurelio for Gonzalez, with Spurs replacing Murphy with Mido on 79 minutes, but surely now the extra striker was too late to save the Londoners.

Liverpool sent on Carragher for Alonso with six minutes left, Benitez not a man to take even the slightest risk with points seemingly in the bag.

But that did not stop Riise from rubbing salt in Spurs' wounds with a stunning drive from 30 yards in the 89th minute.
---